Whole Food Plant Based charcuterie board! Charcuterie boards are all the rage, and we are all for it! Who doesn't love beautifully organized appetizers.
Looking for ideas for a Whole Food Plant Based charcuterie board? Well, you have landed at the perfect spot! We've got fun ideas and delicious, healthy recipes that are sure to please even the most discriminating of palates.
Whole Food Plant Based, Vegan, plant based, oil free, refined sugar free, and no highly processed ingredients .
What is a charcuterie board?
A charcuterie board is simply a range of appetizers featuring a wide variety of dips, crackers, vegan cheeses, jams, jellies, condiments, nuts, spreads, and produce that is artfully arranged on a board or platter.
Do you need to be artistic?
Absolutely not, anyone can create a beautiful charcuterie board with minimum effort.  The key is to just group the food items in a fun way that is pleasing to the eye.
In other words, you can arrange items by colors, themes, or regions on the charcuterie board.  You need zero culinary skills to arrange them, just an eye for grouping items is all that is needed.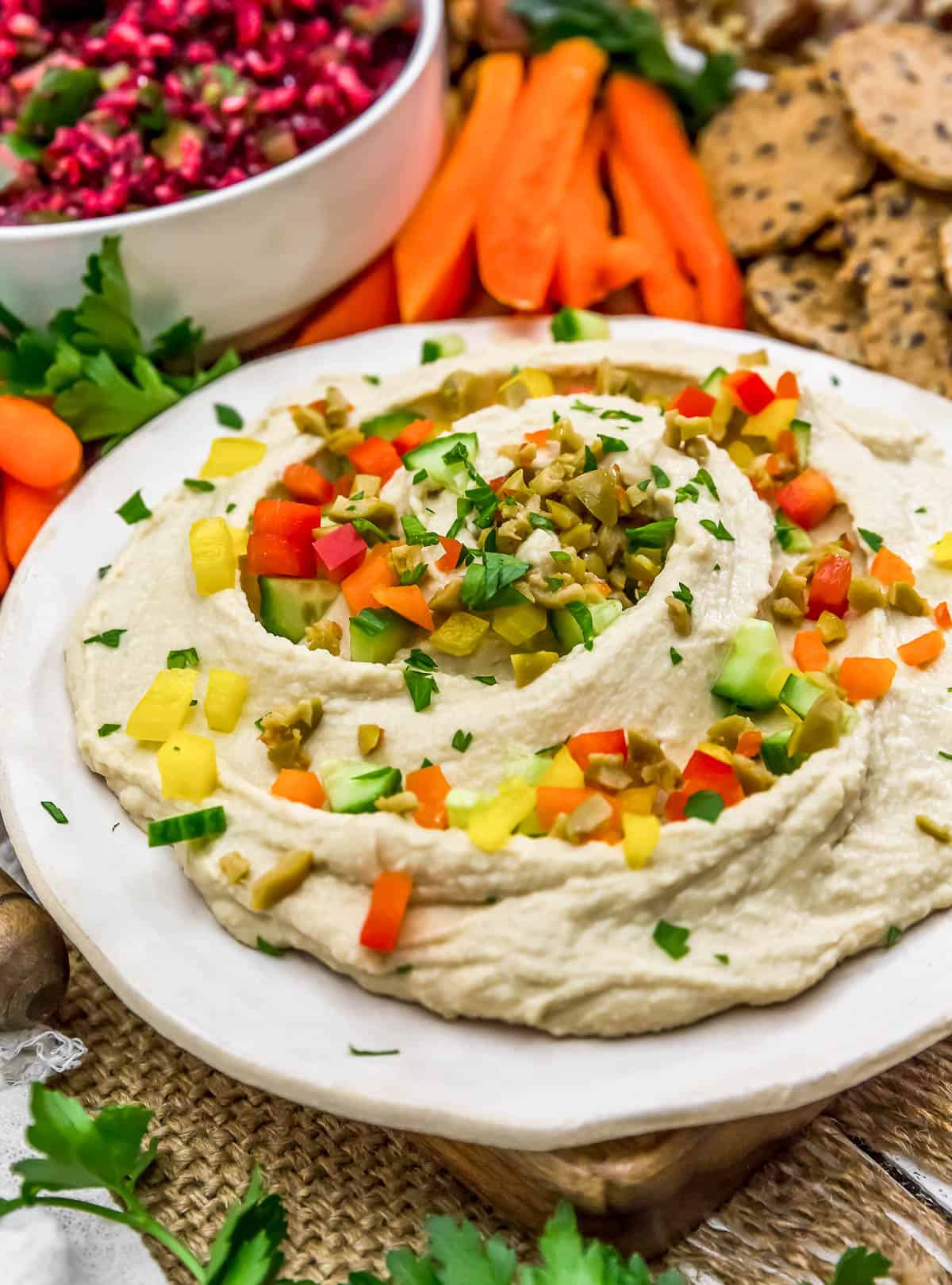 How to make a WFPB charcuterie board
The best charcuterie boards have a variety of items ranging from vegan cheeses, dips, spreads, jams, jellies, veggies, crackers, nuts, etc.
Lay out your board, select bowls and small dishes to represent what you think you might enjoy placing on your charcuterie board. Now place them on the board strategically thinking of where they would fit best on the board.

For example, if you have a medium-sized board, you may be able to fit 3 to 4 main items on the board and surround them with crackers and veggies (or vegan cheeses). Place the empty small bowls and small plates on the board in various locations to represent the dips, spreads, etc. that you wish to display. This way you can find out if you need to add more plates/bowls (add more food items) or remove some (subtract food items)?
Presentation Greenery: It's always fun to add some greenery around the board to add interest. You can use herbs that mimic some of the flavors used in your dishes or traditional garnishing herbs. Herb ideas: parsley, cilantro, rosemary, sage, etc. Or even a few tiny pine branches, mini pinecones, citrus leaves, ornaments, etc. to be festive.

Select recipes that can be either made ahead or made earlier in the day.
Small label tags are helpful if guests can not readily identify items. Or if you don't have room for tags, you may want to list on a sheet of paper the items so guests can read what they are.
Small tongs, utensils, or decorative toothpicks are essential to avoid contamination.
Ready to Get Started?
Let's go! We have created several charcuterie boards that we think you will love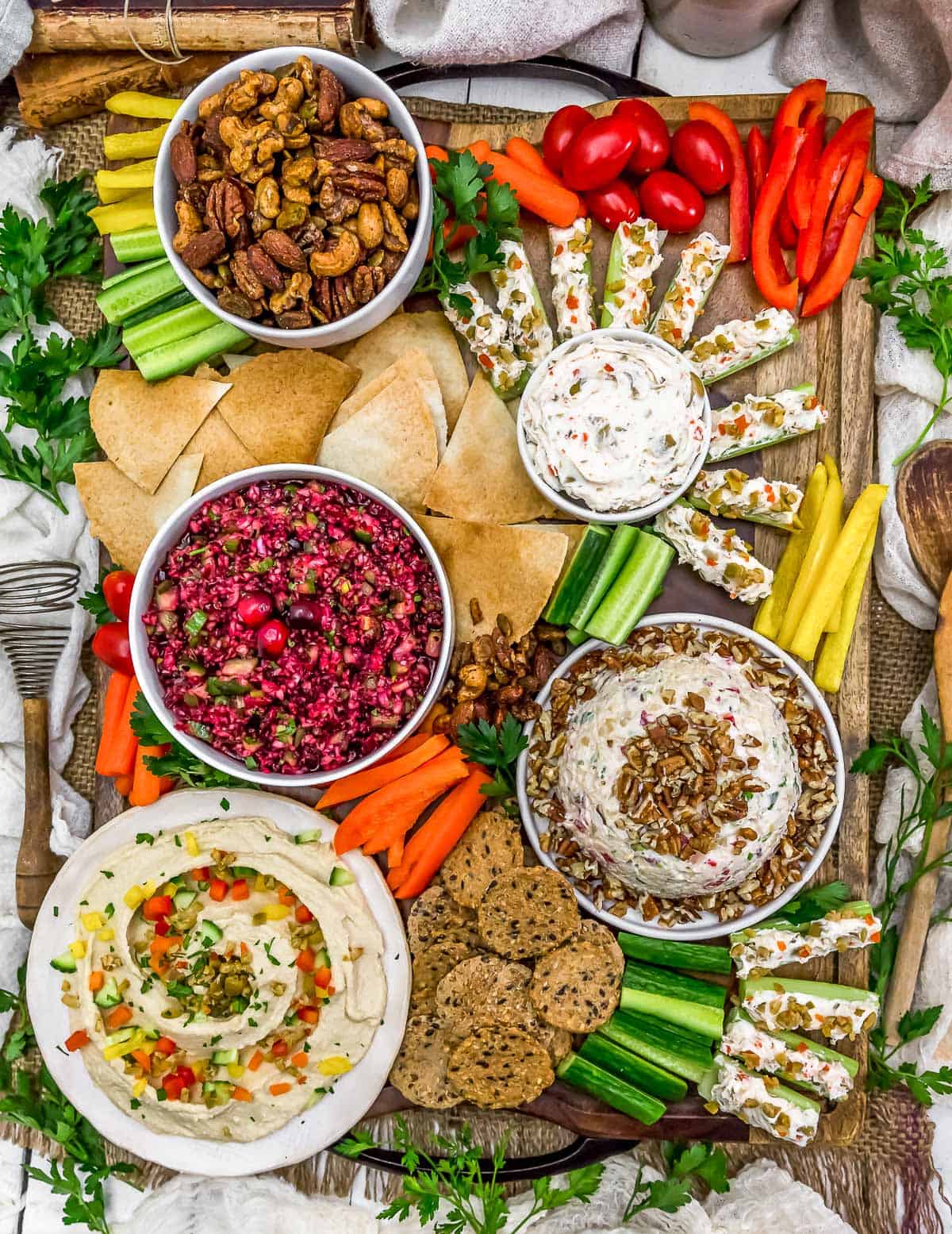 Charcuterie Board #1
Assorted Veggies
Mary's Gone Crackers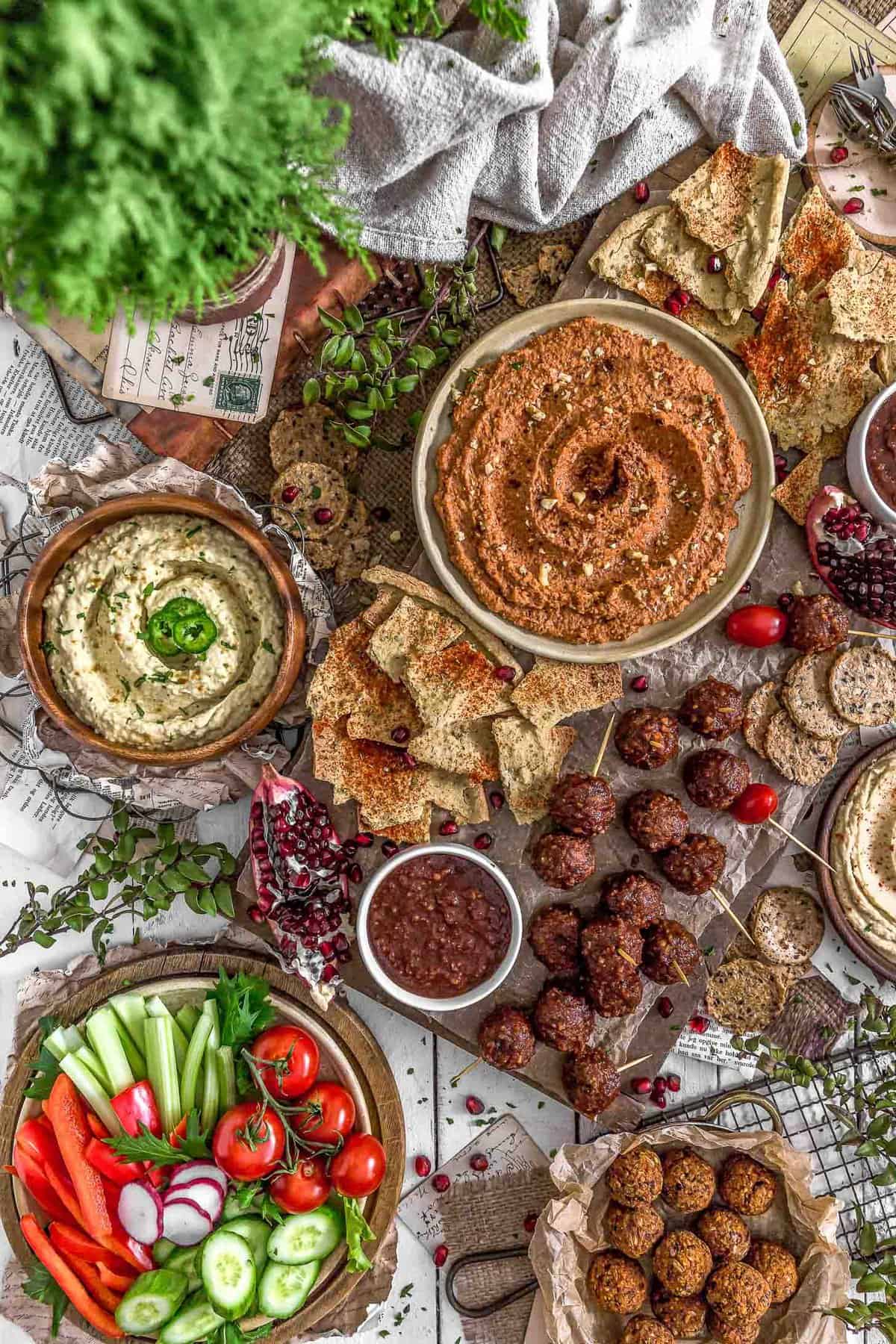 Charcuterie Board #2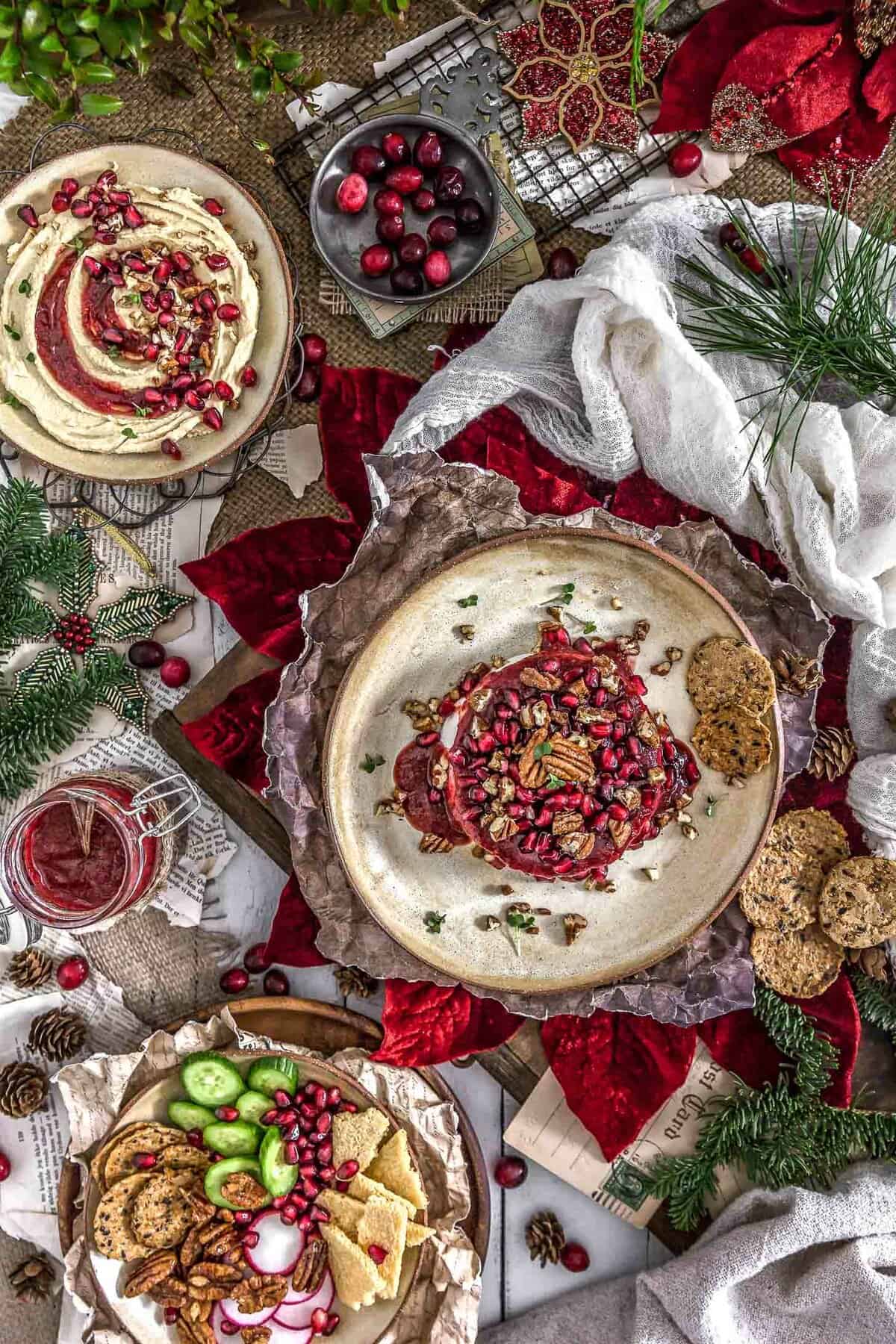 Mini Charcuterie Board #3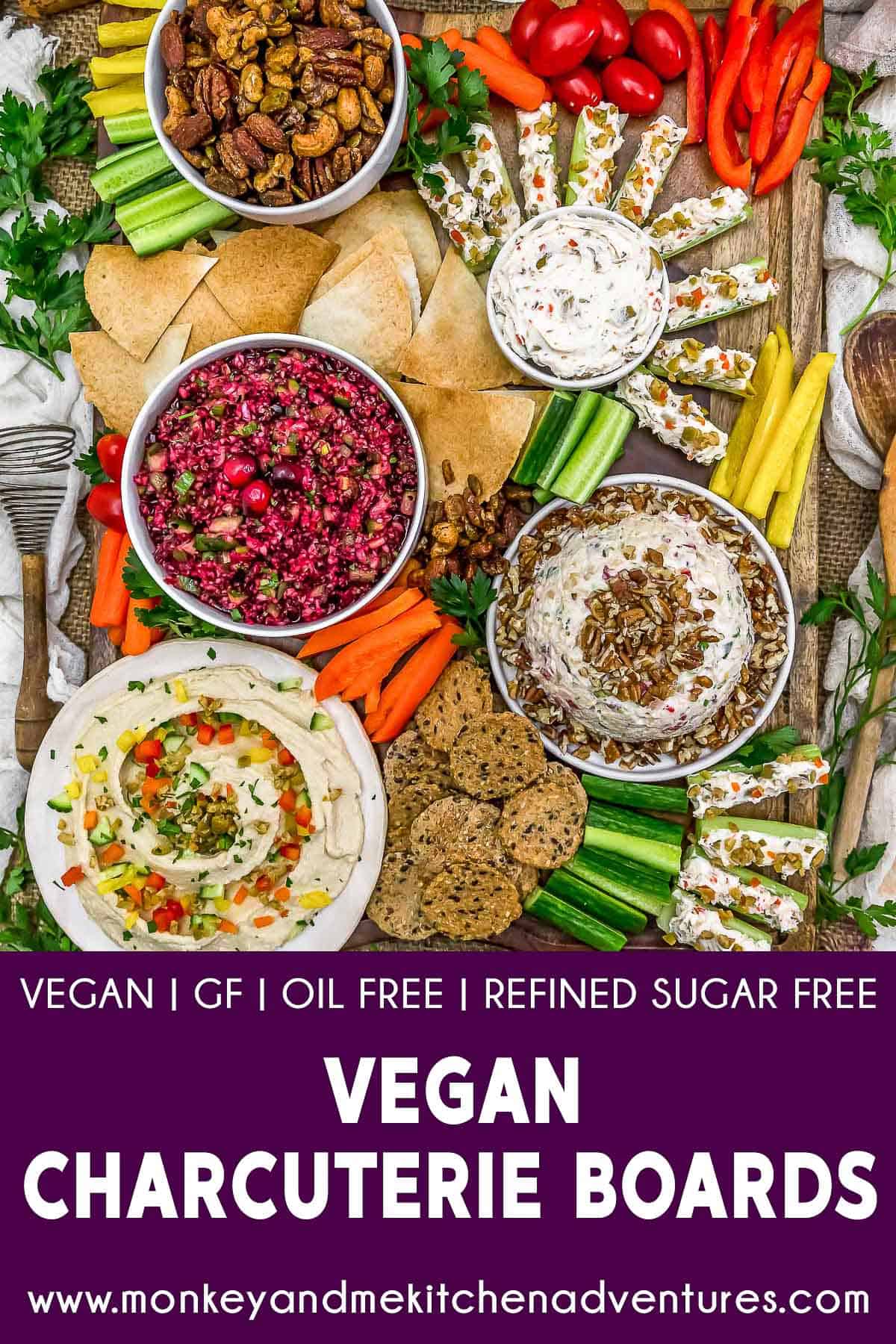 We certainly hope you give one of our charcuterie board recipes a try! If you give them a try, please leave us a review! Post a picture on Facebook or Instagram and tag us! We would love to hear from you.

This post contains affiliate links, and we may receive a very small commission if you purchase through those links at no additional cost to you. Thank you for supporting Monkey and Me Kitchen Adventures! For more information, see our disclosures here.