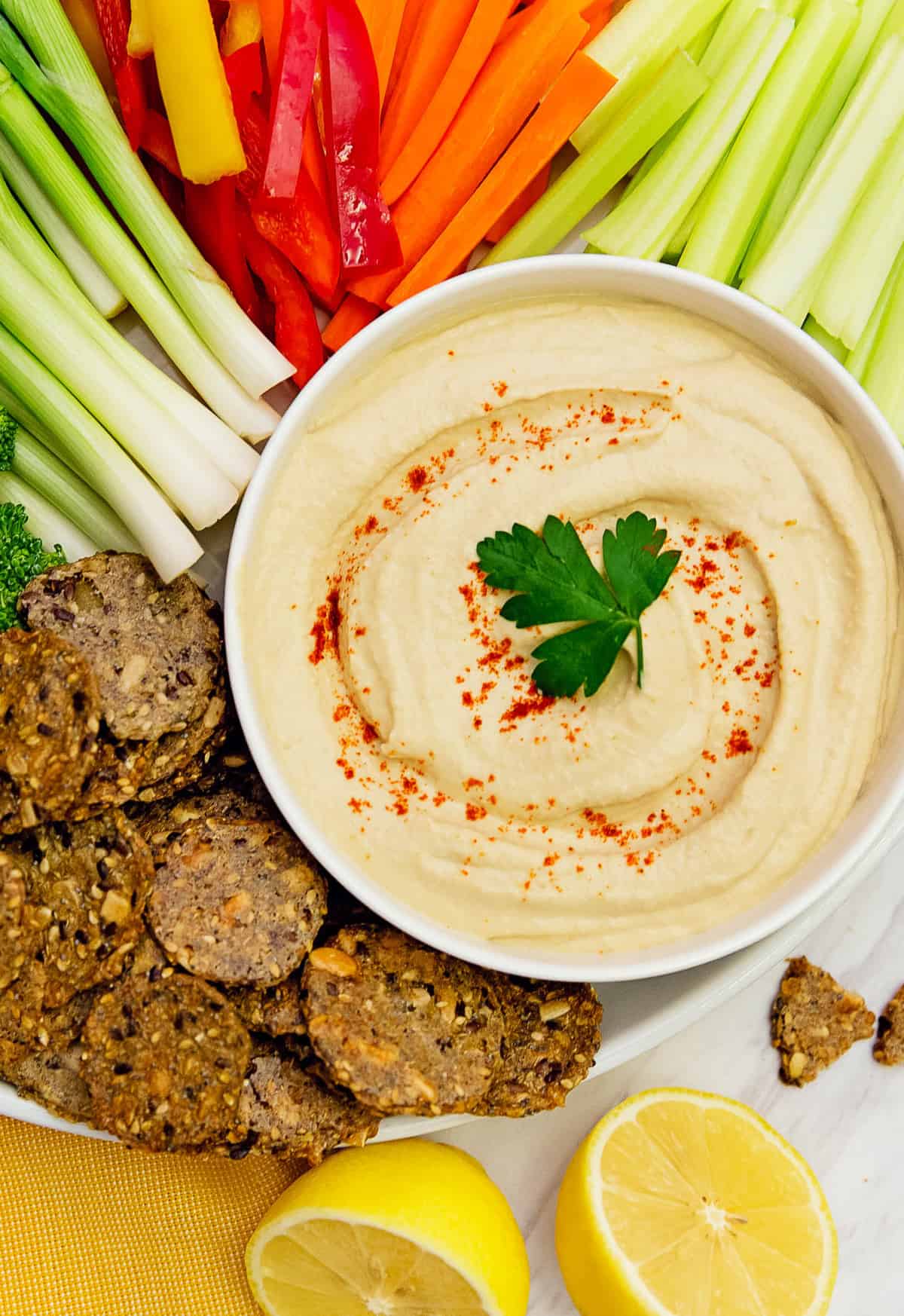 Ultra-creamy, satisfying, and full of flavor, this irresistible authentic Middle Eastern classic and naturally Whole Food Plant Based hummus is sure to be a new favorite! The Best Hummus is perfect for veggie dipping, sandwich spreading, or adding that special something, something to dishes for a velvety, rich texture. A delicious dip the whole family will love.
Whole Food Plant Based, vegan, plant based, oil free, refined sugar free, gluten free, no highly processed ingredients.

Hi!  Ameera here!
Did you know that the word "hummus" is the Arabic word for "chickpea"?  I always get a huge kick when I see people use the word "hummus" when they are referring to a bean other than a chickpea to make a dip.  I understand that for most of us the term "hummus" is used generically.  "Hummus" has morphed into a catch-all for all bean dips, but as a person who has studied the Arabic language and culture, I find it a wee bit entertaining.
As most of you know, I am a professional belly dancer.  This is how I met my Lebanese husband, Michael.  Middle Easterners are very proud of their cuisine, as they should be, the food is beyond crazy delicious.  I LOVE Middle Eastern food.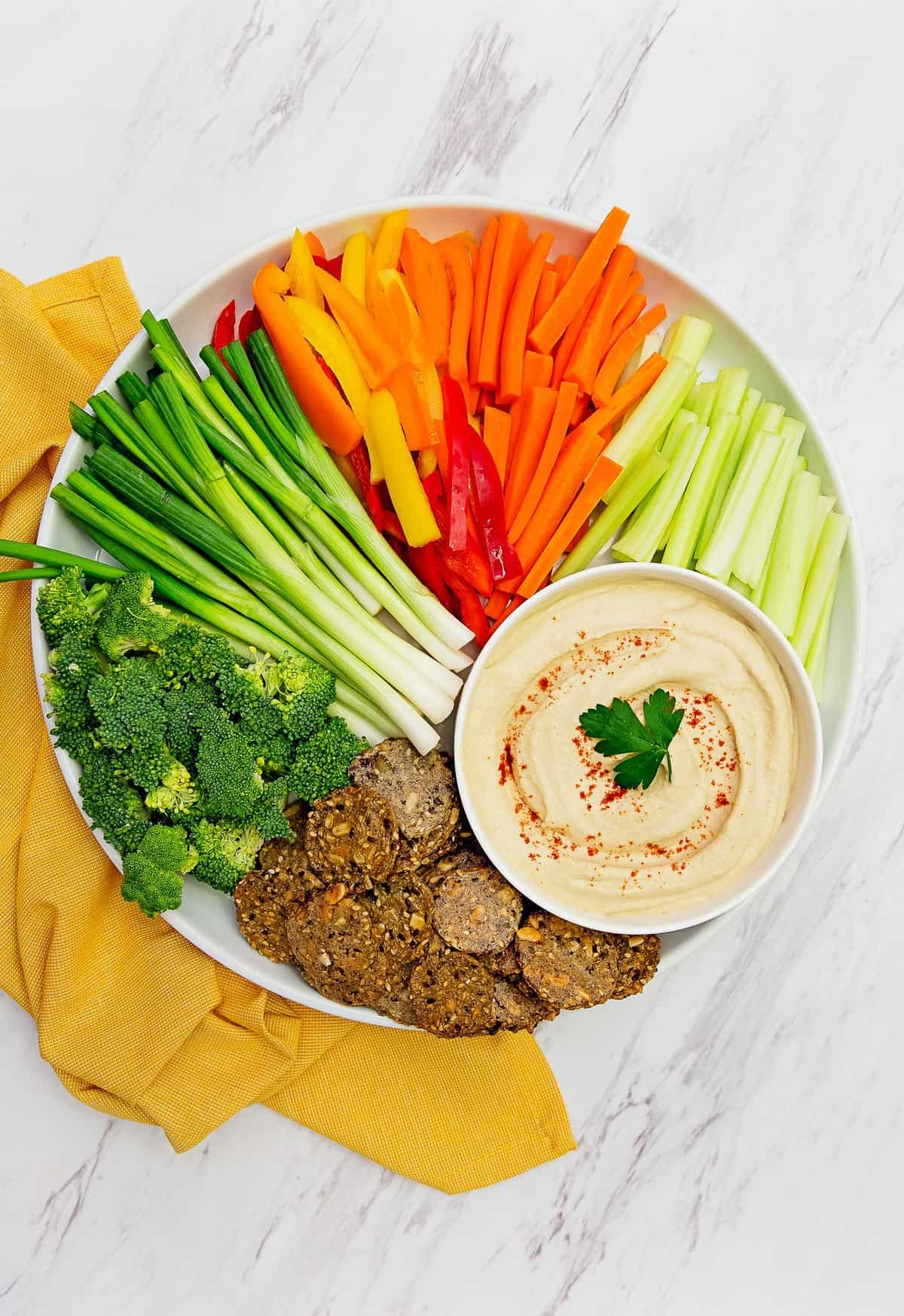 My hummus making skills have improved over time as I have learned that every Middle Easterner has a slightly different BEST way to make hummus. I mentored with the best of the best.  I have tried to take the lessons that I have learned from everyone, and pull them all together to create what I now call THE BEST HUMMUS EVER! 🙂
Pressure cooker is a game changer!
One universal secret to making a really smooth and creamy hummus is to remove the outer skin of a cooked chick pea.  The outer bean shell, even as miniscule as it may be, will prevent you from obtaining that ultimate creamy hummus if you do not remove it.  You can accomplish this easily enough if you use a pressure cooker or instant pot. Generally, most pressure cookers will pretty much soften and destroy the outer chickpea skin, so you don't have to peel them off, which is awesome.  For this reason alone, I only make hummus from dried chickpeas in a pressure cooker.
Our pressure cooker does an excellent job of softening the skin so you can get this really beautiful creamy and velvety smooth hummus.
Another trick for making great hummus is to make it while the beans are still warm (not hot).  Also, add enough water so that the hummus has the consistency of slightly thick cake batter, so that it actually pours into your bowl with a little help from rubber spatula.  The hummus will thicken and tighten up slightly once it cools in the frig, but it will still remain super smooth.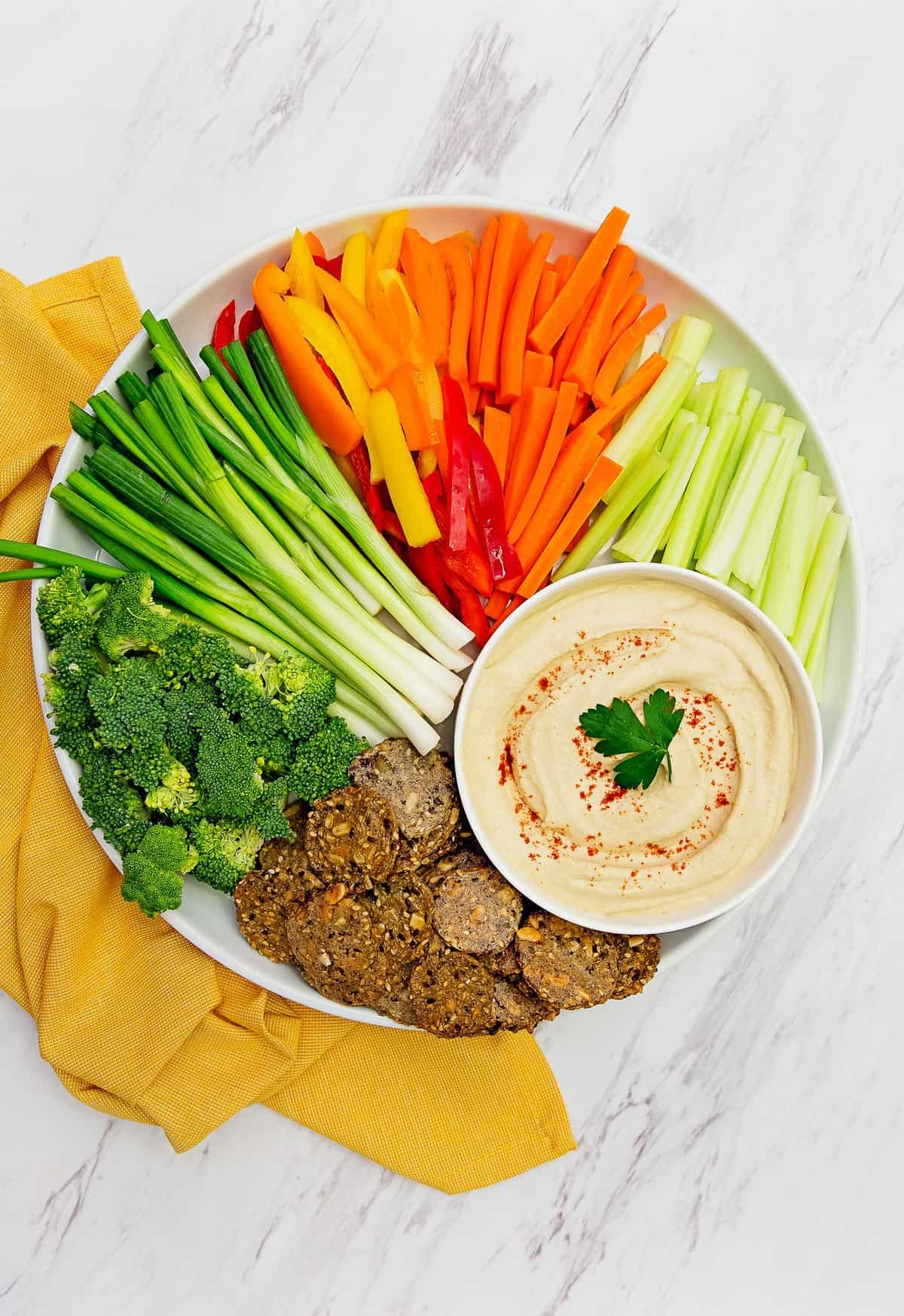 Another tip is to run it through the food processor until it becomes ultra-smooth.  I have been known to run our food processor (aka the dinosaur) for 15 minutes to get the hummus super-duper smooth.  I have tried using a high-speed blender, but I just really like the job the food processor does.
Want to hear something funny?
I have worked hard over the years learning to make a fabulous hummus, tweaking it here and here to make it just perfect, but you know what?  Michael doesn't even like hummus! Now, how crazy is that?  LOL
My favorite part of making hummus is eating it while it is still warm.  Oh my goodness, if you haven't tried making hummus this way and eating it while it is still warm, then you are really missing out!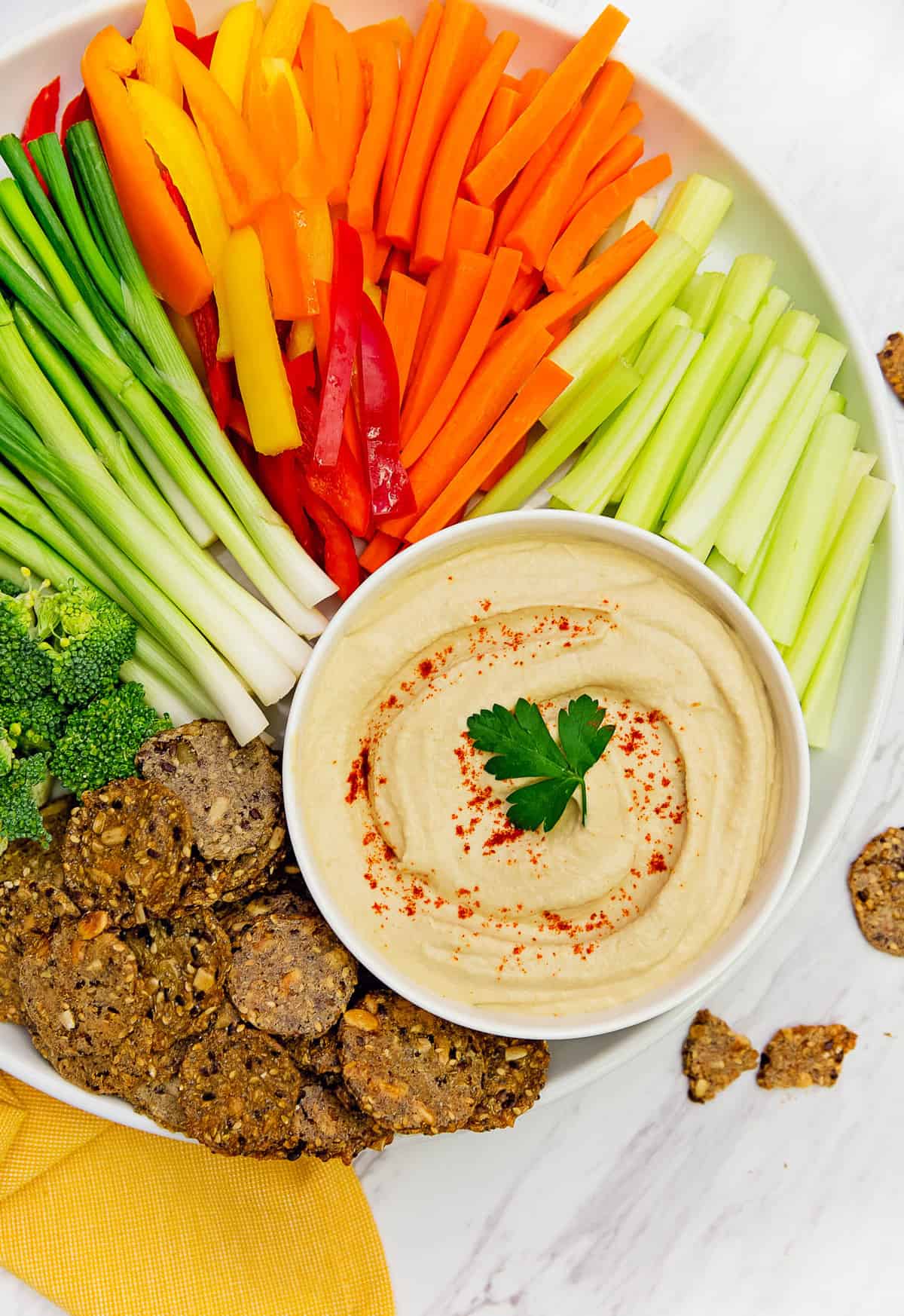 Robin here! 
Monkey is the hummus queen.  She has amazing hummus making skills.  We always have a huge bowl of hummus in the frig for dipping fresh veggies at all times.  It is so good.  I could eat it all day long.  I actually have to stop myself or I will eat too much.
I agree with Monkey, I love warm hummus.  It is crazy good.
If you have never made homemade hummus, give this recipe a try.  You will be so thankful you did.
Additionally, making hummus from scratch is a real money saver too.


Products used:
Pressure cooker
Food processor
Print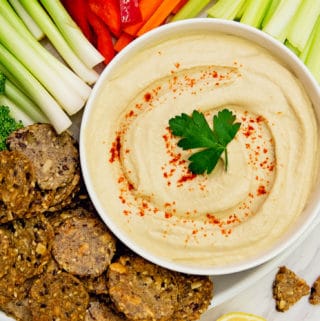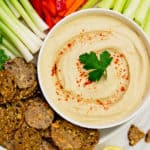 The Best Hummus
Author:

Yield:

5 Cups

1

x

Category:

Appetizer

Cuisine:

Middle Eastern
---
Description
This is the Best hummus recipe with its creamy and velvety texture. This authentic Middle Eastern classic and naturally Whole Food Plant Based dip is sure to be a new favorite!
---
1 ½ cups

dried chickpeas

½ cup

of reserved warm bean water from the pressure cooker (+/-)

½ cup

tahini (room temperature)

¼ cup

lemon juice (plus a little more to taste)

½ cup

water

1 teaspoon

garlic powder

1 teaspoon

sea salt (+/-) *
---
Instructions
Put chickpeas in a pressure cooker (Instant Pot) and cook according to specific bean directions until chickpeas are soft.
Once done, immediately do a quick release. Drain the cooked chickpeas into a strainer over a bowl to collect the warm bean water. Important Note:  You want to keep the warm bean water. Allow the beans to cool a little (about 5 minutes).  You want them warm, but not hot when making hummus.   Set aside.
Add the ½ cup tahini and ½ cup of the warm bean water (collected from above) into a food processor. Blend at a high speed for about 4 minutes.
Add all the remaining ingredients (including the cooked chickpeas) into the food processor and blend at a high speed for 5 minutes.
Check the consistency. The hummus consistency will be loose, which is good.  Add more water until the consistency of cake batter.  The consistency of the hummus should be pourable into a glass bowl with the help of a rubber spatula.  The hummus will firm up in the refrigerator when cold.
Taste and adjust the flavor by adding more sea salt or lemon juice (or other spices such as cumin).
Pour in a glass bowl, cover, and refrigerator.
---
Notes
*Instant Pot Directions:  We rinse the uncooked chickpeas really well in cold water, then place into an Instant Pot, cover with 7 cups of water, then pressure cook on high for 60 minutes, then do a 20 minute natural release.  Total time = 80 minutes.  We do not soak the chickpeas overnight. The cooked chickpeas will be very soft.
*Warm Bean Water:  Using the reserved, warm bean water from the pressure cooker allows the beans and ingredients to blend well and become very smooth.
*Making the Hummus:  We like to make the hummus right after the beans come out of the pressure cooker and have slightly cooled down. Again, we make the hummus while the beans are still warm.  Again, this helps the hummus come together nicely and makes for a smooth loose consistency.  It will firm up in the refrigerator.
*Chickpeas from Cans:  Canned chickpeas (2) will work as well, but the consistency of the hummus will have a little more chunkiness to it since the outer shell of the chickpeas does not break down as much as when they are cooked in a pressure cooker (Instant Pot). In our opinion, nothing compares to cooking chickpeas in a pressure cooker when making homemade hummus.  It is a great investment if you eat a lot of beans like we do.
*Sea Salt: Please adjust the sea salt based upon your family's sea salt preferences and/or based upon dietary needs.
*Nutrition Information: Using a smaller amount of tahini or no tahini at all will reduce the fat content.
Storage:  Store in a glass container in the frig.  Eat within one week.