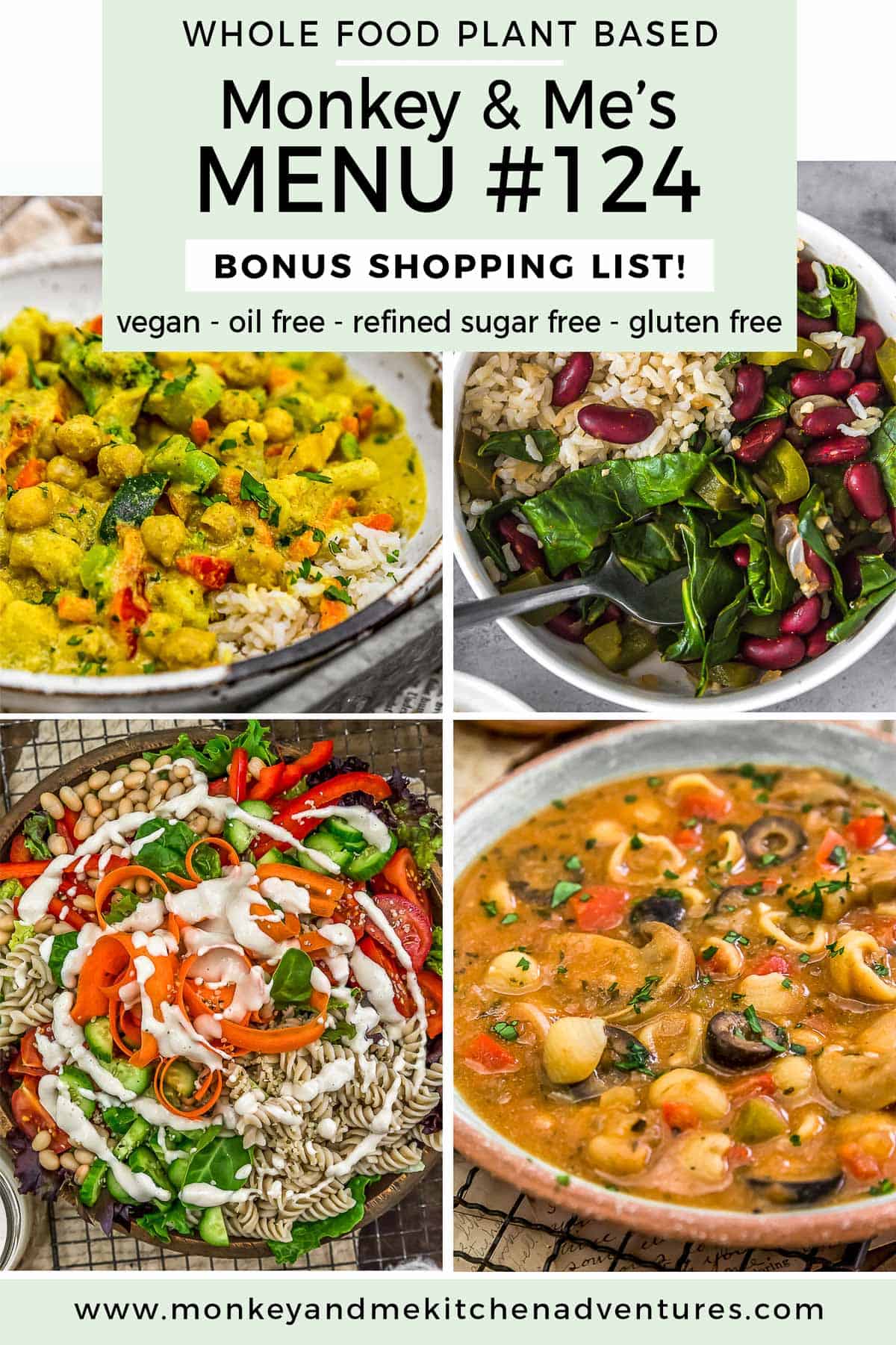 This week's Monkey and Me's Menu features some tasty recipes.  Menu #124 includes a FREE bonus shopping list.  All recipes are Whole Food Plant Based, vegan, plant based, oil free, refined sugar free, no highly processed ingredients, and gluten free.

Downloadable Menu which offers the following:

2 Breakfast ideas
2 Lunch ideas
2 Snack Ideas
5 Dinner Ideas, including a FREE downloaded shopping list (PDF – Below)

A comprehensive (downloadable) shopping list for the 5 Dinners

The shopping list is segmented into the common grocery store sections like "produce, spices, etc." making it easy to pick up these items from your local grocery store.
It also includes product suggestions that are Whole Food Plant Based compliant* for easy reference.  Note: These products are suggestions, please feel free to select your own favorite products.
Includes helpful codes so you can easily subtract items that you choose not to make.

Downloadable Instructions on how the meal plan work.
Note:  The term "Whole Food Plant Based compliant" is from a general standpoint.  There are Whole Food Plant Based diet branches that restrict certain food items.  Our recipes are all Whole Food Plant Based compliant based upon a high-level compliance standpoint. i.e. vegan, plant based, oil free, refined sugar free, minimally processed foods.
Some breakfast, lunch, and snack ideas are simple concepts that require no recipe.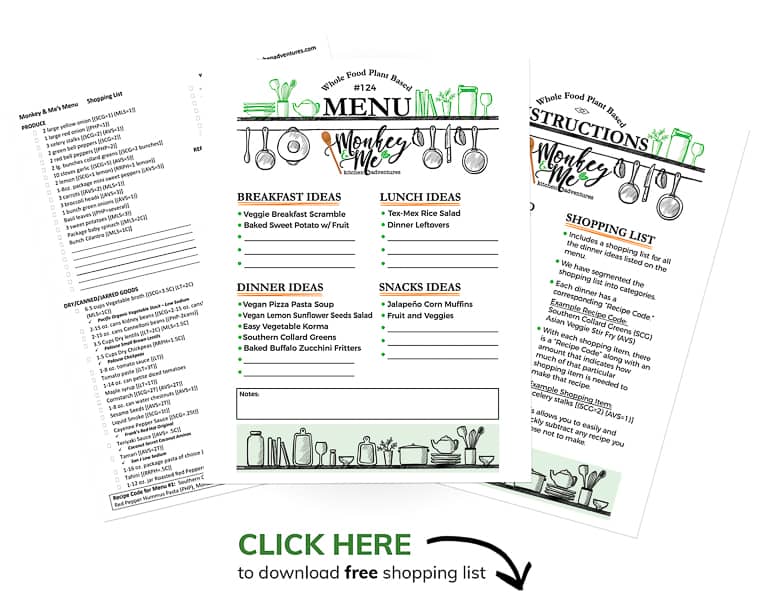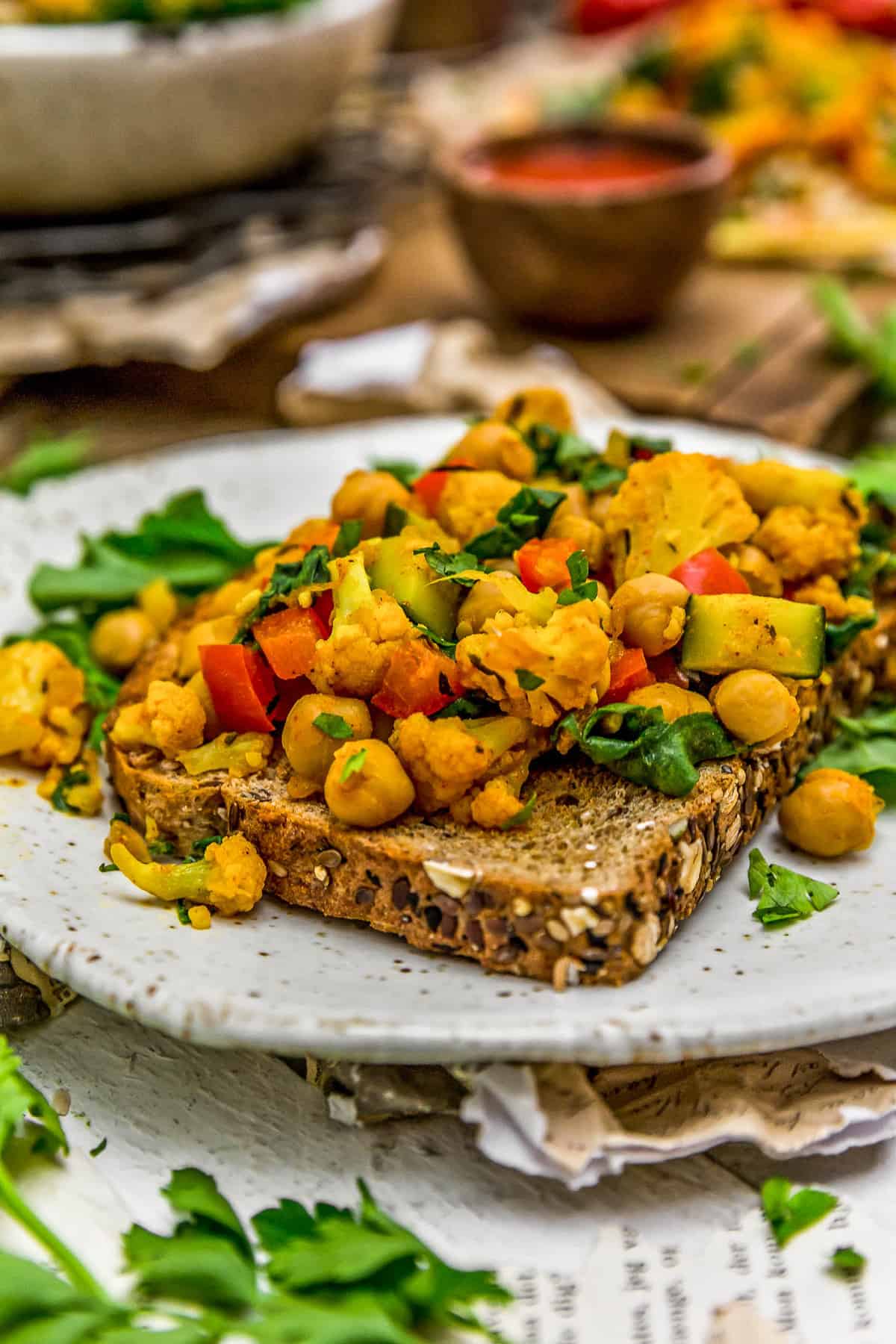 Start your day/afternoon/evening off right with this ultra-satisfying veggie packed sunshine in a bowl. Brimming with rainbow veggies, this savory Veggie Breakfast Scramble is flavorful, nourishing, and sure to put a smile on your face. Wholesome ingredients like sweet bell peppers, tasty zucchini, hearty cauliflower, zesty onions, aromatic garlic, protein-packed chickpeas, and earthy spinach come together in the most delightful way. Serve this healthy vegan scramble over toast, rice, potatoes or in a wrap for an amazing meal.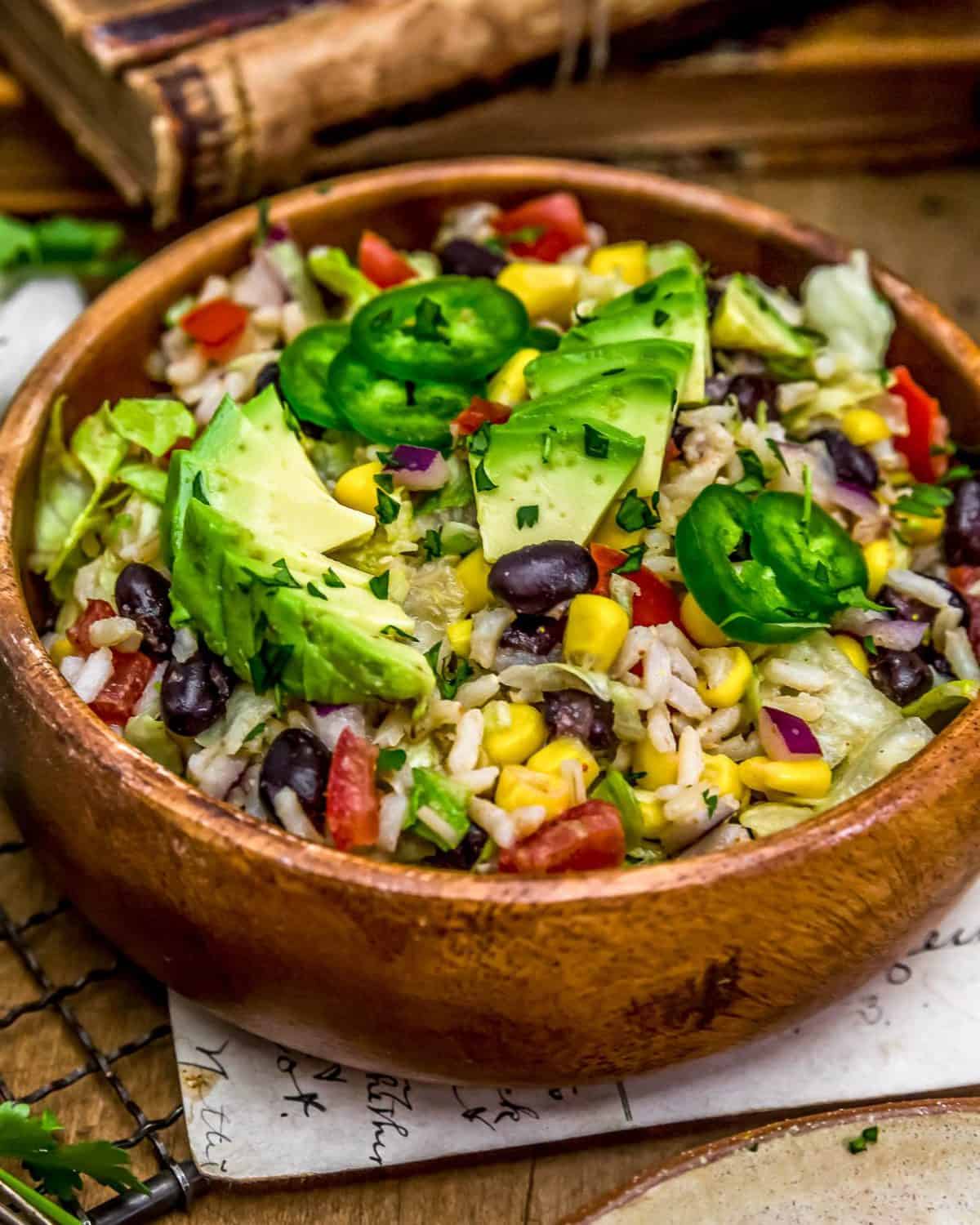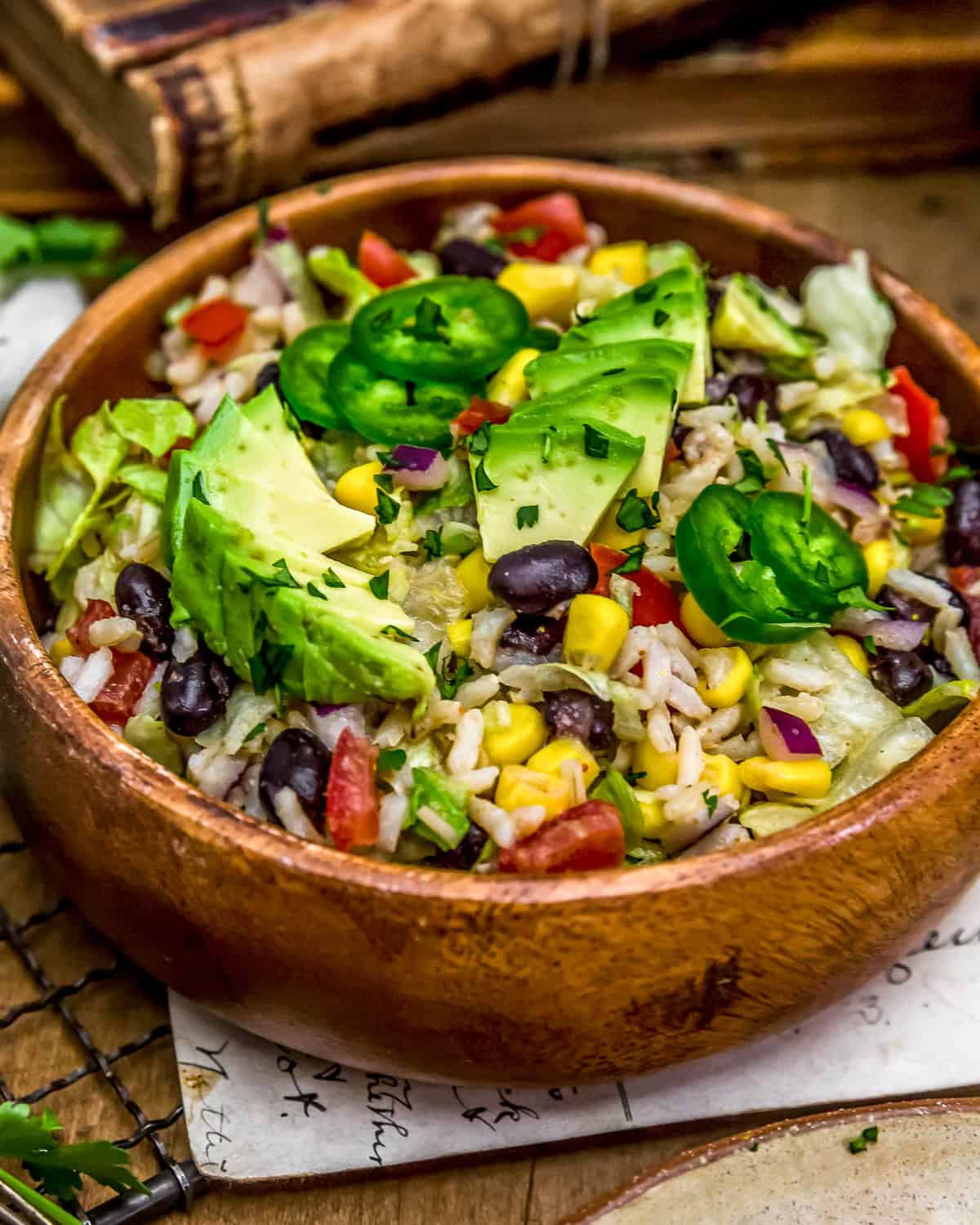 Super easy to make, this flavorful, healthy, and delicious Tex-Mex Rice Salad is a wholesome twist and packed with nourishing plant powerhouse goodness.  Protein-packed black beans, sweet corn, rich tomatoes, hearty rice, refreshing lettuce, and zesty red onions all mixed with a deliciously spicy Chipotle Lime Dressing that is absolutely perfect for busy weeknight dinners, lunches, and potlucks.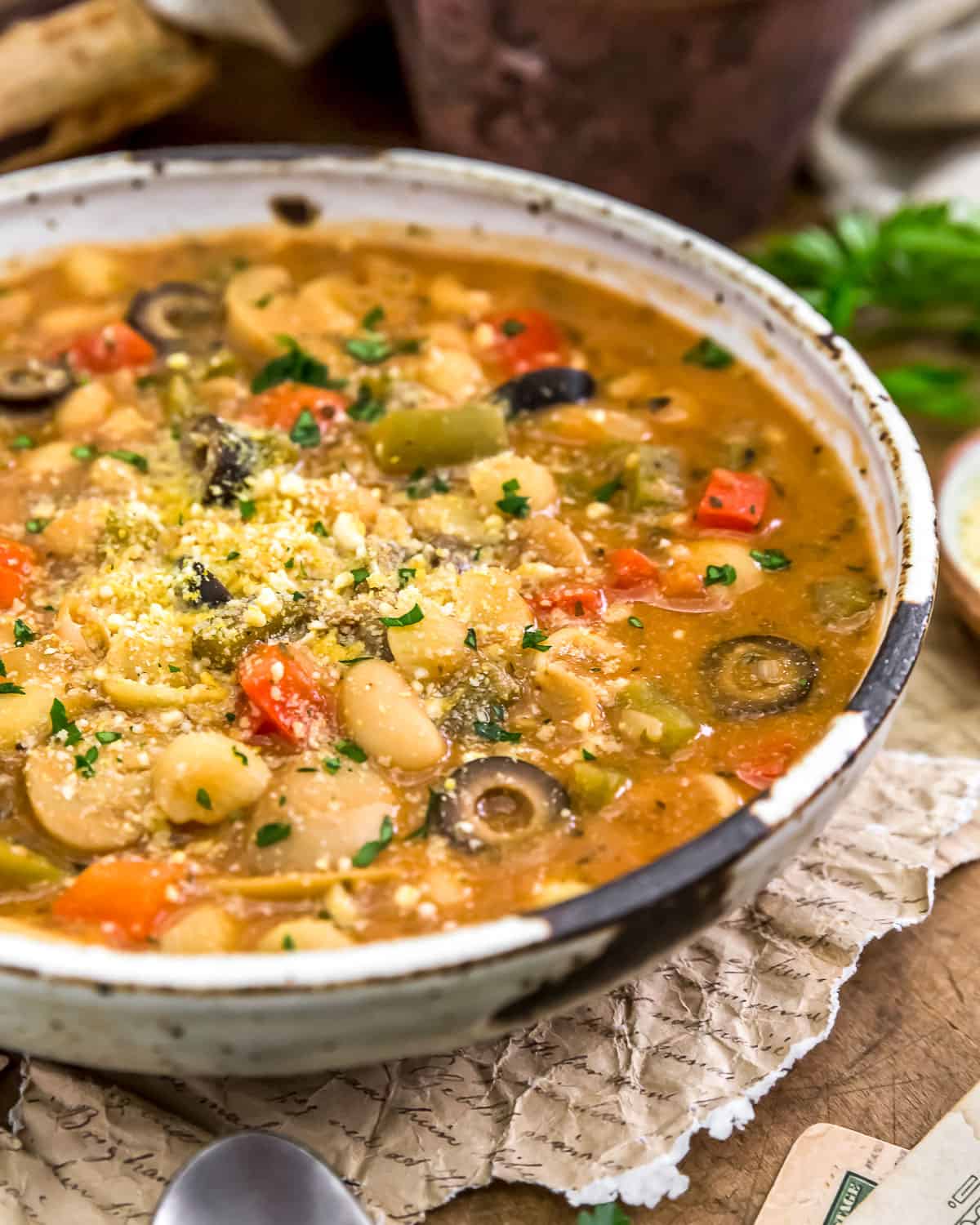 Easy, healthy, and comforting, this low-fat, oil-free Vegan Pizza Pasta Soup is a hearty Italian dish full of delicious veggie pizza flavor!  It's filling, satisfying, and the perfect soup to serve any day of the week.  It's soul-warming goodness is everything you love about pizza except in pasta form. Nourishing onions, garlic, bell peppers, tomatoes, beans, mushrooms, black olives, and tender pasta all bathed in flavorful herbaceous Italian tomato broth is sure to bring the whole family running to the table.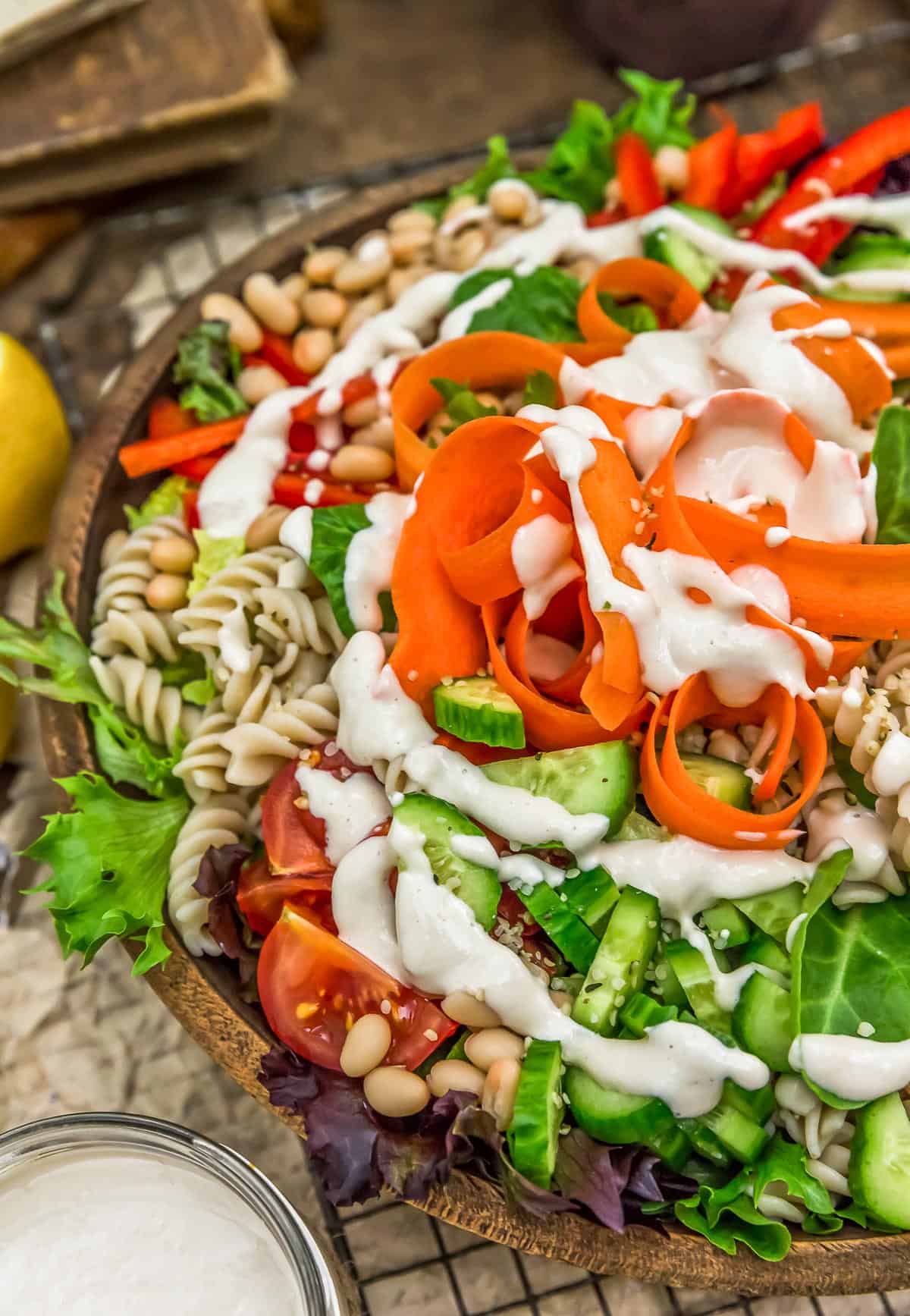 Refreshing and fragrant, this healthy, oil-free Vegan Lemon Sunflower Seeds Dressing is perfectly rich, creamy, and absolutely delicious. It's easy to make, comes together quickly, and perfect for your favorite salad greens. It's great when you are looking for a creamy, nut-free vegan dressing that is sure to make your taste buds tingle and your belly happy.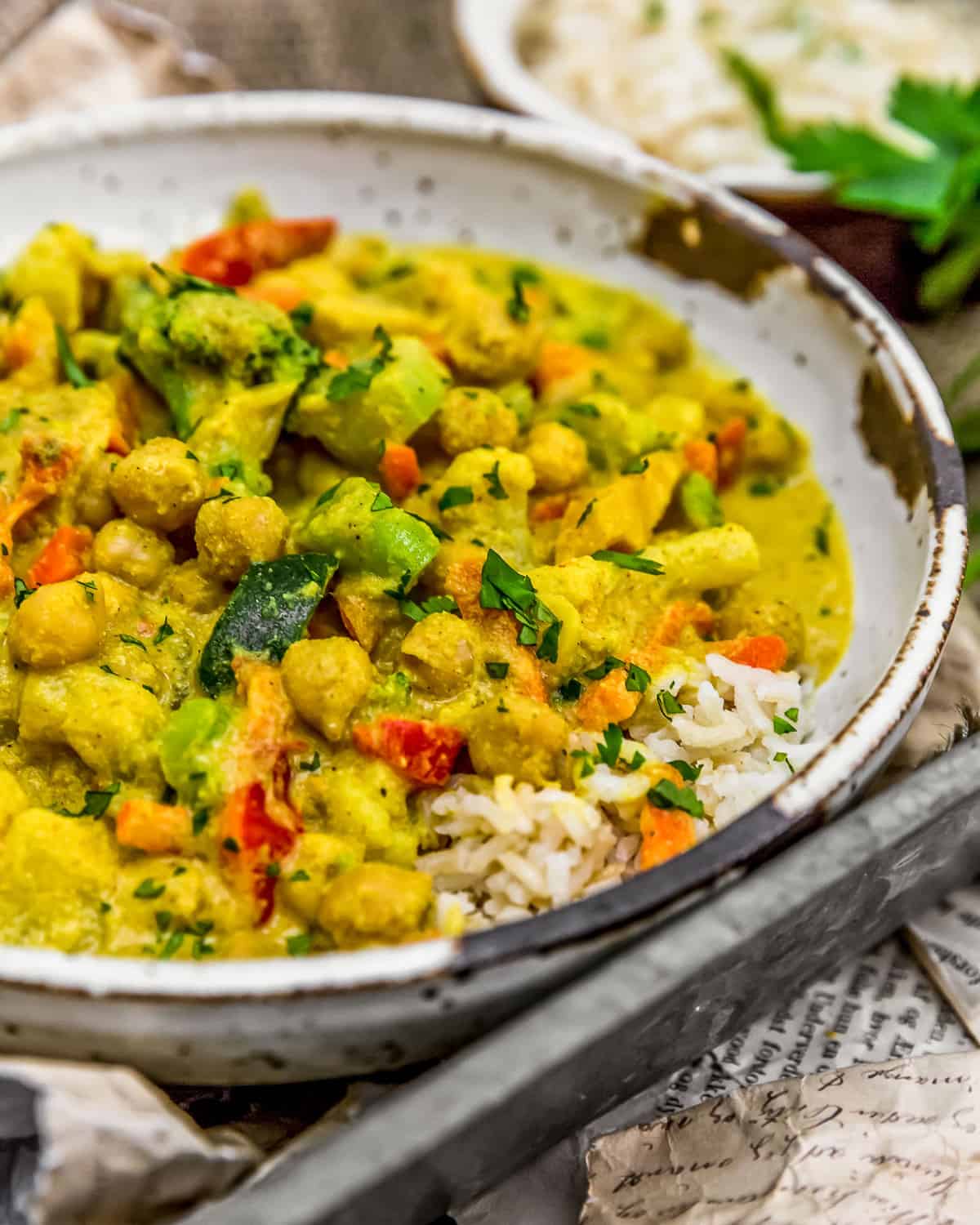 When happiness is a velvety, fragrant, and comforting bowl of goodness, we've got you covered with our Easy Vegetable Korma that is packed with wholesome vegetables bathed in rich deliciousness.  This vegan nod to the classic Indian dish is satisfying and bursting with aromatic spices, hearty chickpeas and nourishing veggies making all your Korma dreams come true.  So utterly mind blowing delicious, you'll want to text Mom all about it.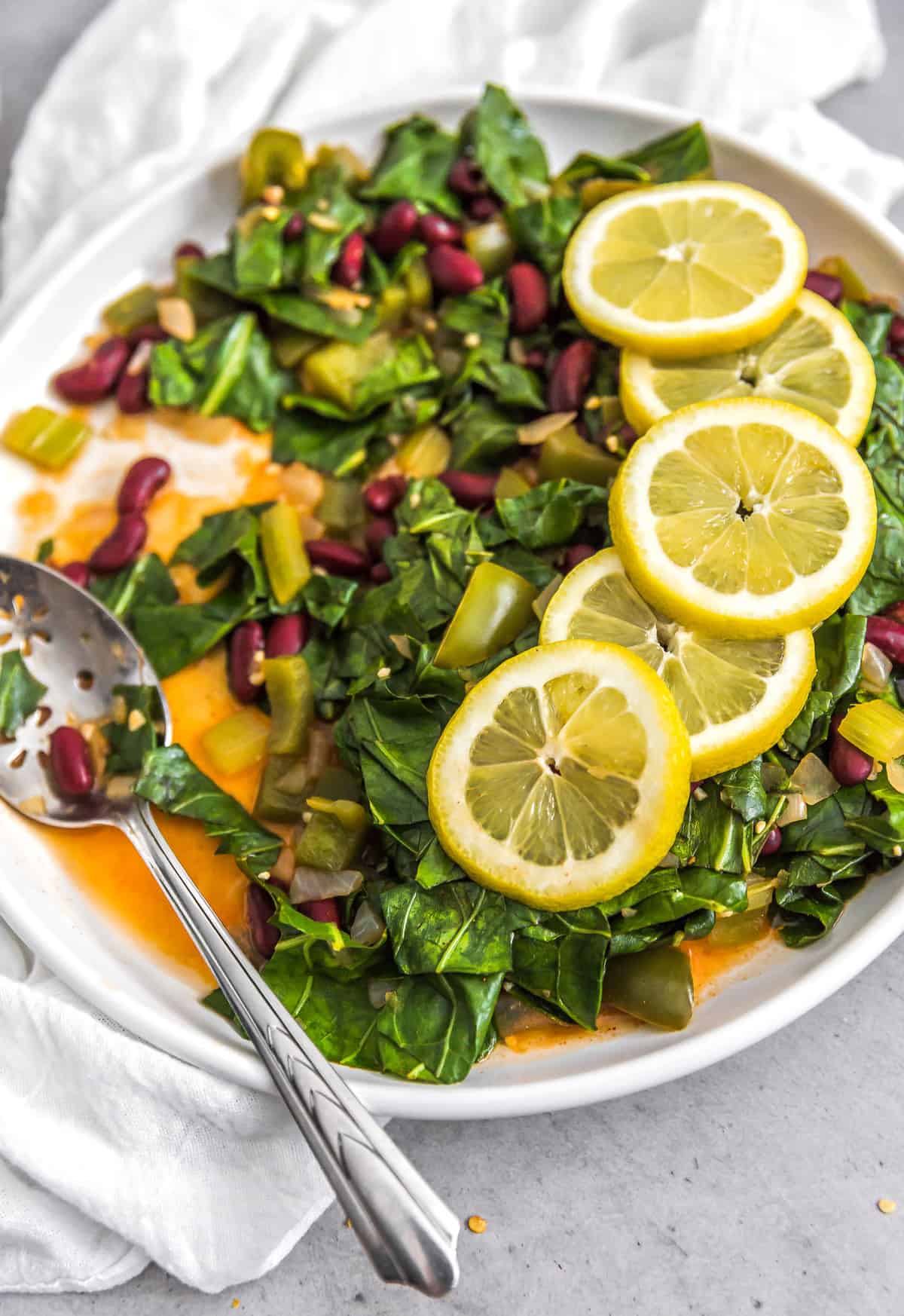 When you want to treat your taste buds to a totally rocking flavorful packed meal, this Southern Collard Greens recipe is just the ticket! Packed with veggies and healthy ingredients, this nod to Southern Collard Greens dish breaks the away from traditional Southern recipes with a *vegan high five* plus, it's so good for you!  Full of flavor, texture, vitamins, minerals, and yumminess, makes this dish an ah-mazing Whole Food Plant Based recipe!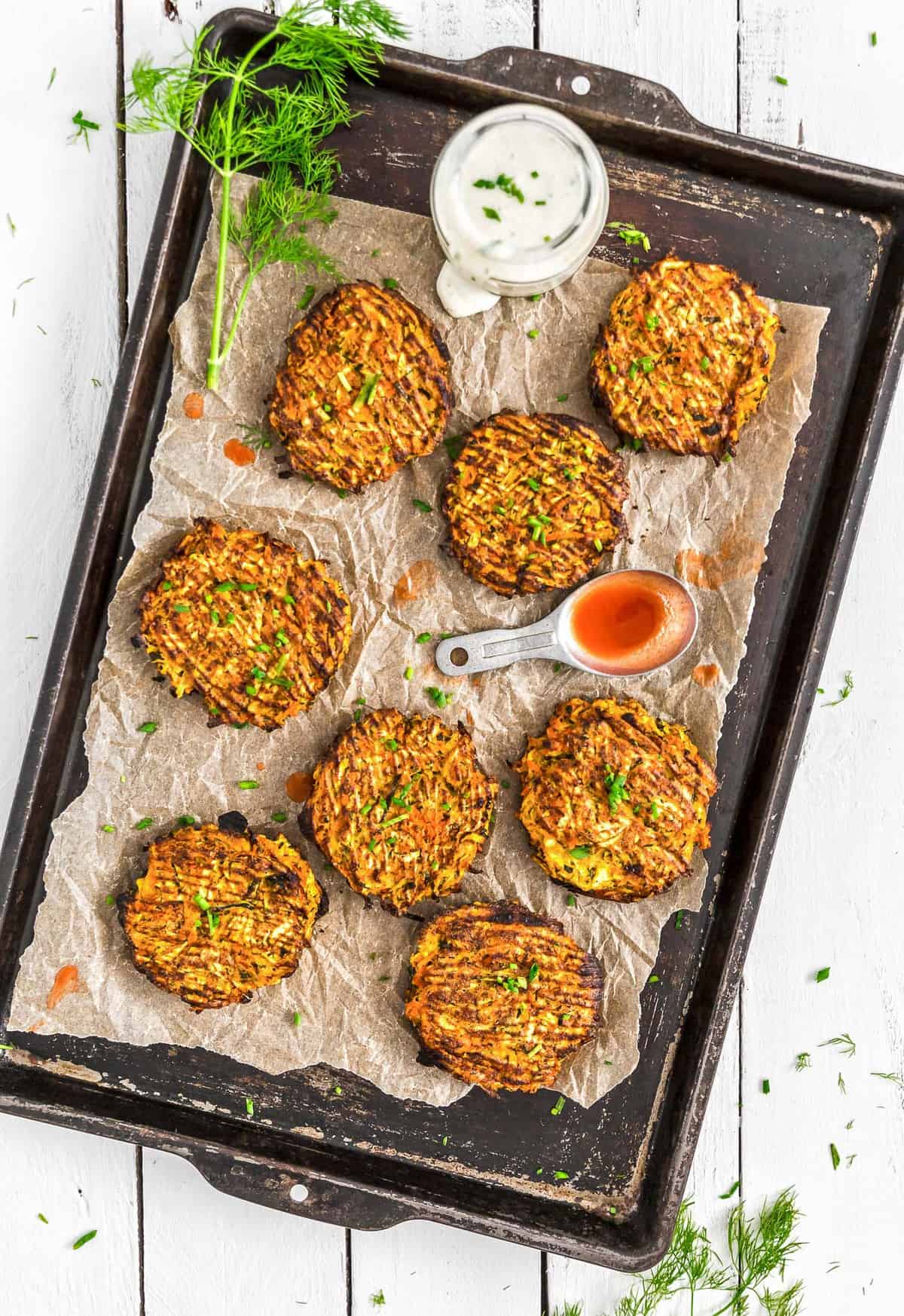 These perfectly crispy oven-baked zucchini fritters are packed with deliciously bold flavors.  Be prepared to take a ride to flavor town with one bite of these super tasty Buffalo Zucchini Fritters.  Grated zucchini and carrots tossed with hot sauce and the perfect blend of spices are baked to crispy deliciousness! Then topped with our Vegan Ranch Dressing is a match made in heaven.  A healthy wholesome dish with a lil' kick, the whole family will enjoy!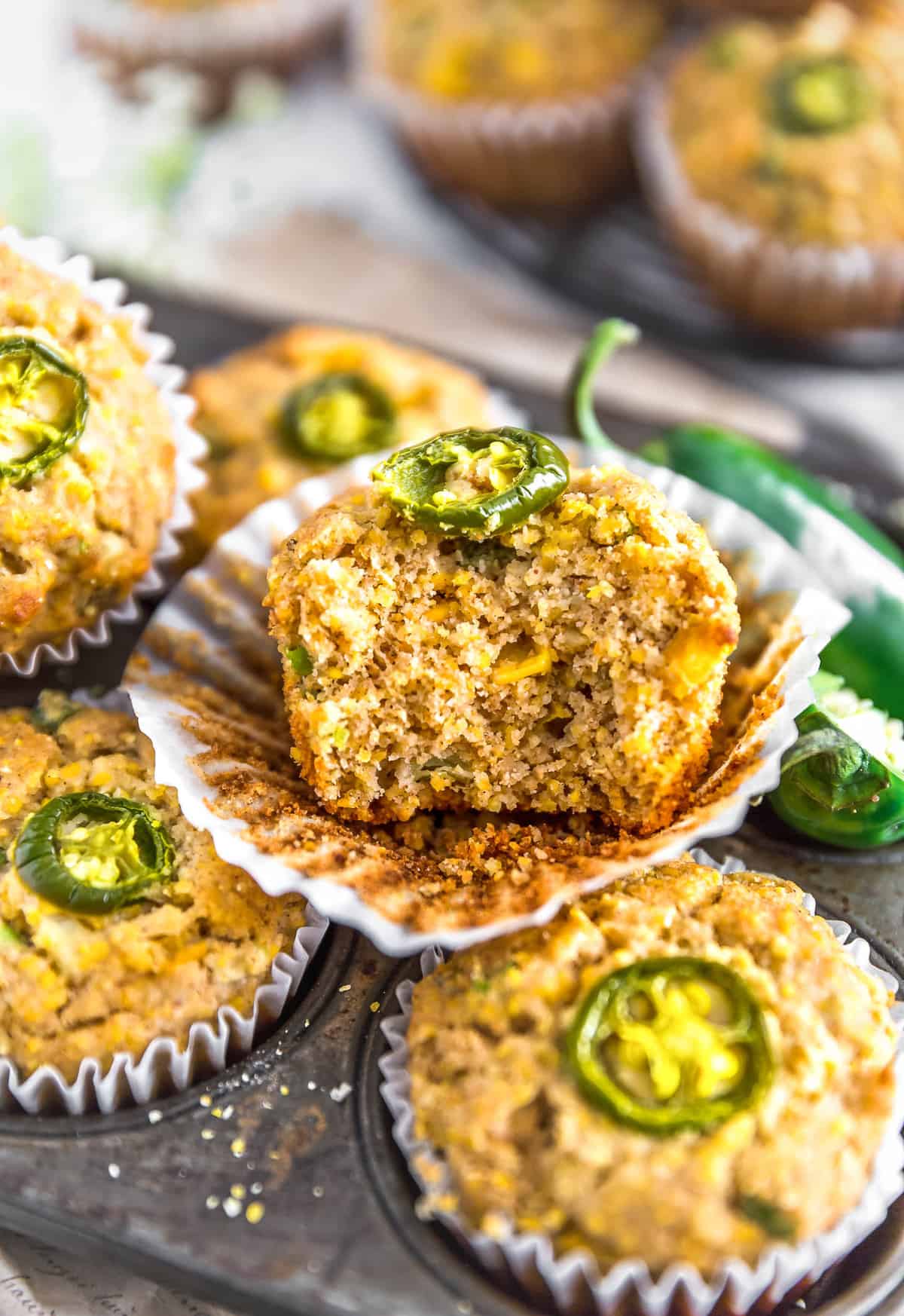 Full of Southwestern flair and flavor, these healthy Jalapeño Corn Muffins are so unbelievably delicious, you won't want to stop eating them. Perfectly fluffy, packed with exceptional yumminess, and topped with a pickled jalapeño sends these savory muffins over the top to flavor town! An awesome accompaniment to any dish, making them the ultimate Whole Food Plant Based corn muffin!