It's all about those antioxidant-rich spices and herbs, and this Lebanese Soy Curls and Pea Stew is an explosion of warming aromatic flavors. A nod to Lebanese pea stew, bazilla, this hearty dish is bursting with wholesome ingredients like: protein-packed soy curls, sweet peas, tasty carrots, and rich tomatoes. Served this tastiness over fluffy rice or quinoa for a satisfying meal that is sure to please!
Whole Food Plant Based, vegan, plant based, oil free, refined sugar free, gluten free, no highly processed ingredients.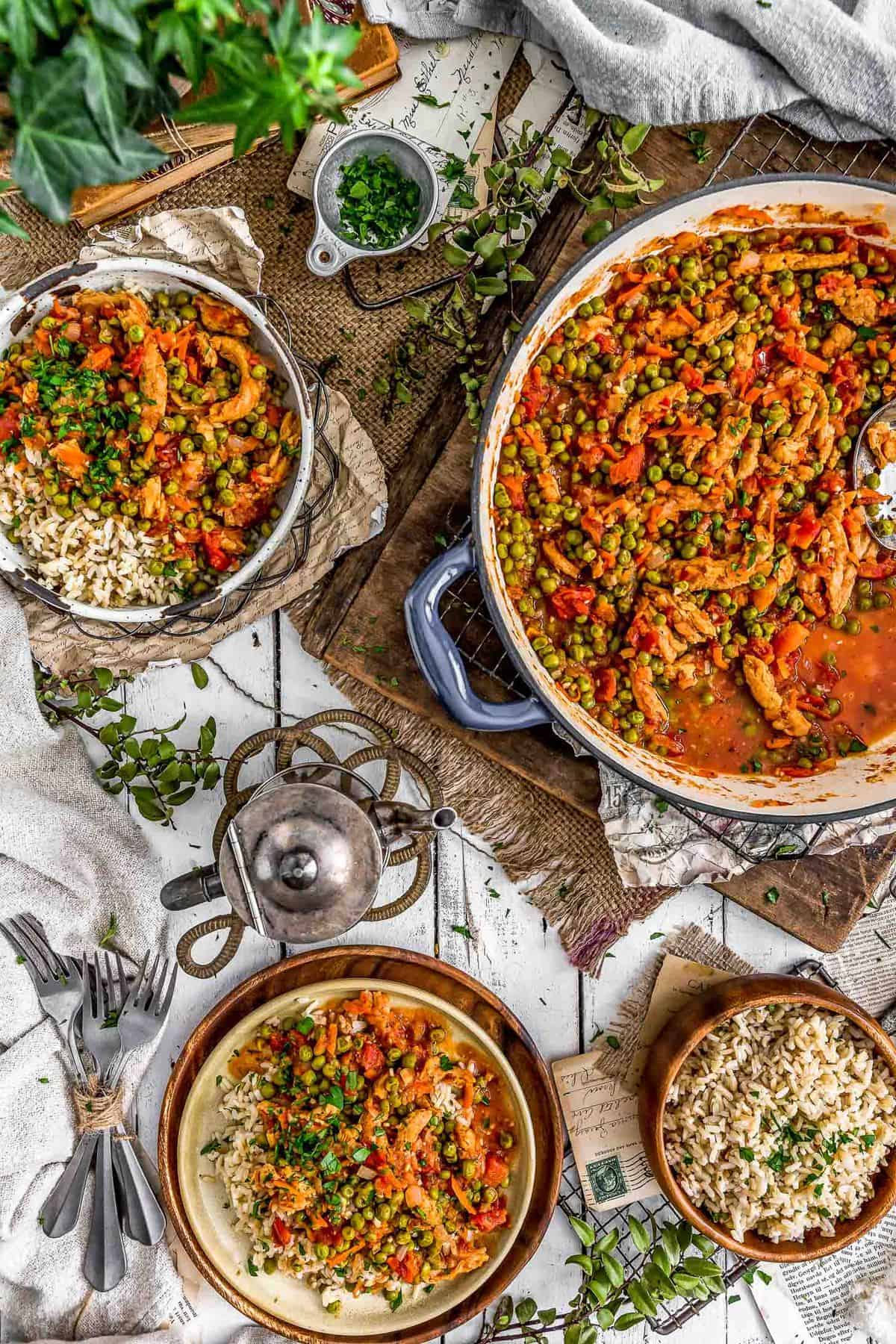 Hi there, Ameera here!
This recipe is inspired by my husband's Lebanese family. It is a nod to the Lebanese cuisine with a twist. Bazilla is traditionally meat and peas in a tomato stew with lots of oil. Converting to a Whole Food Plant Based version required a few adjustments including ramping up the spices to compensate for the lack of oil. So this dish is brimming with warming aromatic spices – total yum!
Also, using soy curls was an obvious choice for us, but if you don't want to use soy curls you can just add a couple cans of your favorite beans (like chickpeas).  We loved this recipe; it is so flavorful and delicious!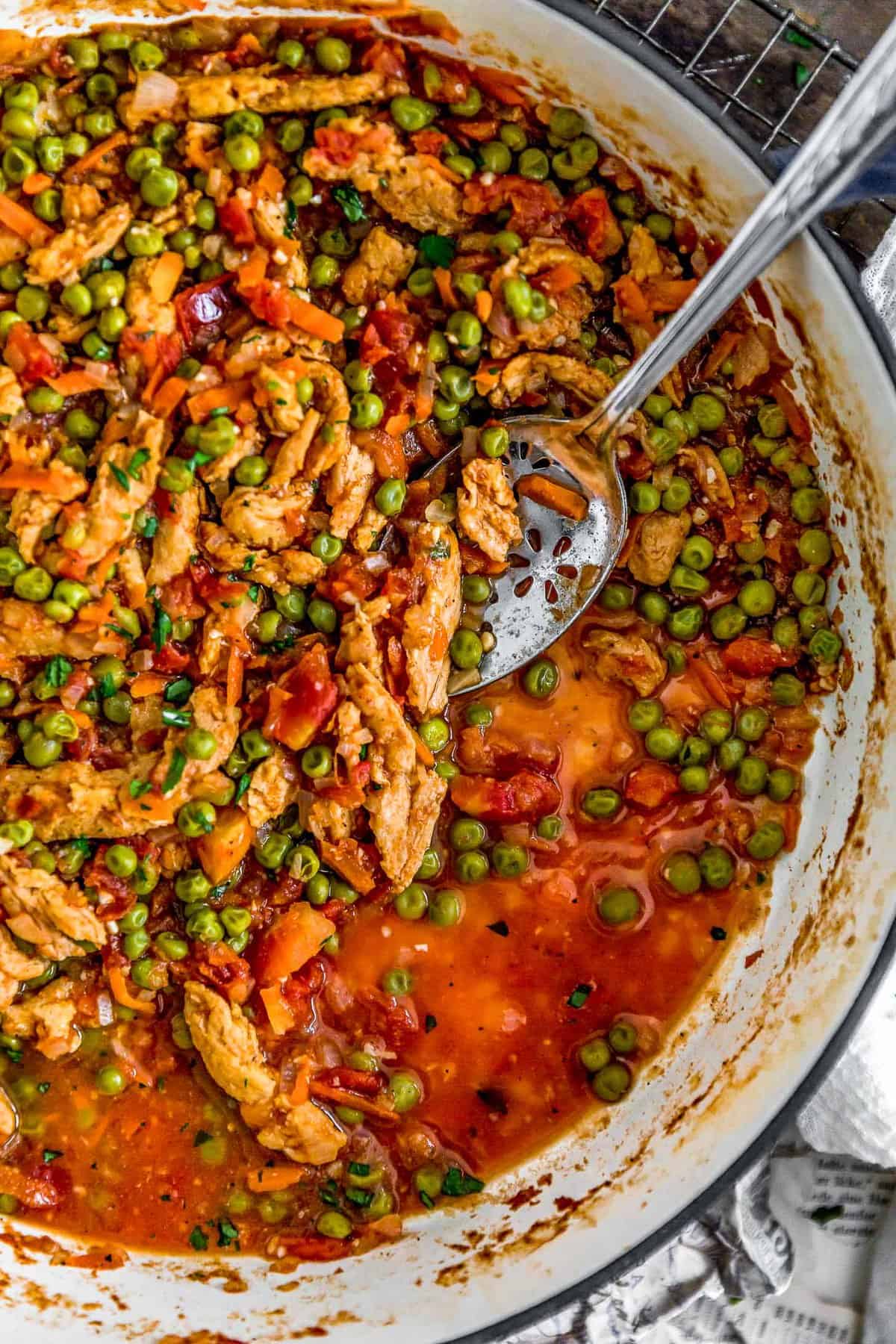 This post contains affiliate links, and we may receive a very small commission if you purchase through those links at no additional cost to you. Thank you for supporting Monkey and Me Kitchen Adventures! For more information, see our disclosures here.
Miracle Curls
I know I must sound like a broken record because I keep saying this, but I just gotta say it again… have you tried soy curls yet? If you haven't, then I'm sorry, but you are totally missing out.  Seriously! They are soooo good!  Think of them as a blank slate.  They take on whatever deliciousness you cook them in. They are somewhat "meaty," think "chicken tenders," with a kind of chewy, but not as firm texture.  They are super yum in my humble opinion.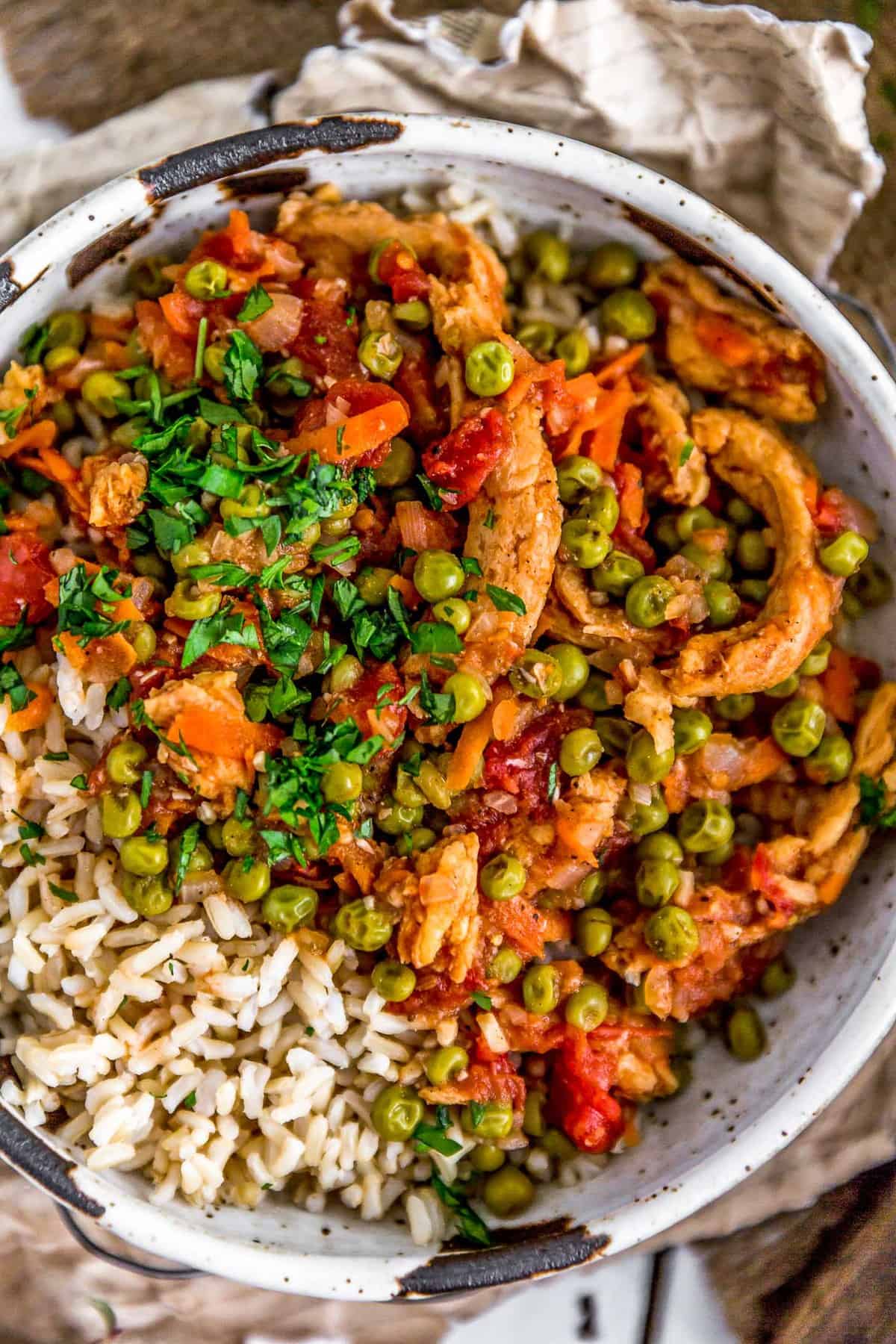 Butler Soy Curls
I have never been able to find them in a grocery store or health food store, or any store for that matter, so we order them off of Amazon.  They look similar to a crusty onion ring in the package, very odd looking indeed, but they are absolutely perfect in for variety of dishes.
Soy
There is no doubt about it, our readers are not convinced. Our other soy curl recipes are not received with open arms like most of our other recipes, but we do have some readers that are hard-core soy curl fans like us, so we will still create soy curl recipes.
The beef and dairy industry should take a bow for pushing their propaganda on giving soy a bad rap because most Americans still believe that soy is bad for us.  *heavy sigh*
What's even worse is our doctors still give out the same bad information on soy.  How do I know this?  Because people still tell others (in Facebook group pages) that their doctors tell them not to consume soy products. *head smack*
Unless you are allergic or have a soy intolerance, you don't need to avoid soy. If you have thyroid issues, I highly recommend this read by NutritionFacts.org: Can soy suppress thyroid function?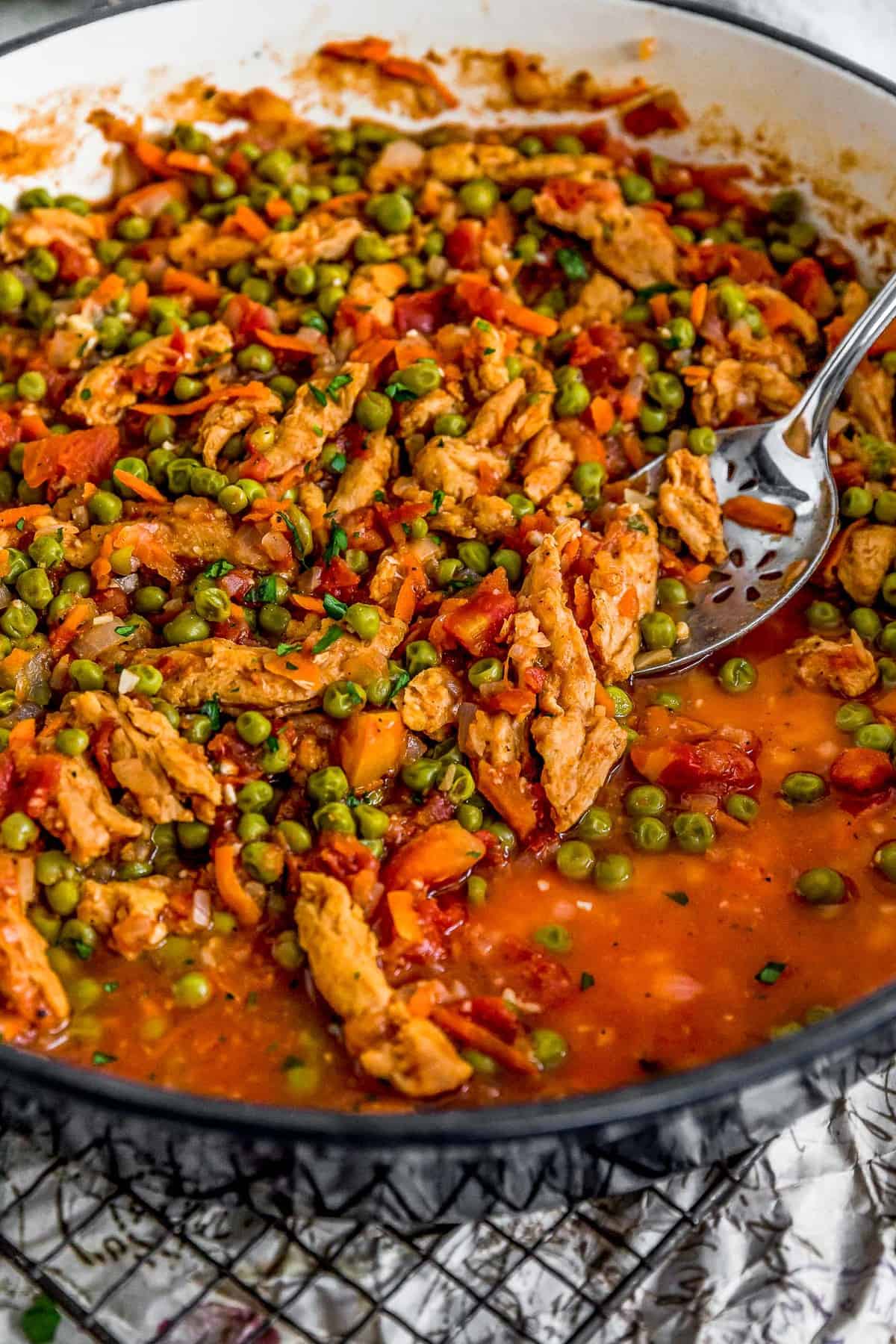 Evidence Based Scientific Research
Dr. Greger has published quite a bit about how soy got a bad rap.  Industry simply capitalized on the bad naming convention of "phytoestrogens."  Soy contains phytoestrogen, which the meat and dairy industry seized upon the "estrogen" portion of the name and therefore convinced the world that soy contains estrogen hormones and therefore causes cancer.  A study in 1996 found the opposite to be true, that soy actually reduced the risk of cancers.
Check out here: NutritionFacts.org – soy link to see Dr. Greger's information about soy, which is based on actual scientific research!
Additionally, there is tons of great information about the powerhouse soy on T. Colin Campbell Center for Nutrition Studies here: NutritionStudies.org – soy
I'll let Mom tell you more.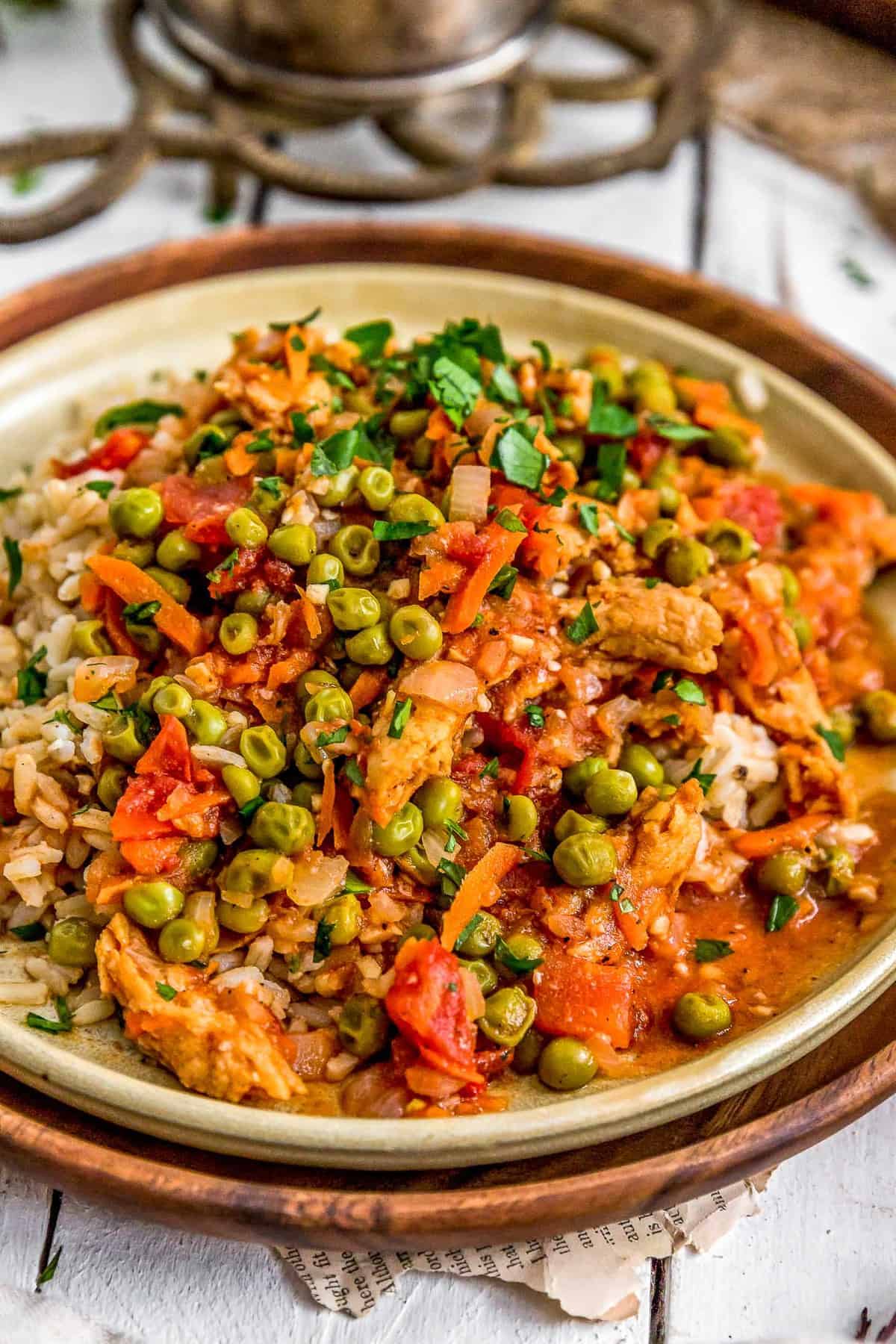 Hi! Robin here!
Monkey made me a soy curl fan!  I really enjoy them and they are super tasty in this dish. I've had traditional bazilla in my past life (before WFPB) and this dish is a beautiful nod to that recipe.
I actually enjoy the Whole Food Plant Based dish even more than traditional bazilla. The real test was TP109, who absolutely loved traditional Lebanese bazilla. He scarfed this dish down in 2 seconds flat and gave it high scores all the way around. I must say that Michael wouldn't even try it because he knew it wasn't authentic bazilla.  *sigh* Some day we will get him to eat healthy.  Anyone out there that lives with both meat eaters and WFPBers in the family knows the struggle is real!
We would love for you to give this recipe a try!
If you try this recipe, we would love to know if you enjoy it as much as we do! Please leave us a review! Post a picture on Facebook or Instagram and tag us!  We would love to hear from you.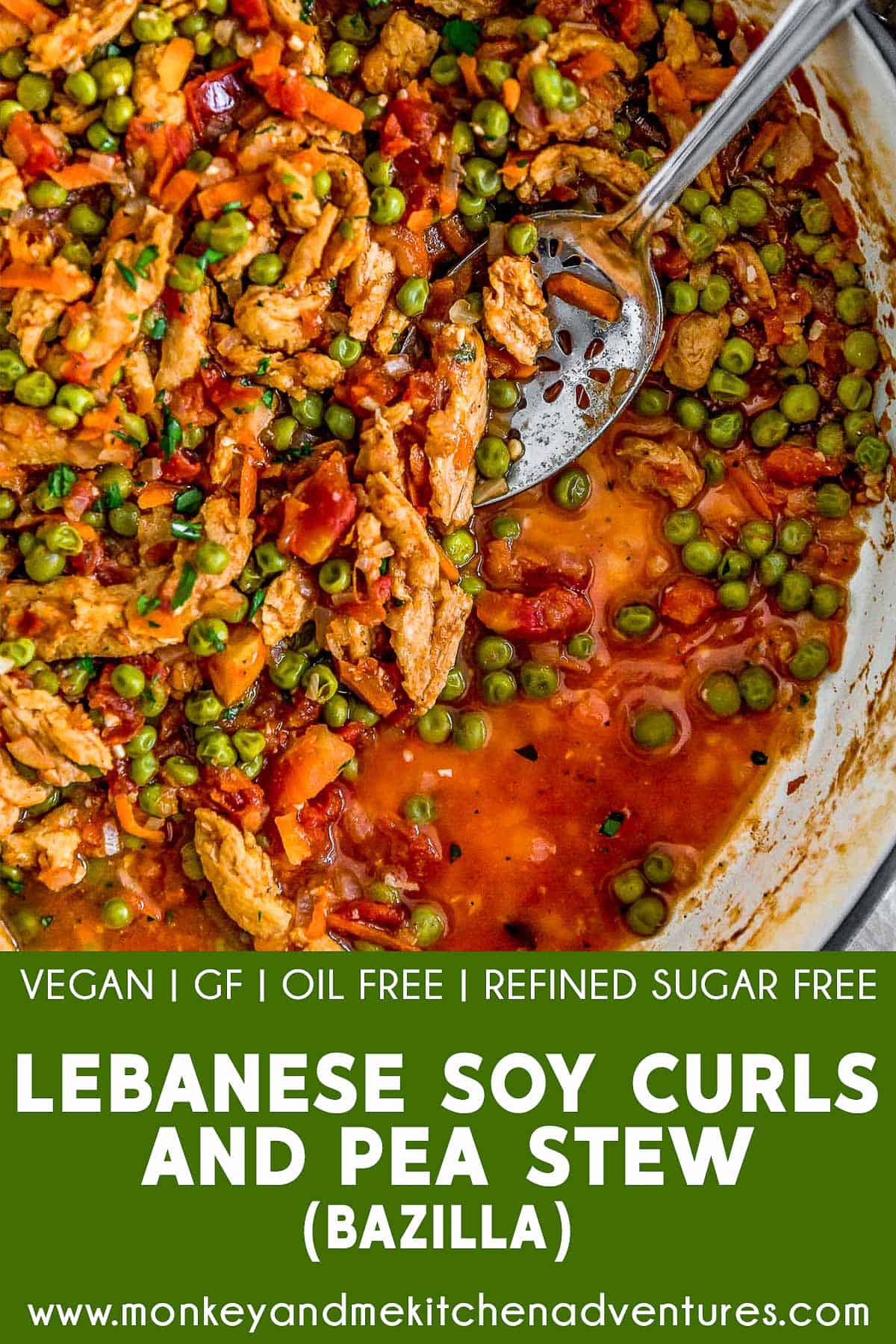 Products Used:
Ceramic/enamel lined Dutch oven, nonstick deep skillet, or similar large stock pot with a tight-fitting lid
Print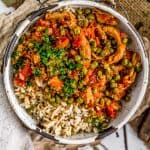 Lebanese Soy Curls and Pea Stew (Bazilla)
Author:

Prep Time:

10 Mintues

Cook Time:

40 Minutes

Total Time:

50 Minutes

Yield:

4

servings

1

x
Category:

Stew

Method:

Stovetop

Cuisine:

Lebanese

This post contains affiliate links, and we may receive a very small commission if you purchase through those links at no additional cost to you. Thank you for supporting Monkey and Me Kitchen Adventures! For more information, see our disclosures here.