French Country Cabbage Lentil Soup! Grab a big bowl and spoon and get ready for some cozy, nutrient-dense goodness.
Comforting, low-fat, and flavorful, this easy French Country Cabbage Lentil Soup boasts nourishing veggies and highlights the herbaceous goodness Herbes de Provence, fennel, and thyme. Red wine gives this soup depth and flavor. The lentils and potatoes give it a soothing comfort food feel while still being healthy and light.
Whole Food Plant Based, Vegan, plant based, oil free, refined sugar free, no highly processed ingredients and gluten free.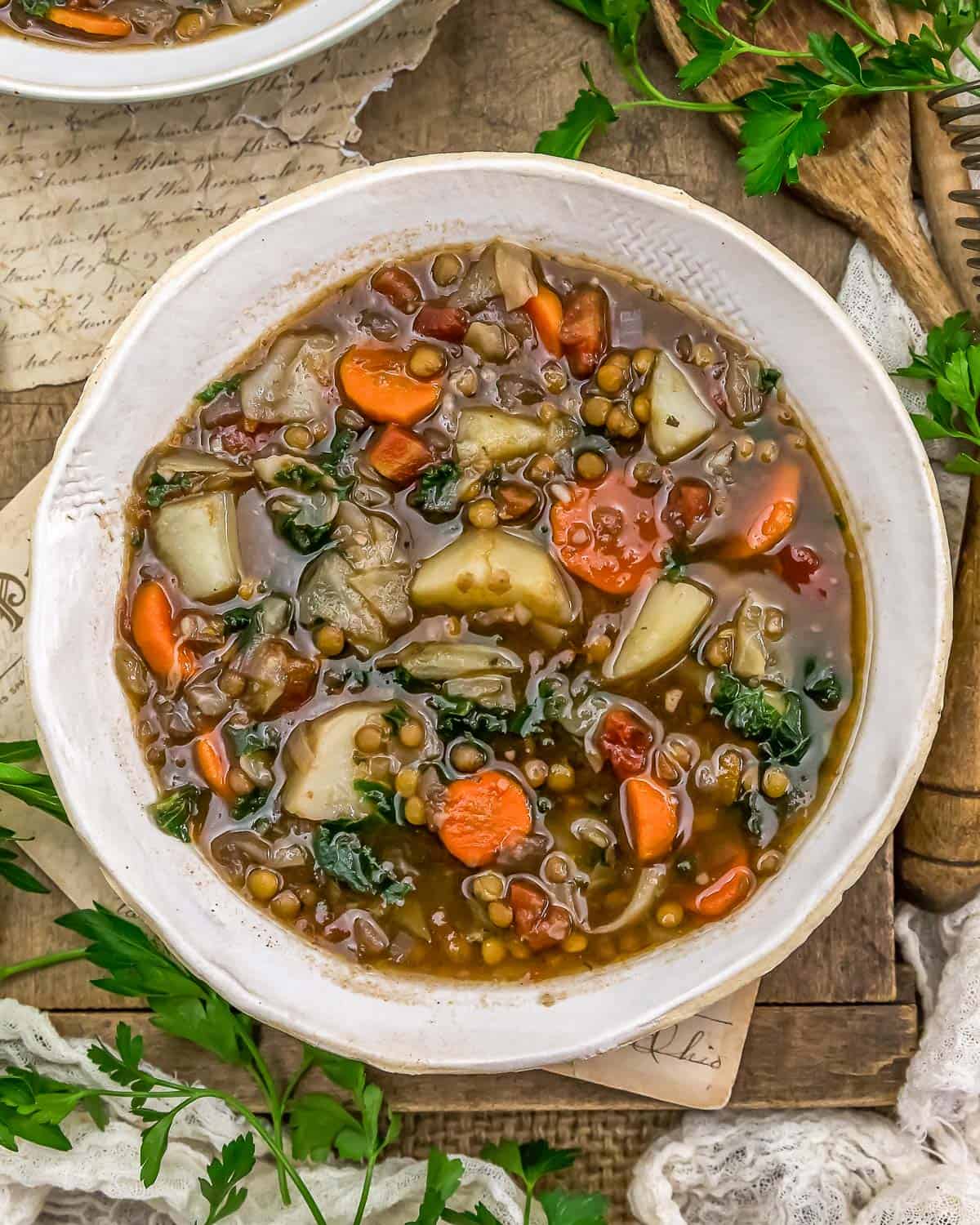 Hi there, Ameera here!
I love soup, and this one is soooo delicious. The combination of French herbs and the red wine gives great dimension to this cozy soup.  I love the light feel of the broth; it has great flavor, yet it's not heavy or overwhelming. You can easily ramp up the flavor by adding more herbs if you wish, but I love this one exactly as it is.
You gotta give this one a try!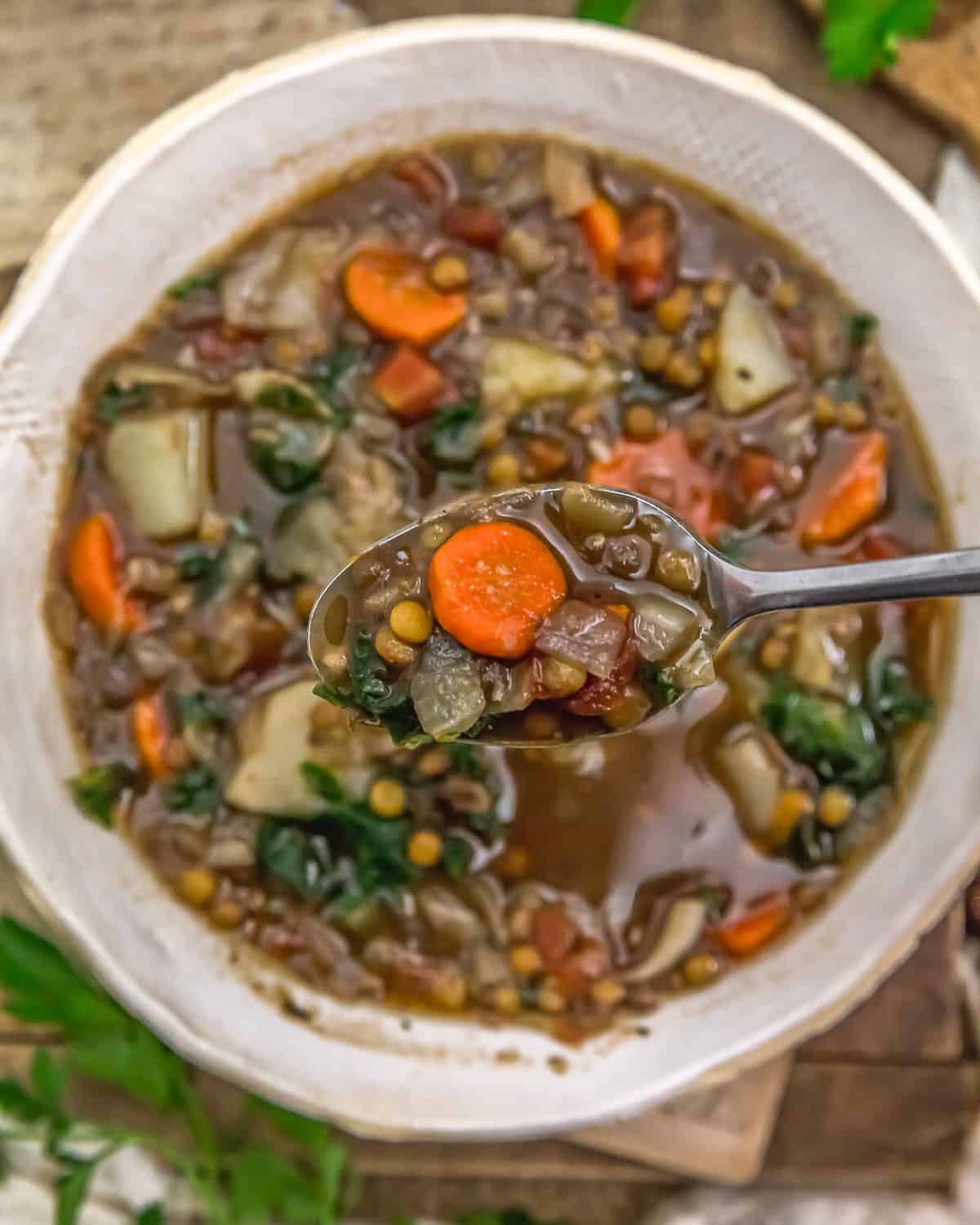 Tips for Success:
Flavor Profile: This is a delicious soup that features red wine and French herbs.  The soup is herbaceous with herbes de provence, fennel and thyme as the prominent flavor in this soup.  This soup has great flavor, but it is still light.
Low-Fat Dish Expectations: This soup was designed to be low in fat. Because it is low in fat, you are not going to experience that endorphin rush associated with eating high-fat foods when eating this soup. It is very tasty for what it is, and that is a low-fat soup. We just want to make sure that our Readers recognize this when contemplating making this recipe.  If you wish to make it more indulgent, add the Vegan Parmesan Cheese on individual servings.
Red Wine: Chose a vegan red wine that you would choose to drink.  Not all wine is vegan as some wines may contain eggs whites or other non-vegan ingredients. If you need help identifying if a wine is vegan, this site helps:  https://www.barnivore.com/wine
Red Wine Substitutions: We have not tried any substitutions for the wine, but we would recommend replacing the wine with vegetable broth (if needed.) The alcohol burns off and you are left with this great nuance of flavor that adds great dimension to this soup. Substituting the wine will change the depth of flavor and you may need to adjust the seasoning/spices to make up for it.
Red Wine Vinegar: We are often asked if red wine can be replaced with red wine vinegar.  In this quantity (3/4 cup), the answer is no.
Herbes de Provence: Herbes de Provence is a herbaceous herb blend. Similar to Italian Seasonings, but French.  Herbes de Provence combines French herbs and Italian herbs like rosemary, basil, French tarragon, cracked fennel, thyme, savory, dill weed, Turkish oregano, lavender, chervil, and marjoram.  It is carried in most major grocery stores as it is often used for roasting chicken.  A note of caution, sometimes, you may find it in a powder form.  If in powder form, consider cutting the amount in half.
Dried Crushed Thyme Leaves: We used dried crushed thyme leaves, they have a lot of texture.  If you can't find dried crushed thyme leaves, you can use ground thyme, but use half the amount.
Herbs: This soup has a lot of great flavor, but it is lightly flavored (purposefully).  If you want to increase the flavor profile, simply ramp up the herbs.
Baking Soda: Baking soda is often used as a neutralizer for dishes that contain a lot of acidity, typically from tomatoes.  We use it in this soup to remove some of the tomato acidity (from the petite diced tomatoes) without losing the tomatoey flavor. When you add it, the mixture may bubble up, then settle down as it neutralizes the acidity. Additionally, the baking soda also helps speed the cooking process of the lentils.
Simmer Lentils: Do not cook lentils at a rolling bowl, they will cook too fast and cause them to split and get mushy.
Testing the Tenderness of the Lentils: Just pull out a few lentils and give them a taste to check for tenderness.
Amount of Broth: If you enjoy a lot of broth, use ½ cup of lentils.  If you enjoy a broth filled with lentils and potatoes, use ¾ cup of lentils.
Cabbage: 3 to 3 ½ cups of roughly chopped cabbage is approximately ¼ of a medium cabbage.
Potatoes: We used Russet potatoes, but most any white, red, or yellow potato will work except for sweet potatoes.
Timing of When to Add the Sea Salt: We recommend adding the sea salt near the end as sea salt tends to toughen the shell of the lentils which may take the lentils longer to cook if added too early.
Amount of Sea Salt: We had family members completely divided over the amount of sea salt needed to season this soup, feel free to adjust to suit your own tastes accordingly.
Instant Pot: We do not recommend using the IP for this recipe as the potatoes would disintegrate before the lentils would be tender.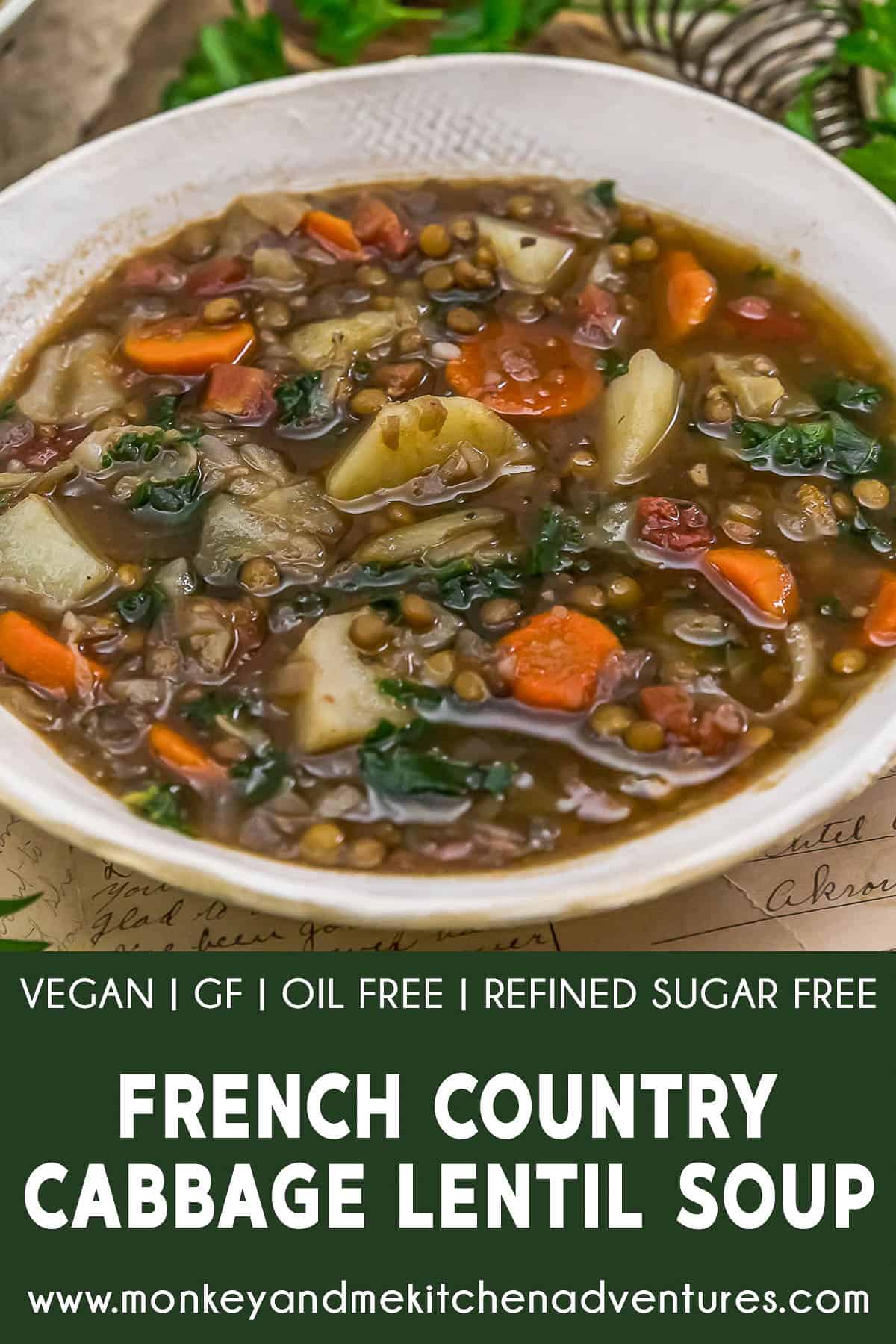 Leftovers and Freezing:
Leftovers will generally keep for 4-5 days in the refrigerator.  Store in a covered container.
This soup freezes well.
Pantry Products Used:
Vegetable Stock:   We use Pacific Organic Low Sodium Vegetable Stock. We love this brand because it is Whole Food Plant Based compliant, as it does not contain MSG, has no oil, and does not contain any highly-processed ingredients.  Feel free to use your favorite vegetable stock/broth.
Lentils:  We used Palouse Brand Small Brown Lentils.  They are delicious.  They hold their shape well and have a slightly nutty taste to them.  Feel free to use your favorite brown lentil or French lentils.
Sea Salt:  Please adjust the sea salt based upon your family's sea salt preferences and/or based upon dietary needs.
Kitchen Products Used:
If you try this wholesome soup, we would love to know if you enjoy it as much as we do! Please leave us a review! Post a picture on Facebook or Instagram and tag us! We would love to hear from you.
Print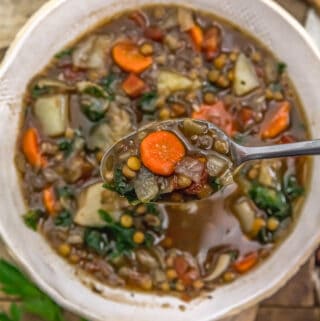 French Country Cabbage Lentil Soup
Author:

Prep Time:

15 Minutes

Cook Time:

50-60 Minutes

Total Time:

65 Minutes

Yield:

10 Cups

1

x

Category:

Soup

Method:

Stovetop

Cuisine:

French Inspired

Diet:

Vegan
---
Description
Comforting, low-fat, and flavorful, this easy French Country Cabbage Lentil Soup boasts nourishing veggies and highlights herbaceous goodness.
---
Base Ingredients:
1

medium yellow onion, fine dice

2

medium carrots, cut into penny rounds

1 Tablespoon

minced garlic

¾ cup

vegan red wine *

1

– [ 14 oz. can ] petite diced tomatoes

2 cups

low-sodium vegetable broth *

5 cups

water

3

to

3 ½

cups roughly shredded cabbage *

¼ teaspoon

baking soda *

½

to

¾

cup dry brown lentils (or French lentils), picked through and rinsed *

3

to

4

medium potatoes, peeled and cubed (½-inch cubes) * 
Spice/Herb Ingredients:
1 teaspoon

garlic powder

1 teaspoon

onion powder

1 ¼ teaspoons

herbes de provence (+/-) *

¼ teaspoon

dried crushed thyme leaves (+/-) *

¼ teaspoon

ground fennel (+/-) *

¼ teaspoon

black pepper (+/-)

½

to

1 ½

teaspoons sea salt (+/-) * 
Optional Ingredients:
1

to

2

cups chopped kale (or fresh baby spinach)
---
Instructions
Place the Spice/Herb Ingredients (except the sea salt) in a small bowl, mix well, set aside.
In a large ceramic/enamel-lined Dutch oven or similar stock pot, add the diced onions and carrots; sauté over medium heat until they begin to soften, approximately 7 to 9 minutes. Add a tablespoon or so of water if they start to stick and/or to prevent burning.
Next add the minced garlic, sauté, stirring constantly for one minute, then increase the heat and add the red wine, allow to come to a boil. Boil for several minutes to allow the alcohol to evaporate.  Then add all the remaining Base Ingredients (except the baking soda, lentils, and potatoes) and the Spice/Herb Mix (no salt).  Stir well to mix, bring to a boil, then immediately lower to a simmer.
Add the baking soda, stir constantly for 30 seconds to allow the baking soda to settle, then add the lentils, stir. Cover the pot (ajar), simmer with a gentle low boil for 25 minutes (stirring occasionally)
After 25 minutes, then add the cubed potatoes.  Continue to simmer covered (ajar) until the lentils and potatoes are tender, approximately another 10 to 20 minutes.
When the lentils and potatoes are tender, add the sea salt. Simmer uncovered for another 5 minutes. If adding kale (or spinach), add at this time.
Remove from the stove and allow to sit for 10 minutes for the flavors to marry.
---
Notes
*Please reference the blog post for Tips for Success, Pantry Items Used, Storage and Freezing, and Kitchen Products Used.
*Sea Salt:  Please adjust the sea salt based upon your family's sea salt preferences and/or based upon dietary needs.   
*Servings: 5 to 6  (makes 10 cups)

This post contains affiliate links, and we may receive a very small commission if you purchase through those links at no additional cost to you. Thank you for supporting Monkey and Me Kitchen Adventures! For more information, see our disclosures here.