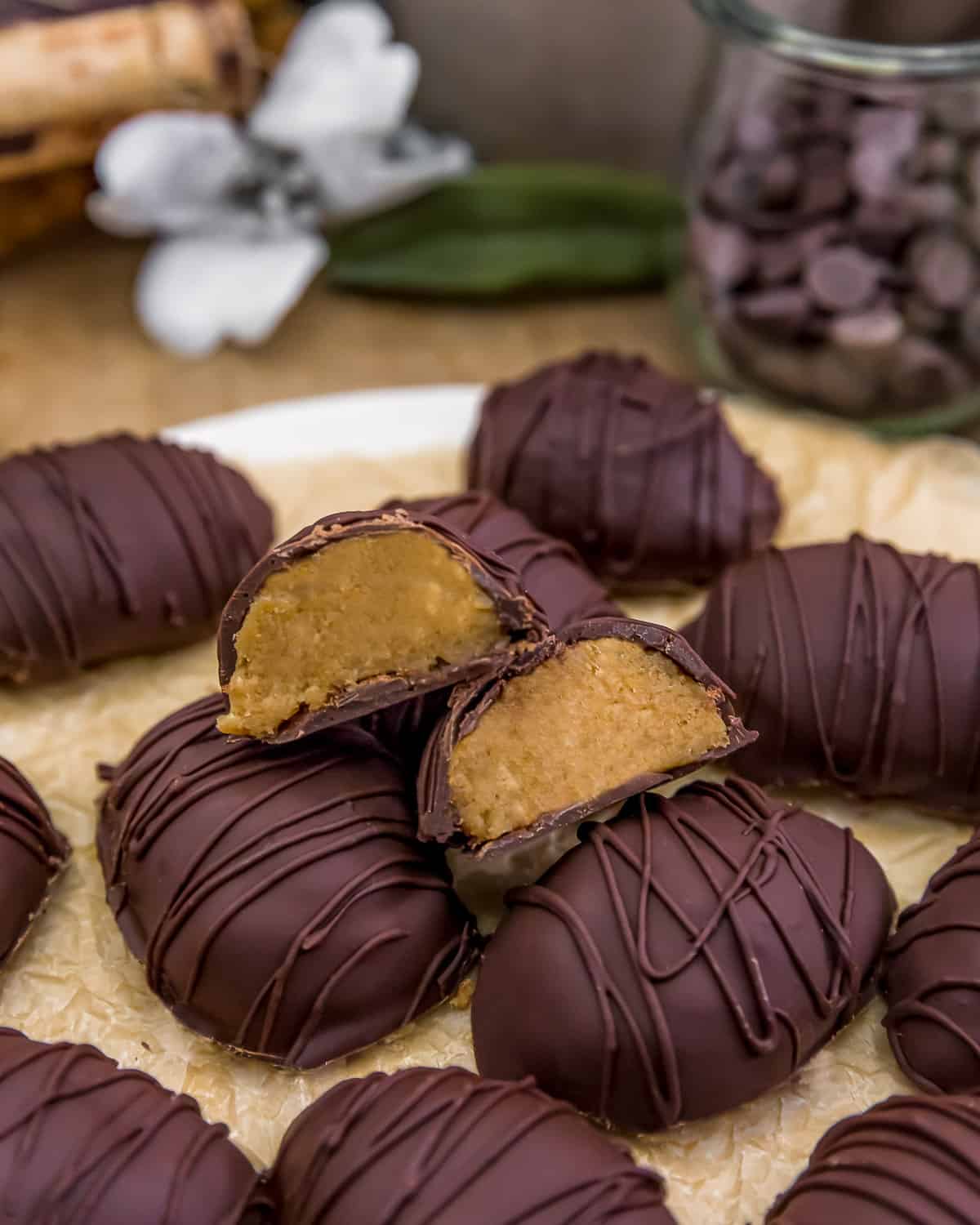 Vegan Healthy Chocolate Peanut Butter Eggs! It's peanut butter egg season already, and we've got the perfect treat to satisfy those cravings with a healthy twist.
These Vegan Healthy Chocolate Peanut Butter Eggs are irresistible and a healthy copycat of Reese's peanut butter eggs. Made with a special ingredient: chickpeas for added substance without taking away from the delicious peanut butter flavor. These sweet treats are fun to eat and perfect for Easter or any holiday. Hand roll or use silicone molds to make eggs, hearts, or Christmas trees.
Whole Food Plant Based, Vegan, plant based, oil free, refined sugar free, no highly processed ingredients and gluten free.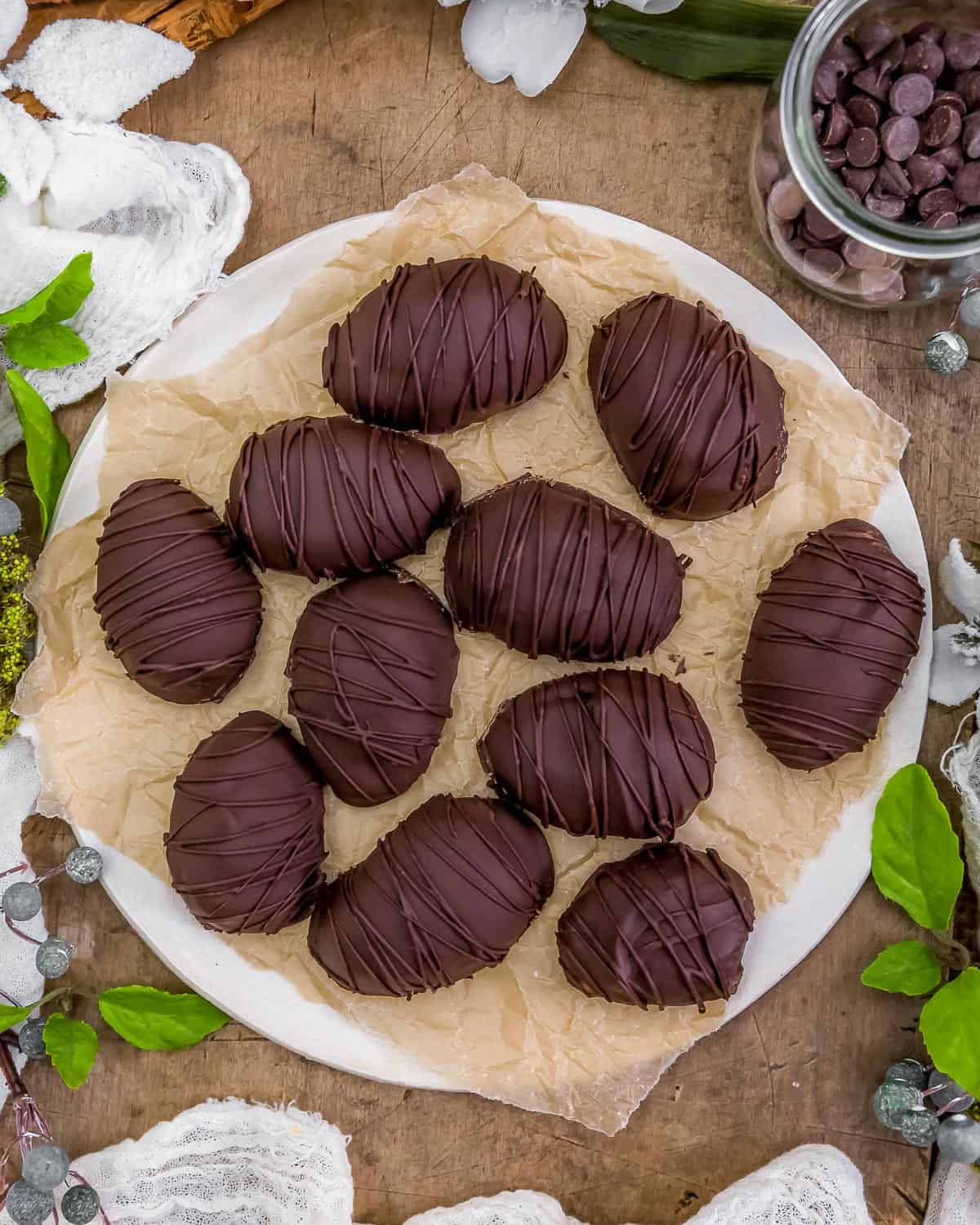 Hi there, Ameera here!
Chocolate coated peanut butter, oOoooOo yah!  One of my favorite candies in my former life was Reese's Peanut Butter cups, especially the eggs and tree during the holidays.
This healthier tasty treat is delicious and one of the fun parts is telling people they are made with chickpeas – it will blow their minds.  Hahahaha!  😀
One key note, this recipe is not for the impatient!  Set aside some time to make them.  There is a lot of inactive time, but if you want great results be sure to read the entire blog post.
You gotta give this one a try!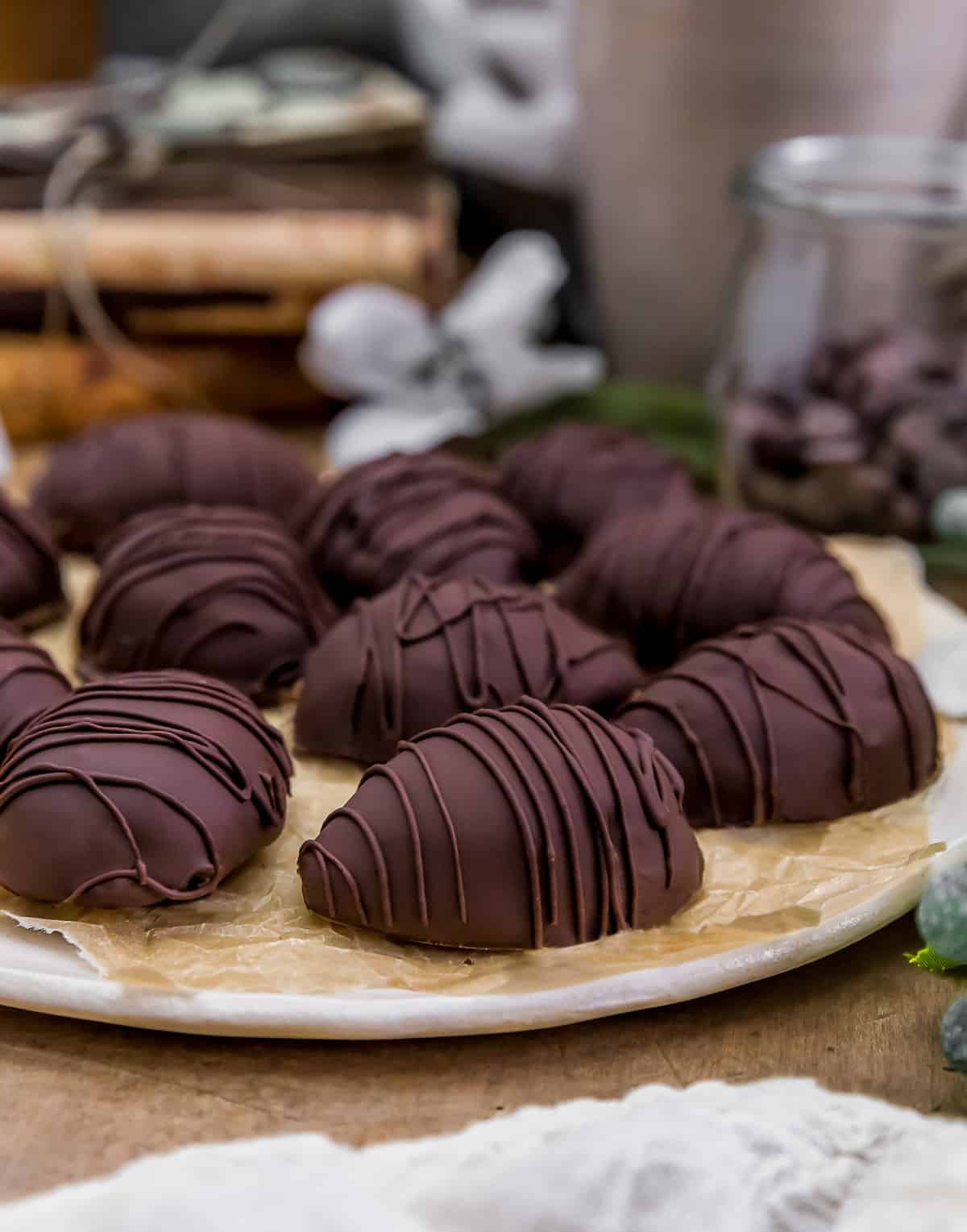 Tips for Success:
Flavor: This recipe is a Whole Food Plant Based nod and twist to Reeses's chocolate covered peanut butter eggs. The chickpeas add substance, but do not influence the flavor.  They are a great conversation piece.  After people eat them and find out the peanut butter eggs are made with chickpeas they are typically blown away.
Patience: This recipe is not for the impatient. The freezer steps are designed to ensure success.  Short cuts may result in a less than favorable looking result.  Much of the time is inactive time involving freezer waiting time.
Chickpeas: After draining and rinsing the chickpeas, place them on a paper-towel lined plate to remove any lingering water before placing into the food processor.
Almond Flour: You can substitute the almond flour for oat flour with the understanding that the flavor and texture will be influenced. We did not test this recipe using oat flour.
Amount of Vegan Chocolate Chips: We used a whole bag (10 oz.) to easily coat the peanut butter eggs with chocolate.  We had a little left over, so we decided to drizzle/pipe the peanut butter eggs with melted chocolate to make them look pretty.
Pro Tip: If you have any left-over melted chocolate (we had some), place it into a small sandwich bag that has been inverted over a small glass. Push the chocolate to one corner, snip off a tiny piece at the corner with scissors, then drizzle the chocolate over top.  Allow to dry.
Removing From the Silicone Molds: The peanut butter mixture needs to be nearly frozen to remove them from the silicone molds. Use care to gently remove them. If the peanut butter tears, you can easily shape the torn pieces with your hands.  We only had a couple that were resistant, but we were able to easily fix them with our hands.
Silicone Mold Failures: What can cause failures? 

Not freezing the peanut butter long enough. How to fix?  Freeze them longer.  The silicone molds are made for chocolate, not peanut butter, but peanut butter will work.
Not exercising care when removing them and they tear. How to fix? If only a small piece tears, hand shape the torn part or simply roll the broken one into balls.
Why not just fill the silicone molds with chocolate and then fill with peanut butter? You can try this and see if it works.  We found the chocolate was too fragile or had to be too thick to make it work.

Truffle Option: Instead of creating an egg shape. You can chill the peanut butter feeling. Then roll the chilled peanut butter filling into balls. Rechill the rolled peanut butter, then dip into the melted chocolate. Once chocolate is harden, it's ready to enjoy.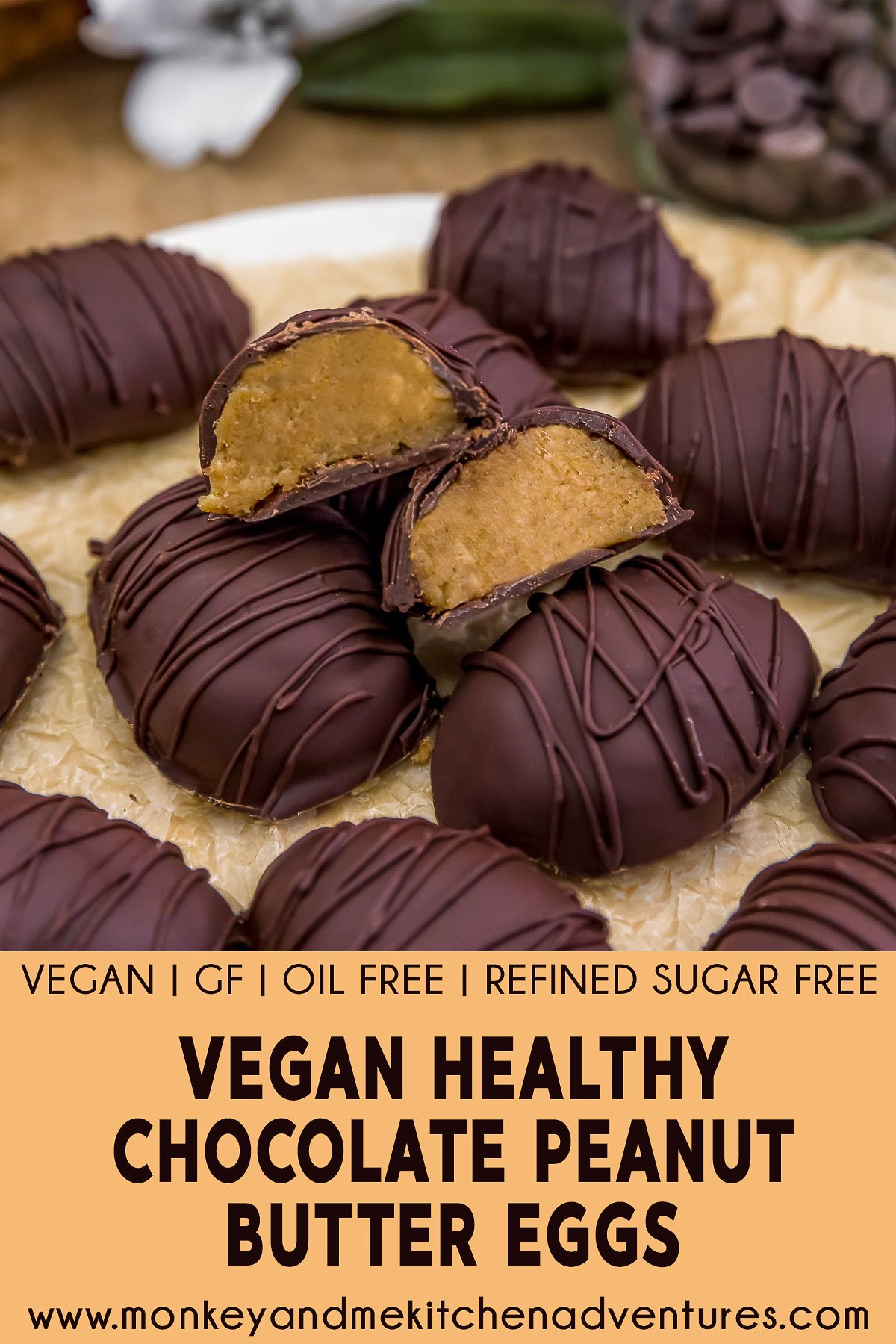 Leftovers and Freezing:
Leftovers will generally keep for 14 days stored in the refrigerator.  Store in a covered container.
This recipe freezes well.
Pantry Products:
Vegan Chocolate Chips:  We used Enjoy Life Semi-Sweet Chocolate Mega Chunks.  You can use your favorite dark or semi-sweet vegan chocolate chips or chunks.
Kitchen Products:
If you try these delicious treats, we would love to know if you enjoy it as much as we do! Please leave us a review! Post a picture on Facebook or Instagram and tag us! We would love to hear from you.
Print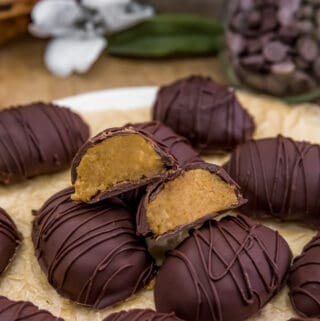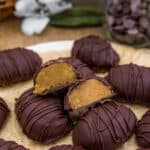 Vegan Healthy Chocolate Peanut Butter Eggs
Author:

Prep Time:

20 Minutes

Total Time:

20 Minutes (+Rest Time)

Yield:

15

Eggs

1

x

Category:

Dessert

Cuisine:

American

Diet:

Vegan
---
Description
These Vegan Healthy Chocolate Peanut Butter Eggs are irresistible and a healthy copycat of Reese's peanut butter eggs.
---
Filling Ingredients:
1

– [ 15 oz. can ] chickpeas, drained and rinsed

3 Tablespoons

almond flour *

1/3 cup

+

1 Tablespoon

natural peanut butter *

¼ cup

+ 1 Tablespoon maple sugar (or coconut sugar)

2 Tablespoons

maple syrup

¼

to

¾

teaspoon sea salt (+/-) *
Other Ingredients:
1

– [ 10 oz. bag ] vegan chocolate chips (+/-) *
---
Instructions
Place all the Filling Ingredients into the food processor and pulse until everything is well combined and smooth, approximately 2 minutes, scrape down about half-way. Place into a bowl, cover, and place in the freezer for 45 minutes to firm up the dough mixture.
After 45 minutes, pinch a piece of dough and roll it in your hands, if it rolls easily, then you can remove it and begin to shape it. If not, return to the freezer for another 30 minutes.
After 45 minutes, using your hands – either roll the dough mixture into balls, hand shape into egg shapes, disks, balls, or press into silicone molds for various shapes. If hand shaping or rolling the dough mixture, place the finished shapes/balls onto a wax paper lined plate or baking sheet, and place into the freezer for 40 minutes.  If using silicone molds, place the filled molds into the freezer for 40 minutes.
In the meantime, melt the vegan chocolate chips in the microwave or on the stovetop, stirring constantly (if on the stove) then place into a small bowl. Note:  Be sure the chocolate is smooth. Watch it carefully as it can scorch or separate easily if unattended.
After 40 minutes in the freezer, remove, then take the peanut butter balls/shapes and dip them quickly in and out of the chocolate mixture using two forks, then place on a wax paper lined baking sheet. It's OK if excess chocolate falls onto the wax paper or puddles around the shapes/balls. Continue process until all the shapes have been dipped in chocolate and placed onto the wax paper. Then place in the freezer for 15 minutes to ensure all the chocolate has set (including the puddling).
After 15 minutes, remove the chocolate peanut butter cups from the freezer. Optional: With a sharp knife, carefully cut off any excess chocolate that has dripped or puddles onto the onto the wax paper around the balls/shapes before gently freeing the shapes from the wax paper. Refrigerate (or freeze) until ready to eat. If frozen, you may wish to let them sit for 10-20 minutes before enjoying.
---
Notes
*Please reference the blog post for Tips for Success, Pantry Items Used, Storage and Freezing, and Kitchen Products Used.
*Sea Salt:  Please adjust the sea salt based upon your family's sea salt preferences and/or based upon dietary needs.
*Servings:   Makes 15 –  2 ½-inch peanut butter eggs

This post contains affiliate links, and we may receive a very small commission if you purchase through those links at no additional cost to you. Thank you for supporting Monkey and Me Kitchen Adventures! For more information, see our disclosures here.