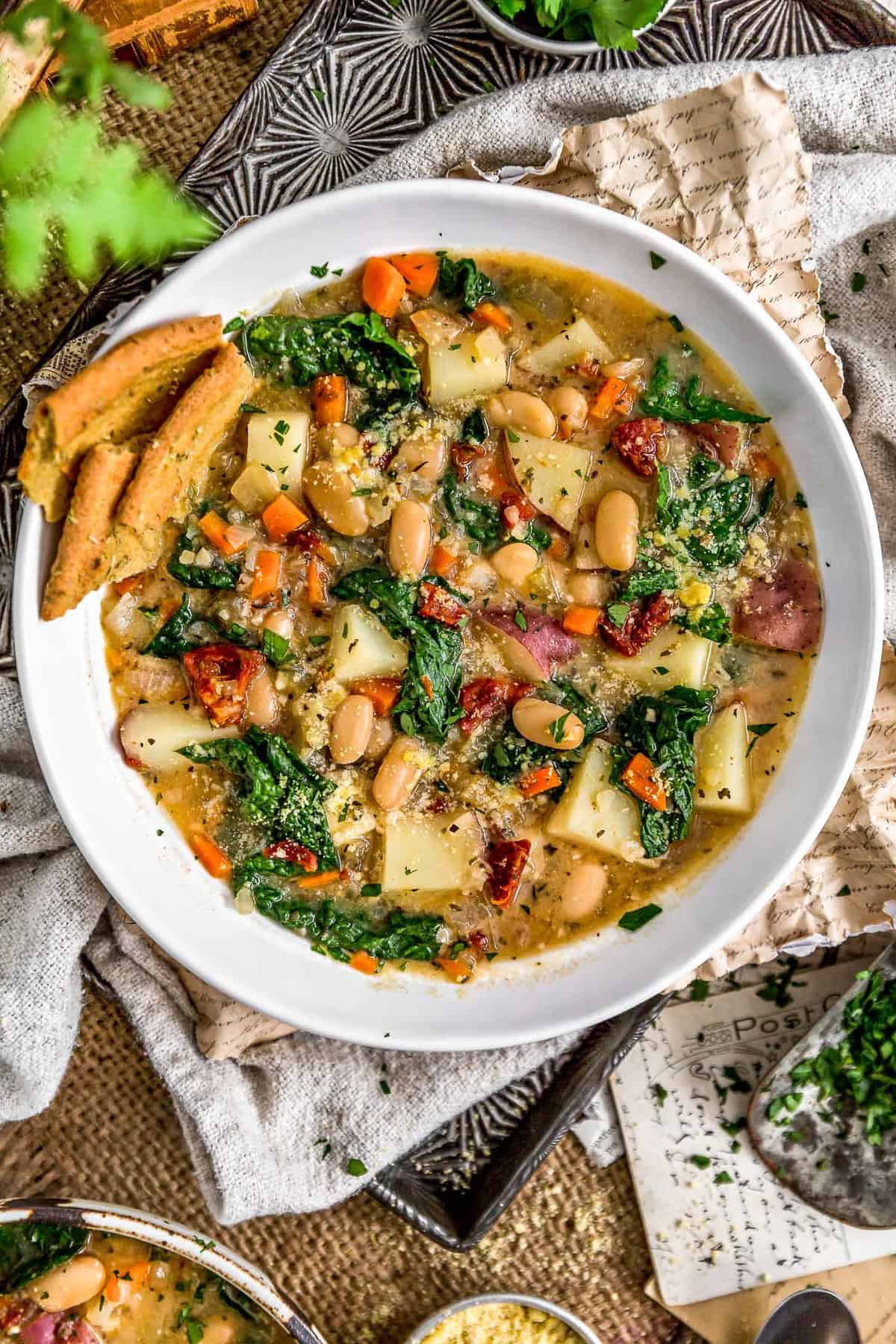 Forever in blissful soup mode over here, and this comforting, flavorful soup brings all the goodness. Perfectly cozy and bursting with Italian spices, this ah-mazing Tuscan Kale Potato Bean Soup is packed with powerhouse ingredients all bathed in a luscious broth. It's not only easy to make, but the whole family will think you were working in the kitchen all day to create this bowl of deliciousness.
Whole Food Plant Based, vegan, plant based, oil free, refined sugar free, gluten free, no highly processed ingredients.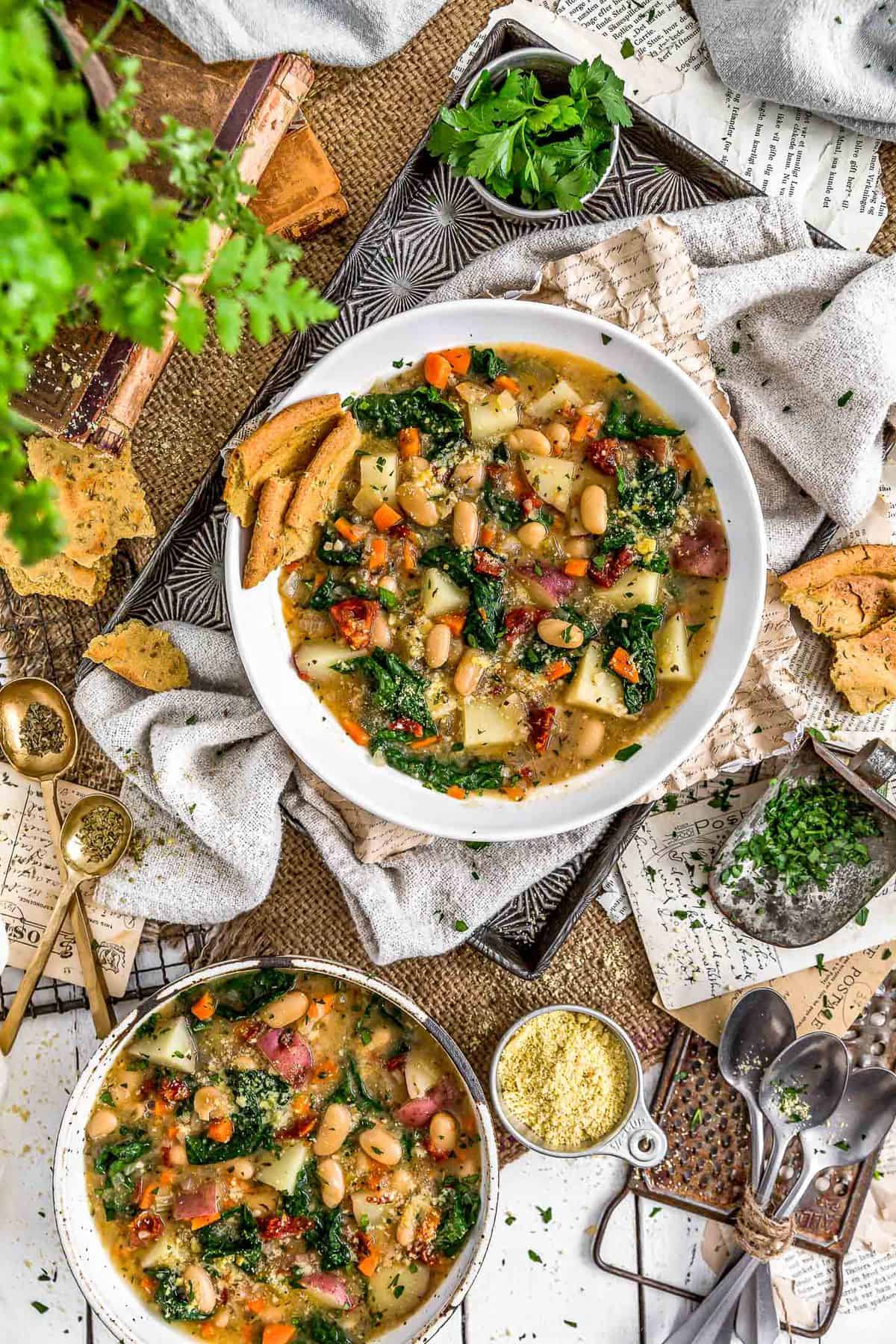 Hi there, Ameera here!
I love Tuscan kale aka Lacinato or Dinosaur Kale. Don't get me wrong, I love some good old-fashioned regular curly kale too, but if I can find a way to work Tuscan kale into a recipe, I will.  Mom is always teasing me asking "So Monkey, what Tuscan kale recipe are we cooking up this week? I'm sure you have one up your sleeve, right?"
Touché Mom, I'm obsessed with adding Tuscan Kale in everything and you're always trying to work Tex-Mex flavors. It's a good balance LOL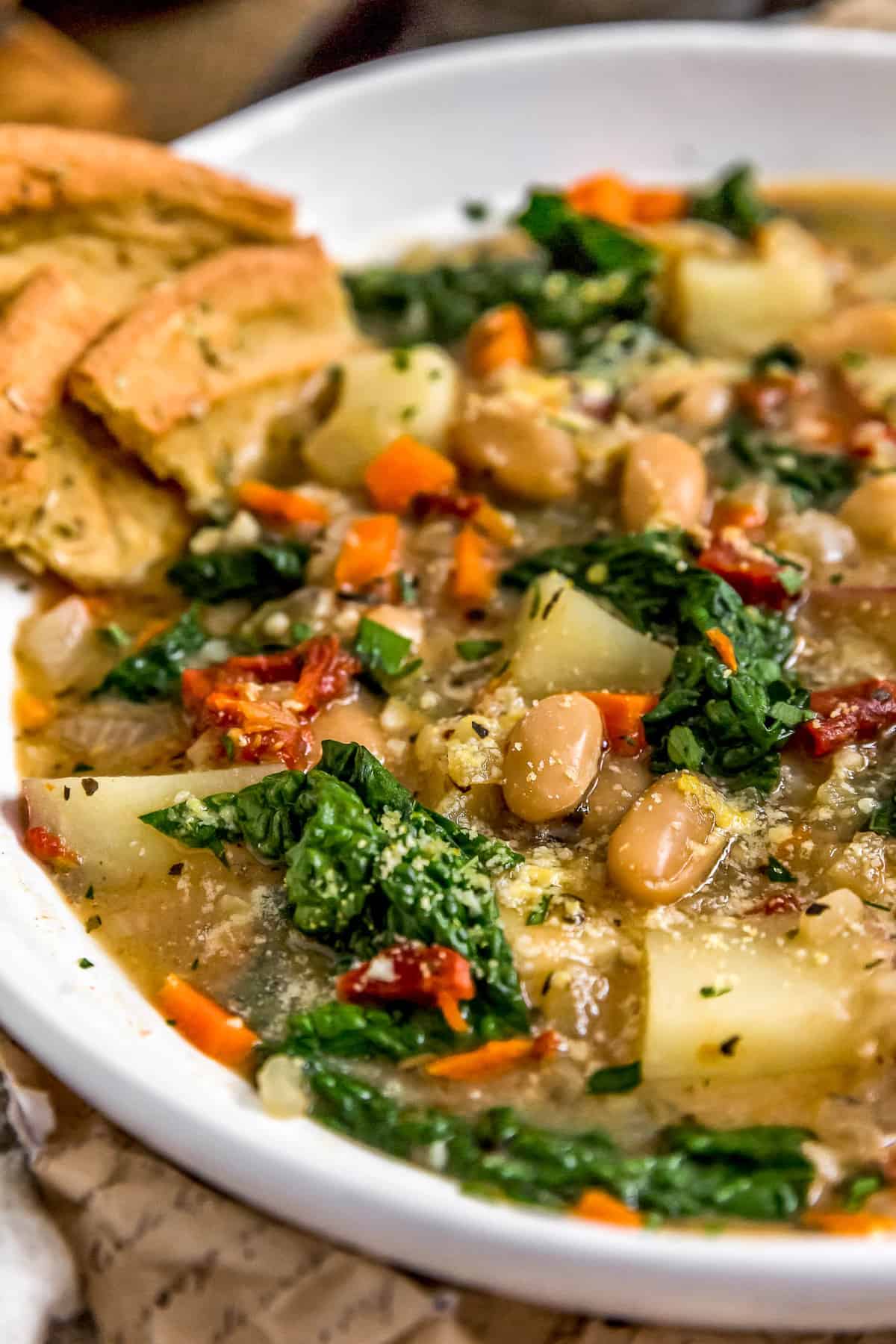 Lacinato, Tuscan, Dinosaur
Tuscan kale (or whichever name you have for it – there are so many) is just so pretty. I love that deep bluish-green color and all that delicious textury goodness. Plus, you don't have to massage it or cook it very long.
Of course, you can totally use any kale you like in this recipe, but if your local store has Tuscan kale, pick some up and give it a try. You won't be sorry unless of course, you are not a kale fan!  But who doesn't love kale, right? Soooo many nutrients packed into a tasty leaf – yum!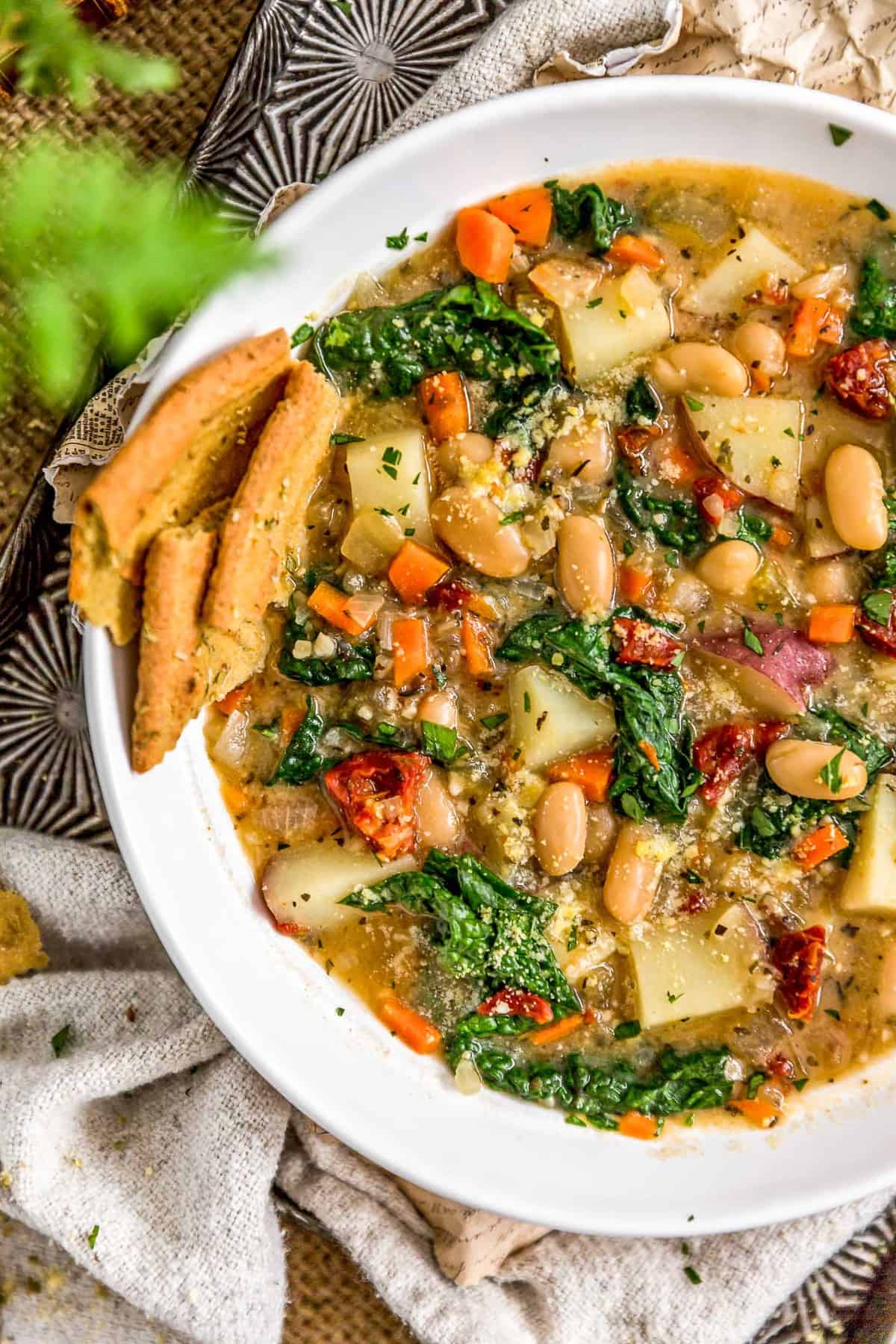 Vegan Parmesan Cheese
The Vegan Parmesan Cheese adds a nice touch to this recipe. It is not required, but if you have the ingredients on hand to make some, then totally make some and use it in this recipe. We always have some in the fridge. We make are always making double or triple batches of our Vegan Parmesan Cheese because it lasts a long time in the fridge and a little shake tastes divine on soups, pastas, casseroles, etc.
Wholesome and Satisfying
The sundried tomatoes really add tons flavor to this soup and hearty potatoes and beans make the soup satisfying and filling. This Italian soup packs a nice amount of nutrition from all the delicious ingredients. Plus, spices and herbs are full of antioxidants – total bonus!  It is filled with a bunch of good stuff!
I'll let Mom tell you more.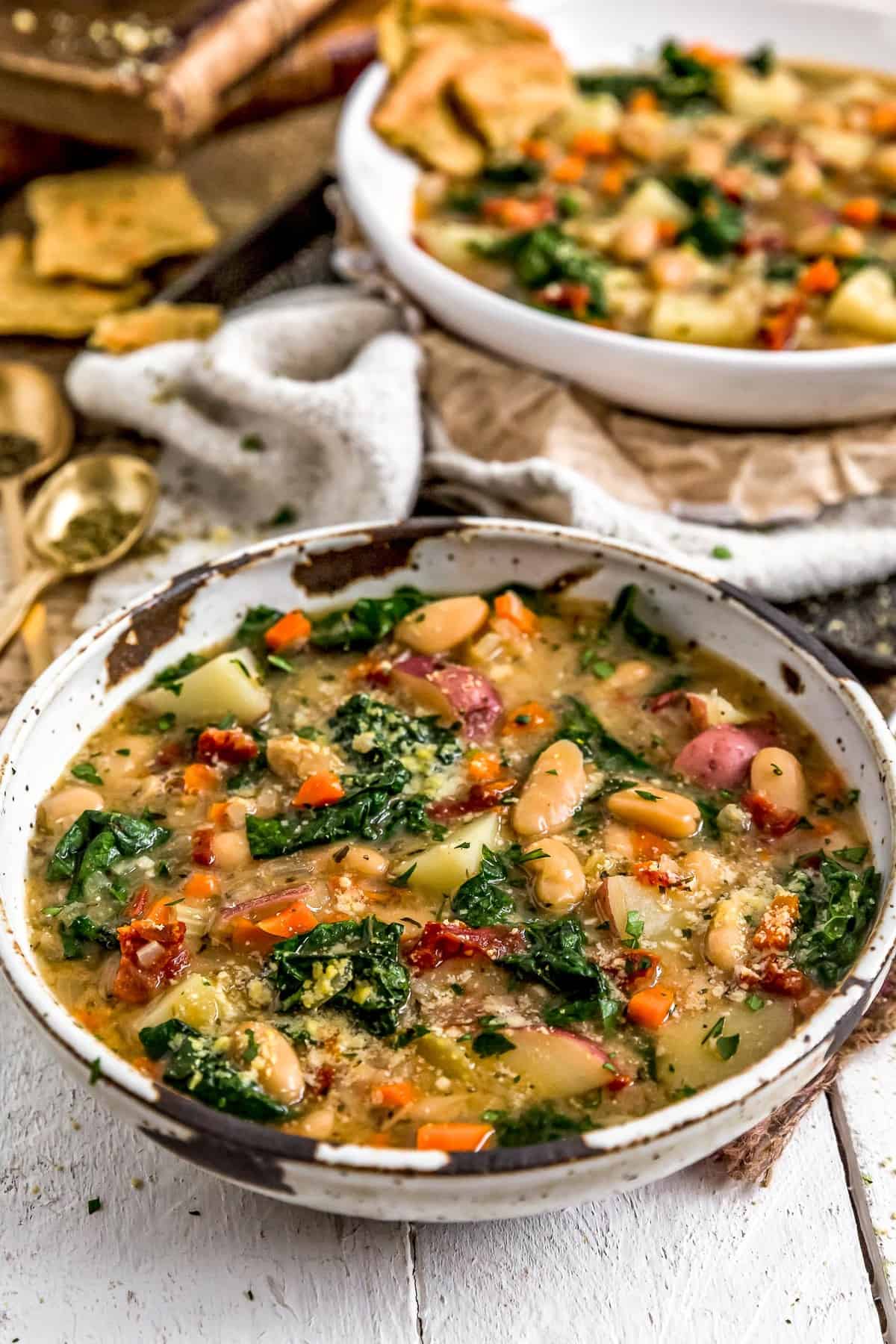 This post contains affiliate links, and we may receive a very small commission if you purchase through those links at no additional cost to you. Thank you for supporting Monkey and Me Kitchen Adventures! For more information, see our disclosures here.
Hi! Robin here!
Monkey and her Tuscan kale! She loves that stuff. I really enjoy kale, but I think Monkey's love of kale goes up a whole "nuther" level of love! LOL  If she could find a way to work Tuscan kale into a recipe, she totally does.
I highly recommend this Tuscan Kale Potato Bean Soup. It is very delicious and satisfying. Monkey put this one together, and I kitchen tested it several times until we landed on this finalized version of yumminess. We hope you give it a try.
If you try this soup recipe, we would love to know if you enjoy it as much as we do! Please leave us a review! Post a picture on Facebook or Instagram and tag us!  We would love to hear from you.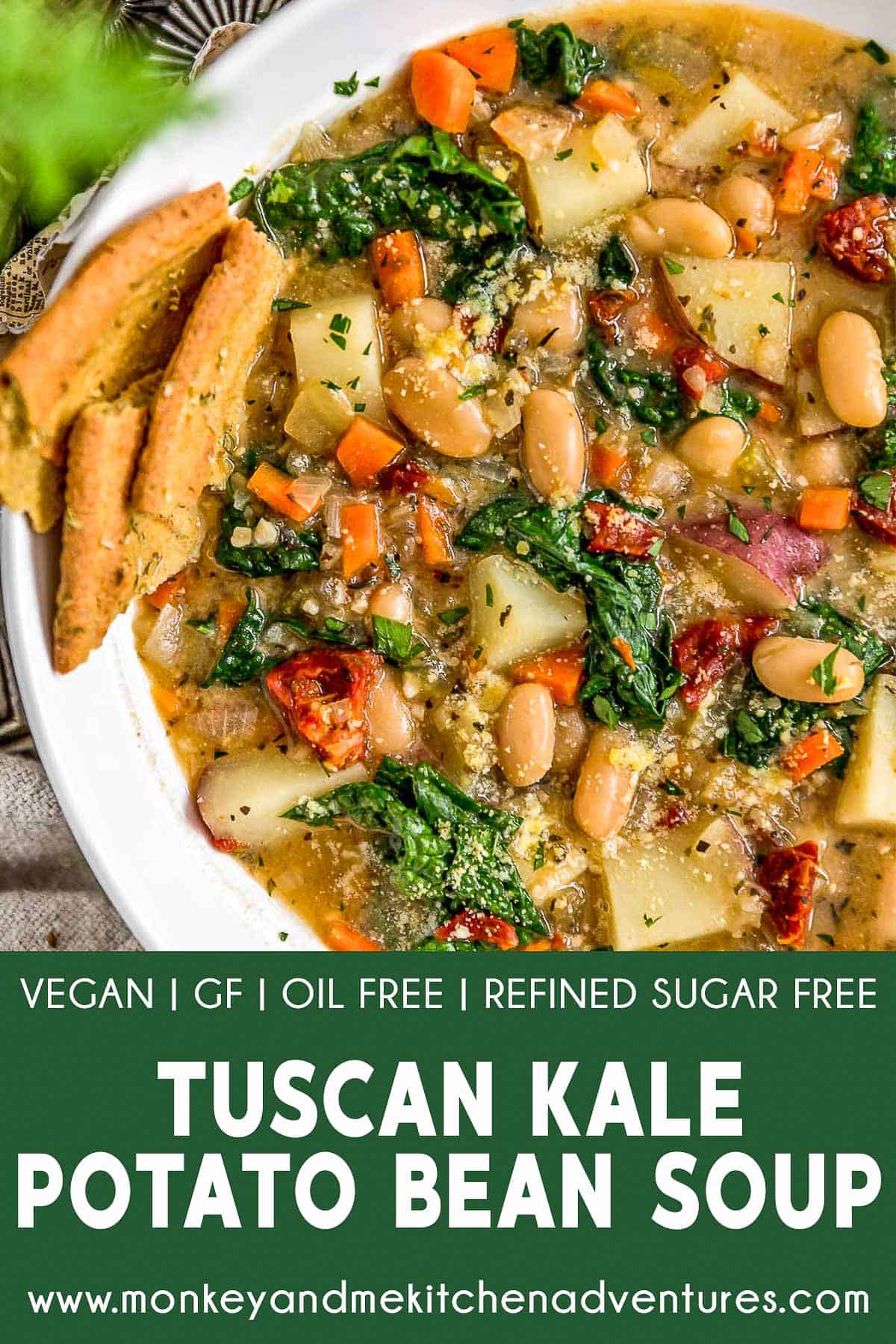 Products Used:
Ceramic/enamel lined Dutch oven, deep skillet, or similar large stock pot.
Print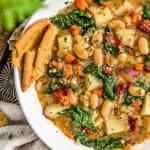 Tuscan Kale Potato Bean Soup
Author:

Prep Time:

15 Mintues

Cook Time:

35 Mintues

Total Time:

50 Minutes

Yield:

4

-

5

servings

1

x

Category:

Soup

Method:

Stovetop

Cuisine:

Italian
---
1

medium yellow onion, small dice

1

carrot, small dice

2

celery ribs, small dice

1 Tablespoon

minced garlic

1 ½ cups

vegetable broth *(See notes for ratio)

3 ½ cup

water (or broth)

1 Tablespoon

 lemon juice

4

 sundried tomato halves, finely chopped *

1

–

3

teaspoons miso 

3 cups

red potatoes, skins on, small dice

1

– [ 15.5 oz. can ] cannelloni beans, drained and rinsed

1 Tablespoon

Vegan Parmesan Cheese or nutritional yeast (optional)

3 cups

Tuscan kale, vein removed, strips-cut into thirds (or baby spinach)
Spice/Herb Ingredients:
1 teaspoon

garlic powder

1 teaspoon

onion powder

2 Tablespoons

dried minced onion flakes

2 teaspoons

 dried basil

1 teaspoon

 dried oregano

1 teaspoon

 dried crushed thyme leaves *

1/8 teaspoon

dried marjoram

1/8 teaspoon

ground rosemary

1/8 teaspoon

 cumin (optional)

1

bay leaf

1 teaspoon

sea salt (+/-) *

¼ teaspoon

black pepper (+/-)

¼ teaspoon

red pepper flake (+/-) 
Optional Toppings:
Chopped parsley
Red pepper flake
---
Instructions
Place the Spice/Herb Ingredients (except the red pepper flake) in a small bowl, mix well, set aside.
In the large ceramic/enamel lined Dutch oven/pot (or similarly large stockpot) add the diced onion, carrots, and celery, sauté over medium-high heat for 5 to 7 minutes (add a little splash of water or broth if sticking.)
Then add the minced garlic and sauté for 30 seconds to 1 minute.
Add the vegetable broth, water, lemon juice, finely chopped sundried tomatoes, Spice/Herb Mix, and Vegan Parmesan Cheese (or nutritional yeast), then increase the heat to a boil, stir well, then immediately lower to a low simmering boil. Then add the diced red potatoes. Cover and simmer until the potatoes are almost tender (approx. 15 to 20 minutes). Then add the miso and cannelloni beans, stir to incorporate, simmer for 5 minutes.
Taste test for flavor, and add additional seasoning to achieve the desired flavor. Add the dried red pepper flakes and chopped Tuscan kale. Simmer until the potatoes and kale reaches the desired tenderness. Discard the bay leaf.
Ladle soup into a bowl and top Vegan Parmesan Cheese, fresh chopped parsley, and red pepper flakes.
---
Notes
*Vegetable Stock:   We use Pacific Organic Low Sodium Vegetable Stock. We love this brand because it is Whole Food Plant Based compliant, as it does not contain MSG, has no oil, and does not contain any highly-processed ingredients. Pacific Organic Veggie broth does have a strong flavor, so less both is required.  If using a mild or mellow veggie broth, use 4 cups veggie broth and 1 cup water.
*Sundried Tomatoes:  Be sure to select oil free sundried tomatoes. They are typically dried like dates.  We use Mediterranean Organic Sundried Roman Tomatoes.
*Miso:  We used Miso Master Organic Mellow White Premium Lite Miso, Certified Gluten Free.  Miso really lends itself to balancing flavors when you don't use oil. You can also substitute with chickpea miso for a soy free version.
*Thyme Leaves: We use Penzeys French Thyme.  It has amazing flavor.  Please note that dried crushed thyme leaves is not the same as ground thyme. You can use either in this recipe.  We used dried crushed thyme leaves, so if you are using ground thyme, scale back a little more than half of the amount used, and check for flavor. Adjust as preferred.
*Sea Salt:  Please adjust the sea salt based upon your family's sea salt preferences and/or based upon dietary needs.
*Serving:  4 to 5
*Storage: Refrigerate and use within 5 days.

This post contains affiliate links, and we may receive a very small commission if you purchase through those links at no additional cost to you. Thank you for supporting Monkey and Me Kitchen Adventures! For more information, see our disclosures here.