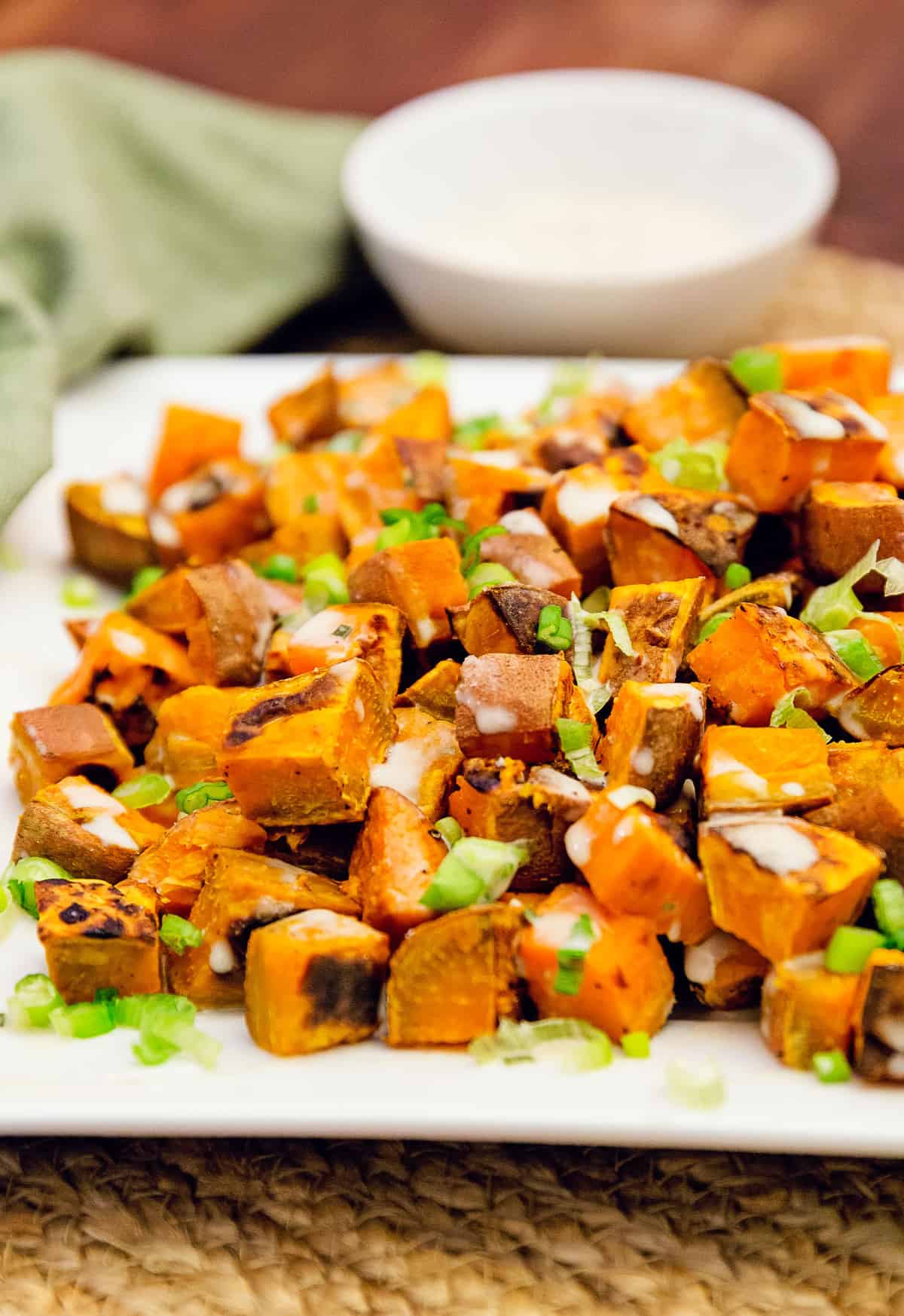 Diced Sweet Potatoes with Tahini Sauce makes for a delicious and healthy Whole Food Plant Based side dish.
We are crazy about sweet potatoes, and this wholesome Diced Sweet Potatoes with Tahini Sauce dish totally delivers. Tender roasted sweet potatoes drizzled in a creamy tahini goodness creates a delicious flavor bomb. Don't forget those zesty green onions for the ultimate trip to flavor town. You are just going to love this wonderful side!
No oil, no refined sugars, no processed ingredients, and gluten free.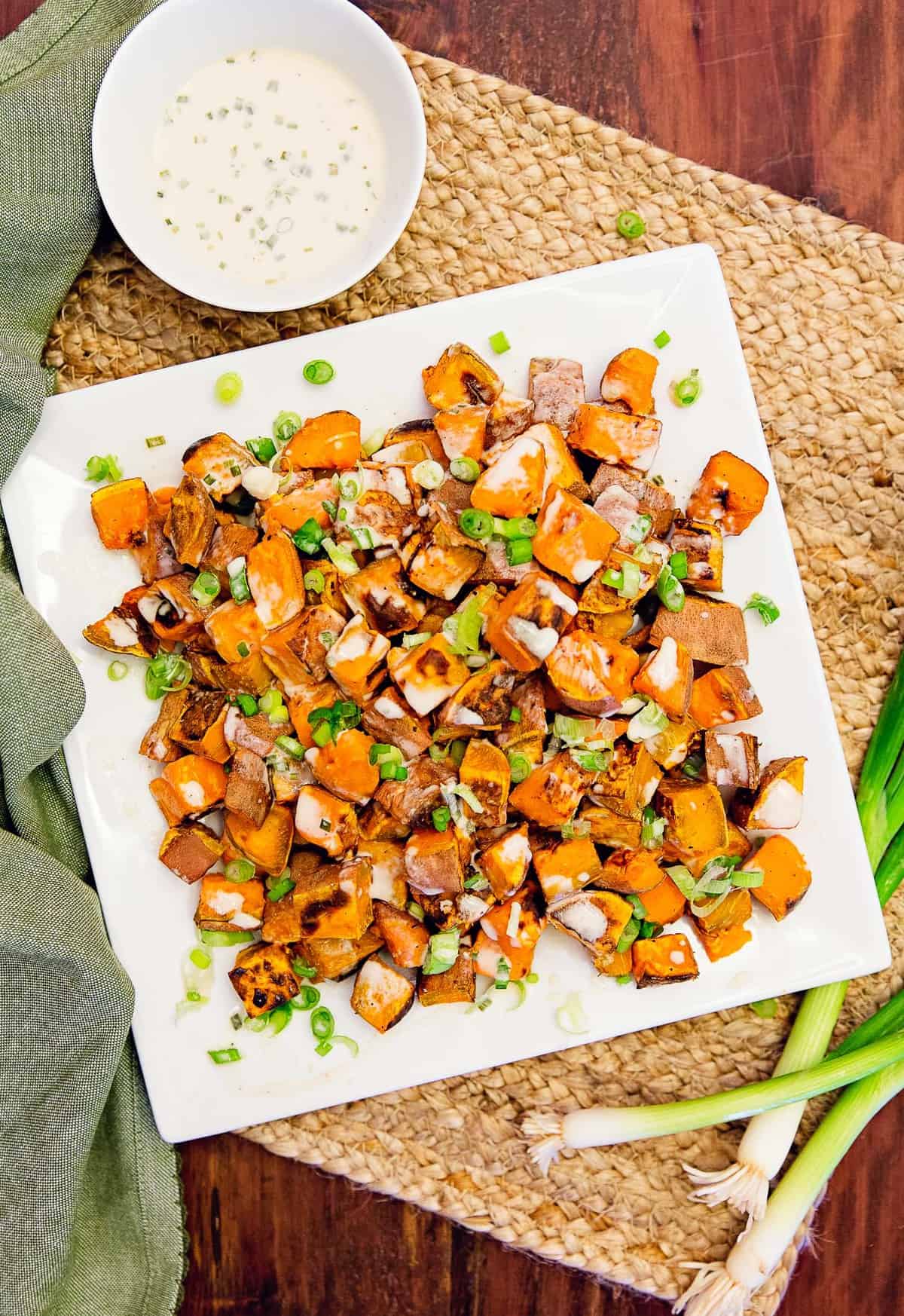 Hi!  Robin here!  
Monkey and I love sweet potatoes!  TP109, not so much.  Don't get me wrong, TP eats them, but he prefers white potatoes, preferably baked.  Unfortunately, Michael hates sweet potatoes and can't stand the smell while they are baking; he says they stink and should be cooked outside.  LOL
Growing up my mom only made sweet potatoes at Thanksgiving, and I hated them as a kid.  The only person who ate them was my dad.  I remember both my mom and my grandmother making them with tons of butter, brown sugar, cream, pecans, and marshmallows.
Later when I started my family, the only time I made them was at Thanksgiving as well, with their full-on decadent celebration of sweetness (brown sugar) and saturated fat (butter).
In the Whole Food Plant Based lifestyle, sweet potatoes take a new center stage appearance because they are healthy and very filling.  Plus, due to their natural sweetness, they are quite naturally satisfying.  A simple baked sweet potato goes a long way when you are craving something filling and sweet.
If you want to step it up a little, dicing and roasting sweet potatoes, then drizzling them with a lovely tahini sauce and adding a generous amount of green onions is pure heaven.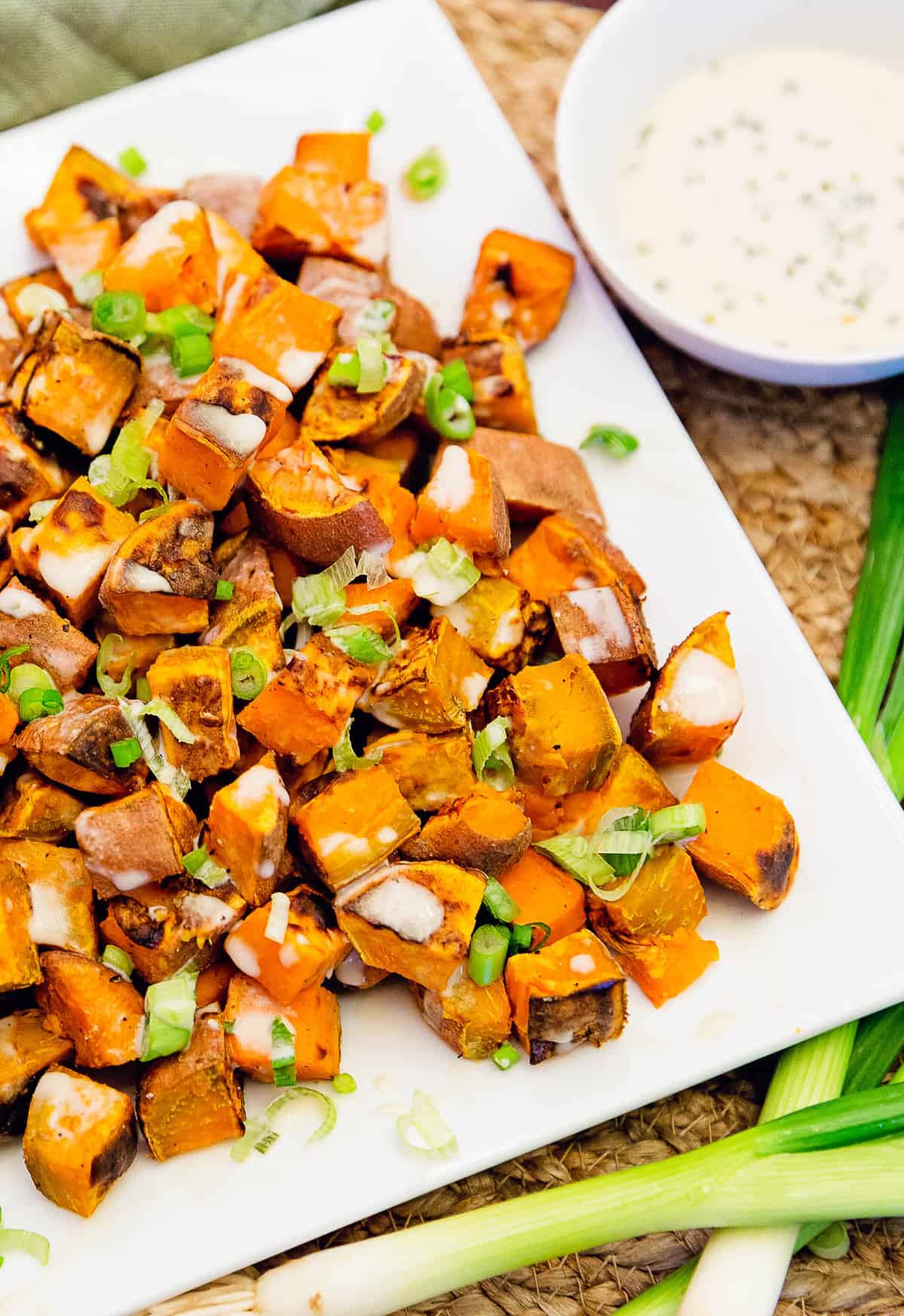 This recipe is super simple.
1) Roast the diced potatoes.
2) Make the tahini sauce.
3) Chop a generous amount of green onions
4) Enjoy!
You know what makes this recipe?
The green onions!  Surprised?  But, it's so true.  The flavor combination of the sweet potatoes, tahini sauce, and green onions is the perfect trifecta in this savory sweet dish.
Michael's eating habits
I tried to get Michael to take a taste, but he looked at me like I had two heads.  Michael is like an overgrown kid who still wants to drink pop and eat an entire bag of Salt & Vinegar potato chips for dinner.  The difference is he is an adult, and can actually do that if he wants; which he does.  Monkey tries to encourage him to eat healthier, but he is super picky and wants his junk food. He's a junk food junky.
The bottom line is you can't force someone to change a lifetime of eating habits.  The individual has to want to change, you can't decide for them.  Discussing healthy food choices with an individual not ready to make a change is like waving a red flag at a bull.  Typically, the individual will become even more deeper entrenched in their poor food choices simply because it is being questioned.  All you can do is set a good example, and wait.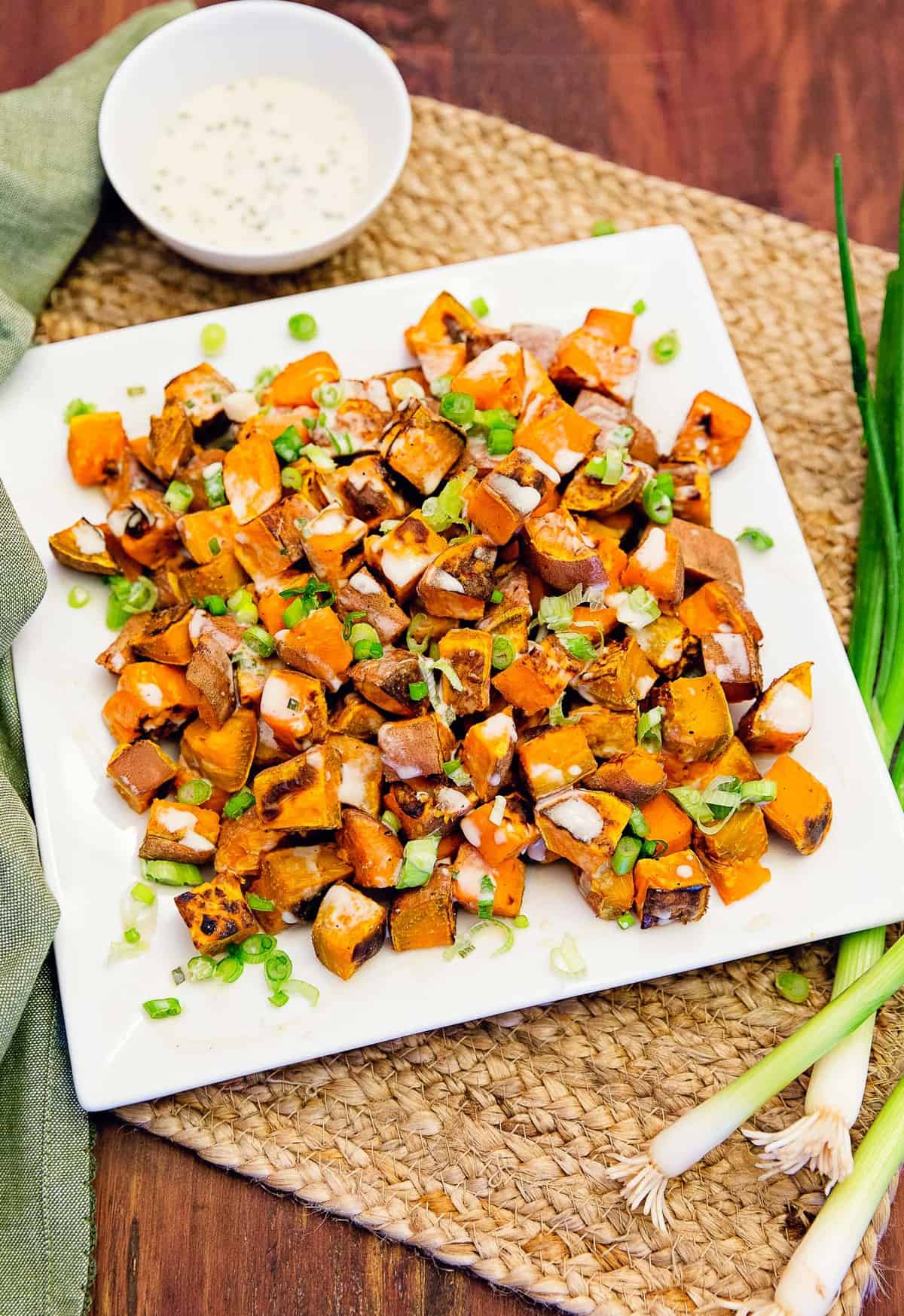 Ameera here! 
Sooo tasty!  We really enjoyed making this sweet potato with tahini sauce and then scarfing it down.  Mom is totally on point about the green onions; they totally send this dish over the top.  🙂
Mom is also right about Michael being a picky eater.  While I am all about making healthy food choices, Michael, on the other hand, is all about eating like he lives in a college dorm.  I am gently working on him to make healthier food selections. I've found a few healthy tricks up my sleeve to work in those veggies 😉


Products used:
2 – 14 x 20 baking sheets.
Print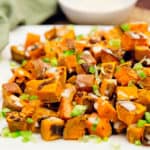 Sweet Potatoes with Tahini Sauce
Author:

Prep Time:

15 minutes

Cook Time:

30 minutes

Total Time:

45 minutes

Yield:

4

-

6

Servings

1

x

Category:

Side

Cuisine:

American
---
Description
Roasted sweet potatoes served with a tasty tahini sauce makes for a delicious and healthy Whole Food Plant Based side dish.  No oil, no refined sugars, no processed ingredients, and gluten free.
---
Sweet Potato Ingredients:
3

large sweet potatoes, skins on, diced to 1 inch cubes
sea salt
freshly ground pepper
Tahini Sauce Ingredients:
2 Tablespoons

tahini

2 teaspoons

lemon juice

¼ teaspoon

lime juice

3 Tablespoons

unsweetened almond milk (or other plant milk)

½ teaspoon

apple cider vinegar

1 Tablespoon

water

¼ teaspoon

garlic powder

¼ teaspoon

onion powder

1 teaspoon

100% pure organic maple syrup
pinch of ground sage

1 teaspoon

freeze dried chives (optional)
pinch of mustard.

½ teaspoon

sea salt (+/- to taste)

3

cracks of freshly ground pepper (+/- to taste)
Other Ingredients:
---
Instructions
Preheat the oven to 400 degrees F.
Place 2 – 14 x 20 baking sheets into the oven to heat.
Cut 3 large sweet potatoes into 1 inch cubes, skins on. Place into a large bowl.  Sprinkle with sea salt and freshly cracked pepper.
When the oven is hot and both the baking sheets are hot, carefully remove one sheet pan and dump the cut-up sweet potatoes onto the baking sheet and spread out evenly. The potatoes should sizzle when hitting the hot baking sheet.  This is what you are looking for. 
Next, remove the other hot baking sheet from the over and place it on top of the sweet potatoes. This baking sheet will fit down on top of the potatoes creating somewhat of a seal.  This will allow the sweet potatoes to steam and roast at the same time and prevent them from drying out.
Carefully place the baking sheets back into the oven and bake for 17 minutes.
In the meantime, make the Tahini Sauce by combining all the ingredients into a small bowl and whisking until smooth. Refrigerate until you are ready to use.
After 17 minutes, remove the sweet potatoes from the oven; test the potatoes to see if they are done by sliding a sharp knife into a larger potato. If the knife slides in cleanly, they are done.  If not done, replace the top baking sheet and return to the oven for another 5-7 minutes until tender.
When the potatoes are done, remove the baking sheet from the oven and remove the top baking sheet. Move the oven rack to the top of the oven, set the oven to high broil, and return the sweet potatoes to the oven (minus the top baking sheet) and place directly under the broiler and broil on high for 5 minutes.  You are looking to get a brown crust on the top.  This takes about 5 minutes.
Once the potatoes are lightly browned, remove from the oven. Take a very thin edged spatula and run it under hot water, then flip it upside-down and quickly run the spatula underneath the potatoes to loosen them from the baking sheet.
To serve, place a layer of sweet potatoes on a wide plate, then sprinkle generously with green onions, then lay down another layer of sweet potatoes and then generously sprinkle with green onions, finish with remaining sweet potatoes, then generously sprinkle with green onions. Drizzle the tahini sauce over the sweet potatoes and green onions. 
---
Notes
*A key element of this dish is the green onions.  The green onion flavor component really compliments the sweet potatoes and tahini sauce.  Each on their own (sweet potatoes and tahini sauce), while great, it is the green onions that really puts the flavor over the top.
*A thin edged spatula works best on removing the sweet potatoes from the baking sheet as there is no oil to prevent sticking.  If you do not have a thin edged spatula, use parchment paper.  However, the sweet potatoes will not be as crisp.  Running hot water over the spatula, and then inverting the spatula will help loosen the sweet potatoes from the baking sheet without damaging too many.    
*When placing one baking sheet over top of the other, do not turn the top baking sheet up-side-down.  Place the top baking sheet on top of the other baking sheet right-side-up. Think like how you would stack them, one fitting on top of the other.   In other words, the bottom side of the top baking sheet should be touching the sweet potatoes.
Storage:  Place in glass or plastic storage, refrigerate.