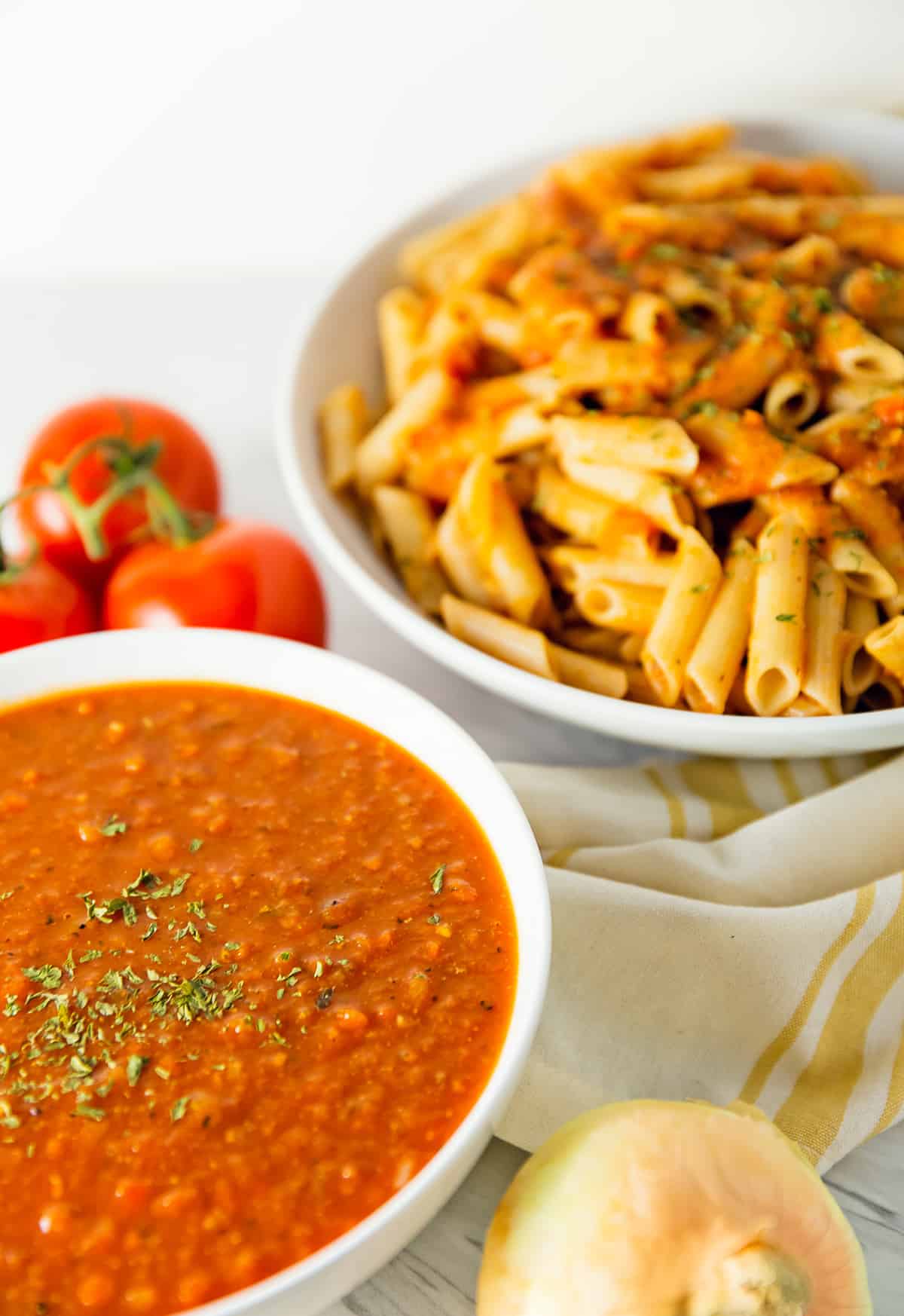 This amazing Italian Tomato Pasta Sauce will make an Italian grandmother proud.  A fabulous Whole Food Plant Based recipe. Oil free, sugar free, and no highly processed ingredients.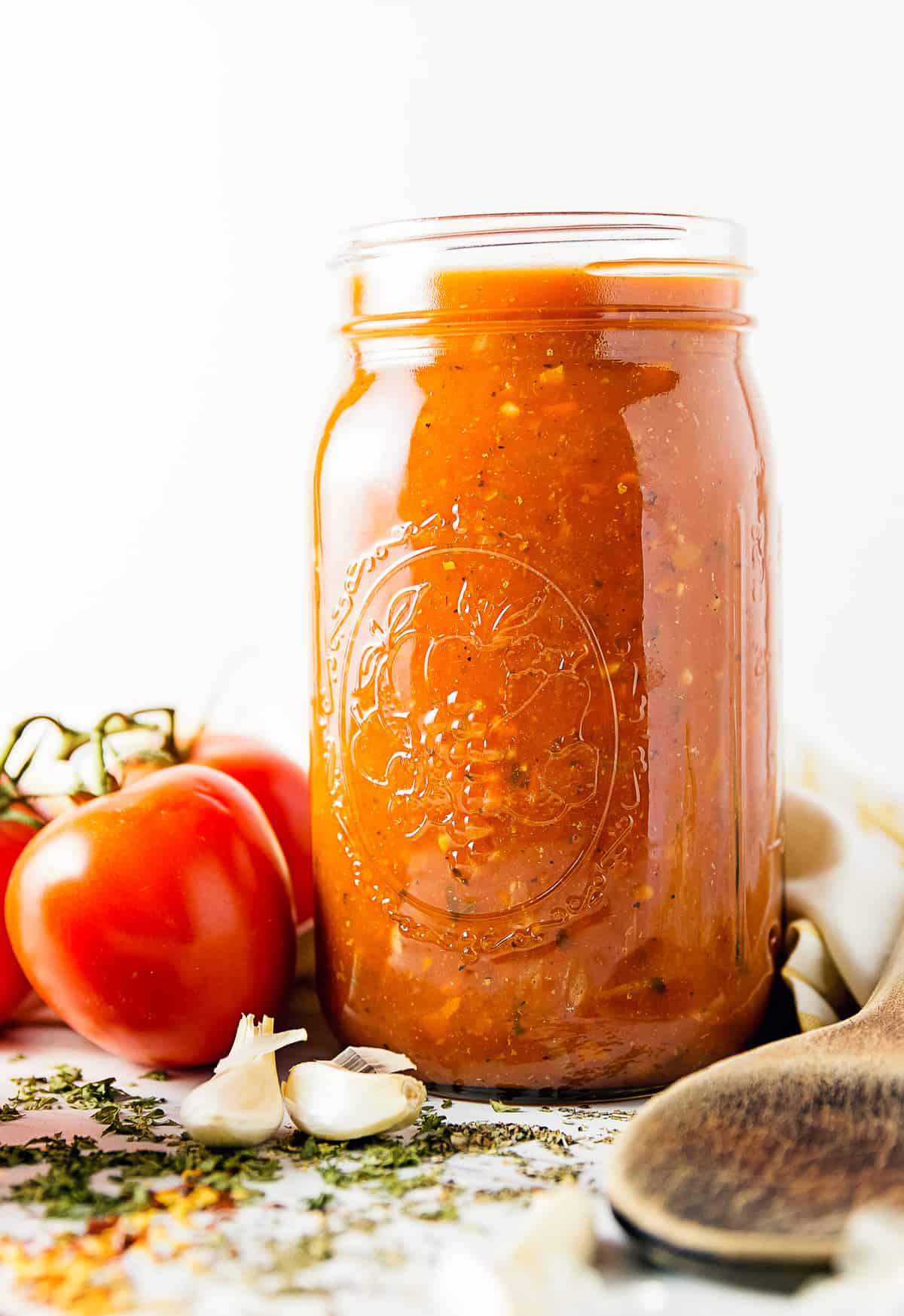 Hi!  Robin here!
This recipe has been a long time in the making.  As most of you know by now, TP109 is Sicilian. He grew up eating delicious and authentic Italian dishes, and is extremely picky about his Italian food. In other words, he will be the first to tell you, me, anyone if an Italian dish is good or if it needs "work."  Trust me, I know! lol
It all started in a small town called Linguaglossa
TP's family comes from a small town on the island of Sicily called Linguaglossa.  His grandparents immigrated from Sicily in 1915 and settled in a small town in central New York called Canastota.  They started working the muck lands (black soil) and became onion farmers.  Following their parent's foot-steps, TP's parents were onion farmers as well, and they worked hard and lived a simple life.
When TP and I got married, I was very fortunate to have his big, beautiful Italian family take me under their wing and teach me all their Italian recipes, tips and tricks, and "how to do it right!".   I learned from the best and soon my Italian sauce was a thing of beauty.  We had pasta every Sunday and Tuesday.   Every Sunday, I would make a huge pot of sauce, loaded with sausage and meatballs, and every Tuesday, we would eat the leftovers from Sunday's dinner.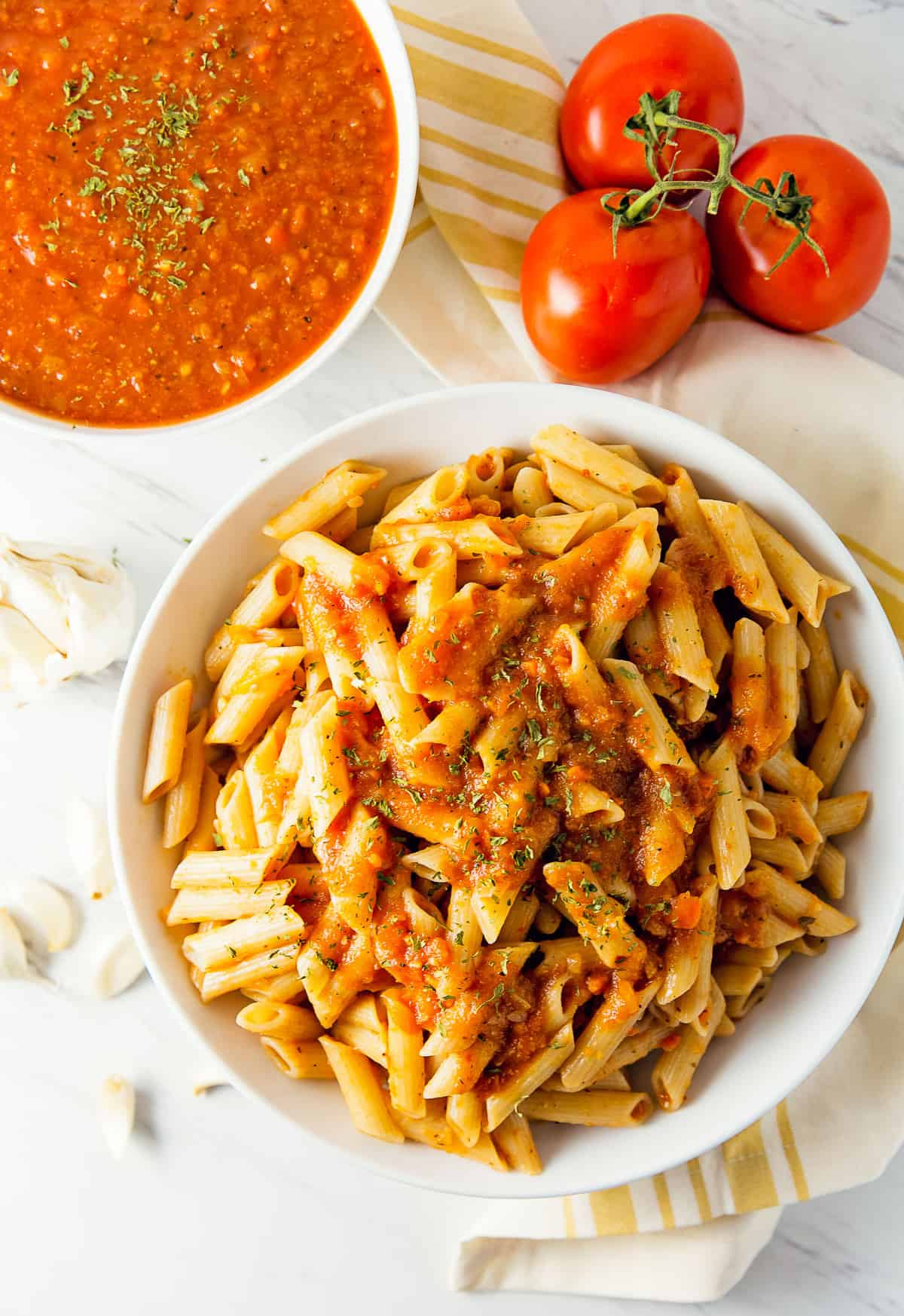 Fast forward to today,
Switching to a Whole Food Plant Based diet has wreaked havoc on many of my Italian dishes.  As most everyone knows, olive oil is a strong presence in many Italian dishes.  It also helps cut down the acidity of tomatoes.  You don't even think about until you remove oil from recipes, then you start to see how the olive oil neutralizes the acidity of many tomato based sauces.
Another traditional Italian ingredient is the coveted grated Parmesan cheese, which also does a great job of neutralizing acidity.  I had to relearn how to cook all our Italian favorites all over again and make them healthier and WFPB compliant, no oil, no dairy products, no animal products, no processed foods, etc.  It was a challenge, but one I was ready to take on. Monkey and I have stepped up our game, and we are happy to share with you our WFPB Italian Tomato Pasta Sauce recipe.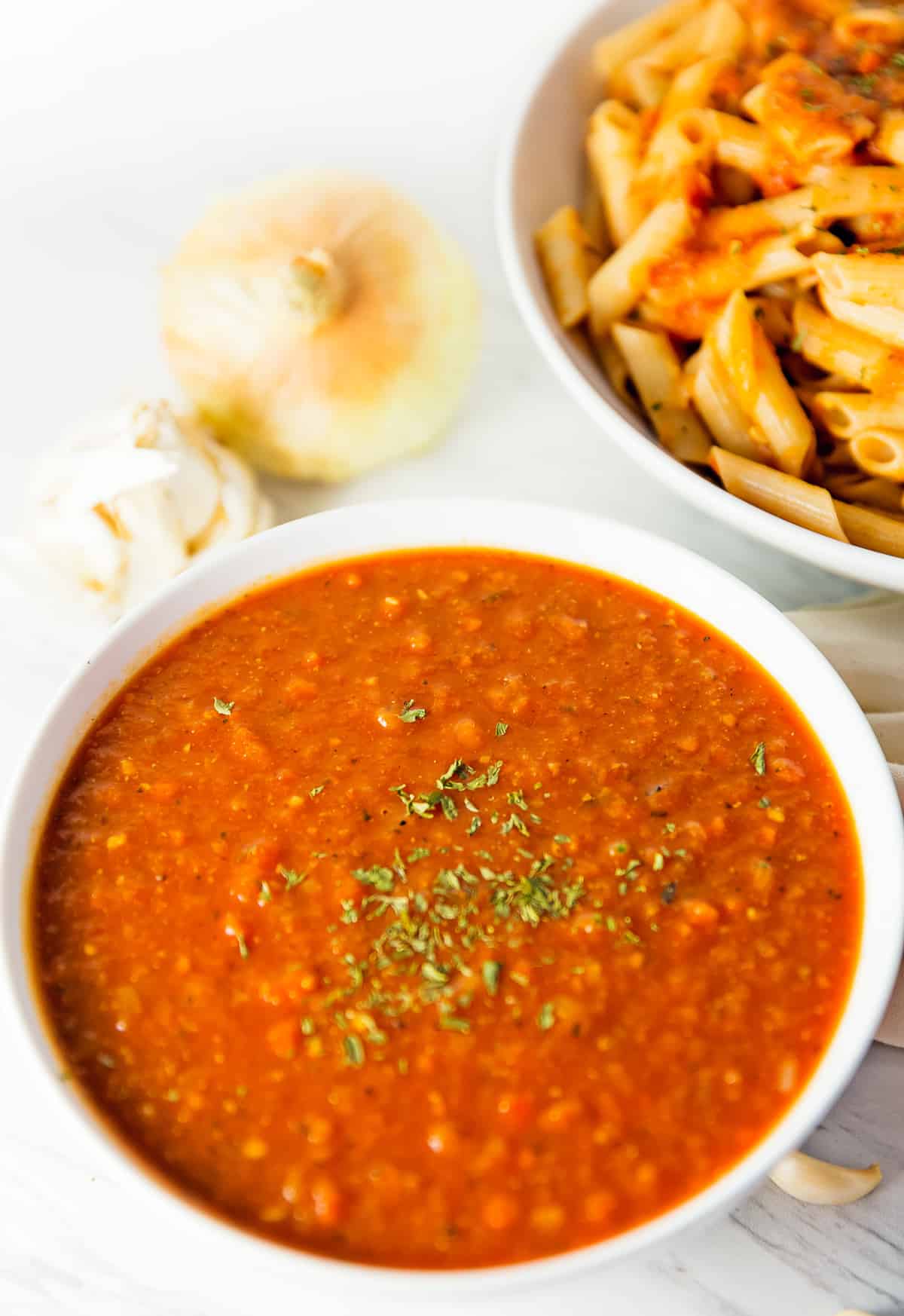 Let me start with a few pointers:
Never underestimate the beautiful flavor of a San Marzano tomato.  They have this beautiful texture and flavor that you just can't find in any other tomato.  They are thinner in shape, but the flesh is thicker. Plus, they have fewer seeds.  The taste is more distinct and sweeter, less acidic.  We love them!  The extra expense is totally worth it, in my humble opinion.
The reason I puree the San Marzanos is because TP prefers a thicker, creamier sauce and doesn't like to bite into tomato pieces.  It doesn't matter to me one way or the other, but if it makes him happy, then it is a small extra step to keep him eating healthier.
Another extra step we take is placing half the cooked sauce into a high-speed blender to get a really smooth texture.  This is a completely optional step, but to me, it just takes the sauce to the next level.  We only do this to half the sauce, but you could totally blend the entire sauce for a really smooth, velvety texture.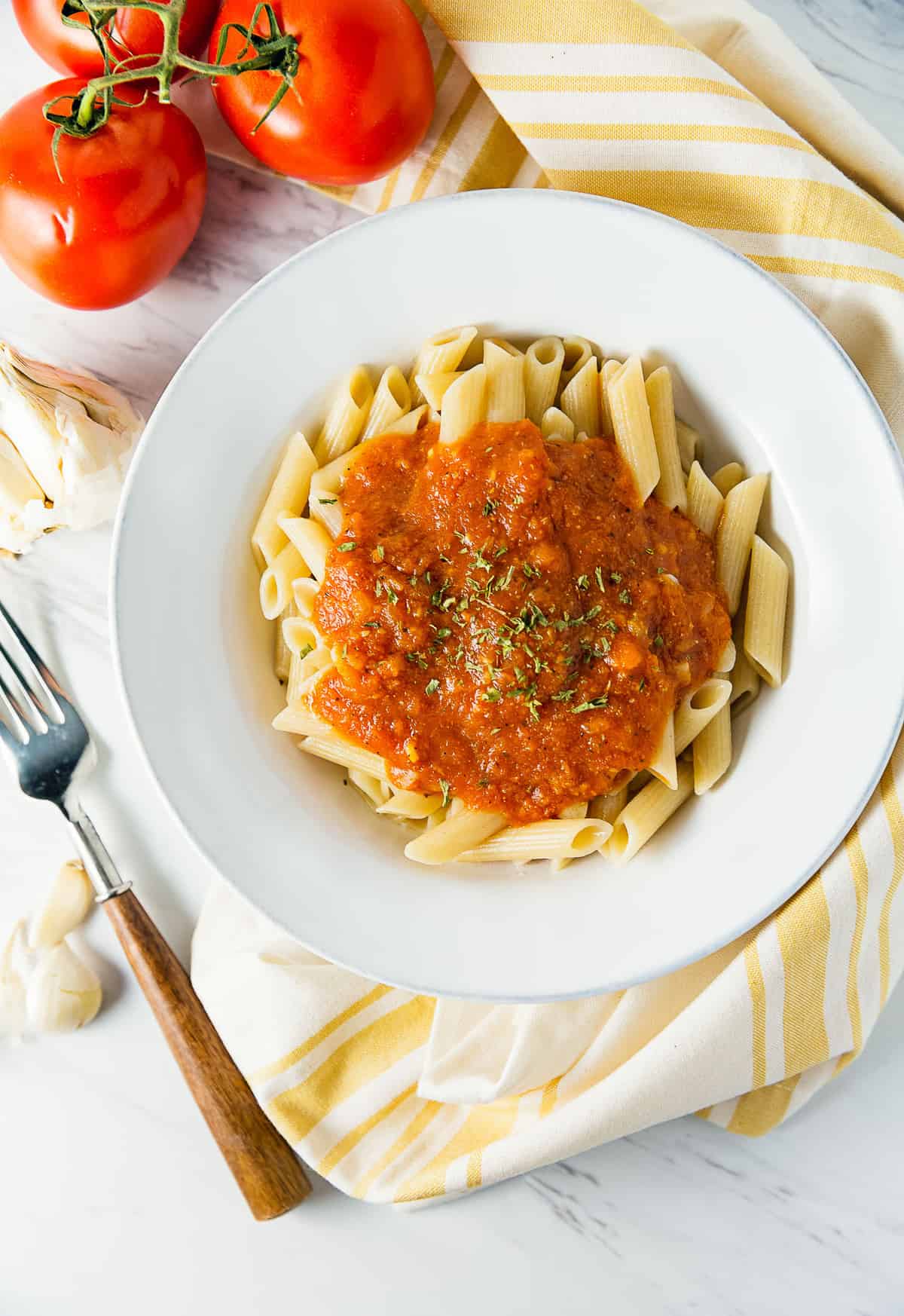 TP loved it.  He gave it a two-Italian thumbs up! He said it was very delicious. Yay!  He does miss his meatballs and sausage though, but it is important to note that his cholesterol dropped significantly over the past year.  He is super happy about that.
Cooking times can vary largely dependent on how thick you like your sauce. I typically cook sauce for an hour.  The minimum on this sauce should be no less than 30 minutes.  If you want a thinner tomatoey sauce, cook for 30 minutes.  If you are looking for a thicker, more developed flavor, cook for an hour or 1.5 hours.
I hope you give this pasta sauce a try.  We are really proud of it. 🙂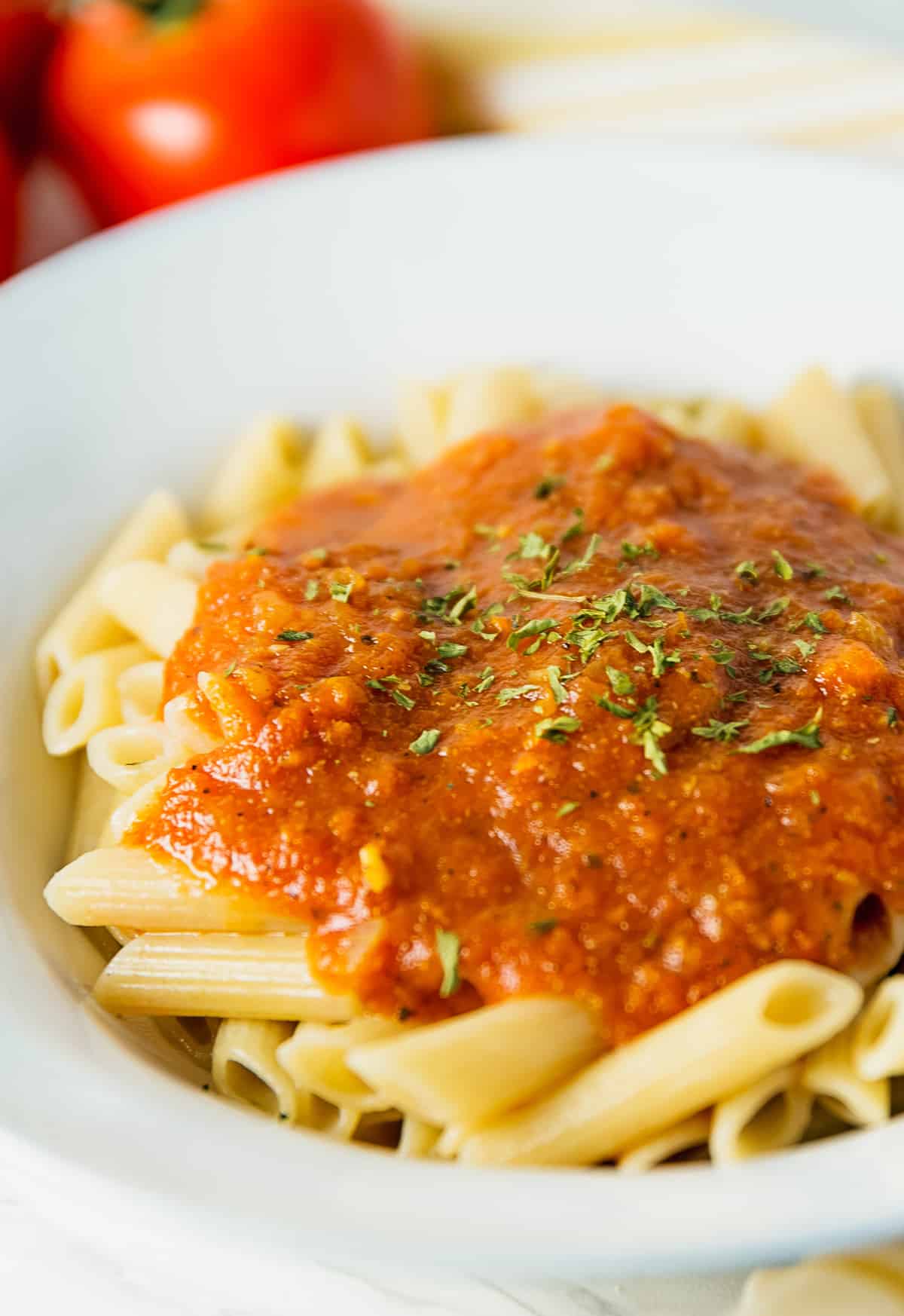 Ameera here!
We love our Italian Tomato Pasta Sauce.  It is delish!  My mom has always made amazing pasta sauces and Italian dishes.  She learned from my dad's family and she has passed down all her recipes and techniques to me. I had been missing our Italian Tomato Pasta Sauce, but now I'm thrilled to have found a new and improved healthy version.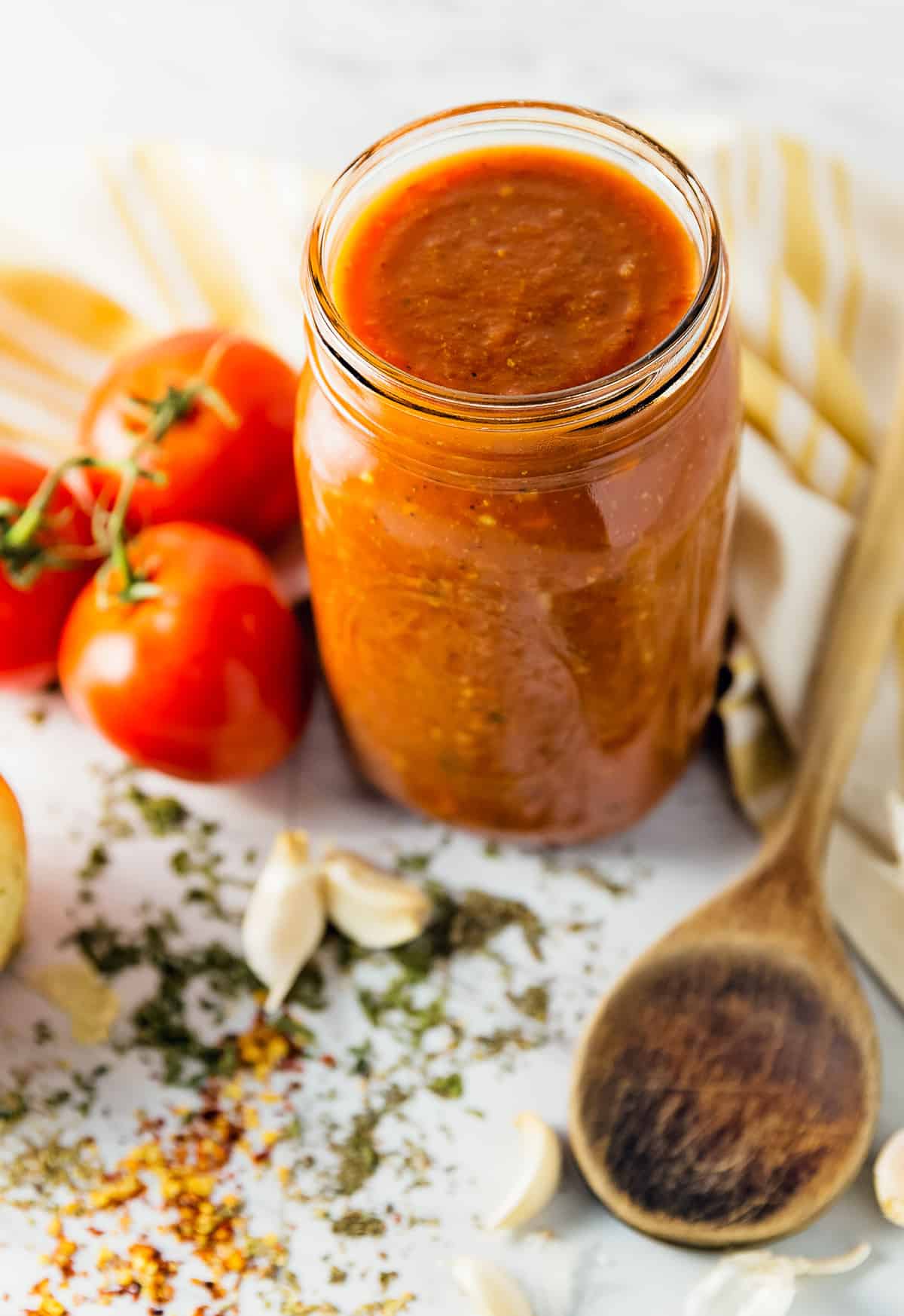 Our goal was to create an amazing Whole Food Plant Based sauce that rivaled our traditional Italian Tomato Sauce and I believe we have done exactly that.  This sauce is sooooo good.  We scarfed it down with a huge plate of gluten-free penne pasta.  We were in heaven.
Try it!  We hope you like it as much as we do.


Products used:
Large ceramic/enamel lined Dutch oven or other large kitchen stock pot.
Food Processor
High Speed Blender
Print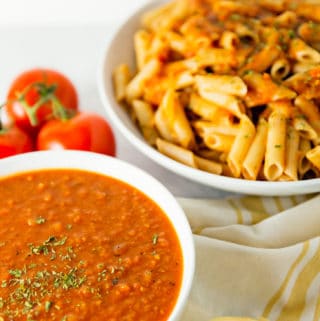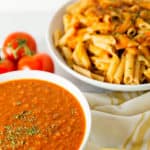 Italian Tomato Pasta Sauce
Author:

Prep Time:

15 minutes

Cook Time:

60 minutes

Total Time:

1 hours 15 minutes

Yield:

5 Cups

1

x

Cuisine:

Italian
---
Description
This amazing Italian Tomato Pasta Sauce will make an Italian grandmother proud.  A fabulous Whole Food Plant Based recipe. Oil free, sugar free, and no highly processed ingredients.
---
1

large onion, fine mince

1

large carrot, fine mince

1

large celery stalk, fine mince

1

heaping Tablespoon garlic, fine mince

1

–

28

oz. can San Marzano Peeled Tomatoes

2 Tablespoons

tomato paste

1

–

8

oz. can tomato sauce

2 cups

water

½ cup

vegetable stock/broth

1 teaspoon

dried parsley

1 teaspoon

dried basil

1 teaspoon

dried oregano

2 Tablespoons

dried minced onion flakes

½ teaspoon

onion powder

1 teaspoon

garlic powder

1

bay leaf
Pinch red pepper flake (+/- to taste)

1 ½ teaspoon

sea salt (+/- more to taste)

¼ teaspoon

black pepper

¼ teaspoon

baking soda*

½ teaspoon

maple syrup (optional)*

½ cup

unsweetened almond milk (or unsweetened plant milk)*

1 Tablespoon

Nutritional Yeast (optional)*
---
Instructions
Place a peeled onion, peeled carrot, and celery stalk into a food processor and pulse until very fine. Do not over pulse.  You want the pieces extremely tiny without pureeing them.
In a large ceramic-lined Dutch oven or similar stock pot, add the finely minced vegetables (onions, carrots, and celery) and diced sauté until they begin to soften, approx. 3 to 4 minutes.
Add the minced garlic to the skillet. Sauté a few minutes. If needed to prevent sticking, add 1- 2 Tablespoons of vegetable broth or water.
Stir in the water, vegetable stock, tomato sauce and tomato paste.
Place the San Marzano tomatoes into the food processor and puree, then add to the pot.
Add all the remaining ingredients except for the red pepper flakes, baking soda, maple syrup, nutritional yeast and unsweetened almond milk.
Simmer for 15 minutes over medium-low heat.
Remove half the sauce and place it into a high-speed blender and pulverize for several minutes, then return to the pot. If you are looking for a completely smooth tomato sauce, repeat until all the sauce has been pulverized.  We only pulverized half the sauce and left the other half with the tiny bits of seasoning.
Next add the red pepper flake, maple syrup, baking soda, nutritional yeast, and unsweetened almond milk and simmer over low heat for 30 minutes or up to an hour.
Test the seasoning, add more as needed.
Serve over your favorite pasta.
---
Notes
*Baking Soda:  Using a tiny bit of baking soda will help neutralize some of the acid from the tomatoes.
*Maple Syrup:  Using a tiny bit of maple syrup adds the tiniest bit of sweetness to accent the tomatoes. 
*Almond Milk:  Using unsweetened almond milk will mellow out the tomatoes. We found it necessary to cut through the acidity of the tomatoes as there is no oil in the recipe.  This really helps to neutralize and balance out the tomatoes acidity.
*Nutritional Yeast:  Using nutritional yeast offers just a hint of what Parmesan cheese would add to the flavor.  It is completely optional, but add a nice depth of flavor.
Storage:  Cool to warm, place in glass/plastic storage and refrigerate.  Freezes well.