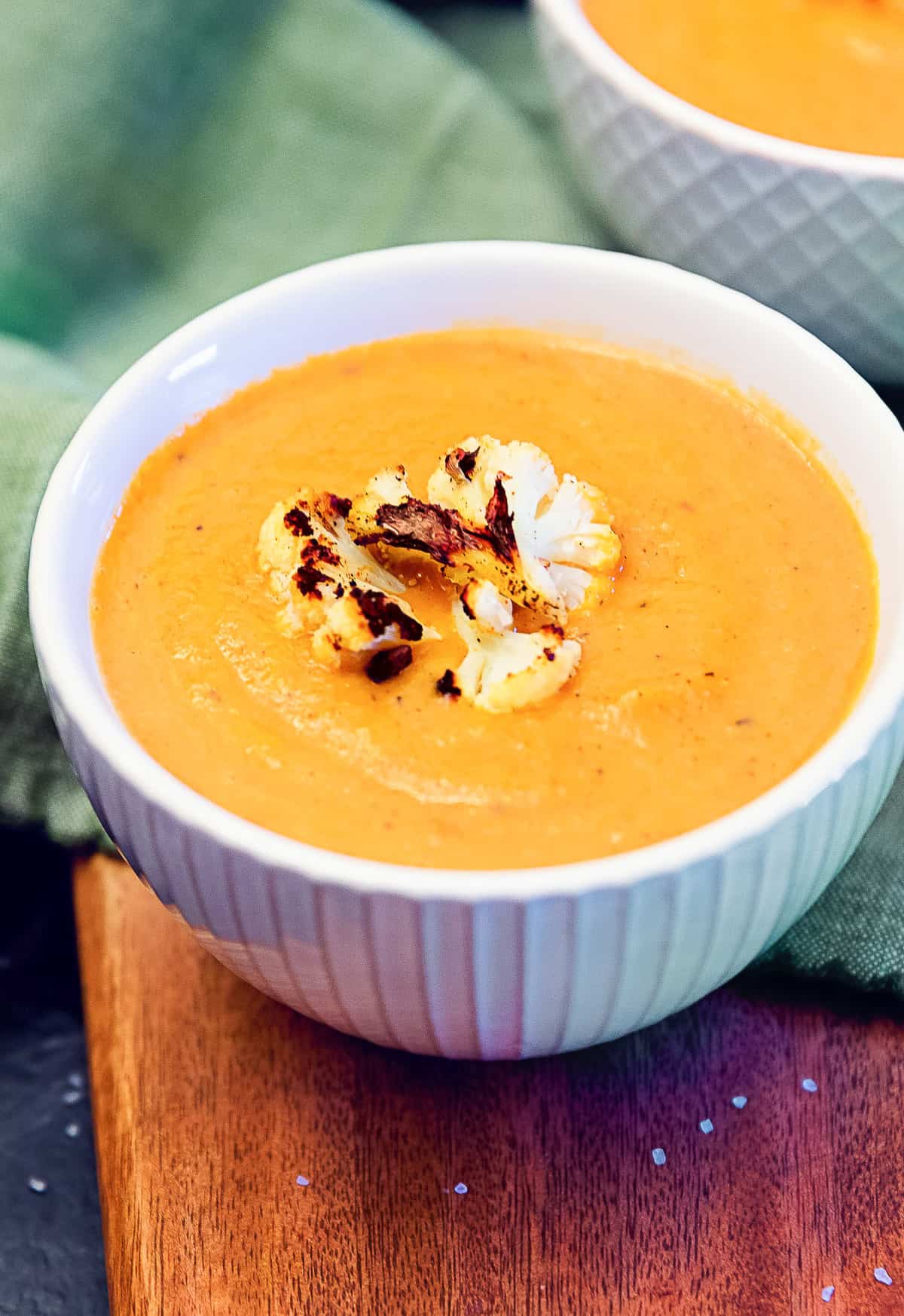 This creamy cauliflower soup recipe is bursting with deliciousness and has a delightful "kick" of spice. It's a wonderful go-to Whole Food Plant Based soup. No oil, no refined sugar, no processed ingredients, and it's gluten free too!
Hi there, Ameera here!
I fell in love with this comforting soup from the moment I tasted it with its bold and spicy flavor.  It is sure to please everyone in the family.  Roasting the cauliflower really adds another layer of yumminess that would be missed by simply boiling the cauliflower.
Roasting vegetables without oil can sometimes be challenging.  We have found a great method to help. We first season the vegetables on a baking sheet, then cover them tightly with aluminum foil, roast them in the oven, then we remove the foil for the second half, and finish with a quick broil at the end, which gives the vegetables a nice browning. Roasting this way helps prevent the vegetables from drying out too quickly and sticking to the pan.
This Rustic and Spicy Cauliflower Soup was inspired by Avocado Pesto.
Soup, soup, and more soup!
We are definitely a soup-loving family. Soup is filling, comforting, and quick to heat up and eat on the go. We've been making so much soup late, especially now that it's winter. We had to pull back a tiny bit as we were on this soup creating frenzy for the longest time.  We were afraid our blog would be filling up with nothing but soup recipes. But we simply can't help ourselves.  Dad is always asking "What kind of soup are we making today?"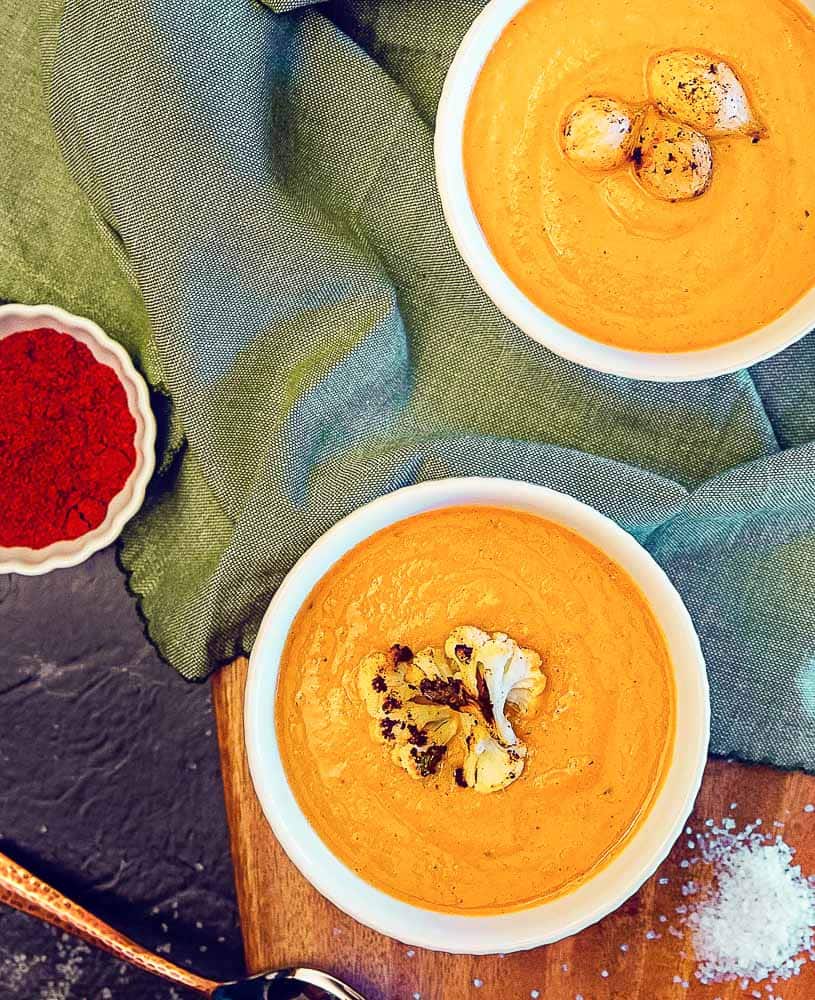 "No Soup for You!"
Along those lines, as some of you already know, I am a huge Seinfeld fan.  If you know anything about Seinfeld, then you are familiar with the "Soup Nazi" episode.  I love that episode, and I love joking around with my dad, who is also a huge Seinfeld fan. I get a kick out of telling him "No soup for you!" every time we make soup, which just so happens to be quite often.  LOL
Immersion Blenders are great!
For this soup we used an immersion blender, which is perfect because I love using our immersion blender to make soups!     I mean whoever created the immersion blender was a genius!  You just put that puppy right into the soup pot and blend away until the soup is creamy and smooth.  We use ours at least once a week. There is just something a little extra special about a creamy soup. It gives the impression that you are eating something hearty.
Loud Talkers or Loud Immersion Blenders?
We are all loud talkers!  We are Sicilians and we get excited and animated when we talk.  Normally that wouldn't be a problem, we are in our own house after all so who cares, right?  The problem is that sometimes we wake up Michael.  As most of you know, Michael works midnights as a police officer so he sleeps during the day.  I'll be honest, it's probably not the immersion blender that wakes Michael up, it's that we are all so loud!  LOL   Seriously, we are the "loud family."  Everyone in our family is loud, including Michael.  Normally, I am somewhat of a quiet person, except in the kitchen, then my kitchen cooking and baking enthusiasm comes out.  I get loud!
Also, again, I am half Sicilian, and we are passionate people and being loud just seems to go with the territory.   Next thing you know we are all talking loudly which usually wakes up Michael.  Michael is like a baby sleeping.  Shhhhhh, don't wake up Michael.  Poor Michael, he needs his rest.  I'd say we do a pretty good job of keeping quiet the majority of the time. I think people sometimes forget how difficult it can be for someone who works midnights.  We constantly remind each other to be quiet so he can sleep – shhhhh.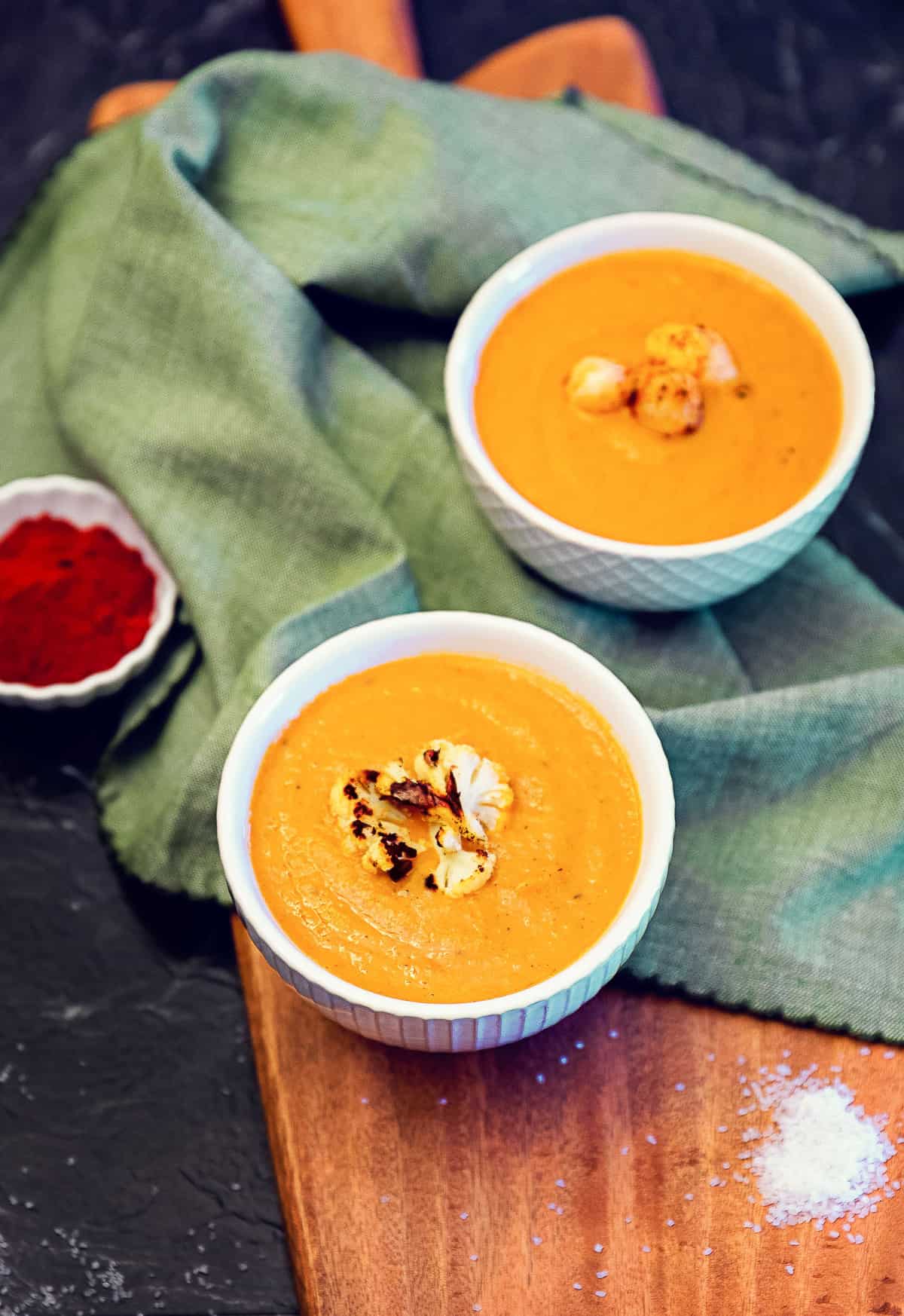 Robin here!
As Monkey mentioned, we have been creating a lot of soups lately.  We recently created this amazing rustic, spicy, roasted cauliflower soup and boy was it super yummy! I love the color and creamy texture.  I have never been a huge cauliflower fan.  I like cauliflower, but I don't rave about it.  But cauliflower works so well in this soup that it will make a cauliflower lover out of you.
Shhhhh!
Monkey's comment about us being the "loud family" totally cracks me up because it is so true.  I feel like we are all shouting without realizing it.  We are passionate and get excited about stuff.  It's like the old saying, we each have a bell in every tooth.  LOL
But we try really hard to safeguard Michael's rest, but sometimes we forget – pobody's nerfect. Oh, and unfortunately, Mike's cell phone is always ringing too.  I think most people just forget that he is on a totally different schedule than everyone else.  When people complain about Mike not answering his cell during the day, I always tell Michael to tell the complainer, " I am going to call you tonight at 3:30am and every night for the next three weeks at 3:30am, OK?"  That usually does the trick.  HAH!
Do you know anyone working the graveyard shift?  How do they safeguard their sleep?

Products used:
8-quart ceramic/enamel lined Dutch Oven
Immersion blender
14×20 baking sheet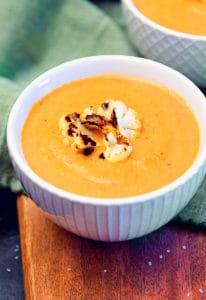 Print
Rustic and Spicy Cauliflower Soup
Yield 6-8 Servings
This creamy cauliflower soup recipe is bursting with deliciousness and has a delightful "kick" of spice. It's a wonderful go-to Whole Food Plant Based soup. No oil, no refined sugar, no processed ingredients, and it's gluten free too!
This Rustic and Spicy Cauliflower Soup was inspired by Avocado Pesto.
Ingredients
Roasted Cauliflower
1 large head cauliflower, cut into florets
Sprinkle sea salt
Sprinkle pepper
Sprinkle sweet paprika
Soup Base
1 small to medium yellow onion, finely diced
1 celery stalk, finely diced
1 carrot, finely diced
1 teaspoon smoked paprika
2 teaspoons sea salt (+/- to taste)
5 cups water
1 cup Pacific organic vegetable broth*
2 cups almond milk
1 teaspoon nutritional yeast
1 Tablespoon freeze dried shallots
½ teaspoon garlic powder
Tiny hint of cayenne pepper (tiny dash)
Optional Topping Ingredients:
Roasted white pearl onions
Roasted cauliflower florets
Instructions
Roasted Cauliflower
Preheat oven to 400 degrees F.
Cut the cauliflower into small florets. Place on a large baking sheet.  Sprinkle with sea salt, freshly cracked pepper, and sweet paprika. 
Note: If topping the soup with roasted white pearl onions, place them on a separate baking sheet and sprinkle with sea salt, freshly cracked pepper and sweet paprika. Follow the same process for roasting as the cauliflower.
Cover tightly with aluminum foil and place in the oven for 15 minutes.
After 15 minutes, remove the aluminum foil and roast for another 10 minutes.
After 10 minutes, move the baking sheet to the top of the oven and broil the cauliflower for 7 minutes. Remove and set aside.  Note:  Reserve a few pieces to top individual servings.
If roasting pearl onions, remove from the oven, and then after the cauliflower has been under the broiler, then do the same with the pearl onions.
Soup Base:
In a large ceramic/enamel lined Dutch oven, add the onions, carrots, and celery, and sauté until translucent, about 5 minutes or until the veggies are tender. (If needed to prevent sticking, add 1- 2 Tablespoons of vegetable broth or water).
Add the salt and smoked paprika.
Add the water and vegetable broth and bring to a boil, reduce heat and simmer for 5 minutes.
Add the shallots and garlic powder.
Add the roasted cauliflower (remember to reserve a few pieces), bring to a boil, then reduce the heat and simmer for 10-13 minutes.
Remove the pot from the heat and puree the soup with an immersion blender until smooth. This make take about 3-5 minutes. 
Place the pot back on the burner and add the nutritional yeast and almond milk, and bring to a boil, then reduce heat to a simmer. Simmer for 3-4 minutes.
Add the tiniest hint of cayenne pepper.
Taste the seasonings. Add more if needed.
Serve: Top individual servings with small roasted cauliflowers and/or roasted pearl onions.  (Optional)
Notes
*Roasting vegetables without oil can sometimes be challenging.  We have found that seasoning them on a baking sheet and covering tightly with aluminum foil for the 1st part of the roasting process, then removing the foil for the 2nd half helps prevent the vegetables from drying out too quickly.  A quick broil at the end also gives the veggies a nice browning.    
*Vegetable Broth:  We used Pacific Organic Vegetable Broth because it does not have MSG, and has no highly processed ingredients; however, Pacific has a very strong flavor so our water to broth ratio is heavy on the water and low on the vegetable broth.  If you are using a vegetable broth other than Pacific, please adjust the water to broth ratio accordingly. 
*Freeze dried shallots:  We love freeze dried shallots. They are so good and always add a nice element to a lot of Vegan WFPB recipes. 
Courses Soup
Cuisine American
Storage:  Cool to warm, place in glass storage and refrigerate.