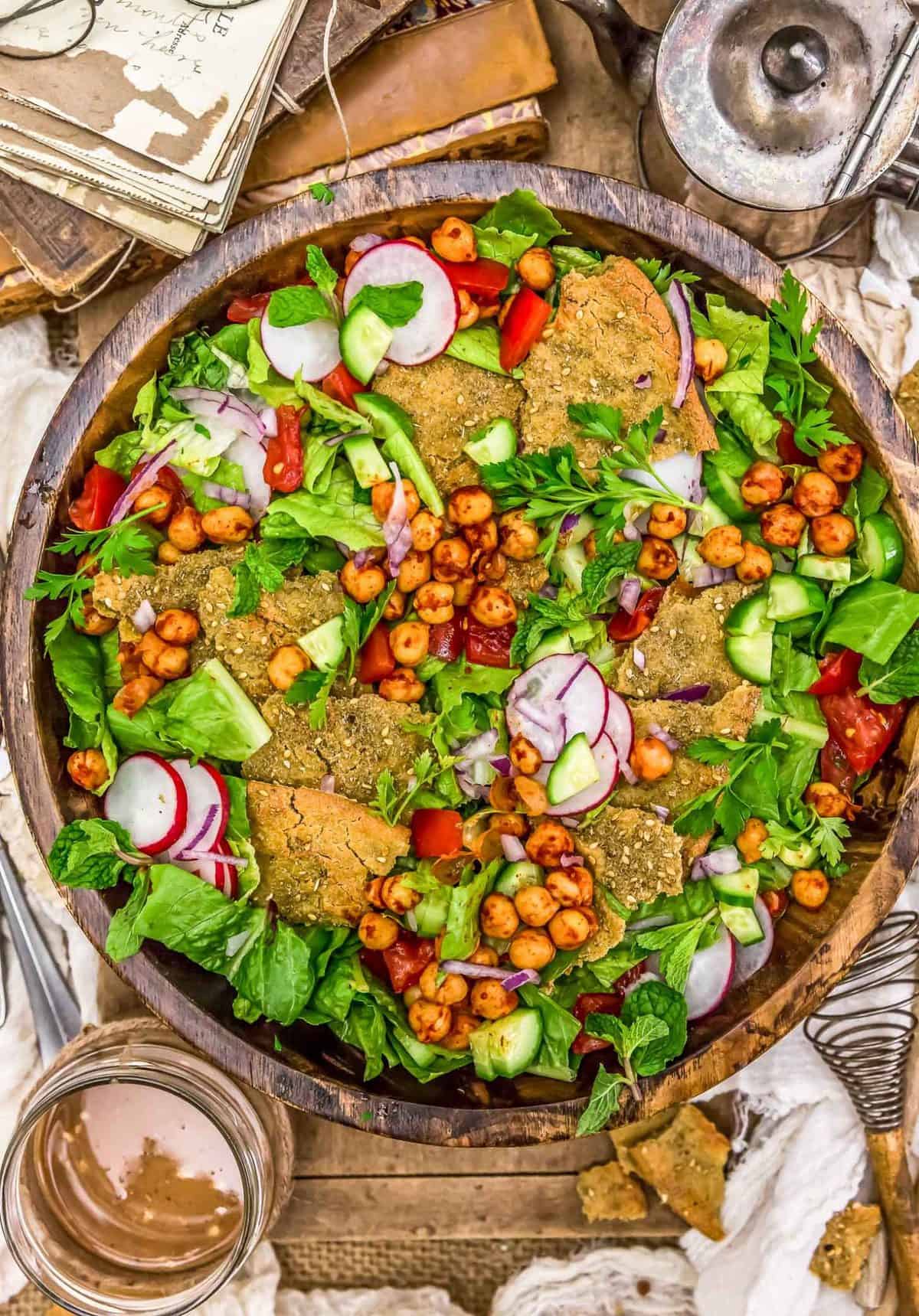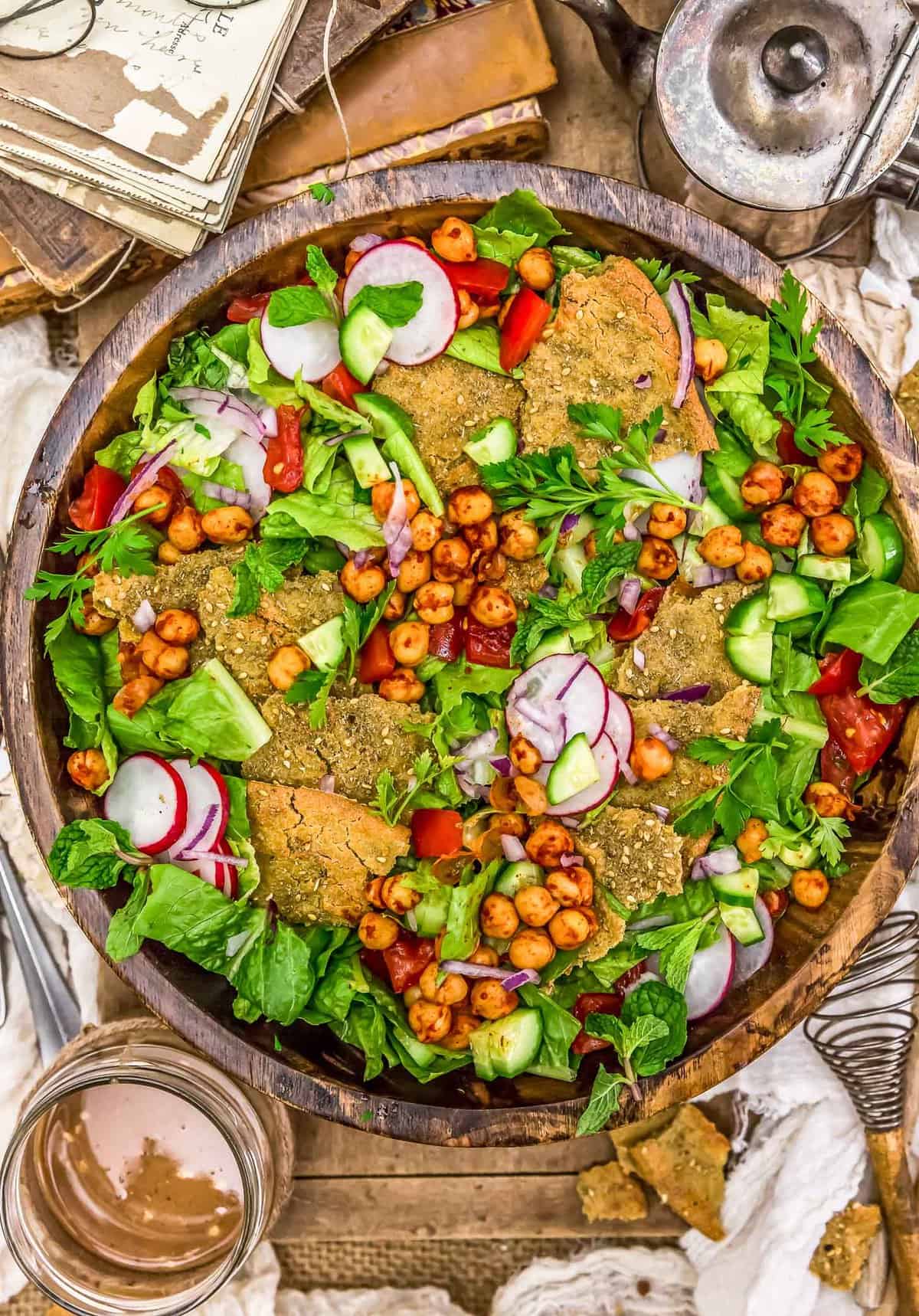 Kick up your salad game with this vibrant, wholesome, and delicious Oil Free Lebanese Fattoush salad. This oil-free, gluten-free nod to the classic Lebanese Fattoush is a delicious, healthy twist that is sure to get those taste buds tingling. Refreshing romaine, parsley, mint, cucumbers, radishes, tomatoes, red onions, chickpeas, and crisp torn quinoa flatbread are tossed with a zippy lemon vinaigrette dressing.  It's unique combination of herbaceous flavors with a fun twist that is sure to be the talk of the town.
Whole Food Plant Based, vegan, plant based, oil free, refined sugar free, no highly processed ingredients, and gluten free.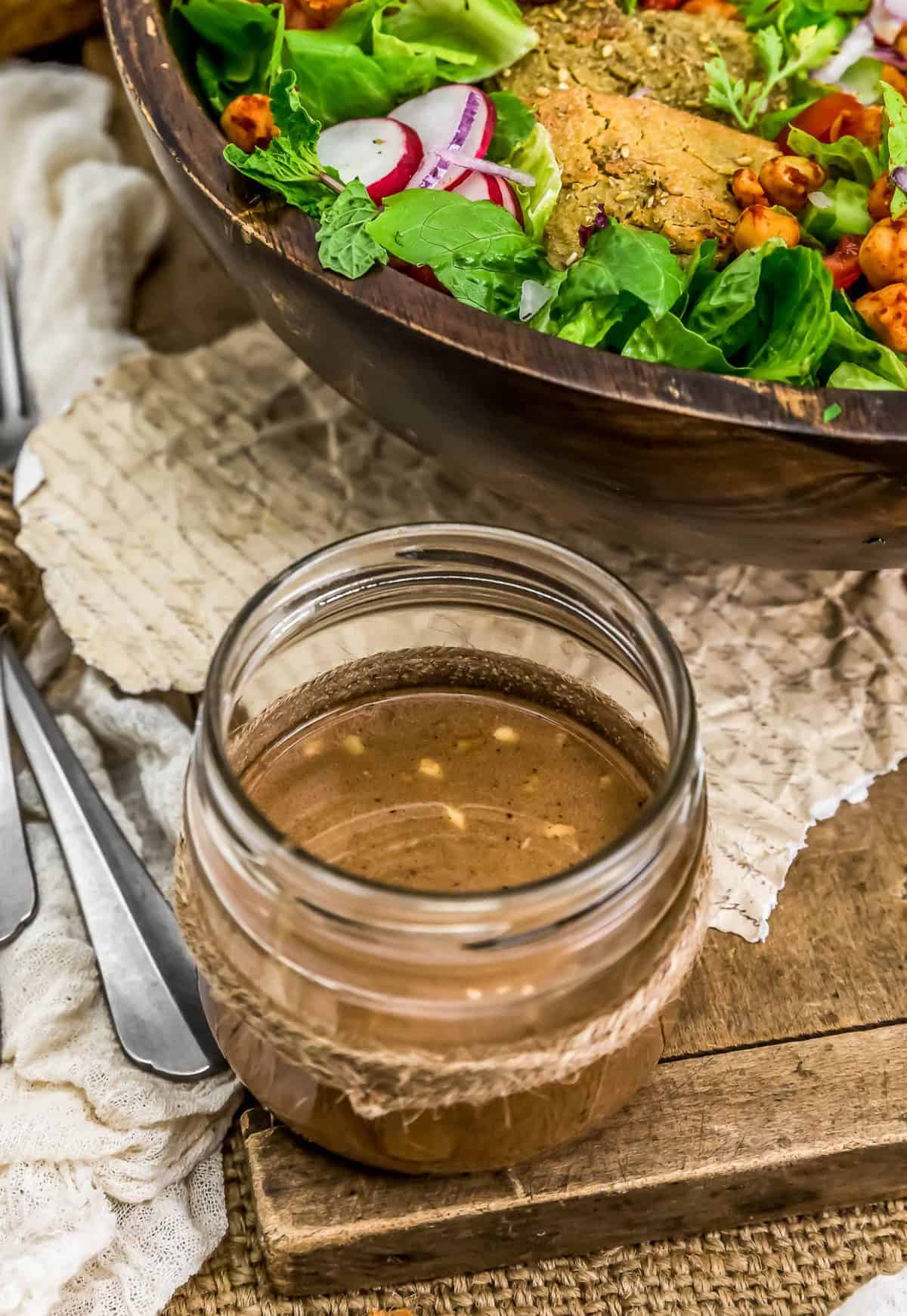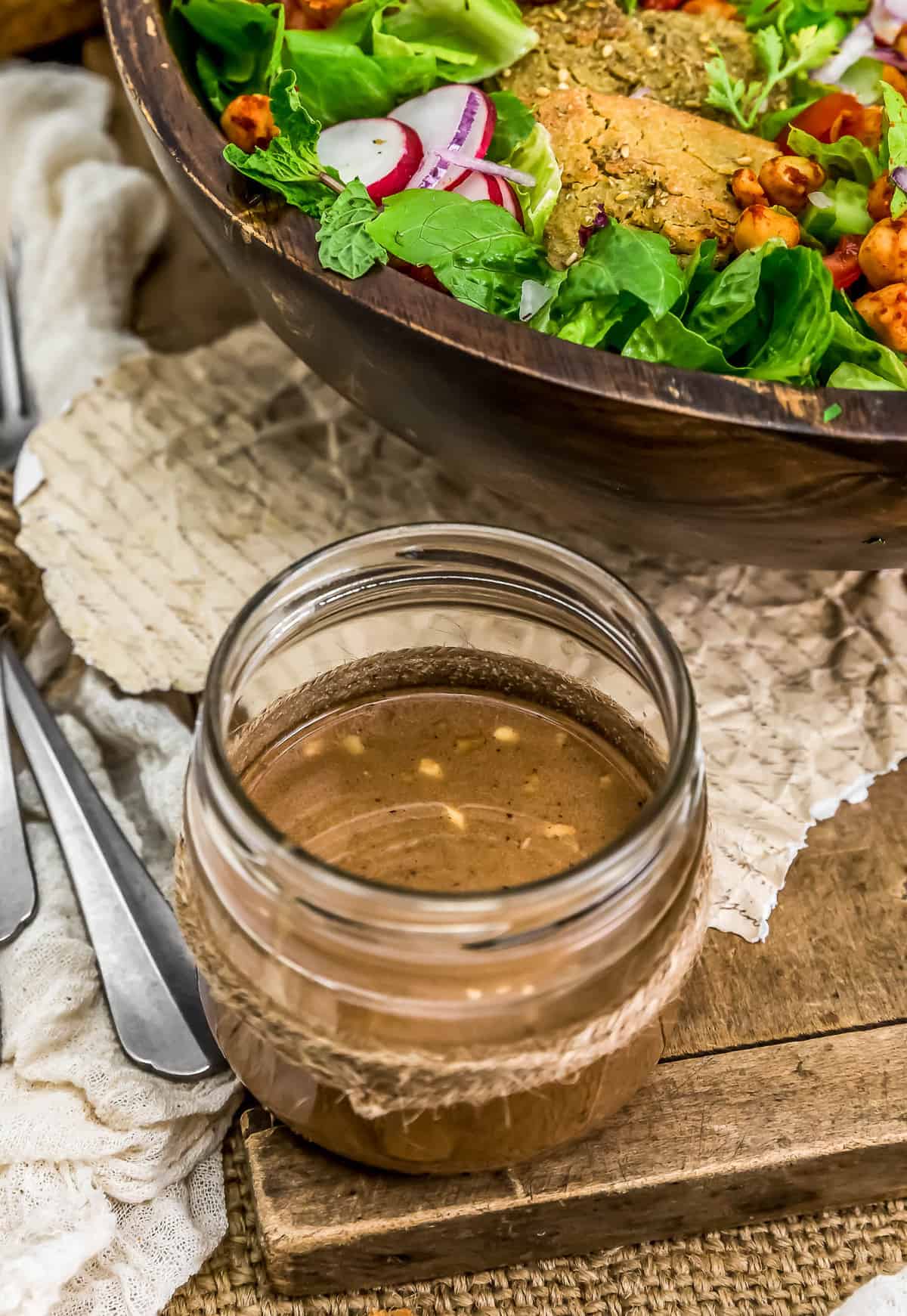 Hi there, Ameera here!
I was first introduced to fattoush many years ago when I was a bellydancer, dancing in Middle Eastern restaurants throughout Ohio, Pennsylvania, and Michigan.
I instantly fell in love with this unique and flavorful salad. I had never had fresh mint and fresh parsley as a major flavor component in a salad before, but I quickly found that I absolutely loved it.
Mom, on the other hand, was slower to enjoy it. She struggled with the fresh mint and parsley, but like everything, Mom is a trooper and always tries new foods several times before making up her mind.  It's funny, she generally falls in love with most things after having it three times and that is exactly what happened here.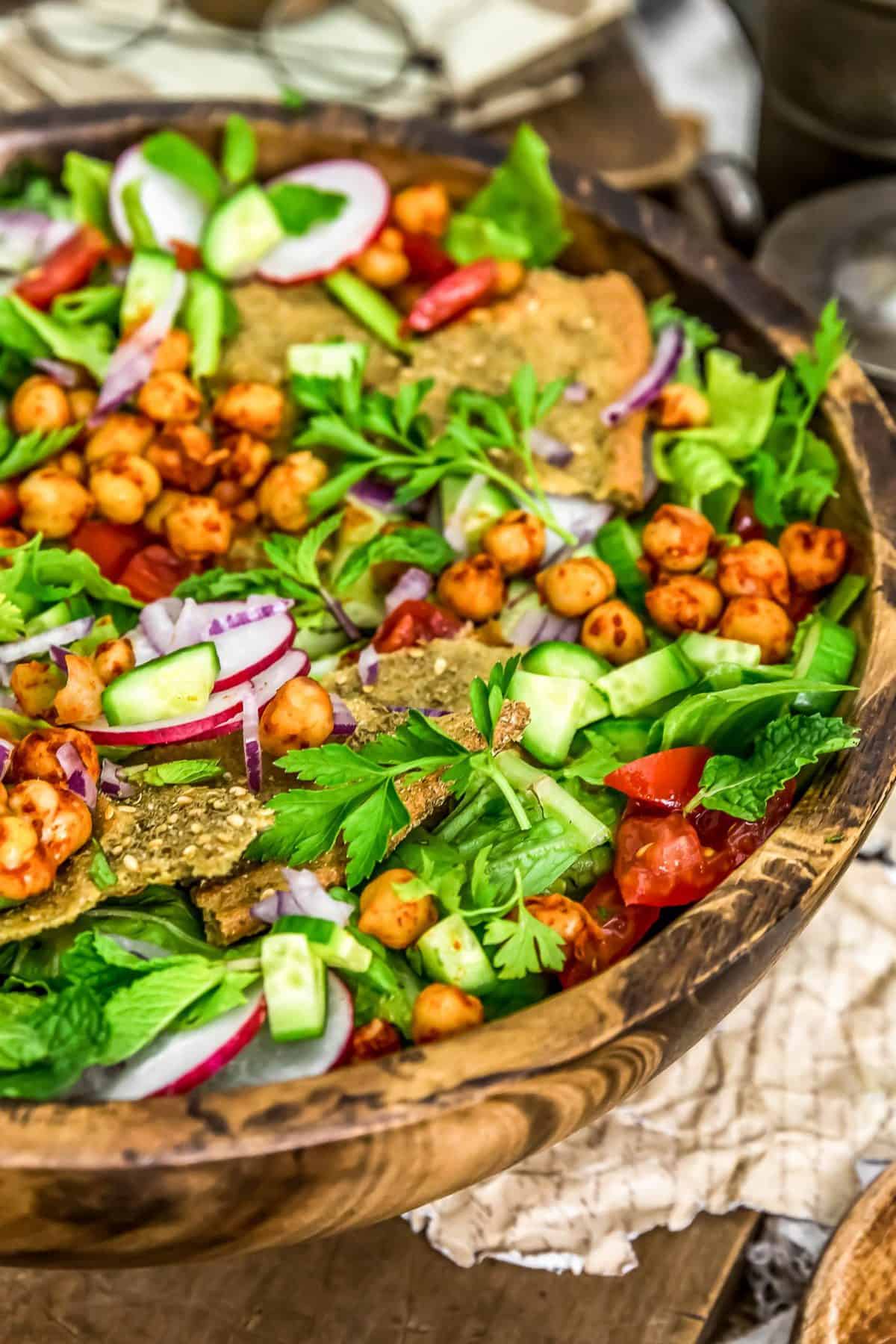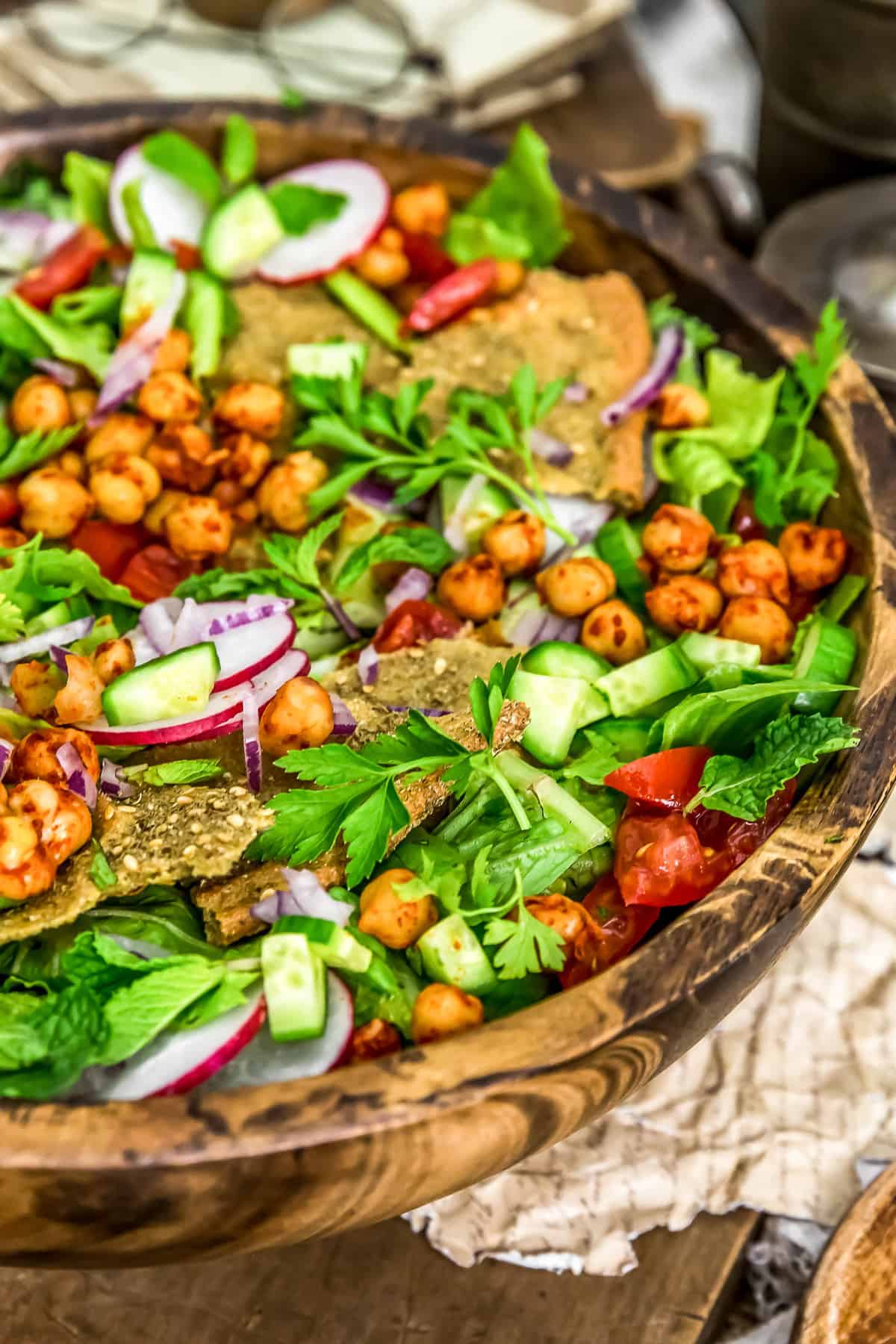 Fresh Herbs
The Lebanese really love their fresh herbs. This recipe is a way to showcase those fresh herbs.  If you are not sure or unfamiliar, this salad has some elements of a Tabbouleh salad regarding lemony freshness with a herb feature of parsley and mint.
If you are not a big fan of fresh parsley or fresh mint as a major component of a dish, then we suggest passing on this recipe.
Here is a great list of other delicious salad recipes you'll want to try –> Ultimate WFPB Salad Dressing Round Up.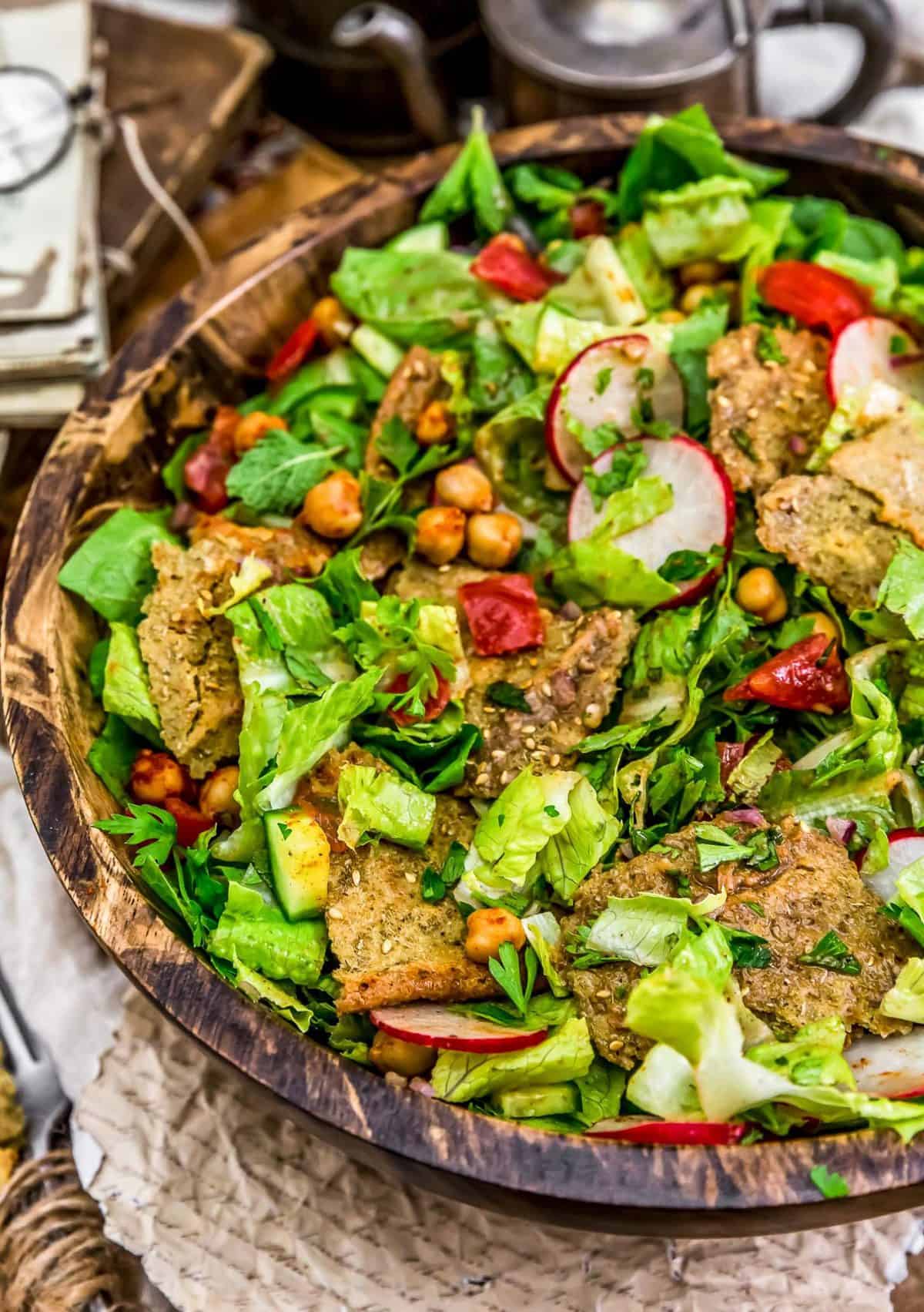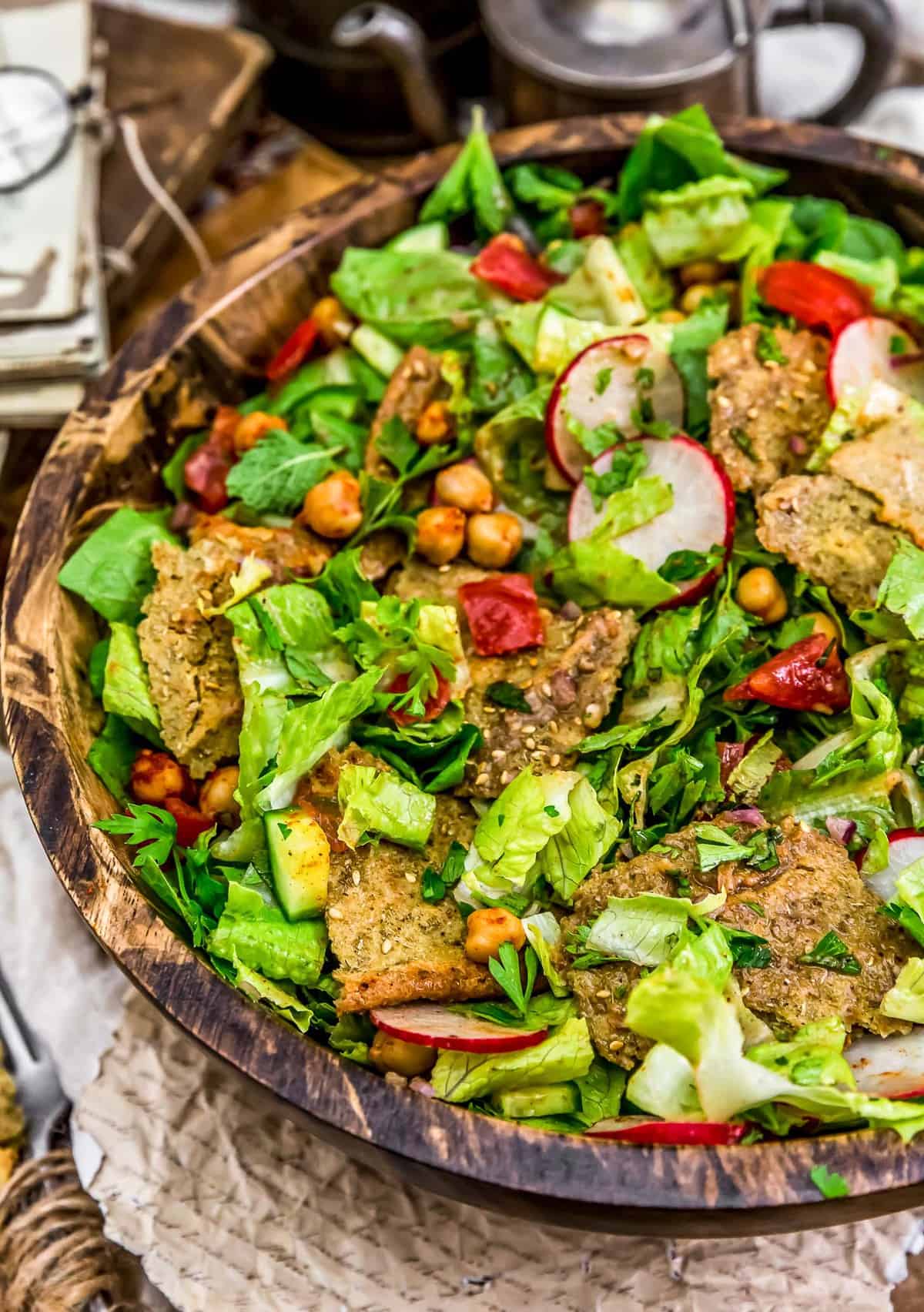 Traditional Fattoush
We recognize that a traditional fattoush is made with olive oil and has deep-fried pita bread triangles throughout the salad. This version is a healthy nod to the traditional fattoush.
In order to balance all the acidity of the lemon, we also want to recognize that we have added many ingredients to the dressing that are far from the traditional version. However, in adding these additional elements, we were able to balance the dressing and create a well-rounded flavor profile that resembles that of a delicious fattoush.
Also, we added the non-traditional chickpea to create a fuller/more filling meal with a little extra plant protein goodness and heartiness.
Taste
We are often asked what does fattoush taste like as people are trying to get a frame of reference. That is a tough question as it is truly unique and definitely different. It has similar components to the herbaceousness of a tabbouleh salad.
We have found that individuals who are not used to having fresh parsley as a main salad component as well as fresh mint in a salad, are not typically fans of this salad.
If you enjoy experiencing new foods and flavors, then give this recipe a try!
I'll let Mom tell you more!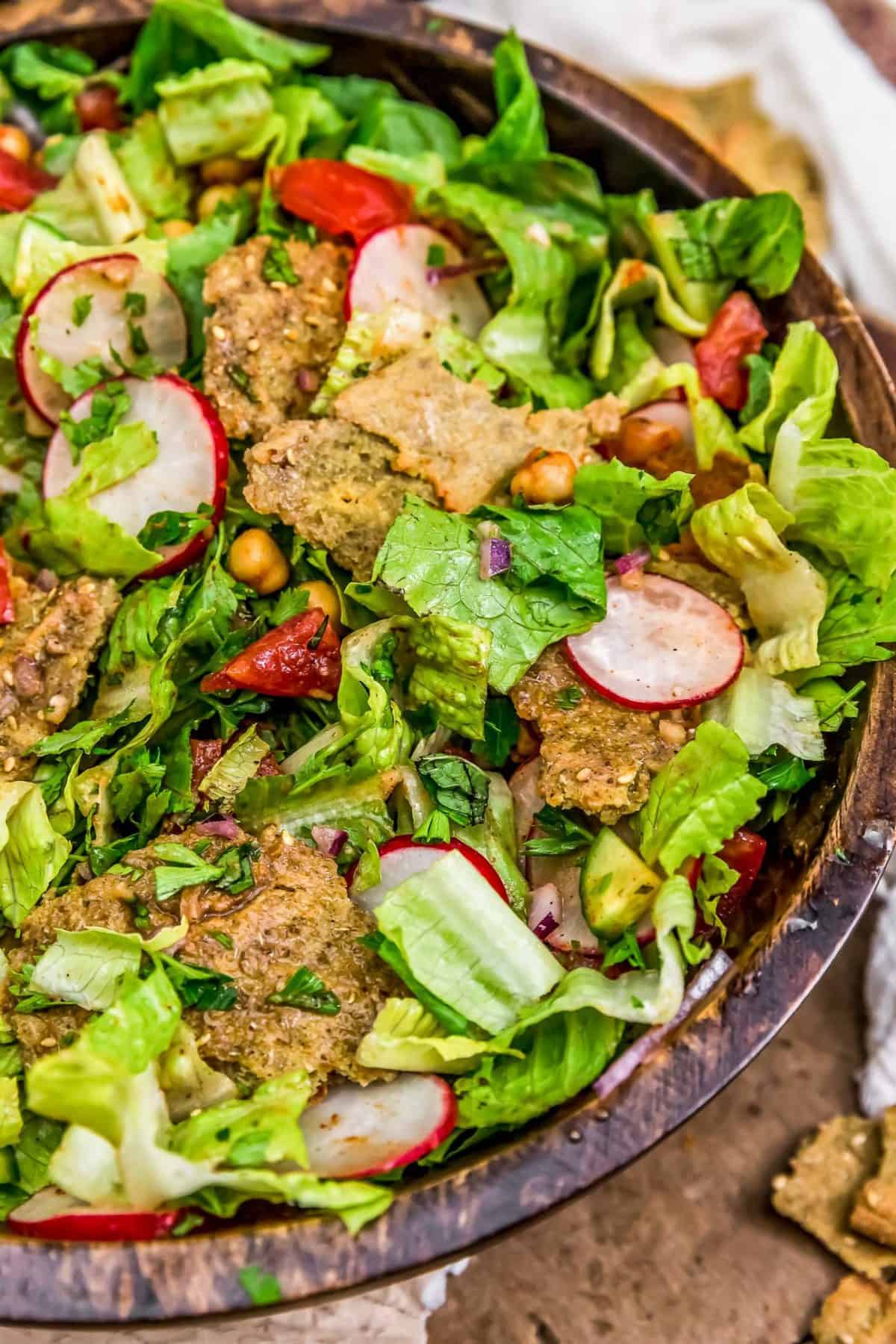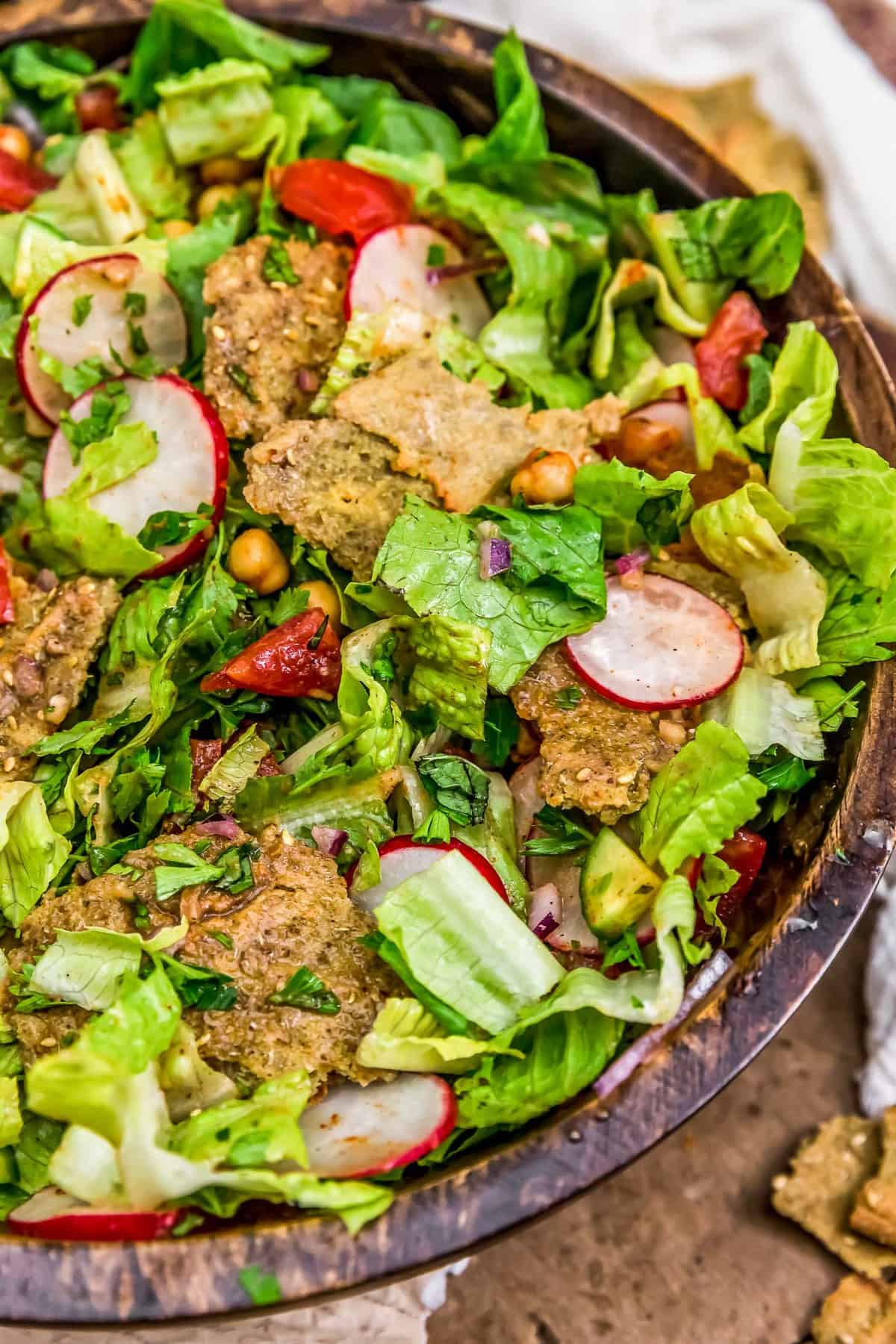 Hi!  Robin here.
I love to experience new foods and cuisines, but I am also very open minded about the experience as well. I go in with my eyes wide open with the understanding that it generally takes three times for me to process new dishes.
Most of us are hard wired to find a frame of reference when trying new foods, especially new cuisines.
I literally used to hate Indian food, now it is one of my absolute favorites!  It is so full of flavor and yumminess.  I absolutely adore Middle Eastern food, maybe it's all those free meals that Monkey and I enjoyed while she was bellydancing at Middle Eastern restaurants. Sooooo much goodness!
I love this nod to the Lebanese fattoush.  It's unusual and mighty tasty!
We hope you give this deliciousness a try!  We just know you are going to love it!
If you try this refreshing salad, we would love to know if you enjoy it as much as we do! Please leave us a review! Post a picture on Facebook or Instagram and tag us!  We would love to hear from you.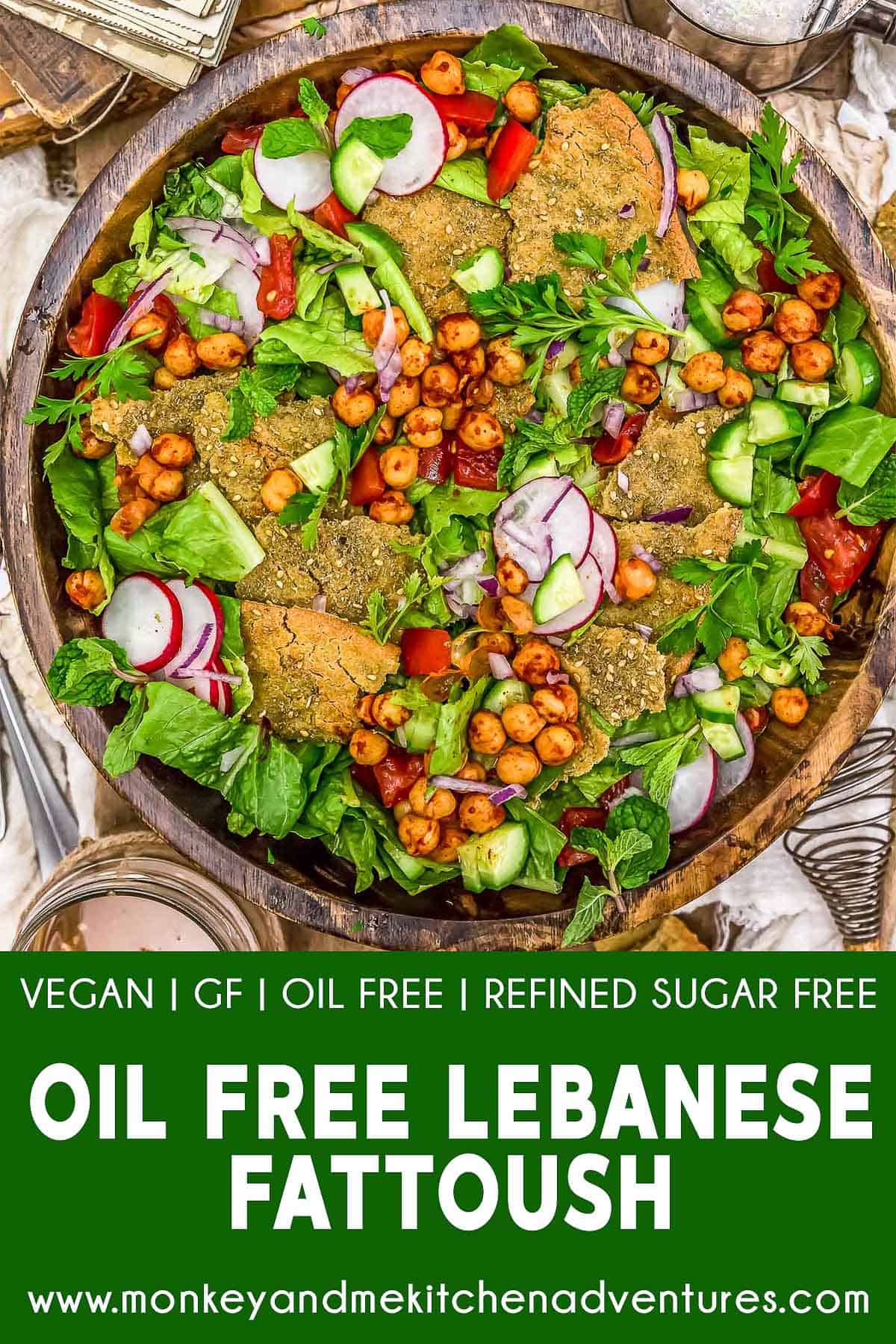 Products Used:
High Speed Blender (if making Zaatar Quinoa Flatbread)
Print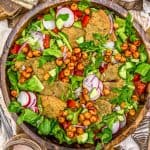 Oil Free Lebanese Fattoush
Author:

Prep Time:

20 Minutes

Cook Time:

20 Minutes (Flatbread)

Total Time:

40 Minutes

Yield:

2

-

3

Servings

1

x

Category:

Salad, Dinner, Lunch

Method:

Oven (Flatbread)

Cuisine:

Lebanese

Diet:

Vegan

This post contains affiliate links, and we may receive a very small commission if you purchase through those links at no additional cost to you. Thank you for supporting Monkey and Me Kitchen Adventures! For more information, see our disclosures here.