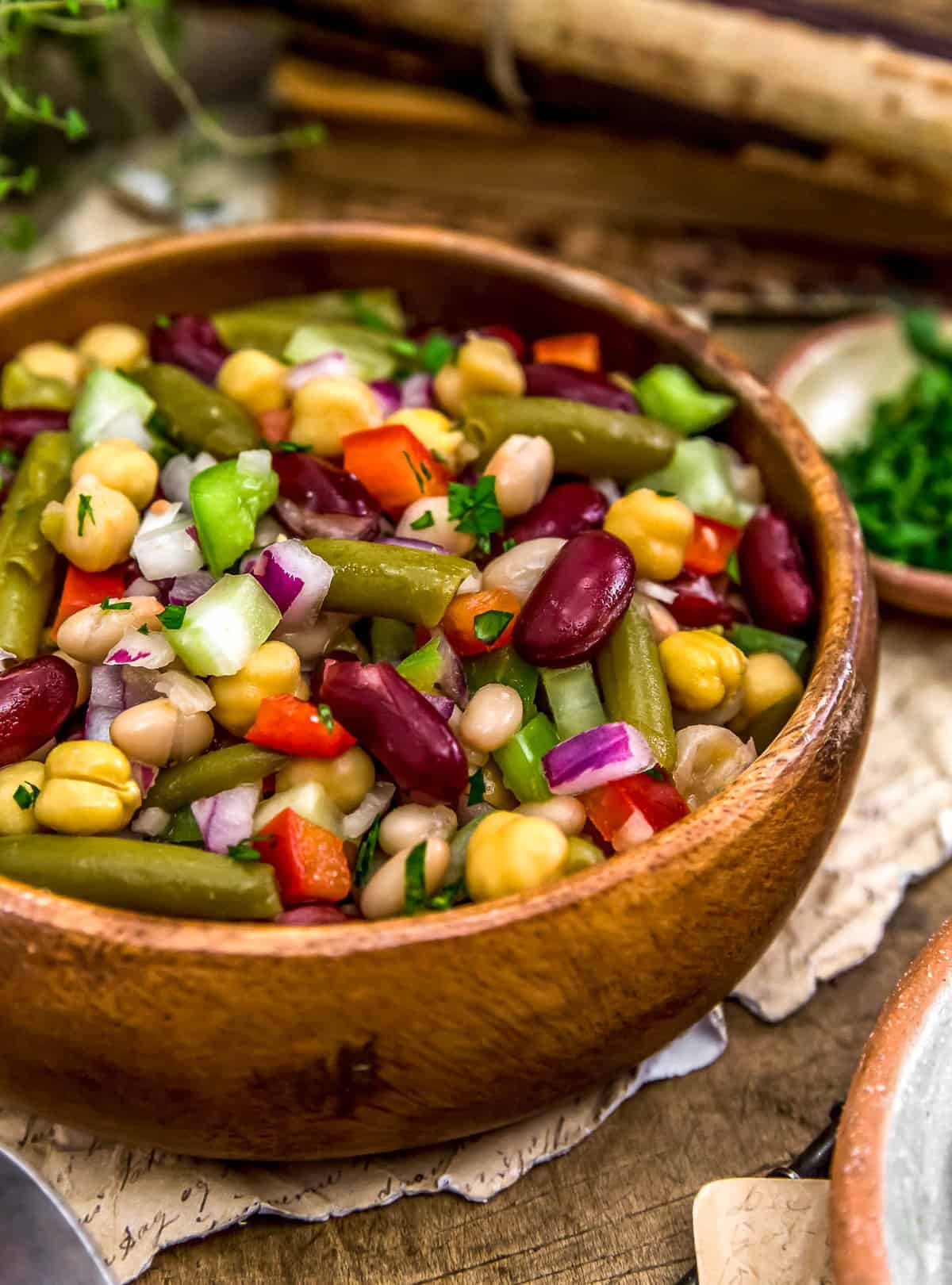 This old-fashioned Oil Free Five Bean Salad is so easy to pull together for a quick salad, work lunch, picnic, or your next potluck.  It's colorful, packed with flavor, and a nutritious version of a classic bean salad.  This wholesome salad features all your favorite beans: chickpeas, kidney beans, navy beans, green beans, and yellow wax beans coupled with earthy celery, crisp bell peppers, zesty onions and coated in a delicious, zippy, yet slightly sweet dressing that is sure to have everyone running back for more.
Whole Food Plant Based, Vegan, plant based, oil free, refined sugar free, gluten free, no highly processed ingredients.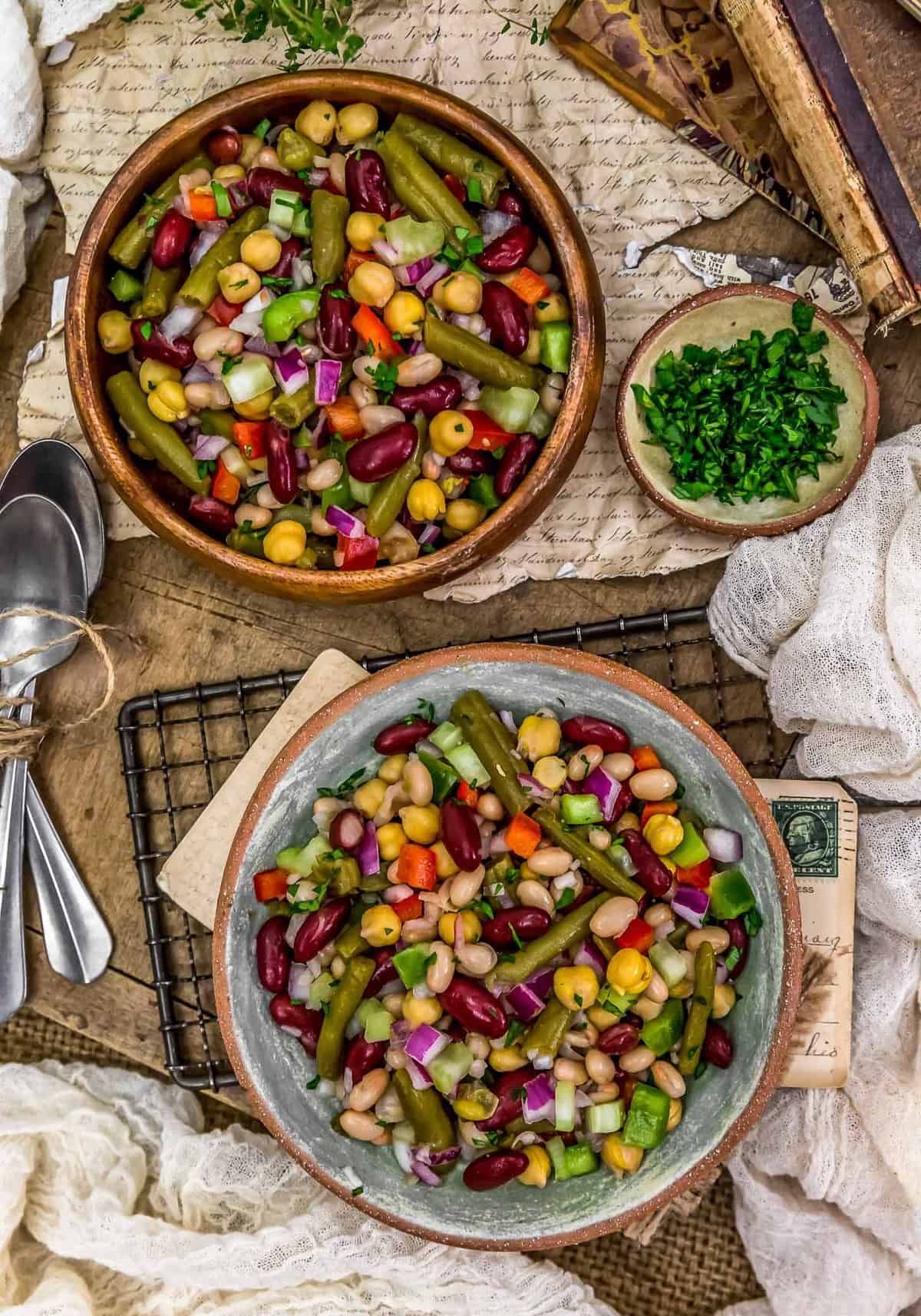 Hi there, Ameera here!
Back in the day, Mom made a mean five bean salad.  We scarfed them down like our lives depended on it. You could pretty much count on finding a 5 bean salad in the fridge during the summer months because Mom liked to keep them on hand for a quick snack if we got hungry before dinner.
As kids, me and Chris would go for the 5 bean salad over other options because Mom's bean salad was always so tasty.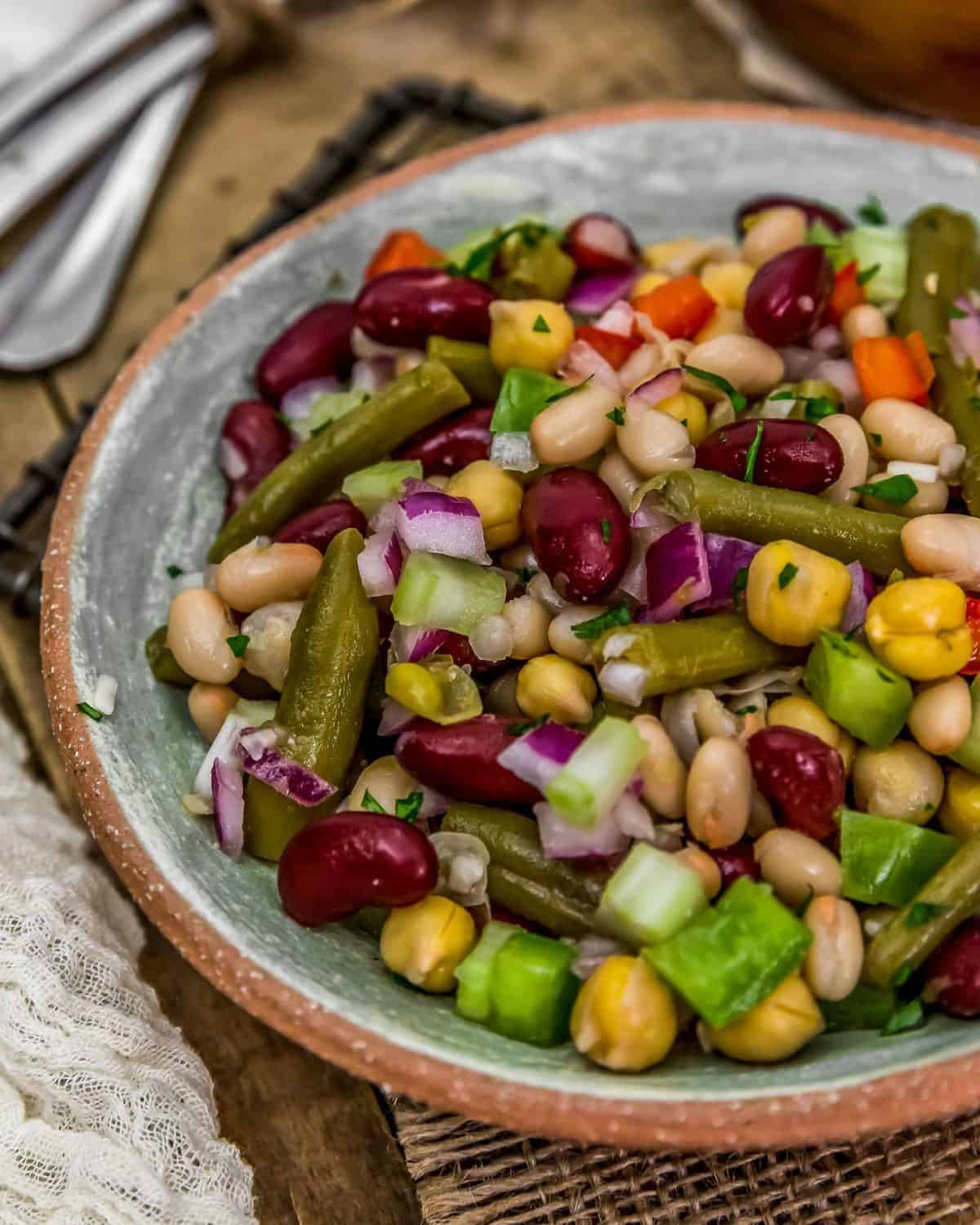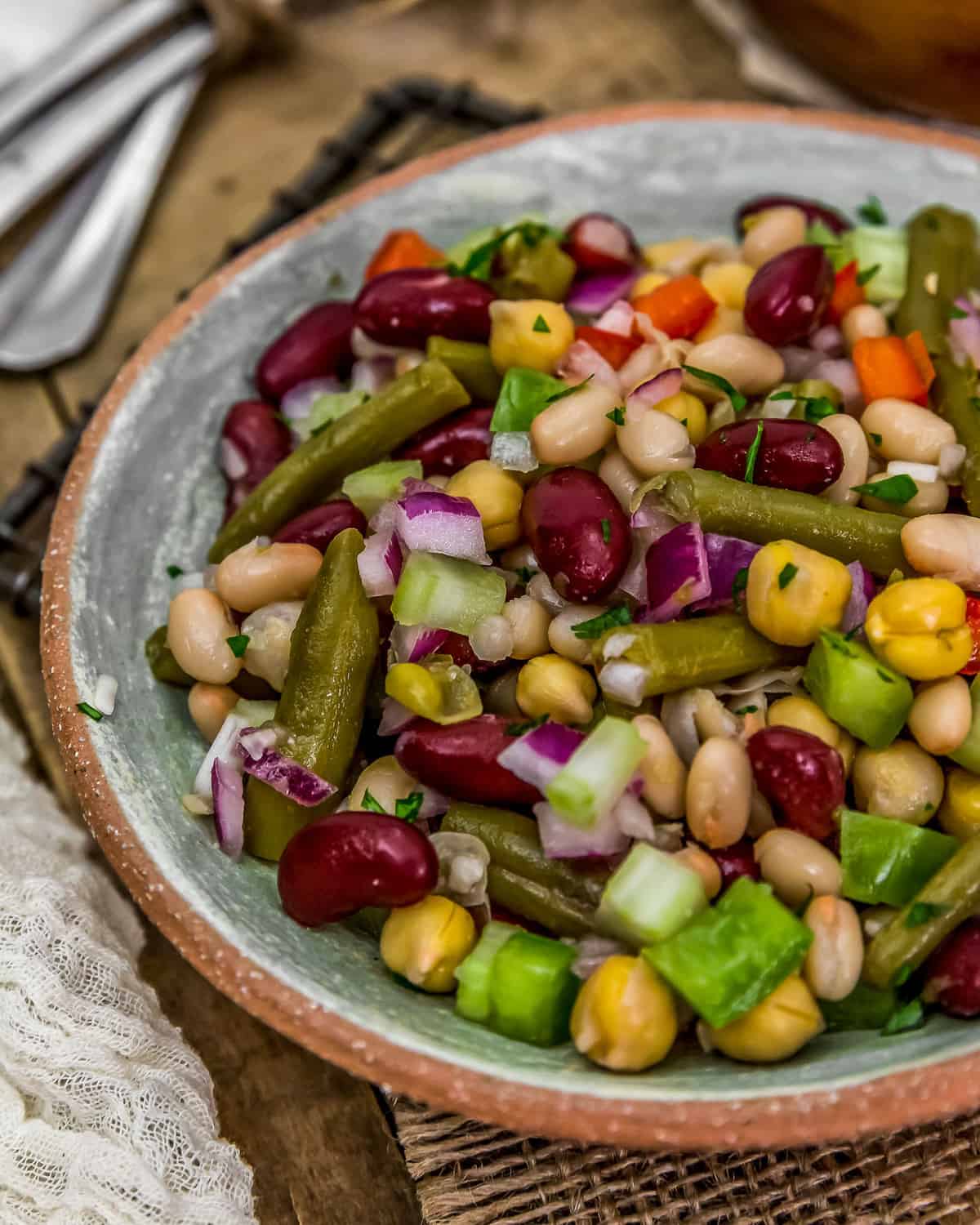 WFPB Version
The notable difference between the Classic Five Bean salad made with oil and our Whole Food Plant Based version is that oil coats the ingredients, while the WFPB dressing is thinner and doesn't cling to the ingredients as sufficiently as oil does.
Not to say that our tastes all the much different, the key is when serving this deliciousness is to get a little tiny bit of the tasty dressing that falls to the bottom of the bowl with each bite. If you do that, you will be absolutely delighted with the WFPB version.  I know, we were thrilled!
I'll let Mom tell you more!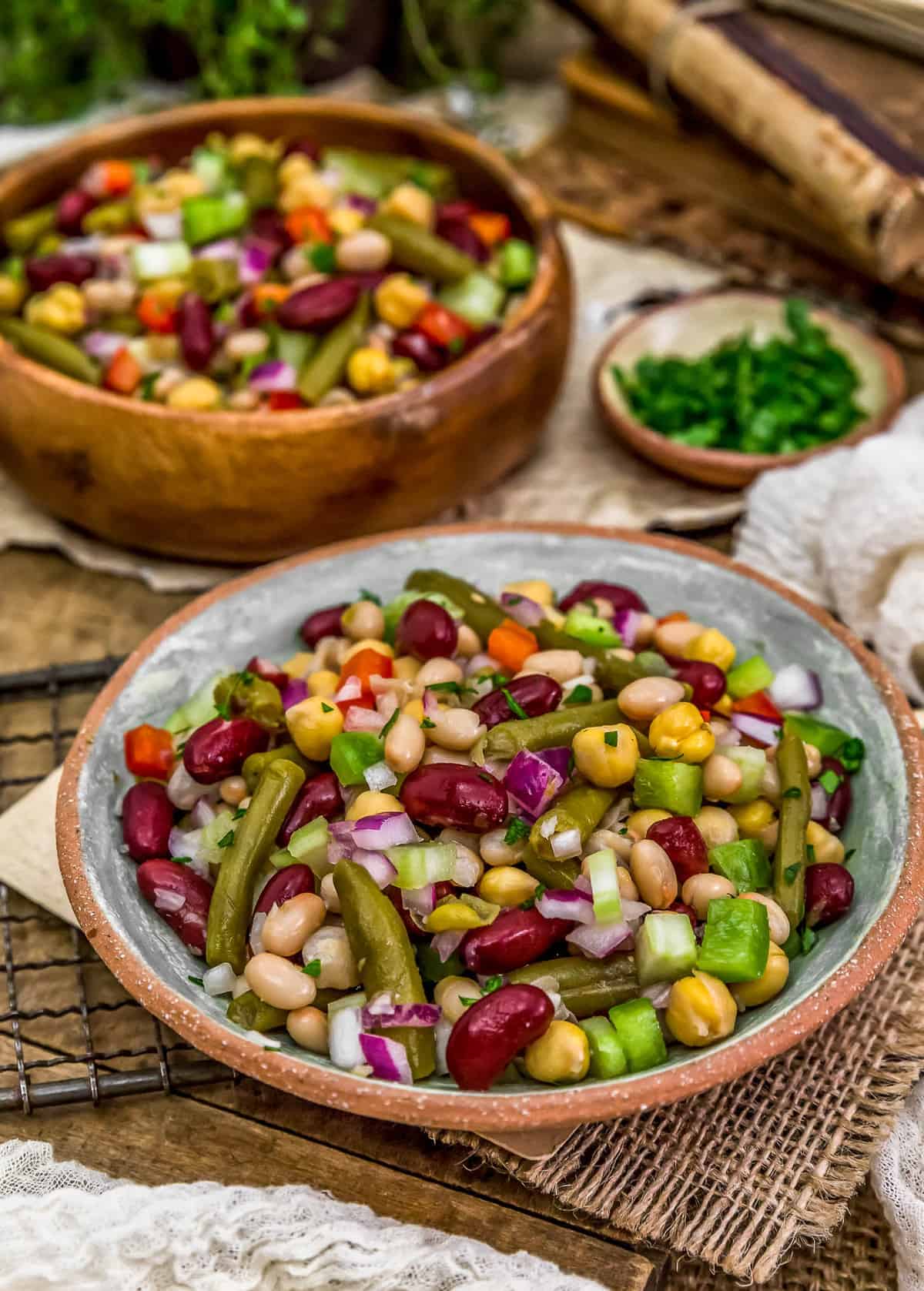 Hi!  Robin here!
I loved the Classic 5 Bean Salad before going Whole Food Plant Based, but honestly, I love the WFPB version even MORE!!!  It just has a much more refreshing taste and the flavors of the beans and ingredients don't become muted by the oil.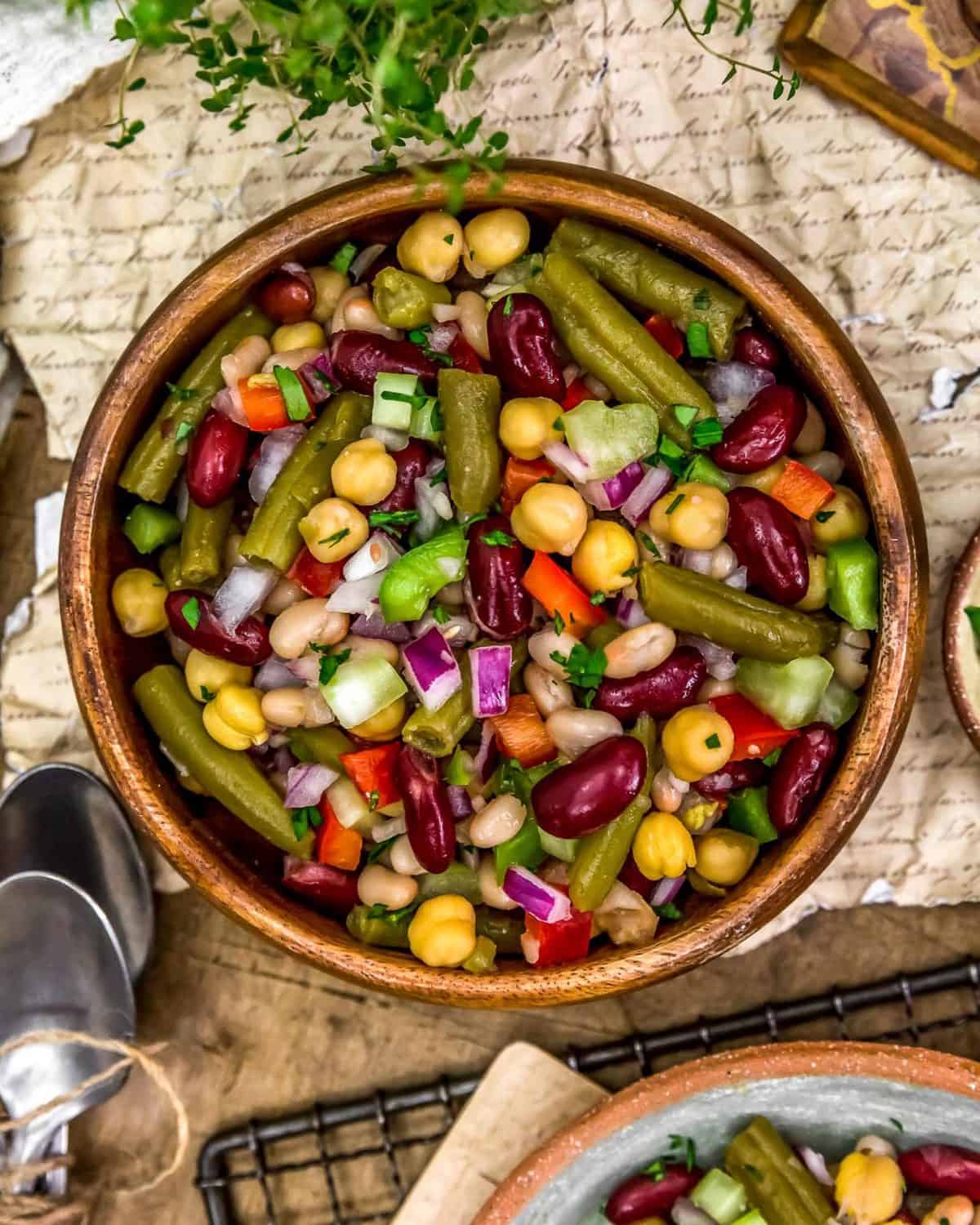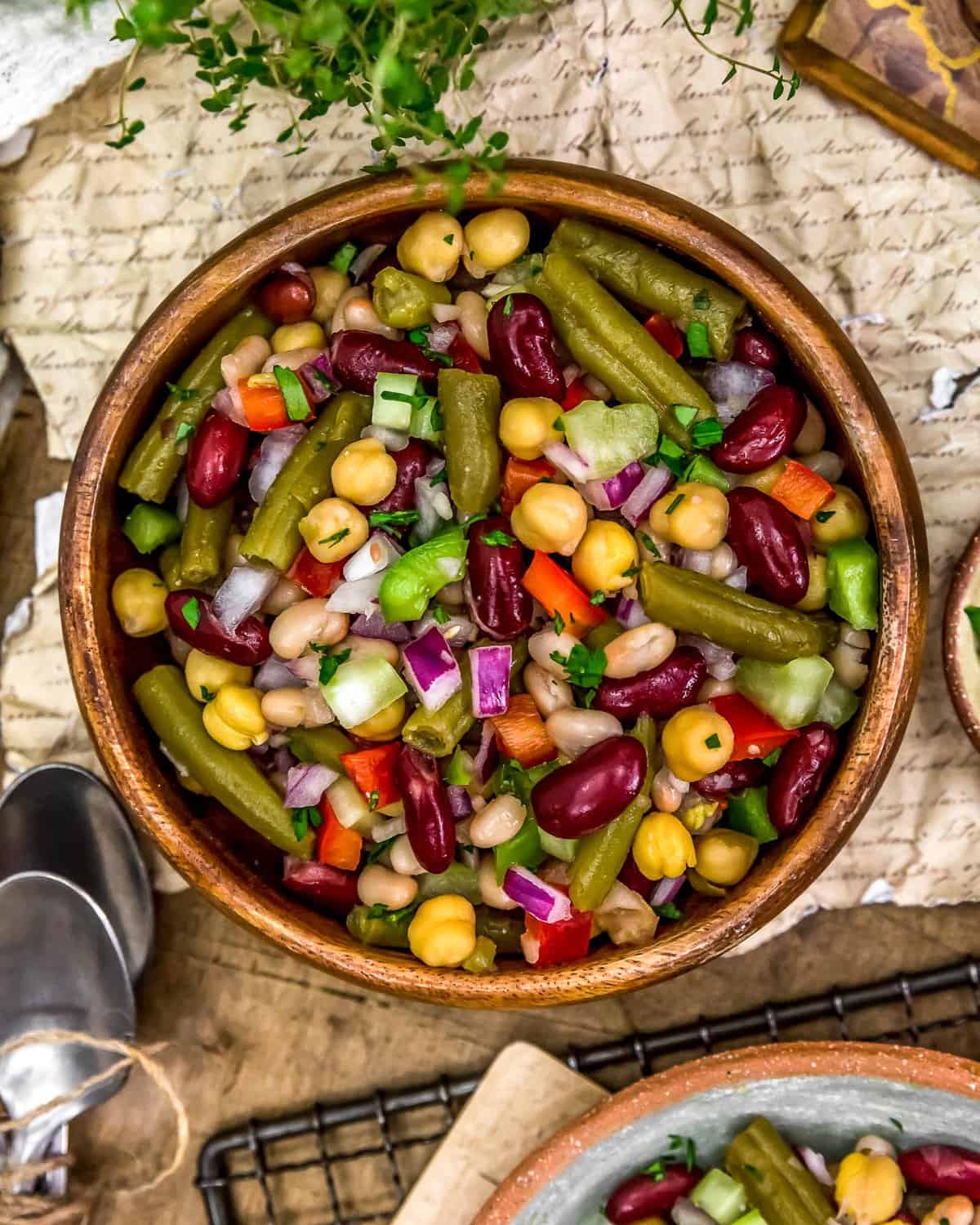 Yellow Wax Beans
Dang, we found it very difficult to find yellow wax beans! We couldn't find them anywhere.  I am wondering what the heck happened that the stores aren't carrying them.
No worries, we just used 2 cans of green beans instead and the salad was wonderful, but the classic recipe calls for wax beans. I hope our Readers have better luck locating them!
Me and Monkey wolfed this salad down, and TP109 absolutely loved it!  He wanted us to make it often as he really enjoyed it with his lunch sandwich. He said the WFPB version is better than the classic version as long as you are getting a little of the dressing with each bite, and we totally agree.
If you try this delicious salad, we would love to know if you enjoy it as much as we do! Please leave us a review! Post a picture on Facebook or Instagram and tag us!  We would love to hear from you.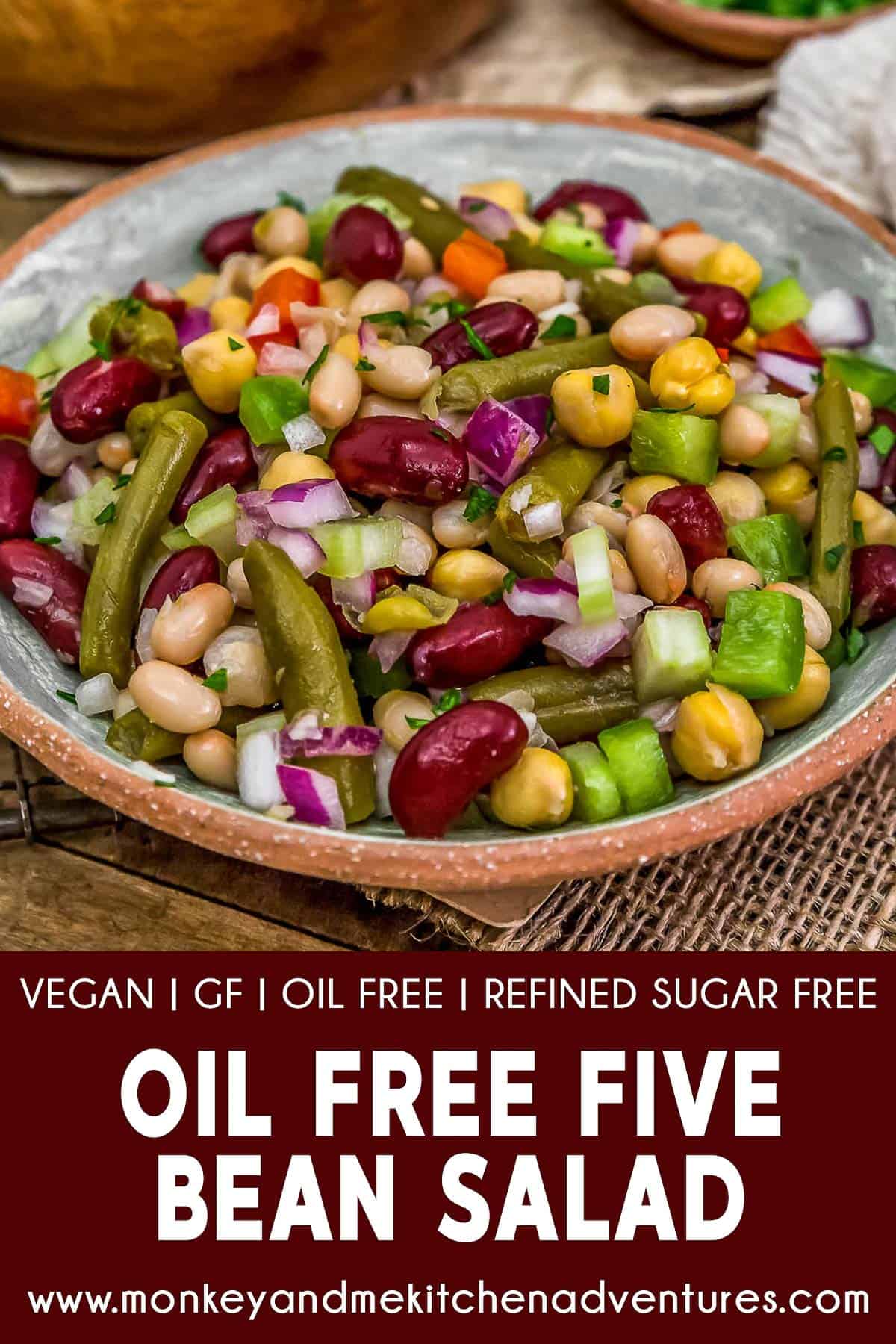 Products Used:
Ceramic/enamel lined Dutch oven, deep skillet, or similar large stock pot/skillet with a tight-fitting lid.
Print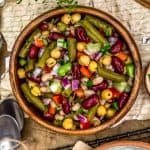 Oil-Free Five Bean Salad
Author:

Prep Time:

10 Minutes

Total Time:

10 Minutes (+1 hr rest)

Yield:

8 Cups

1

x

Category:

Salad

Cuisine:

American

Diet:

Vegan
---
Description
This healthy, hearty, and refreshing Oil Free Five Bean Salad is so easy to pull together for a quick salad, work lunch, picnic, or your next potluck.
---
Salad Ingredients:
1

– [ 15 oz. can ] chickpeas, drained and rinsed

1

– [ 15 oz. can ] kidney beans, drained and rinsed

1

– [ 15 oz. can ] navy beans, drained and rinsed

1

– [ 15 oz. can ] green beans, drained

1

– [ 15 oz. can ] yellow wax beans, drained *

2

celery ribs, small dice

½

red bell pepper, small dice

½

green bell pepper, small dice

¾ cup

red onion, fine dice
Dressing Ingredients: 
¼ cup

+

1 Tablespoon

red wine vinegar

2 Tablespoons

distilled white vinegar

1 Tablespoon

white miso *

3 Tablespoons

organic maple syrup (+/-)

1 teaspoon

garlic powder

1 teaspoon

onion powder

1 Tablespoon

dried minced onions
Sea salt & Pepper to taste (optional) *
Optional Garnish/Toppings:
---
Instructions
Instructions:
Make the salad dressing by adding all the dressing ingredients into a bowl and whisking until well combined. Set aside.
Place all the salad ingredients into a large bowl, toss gently, then add in the salad dressing, tossing gently as you go until everything is coated in the dressing. Refrigerate for one hour (or more) before serving.
---
Notes
Tips for Success:
Serving: This bean salad is delicious and tastes best just slightly chilled.  The key is to refrigerate the salad for one hour to allow the dressing flavors to develop.  After refrigerating, set the chilled bean salad out for 10 minutes to allow the flavors to come alive. Refrigeration tends to dull the flavor of fresh ingredients, if you set it out for a bit the ingredients perk up and you get the full-bodied flavors to shine.
Oil-Free Dressing: The classic (Non-WFPB) version of this salad is made with oil which coats all the ingredients. Since this salad does not have oil, the dressing will be on the thin side. In other words, oil coats the ingredients, since there is no oil in this dressing, the dressing is on the thinner side and doesn't coat to the ingredients. The recipe makes a nice amount of dressing without drenching the salad ingredients.  The key to the deliciousness of this salad is to get a little bit of the dressing (that falls to the bottom on the dish) with each bite when served in individual bowls.
Salt and Pepper: We had family members who preferred this salad with no sea salt or pepper.  While we had others, who preferred a little bit of sea salt and pepper.  We suggest making the salad, refrigerating it to allow the flavors to develop, then mixing it really well then tasting it right before serving to see if it needs sea salt and pepper.  Or allow individuals to add sea salt and pepper to their own individual servings.
 *Notes Continued:
*Beans:  You can use any mix of cooked beans (and ratio) that you wish.  If using cooked beans from an instant pot, etc. Select firm beans only as they create a better "mouth feel" for a cold salad.
*Green Beans:  The classic version uses canned green beans.  You could use fresh green beans, but you would need to cook them to the desired tenderness, cool them completely before adding them to the salad.  We recommend using canned beans.
*Yellow Wax Beans:  We normally would use yellow wax beans in this dish for the 5th bean, but we simply could not locate any. We used another can of green beans to make up for the lack of one can of yellow wax beans.
*Miso:  We used Miso Master Organic Mellow White Premium Lite Miso, Certified Gluten Free.  Miso really lends itself to balancing flavors when you don't use oil.  You can also use chickpea miso for a soy free version.  The miso really helps balance the flavors in this recipe. We don't recommend removing it.
*Storage:  Refrigerate, use within 5 days.
*Servings:  Makes 8 cups, 5 to 6 servings

This post contains affiliate links, and we may receive a very small commission if you purchase through those links at no additional cost to you. Thank you for supporting Monkey and Me Kitchen Adventures! For more information, see our disclosures here.