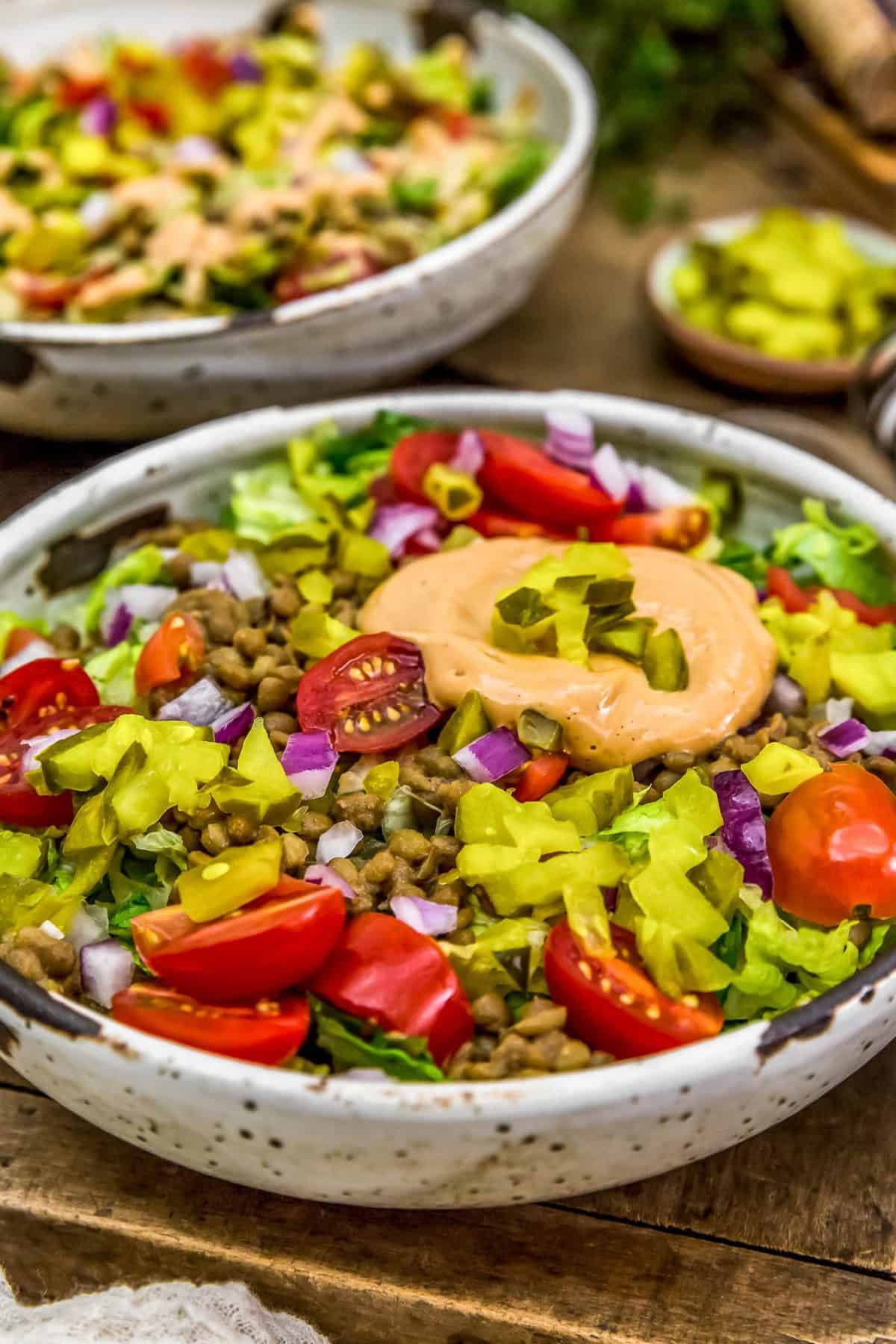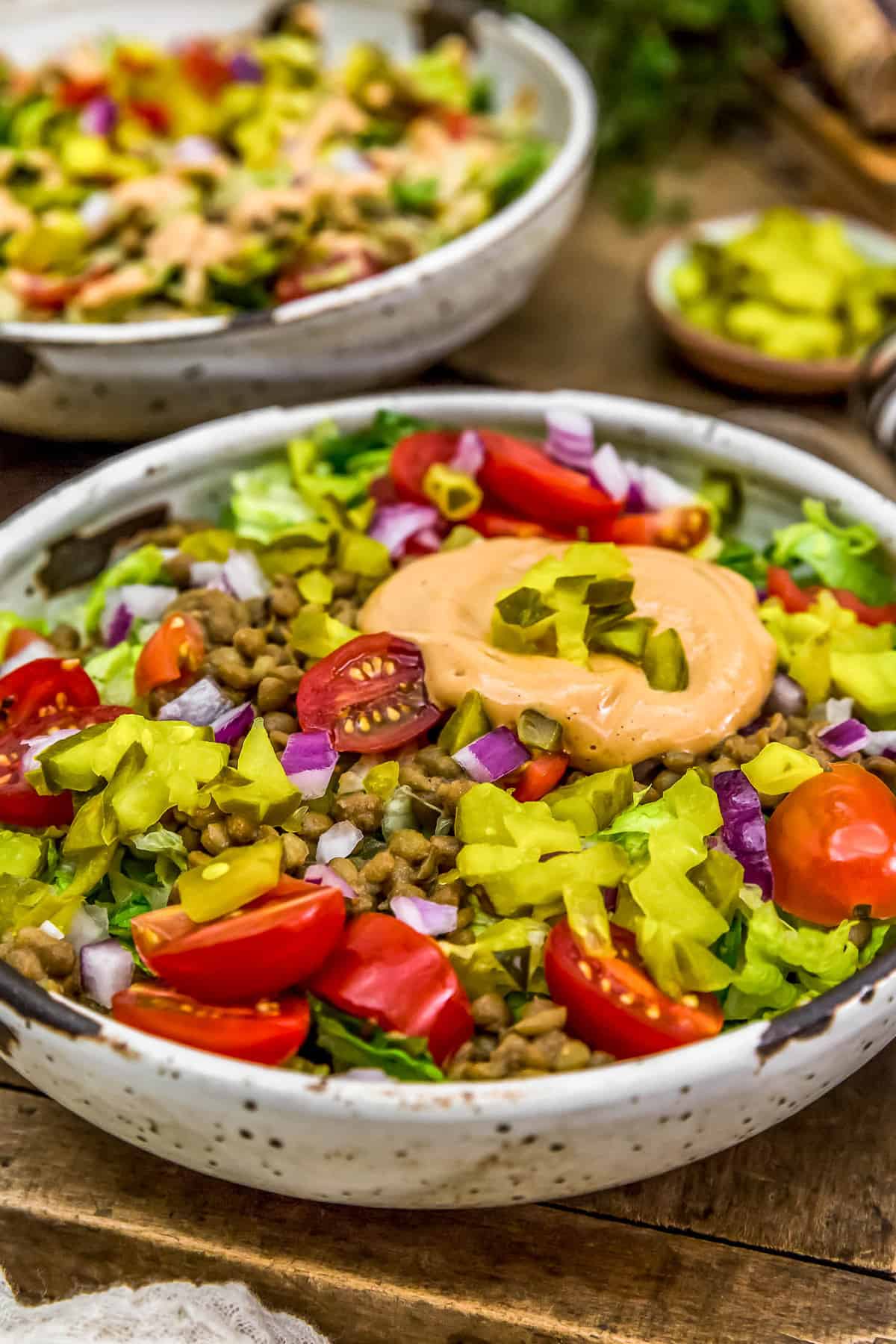 Bringing all those amazing Micky D's Big Mac flavors together with this delicious Vegan Big Mac Salad. You'll think you died and went to Big Mac heaven with the first tasty bite. Shredded lettuce, tomatoes, pickles, zesty red onions, and perfectly seasoned lentils all smothered in a special sauce that is sure to bring all your vegan dreams of fast food deliciousness right to your front door without any guilt or sacrificing of the flavor!  It is sure to be a new family favorite bowl of healthy, delicious fun!
Whole Food Plant Based, Vegan, plant based, oil free, refined sugar free, no highly processed ingredients and gluten free.

Hi there, Ameera here!
I loved Big Macs back in the day! I'm "almost" ashamed to admit it because most people shudder at the thought of eating something as unhealthy as a Big Mac. I blame it on Mom. Mom said, she craved Big Macs like crazy when she was pregnant with me!  LOL
I didn't eat them often simply because I couldn't bring myself to eat them that much before going Whole Food Plant Based. But back in the day, on rare occasions, if I was looking for something "comforting" and crazy delicious, a Big Mac would be a decadent splurge.

Whole Food Plant Based
As you know, Mom and I don't shy away from WFPB'ing too many things. We enjoy the challenge. We have had some epic failures in the past, but we won't talk about those. Let's focus on this deliciousness and all I can say is "DANG!!!!!"
This salad is so freaking AH-MAZING that you will think you died and went straight to BIG MAC HEAVEN!  No seriously, you gotta try it. It is THAT good!
Long List
Don't let a long list of ingredients deter you from making this amazing dish!  Half of the ingredients are spices! Trust me, it's out-of-this-world crazy DELISH!

Tips & Tricks
There are some things that you have to do to ensure the true Big Mac Salad experience or it just won't be the same.
Shred the Lettuce
Chop the burger dill pickles and toss in the salad (not the dressing)
Add the diced red onions (they are key too!)
Mix the dressing with the salad in a large bowl until all the ingredients are evenly coated
Follow those instructions and I am sure that you will really enjoy this salad.
I'll let Mom tell you more!

Hi!  Robin here.
To borrow from my daughter "ERRRMAHGERD"!!!!  I was shocked at how much this salad tastes like a Big Mac!  All the deliciousness without the guilt or unhealthy ingredients. Monkey is right, seriously so amazing!
If you loved Big Macs in your former life, then you'll enjoy this Whole Food Plant Based nod.  Serious good eats and tons of fun!
If you try this delicious salad, we would love to know if you enjoy it as much as we do! Please leave us a review! Post a picture on Facebook or Instagram and tag us!  We would love to hear from you.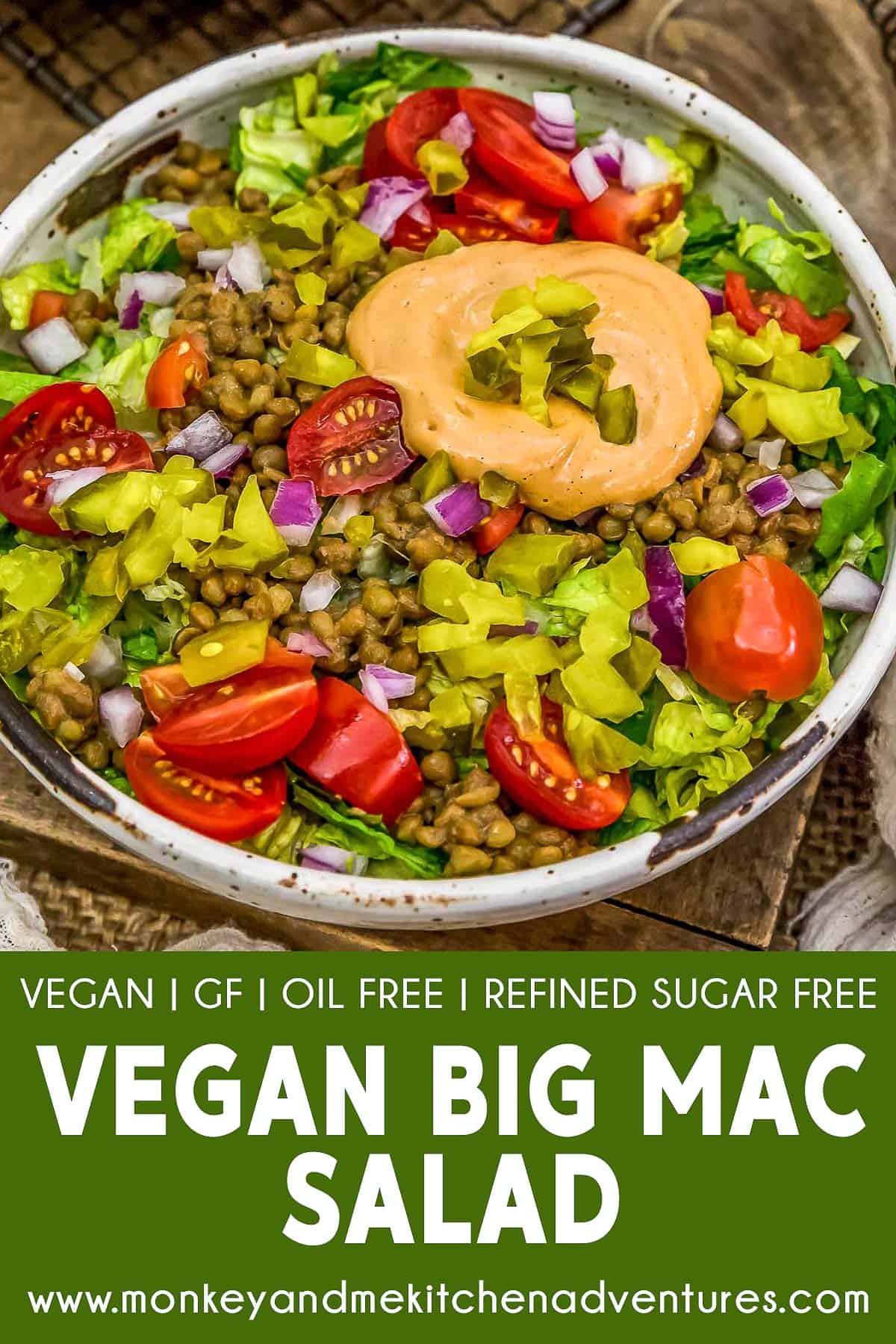 Products Used:
Print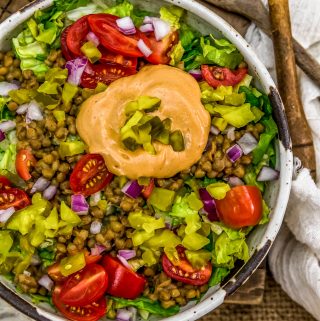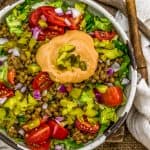 Vegan Big Mac Salad
Author:

Prep Time:

25 Minutes

Cook Time:

5 Minutes

Total Time:

30 Minutes

Yield:

4

servings

1

x

Category:

Salad

Method:

Stovetop

Cuisine:

American

Diet:

Vegan
---
Description
This indulgent and healthy Vegan Big Mac Salad is sure to bring all your dreams of fast food deliciousness without any guilt or sacrificing of the flavor!
---
Dressing Ingredients:
¼ cup

raw cashews

1 Tablespoon

tomato paste

1 Tablespoon

+

1 teaspoon

organic maple syrup

1 Tablespoon

distilled white vinegar

2 Tablespoons

apple cider vinegar

1 Tablespoon

low-sodium vegetable broth *

1 Tablespoon

reduced-sodium tamari *

2 Tablespoons

tahini

¼ cup

+

2 Tablespoons

water

1 teaspoon

garlic powder

½ teaspoon

onion powder

½ teaspoon

sweet paprika

½ teaspoon

sea salt *

½ teaspoon

ground mustard
Lentil Ingredients:
1

– [ 14 oz. can ] lentils, drained and rinsed

2 Tablespoons

low-sodium vegetable broth *

1 Tablespoon

water

1 teaspoon

tomato paste

½ teaspoon

reduced-sodium tamari *

1 Tablespoon

nutritional yeast

½ teaspoon

garlic powder

½ teaspoon

onion powder

¼ teaspoon

dried mustard powder

¼ teaspoon

sea salt (+/-) *

1/8 teaspoon

black pepper *
 Other Ingredients:
Shredded lettuce *
red onions, small dice
Hamburger-style dill chips (pickles), chopped *
Grape tomatoes, sliced in half
WFPB Burger Buns, chopped and baked like a crouton (optional, not shown in the photos)
---
Instructions
Dressing Instructions:
Place the cashews in a small bowl and cover with boiling water, set aside for 20 minutes.
In the meantime, add all the remaining Dressing Ingredients into a high-speed blender, set aside.
After 20 minutes, discard the water from the cashews. Add the cashews into the high-speed blender with all the other ingredients, and blend on high until smooth and creamy. Set aside.
Lentil Instructions:
Place all the Lentil Ingredients into a small sauce pan, stir well to dissolve the tomato paste, cook over medium-low heat for 5 minutes, then remove from the stove and set aside.
Salad Assemble Instructions:
Shred lettuce, then place into a large bowl, add the diced red onion, halved grape tomatoes, and chopped dill pickles. Mix well. Top with cooked lentils and a dollop of dressing.  Mix the salad really well to ensure everything is nicely coated with the dressing.  Taste test to see if more dressing is needed.  Serve!
---
Notes
Tips for Success:
Amount of Lettuce: You can use as little or as much shredded lettuce as you like.  We suggest starting low on the salad dressing and taste testing as you go by adding more dressing as needed.  You can also add more dressing on individual servings, if needed.  We used approx. 8 to 10 cups of shredded lettuce (measured after shredding).
Mixing the Salad: We feel that in order to get that Big Mac flavor, you need to place the salad ingredients (lettuce, pickles, onions, tomatoes and cooked lentils) into a large bowl, then mix the salad dressing in.  Toss the salad until all the salad ingredients are nicely coated with the dressing.  Taste Test.  Add more dressing as needed.
Warm Lentils: You can add the lentils warm or cold.  We feel that the warm (or room temperature) lentils in the cold salad are a delicious textural combination and are more reminiscent of  a Big Mac.
Shredding the Lettuce: Big Macs traditionally have shredded lettuce.  While it is easy to just use hand torn lettuce, we felt the shredding of the lettuce really drove home that Big Mac texture and flavor.  We highly recommend shredding the lettuce.  We laid down the lettuce on the cutting board and shredded it with a chef's knife. You can use as much or as little lettuce as you wish.
Ratio we enjoyed: About 8 to 10 cups of shredded lettuce (measure after shredding the lettuce), 1/3 cup small diced red onions, 1/3 cup chopped hamburger style pickles, 15 sliced grape tomatoes.
 *Notes Continued:
*Vegetable Stock:   We use Low Sodium Pacific Organic Vegetable Stock. We love this brand because it is Whole Food Plant Based compliant, as it does not contain MSG, has no oil, and does not contain any highly-processed ingredients.
 *Tamari: We used San J Tamari Soy Sauce, Gluten Free, Reduced Sodium.  You can substitute the tamari with reduced sodium soy sauce, Braggs Liquid Aminos, or Braggs Coconut Liquid Aminos.
*Sea Salt:  Please adjust the sea salt based upon your family's sea salt preferences and/or based upon dietary needs.
*Lettuce:  We used a combination of iceberg lettuce with a sprinkle of Romaine.
*Hamburger Style Dill Chips:  Find a hamburger style dill pickle (chips) then chop them into small pieces (diced) and sprinkle into the salad.  It makes a huge difference as that dill pickle tang really gives the illusion of eating a Big Mac.  Don't leave them out!
*Lentils:  We used Delallo Imported Italian Lentils.  They come in a 14 oz. can.  We buy them directly from Delallo.   Most grocery stores carry them in the specialty aisles. If using dry lentils, select lentils that hold their shape after cooking. Cook dry lentils separately, adjust time accordingly.  If cooking dry lentils, cook, then measure out 1 2/3 cups of cooked lentils.
*Makes:  About 4 Servings (with some leftover dressing depending on how heavily you dress your salad)
*Storage:  Refrigerate, use within 5-7 days (undressed)

This post contains affiliate links, and we may receive a very small commission if you purchase through those links at no additional cost to you. Thank you for supporting Monkey and Me Kitchen Adventures! For more information, see our disclosures here.