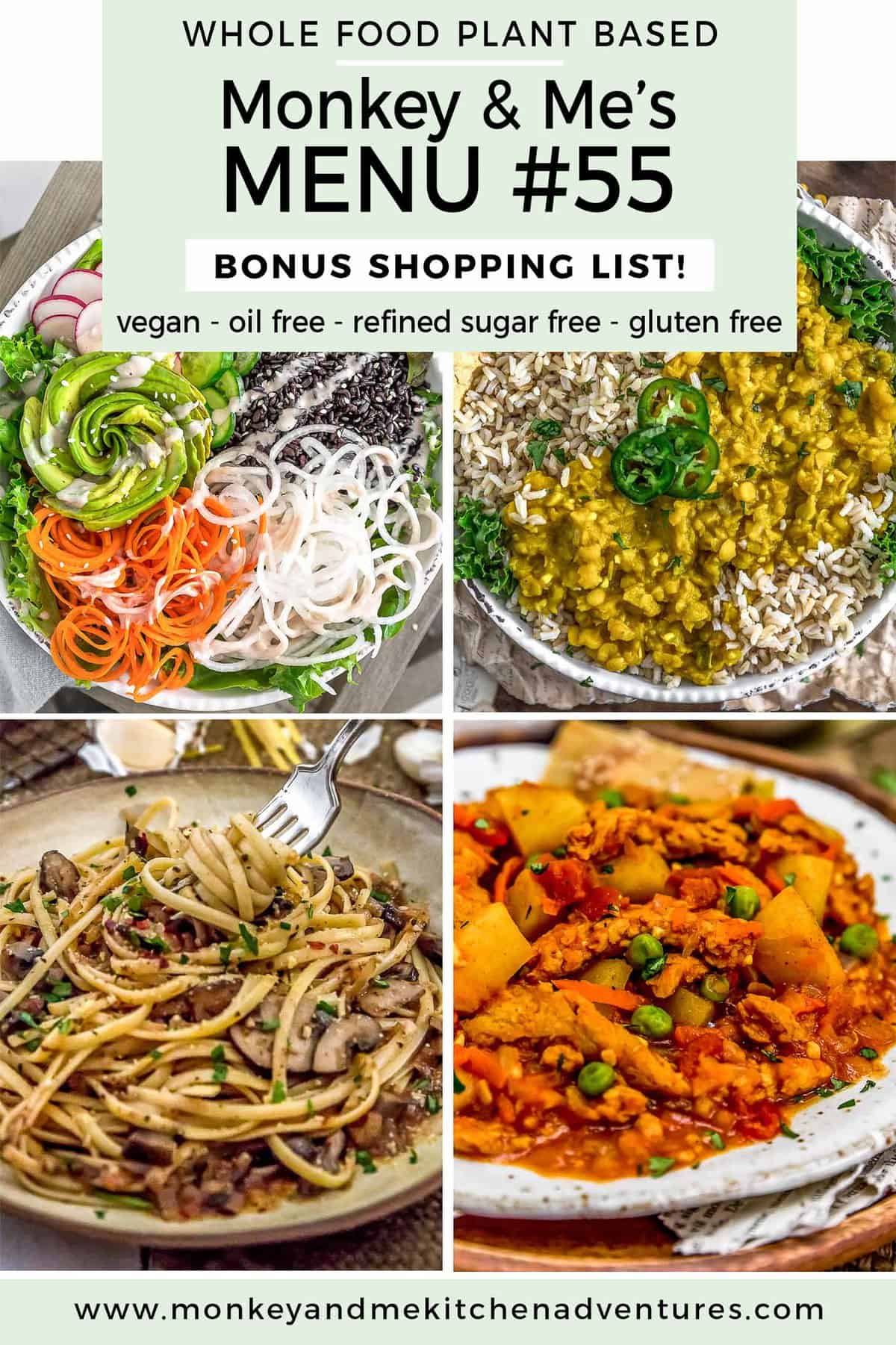 This week's Monkey and Me's Menu features some tasty recipes.  Menu #55 includes a FREE bonus shopping list.  All recipes are Whole Food Plant Based, vegan, plant based, oil free, refined sugar free, no highly processed ingredients, and gluten free.

Downloadable Menu which offers the following:

2 Breakfast ideas
2 Lunch ideas
2 Snack Ideas
5 Dinner Ideas, including a FREE downloaded shopping list (PDF – Below)

A comprehensive (downloadable) shopping list for the 5 Dinners

The shopping list is segmented into the common grocery store sections like "produce, spices, etc." making it easy to pick up these items from your local grocery store.
It also includes product suggestions that are Whole Food Plant Based compliant* for easy reference.  Note: These products are suggestions, please feel free to select your own favorite products.
Includes helpful codes so you can easily subtract items that you choose not to make.

Downloadable Instructions on how the meal plan work.
Note:  The term "Whole Food Plant Based compliant" is from a general standpoint.  There are Whole Food Plant Based diet branches that restrict certain food items.  Our recipes are all Whole Food Plant Based compliant based upon a high-level compliance standpoint. i.e. vegan, plant based, oil free, refined sugar free, minimally processed foods.
Some breakfast, lunch, and snack ideas are simple concepts that require no recipe.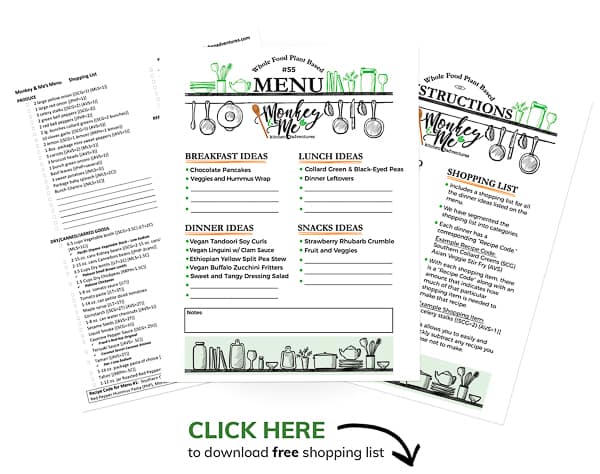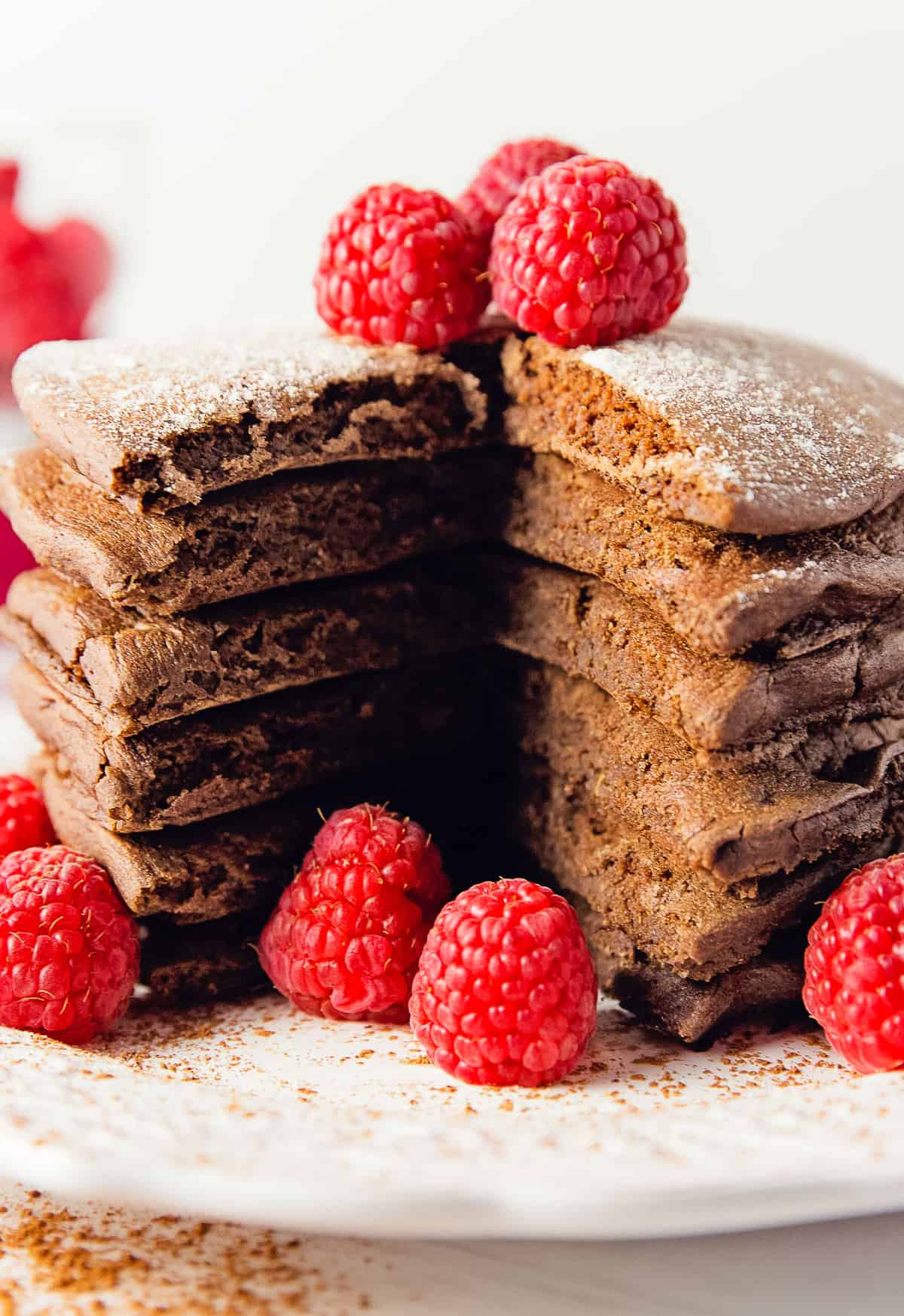 Enjoy these delicious and healthy chocolate pancakes that the whole family will love.  They are perfect for the holidays or any breakfast day of the week. These fluffy, chocolatey stacks of goodness are sure to be a big hit for your breakfast table.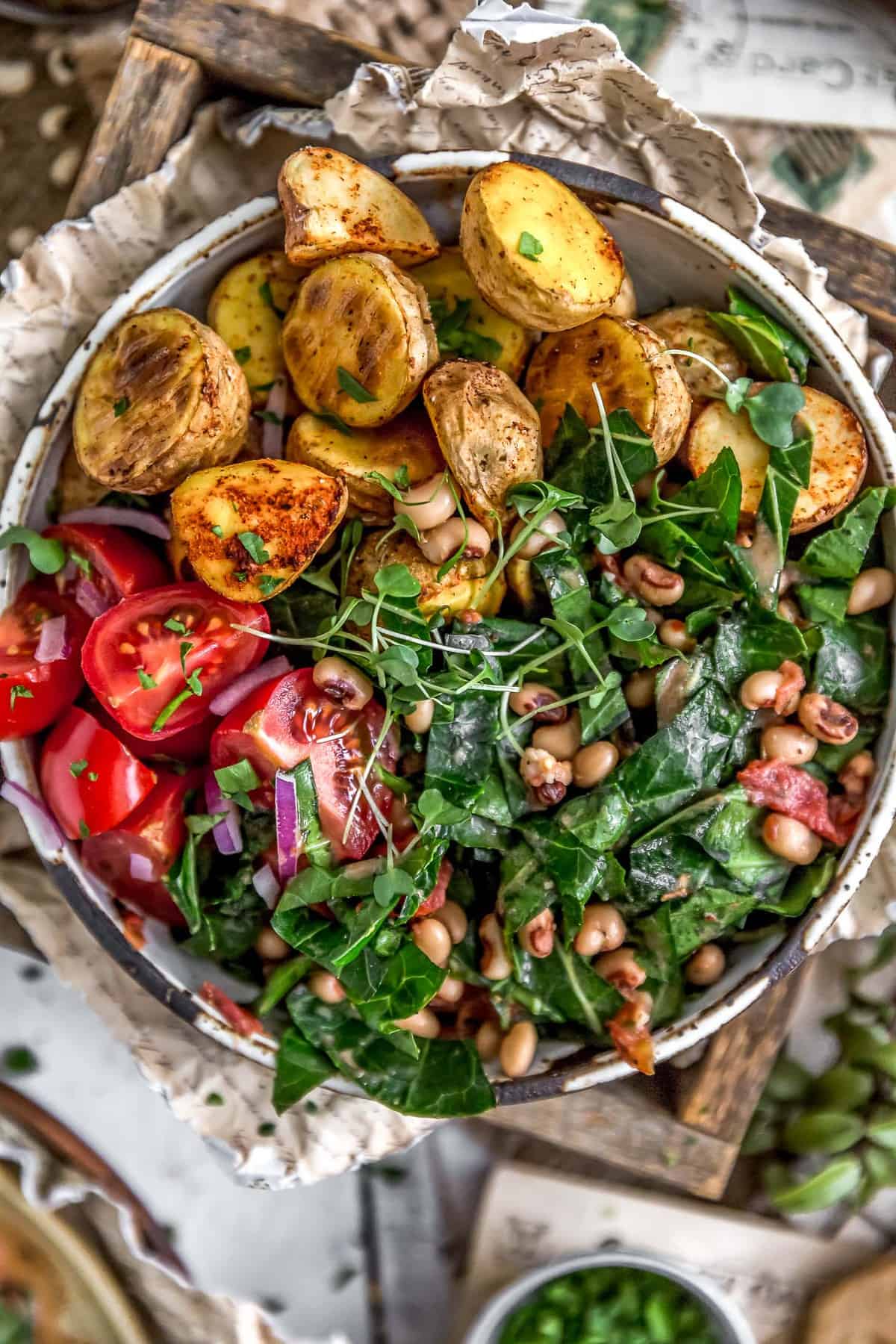 We've got a delicious new way to get in those powerhouse greens and bonus, it tastes ah-mazing! Full of flavor and filled with healthy, wholesome ingredients, this simple Collard Greens and Black-Eyed Pea Salad will be sending your taste buds to flavor town. Vibrant, nourishing collard greens, hearty black-eyed peas, and sweet fire roasted tomatoes, all tossed in a tasty dressing, are packed with antioxidant spices and herbs!  Perfect for lunches and dinners alike, don't let 12 minutes stand between you and this fantastic salad.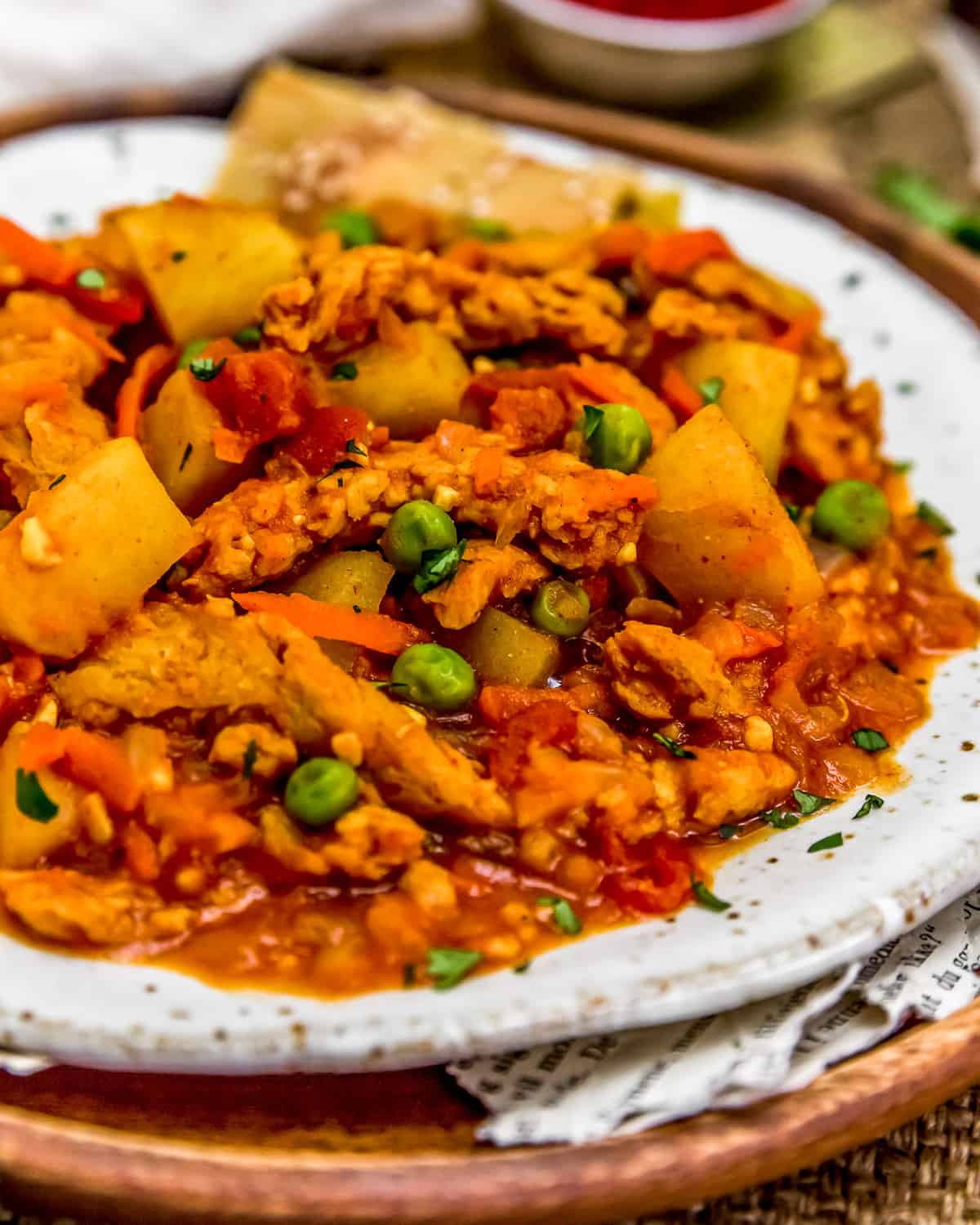 We don't want to remember a time before soy curls existed in our lives; they make everything better. And soy curls are shining bright in this comforting dish. Wholesome, vibrant, and bursting with flavor, this Vegan Tandoori Soy Curls dish is bold and ultra-satisfying. Aromatic spices, garlic, ginger, onions, carrots, potatoes, soy curls, peas, and tomatoes are stewed to perfection in this fun vegan twist on Tandoori goodness, making a tasty get-in-my-belly dinner that the whole family is sure to love.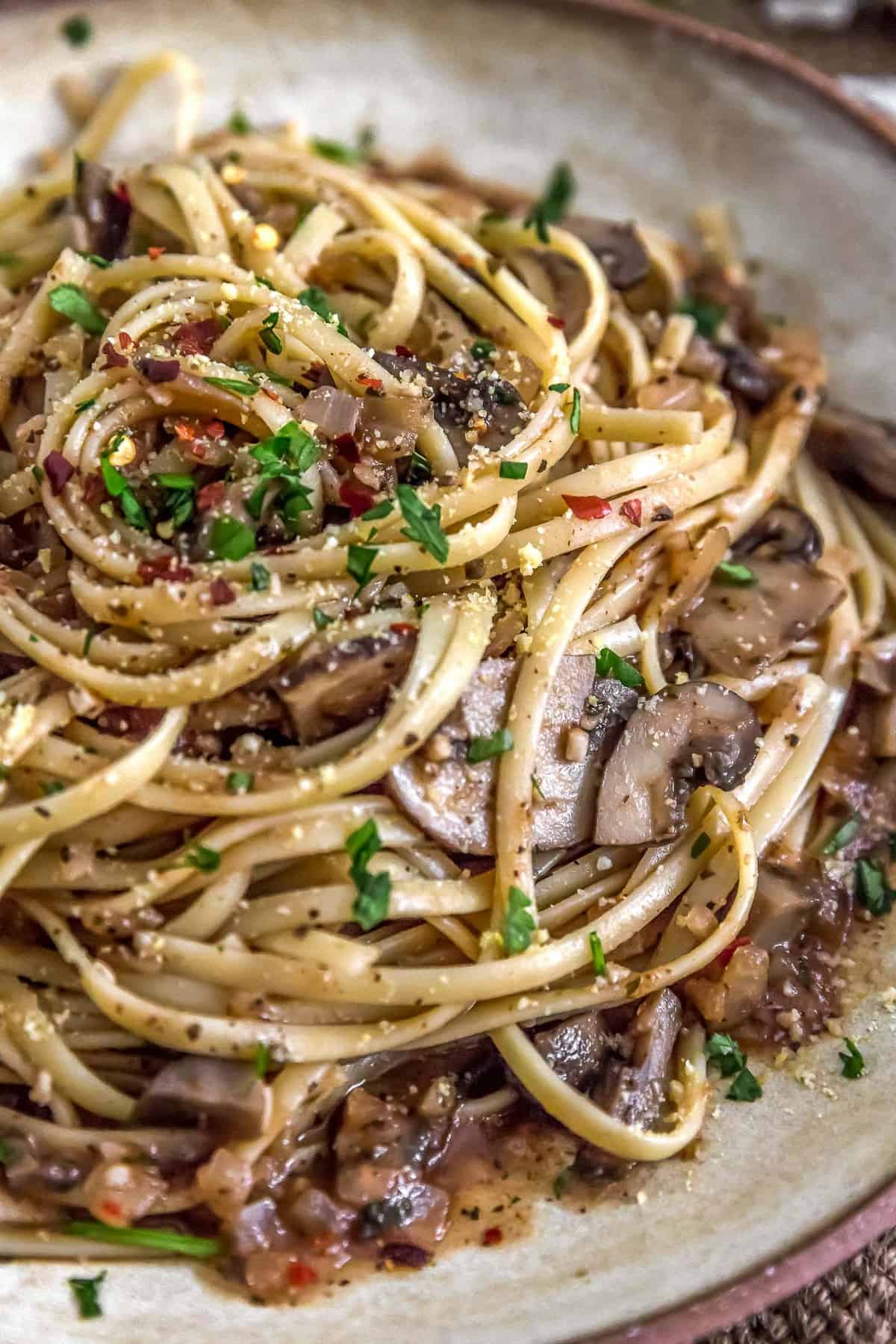 This vegan twist on an Italian classic takes pasta to a whole new level. Homemade oil-free Vegan Linguini with Red Clam Sauce is delicious, satisfying, and comes together in less than 20 minutes – YAY!  Flavorful mushrooms, onions, and garlic sautéed in an irresistible red "clam" sauce tossed with chewy tasty linguini will make you feel like you're sitting at an Italian cafe under sunny skies, near the sea – a total dream dish.  Perfect for busy weeknight meals, which you just want to get something fast and easy on the table that is sure to absolutely delight your taste buds.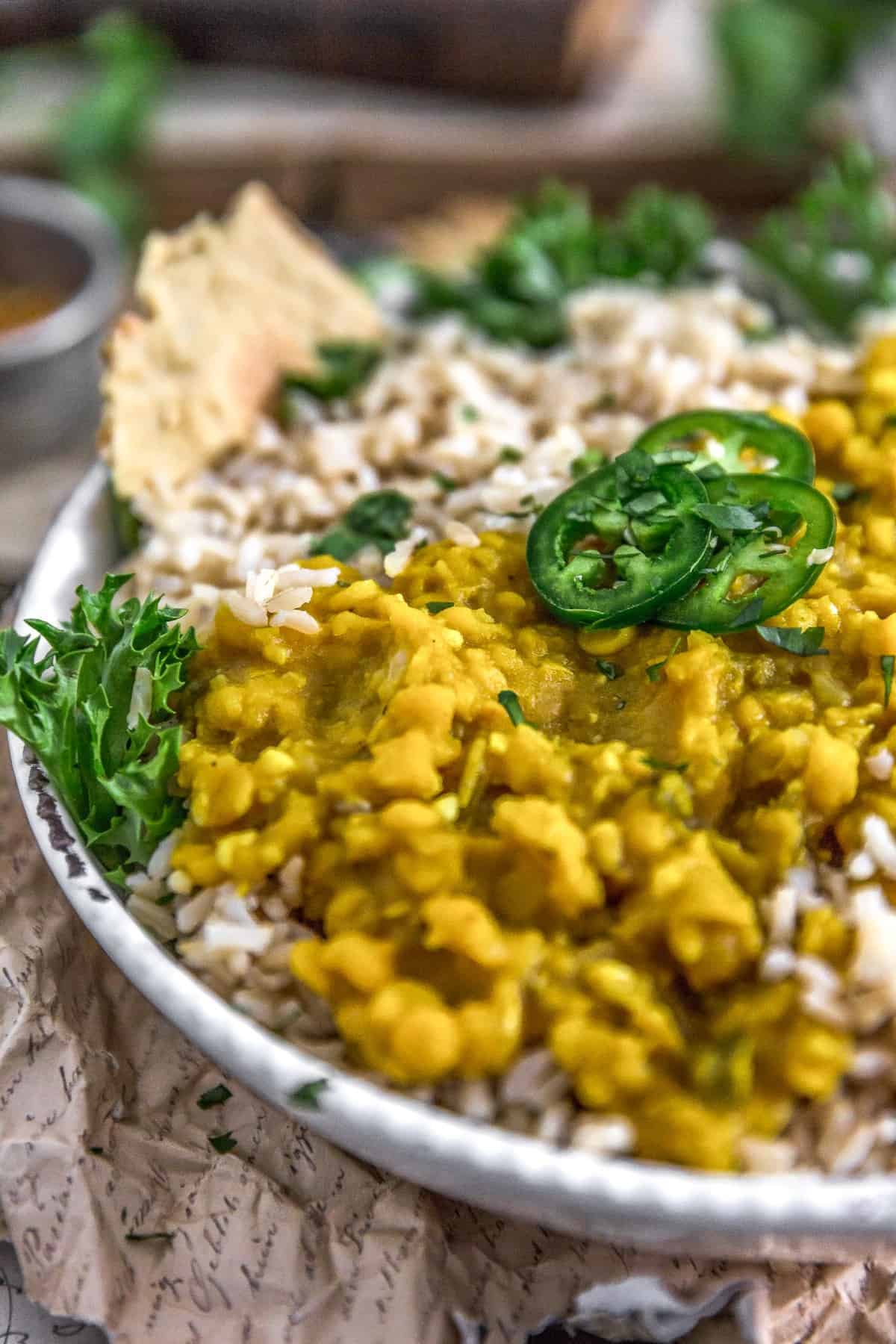 Raise your hand if you love Ethiopian food! We've got both hands enthusiastically stretched to the sky! Creamy, cozy, and bursting with flavor, this Ethiopian Yellow Split Pea Stew (Kik Alicha) is packed with hearty, healthy, and satisfying goodness that is sure to make dinner a happy place of comforting deliciousness.  Simple and inexpensive come together stew is perfect for ladling over injera, rice, potatoes, and more! A tasty dish that is sure to have the family running back for seconds.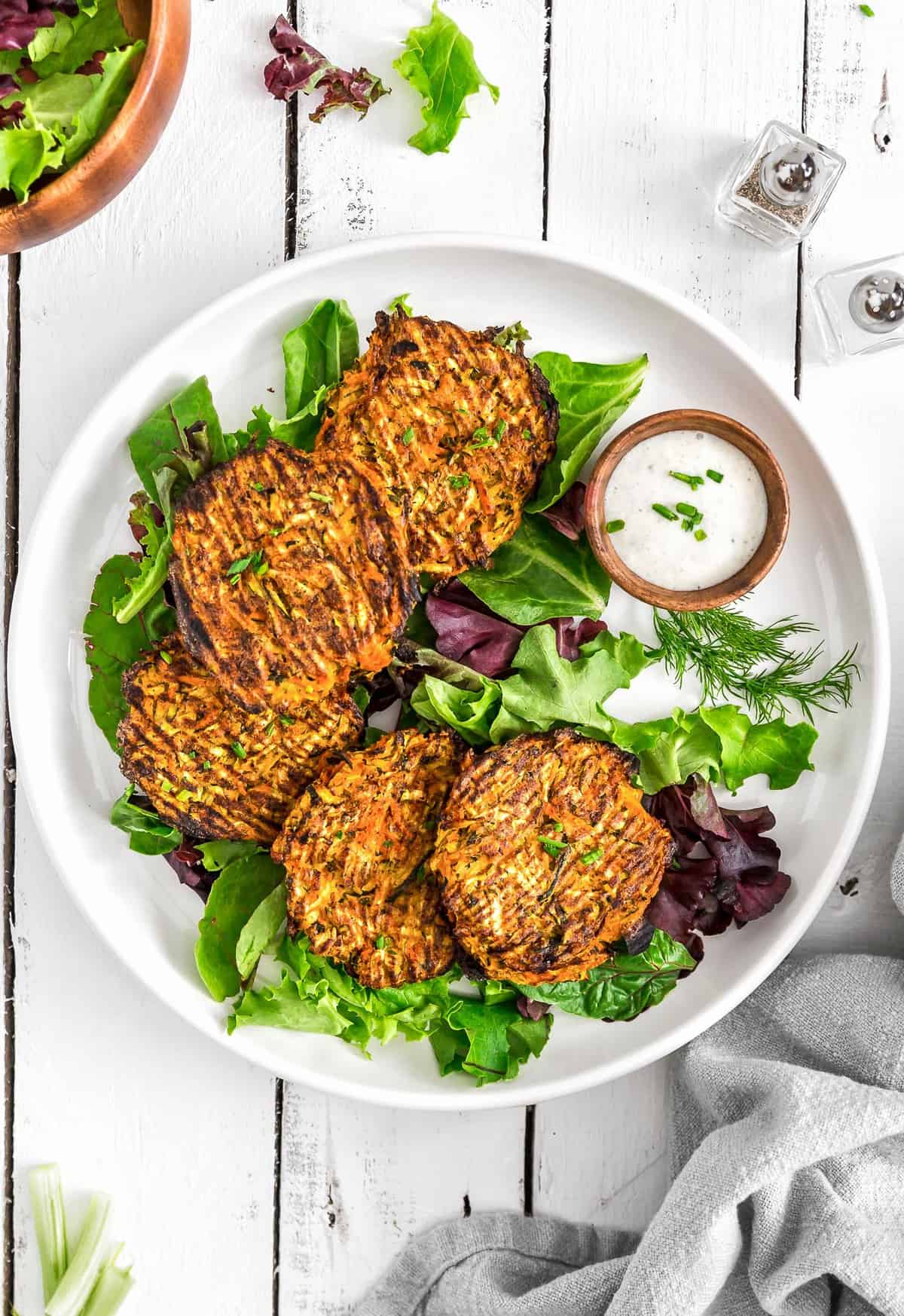 These perfectly crispy oven-baked zucchini fritters are packed with deliciously bold flavors.  Be prepared to take a ride to flavor town with one bite of these super tasty Buffalo Zucchini Fritters.  Grated zucchini and carrots tossed with hot sauce and the perfect blend of spices are baked to crispy deliciousness! Then topped with our Vegan Ranch Dressing is a match made in heaven.  A healthy wholesome dish with a lil' kick, the whole family will enjoy.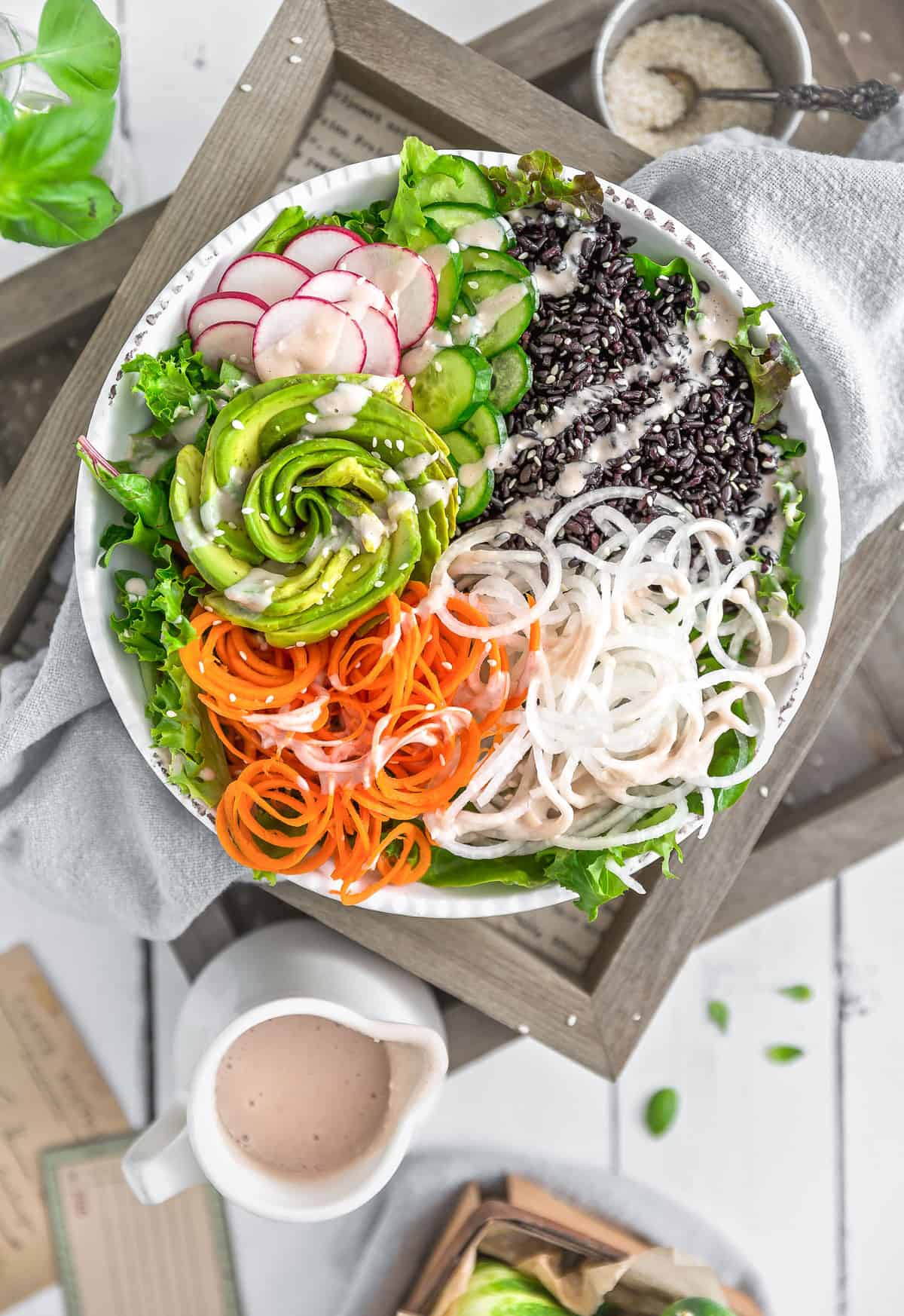 Healthy never tasted so good with our new, homemade No Oil Sweet and Tangy Dressing! It's tastebud tingling perfection. Tangy undertones from red wine vinegar are perfectly paired with rich tahini and sweet maple syrup creating a BOMB dressing that is sure to put a smile on your face! Perfect for mix-and-match veggie bowls and an awesome sauce for our No Oil Broccoli Noodle Slaw.
Wishing everyone knew the delicious potential of the humble rhubarb, and it is shining bright in this comforting dessert. Juicy, sweet, and divine, this old-fashioned Strawberry Rhubarb Crumble is made with healthy goodness and packed with delicious flavors. Loaded with tangy rhubarb, sweet strawberries, and  topped with an irresistible oat and cinnamon crumble, this heavenly dessert makes for an easy, spring dish to share with family and friends.