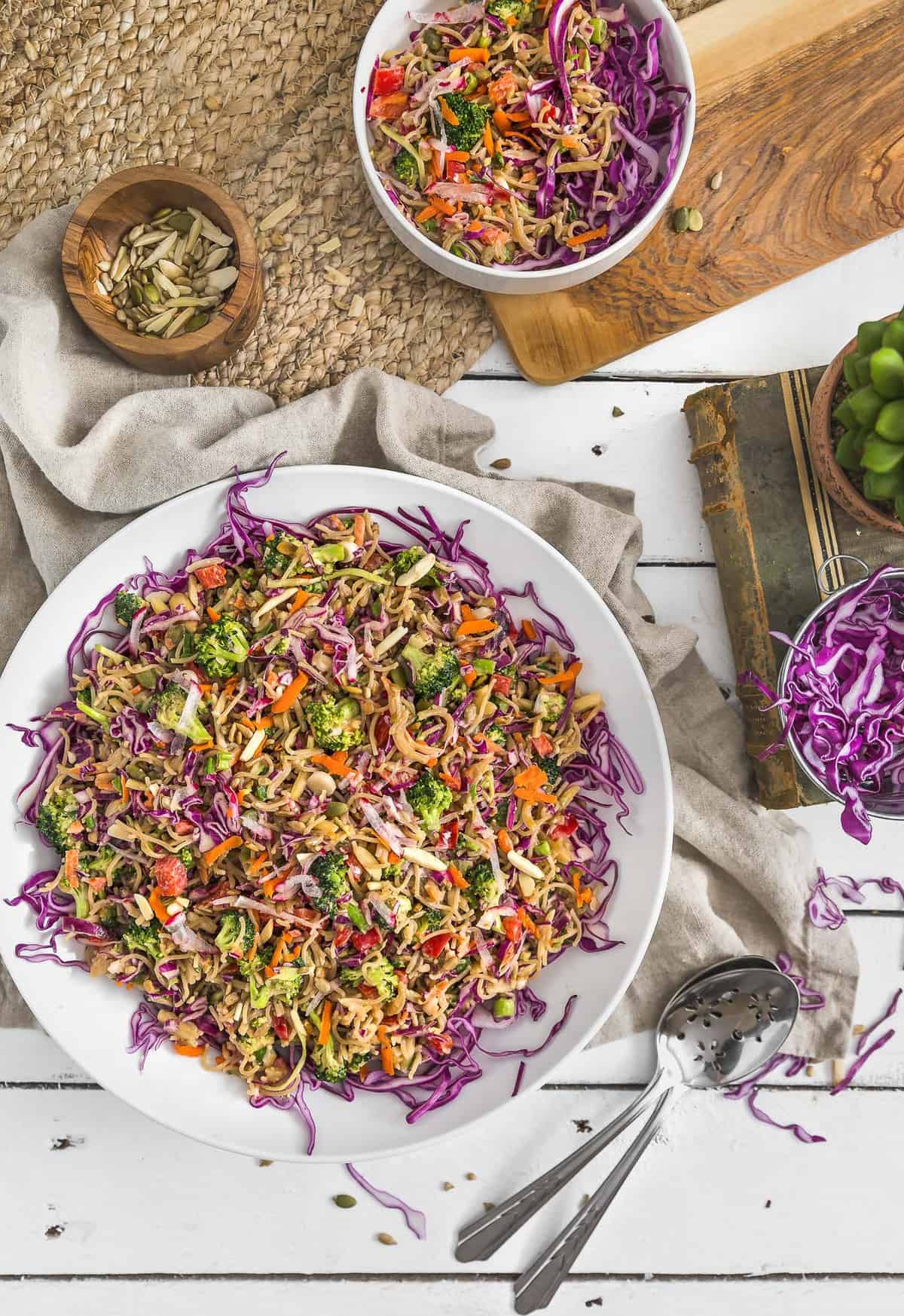 Simple and bursting with flavor, this No Oil Broccoli Noodle Slaw will transport you back in time when Asian Noodle Salads were all the rage (let's be honest though, anything with noodles will always be the rage.)  This slaw is as healthy as it is delicious! Packed with nutritious veggies and tasty noodles to make it extra special. This sunshine in a bowl is perfect for picnics and family gatherings, making it a fabulous Whole Food Plant Based recipe you don't want to miss.  Vegan, oil free, refined sugar free, gluten free, and no processed ingredients.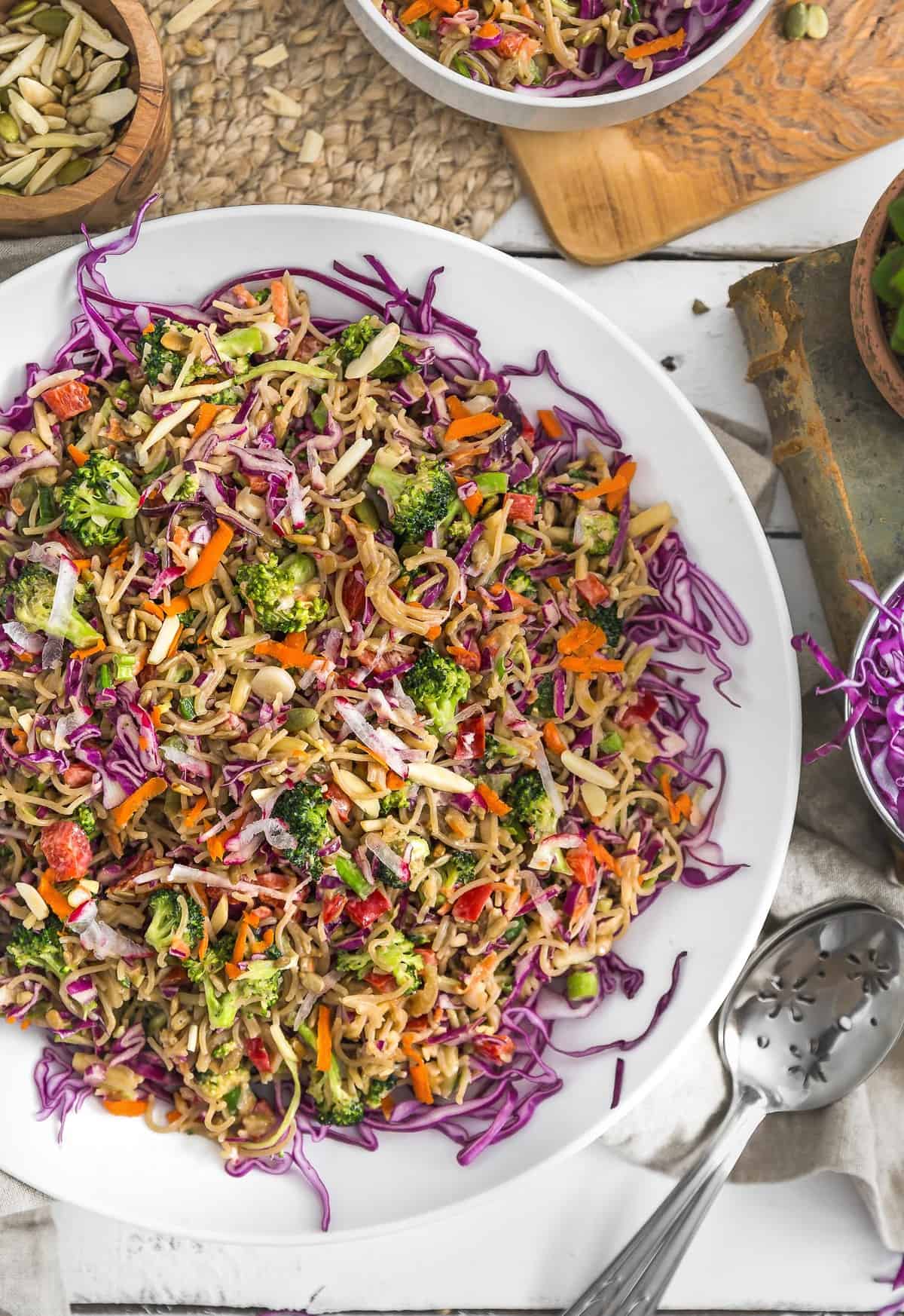 Hi!  Robin here!
A couple weeks ago, I went to lunch with my dear friend, Deana.  Deana is like my right and left hand at work. She's bright, quick, and knows her stuff. I work in Process Management and Deana works in one of the departments where I create handling procedures. She is currently working on her green belt project and we met to discuss how her project might impact and improve the handling of one of our products.
As we were sitting there discussing her project, Deana mentioned that she had recently seen several retirees while she was out and about.  We then launched into "full reminiscing mode" about the good old days and how much things have changed over the years.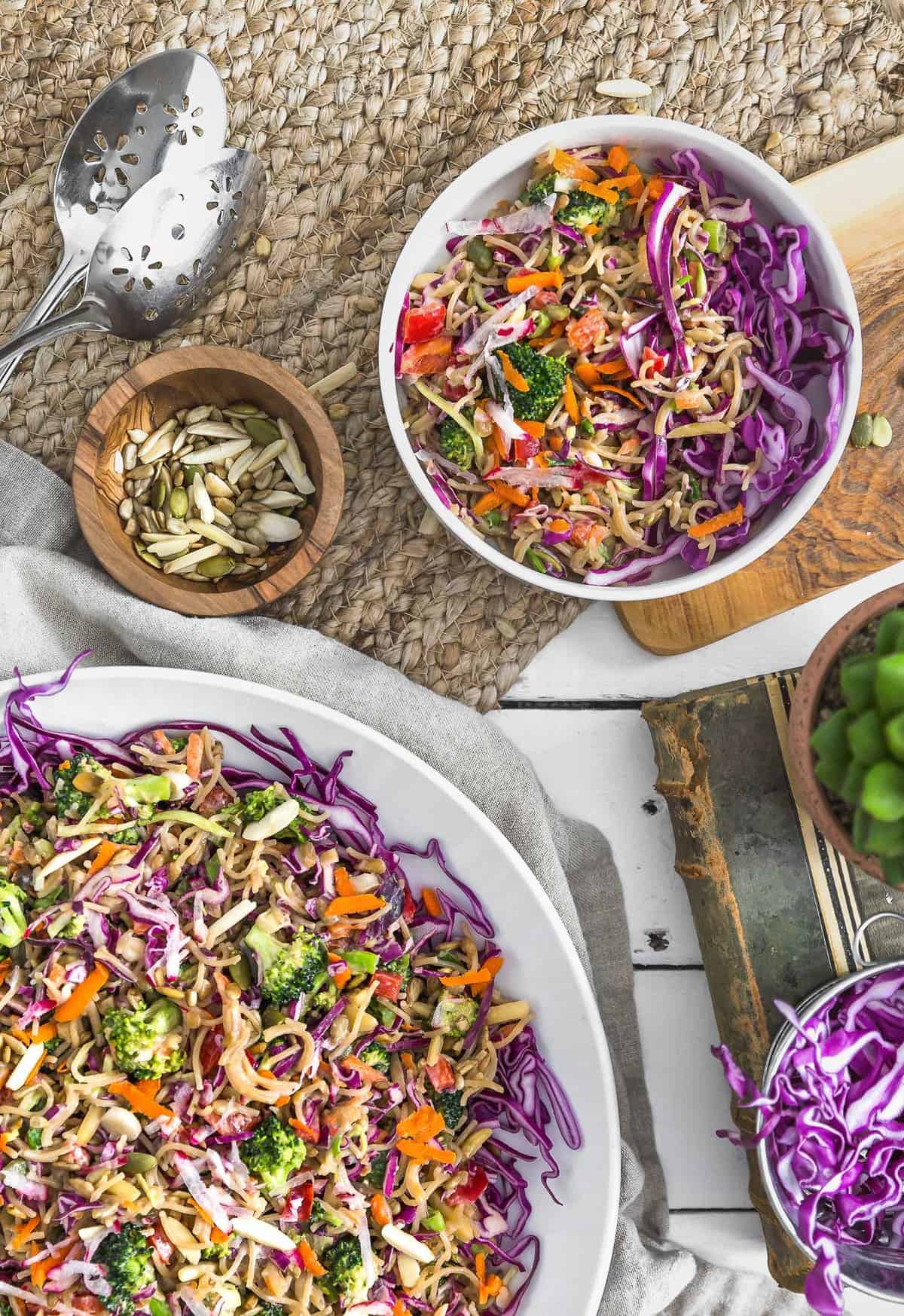 Closing one door . . .
As most of our Readers know, as I have mentioned it in past blogs, our office is closing.  We are not 100% sure when it is closing, perhaps 2019 or 2020, or there abouts; but one tends to reminisce a lot when you know the end is near.  You start to miss people who aren't even gone yet.
I was sitting there talking to Deana and thinking to myself how much I am going to miss this incredible person when the office closes and hoping that we can find time to stay in touch. Anyone who knows me knows I am a hermit. Sure, I go out and about, but I tend to be a major homebody, and an introvert. It takes a lot to get me out of the house.
Thinking about "the end" really brings everything into perspective.  It is kind of an emotional time to say the least.  I tear up more than I care to admit.  I love this company, love my job, and mostly, I love the people I work with.
As a side note, I am an INTJ personality – "The Mastermind" on the Meyers Briggs personality test. I always laugh whenever anyone asks me (which is often) at work.  It is the "newest" thing.  Most large companies cycle through the latest and greatest next best thing!
Work Family
Deana and I started talking about Julie and Kathy, and all the others who have retired in the past few years; exchanging information and "sightings" while laughing about the good old days, when co-workers were family.
You watched co-workers get married, celebrated babies, and then you watch their kids (and your own) go off to college, then get married and then it's all about the grandbabies.
The cycle of life, I'm getting old.  LOL
Later that evening when I was rummaging through my old recipes, trying to locate ones that I could convert to Whole Food Plant Based when I came across a scrap of paper that had Julie's Ramen Broccoli Slaw recipe written out in Julie's hand on her infamous 5"x7" notepad paper.
You might be wondering why that size notepad is important or infamous, let's just say that Julie always loved that size notepad of paper.  Enough so, that I remember it!
As a supervisor, I always made sure we had those small notepads in the supply cabinet.  It's the little things!  LOL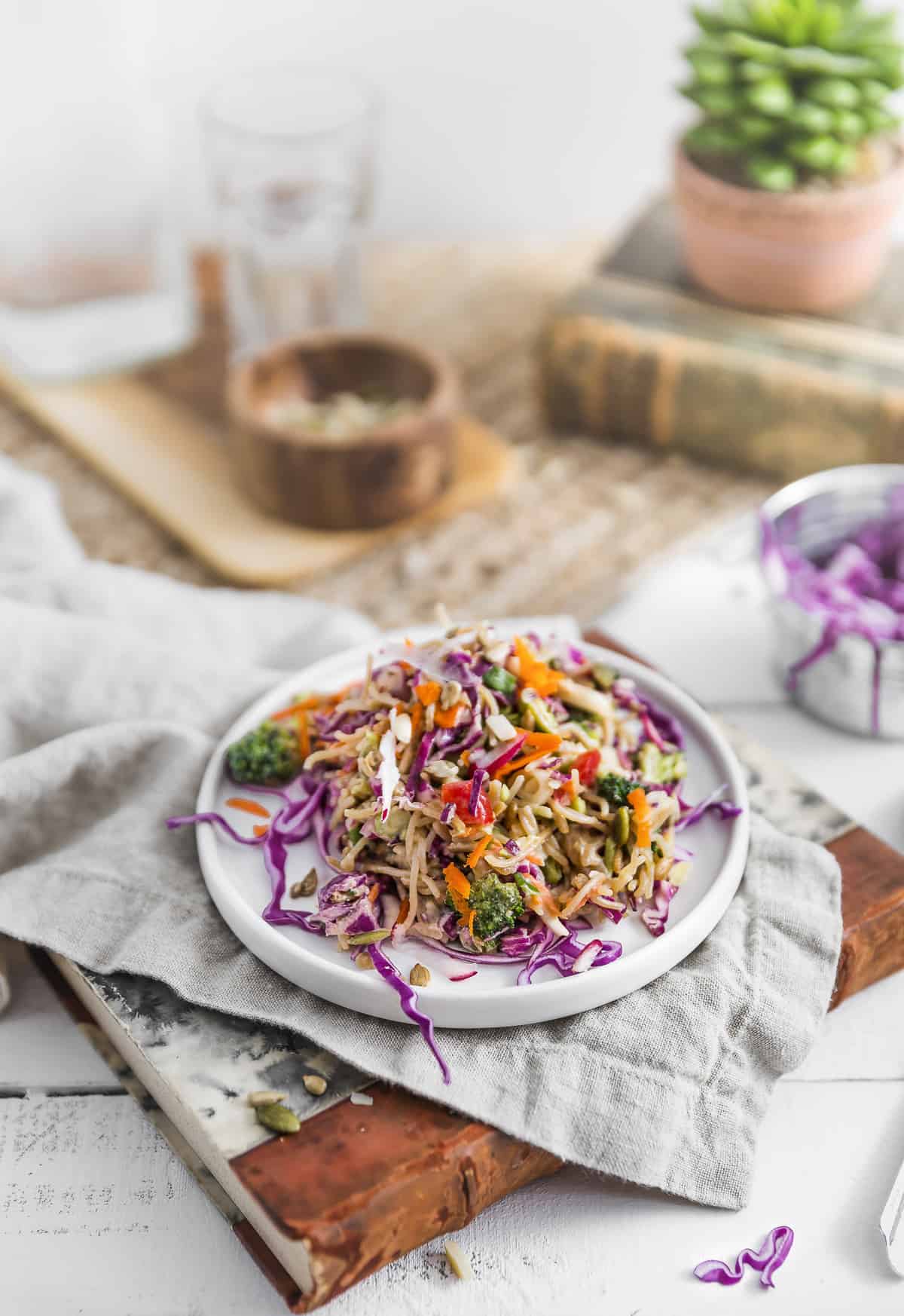 Oriental Ramen Broccoli Cole Slaw
In an April blog post,  I wrote about Julie's Asian Noodle Salad aka Ramen Broccoli Cole Slaw and how she never got to bring anything else for our unit's office food days.  People would literally sign her name up for her Ramen Noodle Salad before she even got a chance to see the food sign-up list.  It was that good and of course, we all wanted her to make it.
Whole Food Plant Based No Oil Recipe Group
I was looking over the salad ingredients and wondering if there was a Whole Food Plant Based compliant noodle I could use that would fit the ticket to recreate this lovely dish, when I literally just saw Debbie (an Admin) from the Whole Food Plant Based No Oil Recipe Facebook group had made a similar salad using Lotus Foods Millet & Brown Rice Noodles.
Thank you Debbie for the noodle idea!  Her salad is a little different from ours, but I am sure Debbie's is exceptionally tasty too! You just got to love a yummy noodle salad. Debbie's salad is on our list to try 😉
Team Crunchy Noodle vs Team Tender Noodle
Here's where the rubber meets the road, our family is completely divided over the noodle texture. I LOVE, LOVE, LOVE the noodles with some crunch, while TP109 and Monkey like the noodles tender.
I just really enjoy the nice crunch to the noodles when they just slightly take on the moisture of the salad dressing, but are still firm and crunchy.
Of course, the longer the salad sits in the fridge, covered with salad dressing, the more tender the noodles get, you can't stop science.  LOL
Which Team are you on "Team Crunchy" or "Team Tender"?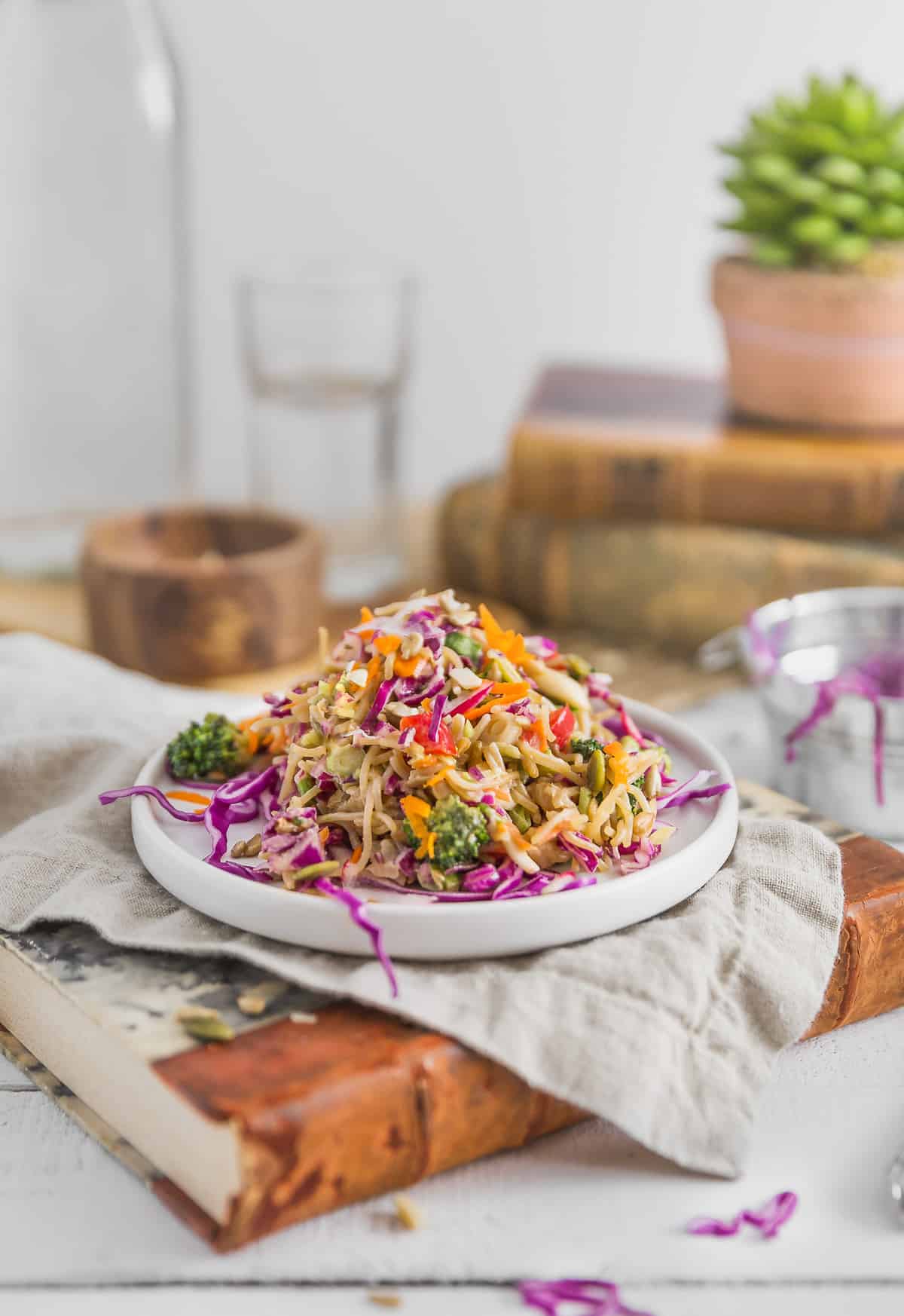 This post contains affiliate links, and we may receive a very small commission if you purchase through those links at no additional cost to you. Thank you for supporting Monkey and Me Kitchen Adventures! For more information, see our disclosures here.
Ameera here!
"Team Tender Noodle" all the way!!!  Sorry Mom, but no one wants their noodles crunchy!  LOL  I kid, I kid, I am sure there are people who like their noodles crunchy like you do. They are probably INTJ's too!  Hee Hee. 😛
Regardless if you love a crunchy noodle or a tender noodle, this salad is the BOMB!  It is sooooo good.  To me, it is every bit as tasty and delicious as the original Ramen Noodle Salad from the good old days.  I love it! I bet Julie would love it too if she tried it.
You gotta try it and let us know which team you are on!

Products Used:
Print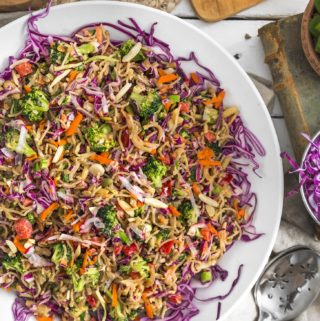 No Oil Broccoli Noodle Salad
Author:

Yield:

8

Servings

1

x

Category:

Salad/Slaw
---
---
---
---
Storage: Refrigerate and use within 4 days

This post contains affiliate links, and we may receive a very small commission if you purchase through those links at no additional cost to you. Thank you for supporting Monkey and Me Kitchen Adventures! For more information, see our disclosures here.