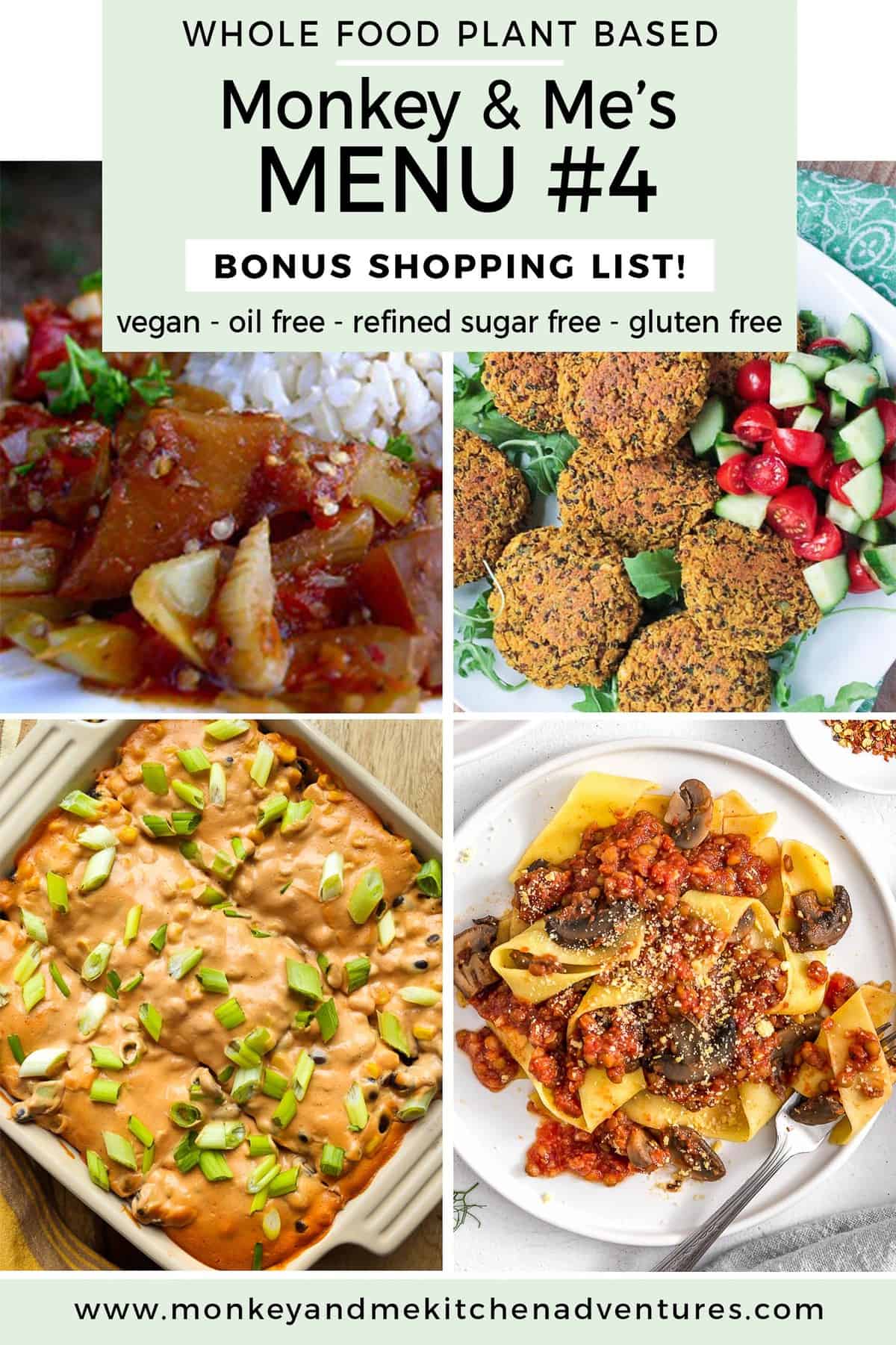 We are so happy to share with you that our Monkey and Me Weeknight Meal Menus have been huge hits.  We received a lot of excellent feedback.  This week we are very excited to feature some of our favorite foodie bloggers in Menu #4.  All recipes are Whole Food Plant Based, vegan, no oil, no refined sugar, no highly processed ingredients, and gluten free.
This super tasty menu features delicious dishes from Brandi at The Vegan 8, Jenn at Veggie Inspired, and Susan at Fat Free Vegan, as well as featuring a few of our own dishes.   😉
Menu #4 meal plan features the following:
Downloadable Menu which offers the following:

2 Breakfast ideas
2 Lunch ideas
2 Snack Ideas
5 Dinner Ideas, including a shopping list

A comprehensive (downloadable) shopping list for the 5 Dinners

The shopping list is segmented into the common grocery store sections like "produce, spices, etc." making it easy to pick up these items from your local grocery store.
It also includes product suggestions that are Whole Food Plant Based compliant* for easy reference.  Note: These products are suggestions, please feel free to select your own favorite products.
Includes helpful codes so you can easily subtract items that you choose not to make.

Downloadable Instructions on how the meal plan work.
Note:  The term "Whole Food Plant Based compliant" is from a general standpoint.  There are Whole Food Plant Based diet branches that restrict certain food items.  Our recipes are all Whole Food Plant Based compliant based upon a high-level compliance standpoint. i.e. vegan, no oil, no refined sugar, minimally processed foods.
Some breakfast, lunch, and snack ideas are simple concepts that require no recipe.
Meal Plan #4 includes the following recipes: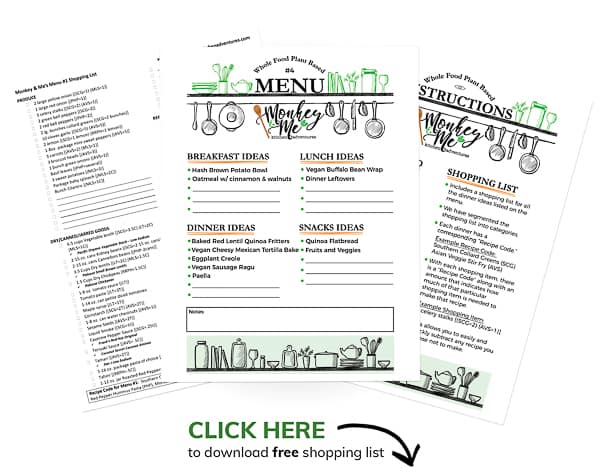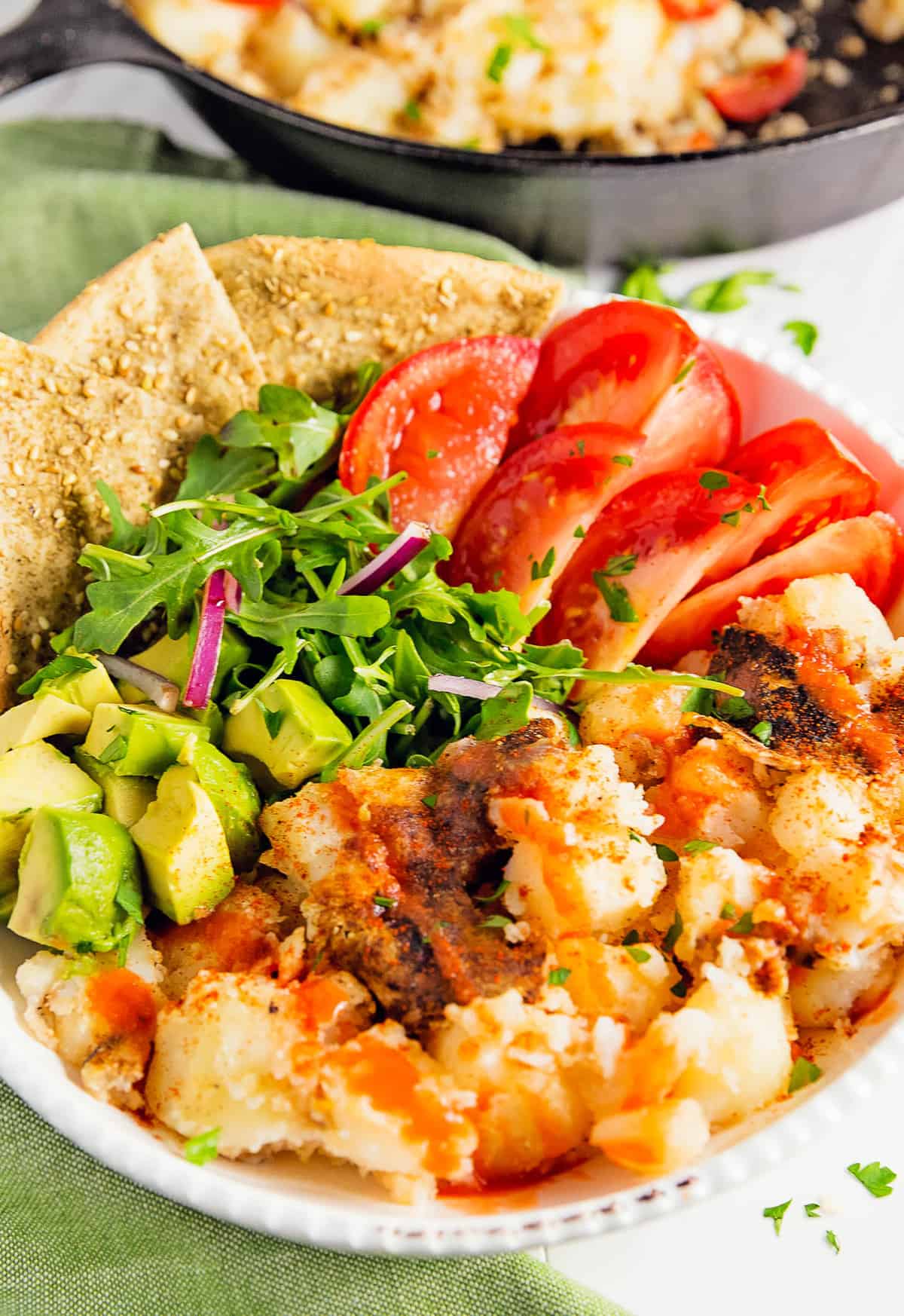 Anyone else all about that savory breakfast? We definitely enjoy this savory breakfast! Simplicity at its best, our crispy and incredibly tasty Hash Brown Potatoes are perfect for breakfast, lunch, or dinner. Packed with wholesome and healthy ingredients: tomatoes, arugula, avocado, hash brown potatoes, and some zaatar flat bread. You can never go wrong with this delicious bowl of beautiful tatars!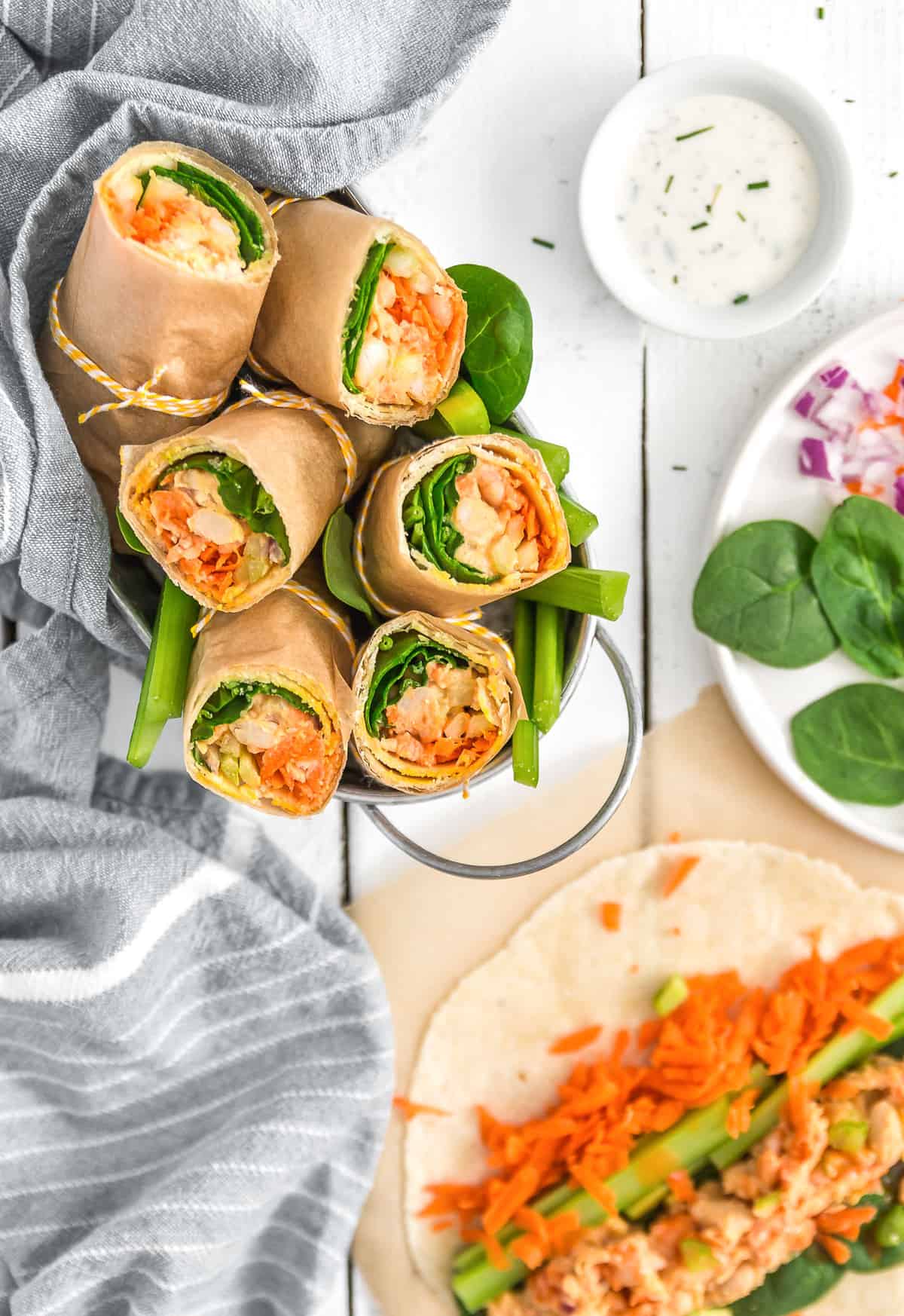 Vegan Buffalo Bean Wraps are loaded with "Buffalo" flavored deliciousness. Fresh veggies and white cannellini beans are combined for a fast and easy wrap that is packed with tastiness and wholesome goodness. A quick Vegan Ranch dressing adds the perfect POP of extra flavor for this delicious dish!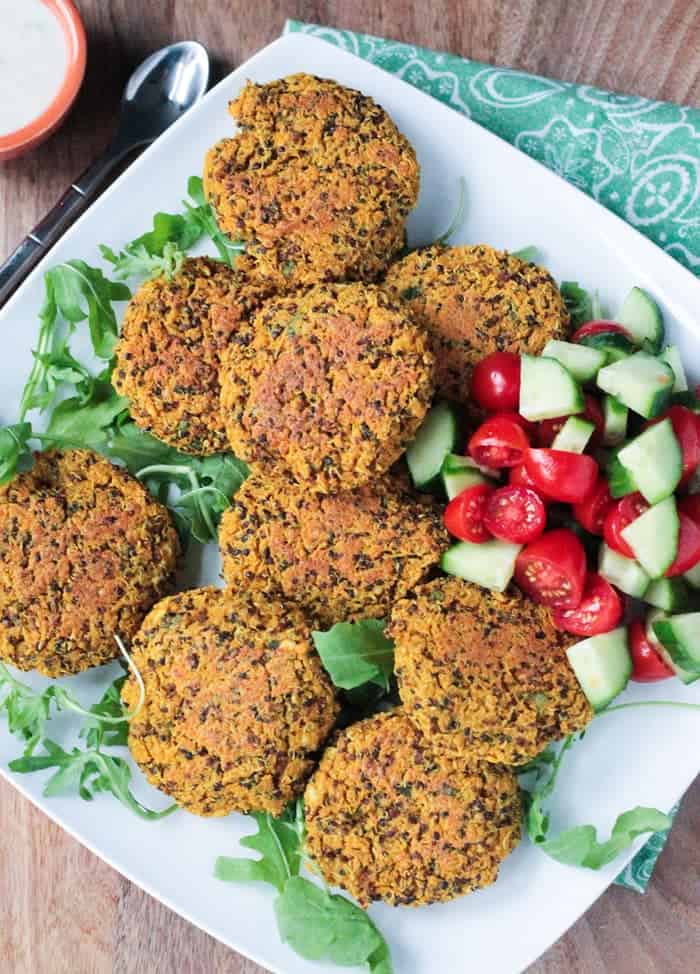 These beautiful golden fritters are crispy, crunchy on the outside and tender on the inside! Quinoa, red lentils, and fragrant spices make up this mouth-watering, protein packed meal! Perfect, healthy, and delicious patties the whole family will fall in love with! Head on over and check it out!
Grab a fork and get ready because this creamy, comforting, and oh so flavorful dish is calling your name. Loaded with simple, healthy ingredients like cashews, black beans, corn, salsa, yogurt, and spices; this easy to prepare veggie packed dish is sure to please the whole family! Head on over and check it out!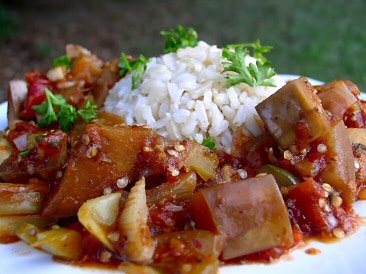 Close your eyes, and take one bite of this delicious Creole dish and you'll instantly be transported to Louisiana! Eggplant and veggies are cooked to perfection and bursting with rich, savory flavors. Served over rice for a beautiful and satisfying dish the family with love!  Head on over and check it out!
*Note: The 1/2 tsp of sugar can be easily substituted for a compliant sugar (ie: maple syrup, date/maple sugar)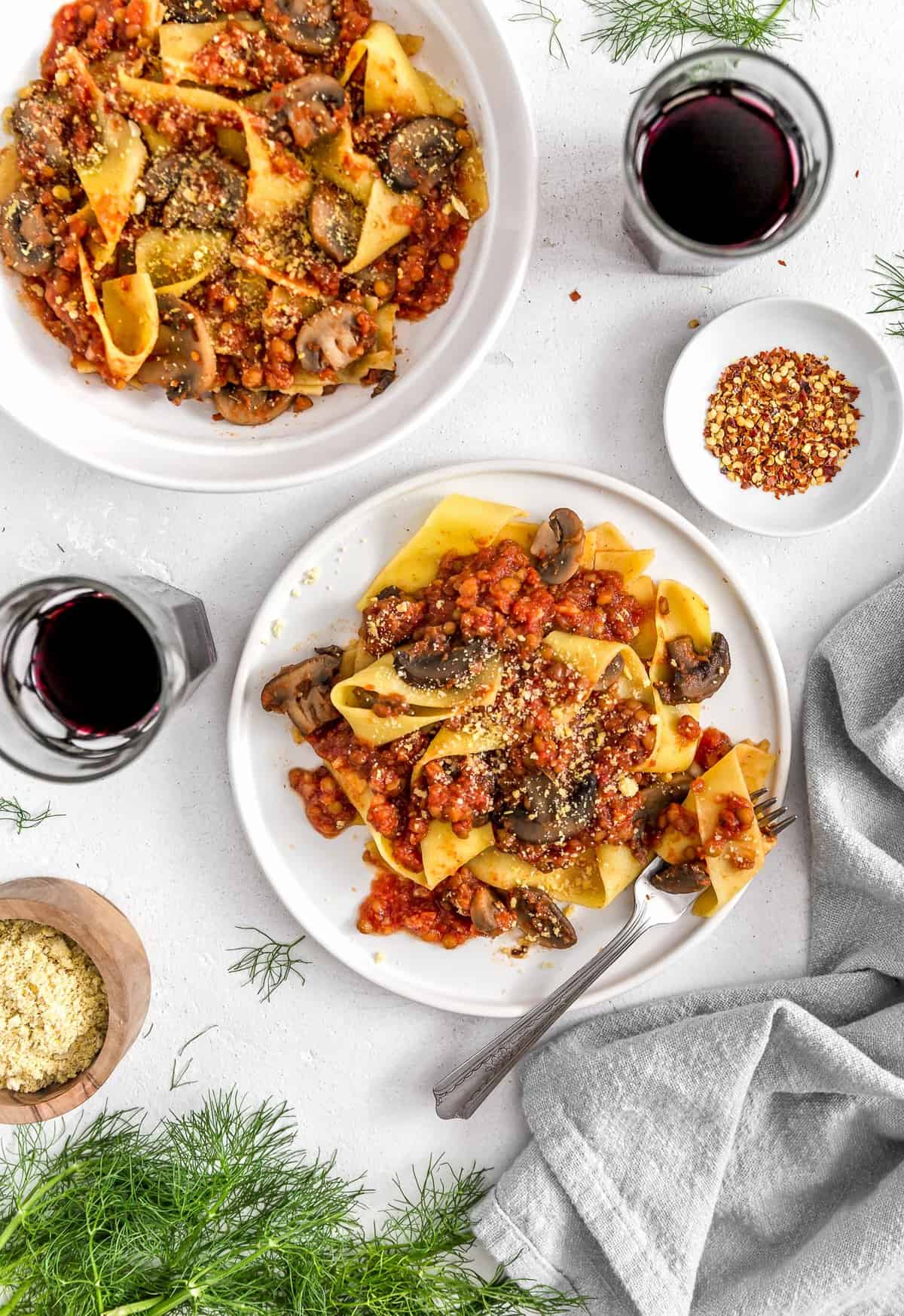 Rich and flavorful, this Vegan Sausage Ragu (Instant Pot or Stove top) carries all the traditional flavor of the classic Italian dish and so much more.  Fresh fennel, mushrooms, lentils, and red wine make this pasta dish a beautifully healthy alternative.  It is every bit as hearty and indulgent as a traditional ragu. Perfectly seasoned, coupled with amazing texture, it is sure to knock your socks off, making this dish a new family favorite.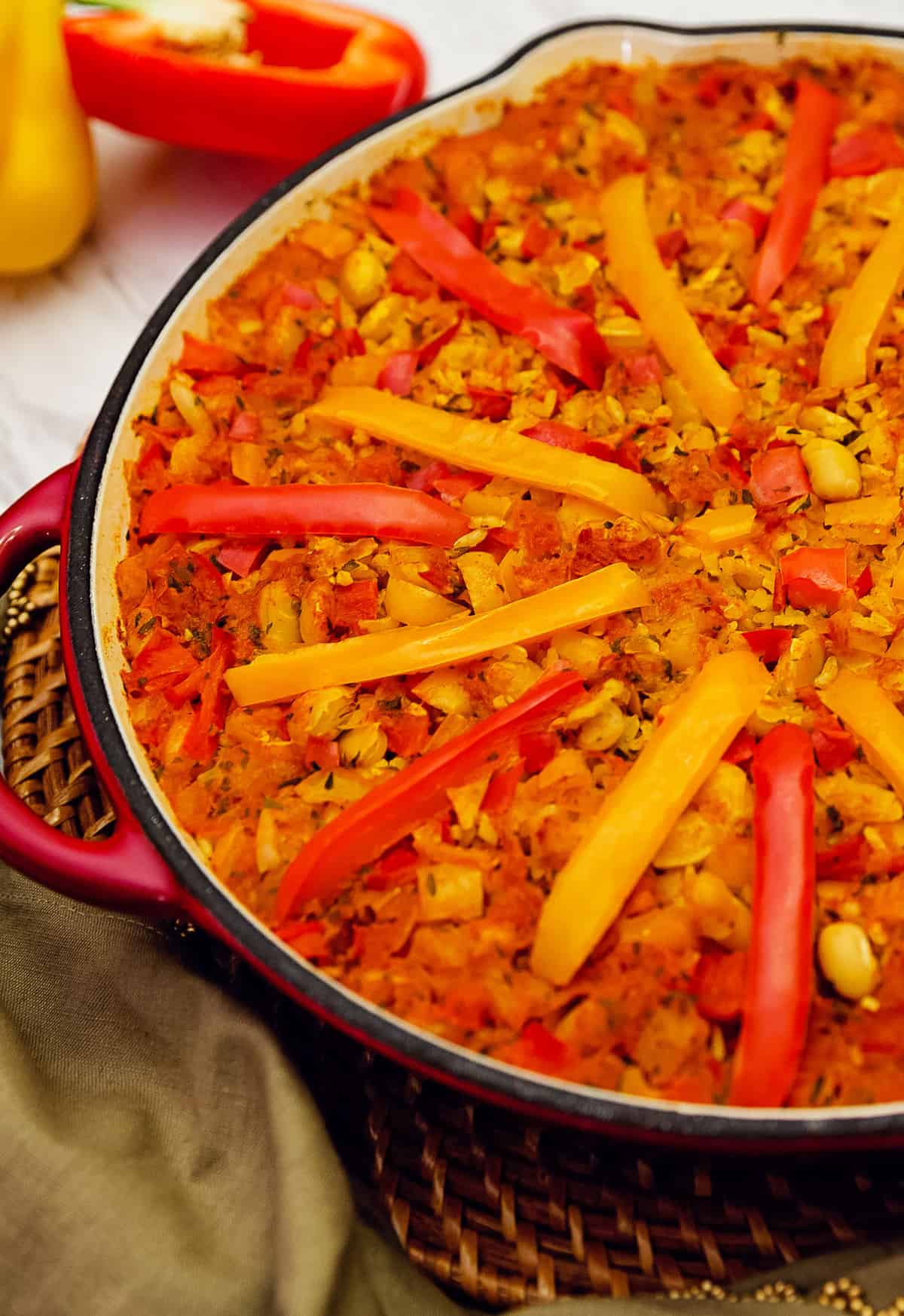 Our Vegan Paella is truly a colorful creation, one that will really stand out at your next dinner.  This Paella dish boasts the deep flavor of saffron alongside delicious veggies. This amazing Paella is sure to be a BIG hit with the family!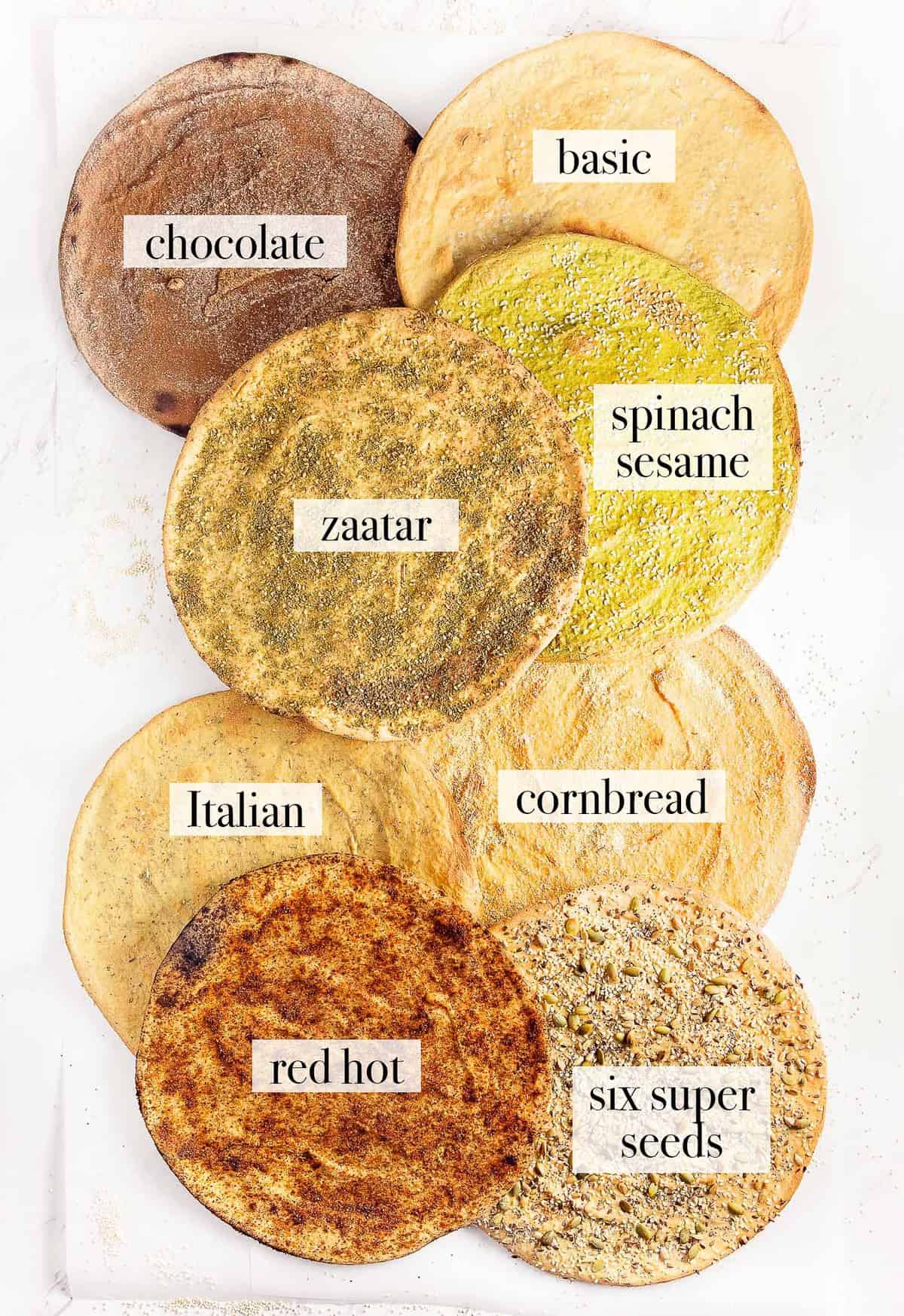 This amazingly simple and easy Quinoa Flatbread is healthy and sure to be a new family favorite.  You just may never buy bread again after tasting these delicious flatbreads. So versatile and oh so yummy! Perfect on its own, as a dipper, or piled high with delicious veggies!