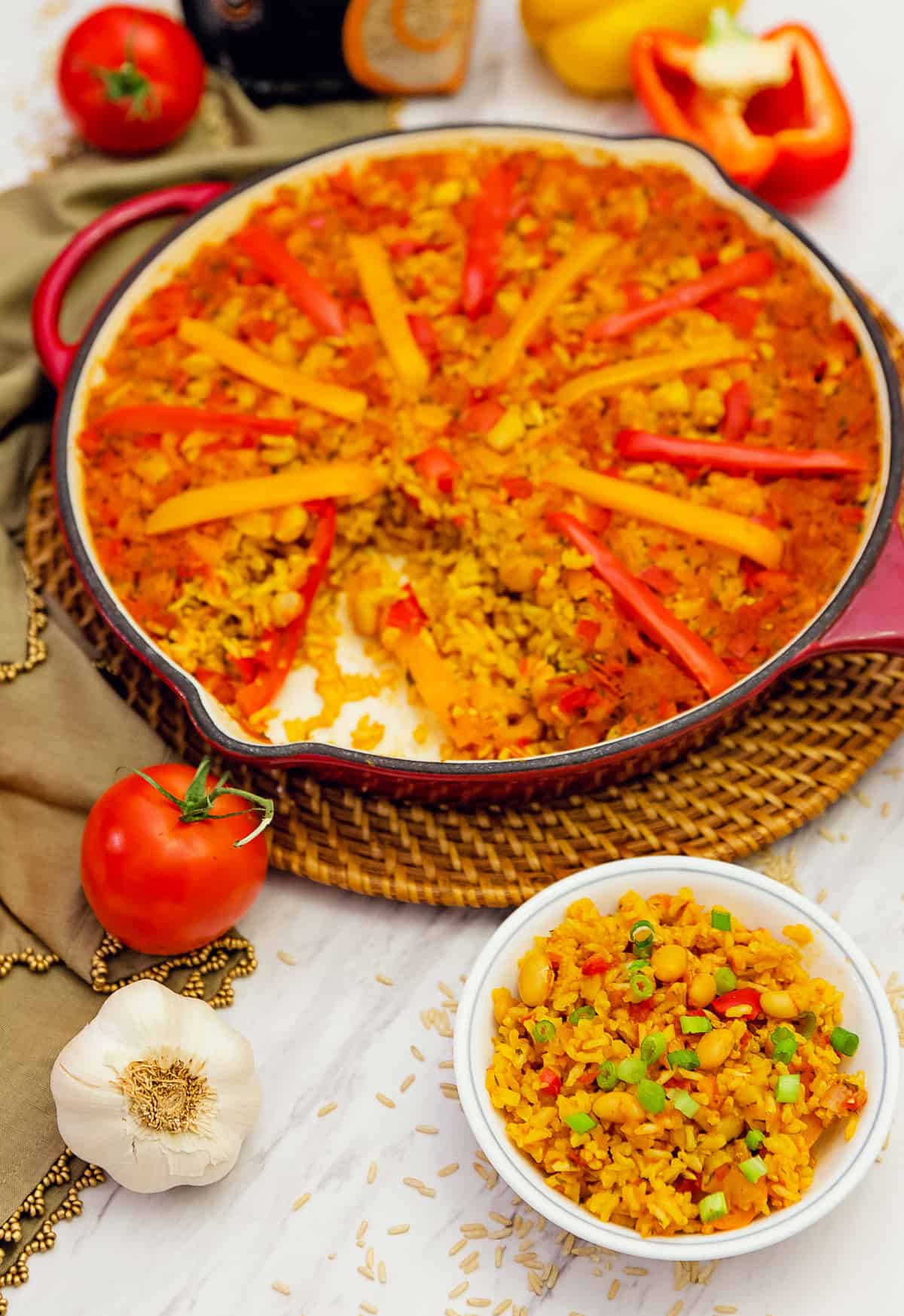 Our Vegan Paella is truly a colorful creation, one that will really stand out at your next dinner.  This Paella dish boasts the deep flavor of saffron alongside delicious veggies.  A perfect Whole Food Plant Based dish to share with family and friends.
Hey there!  Ameera here!
I love the aroma and flavor of saffron.  I just wish it wasn't so darn expensive, thankfully a little goes a long way.  Keep in mind that more isn't always better as using too much of a good thing can start to make the dish bitter. Also, the flavor of saffron can vary; I suggest using a beautiful Spanish saffron.
Paella perfection requires that you leave it alone once all the liquids have been added. You need to resist the temptation to stir it. I know it's hard, but don't do it 😉 This allows the rice to have the right texture when serving.
This recipe was inspired and adapted from Earth Powered Family.
Speaking of rice,
Paella typically calls for a short-grain, highly absorbent type of rice. Traditionally, the Calasparra or Bomba rice is used. In Italy, they often use Arborio.  Feel free to use whatever rice you wish, just know that the end-result will vary slightly by the rice that is selected.
We have used all different types of rice when making this Paella recipe.  Brown rice will work, but you will need to really keep an eye on it as brown rice typically takes longer to cook and possibly more water. You may find yourself adding more water because the rice may still be tough after 30 minutes of cooking time.
Don't forget to get that lovely rice crust on the bottom at the very end.  We love that. Sometimes hard to achieve since we don't use any oil, but I promise, it can be accomplished.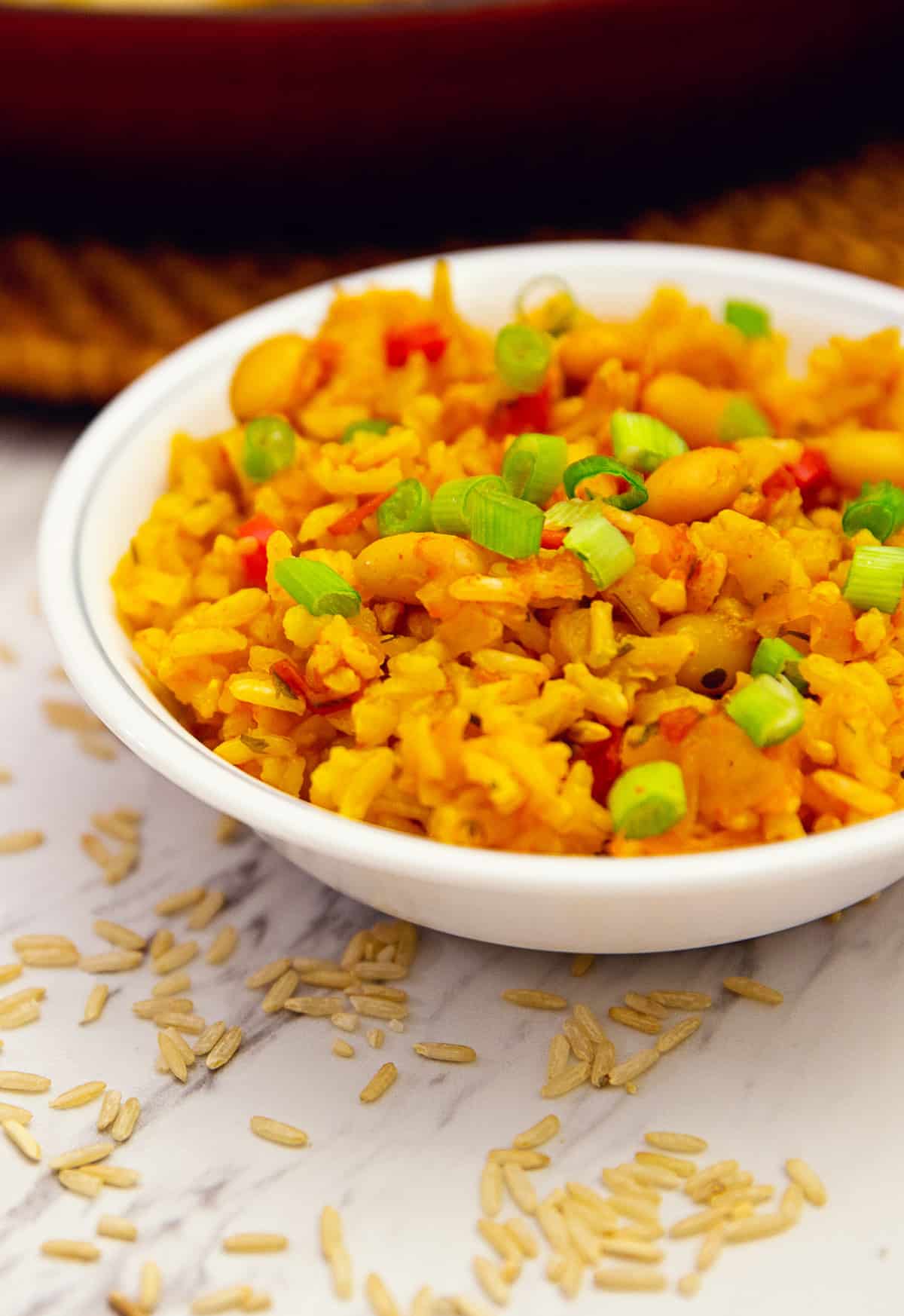 A nod to Paella
Our recipe is by no means authentic, nor do we want it to be. What we are hoping to achieve is a beautiful dish that is a wonderful nod to Paella.  It tastes divine and showcases just how awesome a Whole Food Plant Based diet can be by offering a wide range of flavors without all the oil, sugars, animal products, and processed ingredients that are often found in the authentic version.
My dad loves this dish.  He calls it a "yellow rice casserole."  I kind of cringe when he says that, but if it makes him happy, who am I to complain on what he calls it, right?  With this dish, you have to get your share before he gets to it as he will devour the whole thing all by himself.
Paella, a nod to the real deal, tasty and oh so yummy, we hope you give it a try!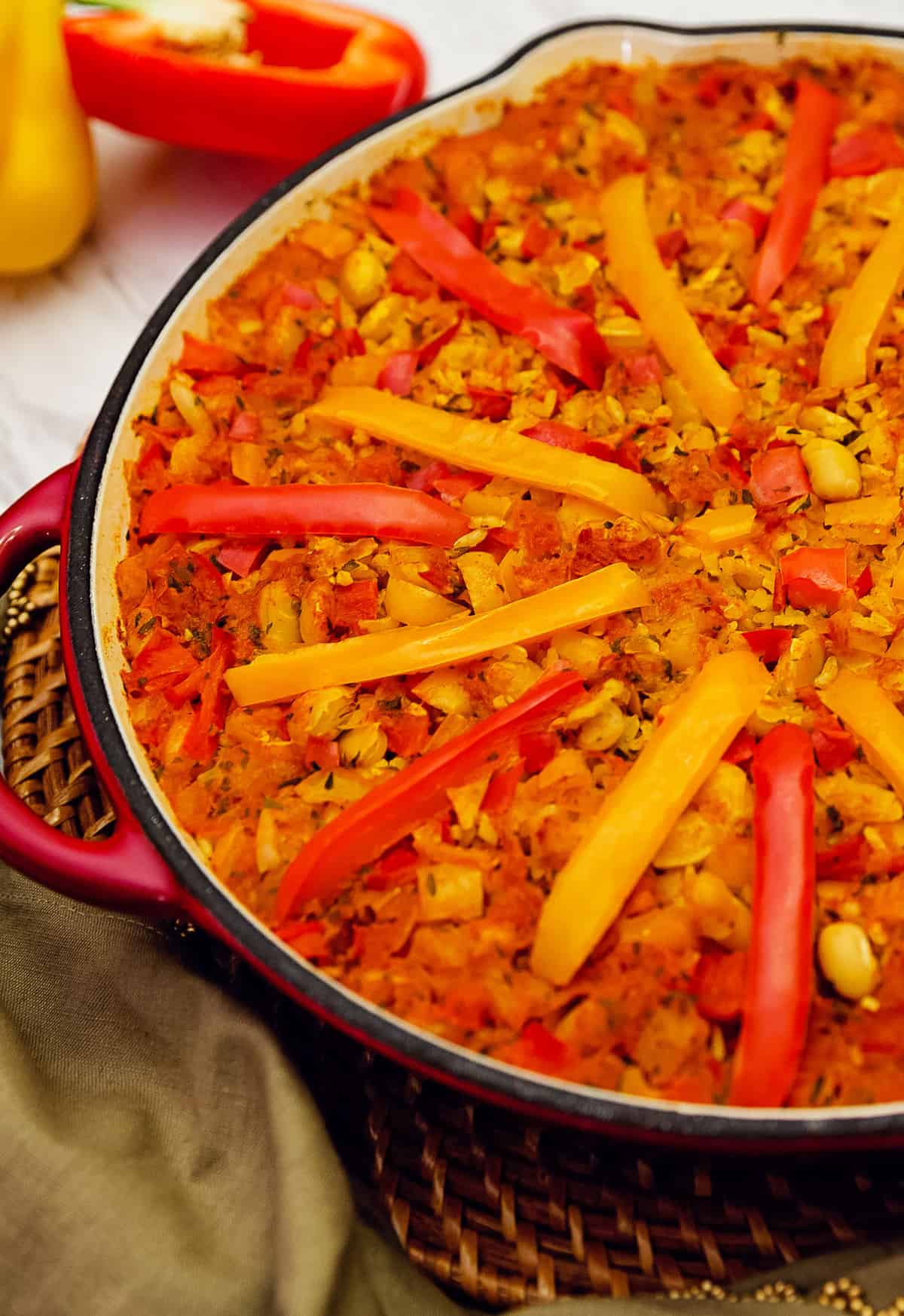 Robin here! 
I was never a huge Paella fan until Monkey convinced me that she could make this dish super tasty and delicious.  AND indeed, she did exactly that.
Seafood was never on my list of favorites, I could take it or leave it so I just assumed that Paella without seafood would be boring. I figured it would be somehow lacking in flavor, but this dish delivers on yummy flavor.
Make sure you select a vegetable broth that is free of unhealthy ingredients like monosodium glutamate (MSG) and the other names associated with MSG.
I love this dish.  The saffron infused rice in this healthy version tastes amazing.


Products used:
Ceramic/enamel lined large skillet or similar non-stick skillet.
Print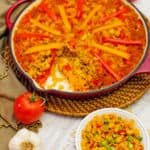 Paella
Author:

Prep Time:

10 minutes

Cook Time:

50 minutes

Total Time:

60 minutes

Yield:

4

-

6

Servings

1

x

Category:

Dinner

Cuisine:

Spanish
---
Description
Our Vegan Paella is truly a colorful creation, one that will really stand out at your next dinner.  This Paella dish boasts the deep flavor of saffron alongside delicious veggies.  A perfect Whole Food Plant Based dish to share with family and friends.
This recipe was inspired and adapted from Earth Powered Family.
---
1

medium onion, diced

3

garlic cloves, minced

1

medium red bell pepper, diced

1

medium orange bell pepper, diced
Bell pepper strips for decoration (optional)

3

medium tomatoes, seeded & diced

1 ½ teaspoon

smoked paprika

1

large pinch saffron

1 Tablespoon

dried parsley

1 ½ teaspoon

sea salt (+/- more to taste)

2 cups

dry brown rice *

1

–

15

oz. can great white northern beans, drained & rinsed

1 cup

Pacific organic vegetable broth*

3 cups

water, boiling (separated)
---
Instructions
Prep all vegetables ahead of time, set aside.
Boil 2 cups of water add the saffron and allow the saffron to steep in the water, set aside.
In a large ceramic-lined skillet, add the diced onions and sauté until they begin to soften, approx. 3 minutes.
Add the diced bell peppers and minced garlic to the skillet. Sauté a few minutes. If needed to prevent sticking, add 1- 2 Tablespoons of vegetable broth or water.
Stir in the seeded & diced tomatoes, parsley and smoked paprika, and sea salt into the skillet. Mix well and cook for 1 minute.
Add the rice to the skillet. Stir well, and cook for 2 minutes to allow the rice to absorb the juices of the vegetables.
Add the beans to the skillet and stir them into the mixture.
Add 1 cup of vegetable broth and the 2 cups of boiling water (including the saffron) over the rice. Stir well to incorporate.  Bring the rice mixture to a boil and then turn down to simmer.  Cover and simmer undisturbed for 30*
After 30* minutes, test the rice. If the rice is still tough on the top layer, gently add 1 cup of boiling water over the mixture, do not disturb the rice.  At this time, add the decorative strips of bell peppers (optional), then cover the skillet once again, and continue to simmer for another 15-20 minutes. *
The liquid in the skillet should be fully absorbed into the rice mixture.
Test a little bit of rice near the edge of the skillet for tenderness. Once the rice is completely tender, turn up the heat to a medium-high for one minute.  This creates a nice crust on the bottom where the rice touches the pan.
Turn off the heat, remove from the stove, and allow to sit for 10 minutes undisturbed before serving.
---
Notes
*Rice:  Finding an excellent rice is very important for this recipe.  Whole-Food-Plant-Based cooking does not allow for oil of any kind.  Traditionally, Paella uses oil to coat the individual rice kernels allowing the rice to keep its shape and individual kernels.  We have tested many types of rice as well as brands.  Della Light Brown Basmati rice works perfectly with this recipe.
*Rice Cooking Time:  Rice comes in many types and quality brands.  Both play into how long it takes for the rice to cook, so the timing of how long to cook the rice may vary.  If unsure, keep testing the tenderness of the rice after the initial 30 minutes, and continue testing every 10 minutes thereafter until the rice reaches the desired tenderness.
*Vegetable Broth:  We used Pacific Organic Vegetable Broth because it does not have MSG, and has no highly processed ingredients; however, Pacific has a very strong flavor so our water to broth ratio is heavy on the water and low on the vegetable broth.  If you are using a vegetable broth other than Pacific, please adjust the water to broth ratio accordingly.
Storage:  Store in a glass container in the frig.