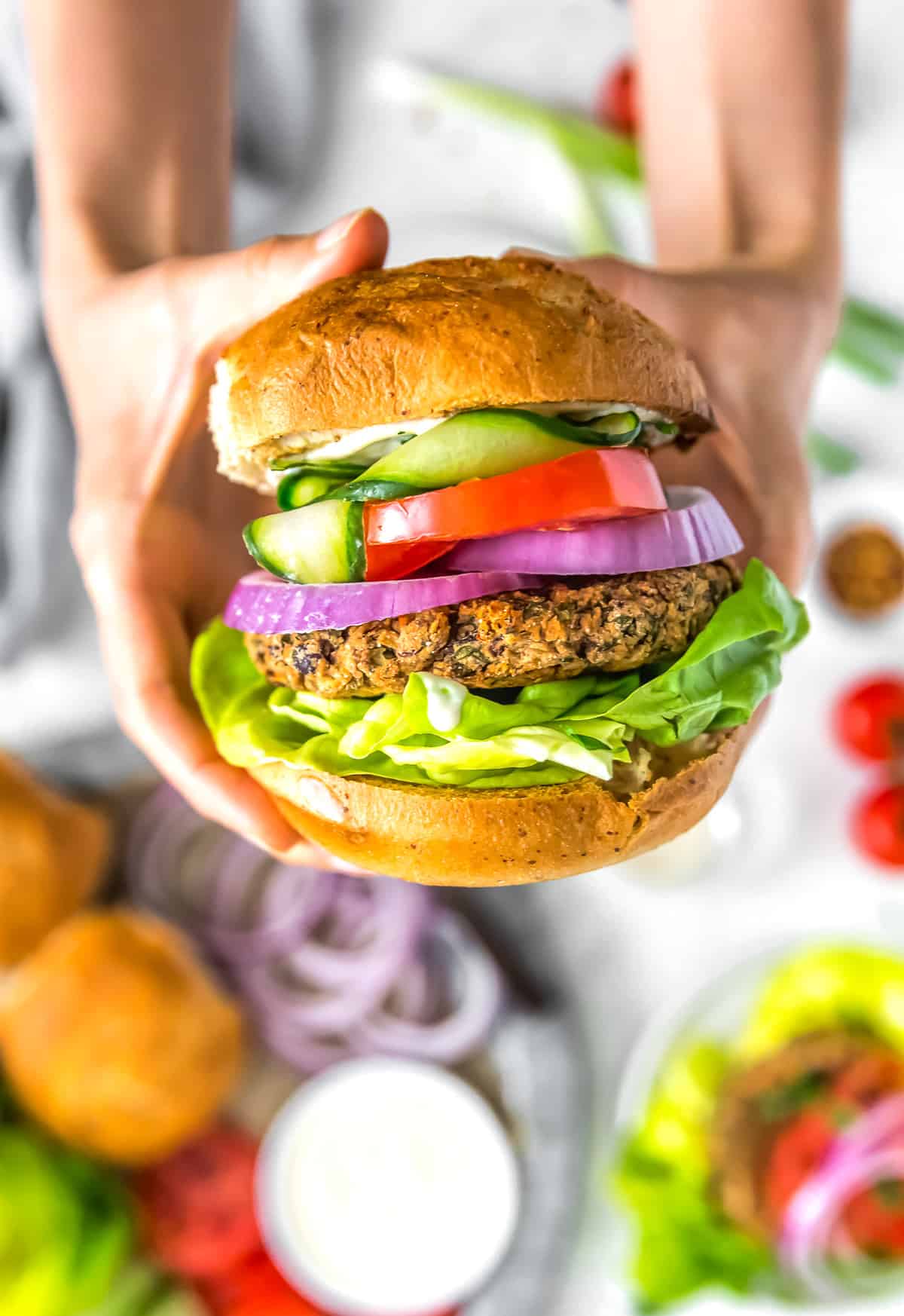 This aromatic and delicious Spicy Bean Burger paired with a tasty Garlic Sauce takes burger enjoyment to a whole new level! This beauty was inspired by the Middle Eastern kafta burger. Our vegan version is packed with onions, parsley, garlic, cumin, red pepper flakes as well as other tasty spices and ingredients. The creamy garlic sauce is get-in-my-belly goodness, making this duo the perfect veggie bean burger. Whole Food Plant Based dish, vegan, no oil, no sugar, no highly processed ingredients, and gluten free.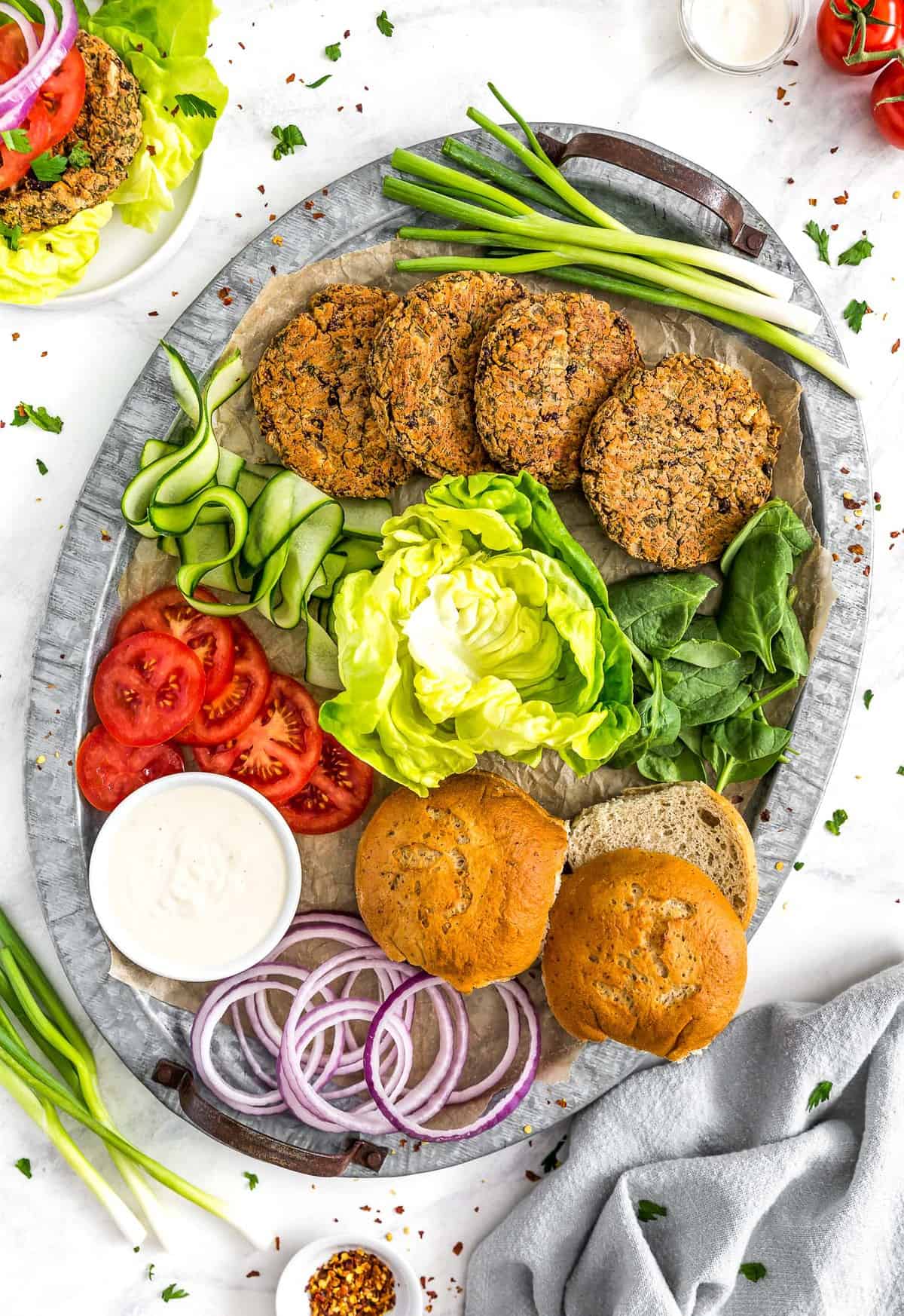 Hi!  Ameera here.
I get a lot of inspiration from my husband's Lebanese family.  Like most vegan food bloggers, we are always trying to "veganize" non-vegan dishes.  Mom and I have been kitchen testing several varieties of bean burgers for several months now.
We kept switching gears on which one we should focus on first and get out on the blog.  We finally landed on introducing our Spicy Bean Burger with Garlic Sauce.
However, get ready for a whole line-up of bean burgers in the very near future now that we have this beauty done and out the door!  HAH!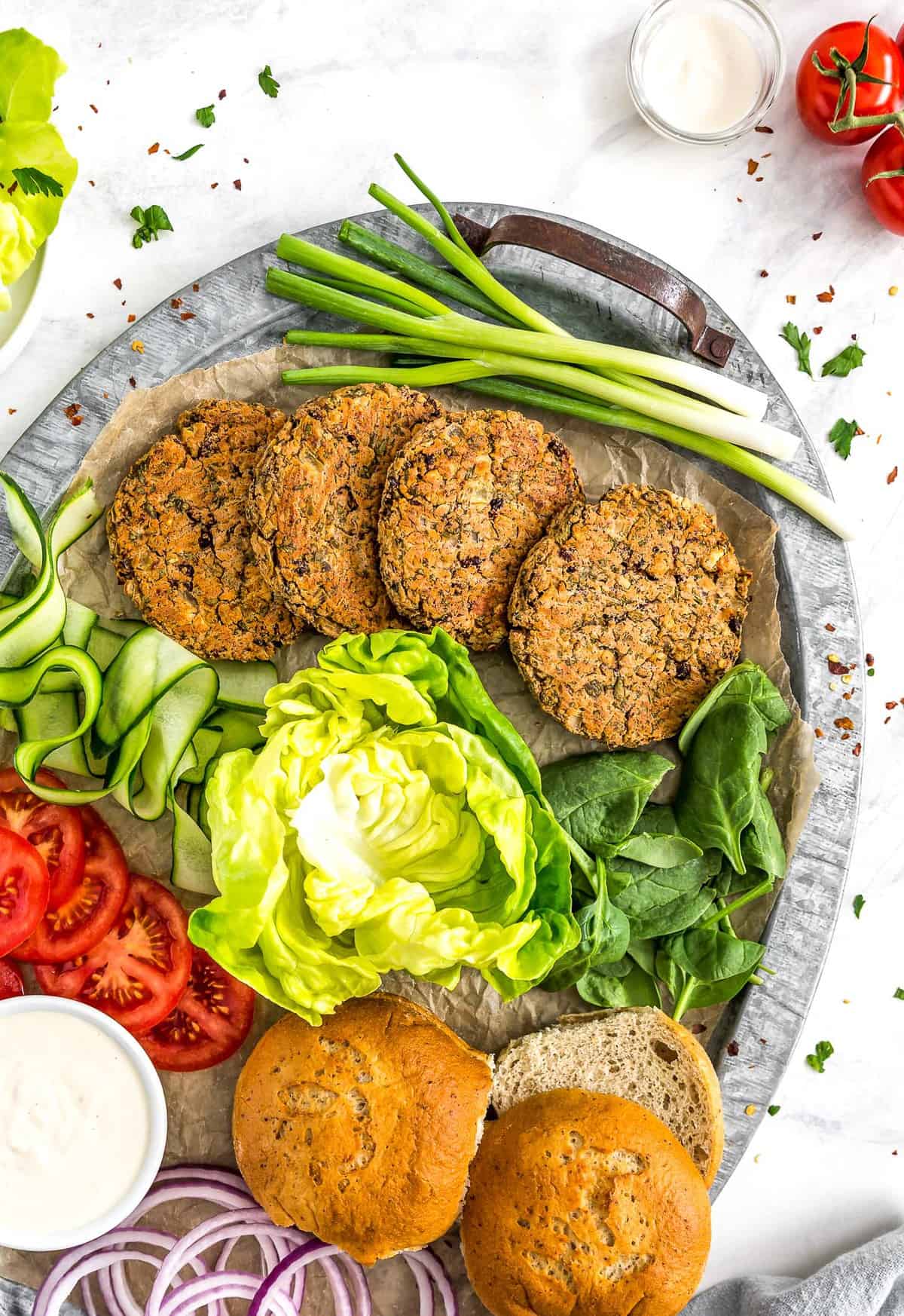 Kafta Burgers
Middle Eastern kafta burgers are basically a burger that is LOADED with TONS of parsley and onions. Micho loves them.  I wanted to see if I could make a bean burger that is a nod to the kafta burger, and we did exactly that.
We kitchen tested this one several times, and decided to add some spices that are not traditionally found in a kafta burger, but these few extras transformed the flavor of this burger to a new level of yumminess.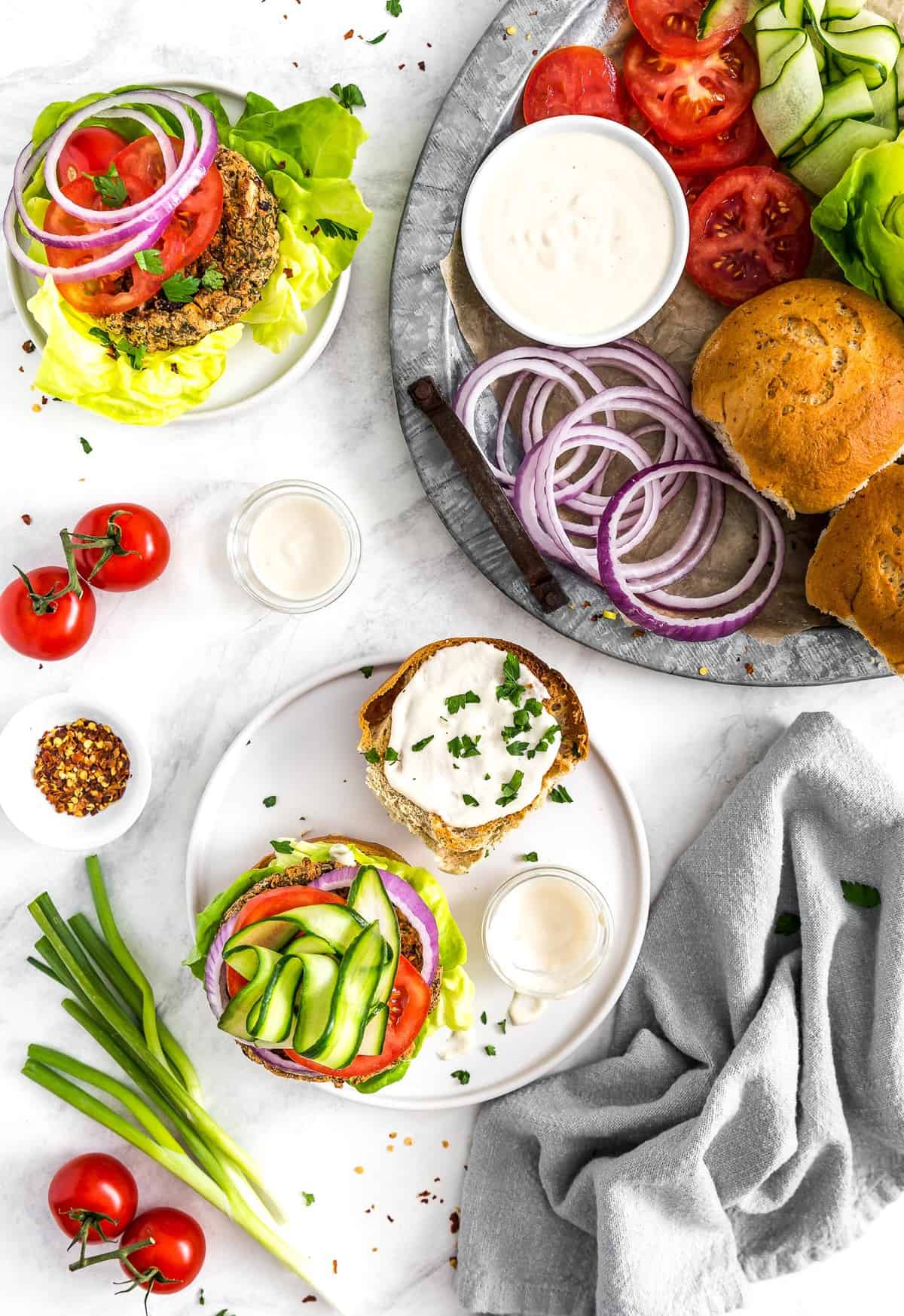 Mariella
My dear friend, Mariella, is like a sister to me.  She was at the house when Mom was doing a kitchen test, so we ran it by her to get her opinion.  She totally enjoyed the kitchen test and scored us high on flavor and texture.
We did adjust some ingredient amounts and BOOM, the Spicy Bean Burger was complete!
However, the garlic sauce needed some additional work as it was too sweet (maple syrup) and the tahini was overpowering the flavors, so we decided simple was best, and took both ingredients out of the garlic sauce.
This simple Garlic Sauce is light and fresh tasting, which perfectly complements the spiciness of the bean burger.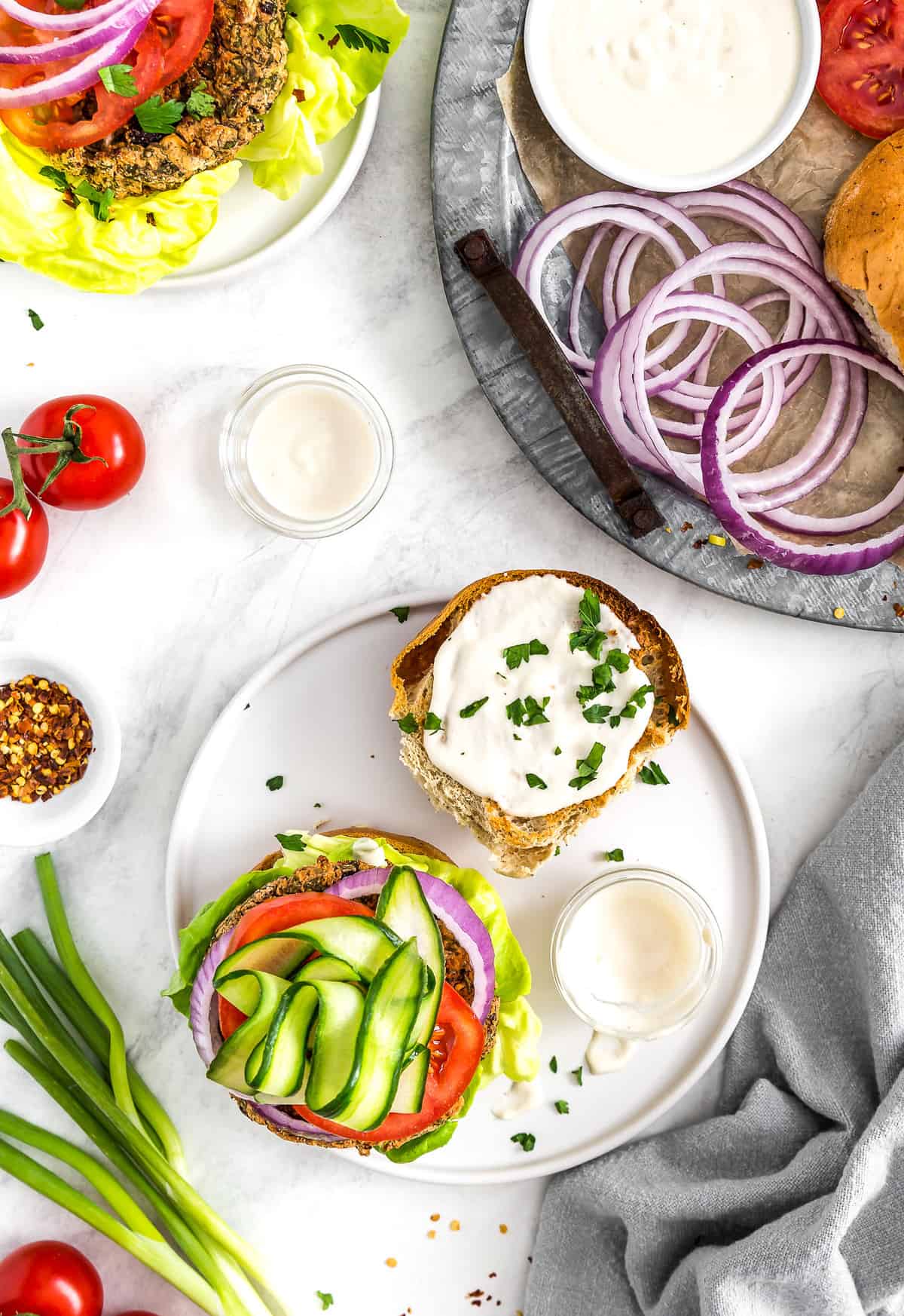 Gervasi Vineyard
Mariella and I then went to dinner at Gervasi Vineyard to celebrate my 30thbirthday.  She asked if I had ever been there, and upon hearing "no," she said it was a must! I'm so glad that she did because it's so gorgeous!
Have you ever been to Gervasi Vineyard in Canton?  If not, and you are ever in Canton, Ohio, it is a must!  It is just so incredibly beautiful.
They literally thought of everything.  The ambiance and picturesque beauty of the grounds is breathtaking.  While they didn't offer any GF vegan options, I was able to construct a great salad.
They do offer GF pizza dough and pastas, but I didn't check to see if they were vegan. I had my mind set on a refreshing veggie salad; plus, with the hot weather, salad was a perfect choice.
Mariella and I had a wonderful evening sitting on the piazza, enjoying the warm weather, and taking in the gorgeous views while discussing food, events, and our "Mikes."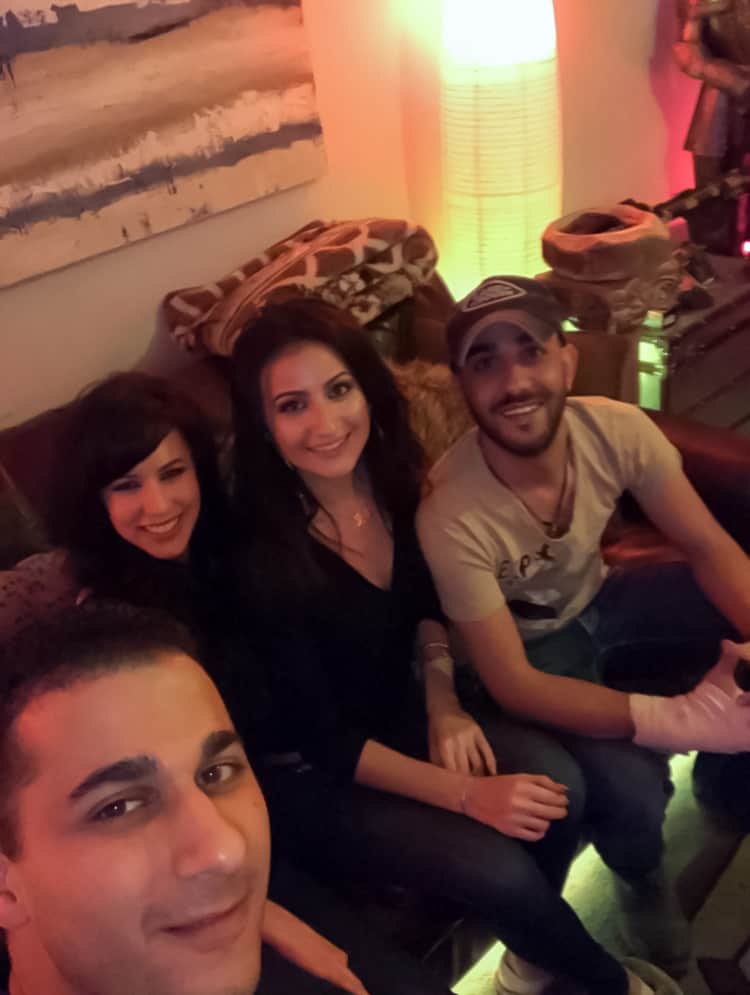 (My Michael, Me, Mariella, Mariella's Mike)
Her boyfriend is also named "Mike."  My Mike and her Mike are like cousins.  And together we all make one big happy family! <3  I'm so grateful to have such incredible friends!
I definitely want to go back to Gervasi's; I would love to take pictures of the beautiful vineyards; however, I honestly don't know if any camera can do this place justice.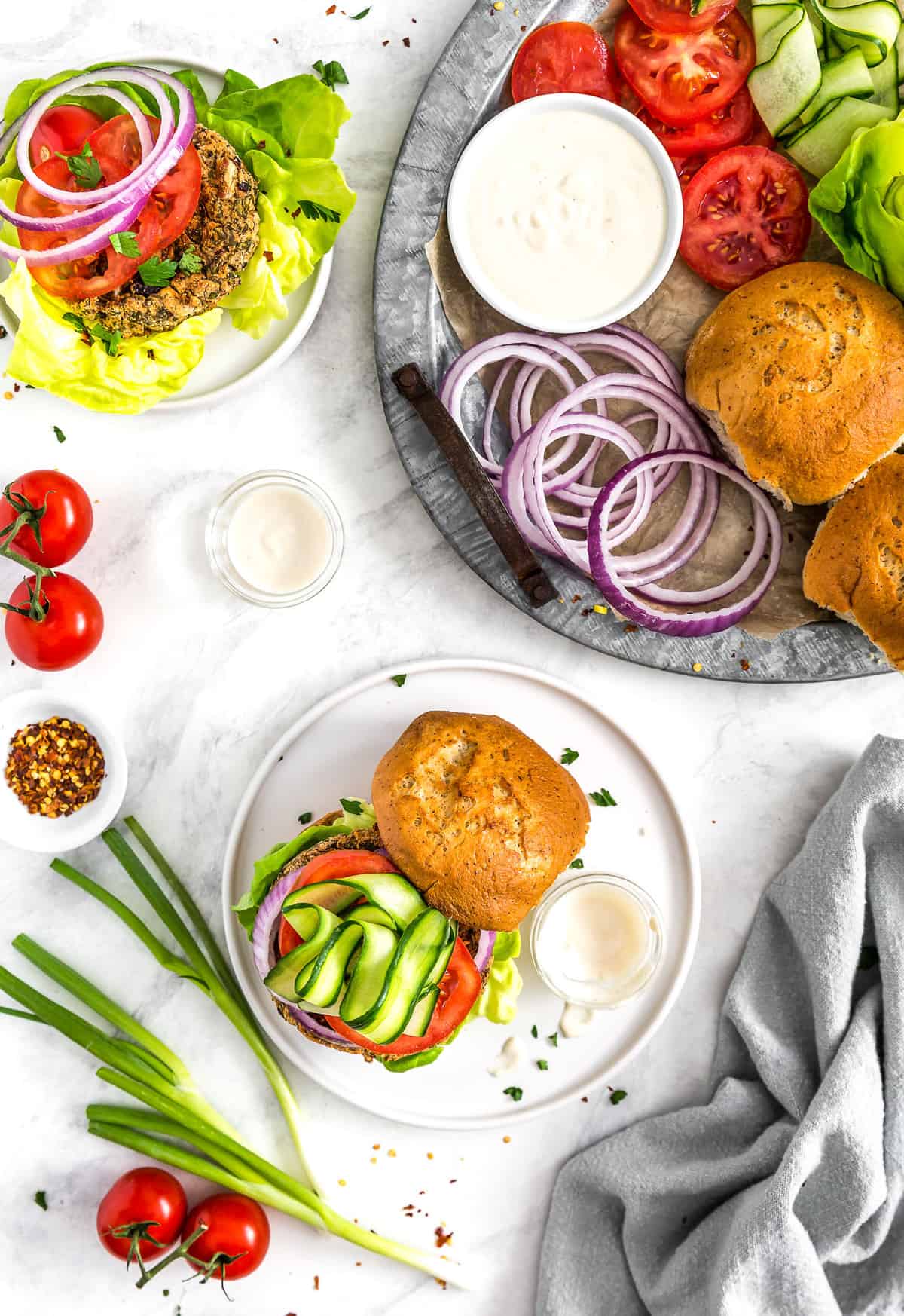 This post contains affiliate links, and I may receive a very small commission if you purchase through those links at no additional cost to you. Thank you for supporting Monkey and Me Kitchen Adventures! For more information, see our disclosures here
Hi!  Robin here.
I am so in love with this Spicy Bean Burger!  But to be honest, I love the garlic sauce even more.  We also drove a number of kitchen tests on this as well.  It was kinda crazy, using raw garlic made the sauce have a tiny bit of a bitter note at the end.
We landed on using garlic powder purely from a fast and easy standpoint, plus it tasted awesome in the sauce. Lord knows cooking Whole Food Plant Based leaves enough of a kitchen mess.
Our kitchen tends to look like we used every pot, plate, and utensil we own after cooking; a complete and total disaster area.  I would totally take a picture of it if I wasn't so embarrassed at how utterly crazy our kitchen looks every . . . single . . . time . . .we . . . cook!!!!
Kitchen Disasters
Speaking of kitchen disasters, when we had a painter come in and remove the wallpaper from the dining room a few months ago, he couldn't help but remark about our kitchen looked like a bomb went off!
He was there for 3 days removing paper, fixing the drywall, and then repainting and every day, he was like "dang, when you ladies cook, you really make a mess!"   Ummmm yah, we do!
Spicy Bean Burger with Garlic Sauce
While we can't guarantee that you won't end up with a mess in your kitchen after making this dish, we can say that you will be glad you made it.  It is a winning recipe!

Products Used:
Print
Don't forget to pair this delicious burger with the Garlic Sauce for the ultimate flavor town experience!
Print

This post contains affiliate links, and I may receive a very small commission if you purchase through those links at no additional cost to you. Thank you for supporting Monkey and Me Kitchen Adventures! For more information, see our disclosures here