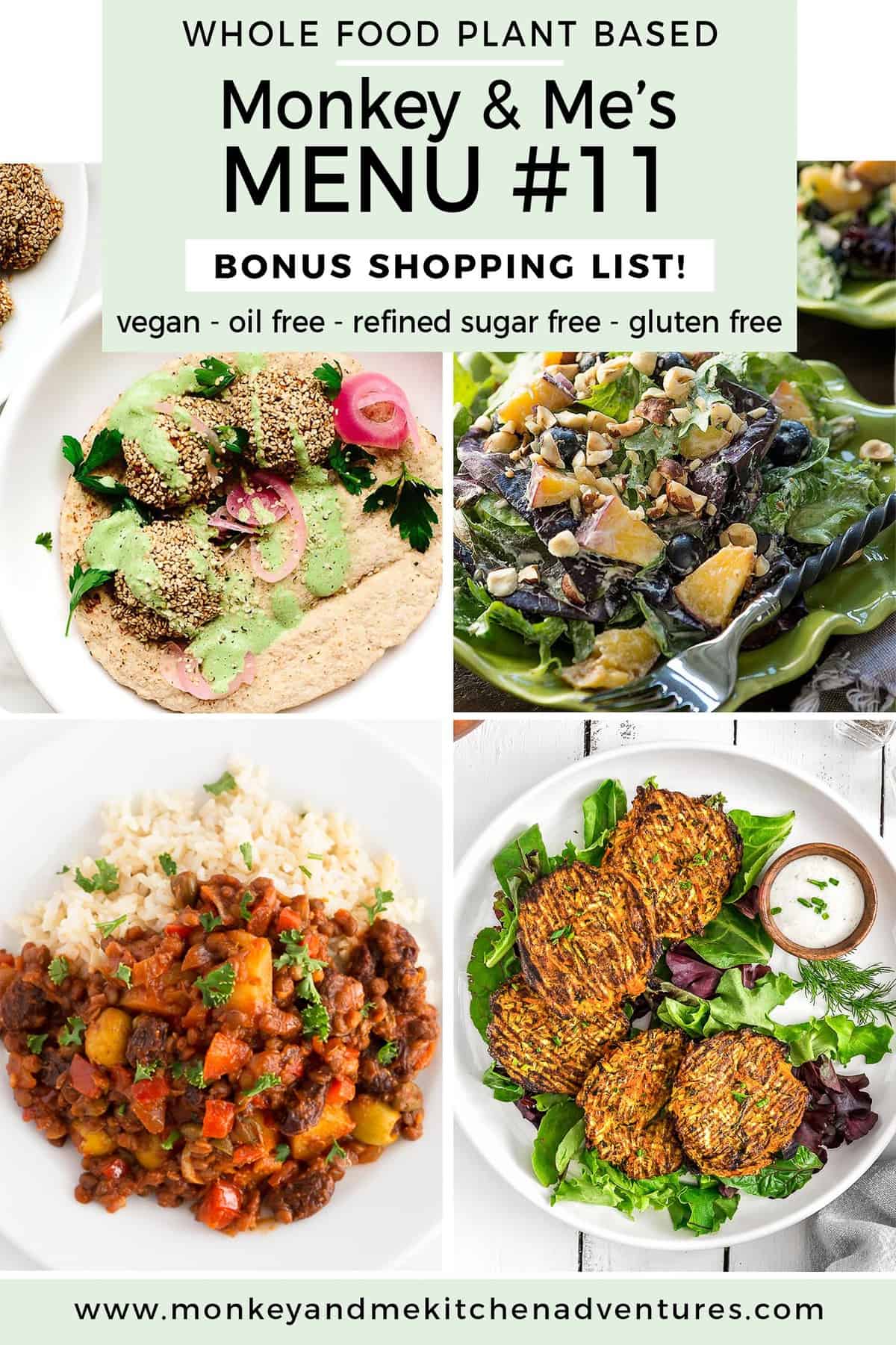 We are so happy to share with you that our Monkey and Me Weeknight Meal Menus have been huge hits.  We received a lot of excellent feedback.  This week we are very excited to feature some of our favorite foodie bloggers in Menu #11.  All recipes are Whole Food Plant Based, vegan, no oil, no refined sugar, no highly processed ingredients, and gluten free.
This super tasty menu features delicious dishes from Alberto and Iosune at Simple Vegan Blog, Ashley at Blissful Basil, and Susan at Rawmazing, as well as featuring a few of our own dishes.  😉
Menu #11 meal plan features the following:
Downloadable Menu which offers the following:

2 Breakfast ideas
2 Lunch ideas
2 Snack Ideas
5 Dinner Ideas, including a shopping list

A comprehensive (downloadable) shopping list for the 5 Dinners

The shopping list is segmented into the common grocery store sections like "produce, spices, etc." making it easy to pick up these items from your local grocery store.
It also includes product suggestions that are Whole Food Plant Based compliant* for easy reference.  Note: These products are suggestions, please feel free to select your own favorite products.
Includes helpful codes so you can easily subtract items that you choose not to make.

Downloadable Instructions on how the meal plan work.
Note:  The term "Whole Food Plant Based compliant" is from a general standpoint.  There are Whole Food Plant Based diet branches that restrict certain food items.  Our recipes are all Whole Food Plant Based compliant based upon a high-level compliance standpoint. i.e. vegan, no oil, no refined sugar, minimally processed foods.
Some breakfast, lunch, and snack ideas are simple concepts that require no recipe.
Meal Plan #11 includes the following recipes: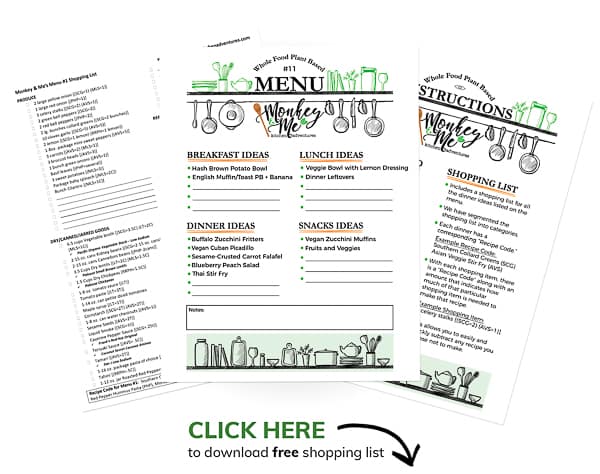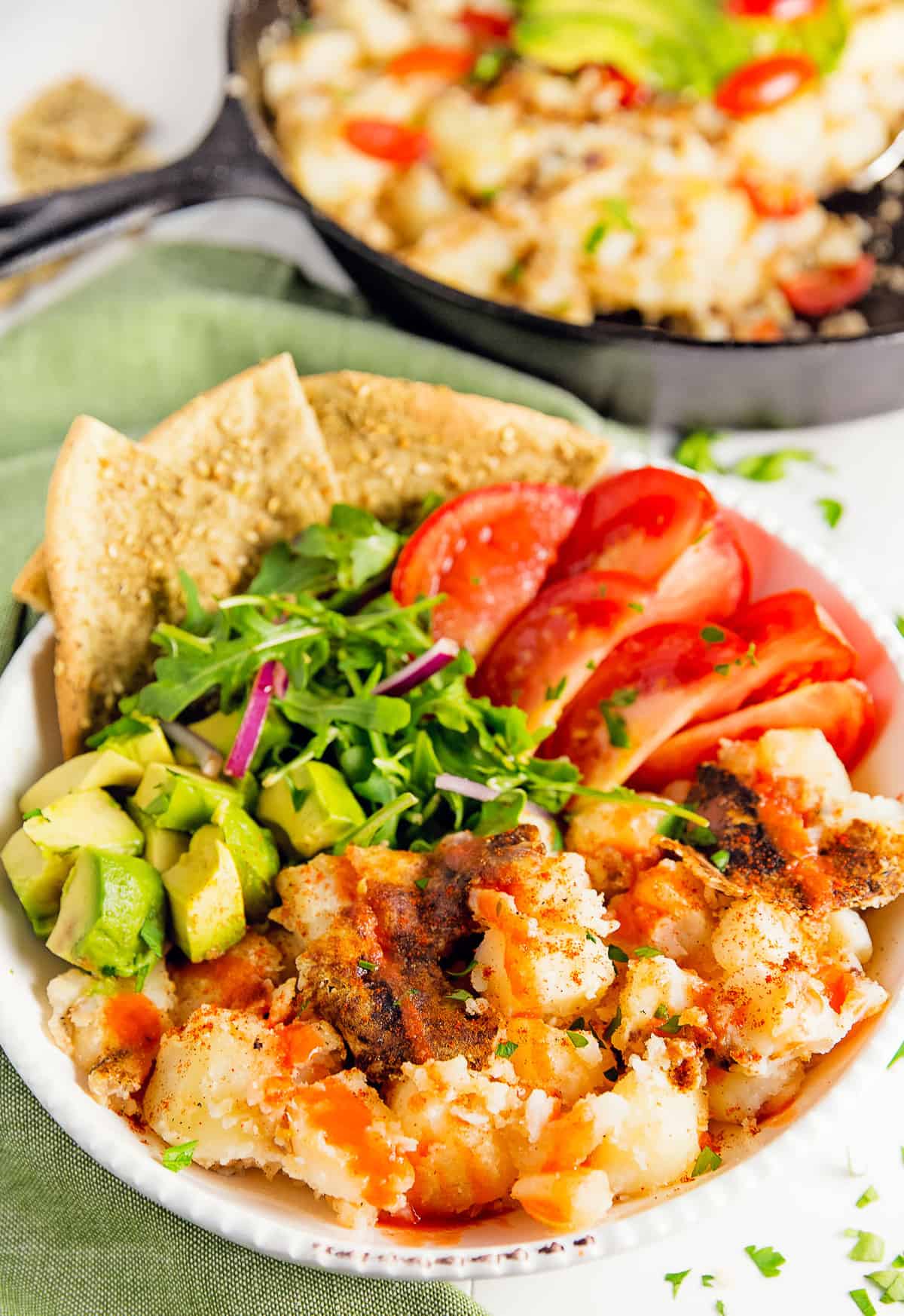 Anyone else all about that savory breakfast? We definitely enjoy this savory breakfast! Simplicity at its best, our crispy and incredibly tasty Hash Brown Potatoes are perfect for breakfast, lunch, or dinner. Packed with wholesome and healthy ingredients: tomatoes, arugula, avocado, hash brown potatoes, and some zaatar flat bread. You can never go wrong with this delicious bowl of beautiful tatars! Head on over and check it out!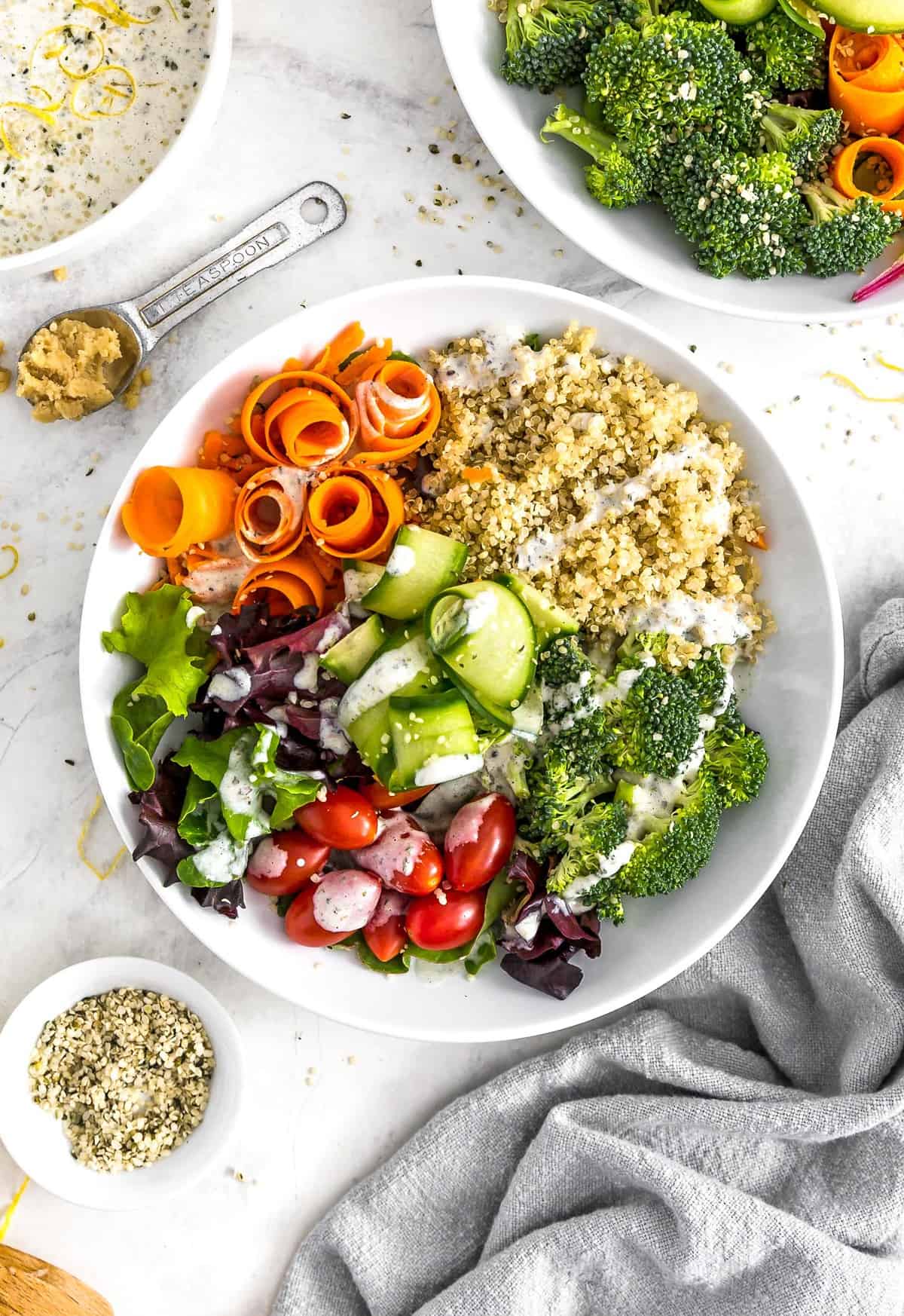 This homemade No Oil Lemon Hemp Dressing is all that and then some! Perfectly creamy, tangy, and fresh, this dressing is healthy, nutritious, and most importantly deeee-licious.  This super easy dressing can be whipped up in a jiffy and ready for veggie bowl drizzling! Head on over and check it out!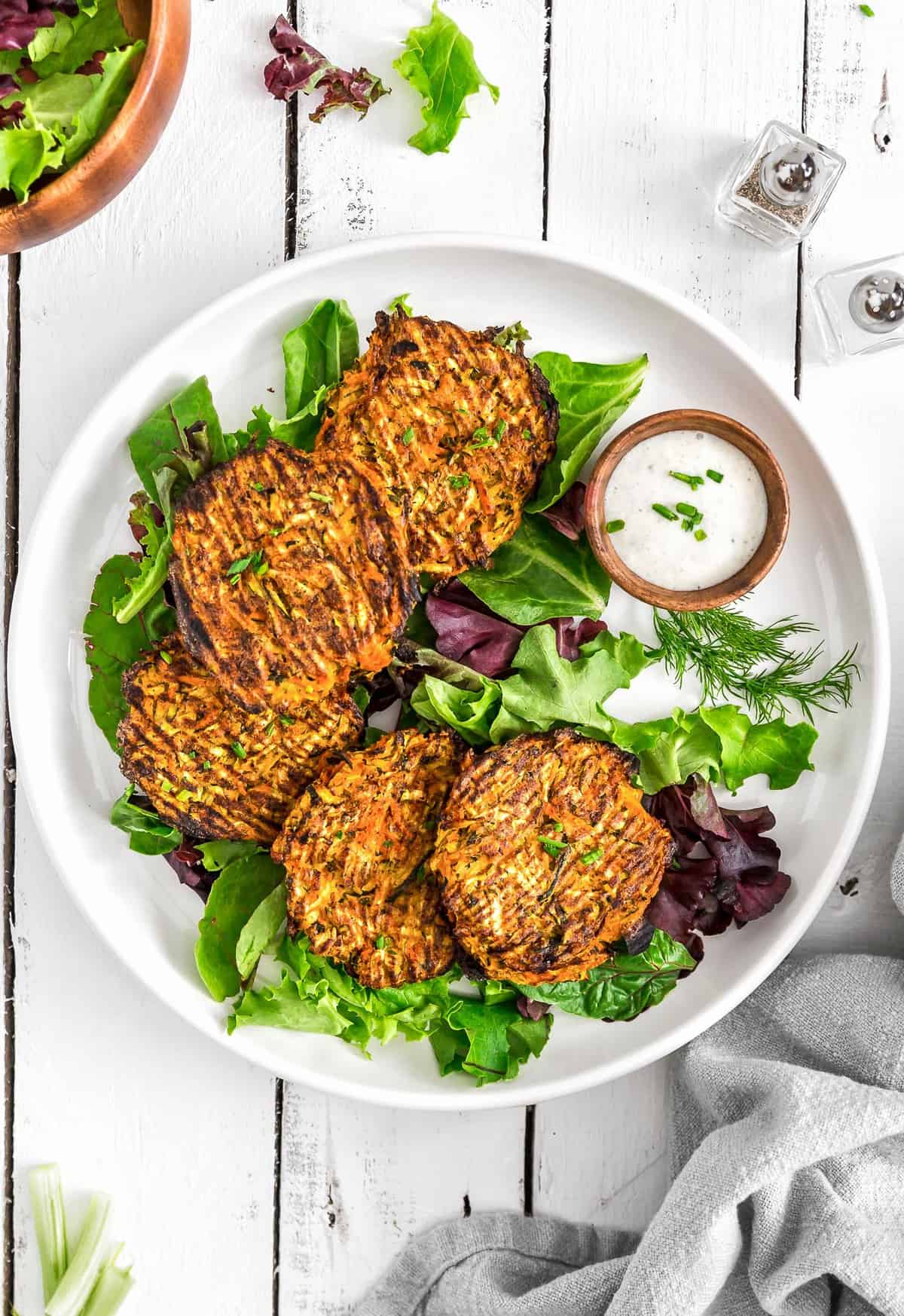 These perfectly crispy oven-baked zucchini fritters are packed with deliciously bold flavors.  Be prepared to take a ride to flavor town with one bite of these super tasty Buffalo Zucchini Fritters.  Grated zucchini and carrots tossed with hot sauce and the perfect blend of spices are baked to crispy deliciousness! Then topped with our Vegan Ranch Dressing is a match made in heaven.  A healthy wholesome dish with a lil' kick, the whole family will enjoy! Head on over and check it out!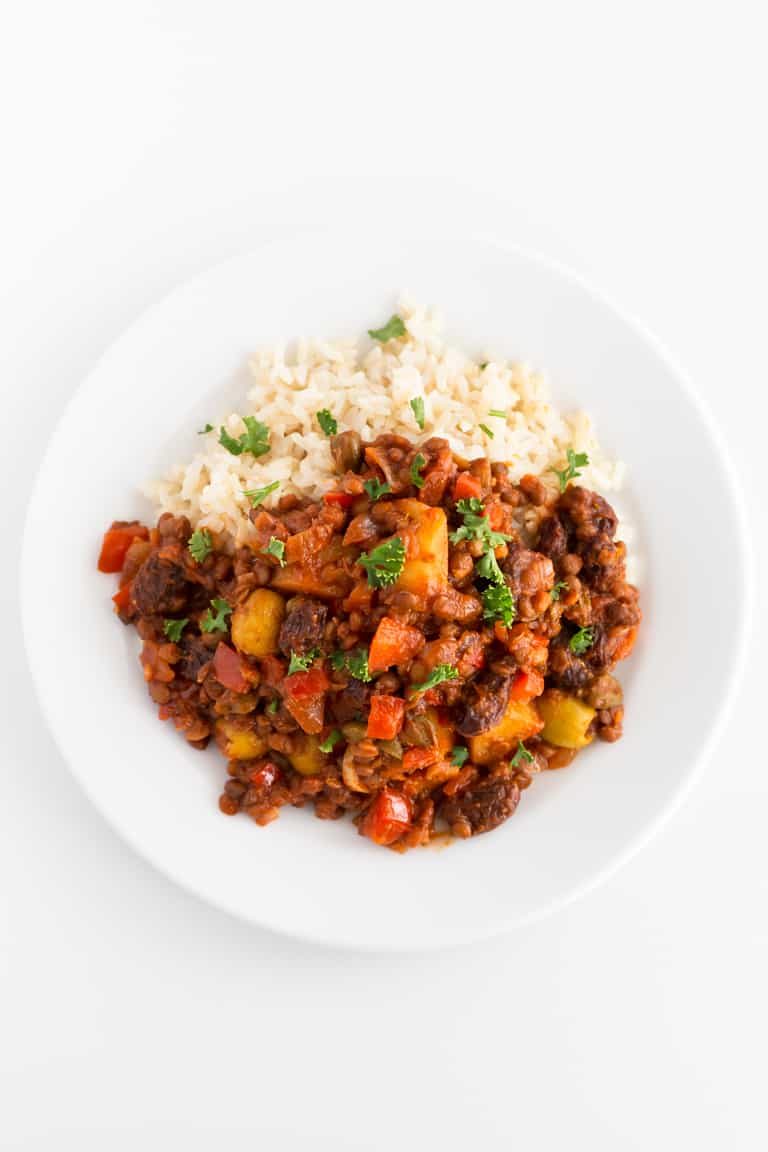 This beautiful cozy Vegan Cuban Picadillo dish is brimming with flavor! Lentils, potatoes, bell peppers, and green olives are just some of the healthy and wholesome ingredients that make up this fabulous meal. Perfectly seasoned with a little kick, this dish is sure to have the whole family running to the dinner table! Head on over and check it out!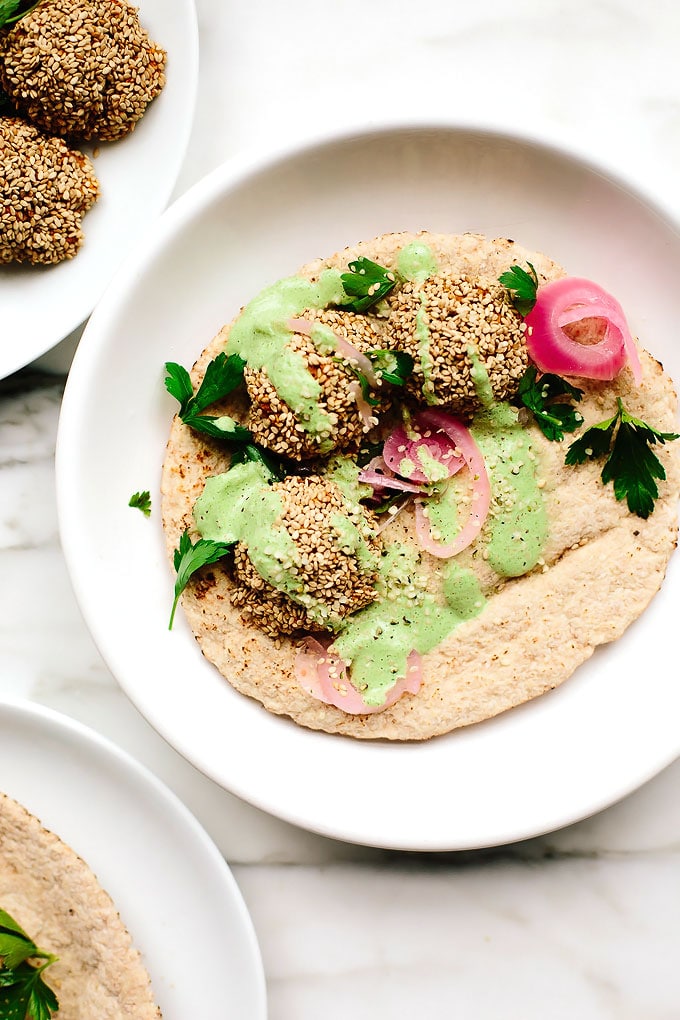 Grab a plate and get ready to dig into these gorgeous oven-baked gems! Packed full of nutritious carrots, parsley, cilantro, flaxseed, onions, garlic, and aromatic spices, these Vegan Sesame-Crusted Carrot Falafel are sure to please. Drizzle on creamy Green Tzatziki sauce for the ultimate experience! Head on over and check it out!
Sweet and savory dishes just make the tastebuds tingle with joy! This salad packs all those yummy flavors in this gorgeous fruit and veggie salad. Blueberries and Peaches shine in this beautiful and wholesome dish. Tossed in an aromatic Creamy Basil Salad Dressing for a ride through flavor town! Top with crunchy hazelnuts for the pièce de résistance. Head on over and check it out!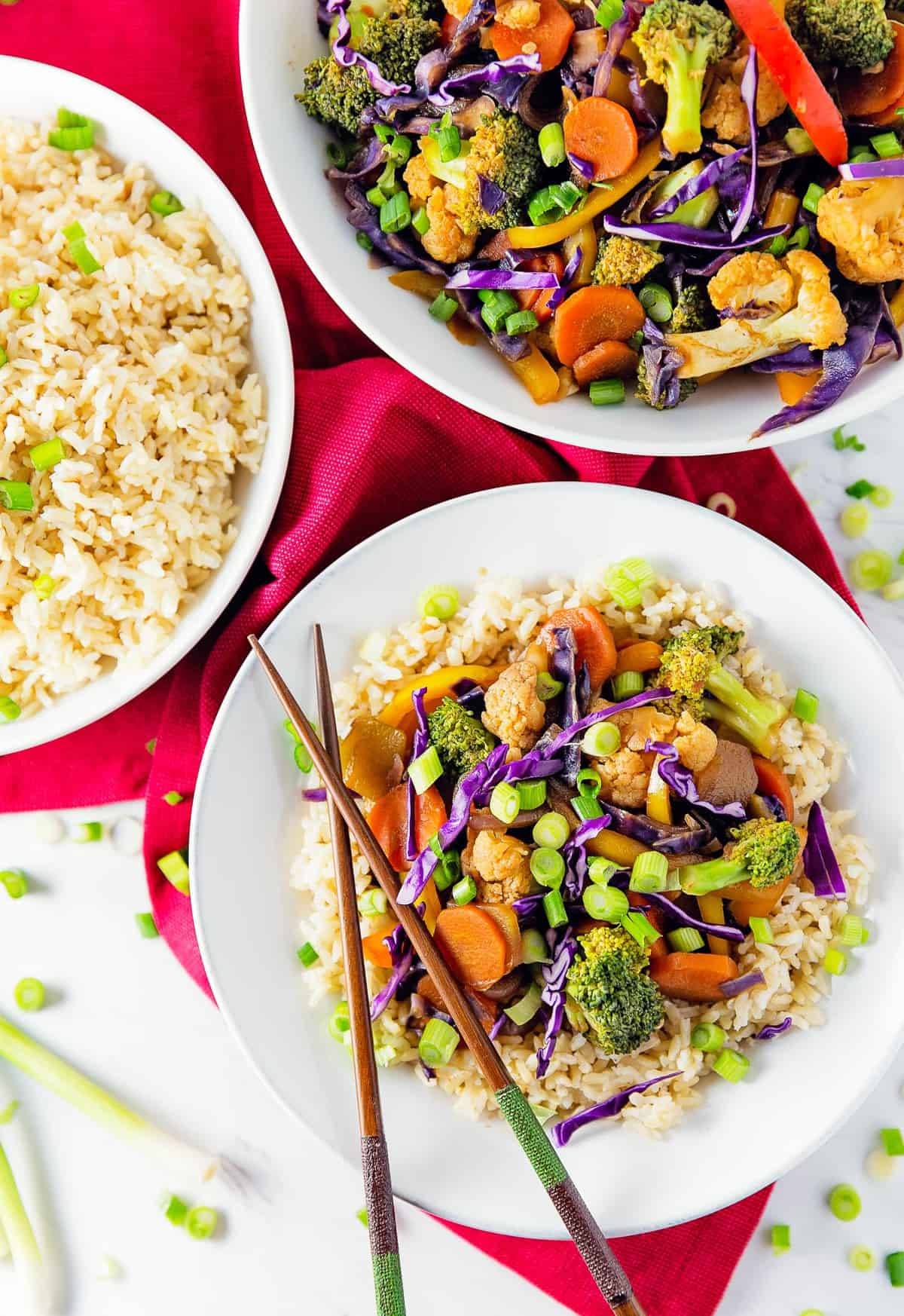 Bursting this flavor, this healthy and wholesome Thai Stir Fry is packed with delicious veggies and piled high on hearty brown rice. Delicious red curry paste, tamari, maple syrup and spices create a mouthwatering sauce that is sure to make you wanting more. It is super tasty, comes together fast, and oh-so-satisfying making it an awesome Whole Food Plant Based dinner the whole family will love! Head on over and check it out!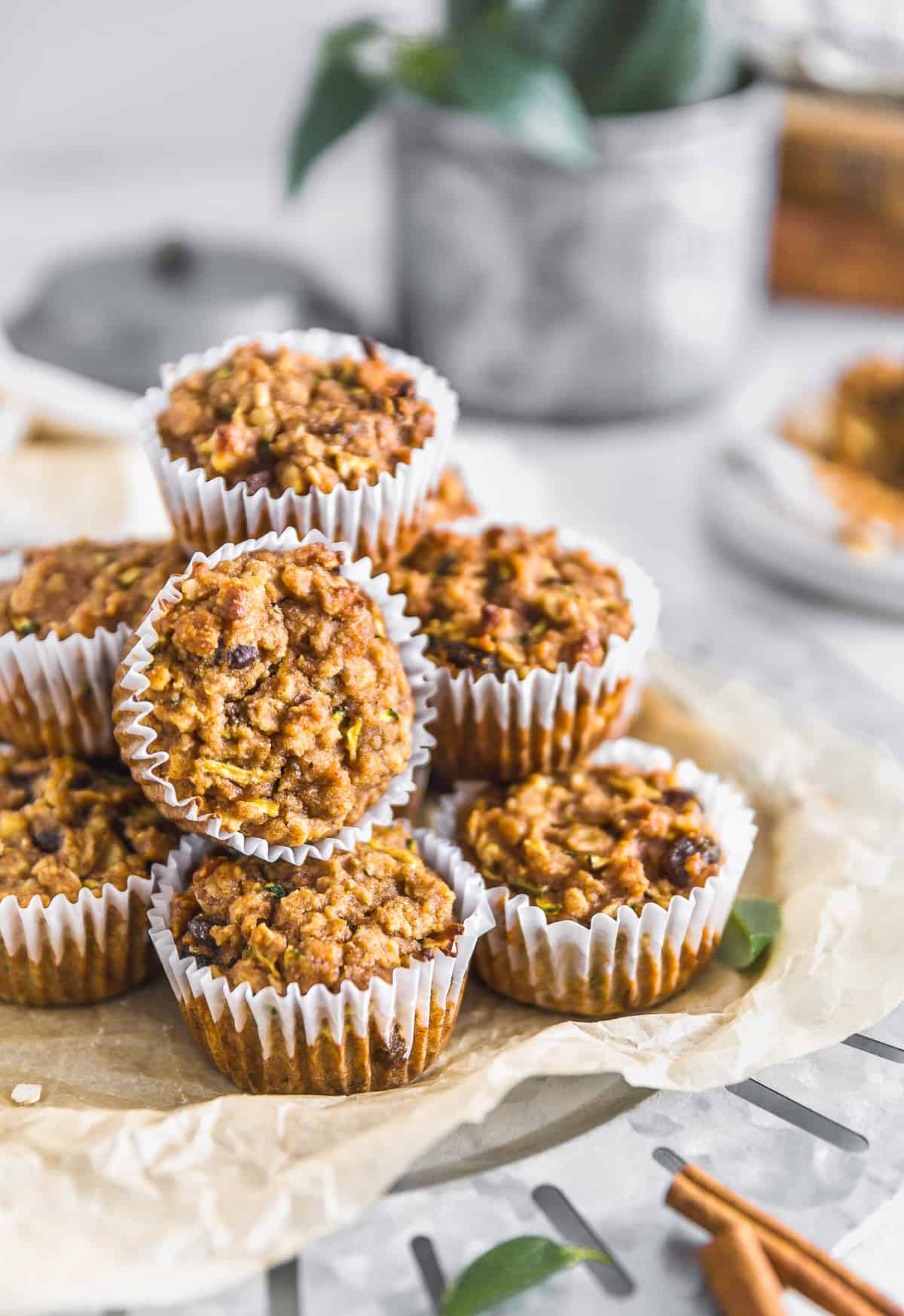 Perfectly tender with just the right amount of cinnamony goodness, these Vegan Zucchini Muffins are summer-loving in every bite.  Healthy and utterly delicious, you can be assured that these beauties are packed with flavor! Fresh zucchini, tender oats, crunchy walnuts, and sweet raisins create a yummy treat that is sure to please. Head on over and check it out!