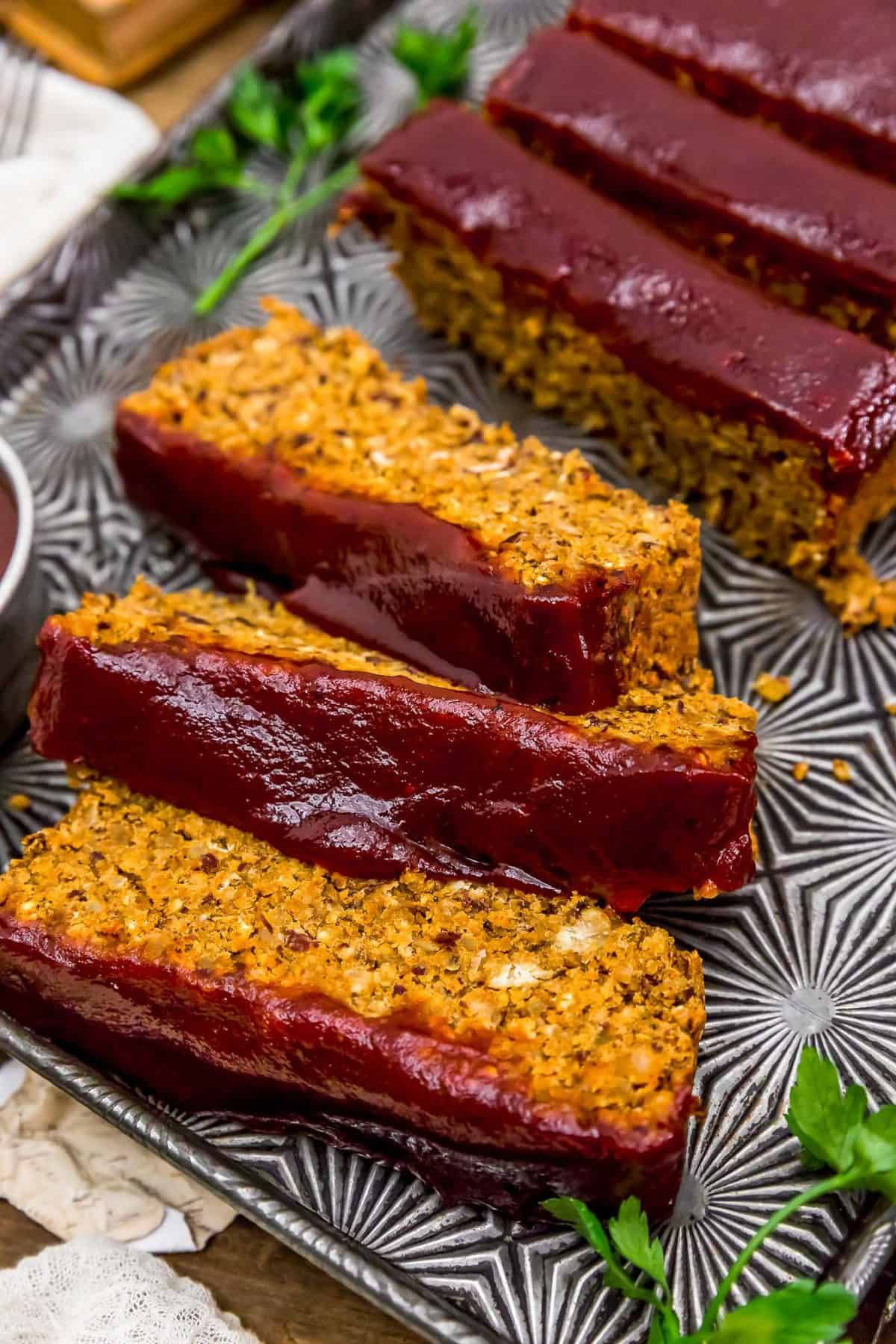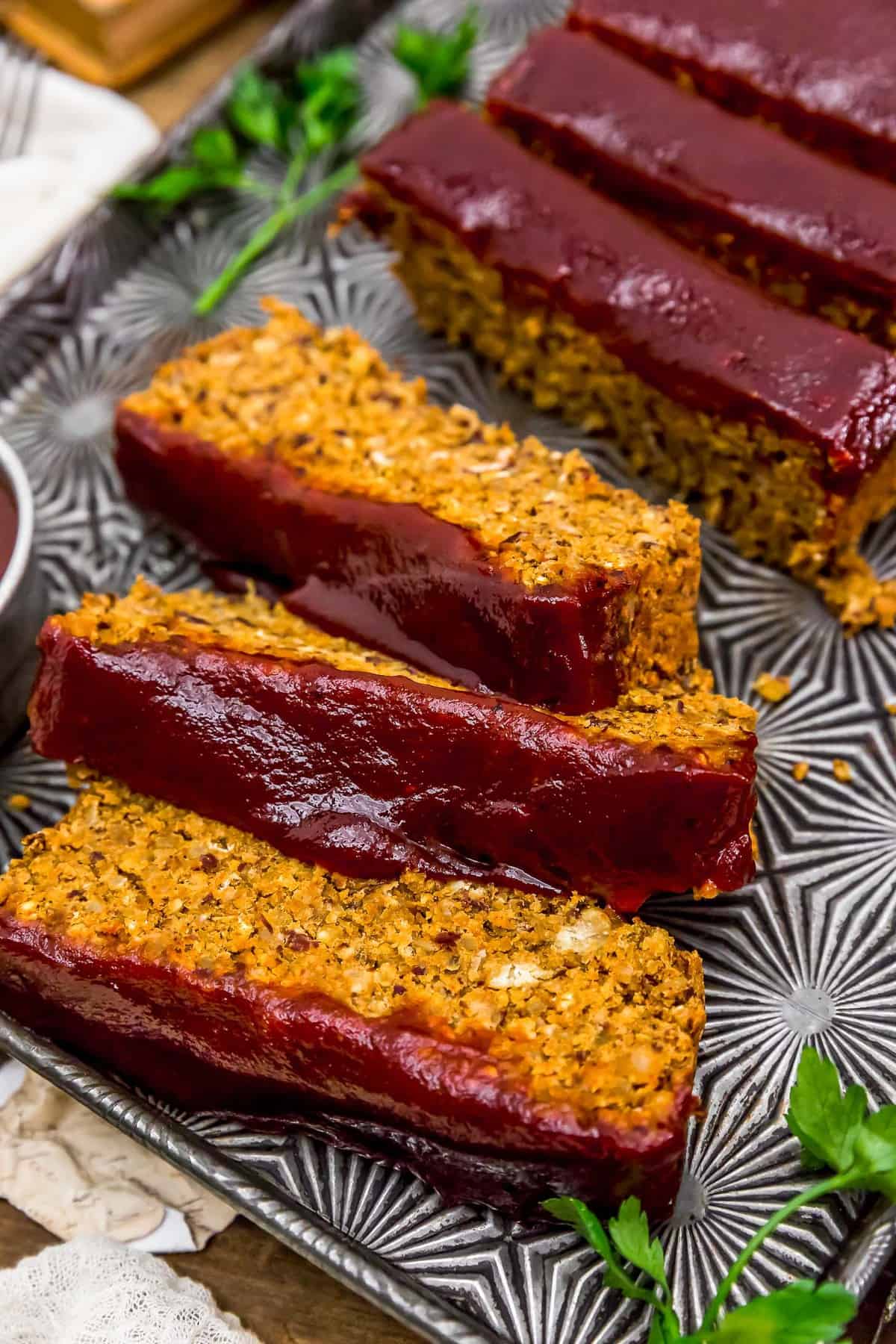 Let's talk veggie loaves, friends. We've got an irresistible, give me all the slices, BBQ Veggie Loaf that totally delivers in plant based goodness. Sweet, smokey, and sensational, our oil-free BBQ Veggie Loaf is bringing all those BBQ flavors in a wholesome loaf the whole family will love. Powerhouse veggies, protein-packed beans, and delicious BBQ spices all blend together creating beautiful textures and flavors. This flavor-packed veggie loaf is sure to become a new family favorite.
Whole Food Plant Based, Vegan, plant based, oil free, refined sugar free, no highly processed ingredients and gluten free.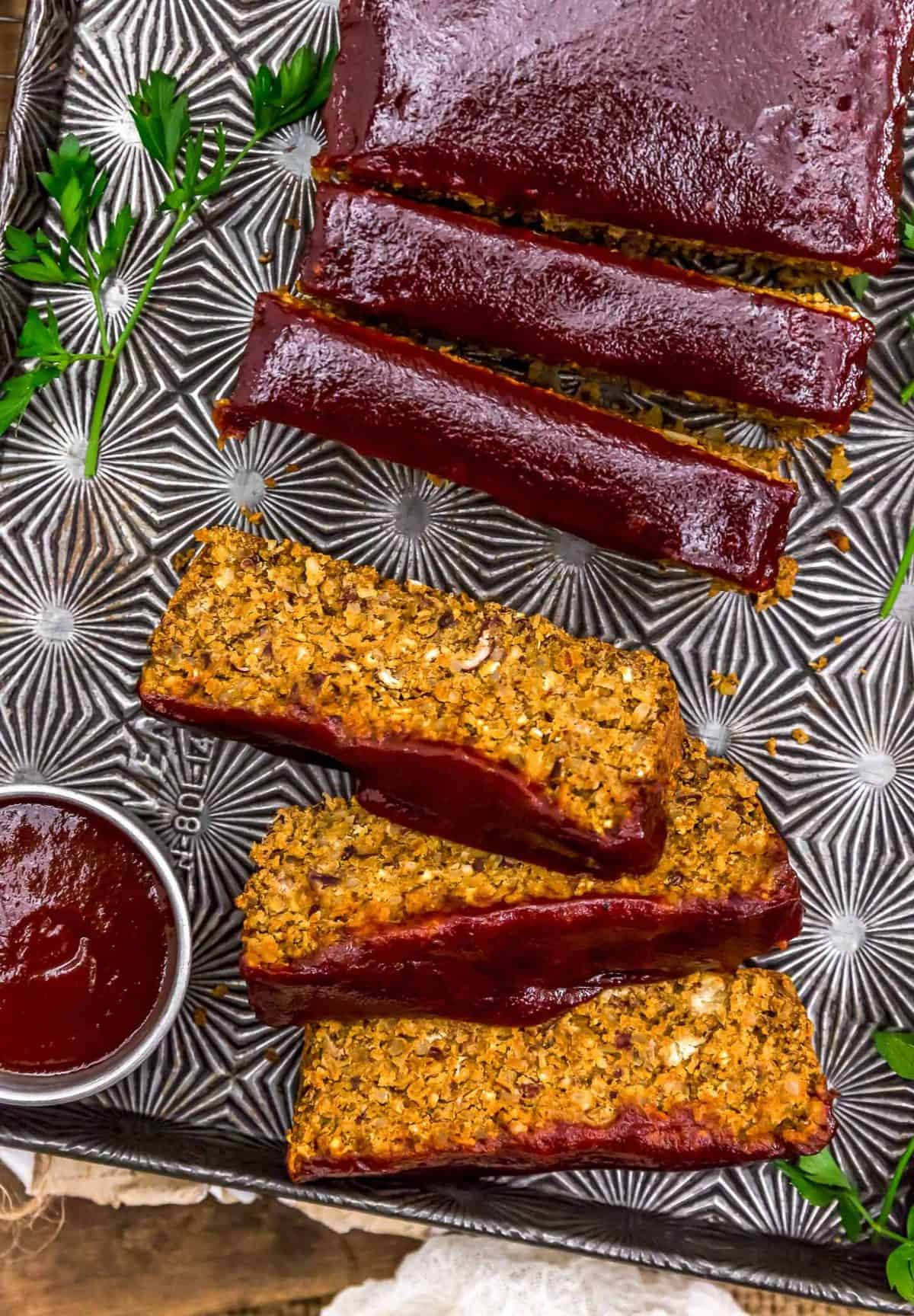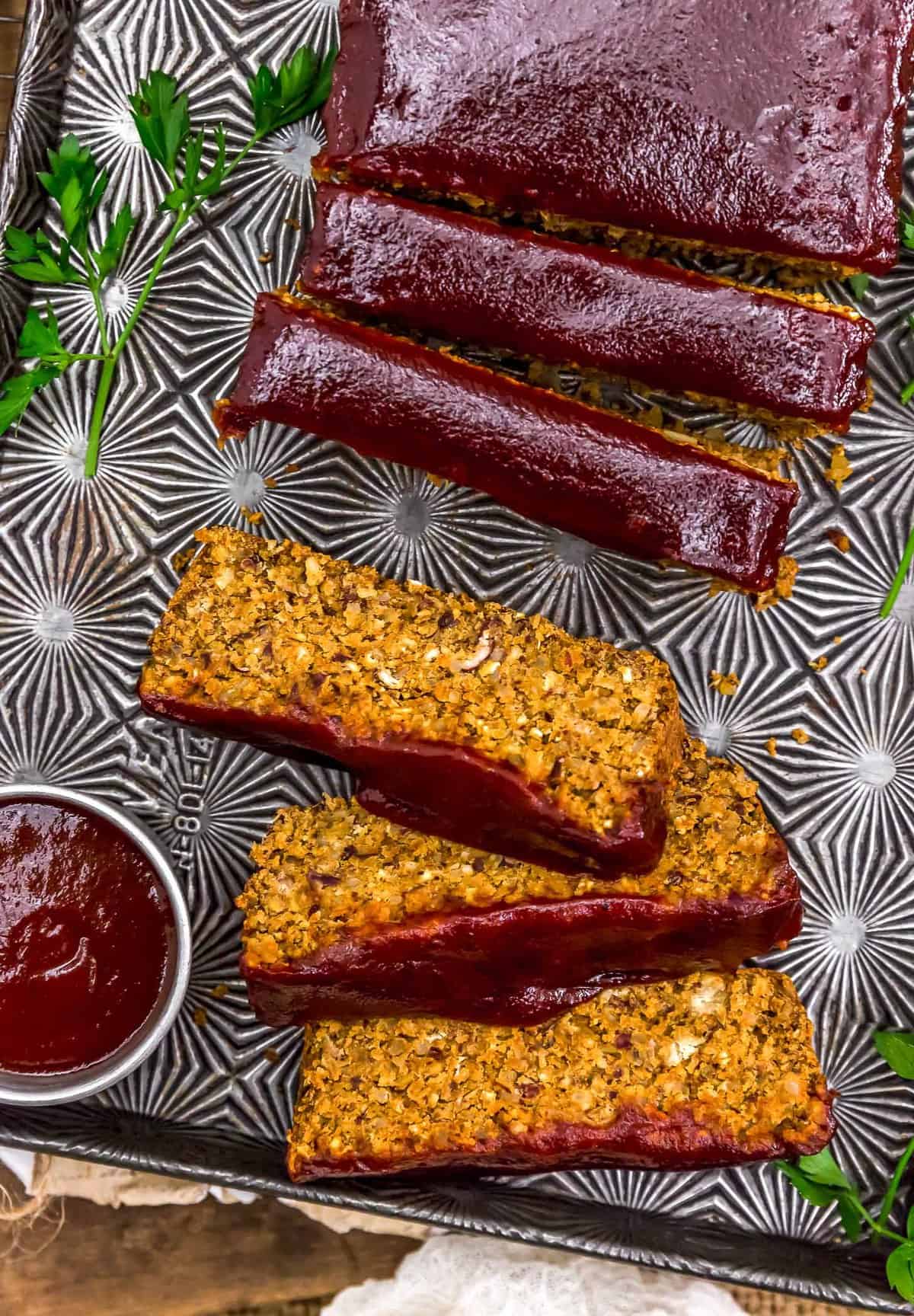 Hi there, Ameera here!
Mom and I are all about veggie loaves. We enjoy making them as much as we enjoy eating them. There is just something very satisfying when you unmold them from loaf pan, and they stand there in all their delicious glory just waiting to be sliced and plated.
Dad loves veggie loaves too.  He is all about us making as many as we can. I think he just loves them because they remind him of meatloaf (and of course, they taste amazing).  He loved meatloaf in his former life prior to eating Whole Food Plant Based.
If you are looking for more veggie loaf goodness, don't miss our awesome Veggie Loaf or our irresistible Harvest Veggie Loaf.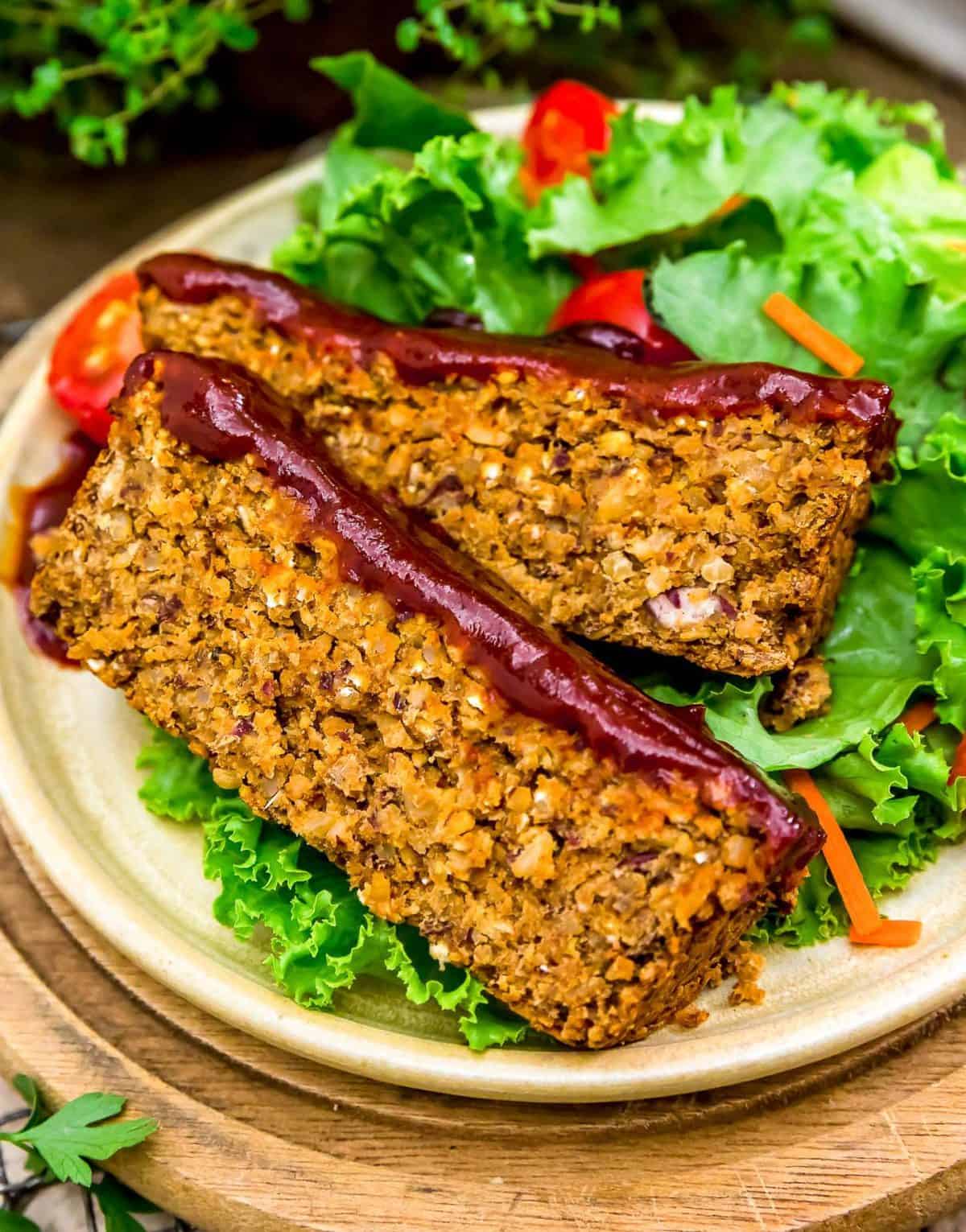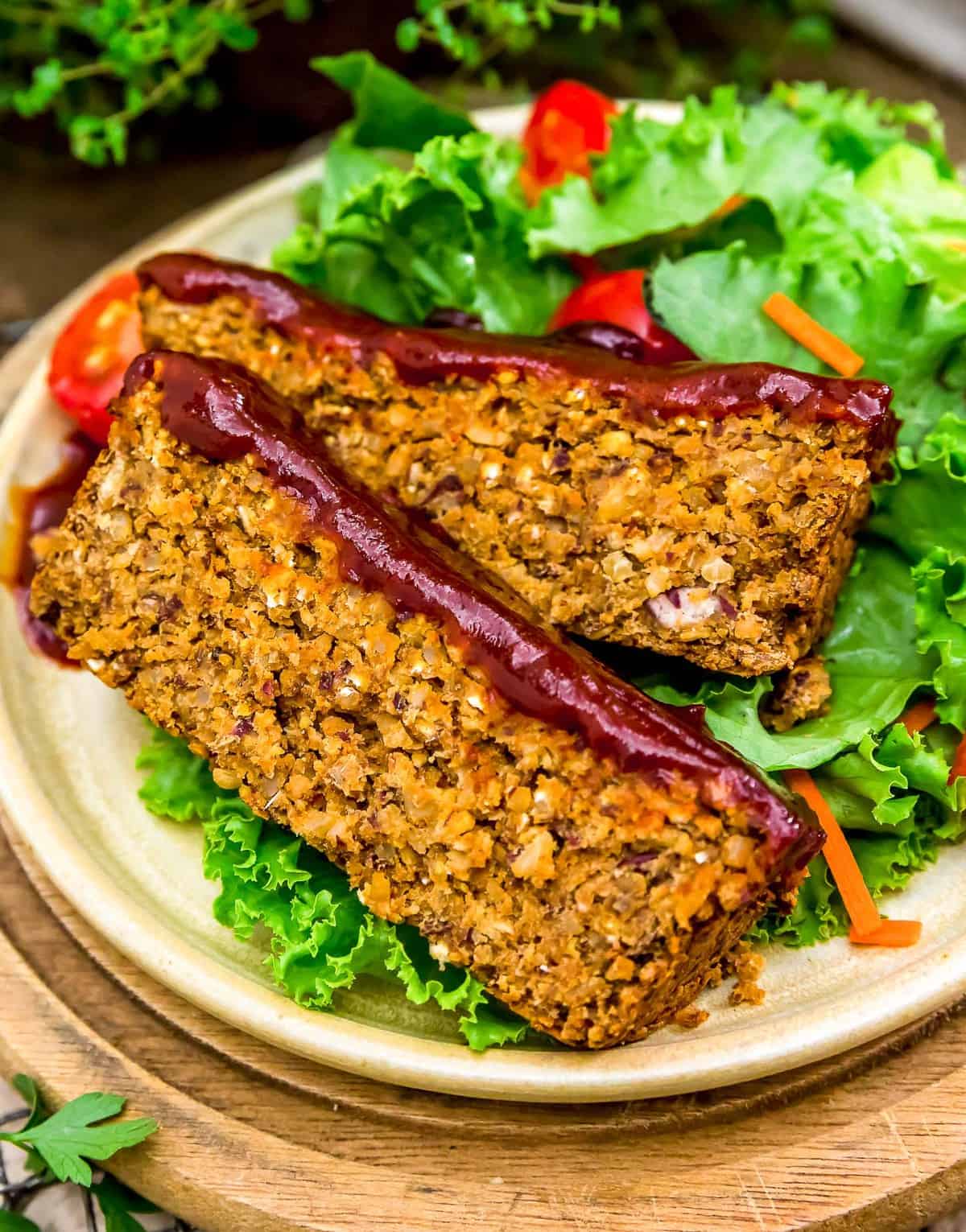 BBQ Sauce
This veggie loaf packs a POW of BBQ goodness. Two factors help create a symphony of BBQ goodness: spices and sauce.  We packed our BBQ loaf with all the traditional spices you would find in a BBQ sauce. This method helps to keep the moisture in the loaf to a minimum. The second is the delicious BBQ sauce slathered on top.
Make sure you use a flavorful sauce. You can use your favorite BBQ sauce, but we think our WFPB Sweet and Smoky BBQ Sauce is outstanding even if we do say so ourselves.  We are a modest crew, but we think our BBQ Sauce is the "bee's knees."
I'll let Mom tell you more.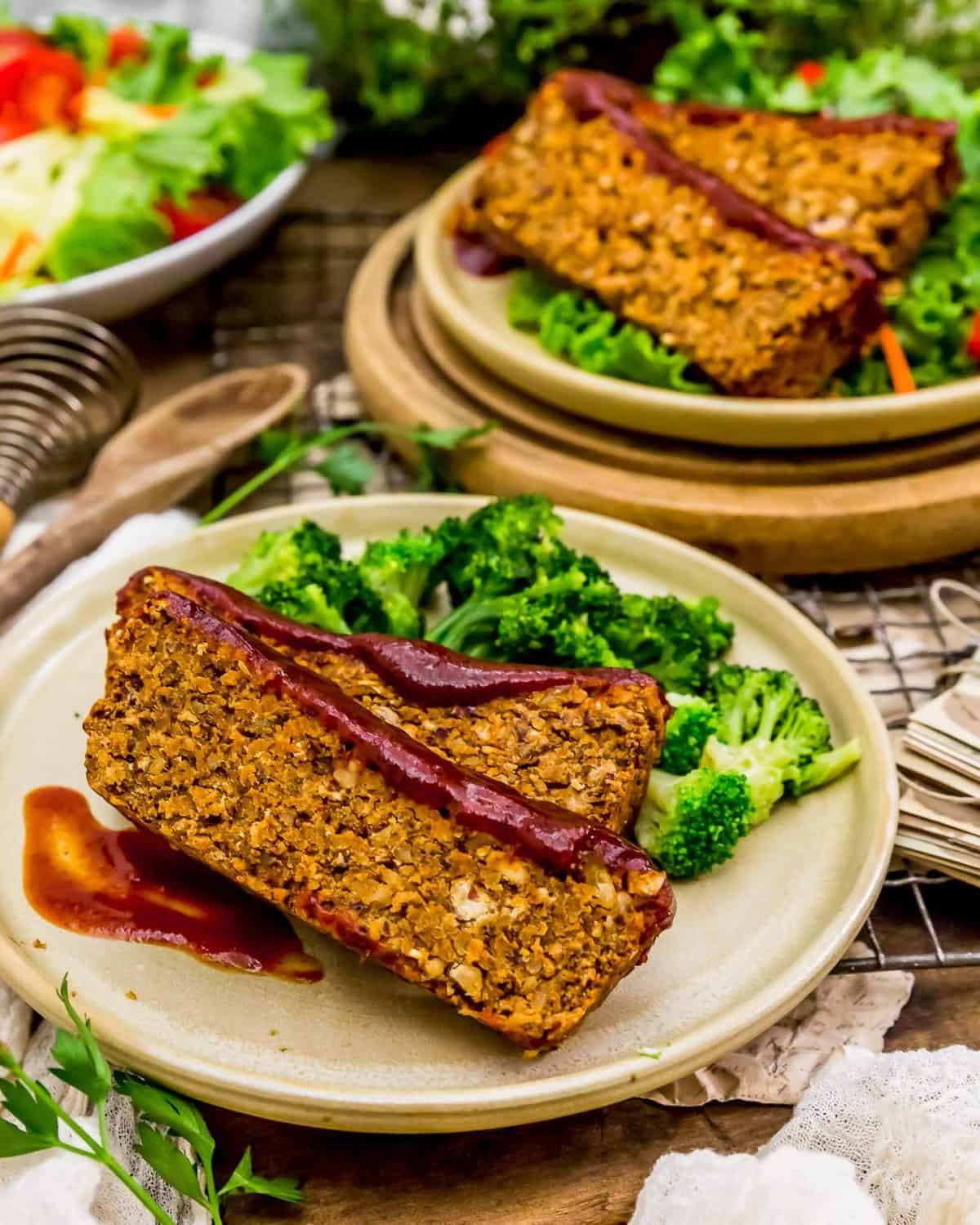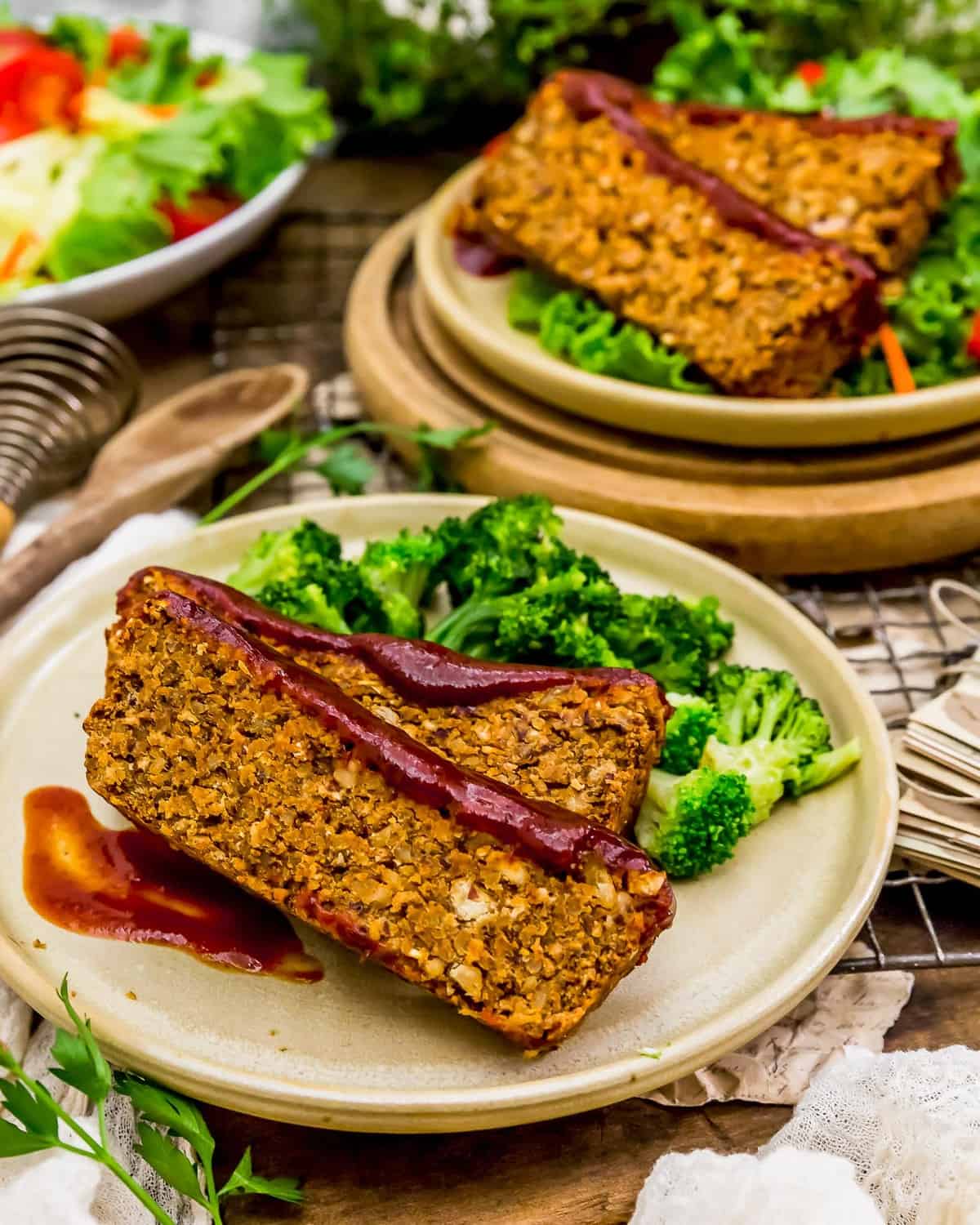 Hi!  Robin here.
I love me some BBQ!  When we developed this recipe, we kept trying to put the BBQ Sauce inside the veggie loaf, then Monkey had a revelation.
Let's stop trying to put the sauce in the loaf, and just put the BBQ spices into the loaf, and top it with the BBQ sauce instead of trying to put BBQ sauce in both the inside and on top of the loaf. This small change made all the difference. It's the perfect balance of texture, flavor, and comfort.
We would love for you to give this recipe a try!  We just know you are going to love it.
If you try this comforting dish, we would love to know if you enjoy it as much as we do! Please leave us a review! Post a picture on Facebook or Instagram and tag us!  We would love to hear from you.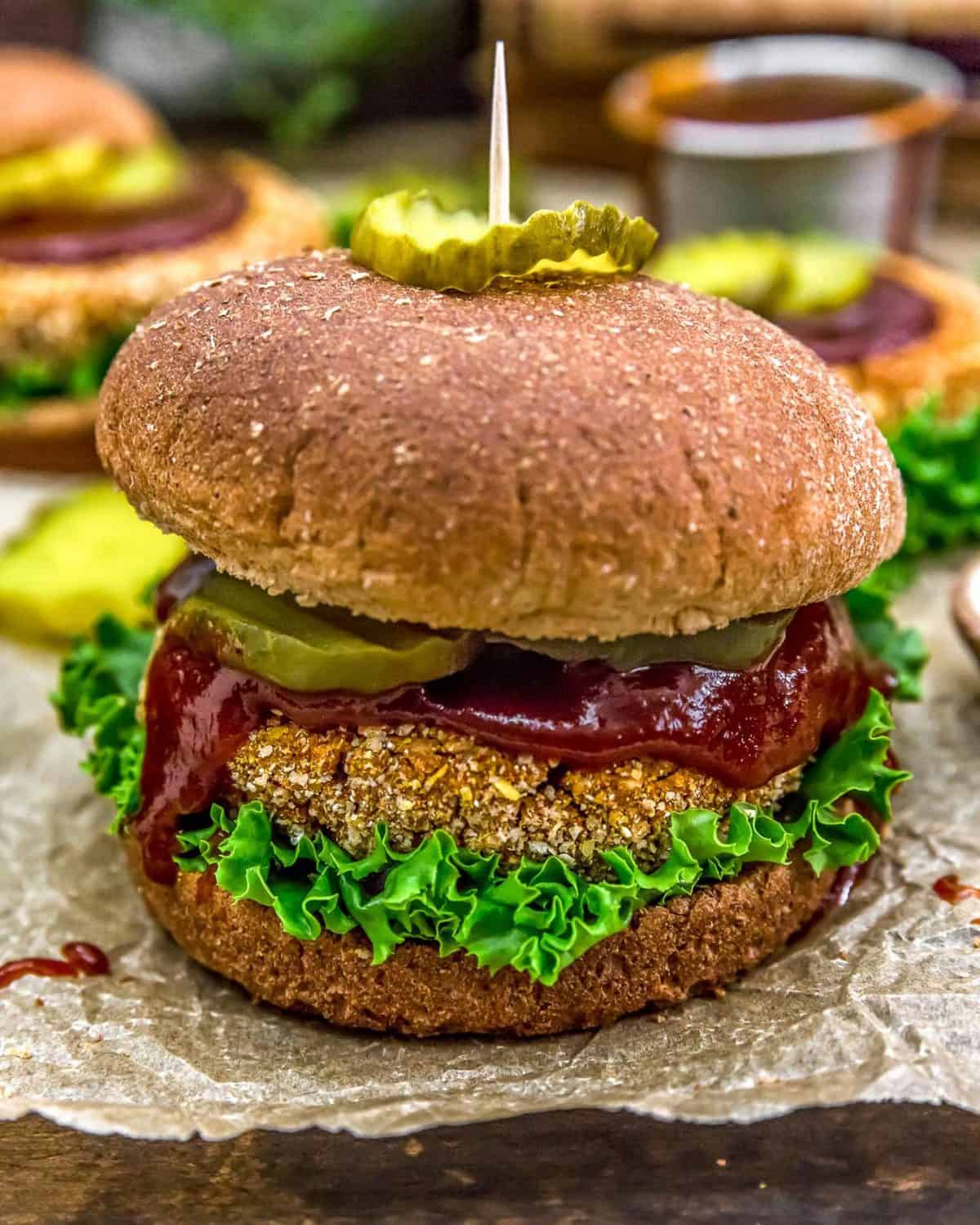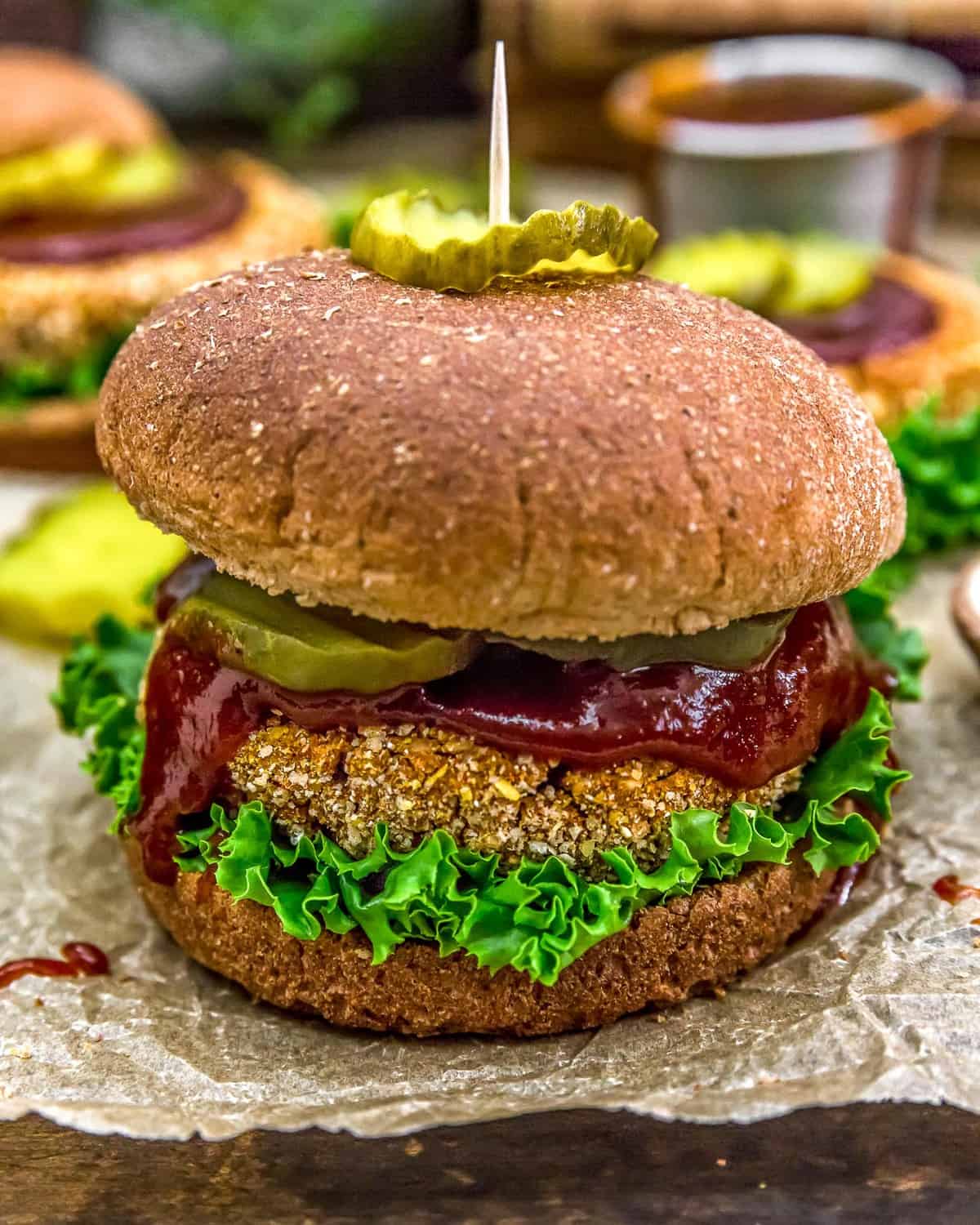 More Delish BBQ Recipes:
Products Used:
Food processor
Loaf pan
Parchment paper
Print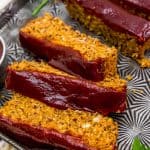 BBQ Veggie Loaf
Author:

Prep Time:

20 Minutes

Cook Time:

45 Minutes

Total Time:

65 Minutes (+Rest Time)

Yield:

1

Loaf (about

8

slices)

1

x

Category:

Dinner

Method:

Oven

Cuisine:

American

Diet:

Vegan
---
Description
Sweet, smokey, and sensations, our oil-free BBQ Veggie Loaf is bringing all those BBQ flavors in a wholesome loaf the whole family will love.
---
Ingredients:
1 cup

cooked brown rice *

1 cup

rolled oats *

½ cup

panko crumbs *

1

– [ 15 oz. ] can chickpeas, drained and rinsed

1

– [ 15 oz. ] can kidney beans, drained and rinsed

1 Tablespoons

minced garlic

2 Tablespoons

flax meal

3 Tablespoons

reduced-sodium tamari *

1 Tablespoon

tahini *

1 Tablespoon

maple sugar (or date sugar) *

2 Tablespoons

cornmeal

2 Tablespoons

nutritional yeast

2 Tablespoons

low-sodium vegetable broth *
Herb/Spice Ingredients:
1 teaspoon

onion powder

1 teaspoons

garlic powder

2 Tablespoons

dried minced onions

1 teaspoon

regular chili powder *

1 teaspoon

smoked paprika

1 teaspoon

sweet paprika
Pinch cayenne pepper

1 teaspoon

sea salt

¼ teaspoon

black pepper
Topping
---
Instructions
Preheat the oven to 400 F.
Line a loaf pan with parchment paper, including excess (see notes) and set aside.
Place all the Spice/Herb Ingredients into a large bowl. Then add the panko crumbs, flax meal, maple sugar, cornmeal and nutritional yeast into the large bowl with the Spice/Herb blend, mix well to evenly distribute, set aside.
Place the cooked and refrigerated brown rice and oats into a food processor and process just until slightly broken up, about 10 seconds, do not pulverized them.
Then add the chickpeas, kidney beans, minced garlic, tamari, tahini, and vegetable broth into the food processor with the chopped rice and oats, pulse off and on until the all the ingredients are mixed well, and the beans are broken up. Then place the mixture into the large bowl with the dry ingredients.
Mix well by using your hands until everything is well combined, and the spices/herbs are evenly distributed and sticks together.
Place the loaf mixture into the parchment paper lined loaf pan and press firmly. Really pack it in the loaf pan by pressing the mixture firmly with a rubber spatula or the back of a wooden spoon into the pan.  If you don't firmly pack it, the loaf could be crumbly and fall apart when you slice it.  Press hard to create a cohesive packed loaf that will stick together.
Place into the oven at 400 F for 30 minutes, uncovered.
After 30 minutes, remove from the oven and place the BBQ sauce on top.  Spread it out evenly and return the veggie loaf to the oven, then turn off the oven and shut the door for 15 minutes. The loaf will continue to bake as the oven temperature slowly decreases.
After 15 minutes has expired, remove the loaf from the oven and allow to sit undisturbed for 15 minutes.  This will allow the loaf to settle so it won't fall apart when slicing.
When ready to serve, use a thin edged knife and loosen any edges that are not covered by parchment paper.  This will ensure the loaf stays intact when removing it from the pan.  Remove the loaf from the pan, then slice and serve with additional BBQ on the side.
---
Notes
*Tips for Success:
Refrigerated Rice: It is important to use rice that has been cooked and cooled in the refrigerator.  Using freshly made rice will result in a gummy loaf.
Spice Distribution: Really get your hands into the mixture to ensure the spices are evenly distributed.
Parchment paper: Cut the parchment paper in a long strip allowing enough to hang over the long sides of the pan.  This will help remove the veggie loaf from the pan later.
Maple Sugar (or date sugar): You can use either maple sugar or date sugar. Note, we have had readers tell us that coconut sugar works well as a substitute for maple sugar.  We have not tested this recipe with maple syrup.
Tahini: We recommend room temperature tahini as it is easier to mix into the veggie mixture.  Refrigerated tahini tends to seize up and not mix well.
Slicing the loaf:  Allow the loaf to set for 15 minutes after removing from the oven before slicing.  Use a serrated knife to slice the loaf.  Wipe the blade clean in between slices. We run the knife under hot water, then wipe it clean in between slices to get beautifully clean slices.
*Notes Continued:
*Tamari: We used San J Tamari Soy Sauce, Gluten Free, Reduced Sodium.  You can substitute the tamari with reduced sodium soy sauce, Braggs Liquid Aminos, or Braggs Coconut Liquid Aminos.
*Rolled Oats:  Use whole grain rolled oats, not instant oats. We used Bob's Red Mill Rolled Oats (Whole Grain).
*Panko Crumbs:  We used Ian's Gluten Free Panko Crumbs.  Ian's does not contain oil, but it does have a small amount of sugar. It is generally accepted by the WFPB community.  You can also use your favorite WFPB panko or bread crumbs.  If using bread crumbs use slightly less than the 1/2 cup measurement to avoid a dry loaf.
*BBQ Sauce:  Our Sweet and Smoky BBQ Sauce works really well with this veggie loaf.  Please feel free to use your favorite BBQ Sauce.
*Vegetable Stock:   We use Pacific Organic Low Sodium Vegetable Stock. We love this brand because it is Whole Food Plant Based compliant, as it does not contain MSG, has no oil, and does not contain any highly-processed ingredients.
*Chili Powder:  Chili powders come in varying degrees of heat as well.  We prefer Penzeys Regular Chili Powder.  It has great flavor without the heat.  Feel free to use your favorite chili powder.
*Sea Salt:  Please adjust the sea salt based upon your family's sea salt preferences and/or based upon dietary needs.
Servings:  Makes one loaf-sized veggie loaf. About 8 slices. Serves about 4-6 people.
*Storage: Refrigerate for up to 4 to 5 days.  Freezes well.

This post contains affiliate links, and we may receive a very small commission if you purchase through those links at no additional cost to you. Thank you for supporting Monkey and Me Kitchen Adventures! For more information, see our disclosures here.