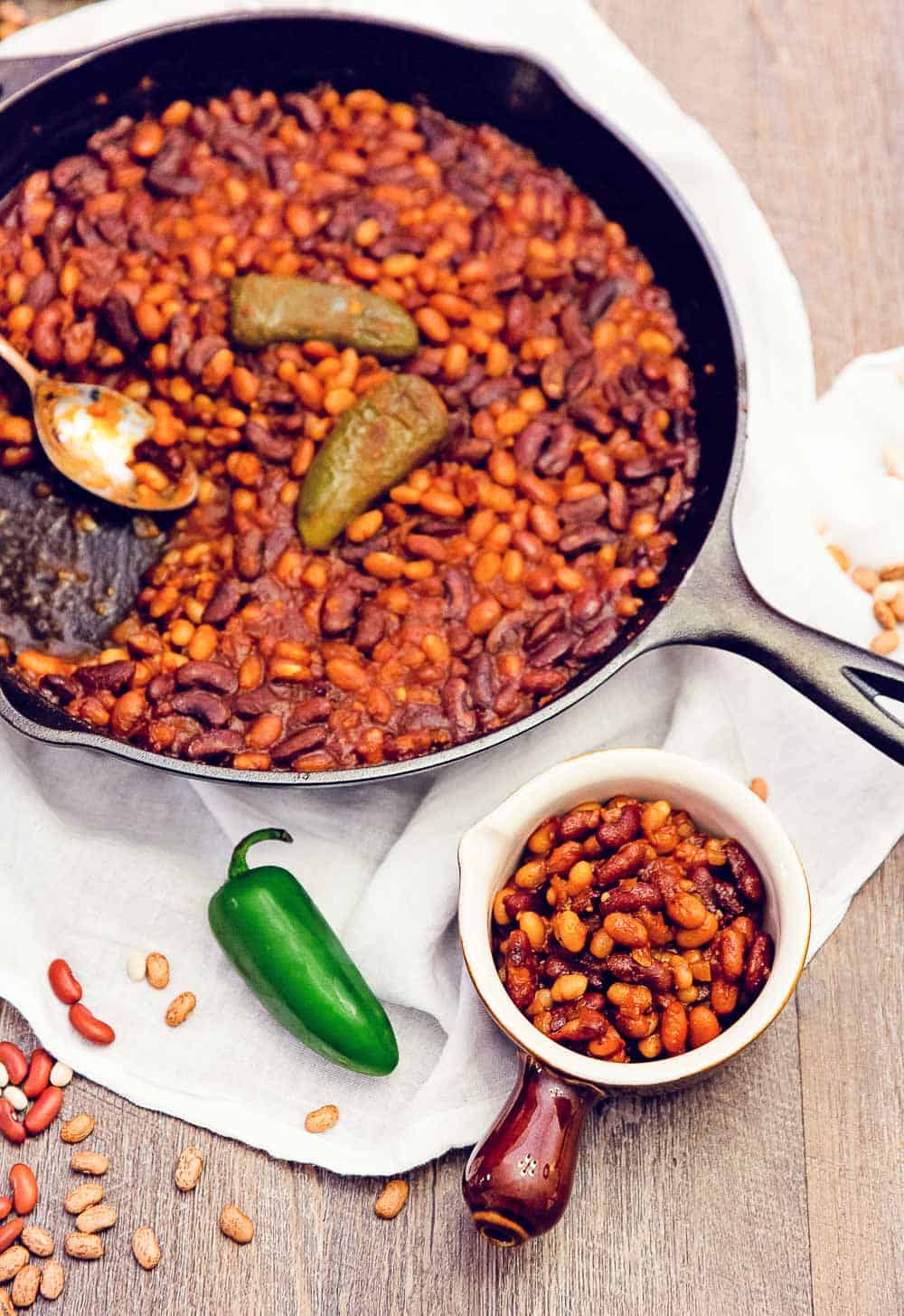 This BBQ Baked Beans recipe is super easy and packed with flavor, and it's healthy and delicious – BONUS!  It is the ultimate side dish and perfect for summer barbecues or as a new family favorite. Whole Food Plant Based, no oil, no refined sugar, and gluten free.
Hi!  Robin here.
While growing up, we rarely had baked beans and when we did, my mom would doctor up canned baked beans.  They were still really yummy, but typically she would buy several large cans of baked beans, and then added a bunch of ingredients: ketchup, mustard, brown sugar, onion, bacon, chopped up hot dogs, etc.  Who remembers their mom putting chopped up hot dogs in their baked beans?  They were so good.  It wasn't until years later that I realized how much fat, sugar, and sodium are in baked beans, not to mention what goes into hot dogs! :O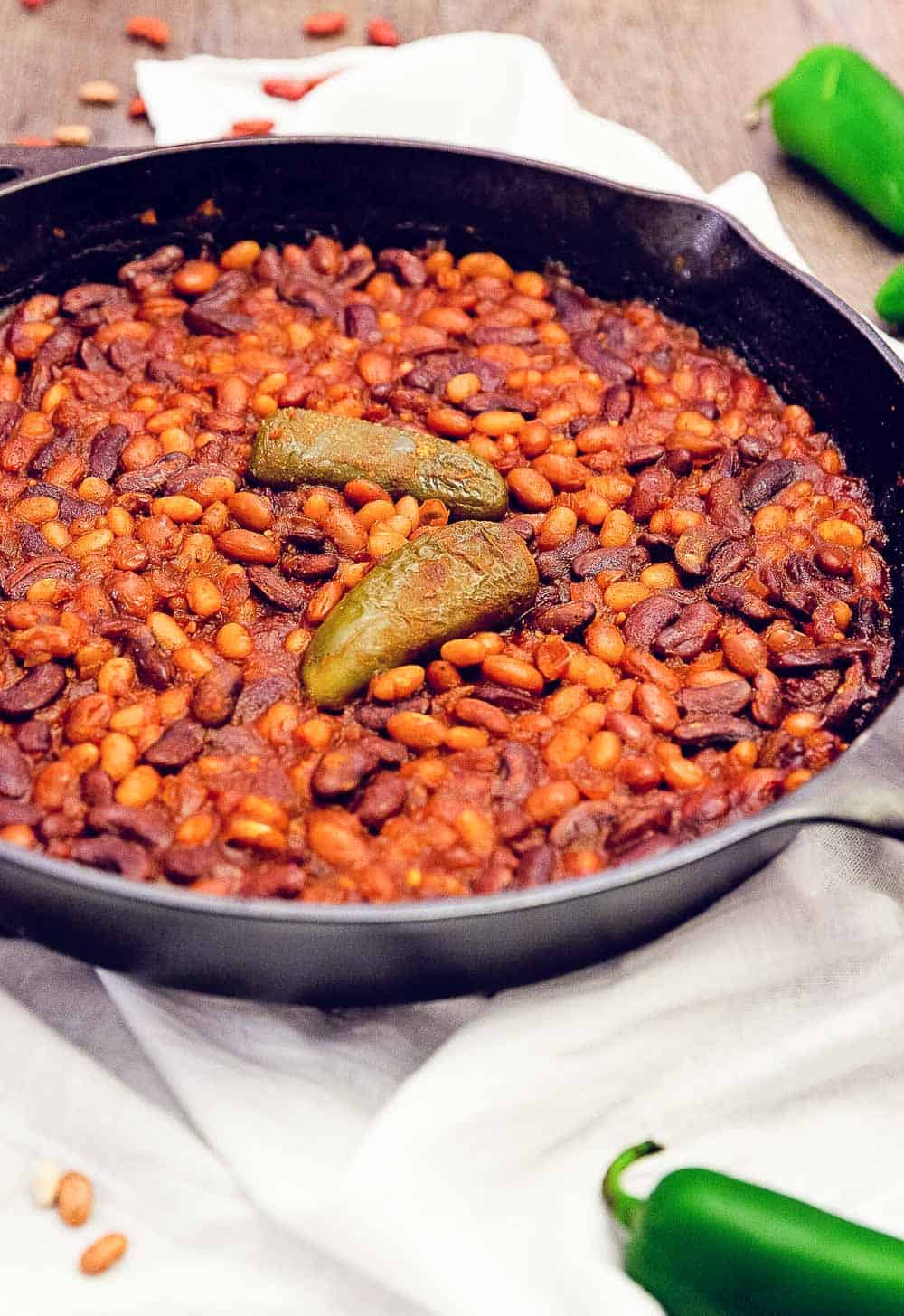 On a whole food plant based diet, the goal is to use whole foods, no oil, no refined sugars or flours, and minimally processed to no processed ingredients.  I love this recipe because it was fun to make and super easy.
Bean Research
If you are like me, you enjoy using dried beans.  They are so economical.   Dried beans (and canned) do require some additional research for those of us that have a gluten dietary restriction as you need to find beans (both canned and dried) that are processed in a gluten free facility.  Beans, by nature, do not contain gluten, but a lot of beans are processed in facilities that also handle wheat, so if this is a concern, you may have to do a little research before purchasing beans.
We are super lucky as our local grocery store carries brands (both dry and canned) that are processed in certified gluten free facilities.  If you aren't as lucky, you can typically order both off Amazon.  I've order 10 pound bags of beans off Amazon before and then vacuum sealed them in half-gallon mason jars! 😀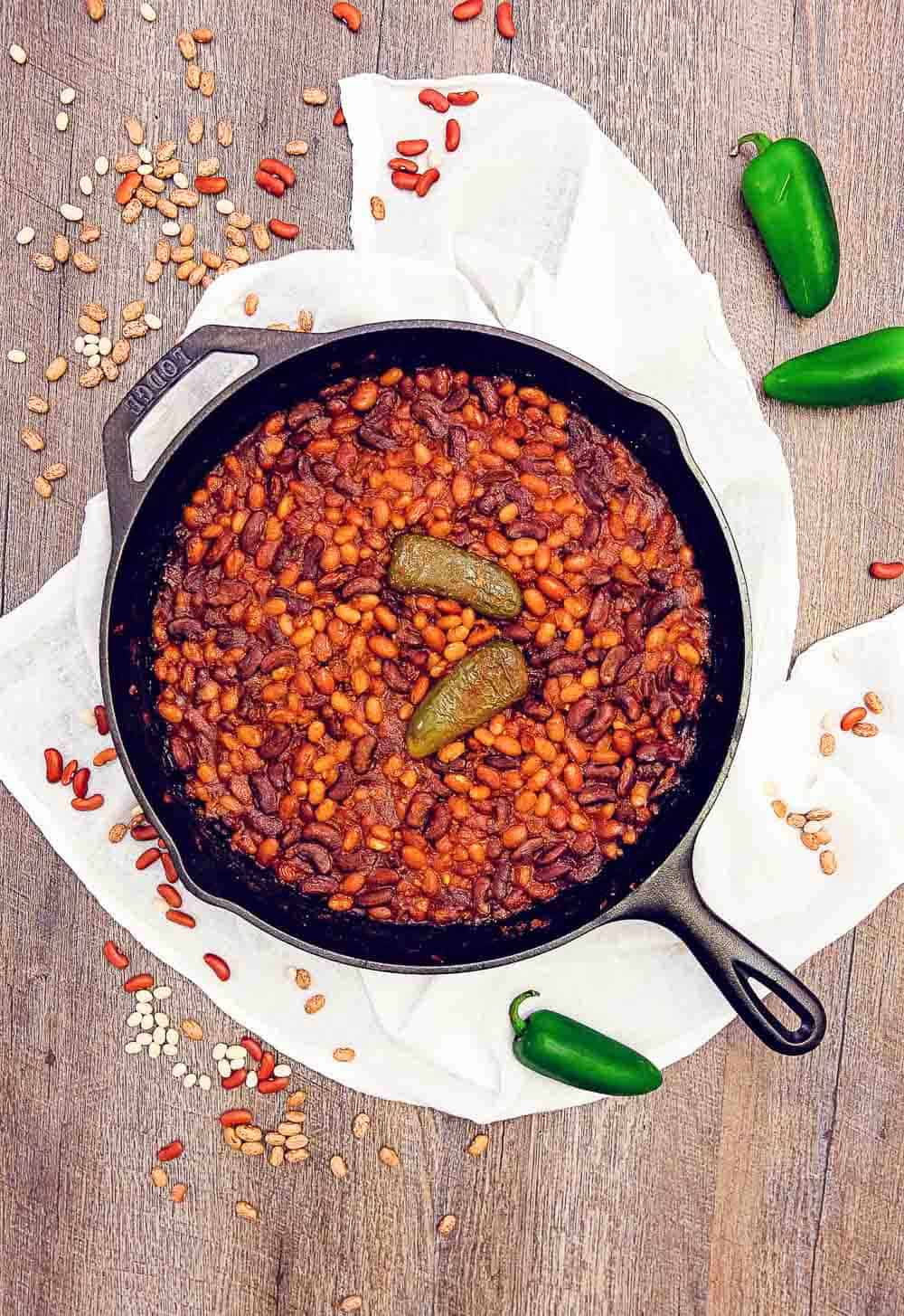 I think Amazon must love us because we order tons of stuff.  You can find some really good deals there, including food items that you can't find at your local grocery store. Michael is obsessed.  He orders everything off of Amazon.  On any given day, the UPS truck stops at our home.  We are on a first name basis with our UPS truck driver.  Shout out to Dave from UPS.  We love you man! 🙂
Sorry, I digress, back to the baked beans!
Cast Iron Skillet
One of the things I love about this recipe is using a cast iron skillet.  I don't use it all that often because cast iron skillets require seasoning with oil.  "Wait, I thought you said no oil is allowed Robin!"  And you would be correct.  However, I remove the oil seasoning right before I cook in it.  I put water in the skillet and really wipe it down to ensure that the skillet doesn't have any oil residue.  I really wipe it clean, like super clean.  This way I feel comfortable that I have succeeded in removing all the oil. The cast iron skillet will look dull.
Additionally, you will also note that the vegetables may stick when dry sautéing them, so you may find yourself adding a little water to prevent the vegetables from sticking.
You might be thinking why bother then?  The reason is because I simply love cast iron skillets and their versatility of moving from the stove-top to the oven.  Of course, you can skip all of that and dry sauté your vegetables in the skillet of your choice and then move the contents to a casserole dish to bake. But when I can use one pot, it's a total bonus.
We love this recipe.  It is so tasty and everyone who has made it has commented on how awesome it is which makes us really happy.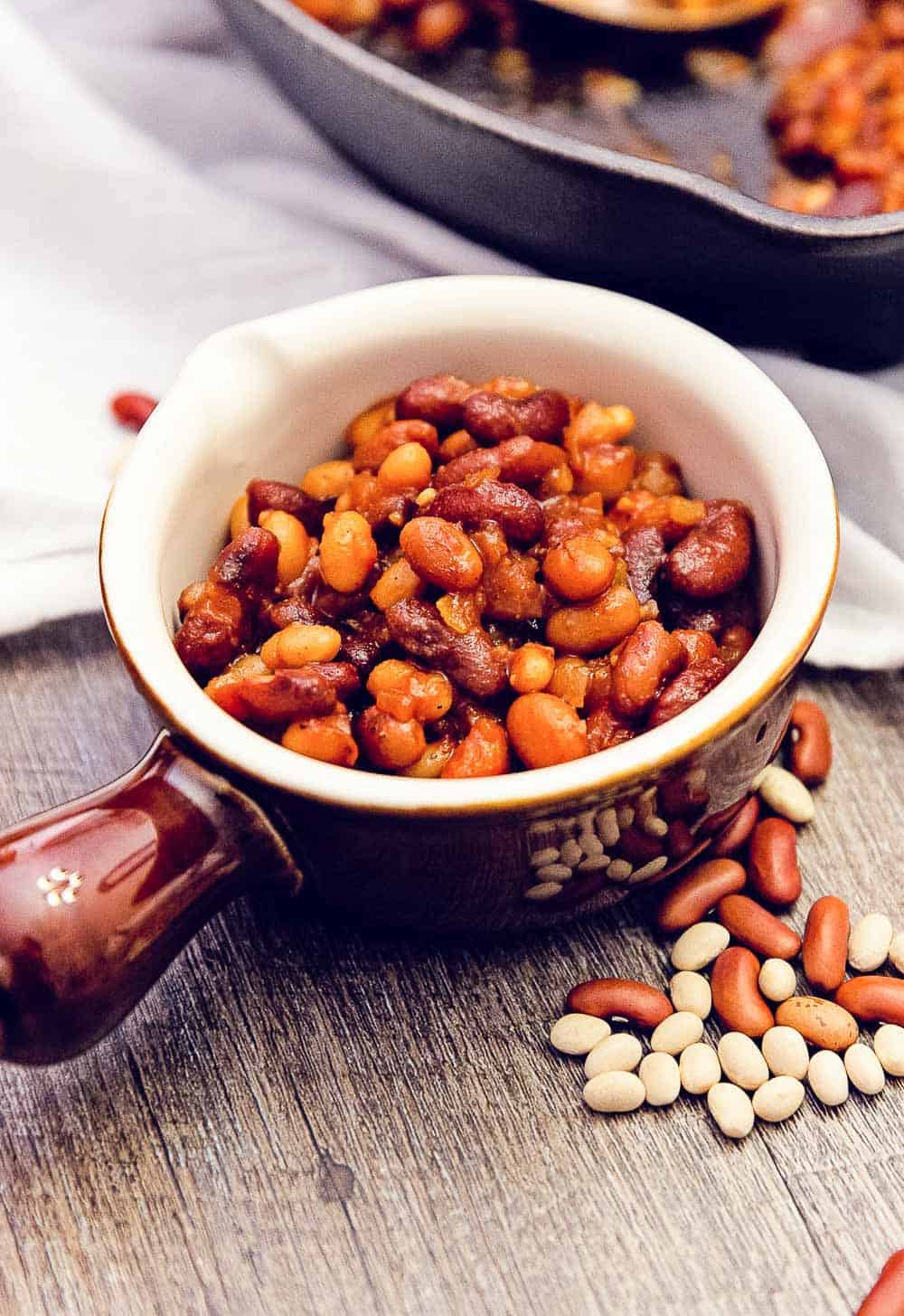 Ameera here!
When I think of baked beans, I think of summer.  For our family, baked beans was a classic picnic side dish, but it never expanded outside of the picnic realm. I can easily say that this one has made its way into our monthly rotation of recipes due to its BBQ flavor and yumminess.
We recently made it for Chris, Katie, and Charlotte. They all loved it.  A simple and healthy Whole Food Plant Based take on an old classic comfort food. We hope you give it a try.


Print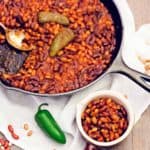 BBQ Baked Beans
Author:

Prep Time:

5 minutes

Cook Time:

50 minutes

Total Time:

55 minutes

Yield:

4

-

6

Servings

1

x

Category:

Side

Method:

stove top, oven

Cuisine:

American
---
Description
This recipe is super easy and packed with flavor, and it's healthy and delicious – BONUS!  It is the ultimate side dish and perfect for summer barbeques or as a family favorite. Whole Food Plant Based, no oil, no refined sugar, and gluten free.
---
1

large yellow onion, fine dice

1 Tablespoon

minced garlic

¼ cup

tomato paste

3 cups

water

½ cup

organic maple syrup

1

–

15.5

oz. can kidney beans, drained & rinsed

1

–

15.5

oz. can navy beans, drained & rinsed

1

–

15.5

oz. can pinto beans, drained & rinsed
Herb/Spice Ingredients: 
1 Tablespoon

smoked paprika

½ teaspoon

chili powder

½ teaspoon

dried ground mustard

½ teaspoon

onion powder

½ teaspoon

garlic powder

1 Tablespoon

dried minced onion flakes

1 teaspoon

sea salt (+/- to taste)
Other Optional Ingredients:
1

small jalapeno pepper, cut in half, seeds removed – optional *
---
Instructions
Preheat the oven to 350 degrees F.
Place all the Herb/Spice Ingredients into a small bowl, set aside.
Over medium heat, sauté the diced onion in an oven-safe large skillet until tender, approx. 5 minutes.
Add the minced garlic to the skillet, and sauté for 1 minute, then add the tomato paste, cook for one minute, then add the Herb/Spice Ingredients, sauté for 30 seconds to release their fragrance.
Add 3 cups of water and maple syrup to the skillet, turn up the heat on the burner, and bring to a low boil, then turn the heat down to a simmer. Simmer for 3 to 4 minutes.
Then add the beans to the skillet, and stir well.
Place the two halves of the jalapeño pepper, cut side down on top of the beans (see images) and simmer on the stove top for a few minutes.
Place the oven-safe skillet into the oven for 30 minutes at 350 F.
After 30 minutes, carefully remove the hot skillet and check the liquid level. Some of the liquid will have evaporated, if needed, add up to 1/2 cup of water to ensure the beans are just barely covered with liquid.  Stir well.  Test the flavors.  Add more sea salt or ramp up additional spices, if needed.
Return the hot skillet to the oven and bake for another 20 minutes.
After 20 minutes, carefully remove the hot skillet from the oven, and allow to cool for 15 minutes before serving.
---
Notes
* Jalapeno pepper:  Jalapeno peppers vary in degrees of heat.  If you like your BBQ Baked Beans spicy, then chop up the jalapeno pepper and put it in the BBQ sauce.  If you just want a hint of heat, then cut it in half, remove the seeds and allow it to cook in the skillet, then discard it later (or eat it if you wish).
* Water/Liquid:  The component for a great BBQ Baked Bean dish is to have a little liquid for the beans to swim in, but not too soupy.  This is why you initially use 3 cups of water, then check the beans to see if they need more water after 30 minutes.  They may require a little extra water added at the 30 minutes time mark.
Storage:  Cool to warm, place in glass storage and refrigerate.