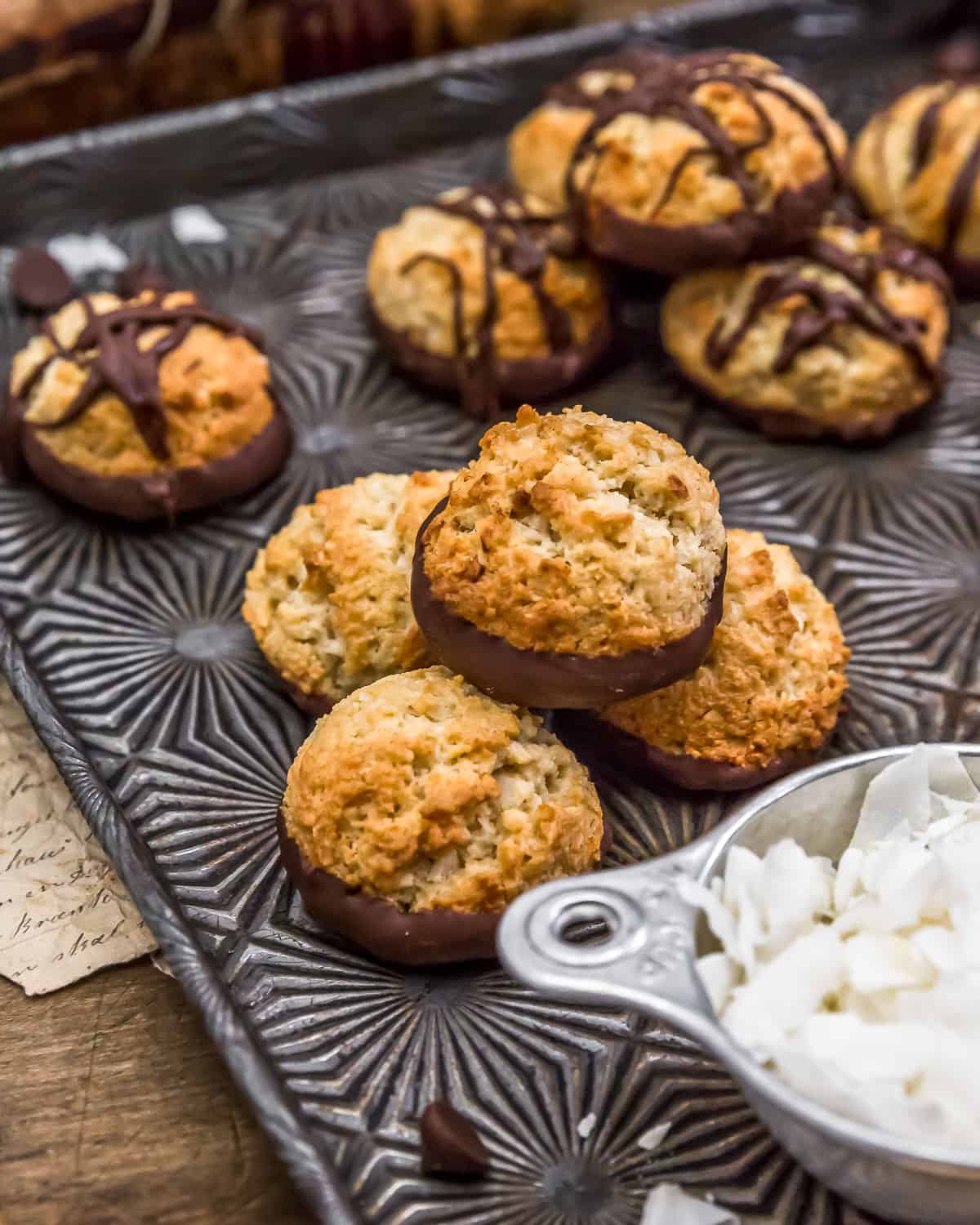 Vegan Coconut Macaroons! This healthy twist on the classic Coconut Macaroon is sure to make all your coconut dreams come true!
Perfectly soft and chewy on the inside while crisp and golden on the outside, these Vegan Coconut Macaroons are pure heaven. You'll want these utterly delicious macaroons on your next holiday table, cookie exchange, or potluck.
Whole Food Plant Based, Vegan, plant based, oil free, refined sugar free, no highly processed ingredients and gluten free.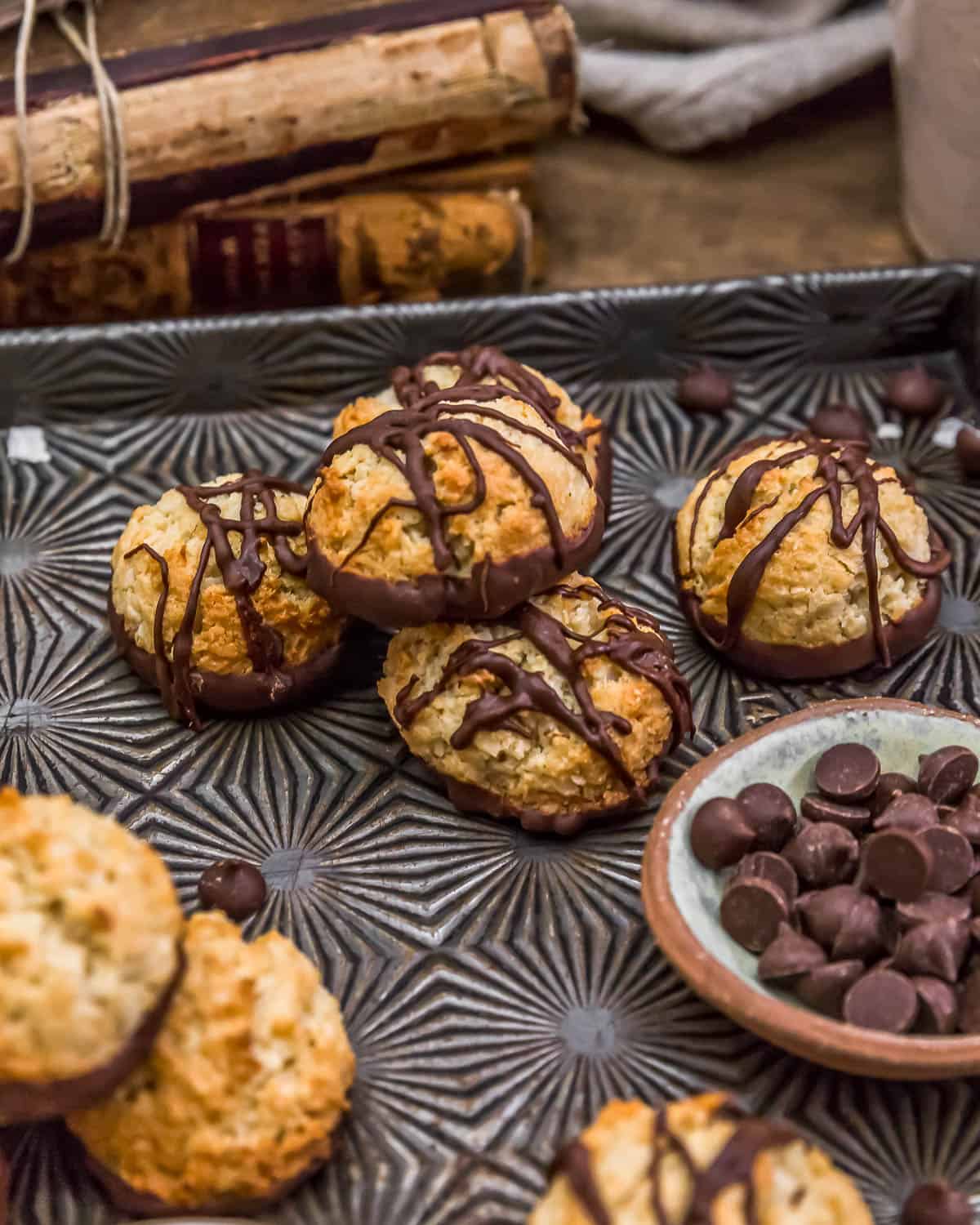 Hi there, Ameera here!
Mom and I LOVE coconut macaroons!  I literally could not stop eating these little bites of heaven. Dad has never been big on macaroons, but he ate these right up and was asking for us to make another test batch.
When we asked how we could improve these cookies to justify another test batch, he said "Well, these are perfect, but I really just need more cookies!"  – LOL.  You gotta give these macaroons one a try!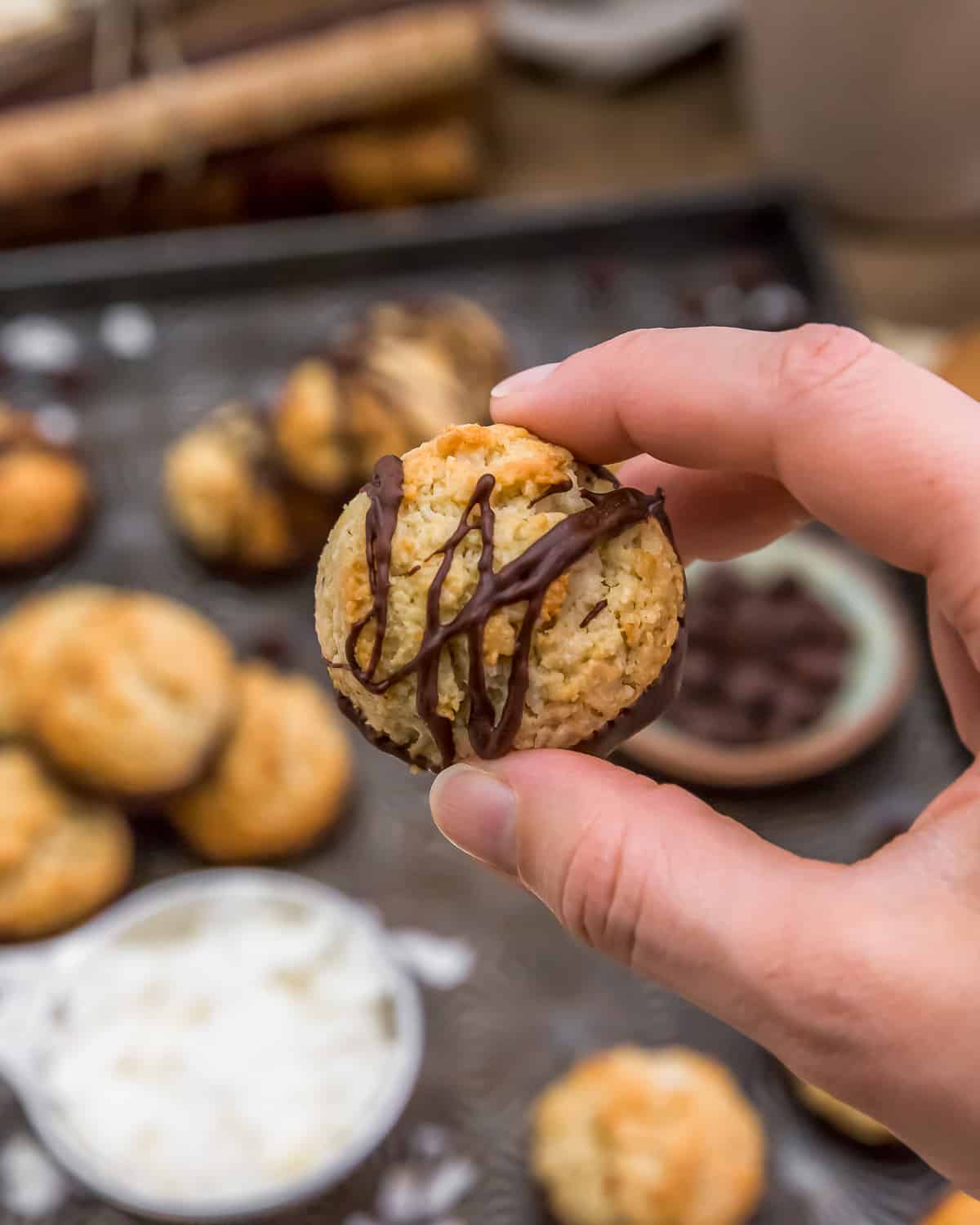 Tips for Success:
Flavor Profile: These cookies are a beautiful Whole Food Plant Based nod to coconut macaroons. They taste amazing.  Coconut chewy cookie goodness with a delicious chocolate coated bottom makes for an amazing holiday cookie tray or cookie exchange.
Cookie Scoop: We used a small cookie scoop (1 ½ inches in diameter) which is about 1 slightly heaping Tablespoon of dough.  This helped keep the cookies uniform.  Simply fill the cookie scoop with cookie dough, then press the cookie scoop hard against the side of the bowl, removing any excess dough that squeezes out the side.  Click the cookie scoop onto the baking sheet and shore up the sides if needed.  You may need to wash the cookie scoop about every 5 to 6 cookies to keep the cookie scoop from jamming when releasing the cookies.
Rolling Cookie Balls: If not using the cookie scoop (above), roll the cookie balls tightly pack them in your hand to create a tight cohesive ball.  Place onto the cookie sheet and press down slightly to create a slightly flattened bottom.  Wash your hands between every 4 to 5 cookies as the cookie dough is slightly sticky.
Coconut Flakes versus Shredded Coconut: We suggest using coconut flakes and not shredded coconut.  Shredded coconut is typically very finely chopped and can be used, but we do not have the measurement for shredded coconut.  If using finely chopped coconut, then you may wish to scale back on the amount of coconut flakes you use.  You can see in the photos the size of the coconut flakes for reference.
Almond Flour: Spoon the almond flour into the measuring cup and level off.  Do not pack.
Almond Flour Substitutions: These cookies were designed to use almond flour.  We have no substitutions to offer.
Cashew Butter: We suggest using cashew butter at room temperature to ensure the cashew butter can evenly distribute itself when mixing.  Refrigerated cashew butter tends to be thick and clumpy.  If you need to use cashew butter that has been refrigerated, then simply remove the amount needed for this recipe and allow to set on the counter until it comes to room temperature.
Cashew Butter Substitutions: These cookies were designed to use cashew butter.  Cashew butter has a neutral flavor which allows the coconut flavor to shine through.  You could potentially use almond butter, but we fear it would overwhelm the coconut flavor.  We did not test using almond butter.
Vegan Chocolate:  The chocolate bottoms and/or chocolate drizzle is optional.
Melting Chocolate: Be careful melting chocolate, it burns easily, especially in the microwave.  Select a microwave safe bowl that is small but has a wide opening so you can easily dunk the cookies into the chocolate without getting it all over your fingers.
Helpful Hints on Dunking the Macaroon Bottoms in chocolate: Lift the cookie by its top, then press the cookie down into the chocolate just to coat the bottom and to also ever-so-slightly come up the sides just a little bit.  Twist the cookie to release any excess melted chocolate.  Hold it for a few seconds up-side-down to allow the chocolate to settle, then gently place the macaroon onto the drying/cooling rack on its side.  Look at your fingers.  Did you get melted chocolate on them?  If yes, wash them so you don't get chocolate all over the top of the next cookie.  If you did have to wash your fingers, then adjust the position of holding the top of the next cookie to avoid getting melted chocolate on your fingers.  Repeat the process until all the cookie bottoms are coated.  Allow to completely dry before moving them into a tightly covered container.
Quick Drying Chocolate Method: If you want speed up the drying of the chocolate, after you have dunked all the cookies into the chocolate.  Allow them to settle for 10 minutes, then carefully transfer the cookies (laying on their sides) to a plate, then place them in the fridge for 10 to 15 minutes to set.  Once set you can place them in a tightly covered container or drizzle the tops.
Coating Tops with Melted Chocolate: As indicated in the photos, we drizzled a few macaroons with some melted chocolate.  If you wish to do this, then coat the bottoms with chocolate and allow the chocolate to completely dry and set, then melt any leftover chocolate from the dunking and drizzle the tops of the macaroons with chocolate.  Allow to set before storing.
Storage: This is IMPORTANT!  These cookies taste best after they have been stored in a tightly covered container for 2 hours.  This process allows the cookies to regain their moisture making a perfectly chewy and utterly delicious macaroon!  If you eat one right away after baking, they will appear a tad bit dry and slightly crunchy. They truly need to 2 hours to develop flavor and texture.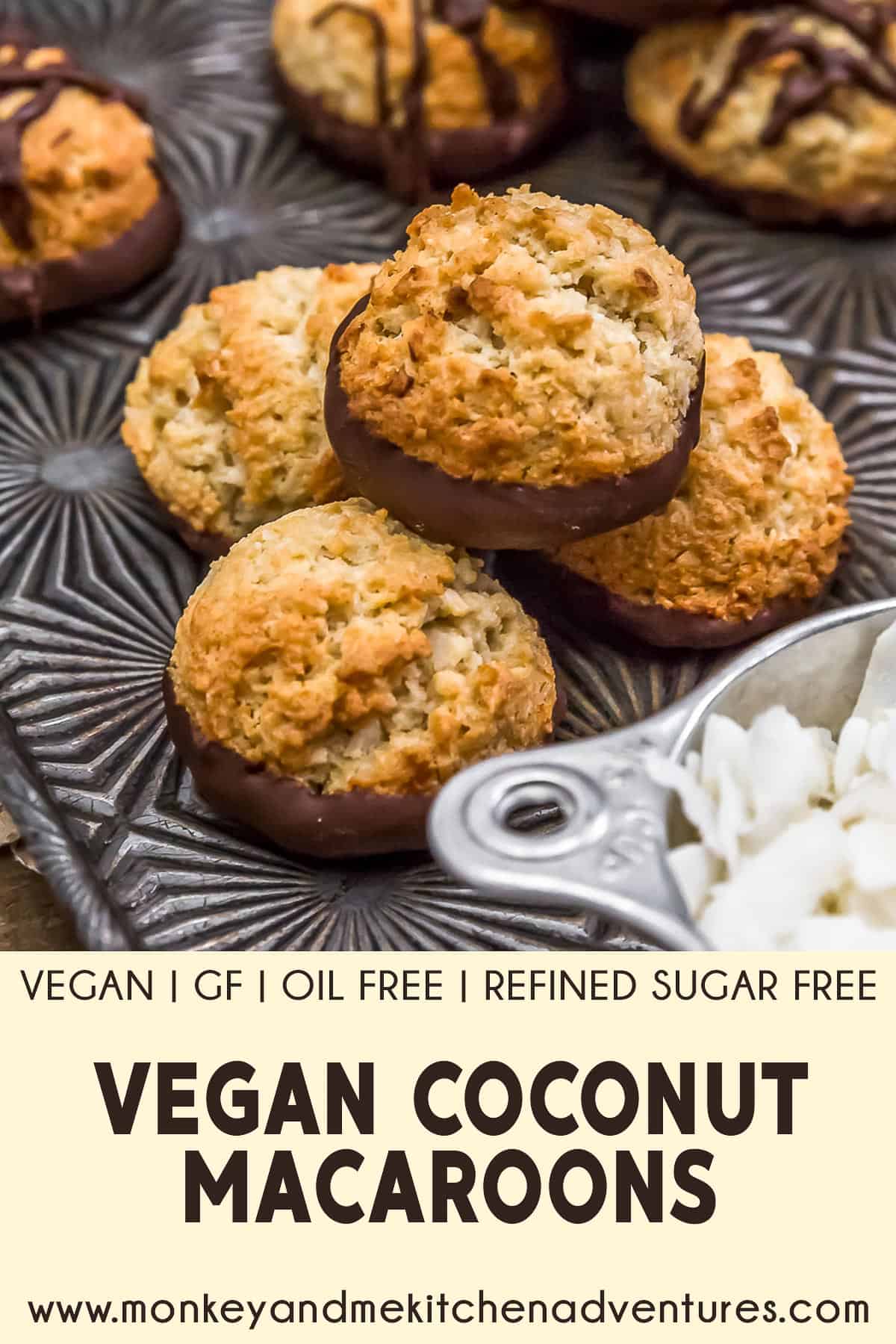 Leftovers and Freezing:
Leftovers will generally keep for 4-5 days in a tightly covered container.
These macaroons freeze well.
Pantry Products Used:
Unsweetened Coconut Flakes: We used Bob's Red Mill Unsweetened Coconut Flakes (Unsulfured).  Feel free to use your favorite unsweetened coconut flakes.
Raw Cashew Butter: We used Artisana Raw Cashew Butter.  Feel free to use your favorite cashew butter.
Sea Salt: Please adjust the sea salt based upon your family's sea salt preferences and/or based upon dietary needs.
Kitchen Products Used:
Food Processor
Baking sheet
Silicone pads or Parchment paper
If you try this amazing treat, we would love to know if you enjoy it as much as we do! Please leave us a review! Post a picture on Facebook or Instagram and tag us!  We would love to hear from you.
Print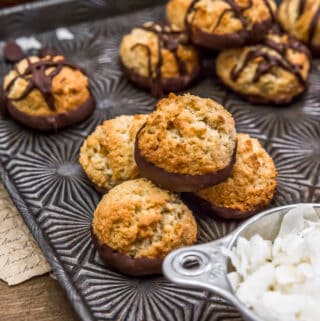 Vegan Coconut Macaroons
Author:

Prep Time:

15 Minutes

Cook Time:

12-13 Minutes

Total Time:

27 Minutes

Yield:

16

-

18

Cookies

1

x

Category:

Dessert

Method:

Oven

Diet:

Vegan
---
Description
Perfectly soft and chewy on the inside while crisp and golden on the outside, these Vegan Coconut Macaroons are pure heaven.
---
Dry Ingredients:
2 ½ cups

unsweetened coconut flakes *

½ cup

almond flour *

1 teaspoon

baking powder
Pinch sea salt *
Wet Ingredients:
¼ cup

pure maple syrup

2 Tablespoons

cashew butter *

½ teaspoon

vanilla
Other Optional Ingredients:
1 cup

vegan semi-sweet (or dark) chocolate chips, melted
---
Instructions
Preheat the oven to 375 F.
Line a baking sheet with parchment paper (or silicone baking pad), set aside.
Place the coconut flakes into a food processor, process for 1 minute until broken up.
Then place all the remaining Dry Ingredients and all the Wet Ingredients with the chopped coconut flakes into the food processor, process until the mixture comes together, about 30 seconds, then place into a large bowl.
Scoop up a slightly rounded 1 tablespoon of cookie dough, roll into a tight ball, set onto the cookie sheet, slightly press down. OR use a small cookie scoop, scoop up the dough into the cookie scoop, flattening it hard up against the side of the bowl, and click out the dough onto the cookie sheet. Try to keep the cookies in similar size and shape for even baking.
Bake in a preheated 375 F oven (center rack) for 12 to 13 minutes until lightly golden.
Remove from the oven and allow to sit on the cookie sheet for 10 minutes.
Transfer the cookies to a cooling rack.
If coating the bottoms in chocolate, wait until the cookies are completely cooled before beginning. Place the chocolate chips in a small microwaveable bowl, then microwave and heat for 30 seconds to melt the chocolate. Stir, repeat in 10 second intervals until the chocolate is completely melted.  Be careful to watch the chocolate carefully as it burns easily.
Take each macaroon cookie and dunk the cookie bottom into the melted chocolate, give a tiny shake to remove any excess chocolate, then lay it on its side on the cookie rack to dry. Repeat until all the macaroon bottoms are dipped into the chocolate.  Allow for the chocolate to complete set, then transfer to a tightly covered container.
---
Notes
*Please reference the blog post for Tips for Success, Pantry Items Used, Storage and Freezing, and Kitchen Products Used. 
*Sea Salt:  Please adjust the sea salt based upon your family's sea salt preferences and/or based upon dietary needs.
*Servings:  Makes 16 to 18 cookies

This post contains affiliate links, and we may receive a very small commission if you purchase through those links at no additional cost to you. Thank you for supporting Monkey and Me Kitchen Adventures! For more information, see our disclosures here.