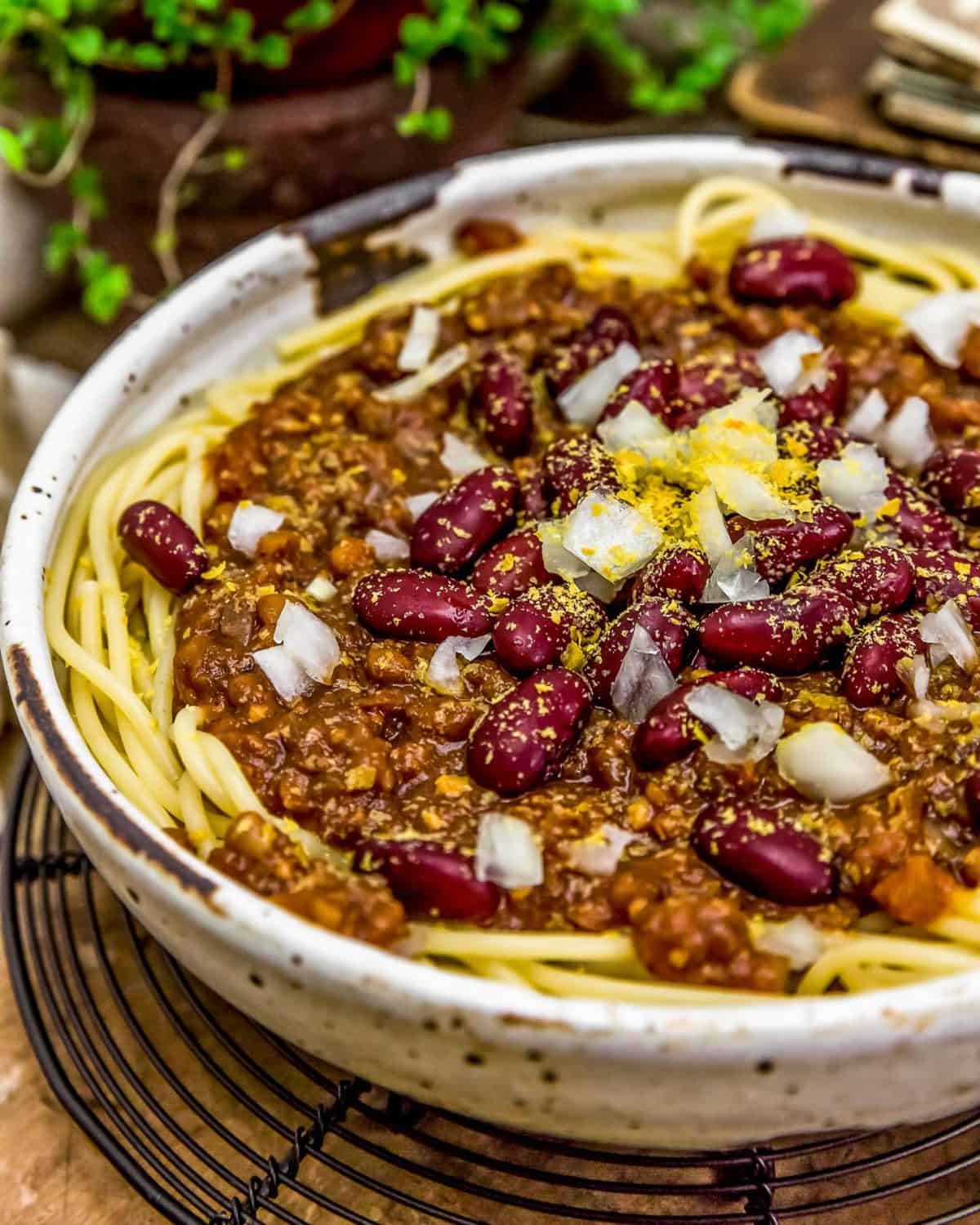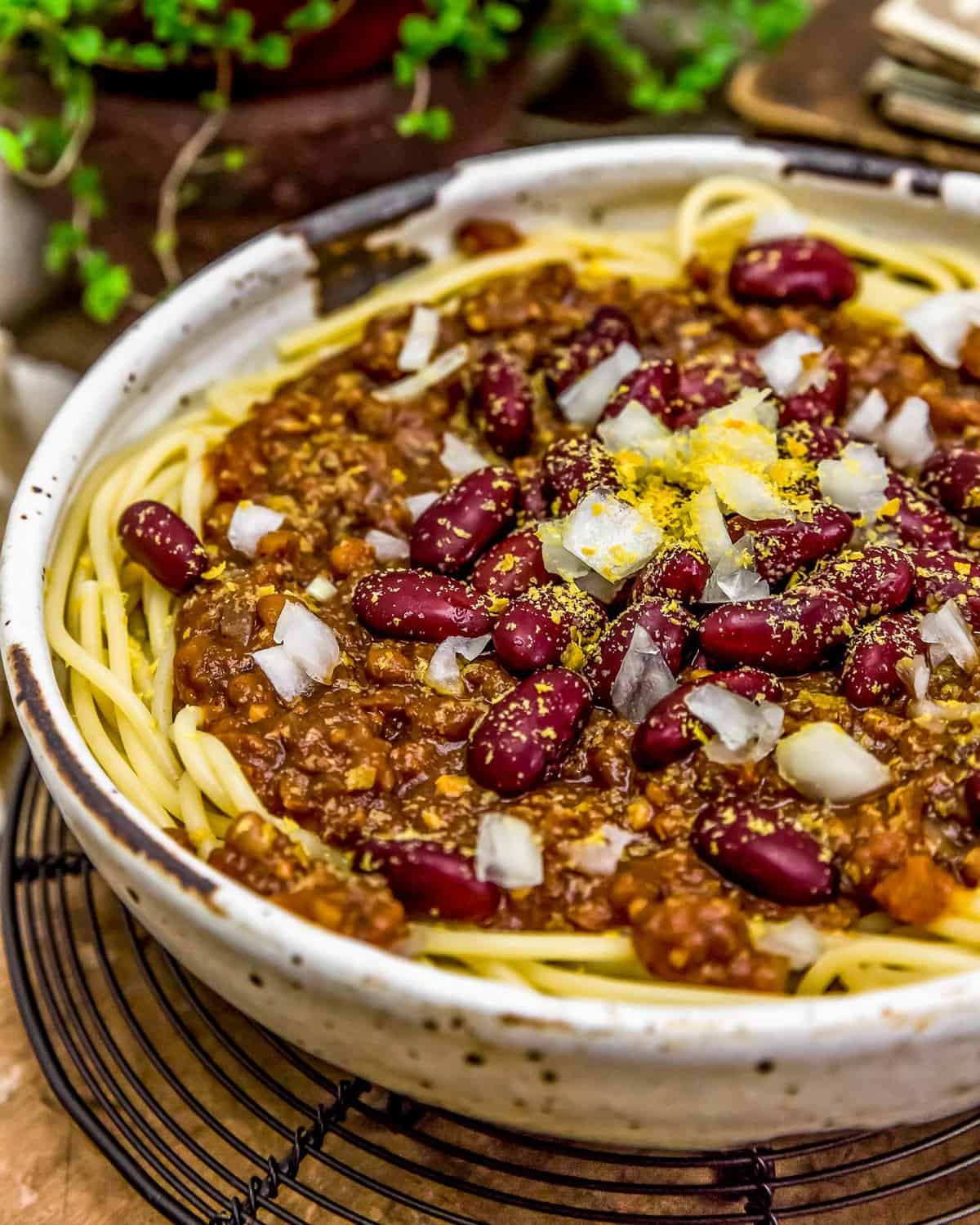 We are getting cozy with this vegan nod to the classic Ohioan dish, Cincinnati, Ohio's Skyline Chili. This bowl of Vegan Cincinnati Chili bursting with bold flavors and accented with hints of cinnamon, allspice, and clove to create its unique and distinct flavor. Ladle this hearty chili over spaghetti like the locals do and top with zesty onions, tender beans, and sprinkle of nutritional yeast or vegan cheddar cheese.  A fun and easy way to switch up your dinner menu that is sure to have your taste buds tingling.
Whole Food Plant Based, vegan, plant based, oil free, refined sugar free, gluten free, no highly processed ingredients.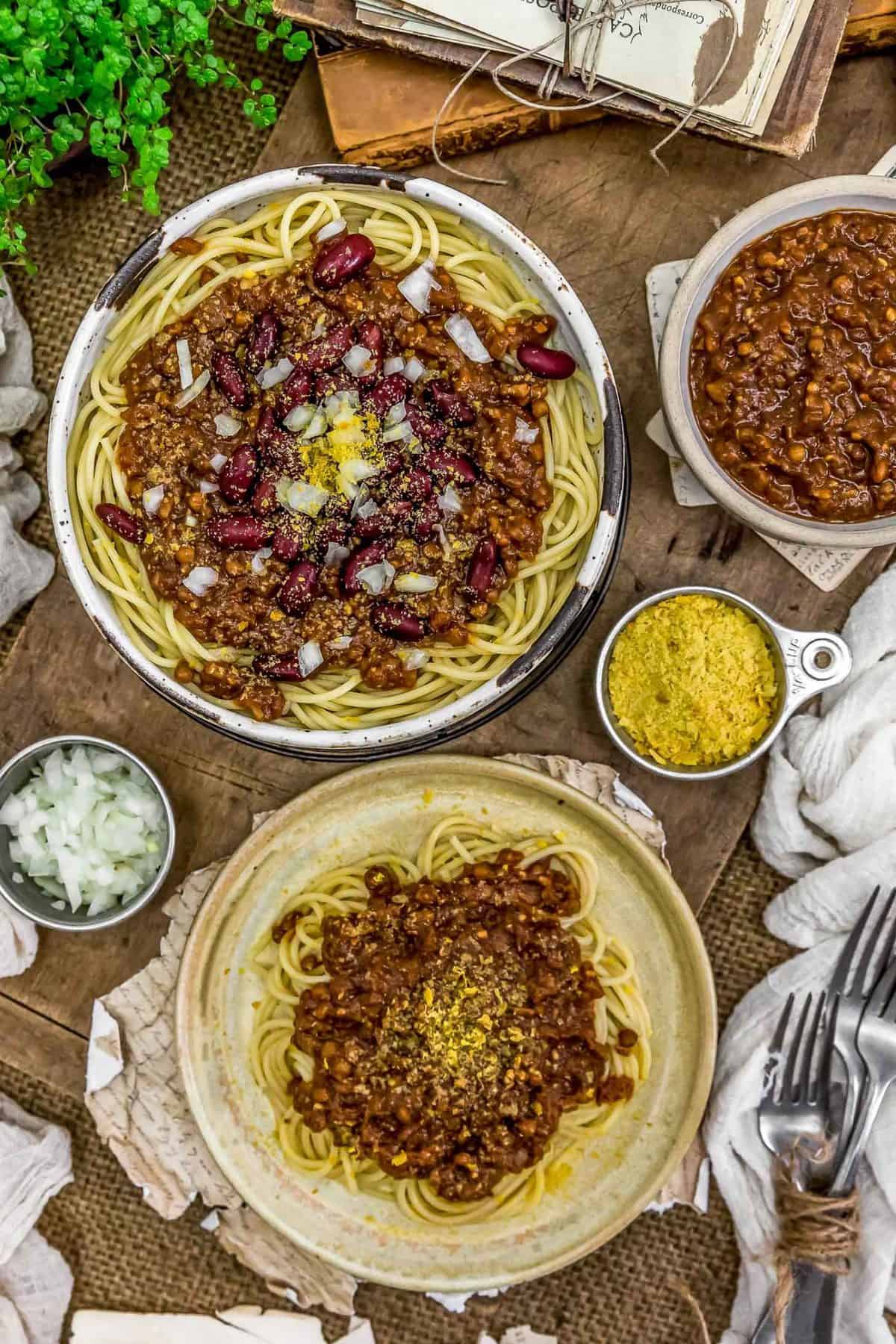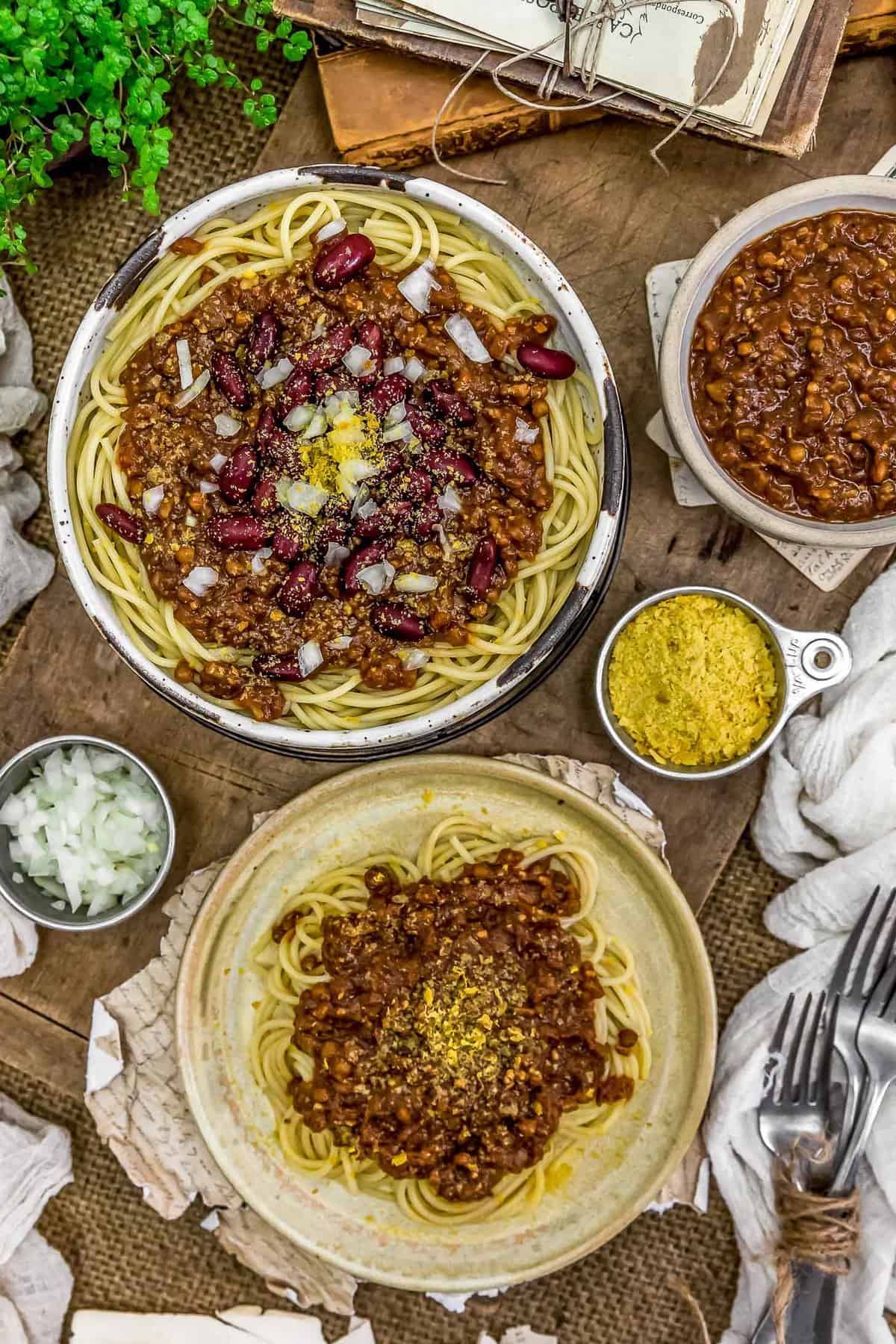 Hi there, Ameera here!
I must say, this recipe really gave us a run for our money! It took quite a few kitchen tests and a lot of memory (on Mom's part) to get this one down.
I had never had Cincinnati Chili before even though I live in Ohio. Cincinnati Chili is, well, from Cincinnati, down at the bottom of the state and is practically unheard of up here in the northern part of the state.  So, I wasn't really much help as I had no point of reference. I just knew I liked our kitchen tests. LOL
Mom has been talking about Skyline Chili's Cincinnati Chili for as long as I can remember. When she was a Portfolio Manager, she traveled all over the state of Ohio. One time when I was in middle school, she came home from a Cincinnati field trip talking about the infamous "Cincinnati Chili" that she ate while in Cincinnati.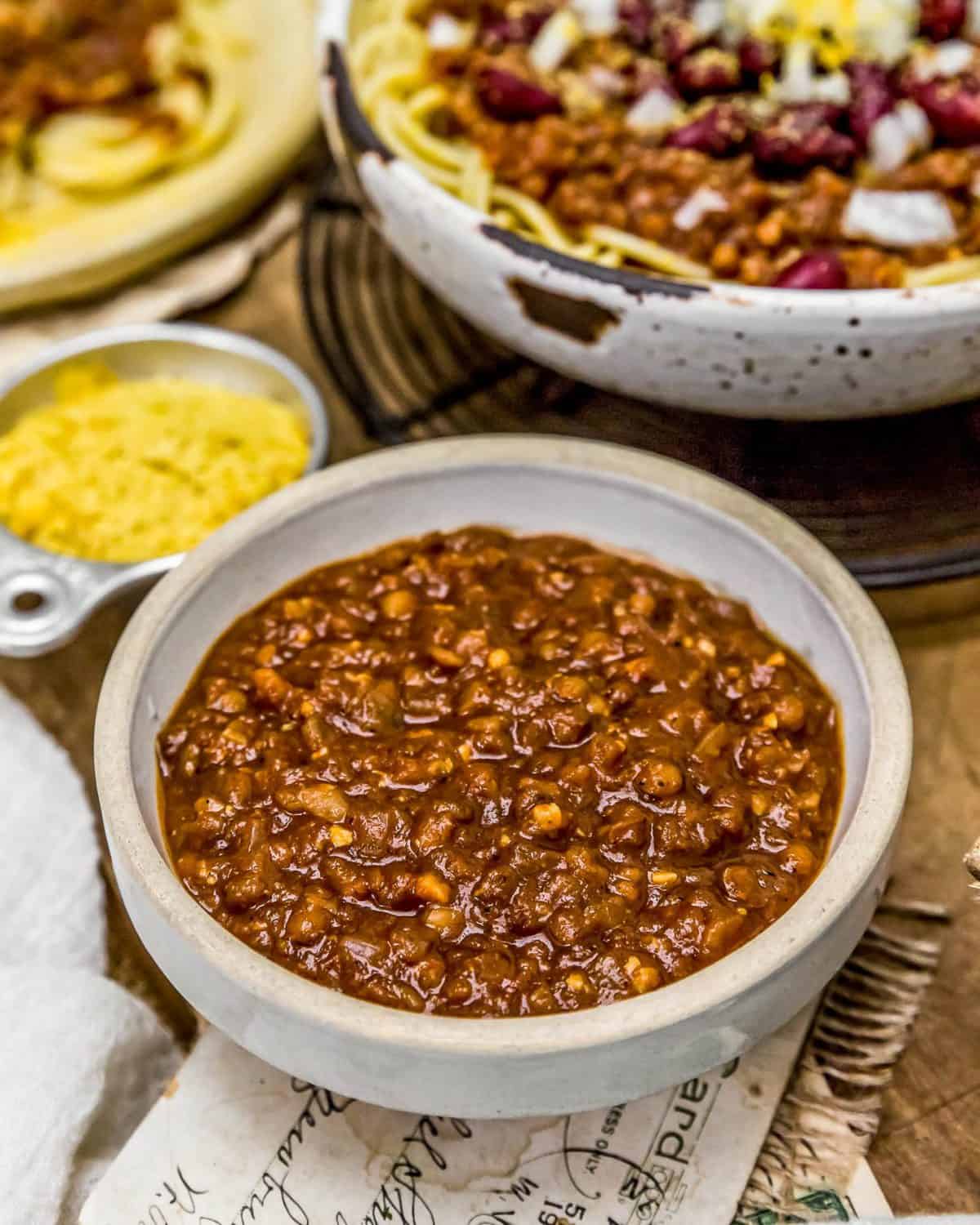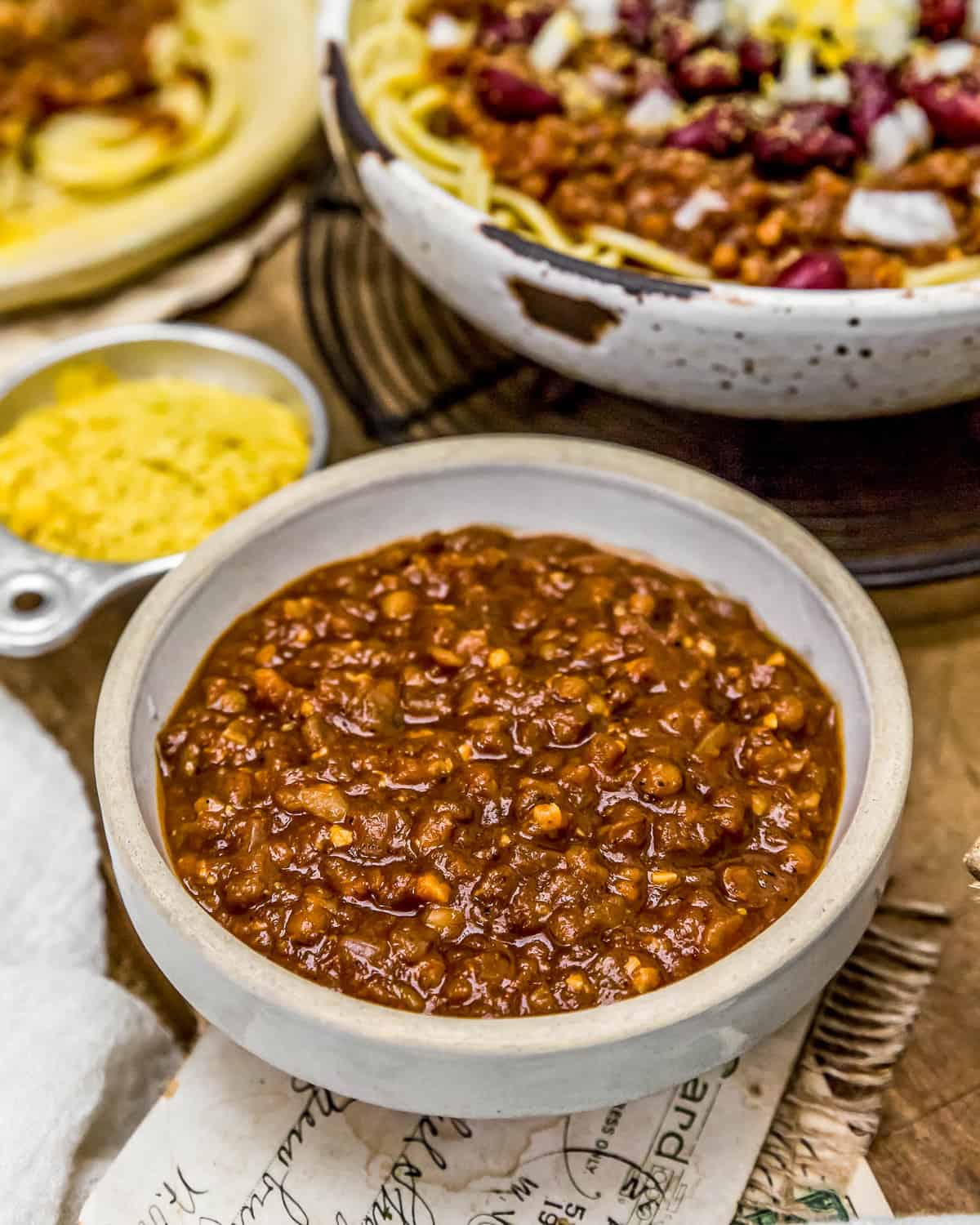 Skyline Chili – Cincinnati Chili
Skyline Chili serves their signature dish in distinct "ways:"
3-Way – spaghetti topped with their signature chili and topped with a mound of cheddar cheese
4 – Way – same as 3-Way but with diced onions or kidney beans
5 – Way – same as 3-Way but with diced onions and kidney beans
She said her first taste was epic because here she was with a group of local Cincinnati folks all watching her take her first bite of Cincinnati Chili. They were all like "OMG, it's sooo good, right? Right? Right?" 
Mom said she could not wrap her brain around it at first. The cinnamon in the chili was so foreign to her and she couldn't get past that at first.
Plus, she had all these people staring at her breathlessly waiting for her to say "OMG, it's delicious!" But she just couldn't because it was nothing like she expected.
She said it took her two or three bites before she could declare that it was indeed delicious! It just took some time for her brain to process the flavors.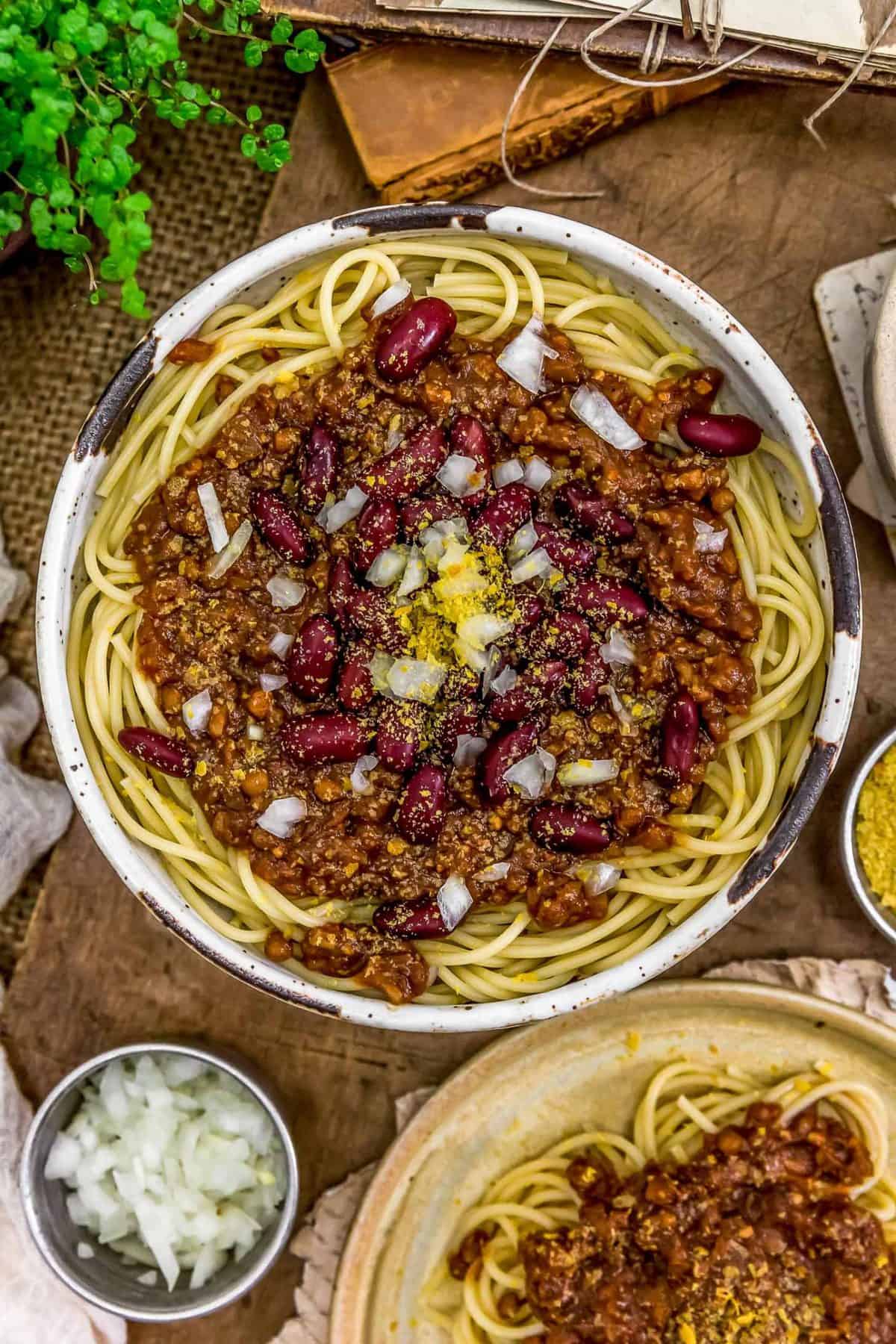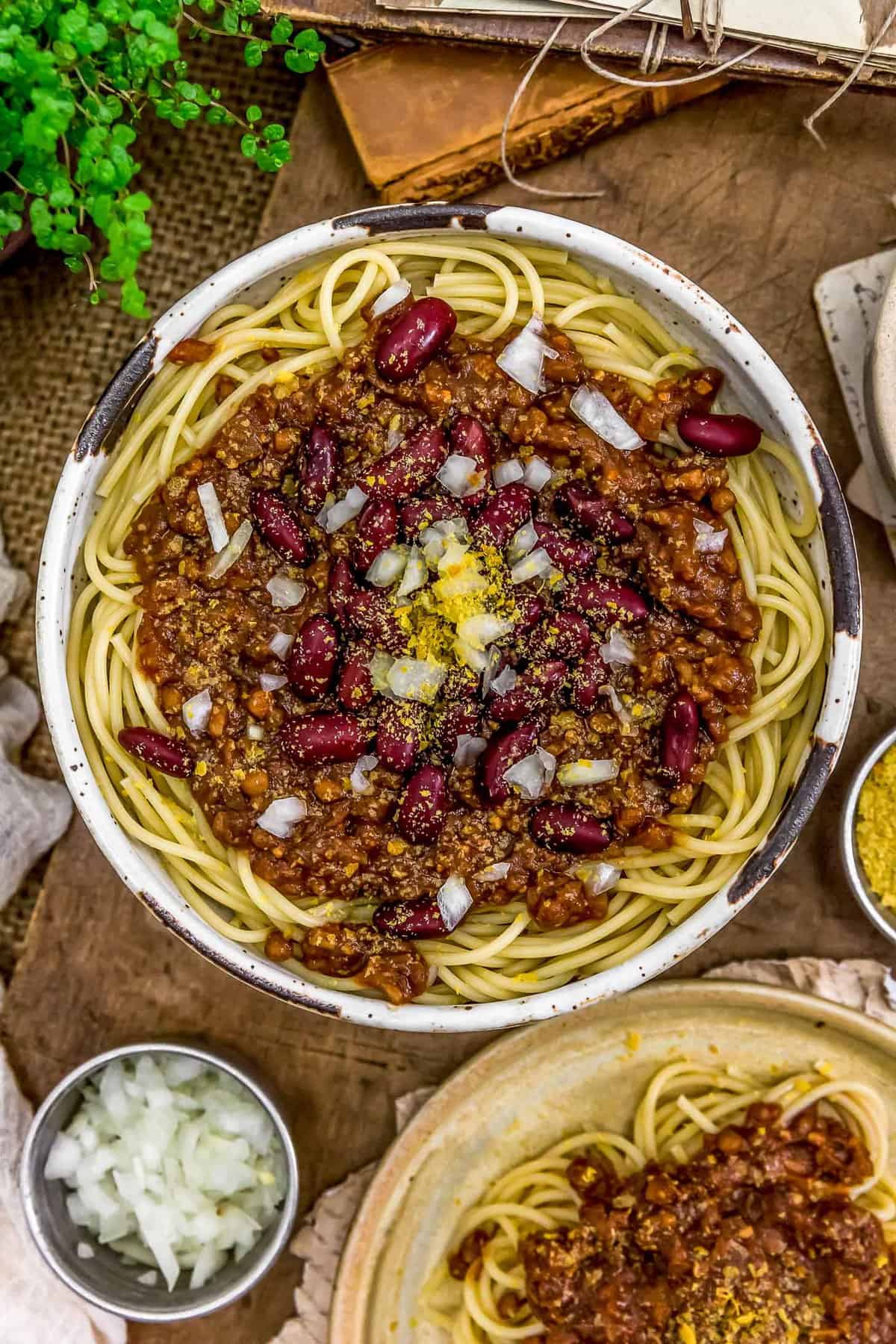 WFPB Food
It's kind of the same thing with Whole Food Plant Based food if you think about it. It's important to bring it all into context. Some WFPB conversion foods will never be as "delicious" as the fatty, sugar laden, MSG pumped non-WFPB original.
Why? Because many processed foods have chemicals added, deliberately manufactured by the food industry, to trick the brain into thinking the food is delicious. You are literally getting high off of the food endorphin chemicals.
Why do you think so many people are addicted to food? Think I'm joking, I can promise you I am not.
Once you recognize and accept that your WFPB food is free from addictive chemicals, then you can then begin to really love and enjoy WFPB foods and many times even love it more than the non-WFPB original.
It does take some time to get those taste buds back in order, but if you stick with it, you will come to absolutely LOVE Whole Food Plant Based foods.
I'll let Mom tell you more about this tasty dish!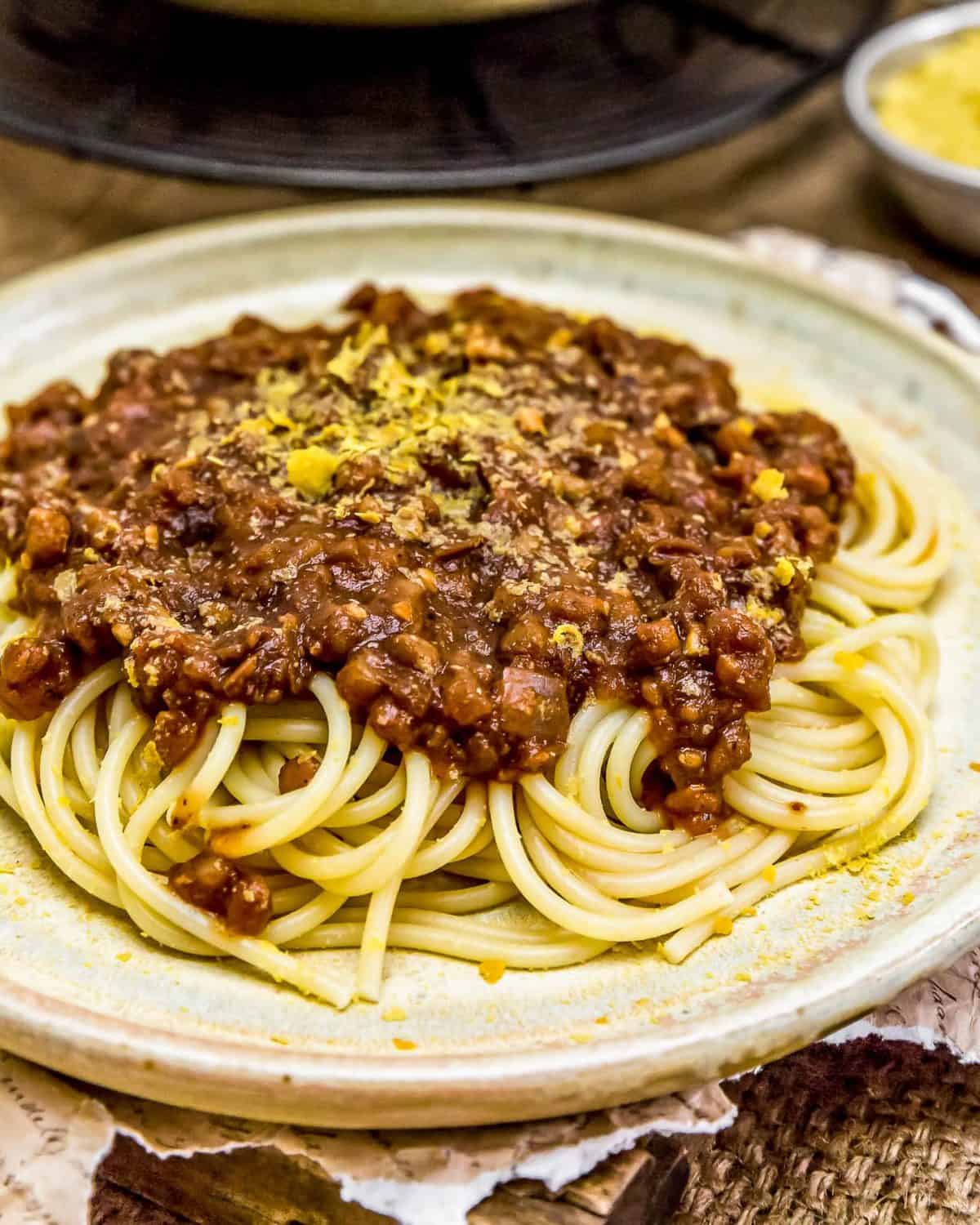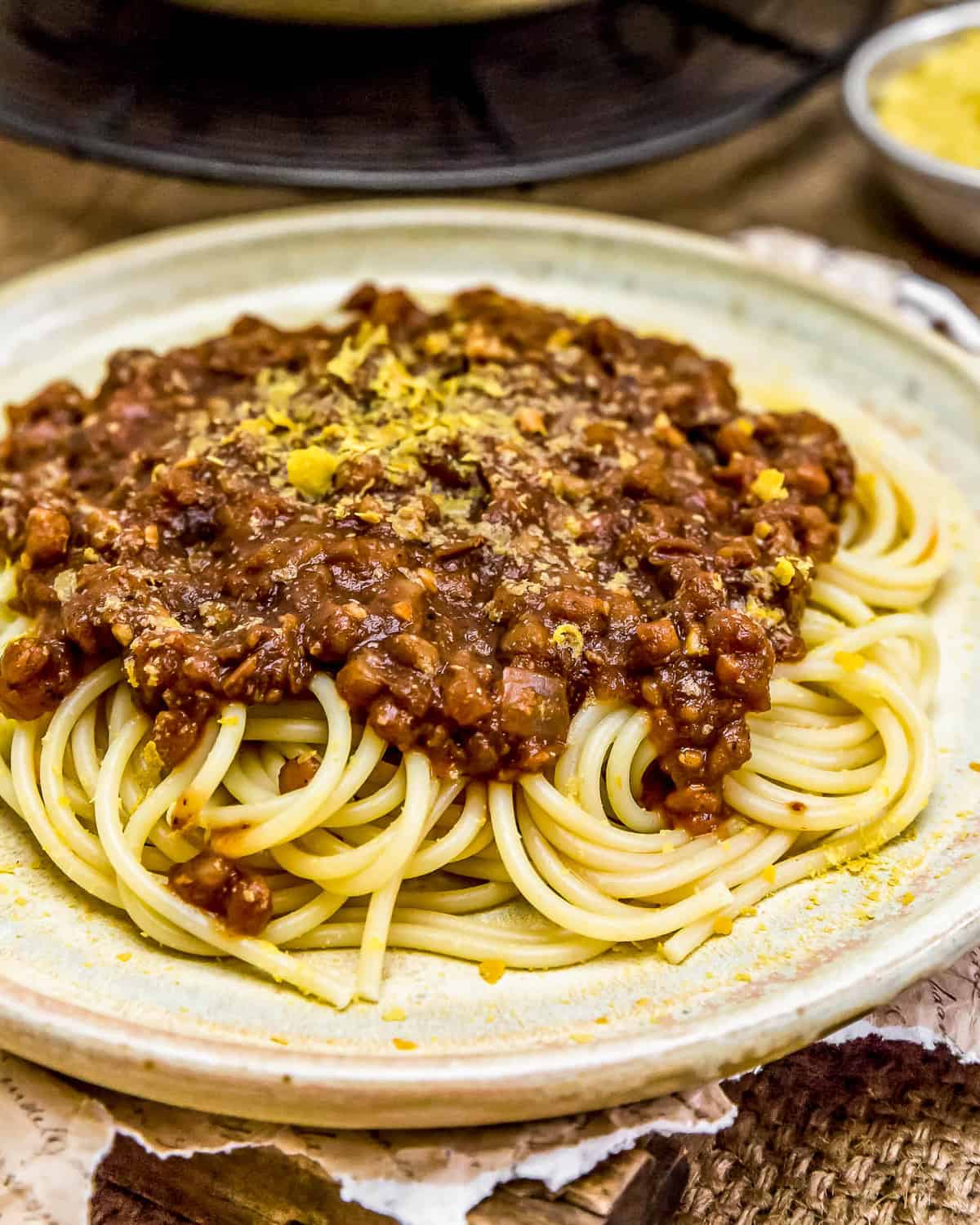 This post contains affiliate links, and we may receive a very small commission if you purchase through those links at no additional cost to you. Thank you for supporting Monkey and Me Kitchen Adventures! For more information, see our disclosures here.
Hi!  Robin here!
OMG! I will never forget my visit to Cincinnati. Everyone was "OMG, you simply have to try Cincinnati Chili if you are in Cincinnati!  It's a sin if you leave without trying it!"  So of course, I was all about giving this famous chili a try!
That first bite was so unique that I simply had no words because it was like nothing I had ever eaten before.  I had never had chili over spaghetti let alone with cinnamon, allspice, and cloves in it.
There was a hint of bitterness that hits you on the backend of your palate that takes a few moments to process. It took about 3 bites before I could enjoy it!
We based this recipe off memory (15 years ago) so it's hard to determine how spot on it is, so we'd like to qualify that this recipe is a "nod" to Cincinnati Chili, Whole Food Plant Based style, of course.
We would love for you to give this recipe a try!  We just know you are going to love it.
If you try this fun chili, we would love to know if you enjoy it as much as we do! Please leave us a review! Post a picture on Facebook or Instagram and tag us!  We would love to hear from you.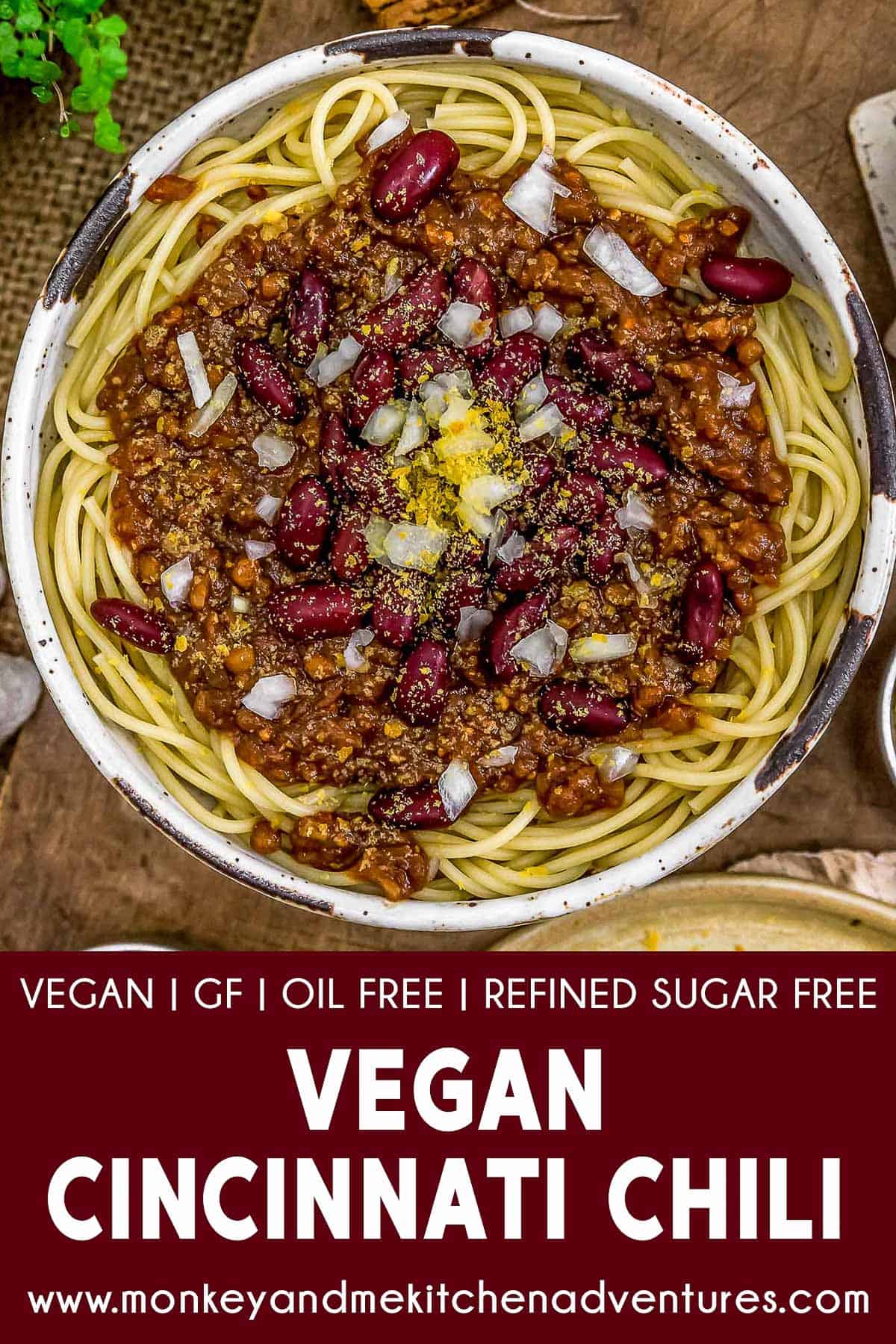 Products Used:
Large ceramic/enamel-lined Dutch oven or similar large stove-top to oven pot
Print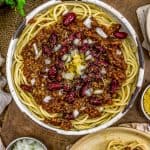 Vegan Cincinnati Chili
Author:

Prep Time:

10 Minutes

Cook Time:

26 Minutes

Total Time:

36 Minutes

Yield:

4

-

5

Servings

1

x

Category:

Dinner

Method:

Stovetop

Cuisine:

American
---
Description
We are getting cozy with this easy vegan nod to Cincinnati, Ohio's Skyline Chili. This hearty Vegan Cincinnati Chili is bursting with bold and rich flavors. Whole Food Plant Based, vegan, plant based, oil free, refined sugar free, gluten free, no highly processed ingredients.
---
Sauce Ingredients:
1 cup

yellow onions, fine dice

2 Tablespoons

minced garlic

1 Tablespoon

tomato paste

1 teaspoon

GF flour (or flour of choice) *

¾ cup

vegetable broth *

1 ½ cups

water

1

– [ 8 oz. can ] tomato sauce

1 Tablespoon

apple cider vinegar

1 Tablespoon

reduced sodium tamari *

1 Tablespoon

unsalted almond butter *

¼

teaspoon baking soda * 
Spice/Herb Ingredients:
1 teaspoon

garlic powder

1 teaspoon

onion powder

2 Tablespoons

dried minced onions

1

bay leaf

2 teaspoons

mild chili powder

¾ teaspoon

ground cumin

½ teaspoon

cinnamon *

¼ teaspoon

sweet paprika
Pinch allspice
Pinch cloves

¾ teaspoon

sea salt (+/-) *
Pinch black pepper (+/-)
Other Ingredients:
1

– [ 14 oz. can ] lentils, drained and rinsed *
Optional Toppings:
Sprinkle kidney beans
Sprinkle chopped fresh onions
Sprinkle nutritional yeast
WFPB Cheddar Cheese
Serving Ideas:
Spaghetti
Baked potatoes
Steamed rice
WFPB Hot Dog
Carrot Dog
Bun/Sandwich
---
Instructions
Place the Spice/Herb Ingredients (except the bay leaf) in a small bowl, whisk well, set aside.
In a large ceramic/enamel lined skillet, Dutch oven, or non-stick skillet, add the diced onions, sauté over medium-high heat for 7 to 9 minutes to soften, add a splash of water or both if the onions start to stick/burn, then add the minced garlic, tomato paste, and flour, sauté for one minute, stirring constantly.
Add the Spice/Herb mix, stir constantly to allow the spices to become fragrant (about 30 seconds, then add all the remaining Sauce Ingredients and bay leaf, increase the heat to a boil, add the lentils, then immediately lower to a simmer. Simmer for 15 minutes.
Taste test, adjust seasonings as desired. Remove the bay leaf. Then take an immersion blender and pulse for about 8 times just to mash up about 1/3 of the lentils.  Do not over-blend.  If you do not have an immersion blender just mash some of the lentils with a fork. Serve as a topping over spaghetti, rice, or baked potatoes.
Top with your favorite toppings.
---
Notes
TIPS for Success:
Cincinnati Chili has a slight bitter note that hits you on the backend of your palate. It comes from the combination of spices. To mitigate some of the bitterness, it is important to include the almond butter.  Do not leave it out. This helps temper the bitterness. You will not be able to remove all of the bitterness.  The little hint of bitterness that hits you on the backend is signature to Cincinnati Chili.  See recipe notes on substitutions for the almond butter.
Notes Continued
*Chocolate/Unsweetened Cocoa Powder: Traditionally Skyline Chili uses chocolate (with sugar) to sweeten their sauce. Several of our kitchen tests had unsweetened cocoa powder in it. We just didn't feel like it added anything or when we took it away that it was missed, so we left it out but feel free to add some unsweetened cocoa powder, unsweetened cocoa powder and a splash of maple syrup, or chocolate if your desire.
*Vegetable Stock:   We use Pacific Organic Low Sodium Vegetable Stock. We love this brand because it is Whole Food Plant Based compliant, as it does not contain MSG, has no oil, and does not contain any highly-processed ingredients.
*Flour:  We used Bob's Red Mill gluten free all-purpose baking flour blend.  You can use the flour of your choice.
*Cinnamon Spice:  We use Penzeys China Tung Hing Cinnamon. Some cinnamon spices are stronger than others.  For example, some brands have a very strong cinnamon flavor whereas Penzeys has a mild cinnamon flavor.  I think individual personal preference really depends upon what you are most familiar with and what type of cinnamon spice you enjoy.  If using a cinnamon spice other than Penzeys, use a lesser amount and build from there.
*Baking Soda:  The baking soda is often used as a neutralizer for dishes that contain a lot of acidity, typically from tomatoes.  We use it in this dish to remove some of the tomato acidity without losing the tomatoey flavor. When you add it, the mixture will bubble up, then settle down as it neutralizes the acidity.
*Tamari: We used San J Tamari Soy Sauce, Gluten Free, Reduced Sodium.  You can substitute the tamari with reduced sodium soy sauce, Braggs Liquid Aminos, or Braggs Coconut Liquid Aminos.
*Almond Butter:  Do not leave the almond butter out.  If you need a substitute, find another seed or nut butter.  The almond butter helps temper the bitterness that naturally occurs from this combination of spices when there is a lack of oil.  It is tempting to substitute a white bean, etc., however, beans do not have the strength to temper the bitterness enough and you just won't be happy with this dish.
*Lentils:  We used Delallo Imported Italian Lentils.  They come in a 14 oz. can.  Most grocery stores carry them in the specialty aisles. If using dry lentils, select lentils that hold their shape after cooking. Cook dry lentils separately, adjust time accordingly.  If cooking dry lentils, use 1 2/3 cups of cooked lentils.
*Sea Salt:  Please adjust the sea salt based upon your family's sea salt preferences and/or based upon dietary needs.
*Serving:  4-5
*Storage:  Refrigerate and use within 5 days.

This post contains affiliate links, and we may receive a very small commission if you purchase through those links at no additional cost to you. Thank you for supporting Monkey and Me Kitchen Adventures! For more information, see our disclosures here.