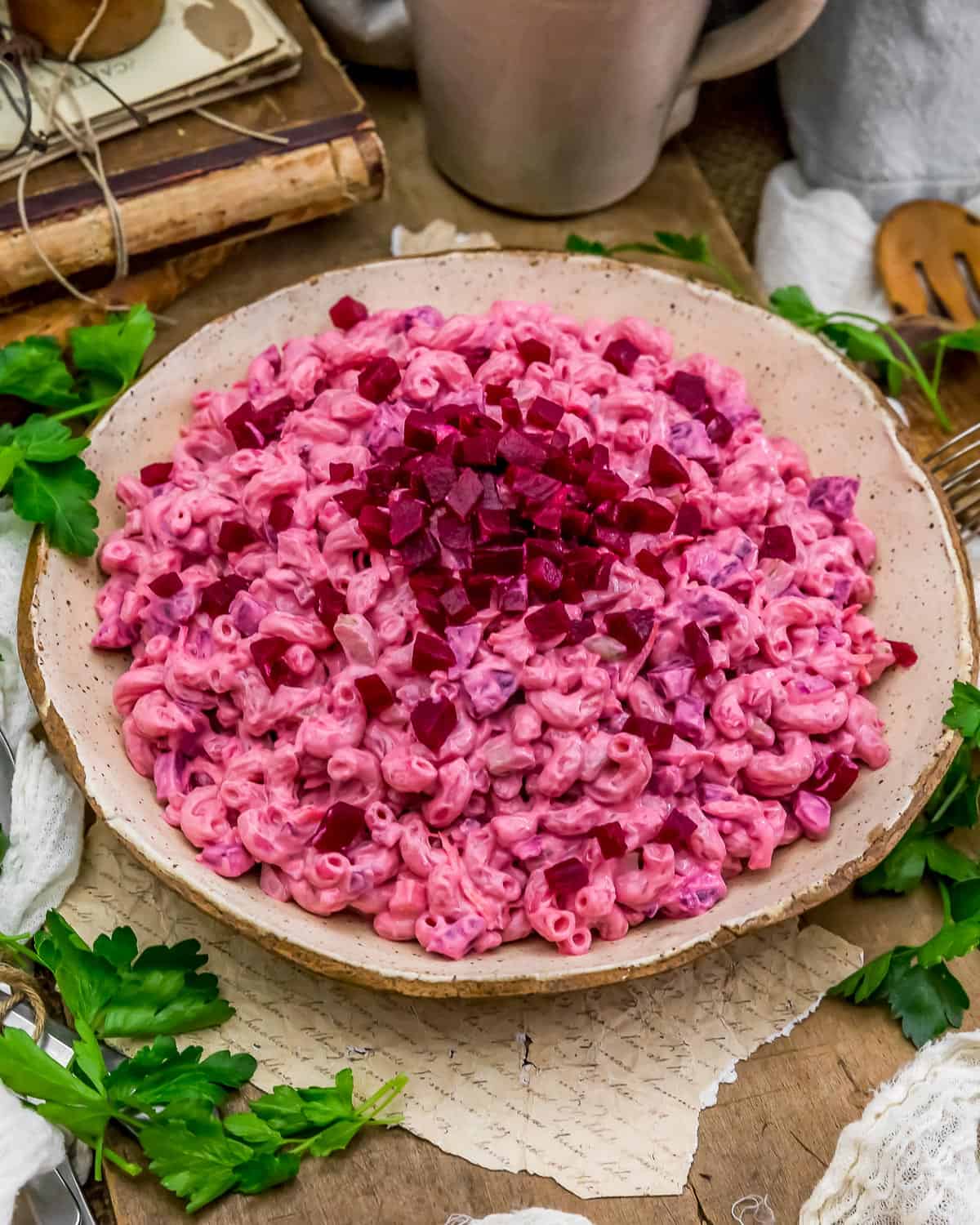 Vegan Beet Macaroni Salad! All the things we love about a traditional macaroni salad, but with a bright, earthy beet twist.
Rich, creamy, and delicious, this Vegan Beet Macaroni Salad is the quintessential picnic side with a hint of sweet, earthy beet flavor! Its vibrant fuchsia color is visually appealing to little kids and big kids alike; it's sure to be a must try. A perfect dish for your next potluck, cookout, or holiday dinner table.
Whole Food Plant Based, Vegan, plant based, oil free, refined sugar free, no highly processed ingredients and gluten free.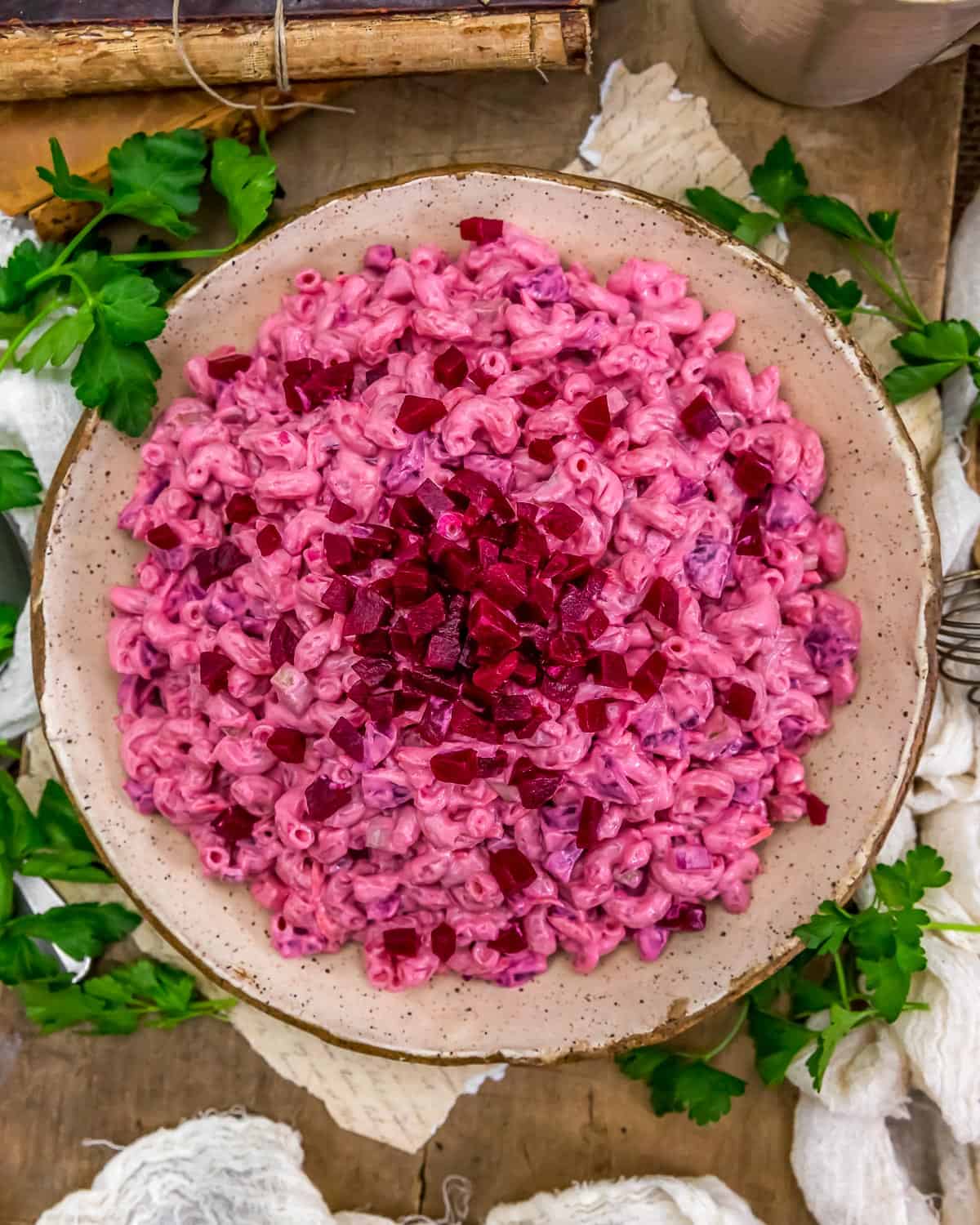 Hi there, Ameera here!
Mom loves beets!  When she started talking about a beet macaroni salad, I must admit, I was a little skeptical and very curious. It didn't take much to get me onboard.
This macaroni salad is beautiful and oh-so-delicious. We all scored it a perfect 10!  It's crazy delicious! Yasmeen called it "Pretty Salad" and ate it all up. Plus, I loved she was getting in some iron rich beets.
You gotta give this one a try!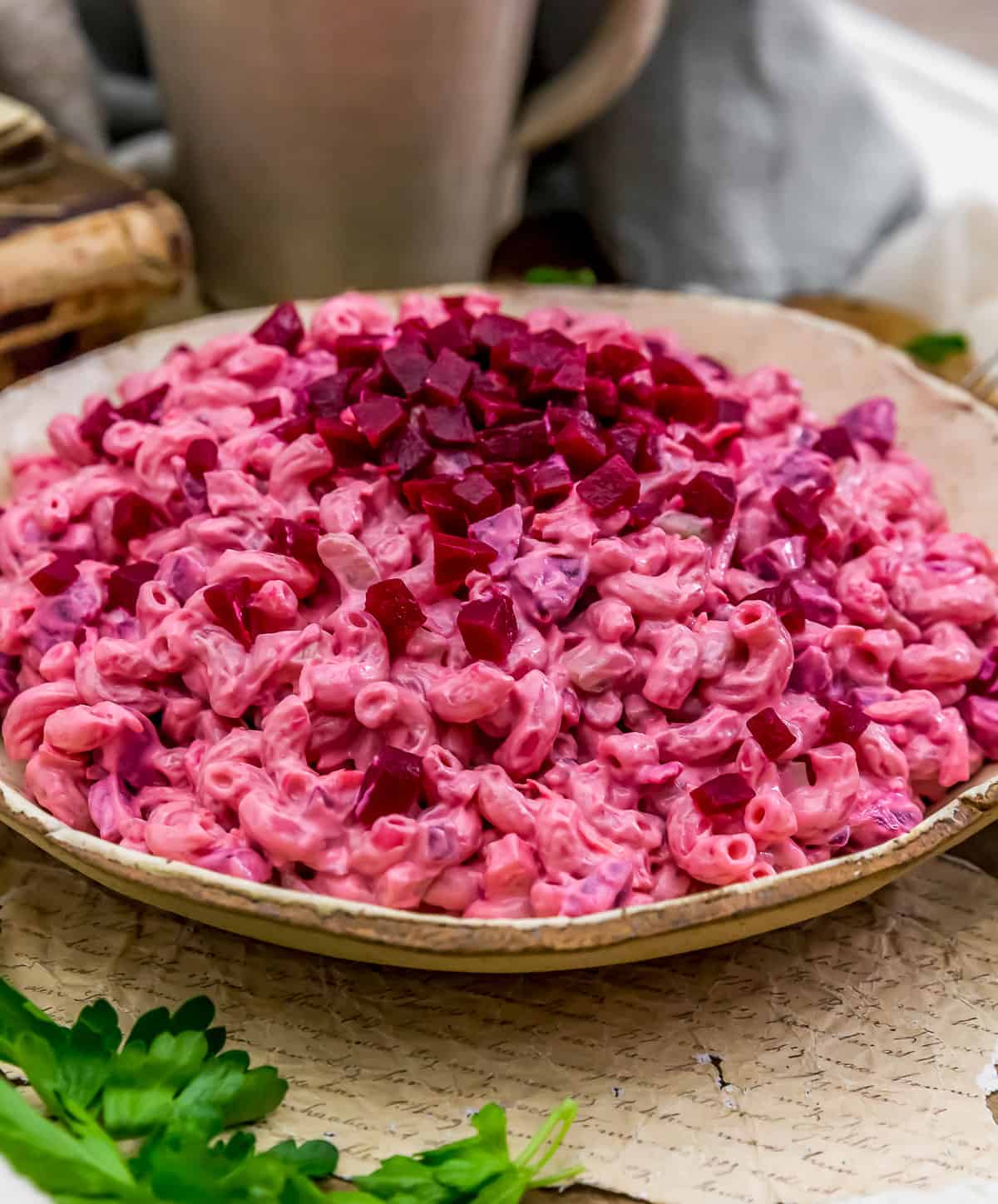 Tips for Success:
Flavor Profile: This Beet Macaroni Salad is delicious with its tangy and sweet dressing. The beet flavor is mild but can be easily ramped up by adding chopped beets. It's important to remember that when tasting a dressing on its own (without the macaroni), it has to be highly flavorful because once you add the macaroni, it will naturally dilute the flavor due to the ratio of dressing to macaroni.
Macaroni Amount: If you enjoy a really creamy macaroni salad, use 8 oz. of dry pasta. If you enjoy a regularly creamy macaroni salad, use 10 oz. of dry elbow macaroni.  We do not recommend using more than 10 oz. as you will end up with a dry macaroni salad as the macaroni really soaks up the dressing.
Macaroni Alternatives: We used elbow macaroni, feel free to substitute with a pasta of similar size.
Cooked Pasta: After you cook the elbow macaroni, cool it to drain, and set it aside, it can sometimes get sticky.  Right before pulling the salad together, simply rinse the pasta again with cold water to loosen it up.  Drain well.
Cashew Based Sauces: Cashew based sauces tend to tighten up in the refrigerator.  If you need to loosen the macaroni salad up, add a little distilled white vinegar or warm water.
Cashew Substitutes: We used cashews because they add richness. You can try the typical cashew substitutes: silken tofu, white beans, other nuts or seeds with the understanding that the flavor and texture will change accordingly.  You may need to adjust/add ingredients to compensate.   We have not tested any substitutions.
Soaked Red Onions: If you have a particularly sharp red onion, then consider soaking the chopped red onion in warm water for 5 minutes, then drain thoroughly before adding it to the salad. The red onions are still crunchy as they are raw, but soaking can mitigate some of the crunch.
Canned Beets: We used a can of small beets for this macaroni salad. The beets were about the size of a golf ball. You may or may not use the whole 15 oz. can. Make sure to read the ingredients. Most canned beets are beets, water, and, salt. When draining off the beet "juice", retain the liquid, as you may wish to consider adding it instead of the water. This will increase the beet flavor. We made this salad as the recipe amounts indicated, then right before serving, we added 2-3 Tablespoons of the beet "juice" to loosen it up. This enhanced the beet flavor as the beet flavor is mild in this recipe.
Roasted or Boiled Beets: Feel free to use fresh beets that have been roasted or boiled. We used canned beets for the convenience.
Chopped Beets: If you wish to ramp up the beet flavor, add ¾ cup of finely diced beets. We tested this both with and without the diced beets in the salad. We had some family members who loved it this way and others who loved it without the chopped beets added. If unsure, do not add them.
Potlucks: If you plan to take this dish to a potluck, we suggest placing some tiny chopped beets on top as seen in the blog photography. These little diced beets queues individuals in on what the dish is all about.
Making and Serving Later: This macaroni salad tastes best immediately after making it.  As with most macaroni salads, they tend to really drink up the dressing. If you are planning to make this salad for a picnic, holiday, potluck (or later use) and you want maximum presentation, texture, and taste.  We suggest doing the following:

Prep all your veggies and place them in a bowl, tightly cover, and place in the fridge. Note: If adding chopped beets to the salad, dice them, but keep them in a separate container.
Make the dressing ahead of time and place in the fridge.
Cook the elbow macaroni, rinse with cold water, drain well, and place in a separate container and place in the fridge.
Right before serving, rinse the macaroni with warm water, gently loosen the macaroni with your fingers, then switch to cold water to loosen further. Drain really well, then place in a large bowl with the diced veggies (and diced beets, if using).
Cashew-based sauces/dressings tend to tighten up when refrigerated. You may need to add a little splash of warm water or distilled white vinegar to the dressing, mix well, taste test (add more seasonings, if needed). Place the veggies and macaroni into a large bowl, add the dressing.  Stir well, taste test, adjust seasonings, and serve.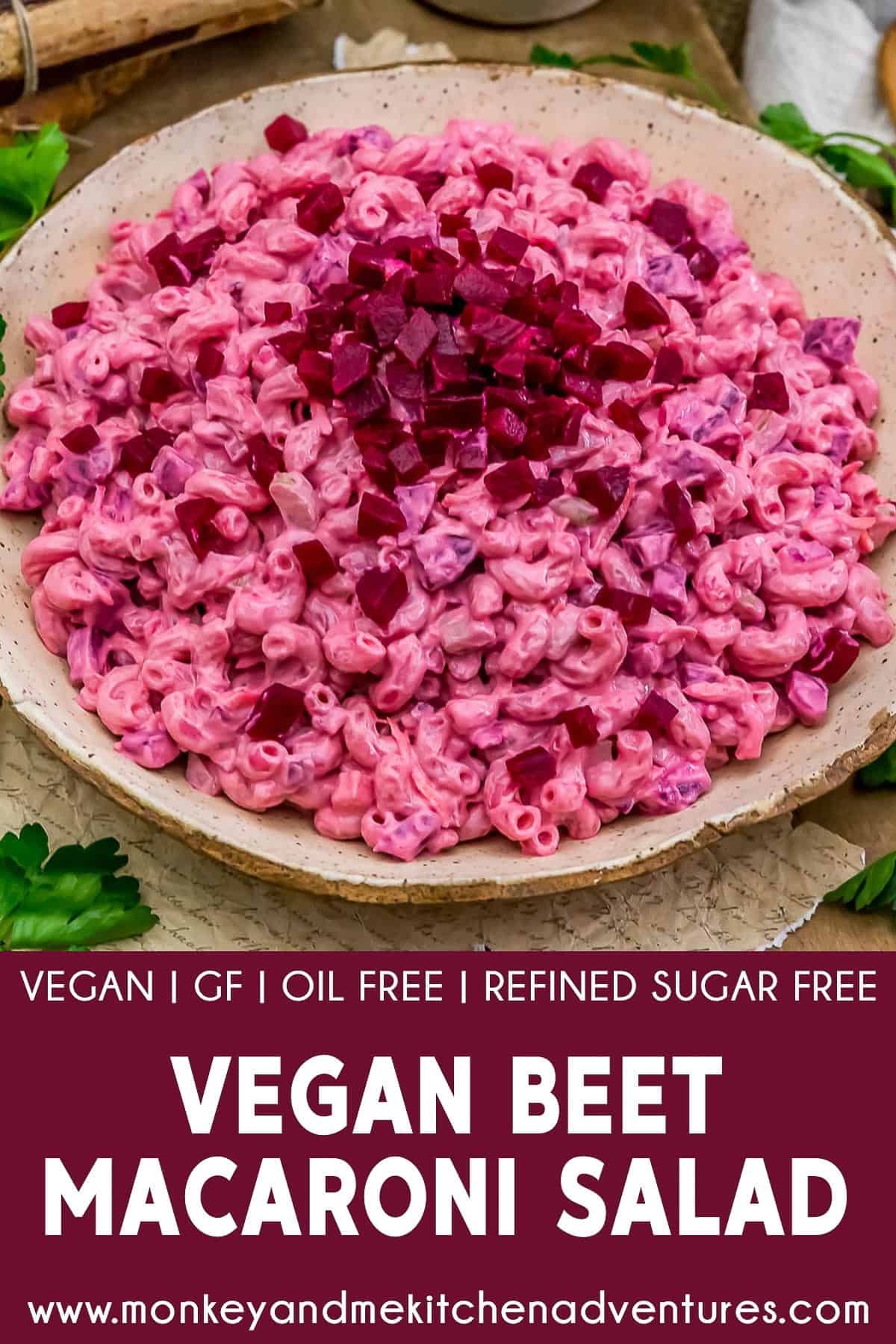 Leftovers and Freezing:
Leftovers will generally keep 5 days in the refrigerator.  Store in a covered container.
Like most macaroni salads, this recipe does not freeze well.
Pantry Products:
Yellow Mustard:  We used French's Classic Yellow Mustard.  Feel free to use your favorite yellow mustard.
 Kitchen Products:
Stock pot to boil the macaroni
High-speed blender
If you try this vibrant and festive dish, we would love to know if you enjoy it as much as we do! Please leave us a review! Post a picture on Facebook or Instagram and tag us! We would love to hear from you.
Print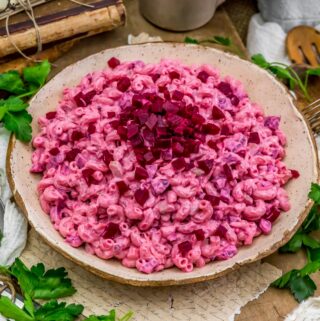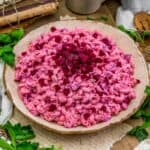 Vegan Beet Macaroni Salad
Author:

Prep Time:

15 Minutes

Cook Time:

10 Minutes

Total Time:

25 Minutes

Yield:

6 Cups

1

x

Category:

Salad, side

Diet:

Vegan
---
Description
Rich, creamy, and delicious, this Vegan Beet Macaroni Salad is the quintessential picnic side with a hint of sweet, earthy beet flavor!
---
Salad Ingredients:
8

to

10

oz. dry elbow macaroni *

¾ cup

celery ribs, diced

½ cup

red onion, fine dice

½ cup

grated carrots
Dressing Ingredients:
1 cup

(raw) cashews *

4

small beets, cooked/canned *

3 Tablespoons

+ 1 teaspoon apple cider vinegar (+/-)

1 Tablespoon

+ 2 teaspoons distilled white vinegar (+/-)

2 Tablespoons

pure maple syrup (+/-)

1 Tablespoon

+ 2 teaspoons yellow mustard (+/-) *

2

to

3

Tablespoons water *

1 teaspoon

garlic powder

1 teaspoon

onion powder

½

to

1 ¼

teaspoons sea salt (+/-) *
Other Optional Ingredients:
¾ cup

chopped beets, ¼ inch dice
Beet juice (from can of beets or from beet cooking water) *
Optional Toppings:
Chopped Beets, ¼ inch dice
---
Instructions
Cook the elbow macaroni according to package directions, rinse thoroughly with cold water (rinse until cold), shake off excess water, set aside to use in Step 3.
In the meantime, place the cashews into a small bowl, cover with boiling water and allow to sit for 15 minutes, then drain off and discard the water. Place the soaked cashews into a high-speed blender along with all the remaining Dressing Ingredients.  Blend until smooth and emulsified.  Set aside.
Place all the Salad Ingredients (including the cooked and cooled elbow macaroni) into a large bowl, mix to evenly distribute the ingredients.
Pour the dressing over the mixture, gently toss. Taste test for flavor. Add more seasoning, if needed. Best if served immediately. Refrigerate leftovers.
---
Notes
*Please reference the blog post for Tips for Success, Pantry Items Used, Storage and Freezing, and Kitchen Products Used. 
*Sea Salt:  Please adjust the sea salt based upon your family's sea salt preferences and/or based upon dietary needs.   
*Serving:  5 to 6 (makes 6 cups)

This post contains affiliate links, and we may receive a very small commission if you purchase through those links at no additional cost to you. Thank you for supporting Monkey and Me Kitchen Adventures! For more information, see our disclosures here.