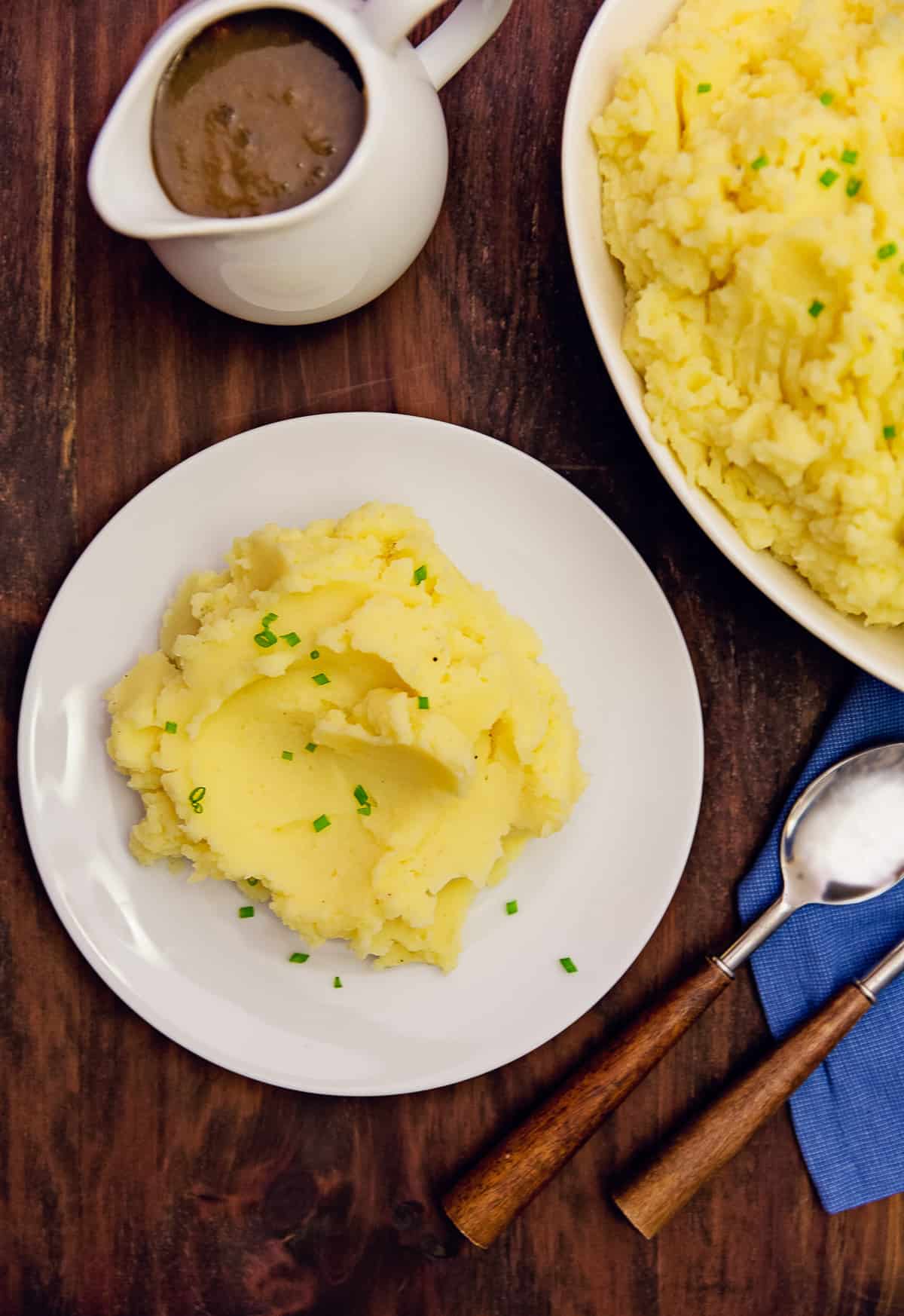 Enjoy this classic favorite; it's simple and fast, creamy and delicious.  Homemade mashed potatoes made healthy, you say?  Why yes, it can be done – the Whole Food Plant Based way!  The smooth texture is superb, making it a perfect side dish.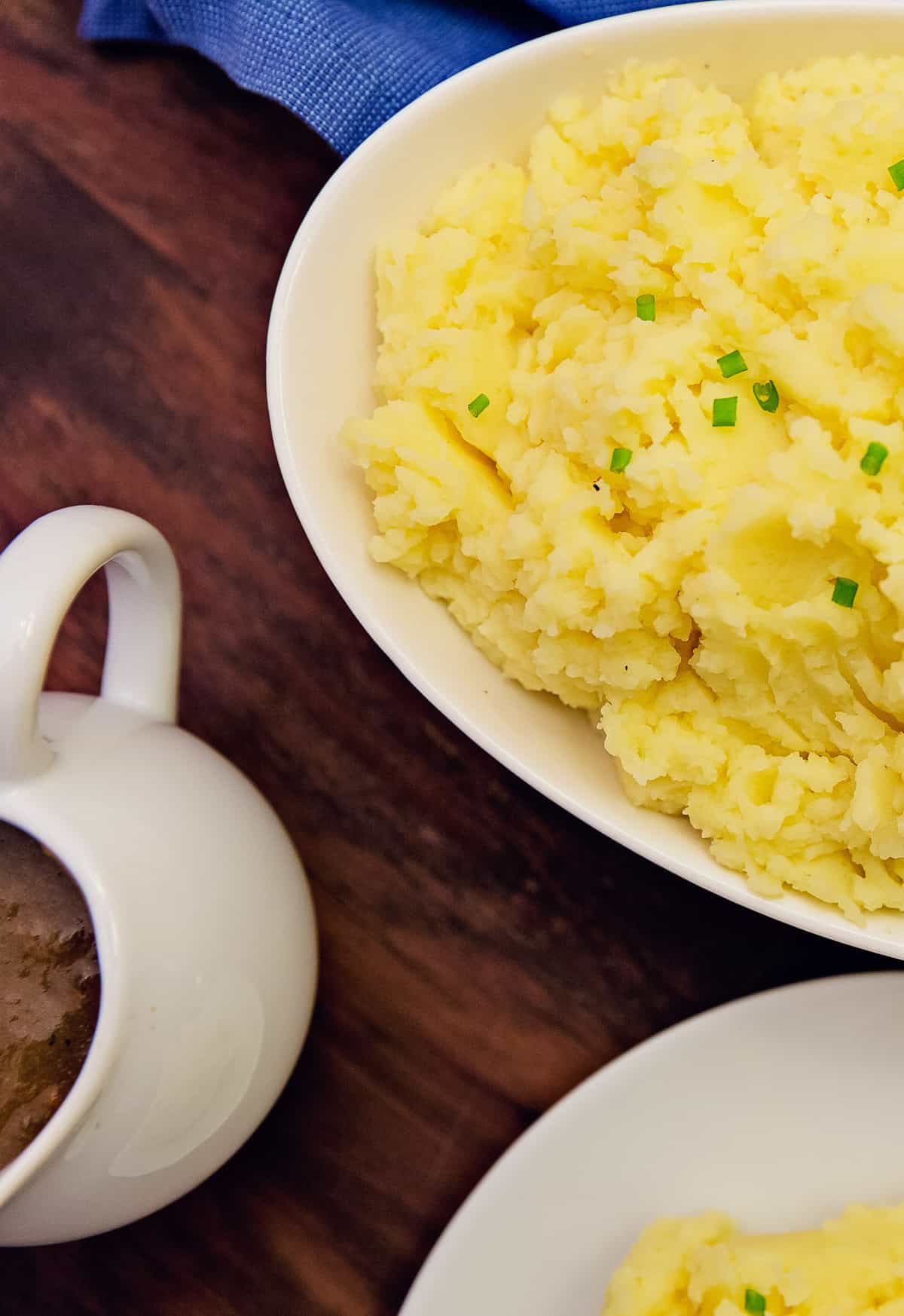 Hi!  Ameera here!
Mom always made the most delicious mashed potatoes ever!  I remember eating mounds and mounds of them; they were sooooo good.  It wasn't until I started cooking with her that I learned why they were so gosh darn tasty.  She put butter, cream cheese, sour cream and half-n-half in them and whipped them to fluffy perfection.  WOW!  No wonder!  I also carried on this same tradition, and made the most decadent mashed potatoes as well.
I am excited to say that we have created a super Simple Mashed Potato recipe – only 4 ingredients how cool is that?! Couple this with our amazing Mushroom Gravy and you have a flavor-bonanza!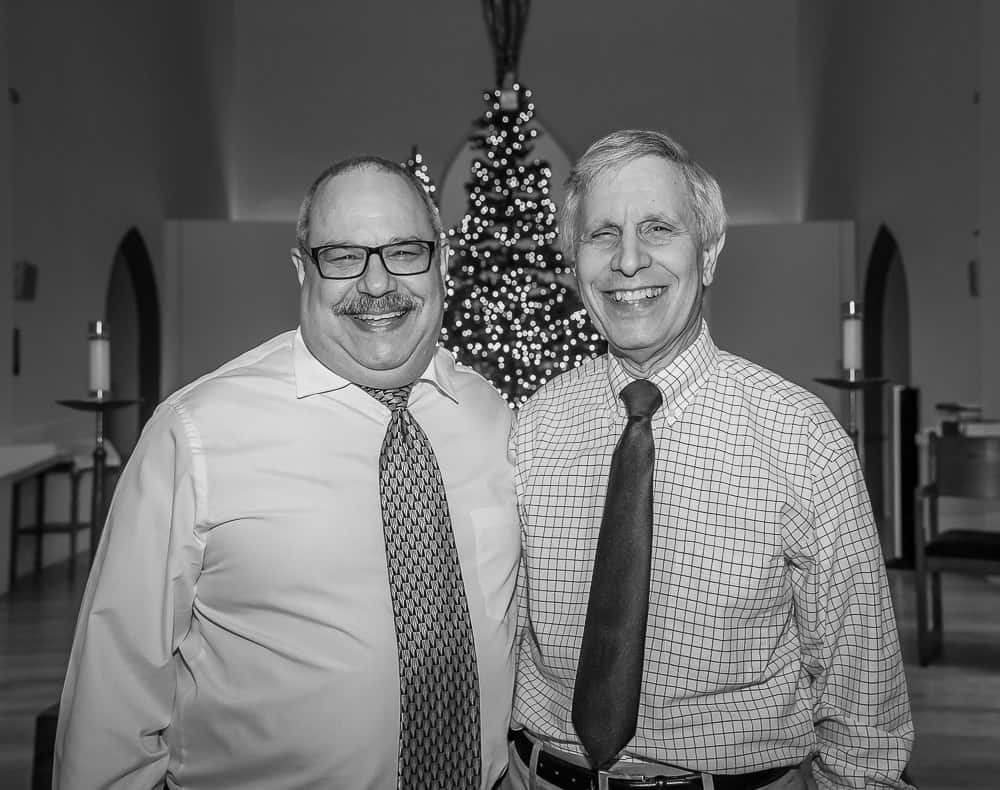 (Uncle Carmen and my dad, Tony)
Uncle Carmen and his mashed potato love affair
We can't make mashed potatoes without talking about my Uncle Carmen, my dad's brother.  Uncle Carmen loves mashed potatoes!  I mean, he really, really loves them.   He loves them so much he makes mashed potato sandwiches out of the leftovers.  He can make a whole meal out of just mashed potatoes.
Uncle Carmen lives in up-state New York so we don't get to see him very often, but we do talk about him all the time, especially if we are serving mashed potatoes.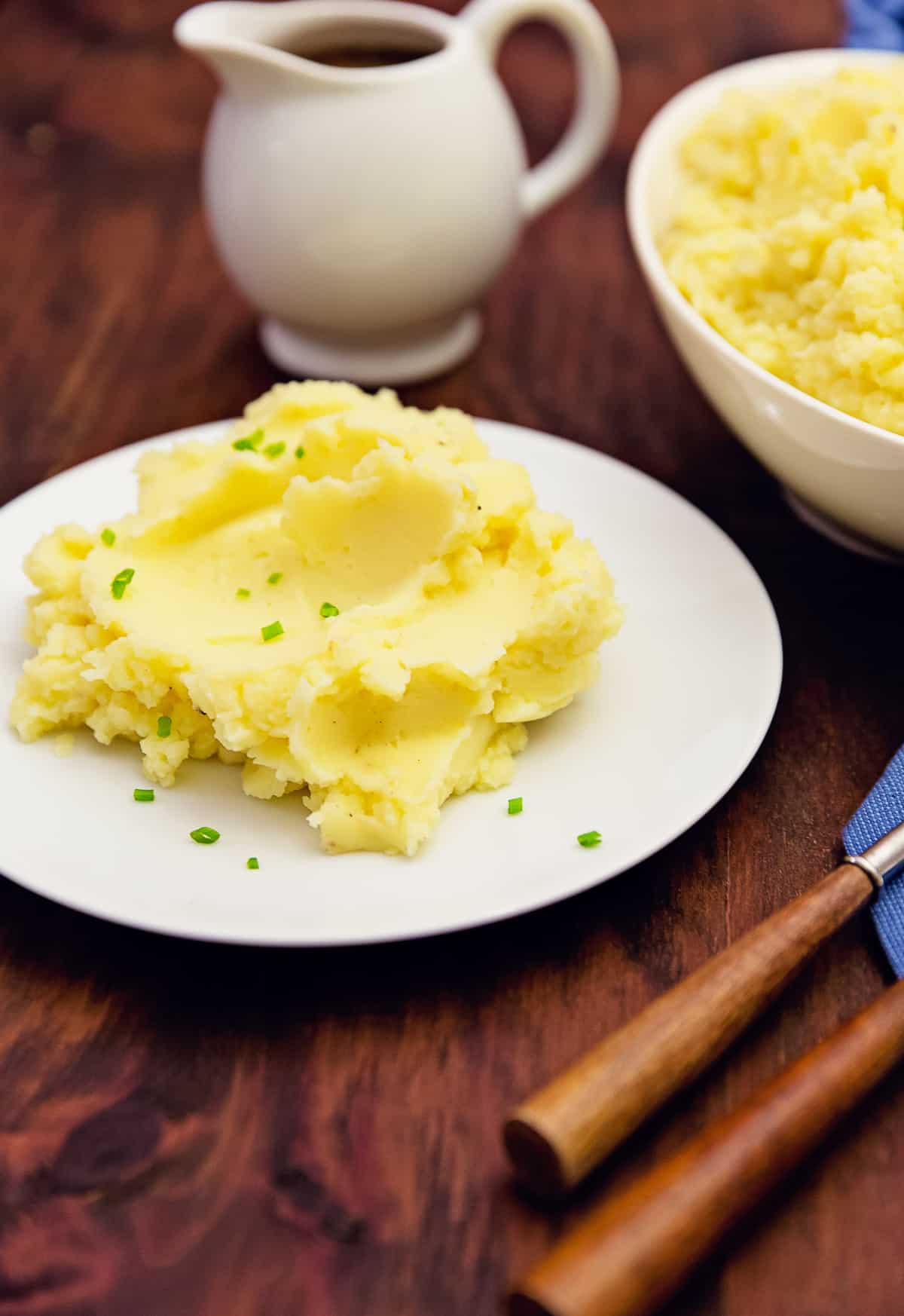 Charlotte's Baptism
In December 2016, Charlotte was baptized in Connecticut.  We all drove to Connecticut for the baptism, and it was so beautiful.  My Uncle Carmen and Aunt Bev drove down from up-state New York for the baptism.  It was so good to see them again.
I love to see my uncle and my dad together because Uncle Carmen razzes my dad endlessly; it is so funny. Plus, they always find ways to tease each other in the most hilarious ways. We laugh our butts off.
The Infamous Dinner
After the baptism, Chris, Katie, and Charlotte were wiped out. Charlotte was exhausted and zonked out.  So, Uncle Carmen invited our family to go to a famous restaurant in downtown Stamford for dinner (this was before we went Whole Food Plant Based.)  We were excited to spend the evening together over dinner.  We went to a gorgeous restaurant that was well known for serving amazing steaks.  The prices were off the charts, and we all knew that Daddy (as Seinfeld would put it: he is extremely careful with money) was internally flipping out – LOL.
Every item on the menu was separately priced.  Mashed potatoes, as a side dish, was crazy expensive, and don't even ask about the steak prices.  I thought my dad was going to lose it as he agreed to pay for me, Michael, Mom, and himself.
Uncle Carmen, unlike my dad, does not have a major frugal streak.  Uncle Carmen ordered from the menu with the freedom and gusto that only a carefree man can.  My dad was telling everyone to fill up on water.  That is, until he found out that the water was just as expensive as an alcoholic drink! HAH!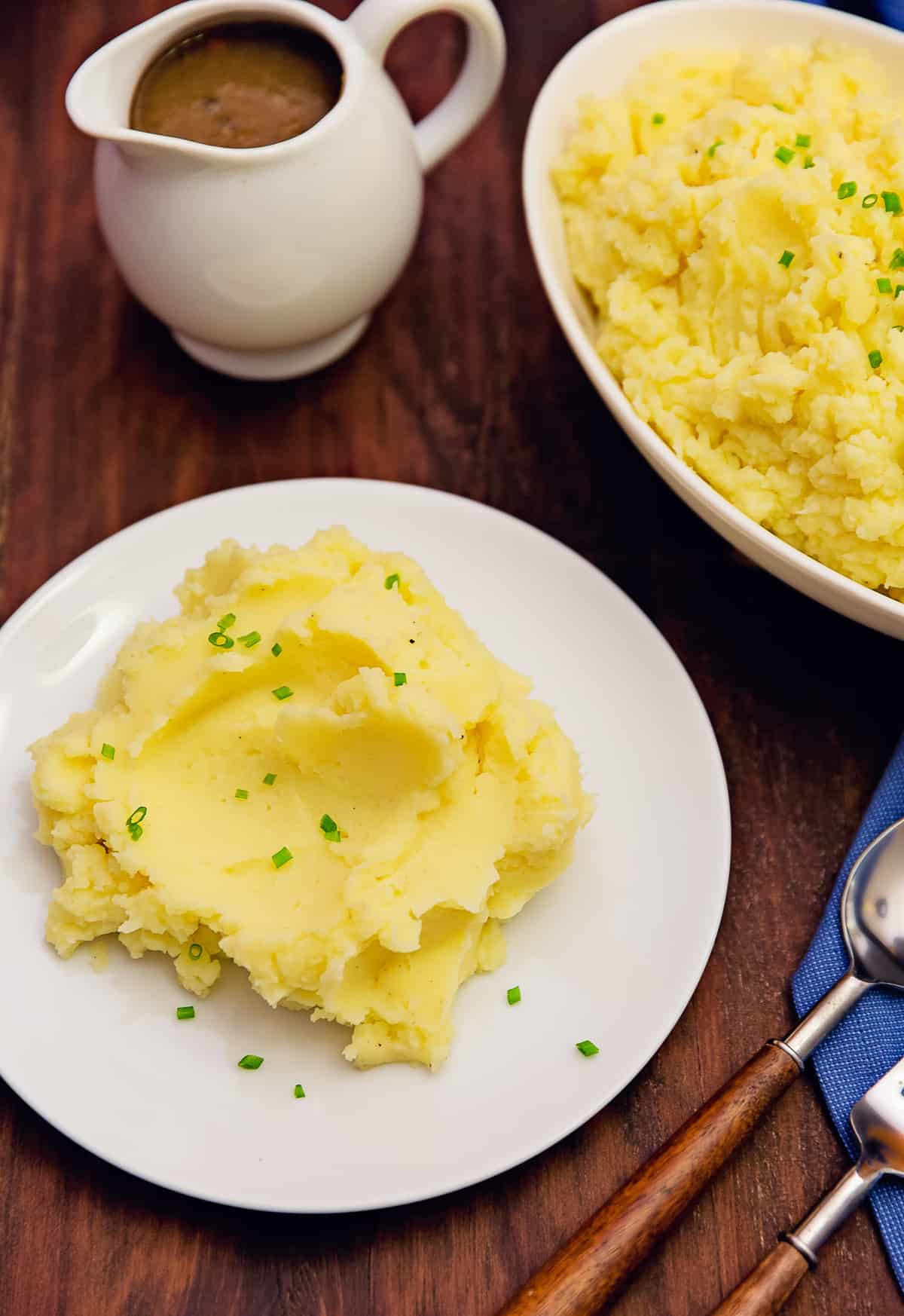 When they served the individual mashed potatoes as a side, it arrived in a massive bowl, large enough to serve two or three or four!  How could this be an individual side dish?   It would have been nice if the waiter had shared this information with us before we ordered!  Of course, we all ordered a "side" of mashed potatoes. But no worries, we all enjoyed the enormous bowls of mashed potatoes, especially Uncle Carmen 😉
When my dad told the waiter that he was ready for the bill, he had also asked him to bring along the electric shock paddles too.   The bill was the most he had ever spent on dinner multiplied by 10.  You could have blown him over with a feather!
I recently asked him about the Stamford Steakhouse bill when I was writing this blog and he said "I kept that damn receipt so I could show people that I am not too damn cheap!"- his once in a lifetime extravagance!  LOL
Thank you Dad for being an awesome dad, but Thank you even more so for an amazing memorable evening with family!  I thoroughly enjoyed watching you and Uncle Carmen razz each other all night long. We laughed our butts off and made lots of great memories.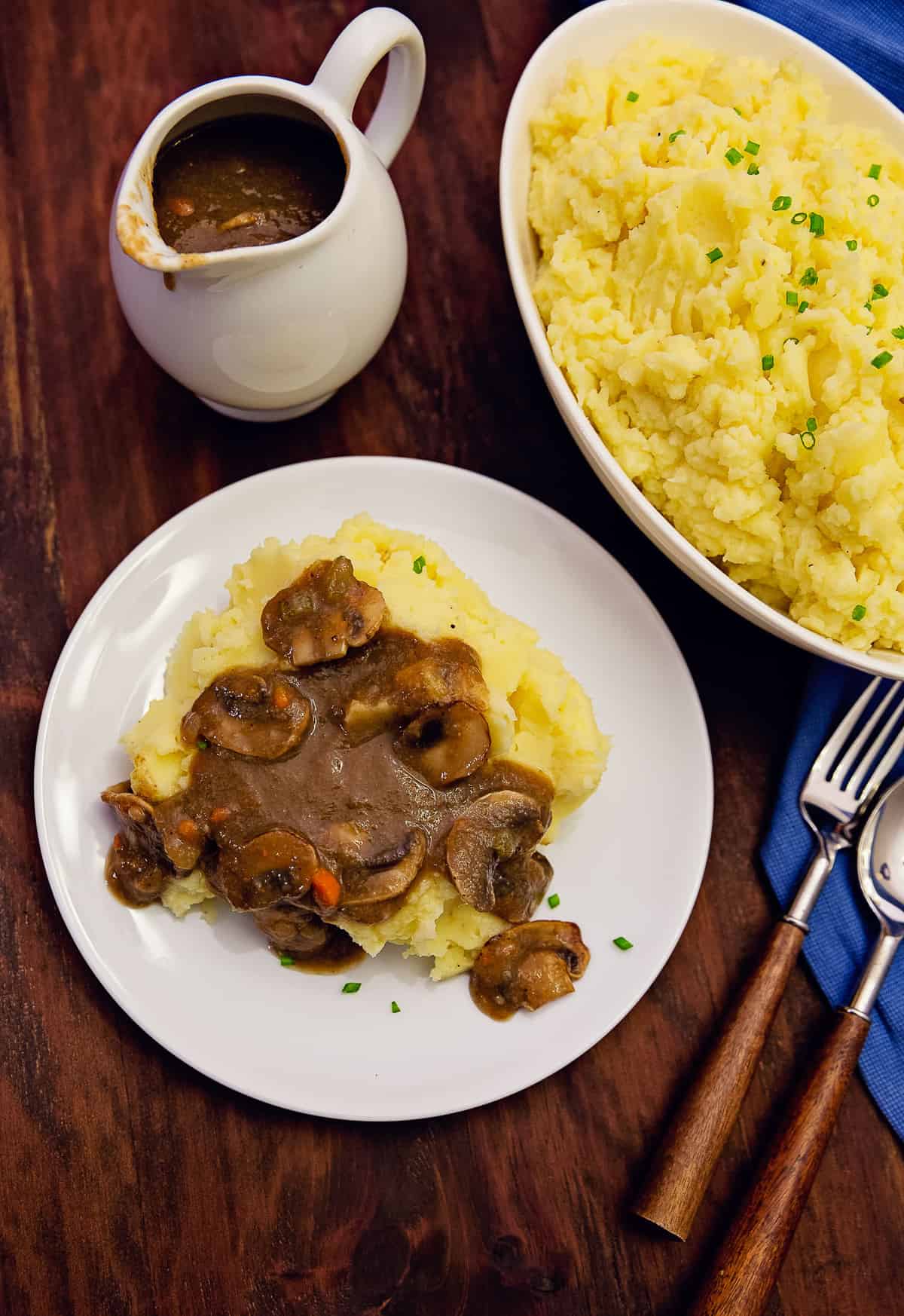 Robin here! 
I am totally cracking up about the Stamford Steakhouse story.  TP109 is extremely frugal and remembering his reaction to the prices and subsequent bill was comical.  He handled it well, but he still makes funny references about it to this day.
Now, back to the basics of mashed potatoes.  This recipe is simplicity at its finest.  You will love how easy it is to make, only 4 ingredients, it doesn't get much better than that.


Products used:
Large stock pot
Potato masher
Electric beater
Print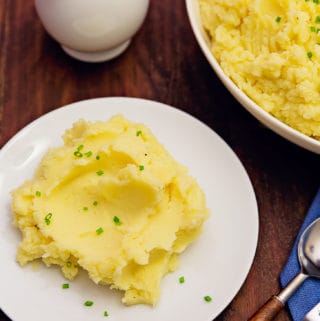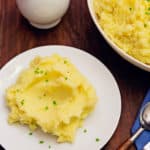 Simple Mashed Potatoes
Author:

Prep Time:

10 minutes

Cook Time:

20 minutes

Total Time:

30 minutes

Yield:

10

-

12

Servings

1

x

Category:

Side

Cuisine:

American
---
Description
Enjoy this classic favorite; it's simple and fast, creamy and delicious.  Homemade mashed potatoes made healthy, you say?  Why yes, it can be done – the Whole Food Plant Based way!  The smooth texture is superb, making it a perfect side dish.
---
5

lbs Russet potatoes, peeled and cut into chunks (or Yukon Gold)

1 ½

to

2

cups unsweetened plain plant milk (+/-)

1 1/2

to

2

teaspoons sea salt (+/-) *

1/8

to

1/4

teaspoon black pepper (+/-)

1 teaspoon

onion power (+/-)

1 teaspoon

garlic powder (+/-)
---
Instructions
Peel and cut into chunks the potatoes. Place in a large pot and cover with cold water.  Add 1 Tablespoon sea salt (+/-) to the water and bring to a boil. Once the water has been brought to a boil, reduce heat to a low boil.  Boil until all the potatoes are tender, approx. 15 to 25 minutes dependent on the size of the potato chunks.  When a sharp knife slides easily into the potato you can feel confident they are tender.
When the potatoes are tender, turn off the stove and drain off all the water. Return the pot back onto the burner (off) and let them dry out a little bit, approx. 2 minutes.
Take a potato masher and mash the potatoes. Add the unsweetened plain plant milk, sea salt, garlic power, onion powder, and black pepper, mash.
Take a beater and beat the potatoes until fluffy.
---
Notes
Potatoes:  Russets and Yukon Golds are an excellent choices for mashed potatoes.
Serving Size/Amount of Mashed Potatoes:  This recipe makes about 8 1/2 to 9 cups of mashed potatoes, (give or take).  The serving size is relative as some folks can make a meal out of mashed potatoes or it can be used as a side dish. You can cut the recipe in half for a smaller batch.
Creamy Mashed Potatoes:  Feel free to ramp up the unsweetened plain plant milk for creamier mashed potatoes.
Sea Salt:  Please adjust the sea salt based upon your family's sea salt preferences and/or based upon dietary needs.
Storage:  Store in a glass container in the frig.