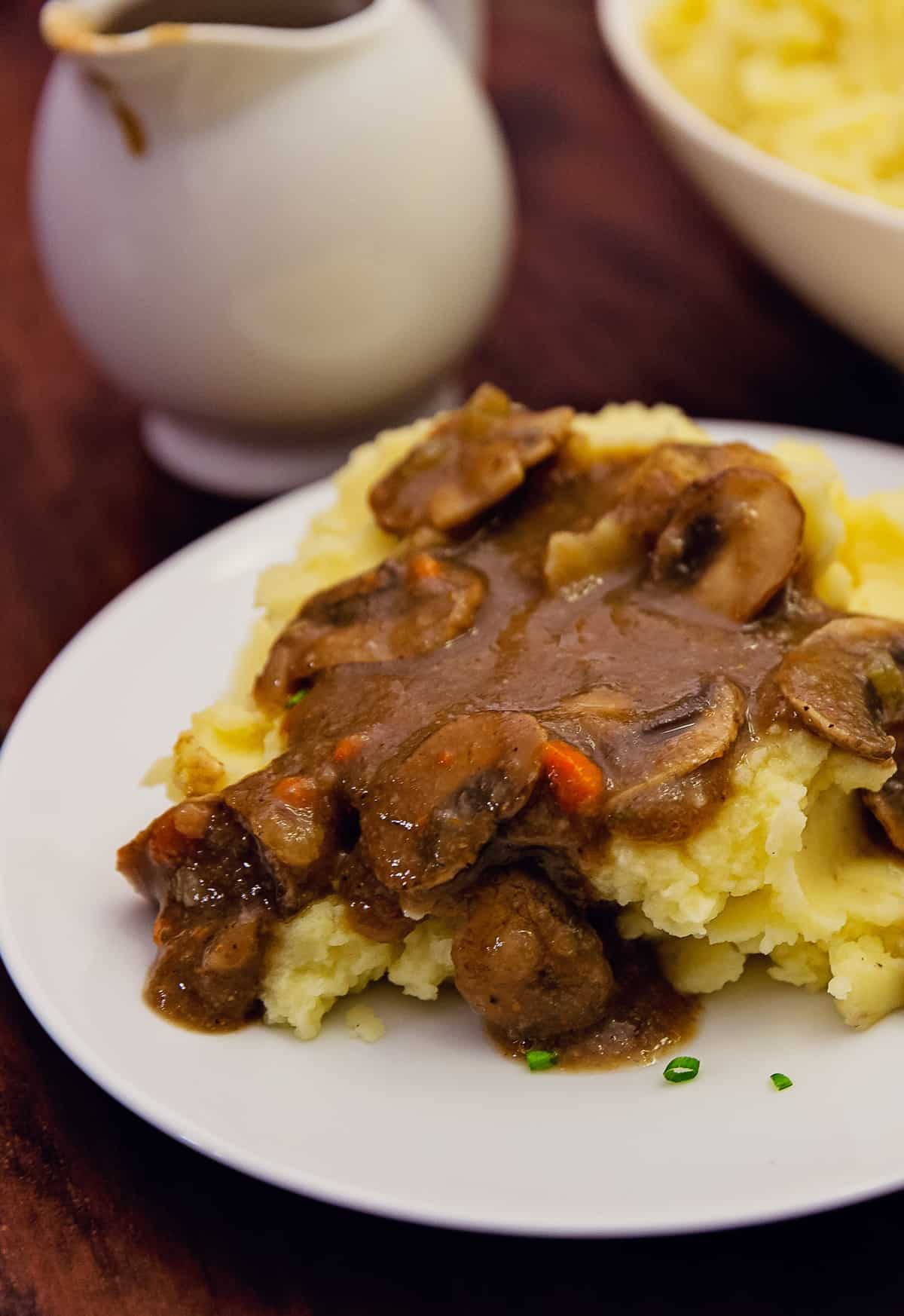 This beautiful rich mushroom gravy is super tasty and sure to please everyone in the family. Served on top of our simple mashed potato recipe makes for the most perfect Whole Food Plant Based combo side dish – No oil, no sugar, and no highly processed ingredients.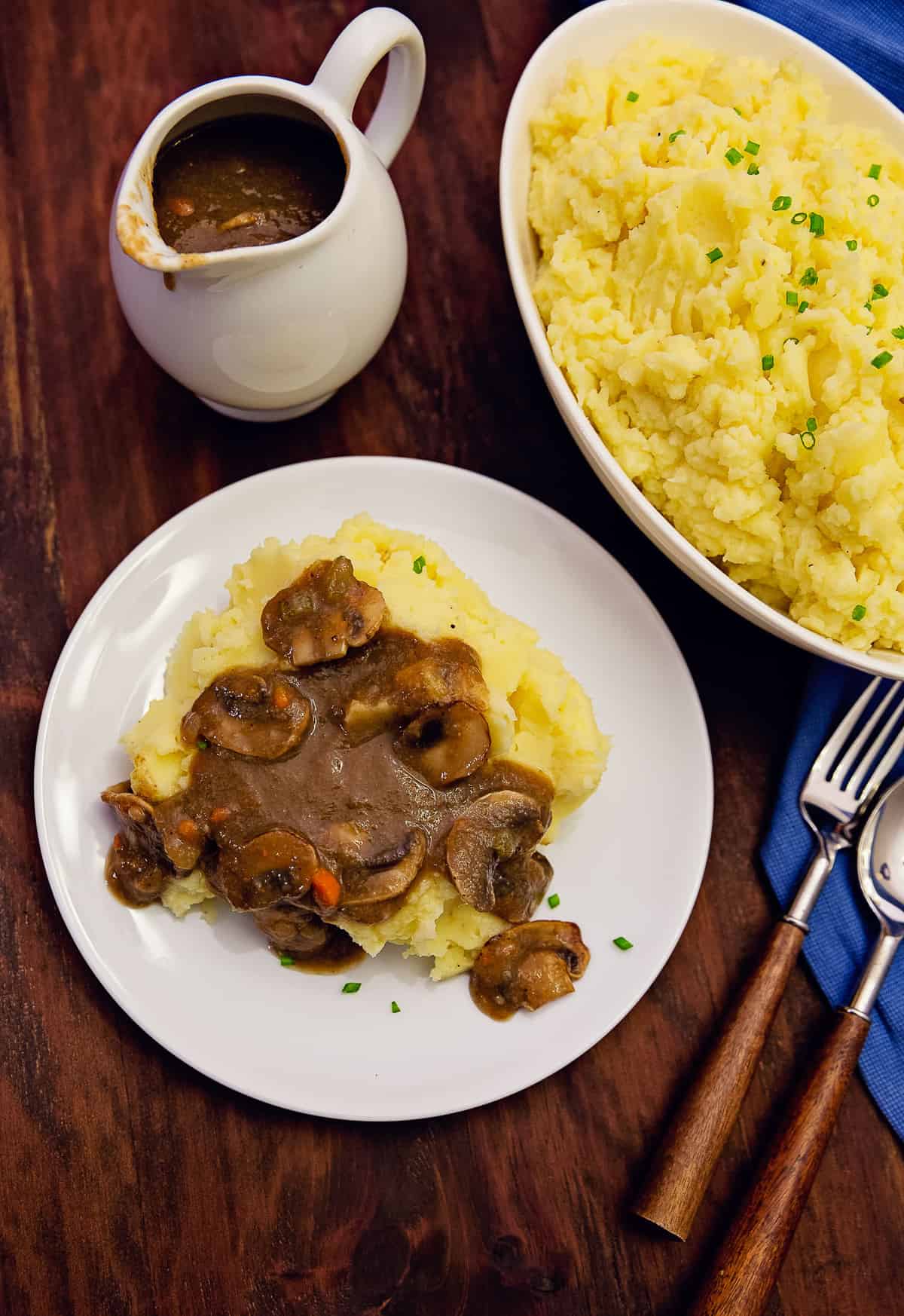 Hi there!  Ameera here!
Gravy!  We love all kinds of gravy – red gravy, vegetable gravy, cream-style gravy, onion gravy, mushroom gravy!  When Mom and I were trying to create an amazing mushroom gravy, I was really struggling with the "mushroom" component at first.  My fear was that the gravy would have a super strong mushroom flavor and texture. Now, my mom loves mushrooms, while I dislike them.  It's no secret.  I simply can't get past the texture of mushrooms.  They remind me of eggs, which I also dislike. However, on a Whole Food Plant Based diet, not liking eggs isn't necessarily a bad thing since we can't have them anyway.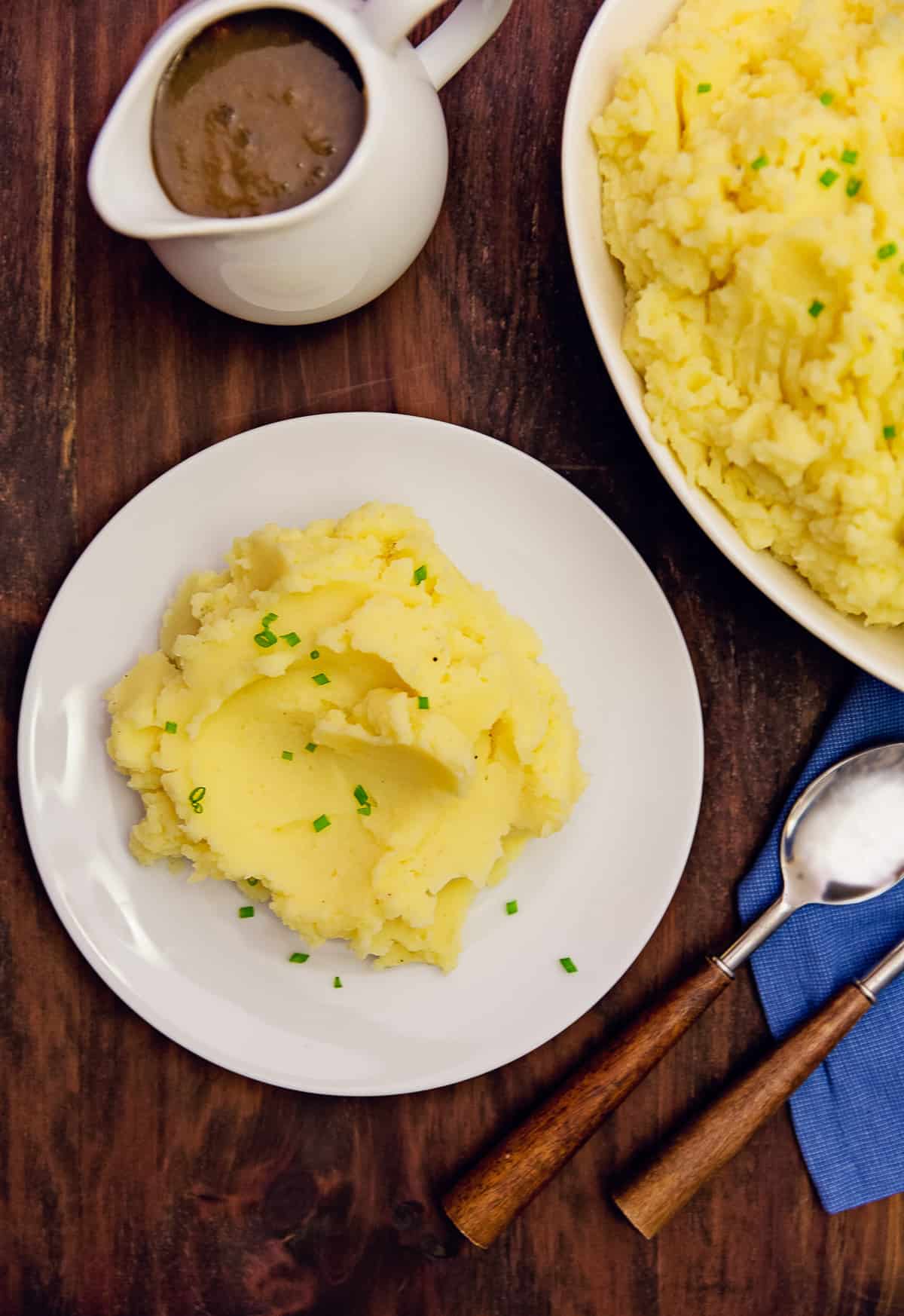 So, I was thinking, how can we utilize mushrooms in this recipe, obtain the earthy flavor they offer, but not have actual tons of mushrooms in the gravy itself.  Mom and I came up with the perfect compromise.
We cook the mushrooms in the gravy for their amazing flavor, then take the gravy, minus a few mushrooms for "presentation," and place the cooked gravy in a high-speed blender and blend it thoroughly to remove the mushroom texture.  We were very pleasantly surprised at just how silky and creamy the gravy became after we blended it.  Perfection!  Then we placed the few pretty "presentation" mushrooms back into the gravy.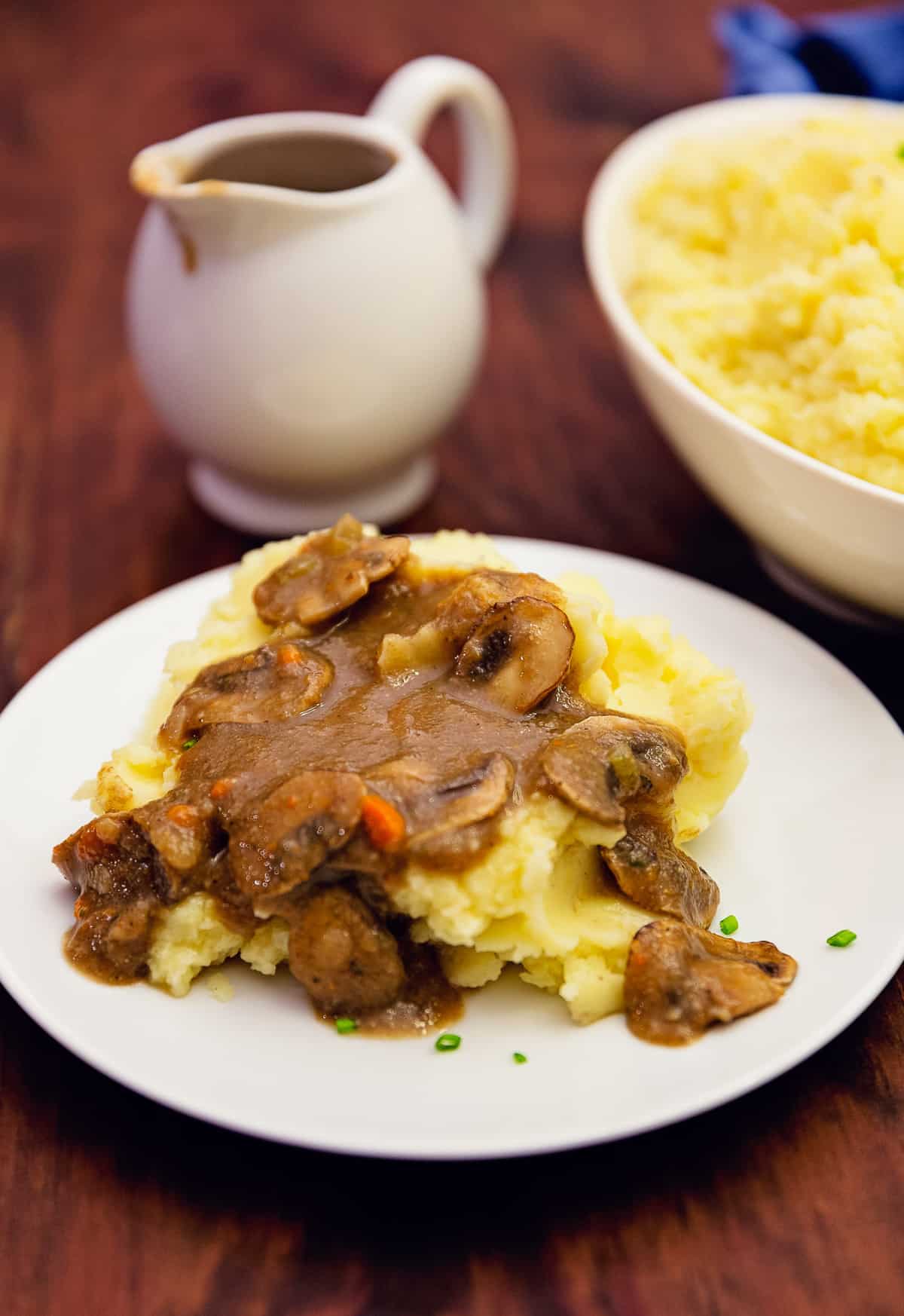 This method accomplished two things:  1) The presentation mushrooms lets people know that it is a mushroom gravy and 2) It looks really pretty in my opinion.
It worked so perfectly; we got amazing flavor and, a rich and creamy gravy.  Additionally, the wine adds a lovely depth of flavor. You can totally leave it out, but I am telling you, it is so good with it in.  After the alcohol from the wine cooks off, it leaves behind this gorgeous flavor that only a great wine can accomplish.  Make sure to look for a vegan wine 😉
Rich and delicious, we hope you give it a try! Plus, this gravy pairs perfectly with out delicious Simple Mashed Potatoes – an amazing combo!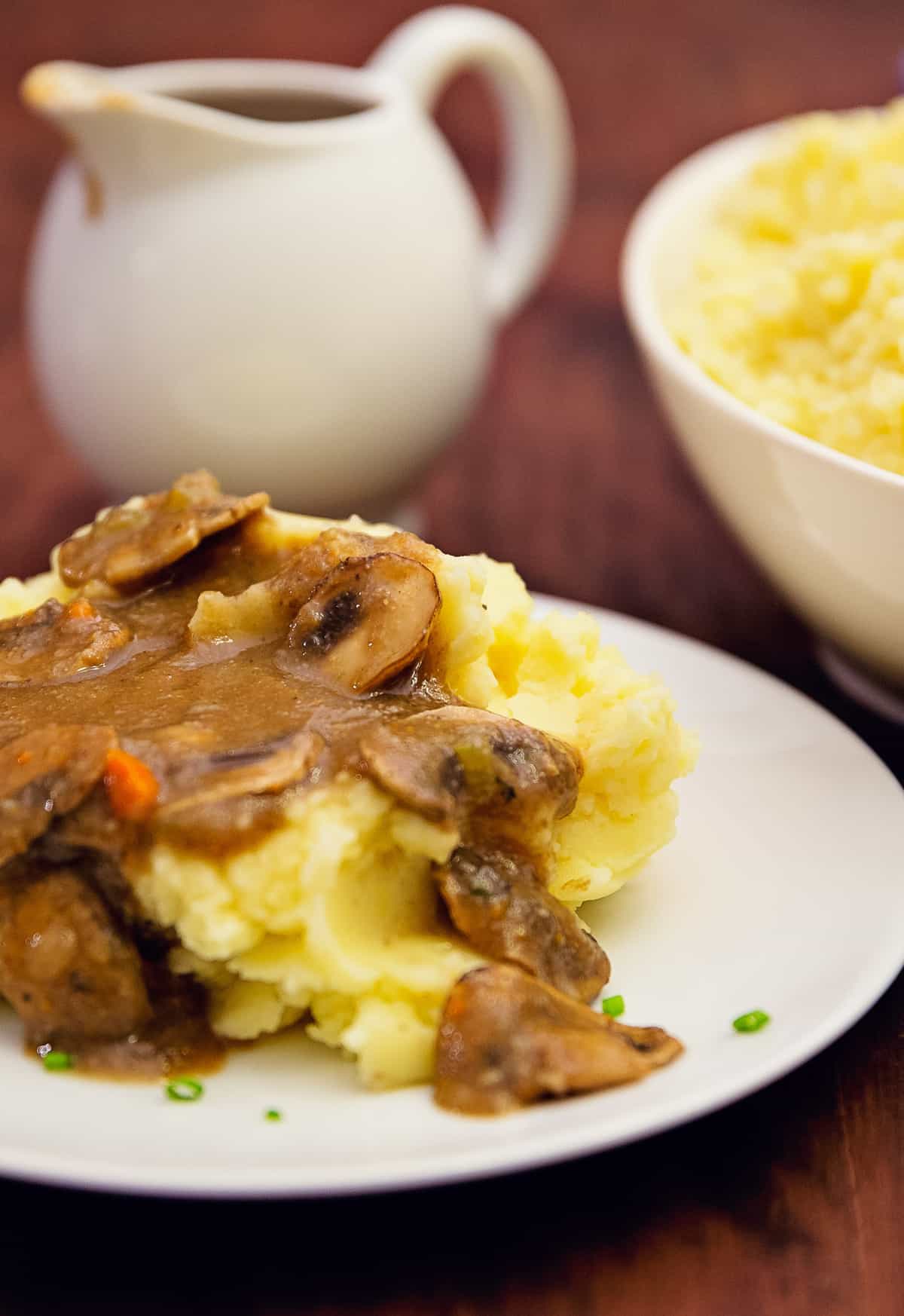 Robin here! 
No one was more surprised than Monkey by how good this gravy turned out.  She never been a fan of mushrooms.  As a child, we could not get her to try mushrooms after the initial time she tasted them.  She instantly hated them.  I didn't push it.  Later, when she became an adult, she tried them again and again, thinking that perhaps she might find a way to like them, but unfortunately that never really happened, until the Whole Food Plant Based Diet. Now she seems to be okay with integrating mushrooms a little here and there.
Her dislike of mushrooms all stemmed from a childhood experience which started with her dislike of eggs. As Monkey said, it is a texture thing.
"No More Eggies!"
Allow me to tell you how it all went down.  When the kids were small, I was fortunate enough to have had several exceptional babysitters to watch my kids while I was at work.  One of these babysitters, I'll call her "Ellen" (not her real name), would prepare breakfast for my kids.  This was very generous of her and made my life a lot easier.  The issue was that Ellen always made the same thing for breakfast every day. She made eggs, all types of eggs: scrambled, poached, over-easy, etc.  Ellen's husband and kids loved eggs.  Eggs were a breakfast staple in her home.
One morning, TP was bringing Monkey over to Ellen's in the morning before heading to work, and Monkey started crying uncontrollably on the front porch as Ellen opened the door, (she was only 3) and kept saying over and over again "No more eggies, no more eggies, no more eggies!"  I think Monkey had her fill of "eggies"  LOL.  She simply couldn't handle any more eggs.  TP said he wanted to crawl under rug since Monkey was making such a huge fuss.  Ellen handled it well, but TP was mortified.  From that day, Monkey couldn't eat eggs, and since the texture of mushrooms remind her of eggs, she grew to dislike mushrooms too.
I am so happy that we have found a way to get past her mushroom issues to make this amazing gravy.  We hope you love it as much as we do.
Plus, add this amazing Mushroom Gravy to our fabulous Duchess Potatoes for a beautiful and impressive side dish, sure to be a crowd-wower 😉



Products used:
Ceramic/enamel lined large skillet or similar non-stick skillet
High speed blender or food processor
Print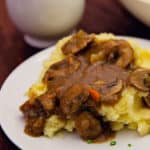 Mushroom Gravy
Author:

Prep Time:

10 minutes

Cook Time:

20 minutes

Total Time:

30 minutes

Yield:

2 Cups

1

x

Category:

Side

Cuisine:

American
---
Description
This beautiful rich mushroom gravy is super tasty and sure to please everyone in the family. Served on top of our simple mashed potato recipe makes for the most perfect Whole Food Plant Based combo side dish – No oil, no sugar, and no highly processed ingredients.
---
½

onion, minced

1

small carrot, finely minced

1

small celery stalk, finely minced

4 oz

. of white button mushrooms (approx.

6

to

9

mushrooms), sliced thinly

3 Tablespoons

red wine (vegan)

1 Tablespoon

gluten free flour (or unbleached flour)

3 cups

water

3 Tablespoons

organic vegetable broth

1/8

th teaspoon of thyme

1 teaspoon

dried minced onion

½ teaspoon

garlic powder

1 teaspoon

freeze dried shallots

1/8

th teaspoon poultry seasoning
pinch of rubbed sage

1/8

th teaspoon fresh cracked pepper

1 ½ teaspoon

sea salt (+/- to taste)
---
Instructions
Mince the onion, carrot and celery, set aside.
Thinly slice the mushrooms, set aside.
In a ceramic lined Dutch oven or large nonstick skillet, sauté the minced onion, carrot, and celery over medium heat until very softened, about 7 to 10 minutes. Add a Tablespoon of water if they start to stick.
Sprinkle the flour over the softened vegetables and stir well for one minute.
Add the red wine and cook off the alcohol. This goes fast, about one minute.
Add the water, vegetable broth, sliced mushrooms, and all the seasonings, bring to a boil, then immediately turn down the heat and simmer for 10 minutes. Stir occasionally.
After 10 minutes, pull out approx. 10 beautiful mushroom slices and set them aside for later.
Place the gravy in a Ninja or similar blender and blend at high for 2 minutes until very smooth. Return the gravy to the skillet and add the 10 beautiful mushroom slices that you set aside earlier back into the gravy for decoration.
Simmer for a few minutes, taste test the seasonings, add more as needed.
---
Notes
Blending the gravy: Placing the gravy in a Ninja or other similar blender really makes for a very smooth velvety gravy.
Storage:  Store in a glass container in the frig.