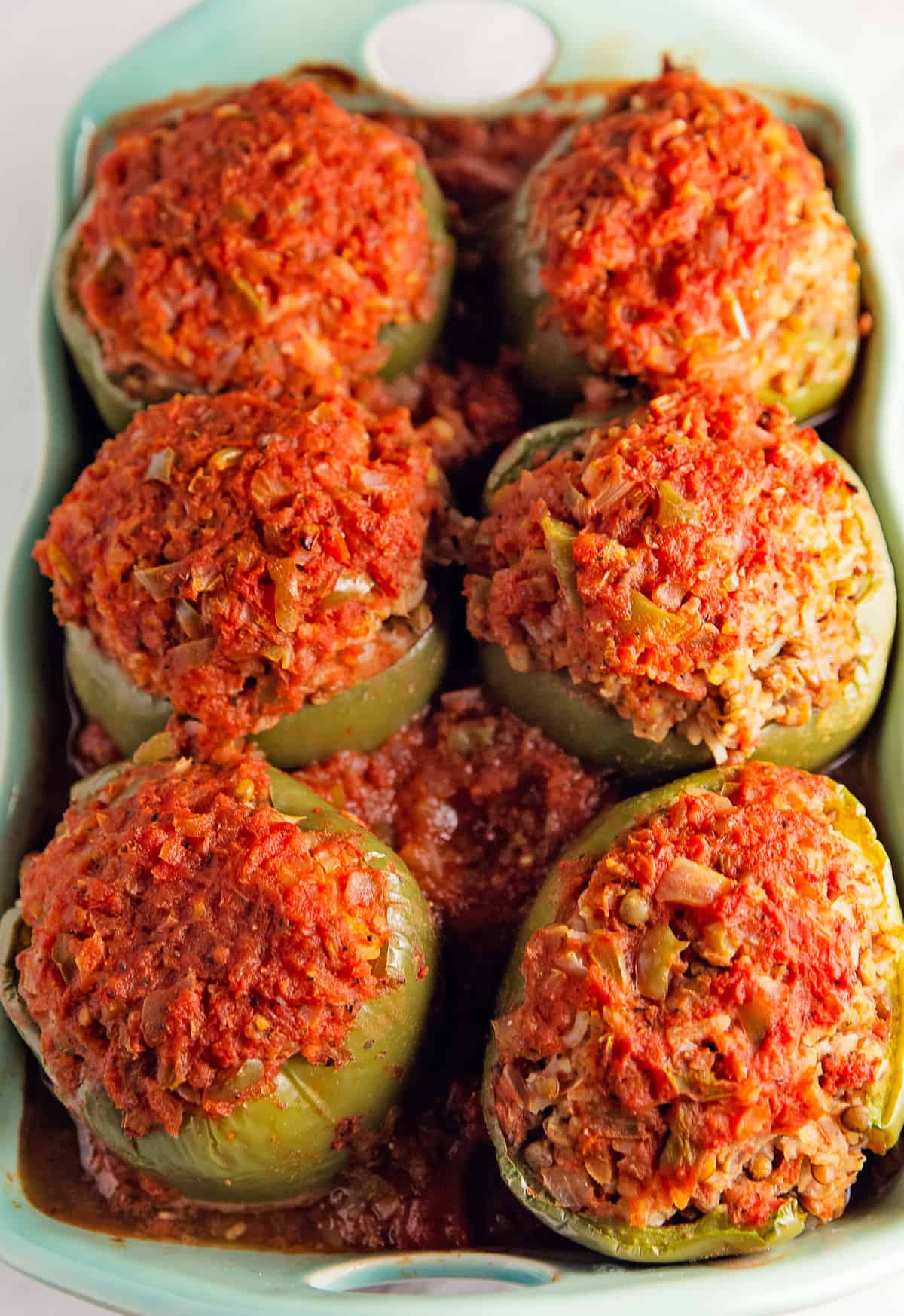 This Old Fashioned Stuffed Pepper dish is sure to transport you back in time.  A nod to the original recipe; it is truly delicious, and a fabulous Whole Food Plant Based recipe. Oil free, sugar free, no highly processed ingredients, and gluten free.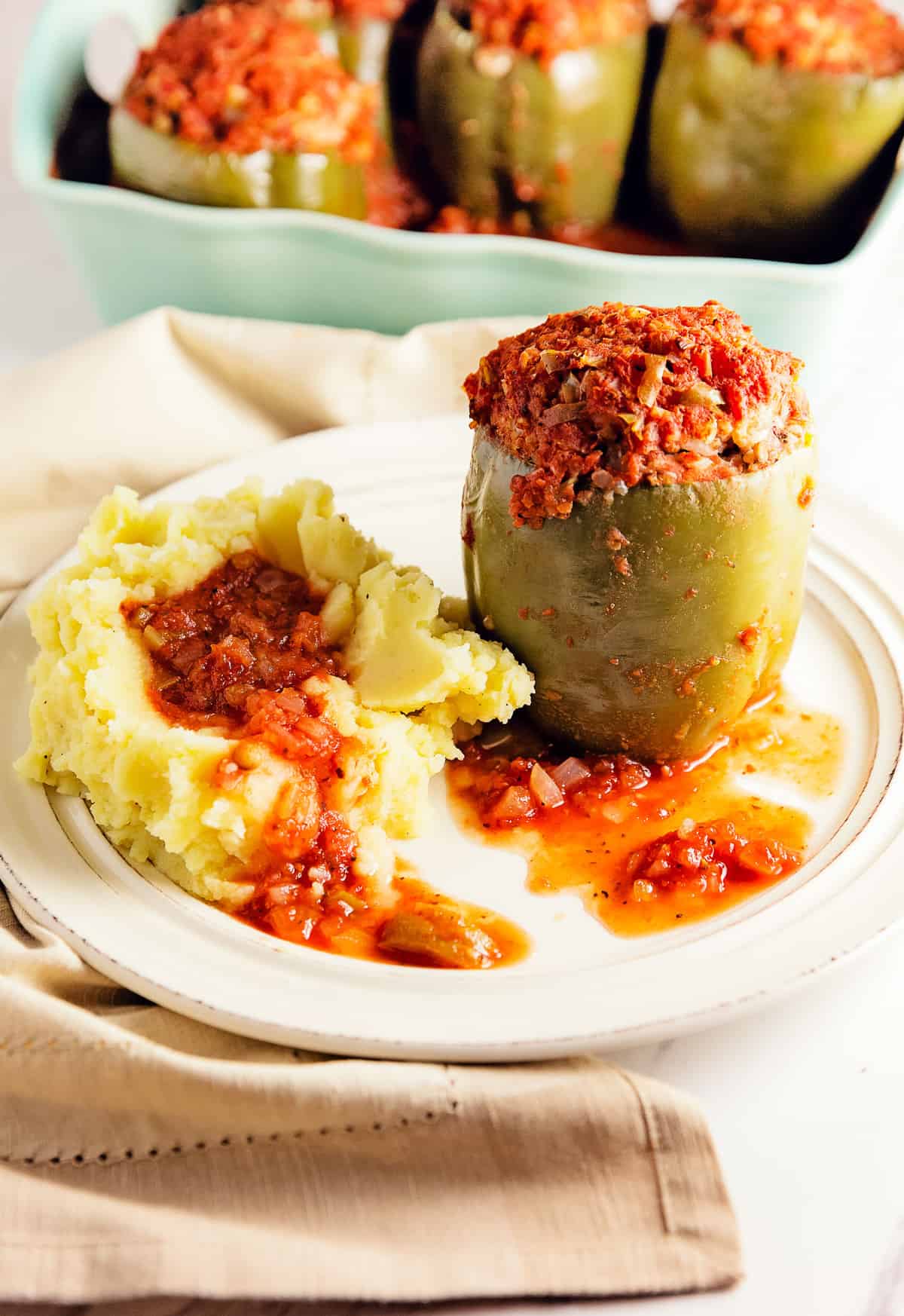 Hi!  Robin here.
When Chris was in kindergarten, his teacher, Mrs. C, gave his entire class a homework assignment, which was really an assignment for all the parents.  She went around the room and each child shared their favorite food with the class and Mrs. C wrote it all down, then she sent the list home with the children to give to their parents, along with a homework assignment.  Each parent had to write up their child's favorite food recipe on a recipe index card and return it by the following Monday.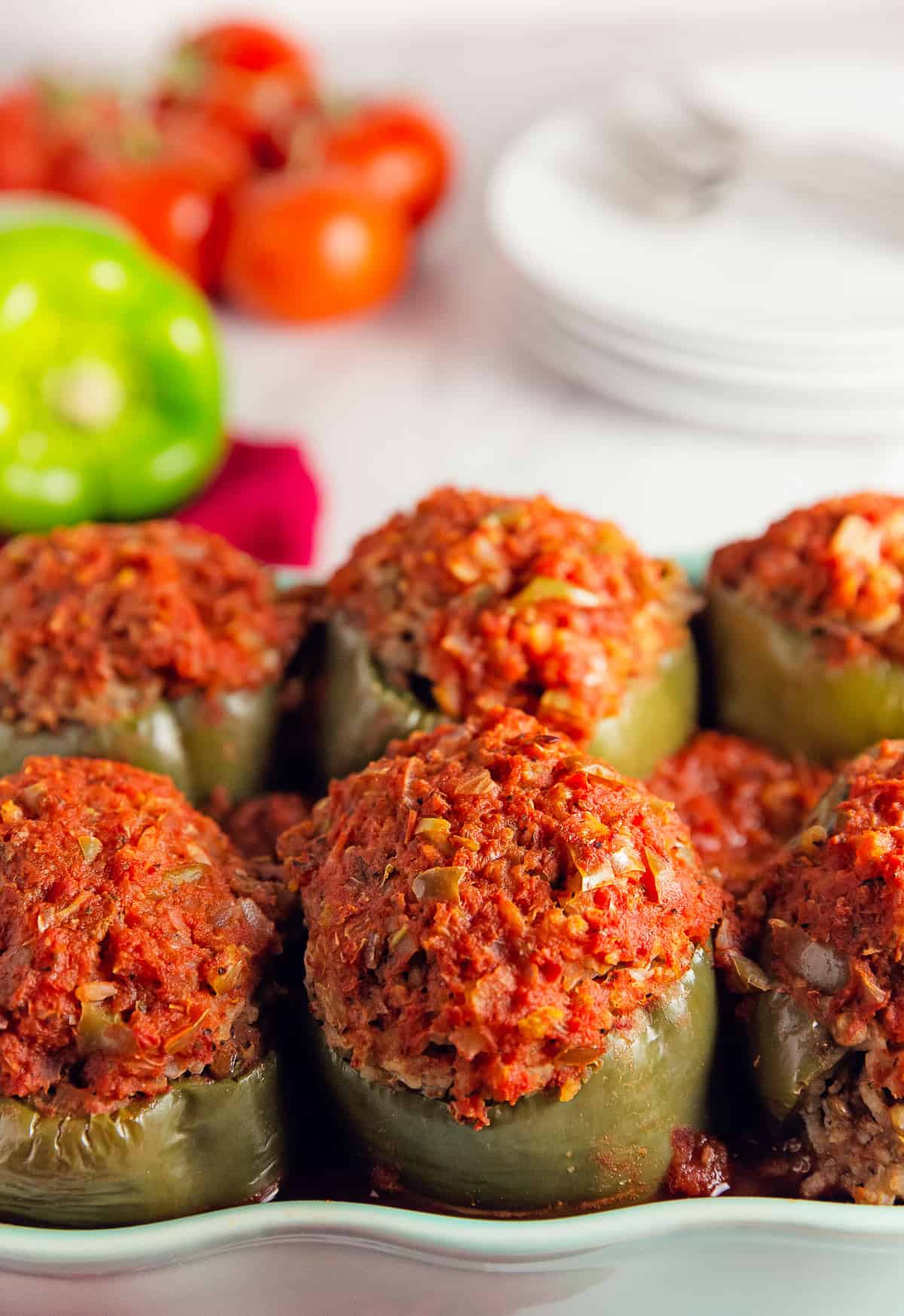 Christopher's Favorite Food
I was looking down through the list of food favorites, smiling, noting Pizza Hut pizza, ice cream sundaes, peanut butter & jelly sandwiches, macaroni & cheese, hamburgers, hot dogs, French fries, and then next to my son's name, Christopher – Stuffed Peppers with Mashed Potatoes.  I LOL'ed before LOLing was even invented.  HAH!
While most parents got off pretty darn easy, I mean how do you write up a recipe for a franchise pizza? You can't!  You just order it and pick it up. I didn't mind writing up the recipe at all, I found it quite hilarious because of Chris's selection.
Cherished Memory Book
Chris went to school that Monday with my Stuffed Pepper recipe on the index card.  A month later, all the recipes were photocopied and stapled-bound into a mini cookbook that the kids gave their moms for Christmas.  It was so sweet; I loved it – a beautiful memory book.
At the next parent-teacher conference, I remember talking to Mrs. C about the recipe project. She shared with me that she enjoyed my stuffed pepper recipe herself, and that she got a huge kick out of my son's favorite food as it was so unusual for a kindergartner to love stuffed peppers.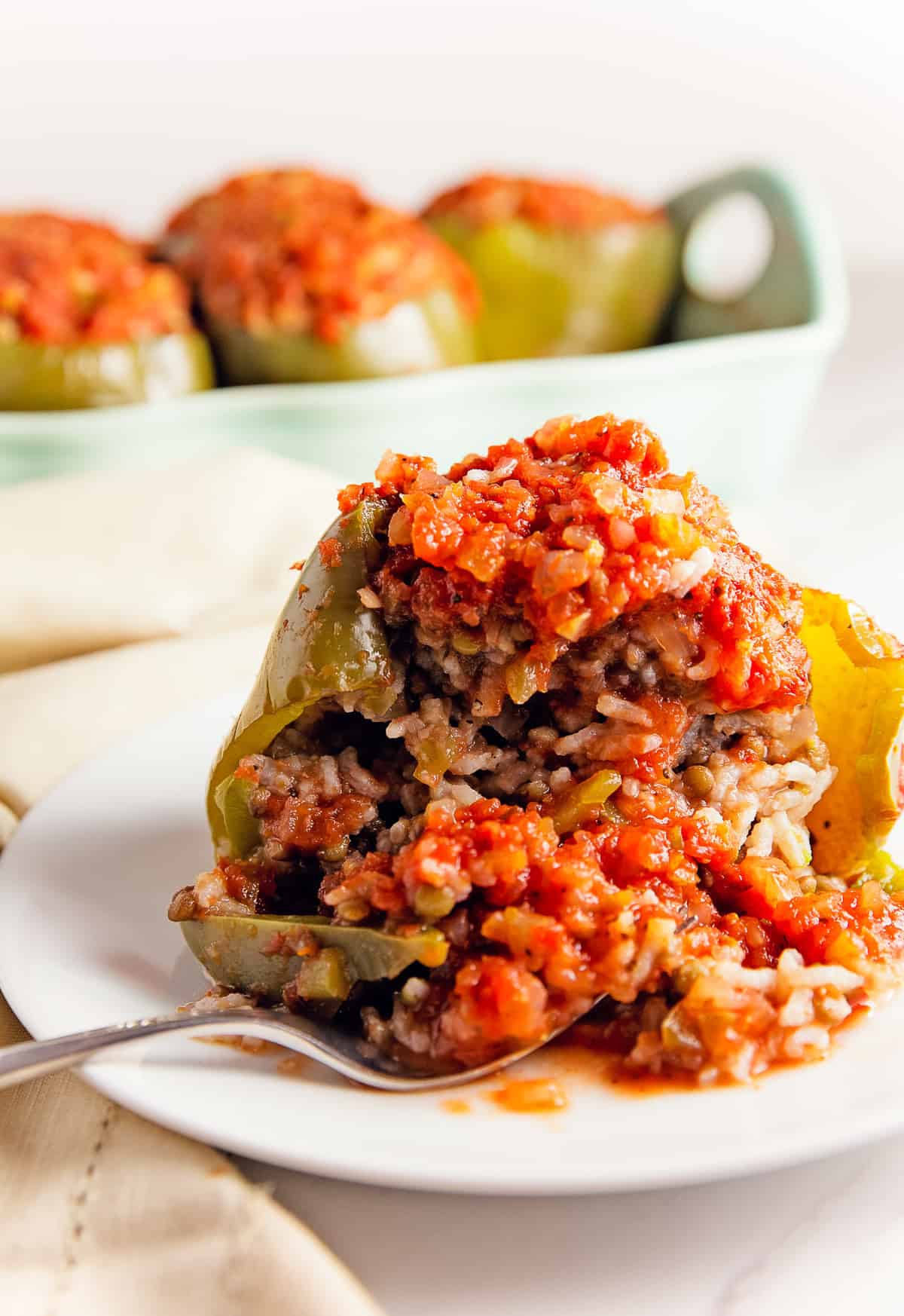 Christopher's favorite recipe was turned into a fabulous Whole Food Plant Based recipe with a few changes.  I swapped out the meat for lentils and made a few other tiny adjustments (leaving out the oil and butter), but honestly, it is pretty much the same recipe that I have been making for over 40 years!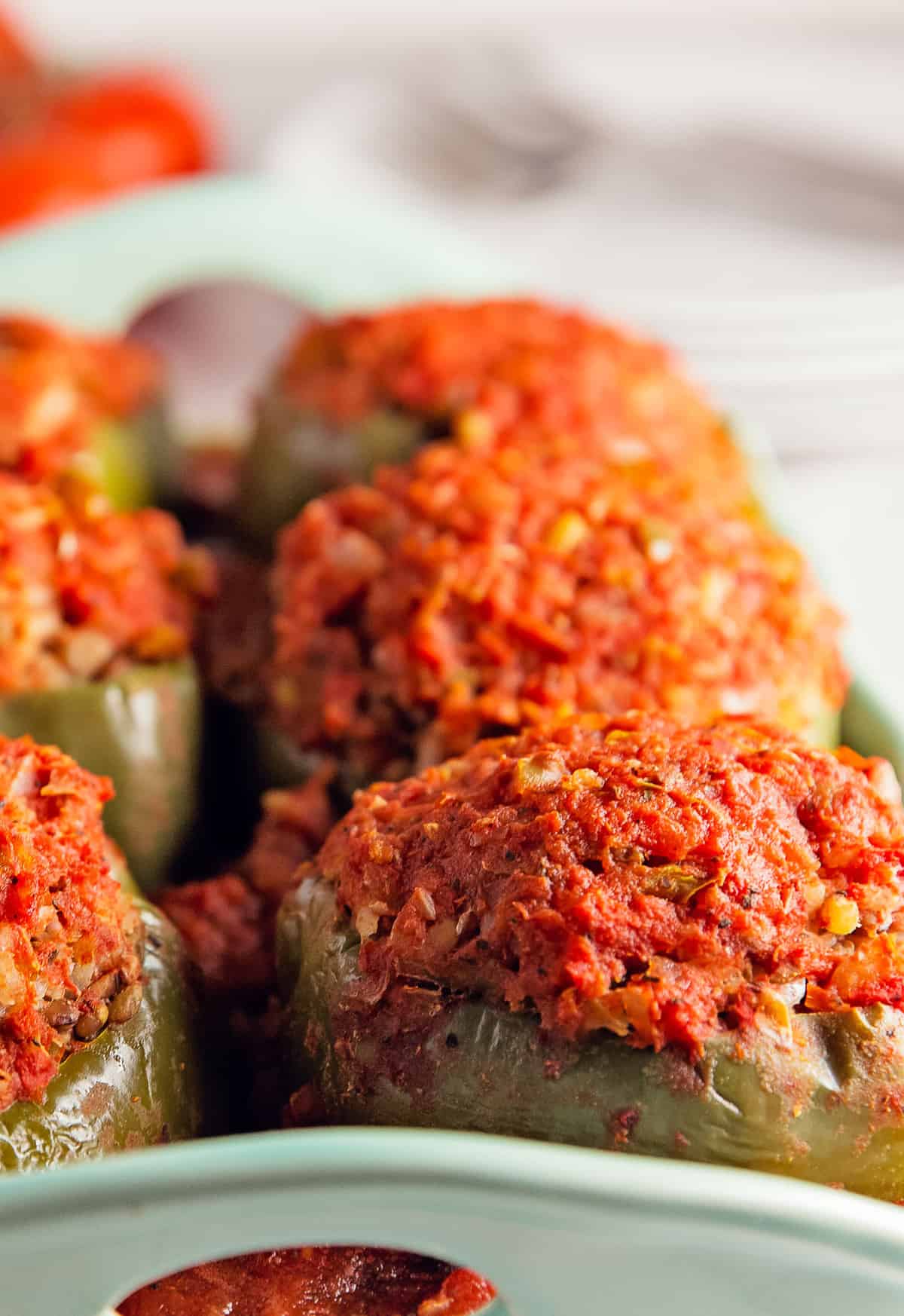 Ameera here!
We all love Mom's Stuffed Peppers and Mashed Potatoes; it was a staple in our home growing up. When she shared with me that she planned to WFPB it, I got super excited.  She made it while I was working on editing some photos. After they were done cooking, she called me into the kitchen to take a look.
Oh my goodness, they looked soooo wonderful, just like the originals, minus the beef and other ingredients like oil, etc.
When we finally sat down to eat them, I was in heaven because we haven't had stuffed peppers in forever, since we went WFPB. Stuffed peppers are comfort food times ten.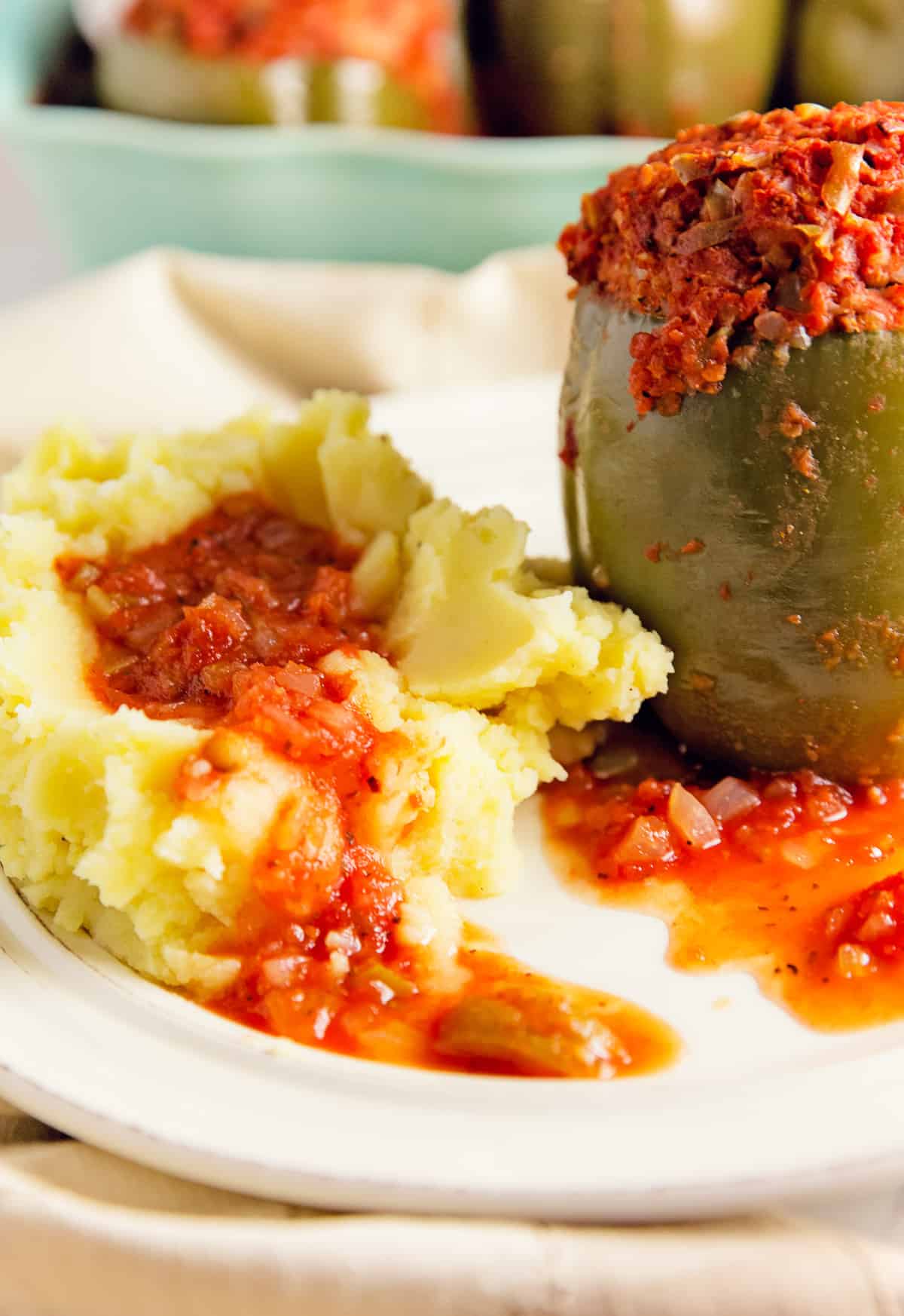 We like to serve our Stuffed Peppers with our Simple Mashed Potatoes, and then use the sauce that the peppers cook in as a tomato "gravy."  I think we like the tomato gravy a little too much – LOL.  We typically double the tomato sauce mixture aka tomato gravy so we have extra.  That way no one gets short changed on their mashed potatoes.


Products used:
Extra large stock pot for blanching the green peppers
Ceramic lined/enameled Dutch oven or other large kitchen stock pot.
Food Processor
Large, deep baking dish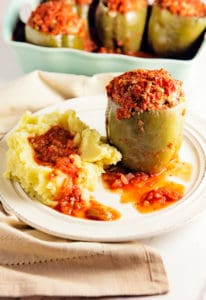 Print
Old Fashioned Stuffed Peppers
Yield 6 Stuffed Peppers
This Old Fashioned Stuffed Pepper dish is sure to transport you back in time.  A nod to the original recipe, it is truly delicious.  A fabulous Whole Food Plant Based recipe. Oil free, sugar free, no highly processed ingredients, and gluten free.
Ingredients
Sauce Ingredients:
¾ cup green bell peppers, fine mince (from the tops of 6 green bell peppers)
1 large onion, finely minced
1 large celery stalk, finely minced
2 – 14.5 oz. cans petite diced tomatoes, pureed in food processor
1 – 8 oz. can tomato sauce
1 ½ cups water
1 teaspoon dried basil
1 teaspoon dried oregano
1 teaspoon onion powder
1 teaspoon garlic powder
2 teaspoon sea salt (+/- to taste)
¼ teaspoon black pepper
Filling Ingredients:
6 large green bell peppers, tops removed – par-boiled
4 cups cooked rice (rice of choice)
4 cups cooked brown lentils
2 teaspoons sea salt (+/- to taste)
6 twists of freshly cracked black pepper
3 cups of sauce – cooked – see above
1 teaspoon onion powder
1 teaspoon garlic powder
Instructions
Cook rice, set aside.
Cook lentils, set aside.
Preheat oven to 350 F.
Bring to boil a large stock pot filled with water.
Remove the tops of 6 green bell peppers. Place the tops aside (finely dice to use later).  Clean the inside of the bell peppers carefully removing the seeds and interior pepper linings.  Once all the green peppers have been cleaned, place them in boiling water for 7 minutes until slightly softened.  Carefully remove the bell peppers from the water to stop the cooking process.  Set aside to cool.
In a large ceramic-lined Dutch oven or similar stock pot, add the finely minced onions, celery, and green bell peppers (from the pepper tops), sauté until softened, approx. 4 to 6 minutes.
Add the pureed petite diced tomatoes, tomato sauce, water, basil, oregano, garlic powder, onion powder, sea salt, and black pepper. Bring to a boil, then immediately lower to a simmer.  Simmer for 10 minutes over medium-low heat.
In a large bowl, add the cooked rice, cooked lentils, 3 cups of the cooked sauce, onion powder, garlic powder, sea salt and pepper. Mix until well combined.
In a deep oven-safe baking dish, add a couple tablespoons of the sauce to the bottom, then place the 6 par-boiled green pepper cups into the dish standing up.
Fill each of the green pepper cups with the filling mixture, press down gently to pack it in. Fill each pepper to the very top; then continue to pile more of the filling mixture on top to create a gently rounded mixture on the top on each pepper.
Once all the peppers are filled, then spoon the sauce mixture over top of each pepper and also in between. Pour the remaining sauce over the peppers and between the peppers. The sauce should come up the sides of the peppers. 
Bake at 350 F for 45 minutes.
Remove and allow to cool for 10 minutes before serving.
Makes 6 large stuffed peppers.
Notes
*Sauce:  If you enjoy a lot of sauce, then double the sauce recipe ingredients.  Use 7 green bell peppers.  Use 6 bell peppers as the cup mixture holders, and then chop the 7th green bell pepper for the sauce along with the 6 tops.  Also, you may wish to use a larger or deeper baking dish if you choose to make extra sauce.  We love to make extra sauce and spoon it over our Simple Mashed Potatoes.
Courses Dinner
Cuisine American
Storage:  Cool to warm, place in glass/plastic storage and refrigerate.  Freezes well.