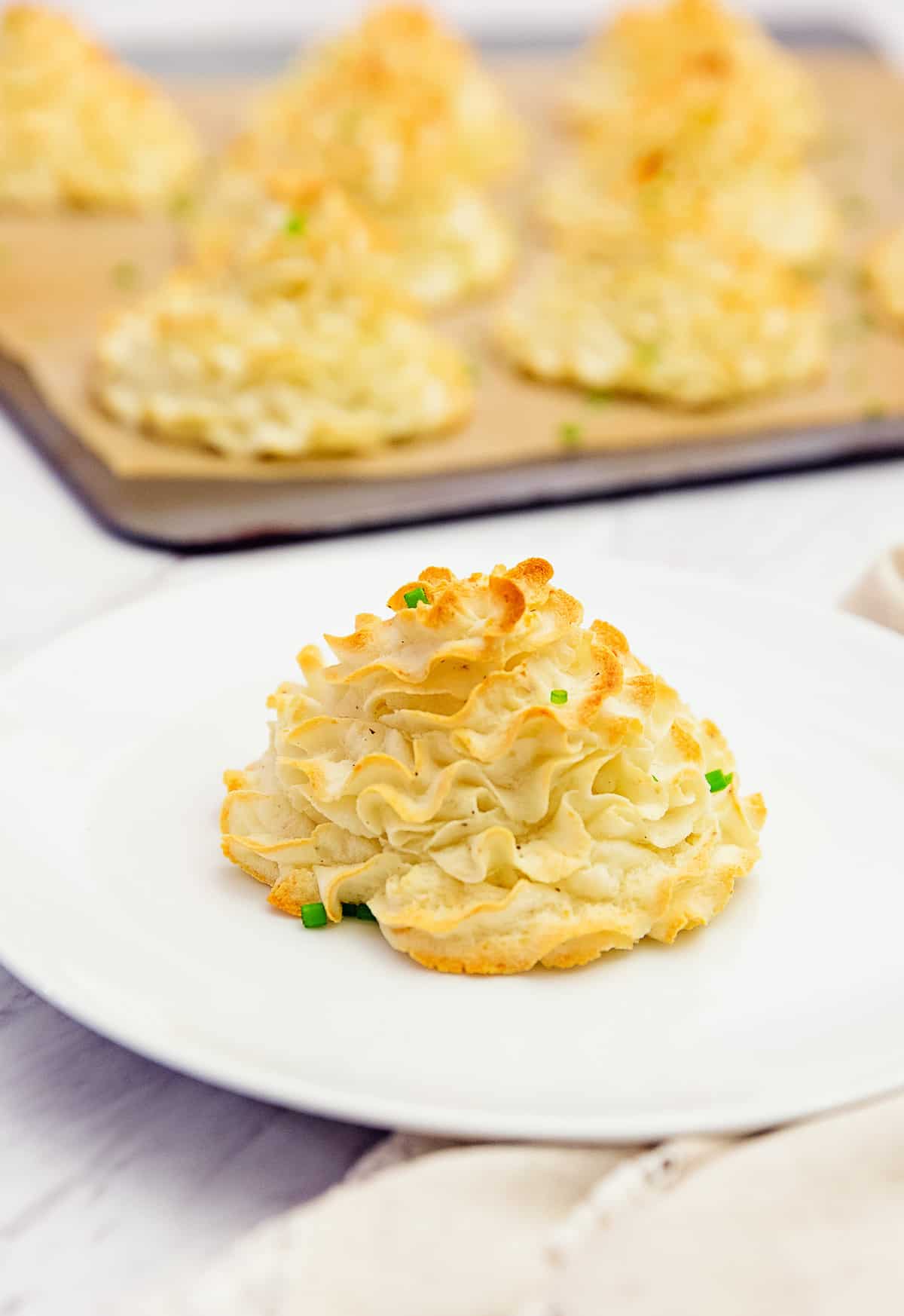 Are you looking to take your mashed potatoes to the next level?  If you are, then this Duchess Potato recipe is just for you.  A fabulous Whole Food Plant Based recipe. Oil free, sugar free, no highly processed ingredients.
Hello there!  Robin here.
Duchess potatoes are beautiful to behold, and you will be so proud to present them on your table.  While they do require patience and a few extra steps, they are totally worth it, if you are looking to impress your family or dinner guests.  They look simply divine on any dinner table.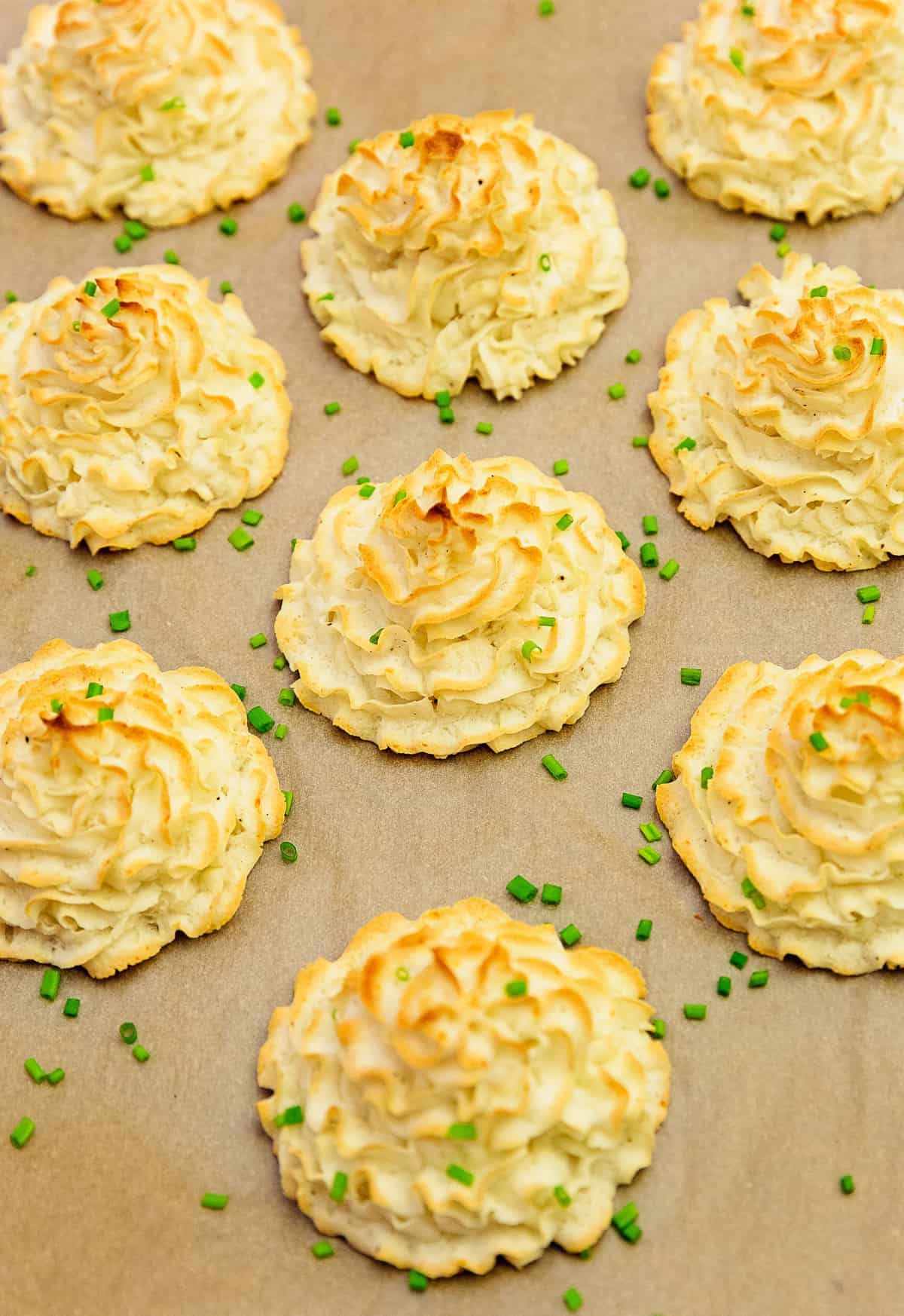 The key is to make your mashed potatoes a little less creamy so they can hold their shape while piping.  I typically use Russet potatoes when making these beautiful puppies.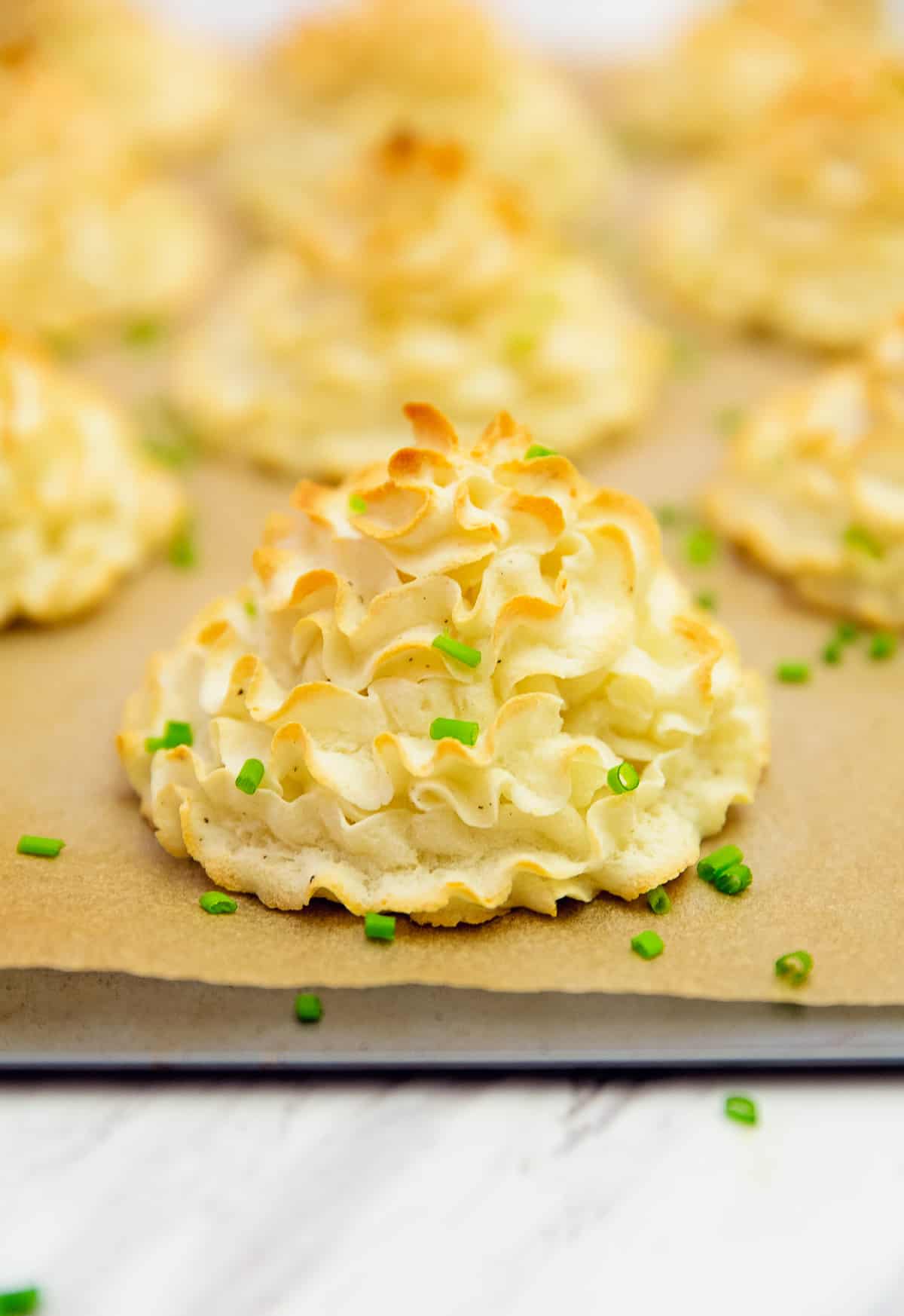 TP calls them "tornado potatoes" because he can never remember what they are called – lol.  "You making those tornado potatoes?"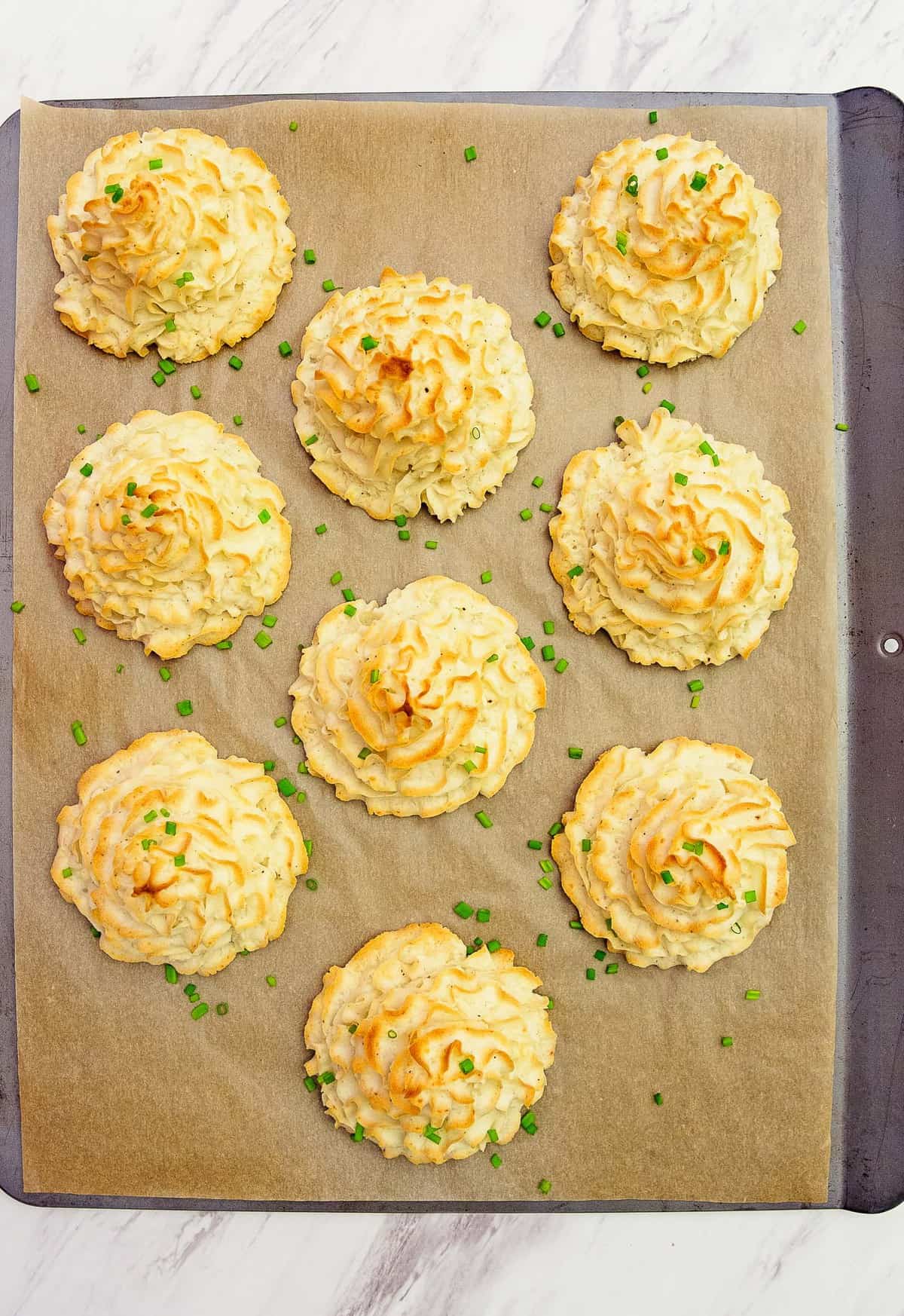 Here are some helpful Dos and Don'ts for Whole Food Plant Based Duchess Potatoes
The Dos:
Select a Russet potato, as it has a drier density which makes it great for mashing.
Allow the potatoes to dry out a little after you drain off the water.
Use an insulated baking sheet because double layer add protection against burnt bottoms.
Use parchment paper and draw circles (3-inch diameter) on the bottom of the paper, then flip over as a guide to pipe your Duchess potatoes. We used the ring band from a wide mouth mason jar.
Cookie Press/Piping Gun – totally worth the investment if you plan to use it more than once. We highly recommend a piping gun to pipe the mashed potatoes. We didn't try a pastry piping The potatoes are so thick, we aren't sure how well a pastry bag would work.  The potatoes must be thick to maintain their shape and not collapse in on themselves.  A piping bag may or may not be able to handle the pressure required to push the potatoes out onto the baking sheet. If you try a piping bag, let us know how it went.
You will have to load the gun multiple times. We have found that you can do about 1, almost 2 Duchess potatoes with each gun filling depending on how big you make them.  This recipe makes about 9 large Duchess Potatoes.
Select a large rose tip for the piping gun. You need a tip that has a large opening. Don't forget to do a practice test.  It does take some practice to finally get it down.  If it doesn't look pretty, scoop it up and put it back in the bowl and start all over again.  The beauty is that you can keep starting over and over until you get it right without any waste.
Start by piping the outline of the circle you have made on the parchment paper, then fill in the circle. It will look like a piped flat cookie.  Then you want to start your 2nd layer by piping a smaller circle onto of the original circle and then fill it in. Continue for 2 more layers by doing the same process, ending with a pointed tip.
After baking the Duchess Potatoes, broil them on low to brown the piping edges. This will make them look really pretty.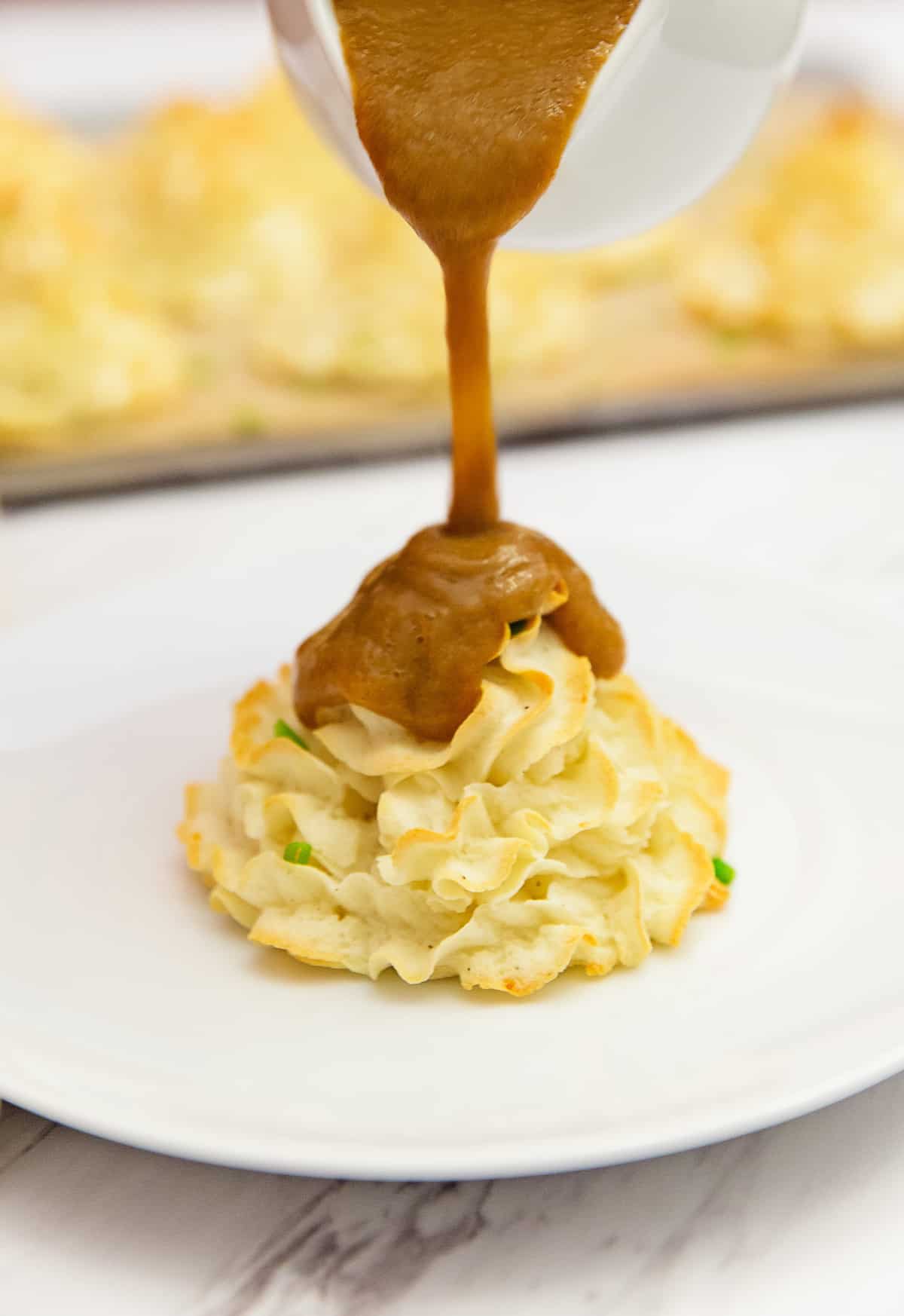 The Don'ts:
Make sure your mashed potatoes aren't too runny or creamy. It is very tempting to do this, but they won't be able to keep their shape.
Don't rush. This process requires patience.
If you are serving them for a party, prepare them in advance by piping and baking them; then broil them right before serving dinner. You can carefully move them to a refrigerator shelf (lightly covered), but make sure that your baking sheet can fit inside your refrigerator before you start piping them if that is your plan.  OR, you can completely bake and broil them and then carefully place them in a high rectangular food storage box, then carefully move them back onto a parchment paper covered baking sheet and reheat them right before serving dinner.  I have found that they hold up surprisingly well in the refrigerator after they have been both baked and broiled.  Personally, I would go the later route rather than the former.
Don't expect them to be moist like mashed potatoes. The process of making these potatoes requires that they have a drier/thicker texture so serving them with abundant gravy is a must as they tend to be drier than normal mashed potatoes.  They are delightfully delicious, but you need to compensate for them being drier by complimenting them with an amazing gravy.
If you are looking for something a little extra pretty for the holidays, give these Whole Food Plant Based "potato tornadoes" a try.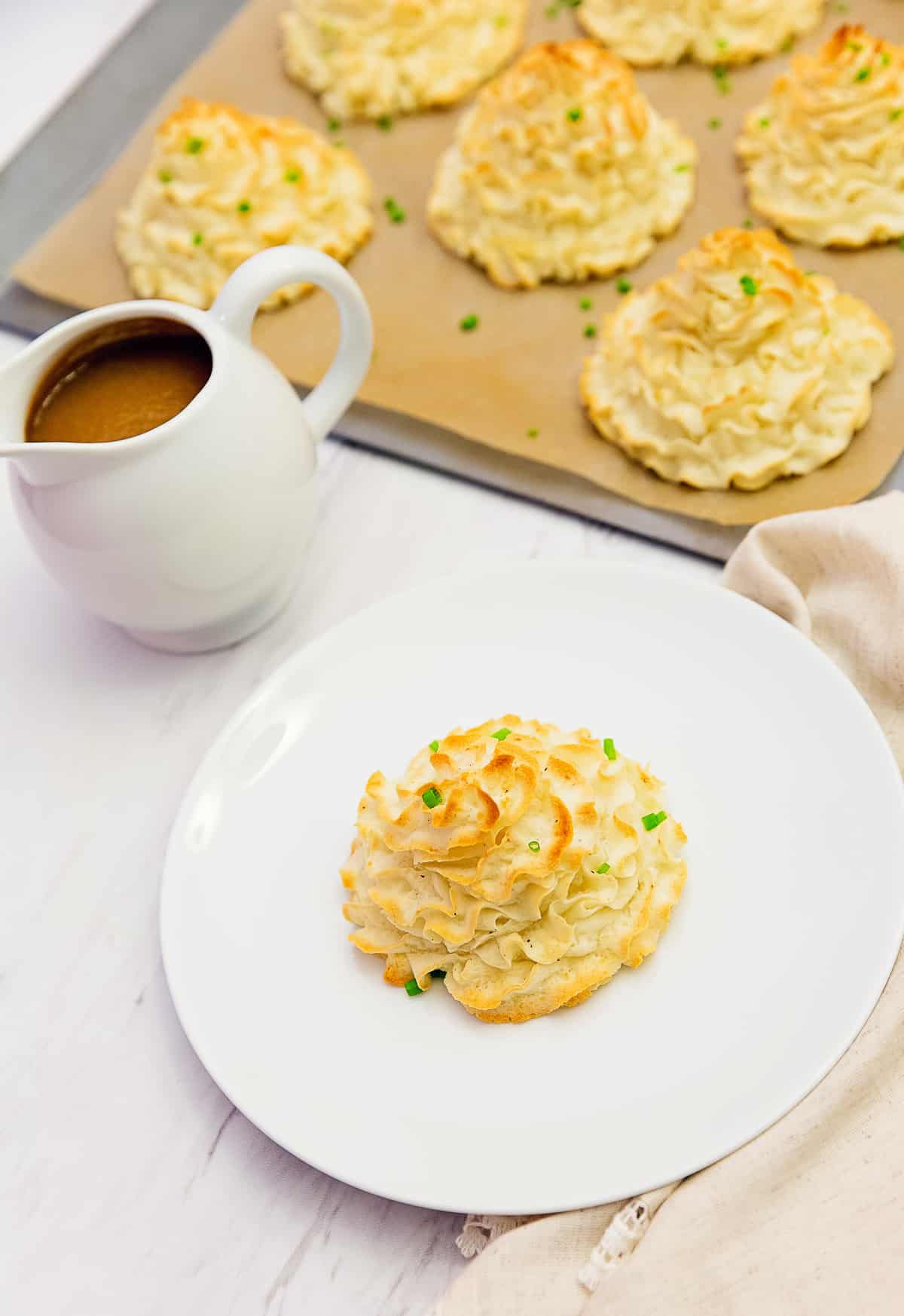 Monkey here!
I really enjoyed making these Whole Food Plant Based Duchess Potatoes.  I must admit, it took me a few tries to get the piping down pat, but no worries. I put my piping disasters right back into the mashed potato bowl and started all over again until I got the hang of it.  By the third try, I had it down to a science.  Even if you go a little outside of the circle, you can generally push it back in line.
One little thing that was a slight inconvenience is that you do have to keep reloading your piping gun with mashed potatoes which makes for a lot of starts and stops, but the end product is so worth it.  I just love how pretty they look.


Products used:
Cookie Press/Piping Gun
15 x 20 (or similar size) Insulated baking sheet, no lip, except on one side
Print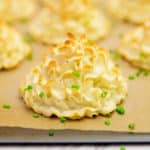 Duchess Potatoes
Author:

Prep Time:

20 minutes

Cook Time:

20 minutes

Total Time:

40 minutes

Yield:

9

-

10

servings

1

x

Category:

Side

Cuisine:

American
---
Description
Are you looking to take your mashed potatoes to the next level?  If you are, then this Duchess Potato recipe is just for you.  A fabulous Whole Food Plant Based recipe. Oil free, sugar free, no highly processed ingredients.
---
5

lbs. Russet potatoes, peeled and cut into chunks

1 cup

unsweetened plain plant milk

1 ½ teaspoons

sea salt (+/- ) *

1/4 teaspoon

black pepper (+/- )

1 teaspoon

onion powder

1 teaspoon

garlic powder
---
Instructions
Peel and cut the potatoes into chunks. Place them in a large pot and cover with cold water.  Add 1 Tablespoon of sea salt (+/-) to the water and bring to a boil. Once the water has been brought to a boil, reduce heat to a low boil.  Boil until all the potatoes are tender, approx. 15 to 25 minutes dependent on the size of the potato chunks.  When a sharp knife easily slides into a potato then you can feel confident they are tender.
When the potatoes are tender, turn off the stove and drain off all the water. Return the pot back onto the burner (off) and let them dry out a little bit, approx. 2 minutes.
Take a potato masher and mash the potatoes. Add the plant milk, sea salt, onion powder, garlic powder, and pepper.
Take an electric beater and beat the potatoes until fluffy. The potatoes should be smooth, but somewhat stiff. They need to be able to hold their shape.
Allow the potatoes to cool down, approx. 10 minutes.
Line an insulated cookie sheet with parchment paper. Trace 9 – 4 inch circles onto the parchment paper.  You will use the circles as your piping guide.  Then flip the paper over on the cookie sheet.  You should be able to see the circles that you drew.
Preheat the oven to 400 degrees F.
Place a rose tip on a pastry gun, fill the gun with mashed potatoes and trace the circle that you drew on the parchment paper, then fill in the space. Then repeat the next layer doing the same; however, this next layer will be slightly smaller, continue for 2 more layers, each time making the circle smaller and smaller until you have a small pointed mountain of mashed potatoes.
Once you have repeated this process for all 9 circles, carefully place the Duchess potatoes a preheated 400 F degree oven and bake for 15 minutes.
Switch the oven temperature from bake to a low broil. Broil for approx. 7 to 10 minutes or until the potatoes are lightly browned.
Carefully remove from the oven and allow to cool slightly on the baking sheet before serving with your favorite gravy.
---
Notes
Type of Potatoes:  Russet potatoes work really well for this recipe.
*Piping the Potatoes: A pastry gun works best simply because the mashed potatoes are thick.  They need to be somewhat thick in order to hold their shape and not collapse. If your piping skills are not working out, scrape the mashed potatoes off the parchment paper, and back into the bowl, and start again.  It may take several times to get the hang of it.  Be patient and take your time.  This is definitely not a rush recipe.
*Alternative to Piping the Potatoes:  Don't have a pastry gun or don't want to take the time?  A pastry bag works well too.  Or you can also use an ice-cream scoop to create potato puffs.  Bake at the same time for the same time.
*Sea Salt:  Please adjust the sea salt based upon your family's sea salt preferences and/or based upon dietary needs.
Storage:  Cool to warm, place in glass/plastic storage and refrigerate.