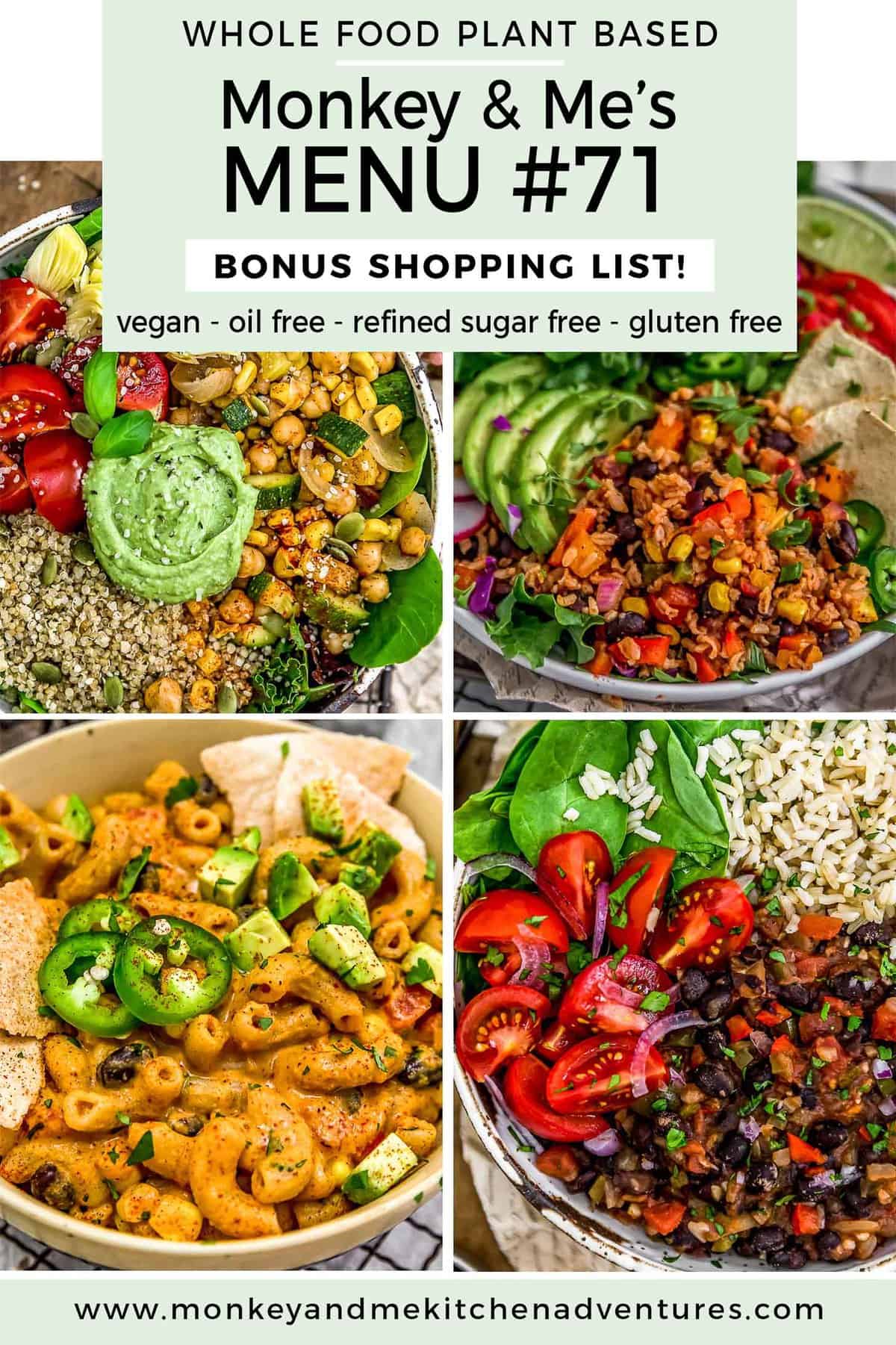 This week's Monkey and Me's Menu features some tasty recipes.  Menu #71 includes a FREE bonus shopping list.  All recipes are Whole Food Plant Based, vegan, plant based, oil free, refined sugar free, no highly processed ingredients, and gluten free.

Downloadable Menu which offers the following:

2 Breakfast ideas
2 Lunch ideas
2 Snack Ideas
5 Dinner Ideas, including a FREE downloaded shopping list (PDF – Below)

A comprehensive (downloadable) shopping list for the 5 Dinners

The shopping list is segmented into the common grocery store sections like "produce, spices, etc." making it easy to pick up these items from your local grocery store.
It also includes product suggestions that are Whole Food Plant Based compliant* for easy reference.  Note: These products are suggestions, please feel free to select your own favorite products.
Includes helpful codes so you can easily subtract items that you choose not to make.

Downloadable Instructions on how the meal plan work.
Note:  The term "Whole Food Plant Based compliant" is from a general standpoint.  There are Whole Food Plant Based diet branches that restrict certain food items.  Our recipes are all Whole Food Plant Based compliant based upon a high-level compliance standpoint. i.e. vegan, plant based, oil free, refined sugar free, minimally processed foods.
Some breakfast, lunch, and snack ideas are simple concepts that require no recipe.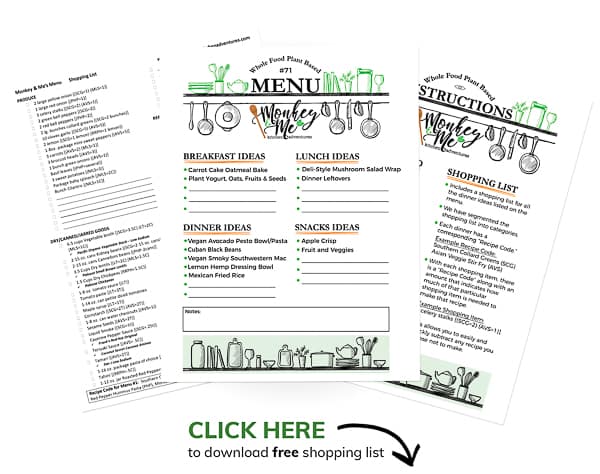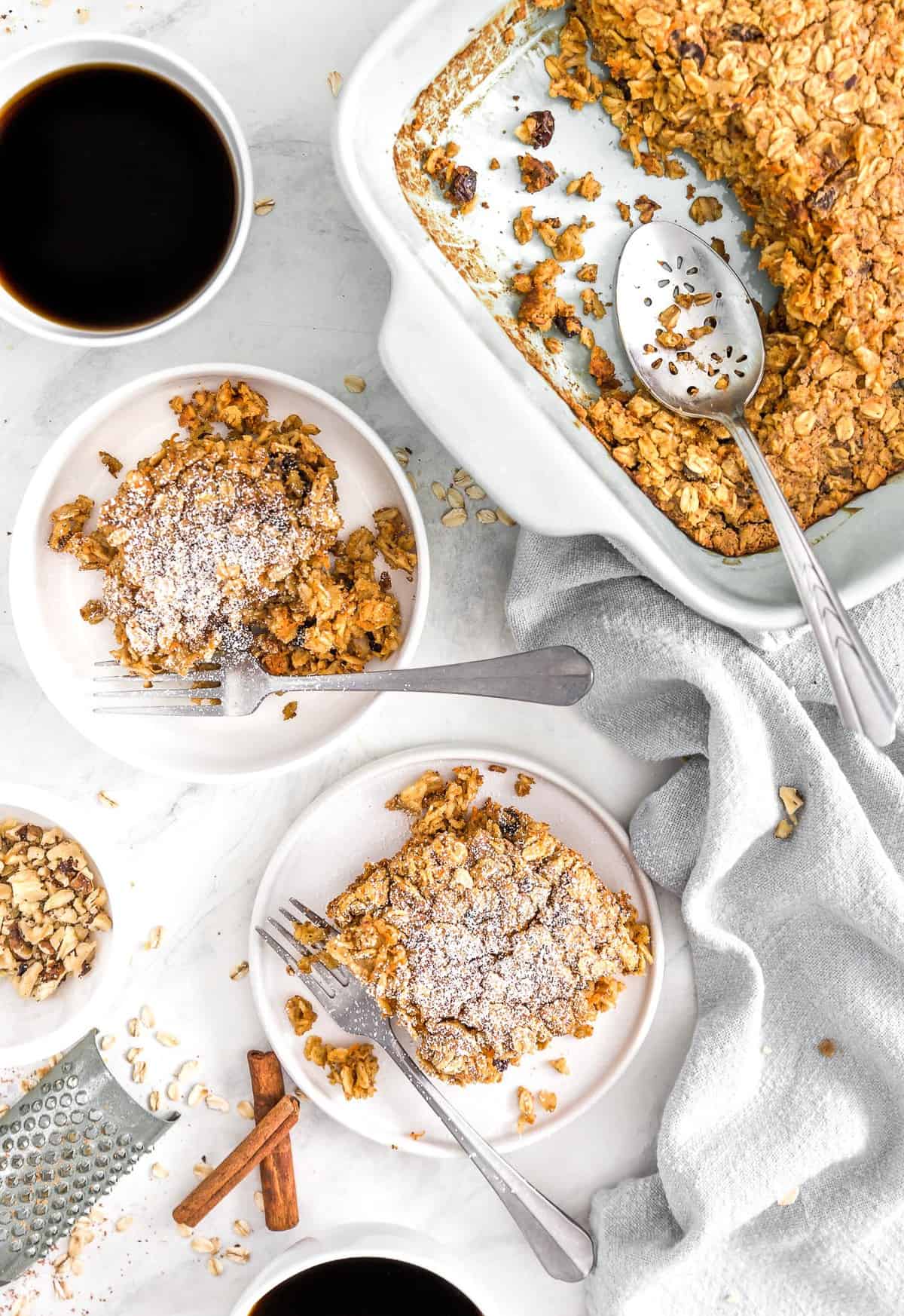 Take your breakfast and brunch to the next level with this super delicious Carrot Cake Oatmeal Breakfast Bake. Sweet, moist, and packed with hearty oats, rich walnuts, sweet carrots, and chewy raisins, this breakfast bake is seriously out of this world YUM; a fabulous Whole Food Plant Based recipe the whole family will love.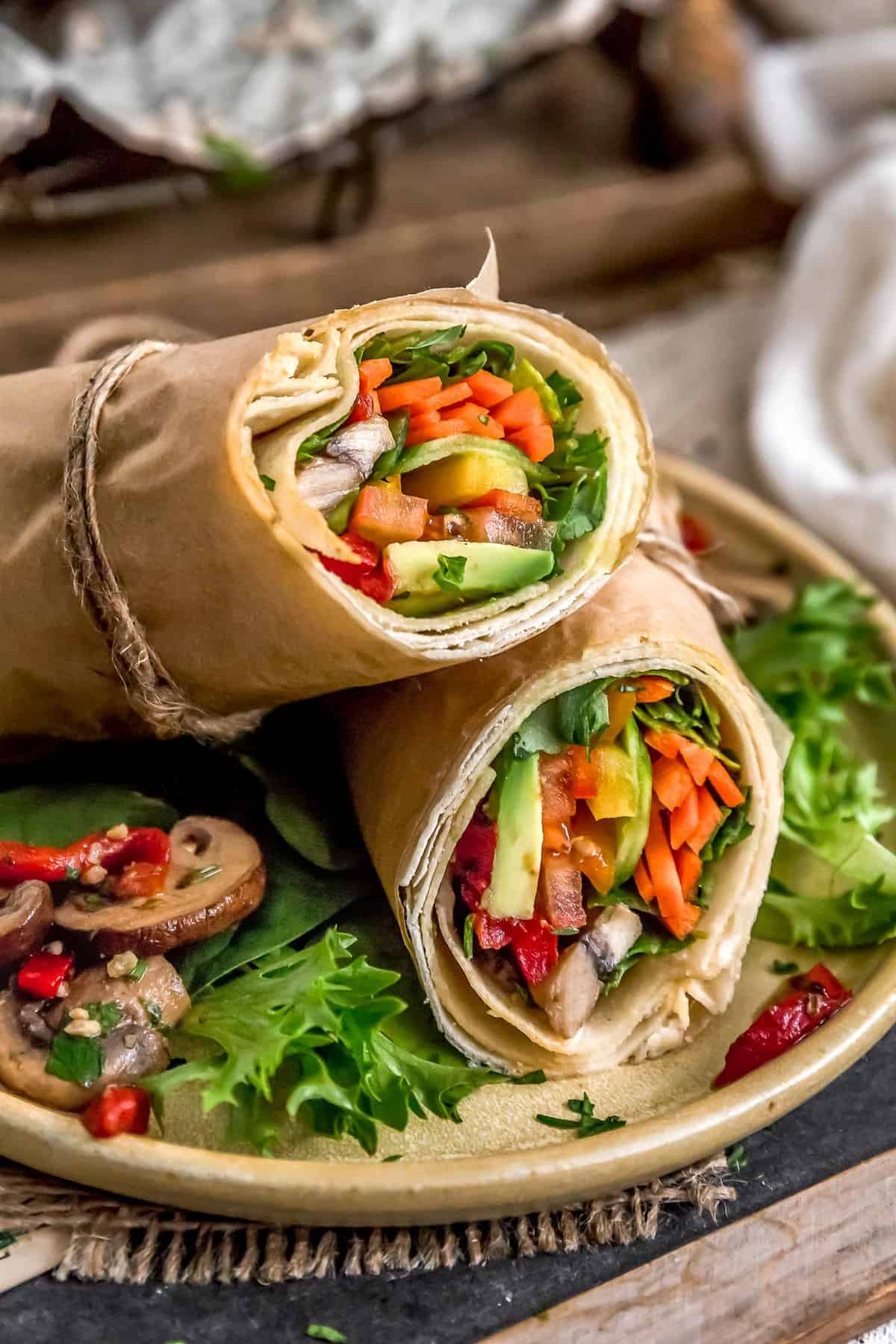 Earthy, tangy and full of flavor, this healthy Deli-Style Marinated Mushroom Salad is perfect for mushroom lovers everywhere. These beauties soak up aromatic Italian tangy flavors making it the perfect topper on salads, as a side dish, or nestled in sandwiches or wraps. Tasty cremini, button mushrooms, garlic, and roasted red peppers, are marinated in a bomb dressing that will remind you of those delicious deli-style salads from your favorite local Italian deli.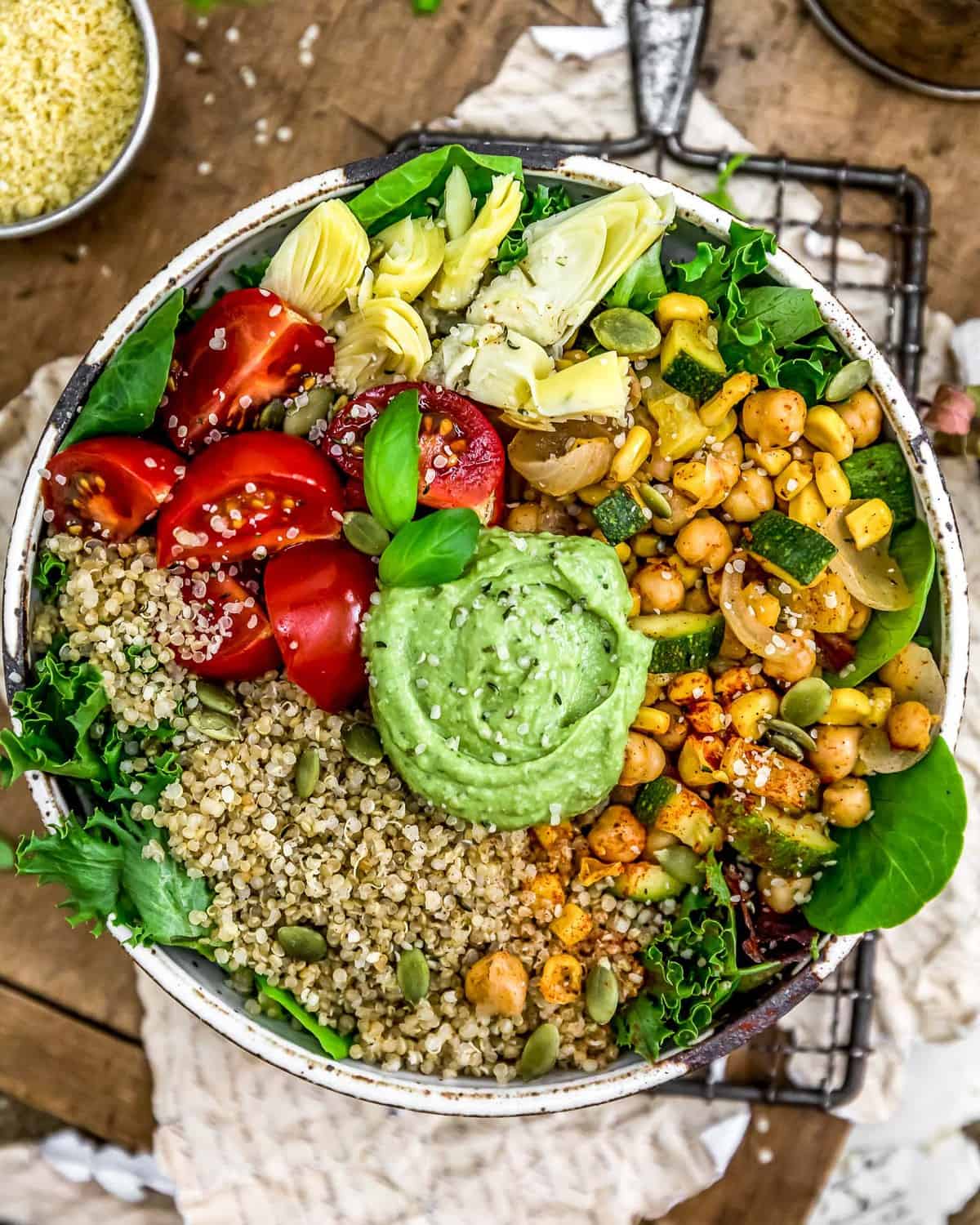 When your sauce game is strong, everything shines a little brighter. And this wholesome, vegan twist on a classic Italian pesto is bringing all the flavors. Satisfying, comforting, and brimming with healthy deliciousness, this Vegan Oil Free Avocado Pesto can be made in a flash and pairs perfectly with pasta, veggie bowls, roasted veggies, and so much more.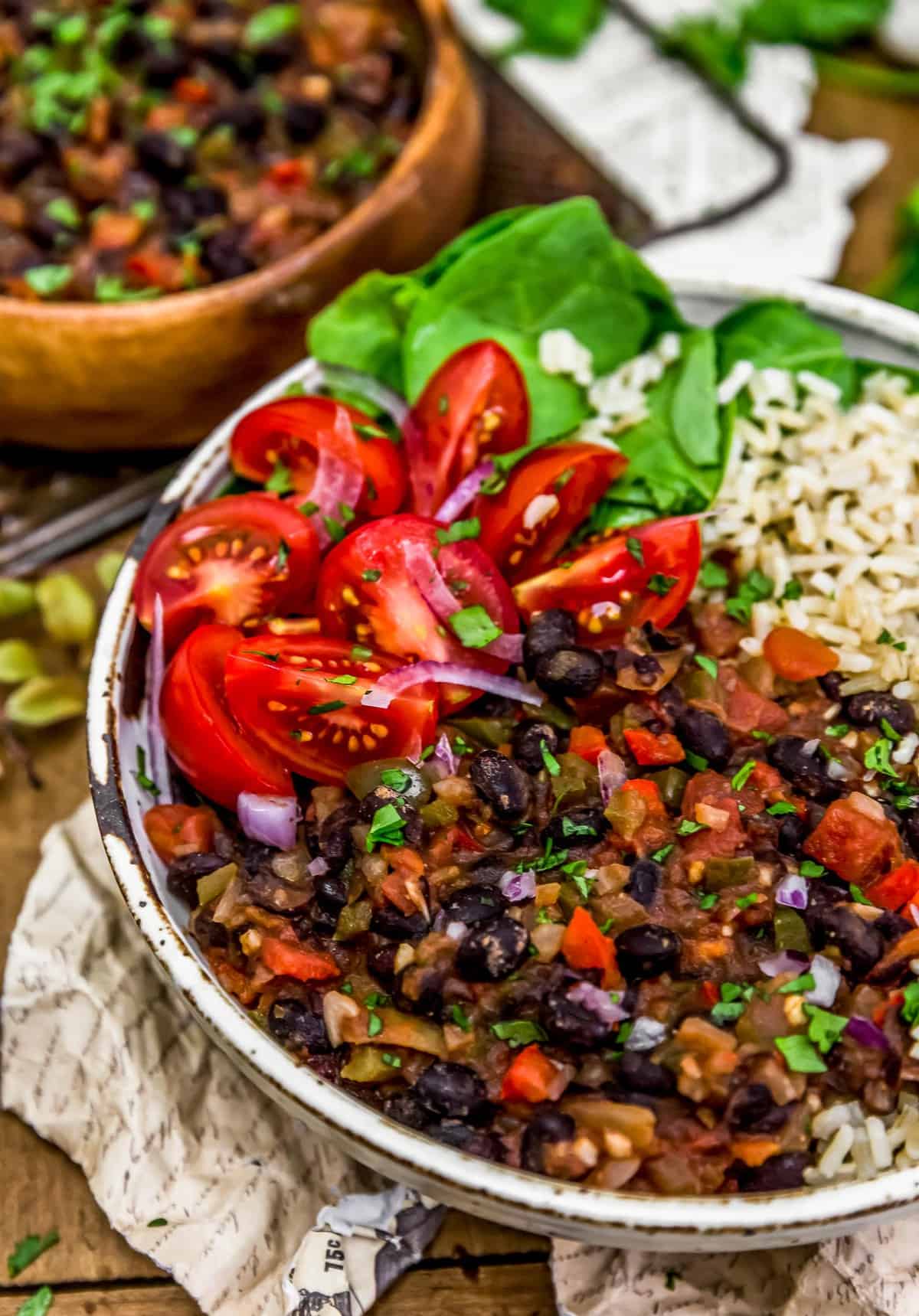 This quick, easy, and creamy Cuban Black Beans dish will wow your taste buds with the first delicious bite.  Aromatic Cuban spices, zesty onions, spicy jalapeños, earthy garlic, sweet tomatoes, tasty bell peppers, and hearty black beans come together in the most delightful way. This humble bean dish is sure to please the whole family with its tasty and flavorful twist. Serve it with chewy brown rice for a comforting meal you'll want to snuggle up with – yum!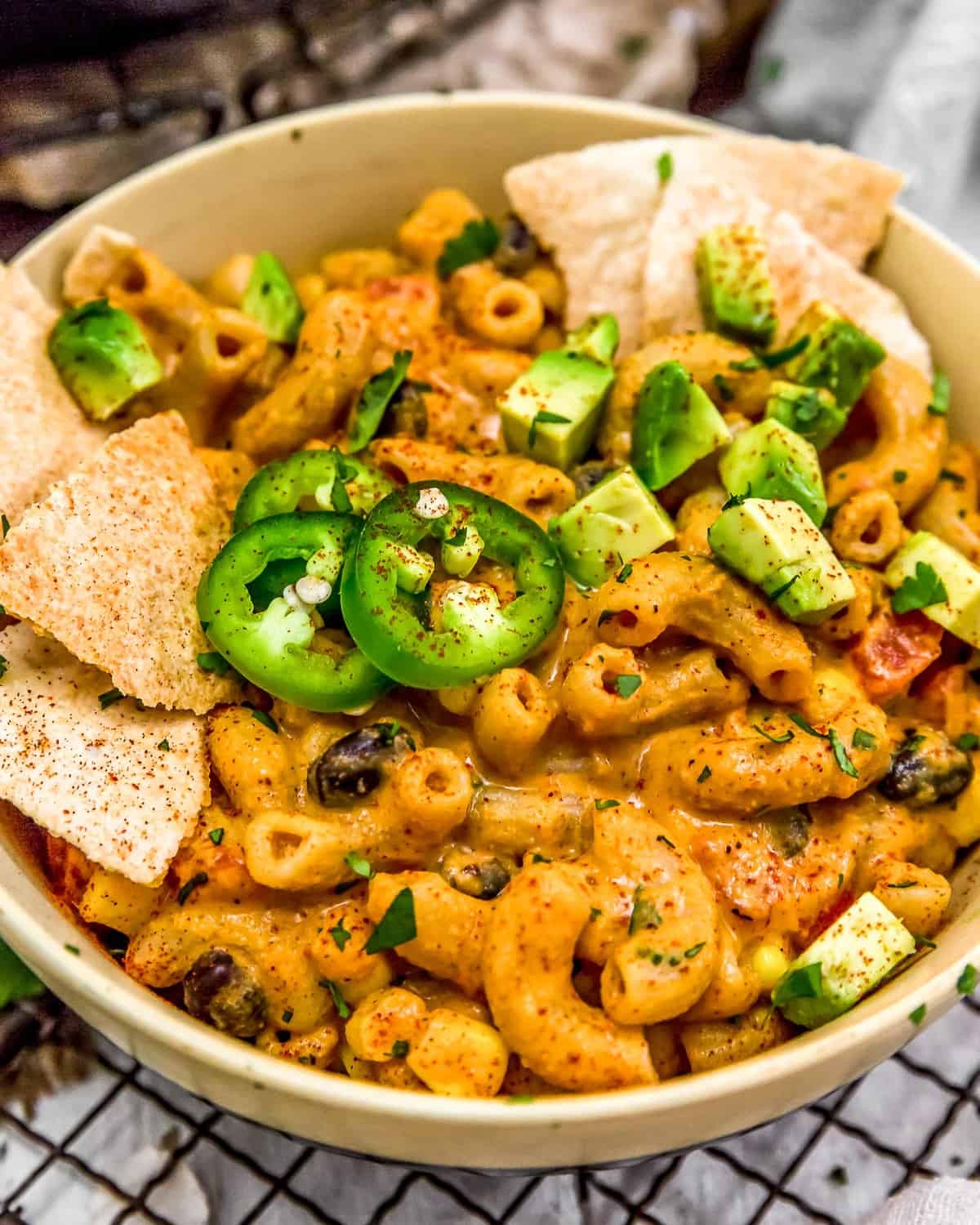 We are bringing all that delicious Southwestern goodness in the form of creamy pasta heaven. This homemade Vegan Smoky Southwestern Mac is brimming with nourishing deliciousness. It is total Southwestern comfort food at its best!  Tasty macaroni, sweet corn, vibrant red bell peppers, and hearty black beans are coated in a velvety, aromatic sauce that will have the whole family seated at the table in a flash!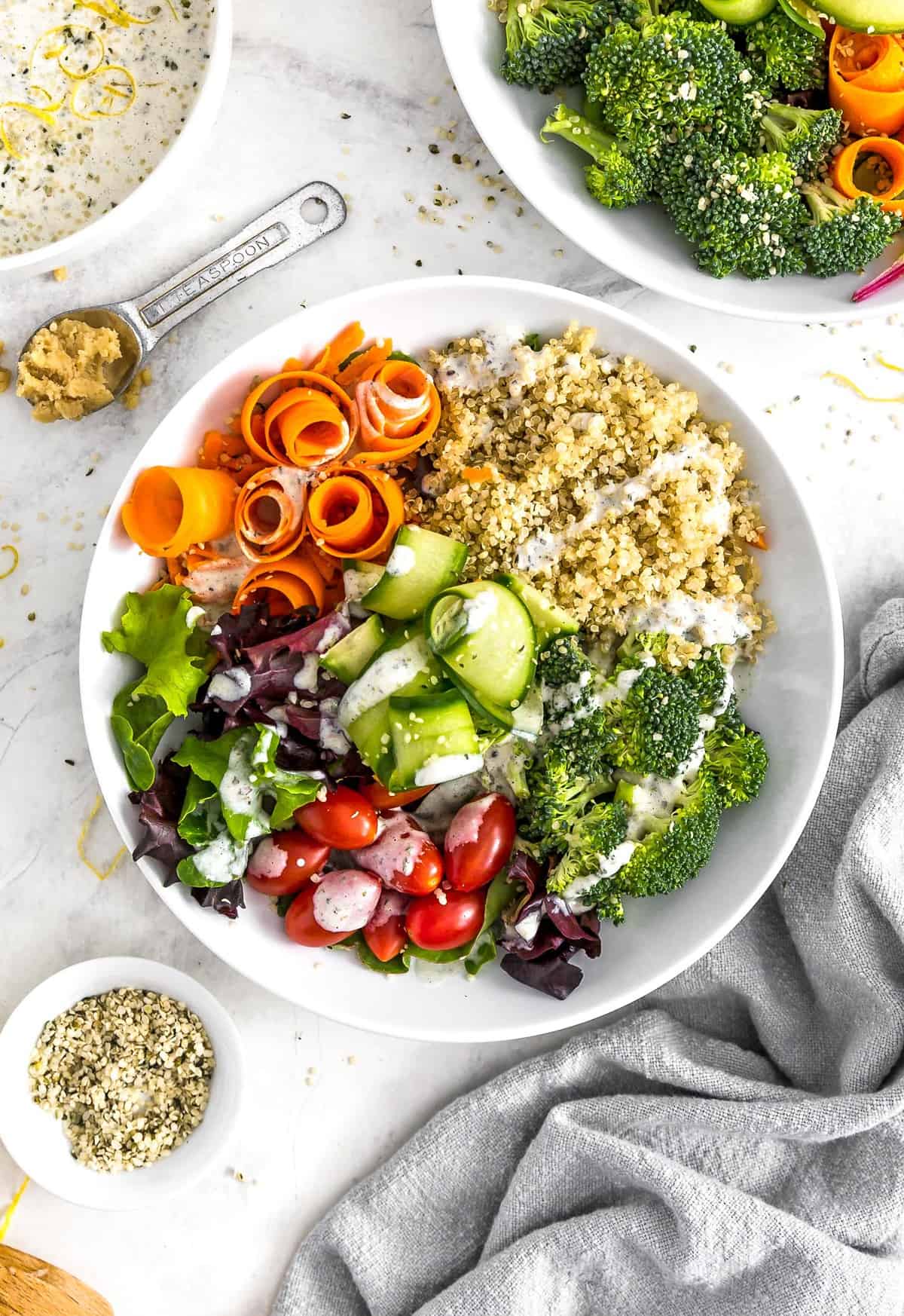 This homemade No Oil Lemon Hemp Dressing is all that and then some! Perfectly creamy, tangy, and fresh, this dressing is healthy, nutritious, and most importantly deeee-licious.  This super easy dressing can be whipped up in a jiffy and ready for veggie dipping, salad drizzling, or pasta drenching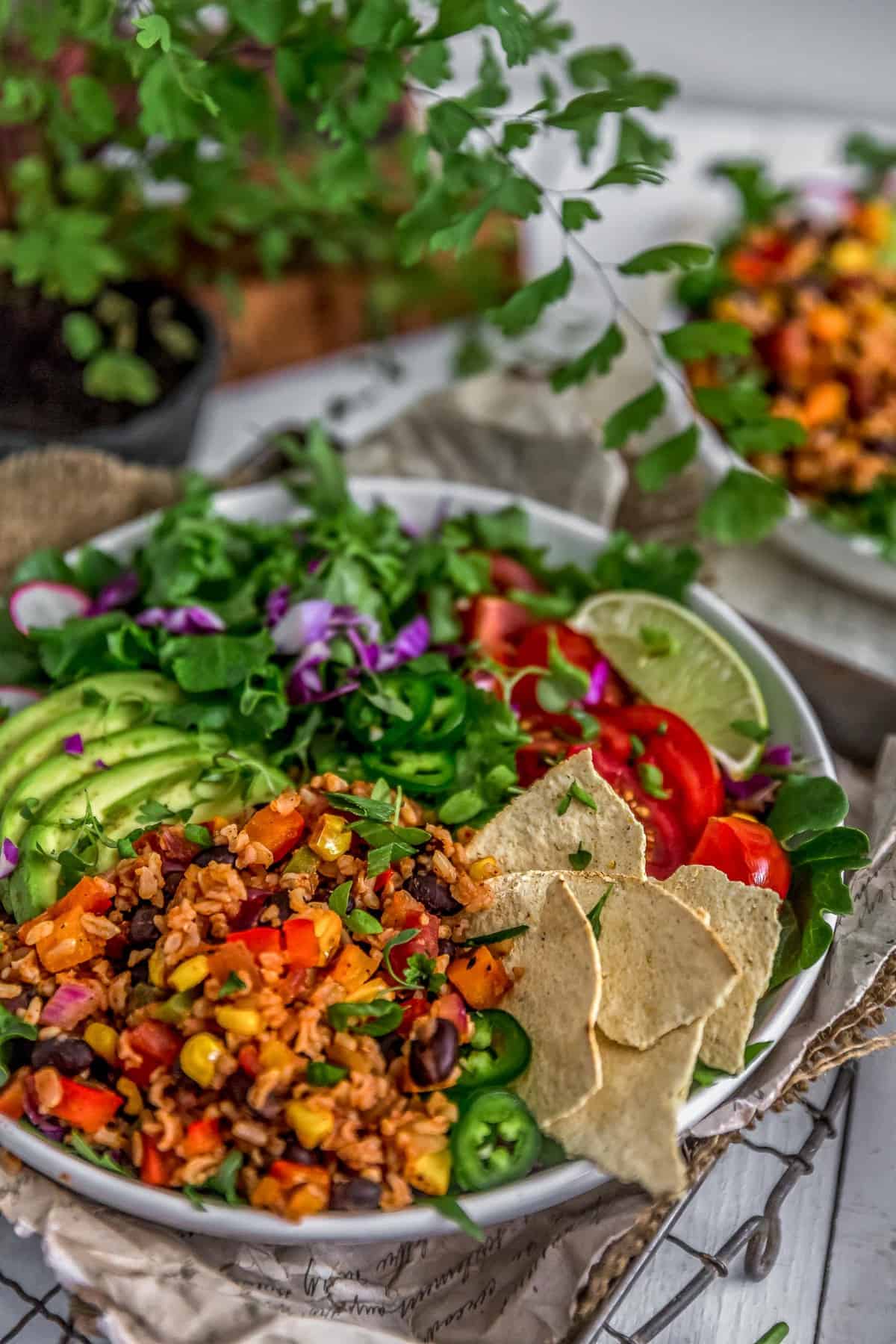 When all the must haves come together in the most delicious way, it creates a beautiful, nutritious, and comforting meal. Easy to prepare, full of aromatic spices and zesty flavors, made in a flash, simple ingredients, and makes you say "Mmmm Mmmm," this fun Healthy Mexican Fried Rice makes dinner a breeze. Tasty and oh-so-satisfying, this dish will have everyone running back for seconds.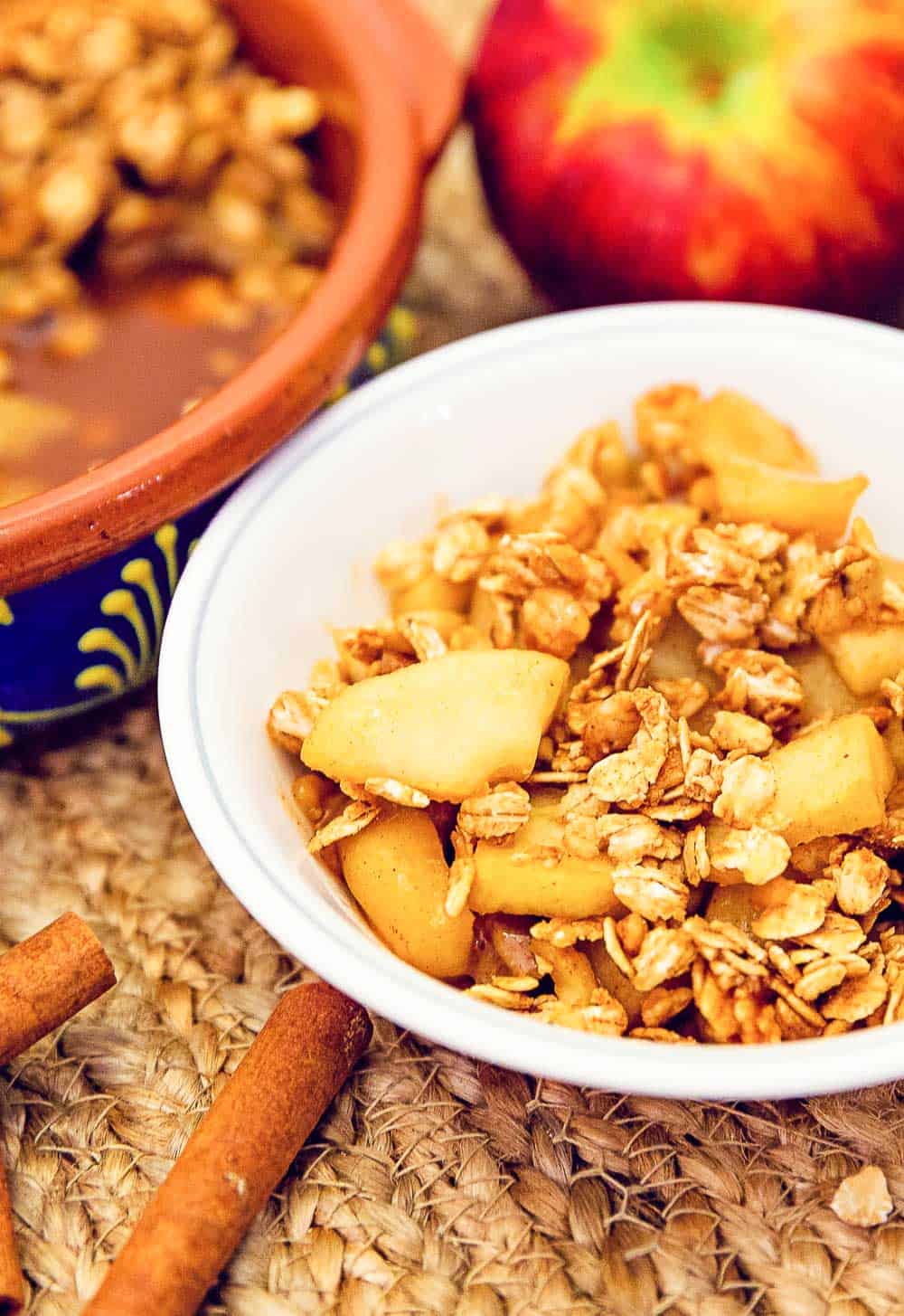 Packed with sweet aromatic fall flavors, this delicious Old Fashioned Apple Crisp is packed with feel-good ingredients that is sure to make this guilt-less pleasure delight your tastebuds. Loaded with wholesome apples, warm cinnamon, and hearty gluten-free oats all baked to perfection makes for the perfect whole-food-plant-based dessert. Pure heaven!