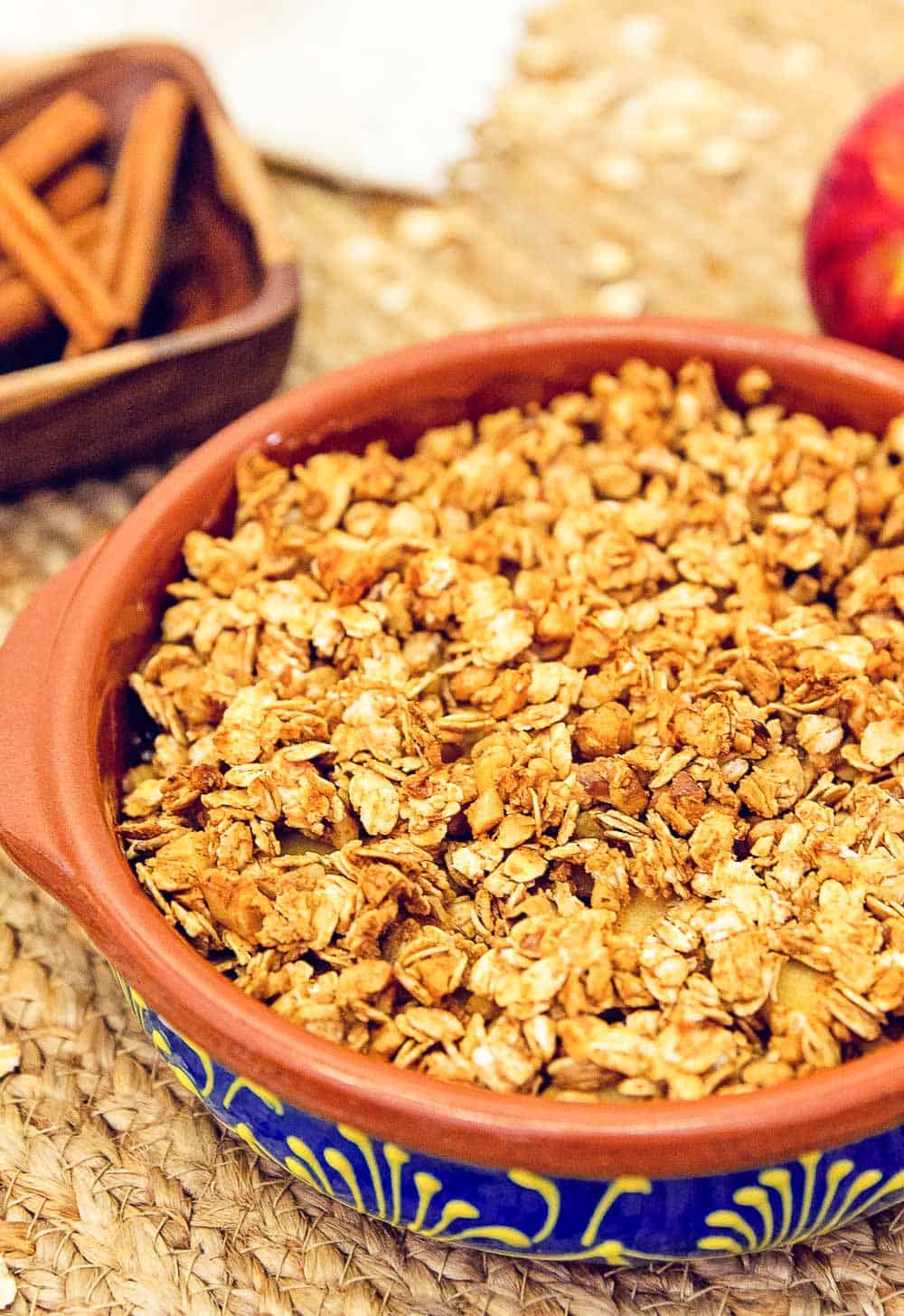 THE BEST OLD FASHIONED APPLE CRISP
This Old Fashioned Apple Crisp recipe is healthy and delicious, loaded with yummy apples, cinnamon, and hearty gluten-free oats makes for the perfect whole-food-plant-based dessert.  Pure heaven!
Hi, Robin here!
This easy apple crisp is sure to please the whole family.  Unlike traditional apple desserts, we have removed the refined sugar and processed ingredients.  We used 100% pure maple syrup and the natural sweetness of the apples themselves to make a perfectly delicious old fashioned apple crisp. We used no oil or refined flour.  Whole grain oat flour provides for a unique flavor and is equally nutritious as it is milled from whole grain oat groats.  It easily lends itself to a time when things were simpler.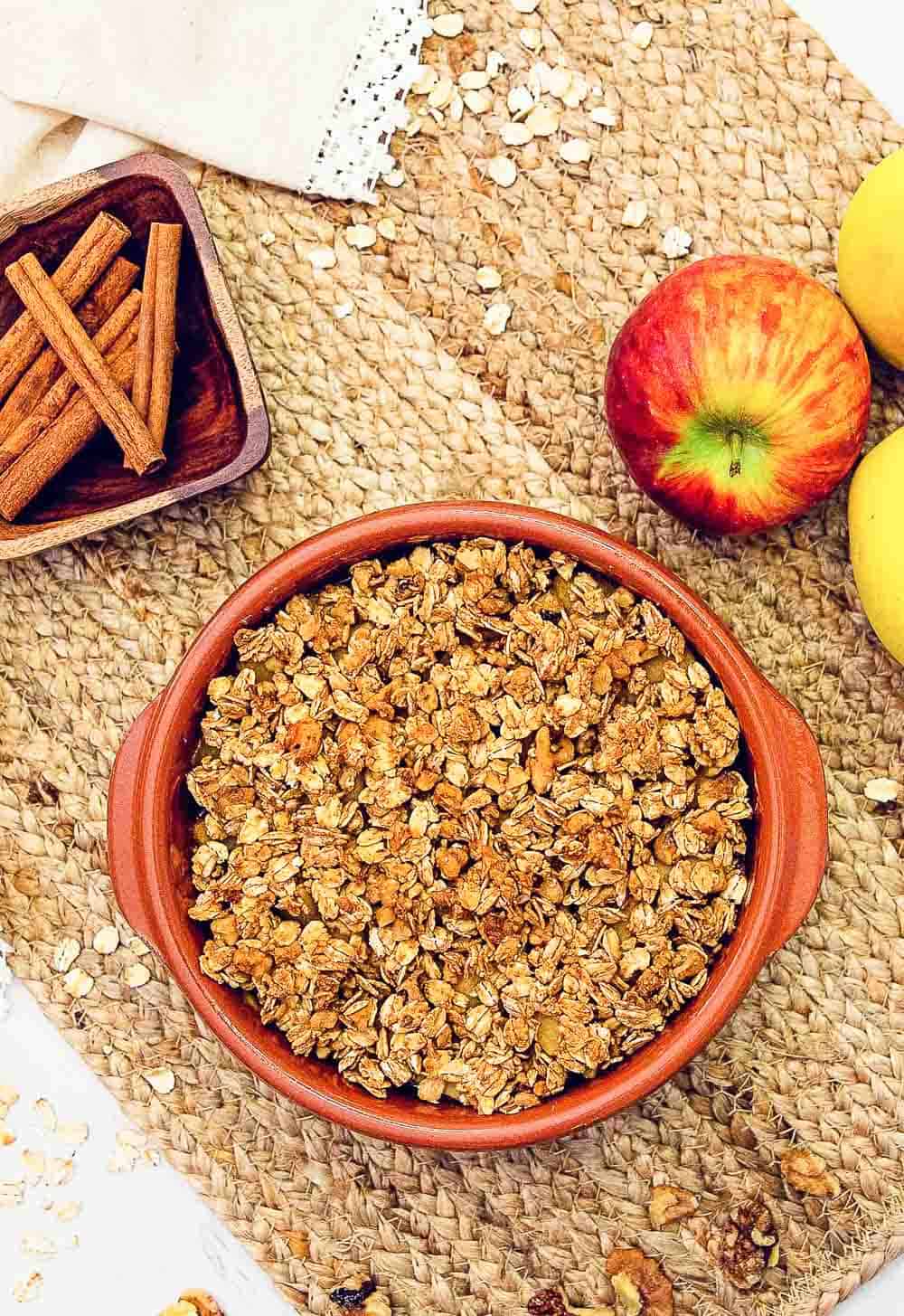 This apple crisp tastes just as good as your childhood memories of grandma's apple crisp, but is a much healthier version.  The smell is divine and will draw everyone in the house into the kitchen.  The delicious crumble rolled oat topping makes this apple crisp your new family favorite.
Apple Crisp Fan!
Apple crisp is one of Christopher's favorite desserts.  He has always been a huge apple crisp fan.  Since he was diagnosed with Celiac several years ago, apple crisps are probably one of the easiest gluten free desserts anyone can make.
We use gluten free rolled oats in the topping, but regular rolled oats will work equally well for those of you that do not require this type of dietary restriction.  It is a classic Fall dessert, but we love it all year round.  I just know your entire family will love it too; and will thank you for this healthier version of yummy goodness.
Tenderness is Key
What makes this dessert a winning recipe is the stove top skillet start off, then later placing in the oven. This allows you to control the amount of apple syrup in the recipe as well as ensuring the perfect apple tenderness.
The type of apple selected also plays into how tender the apple can be so by using the stove top start off, you can pretty much use any type of apple you wish as you are in control.
Choose an apple that you like and will hold up to the cooking process.  Personally, I love Gala and Granny Smith apples; they are a tiny bit tart and crisp.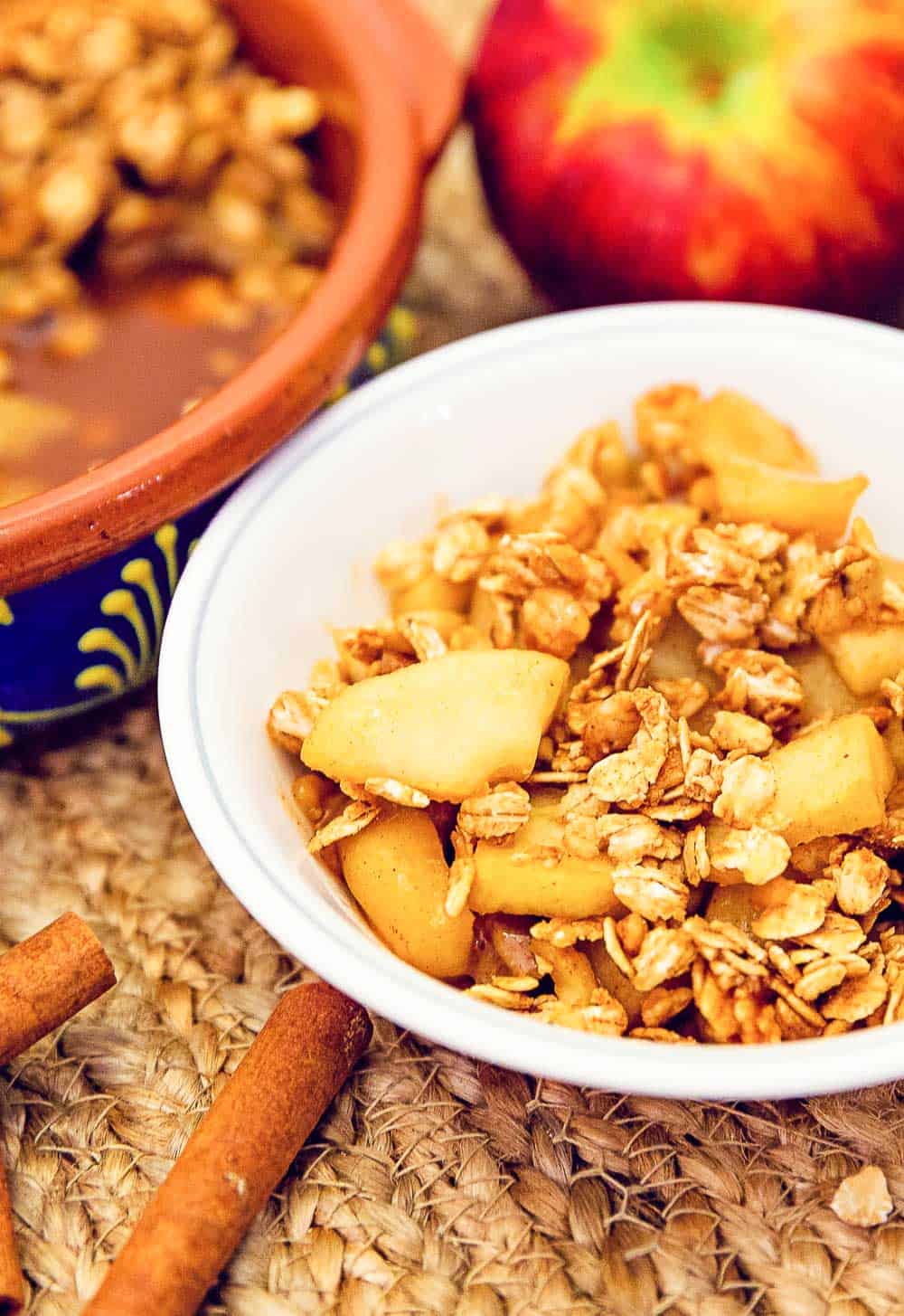 Ameera here!
You know what I love the most about this apple crisp?  The Cinnamon!  I just LOVE cinnamon; it makes everything just taste a little bit sweeter.  In my opinion, there isn't anything as reminiscent of home as the smell of yummy cinnamon wafting through the kitchen.  There is just something about its smell that makes the whole house feel warm and cozy.
And don't get me started on the bakeware options for this awesome dish! It is so versatile; you can bake it in something as simple as a glass pie pan dress it up a little bit by selecting a fun bright pan.  Go simple, or go elegant, apple crisp perfectly lends itself to both!


Print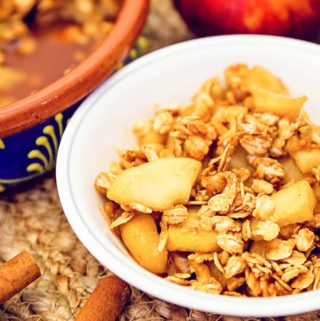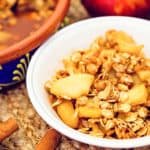 Apple Crisp
Author:

Prep Time:

15 minutes

Cook Time:

15 minutes

Total Time:

30 minutes

Yield:

4

Servings

1

x

Category:

Dessert

Cuisine:

American
---
Description
This Old-Fashioned Apple Crisp recipe is healthy and delicious, loaded with yummy apples, cinnamon, and hearty gluten-free oats makes for the perfect whole-food-plant-based dessert.  Pure heaven!
---
Apple Base
4

medium Granny Smith apples, cored, peeled and cut into

½

inch thick slices, then halved.

1/3 cup

organic maple syrup

1 teaspoon

cinnamon
Dash sea salt

1 Tablespoon

lemon juice (to keep the apples from turning brown while preparing)
Oat Crisp Topping
¼ cup

walnuts, chopped (optional)

½ cup

rolled oats

1 Tablespoon

oat flour

1 teaspoon

cinnamon

1 Tablespoon

+

1 teaspoon

organic maple syrup
Slurry Ingredients:
1 teaspoon

cornstarch

1

–

2

teaspoons water
---
Instructions
Apple Base
Preheat oven to 400 degrees F.
Peel, core, and cut the apples into slices about ½ inch thick, (at the thickest part), then cut into halves. Think half-moons, then cut those in half.  Place the apple slices into a bowl with about 1 Tablespoon of lemon juice.  Splash the lemon juice over the apple slices as you work through cutting up all 4 apples.
Once all the apples are cored, peeled, and sliced, place them in a bowl and add the maple syrup, cinnamon, and sea salt.
In a large skillet over medium-high heat, add the apple mixture and cook for 5-10 minutes. The cooking time is largely dependent upon the thickness of the apple and texture.  (See notes)
In the meantime, prepare the Oat Crisp Topping
 Place all the dry oat crisp ingredients in a bowl and mixing until well combined. Then drizzle in the maple syrup and mix well.  Set aside.
Check the tenderness of the apples in the skillet. The cooking time will vary to how "done" you like your apples.  Some people like their apples really soft, while others like a little bite to them.
Once the apples are tender to your liking, create the slurry by mixing the cornstarch with the water in a small bowl. Then move all the apples to the sides of the skillet and dump the slurry into the center of the skillet.  Turn the heat up to a medium boil and cook the slurry.  This will thicken the sauce the apples will bake in.  Cook until the sauce slightly thickens, about 3 minutes.
Next, dump the skillet apples into a baking dish and top with the oat crisp topping. Be sure to scrape the skillet with a rubber spatula to get all the sauce.
Place the baking dish onto a baking sheet (to prevent bubble over spills) into a preheated 400-degree F oven and bake for 15 minutes. You want the syrup to bubble up.
After 15 minutes in the oven, remove the baking dish from the oven and allow to cool for 20 minutes.
Serve and enjoy! (Makes approx. 3 to 4 servings).
---
Notes
Skillet stove top method: The reason we start our apples on the stove top is because we are super picky about the tenderness of the apples, as well as the syrup consistency.  We like the apples to be soft and tender, but not mushy.  Additionally, we like the apple syrup to be slightly thick, but not runny or overly gooey.  By starting the apples on the stove top skillet, you have a lot more control.  If you like your apples less tender, then stop the skillet stove top cooking early, conversely if you like your apples really soft, cook them longer.  Additionally, if you like a lot of syrup, add more cornstarch/water (slurry), etc.  The beauty of this recipe is that you can not only taste test the recipe for flavor before it goes in the oven, but you can determine the apple tenderness so you won't end up with crunchy apples.  Cook them until they reach your level of desired tenderness.  To us, there is nothing worse than crunchy apples in an apple crisp.
Storage:  Cover with plastic wrap at room temperature, but if keeping longer than a few days, store in the refrigerator to preserve the freshness.  My guess is that it won't last that long that it will need refrigerated.  This recipe is great to make in advance or it also freezes well.  See the freezer notes at the bottom of the recipe.
Cinnamon is so reminiscent of home, is there a spice that reminds you of home? Leave it in the comments, we'd love to hear from you! 🙂