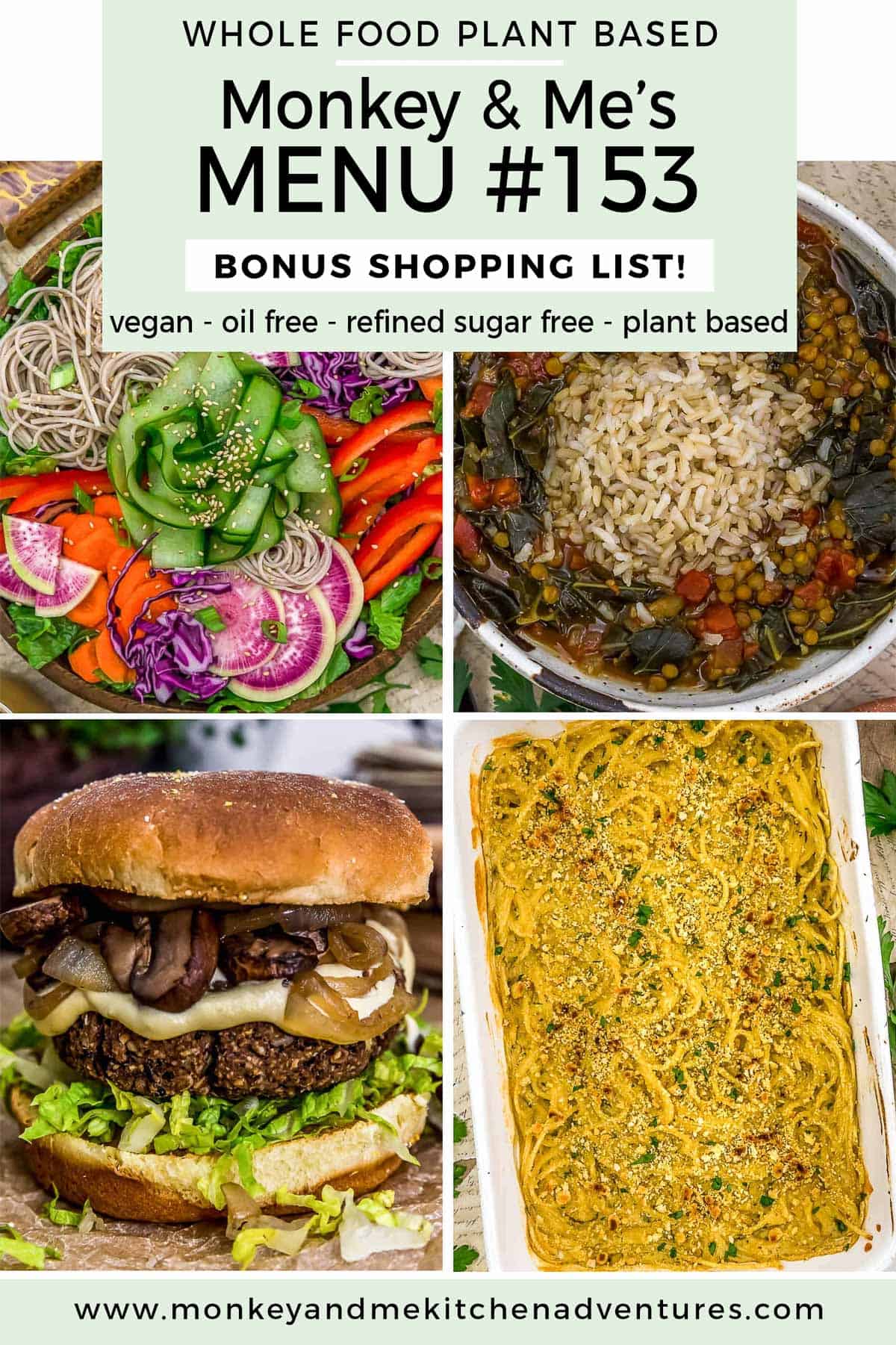 This week's Monkey and Me's Menu features some tasty recipes.  Menu #153 includes a FREE bonus shopping list.  All recipes are Whole Food Plant Based, vegan, plant based, oil free, refined sugar free, and no highly processed ingredients.

Downloadable Menu which offers the following:

2 Breakfast ideas
2 Lunch ideas
2 Snack Ideas
5 Dinner Ideas, including a FREE downloaded shopping list (PDF – Below)

A comprehensive (downloadable) shopping list for the 5 Dinners

The shopping list is segmented into the common grocery store sections like "produce, spices, etc." making it easy to pick up these items from your local grocery store.
It also includes product suggestions that are Whole Food Plant Based compliant* for easy reference.  Note: These products are suggestions, please feel free to select your own favorite products.
Includes helpful codes so you can easily subtract items that you choose not to make.

Downloadable Instructions on how the meal plan work.
Note:  The term "Whole Food Plant Based compliant" is from a general standpoint.  There are Whole Food Plant Based diet branches that restrict certain food items.  Our recipes are all Whole Food Plant Based compliant based upon a high-level compliance standpoint. i.e. vegan, plant based, oil free, refined sugar free, minimally processed foods.
Some breakfast, lunch, and snack ideas are simple concepts that require no recipe.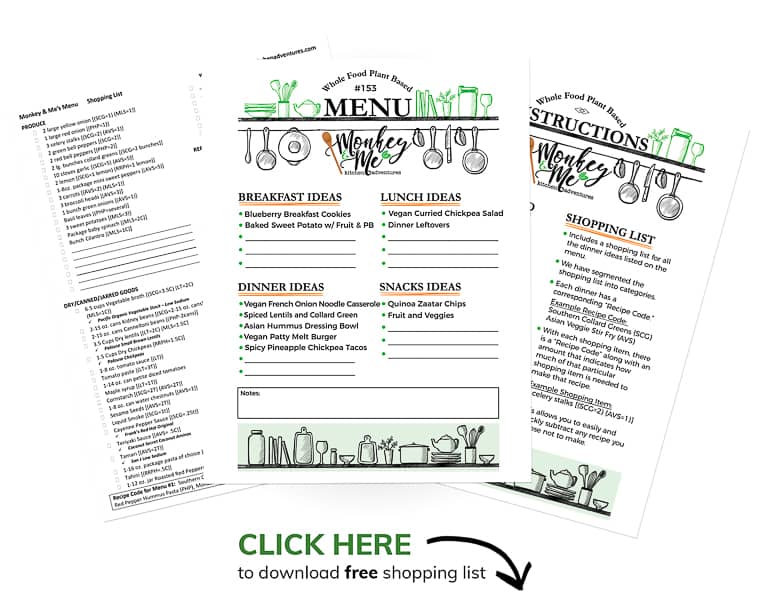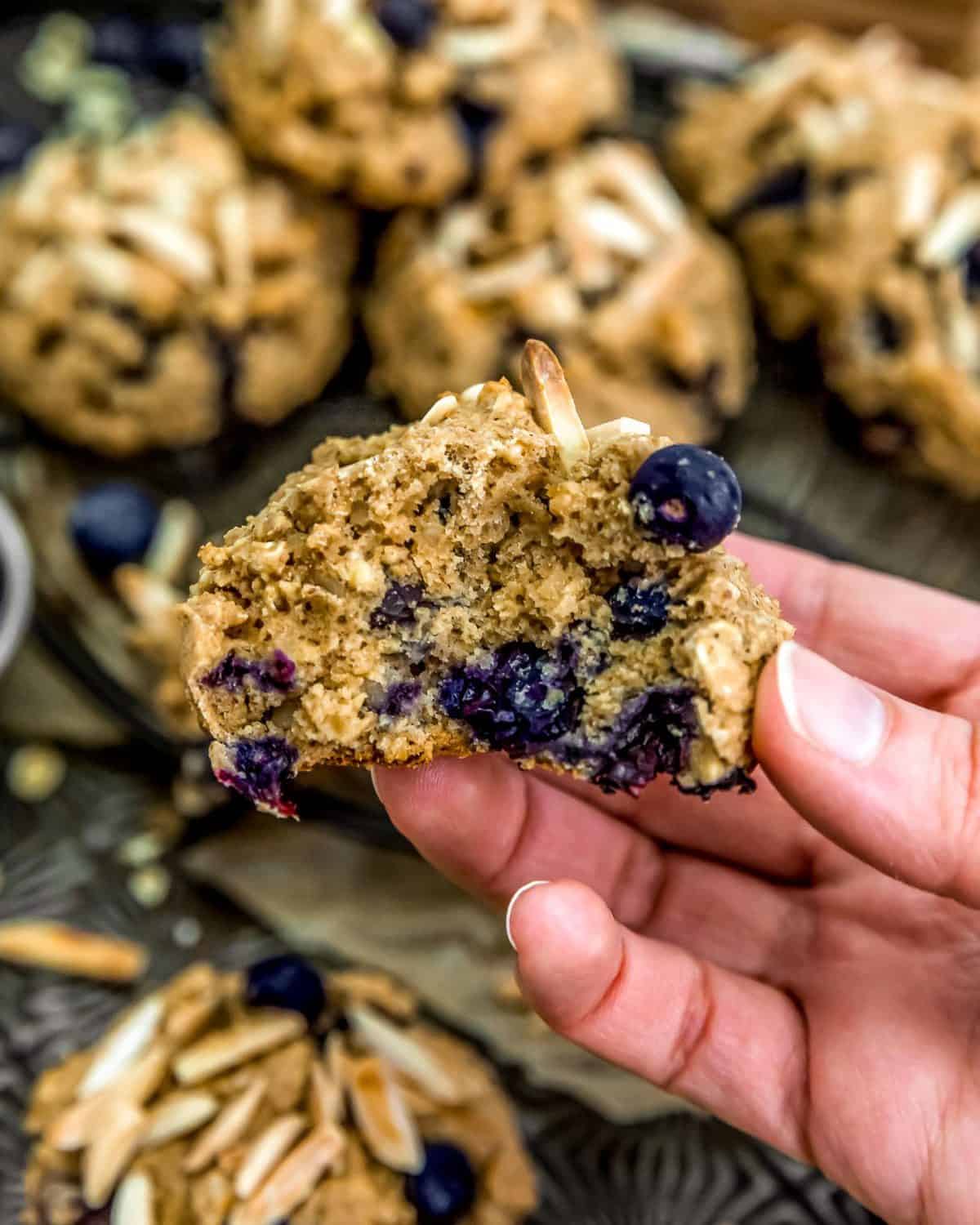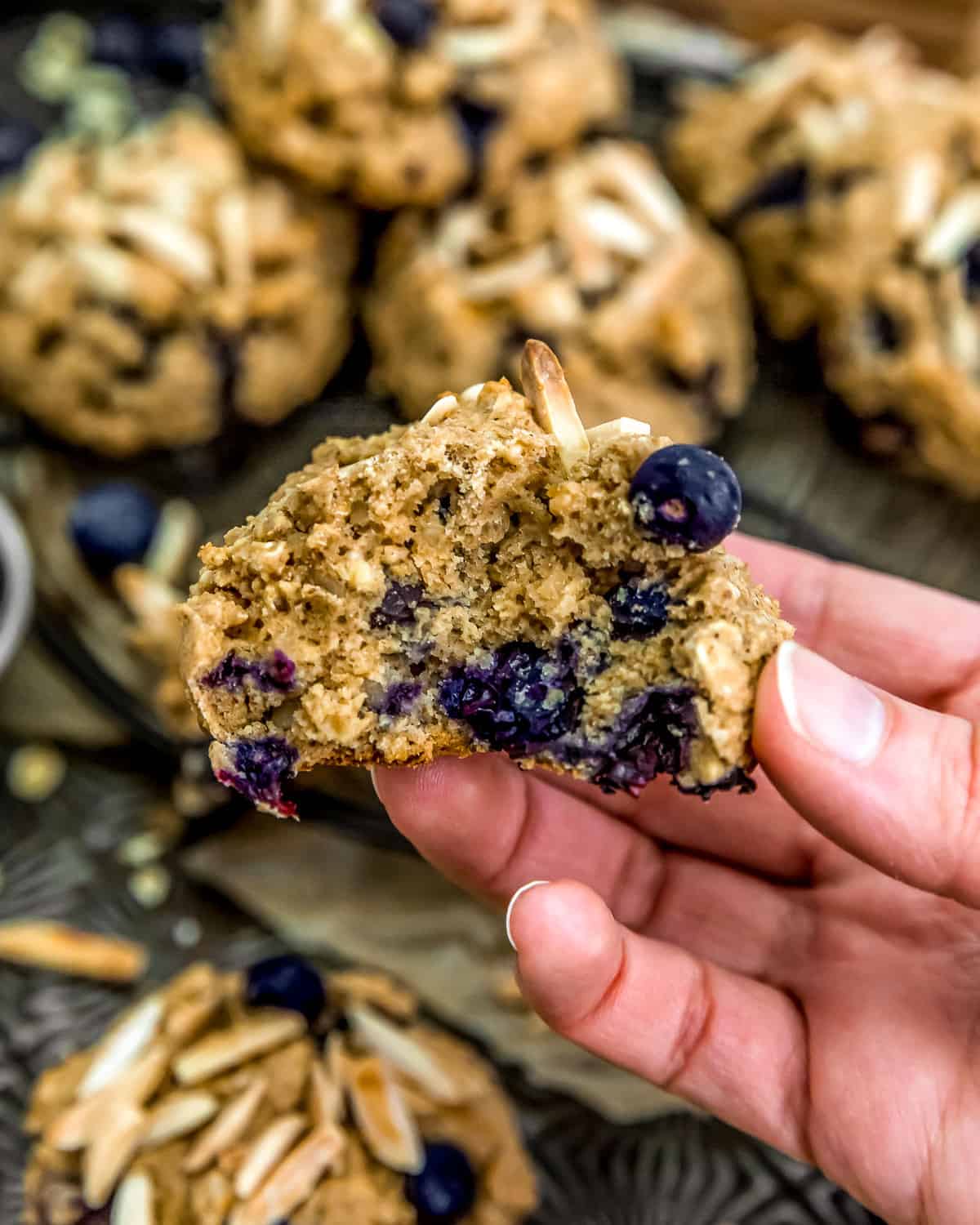 These wholesome Blueberry Almond Breakfast Cookies are full of healthy deliciousness and a perfect sweet treat for breakfast or dessert!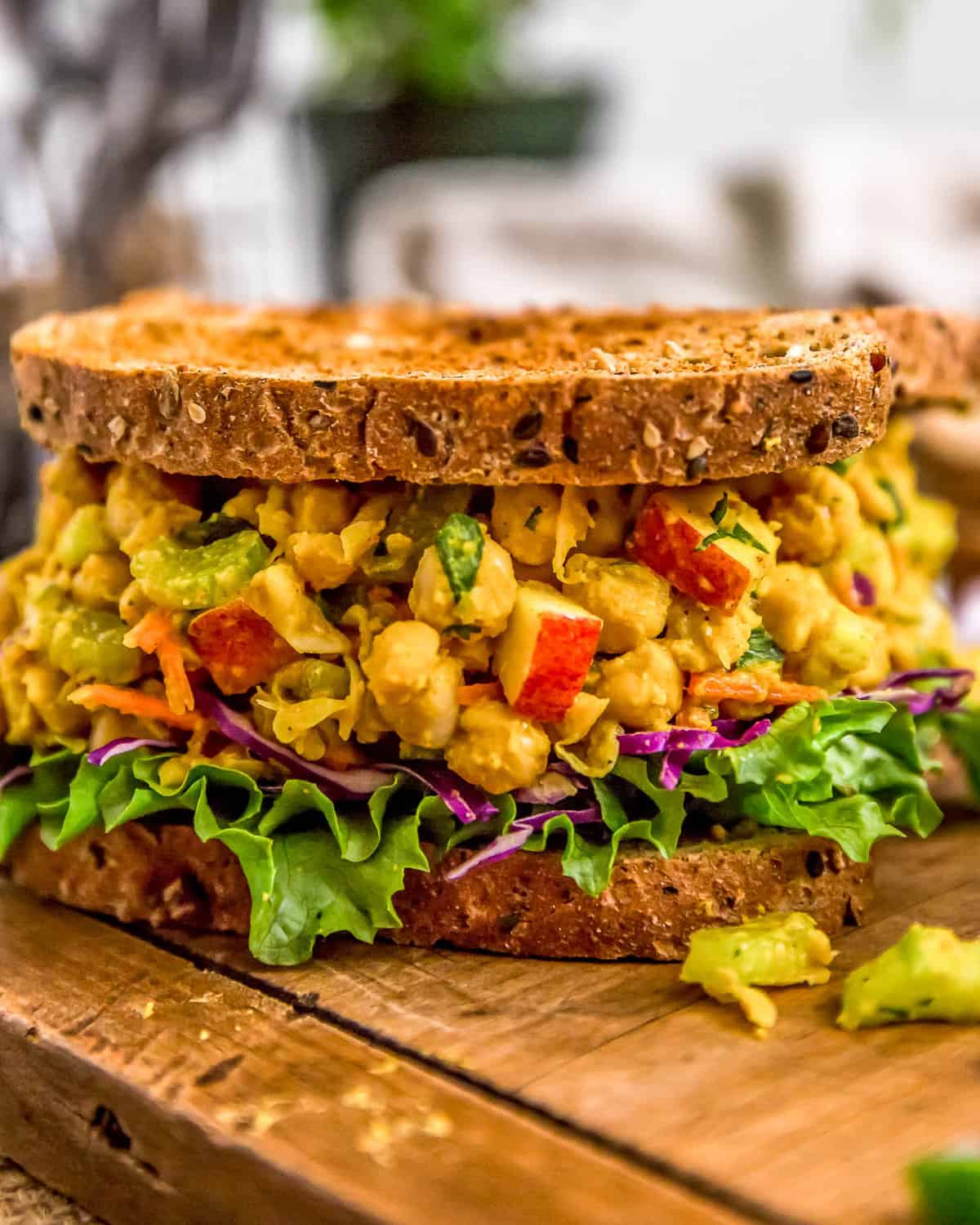 A beautiful combination of creamy and crunchy texture with a pow of delicious curry flavors, this sandwich makes for a quick and tasty lunch.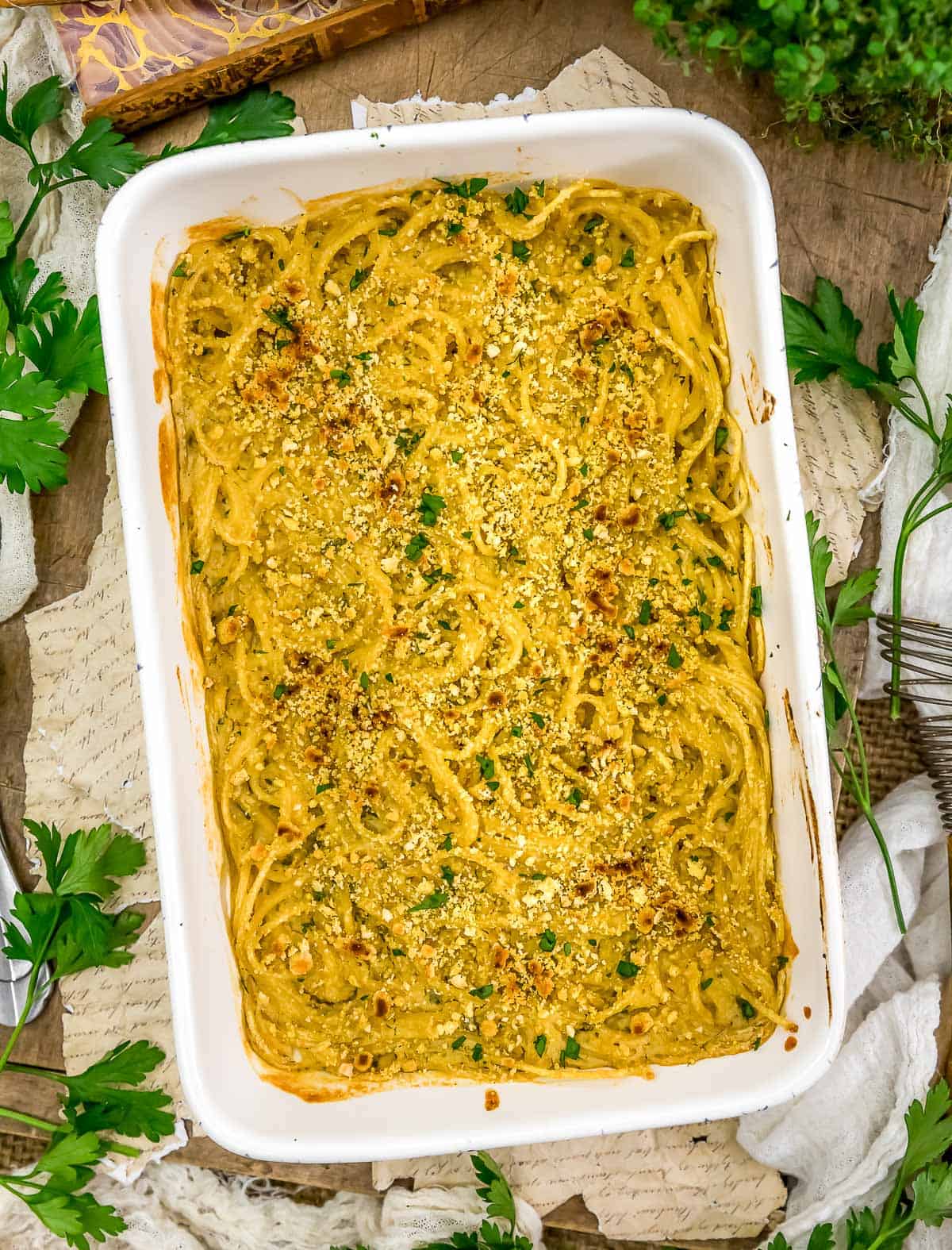 Creamy and reminiscent of French Onion Dip flavors, this comforting casserole features spaghetti coated in a delightful sauce that is sure to have everyone running back for seconds.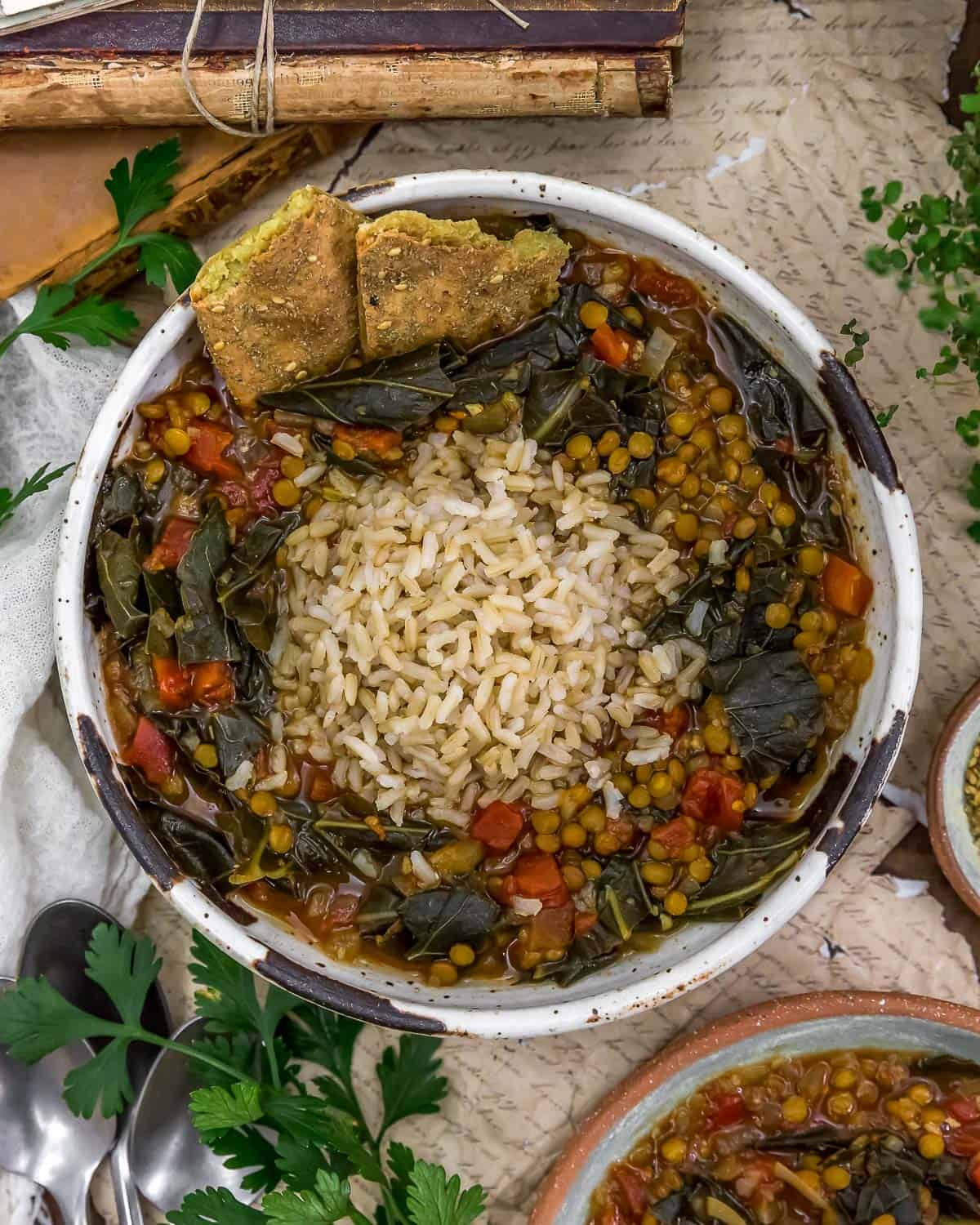 Brimming with protein-packed lentils, delicious antioxidant collards, and enriched with a blend of warming Middle Eastern spices, we are going over the top and all the way to flavor town.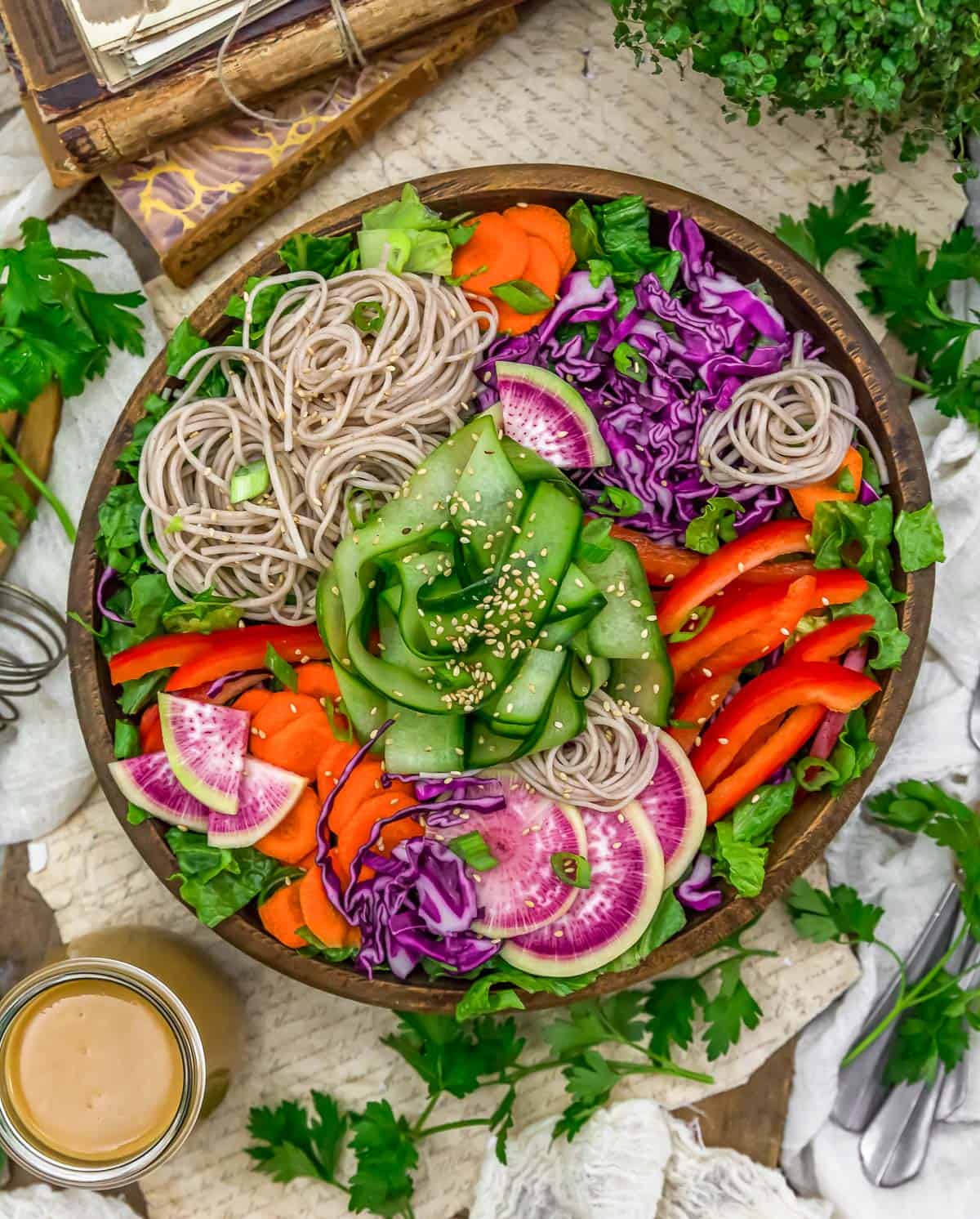 We are all for loaded salads, and this Asian inspired dressing has us in salad heaven with nummy noodles, vibrant veggies, and glorious greens!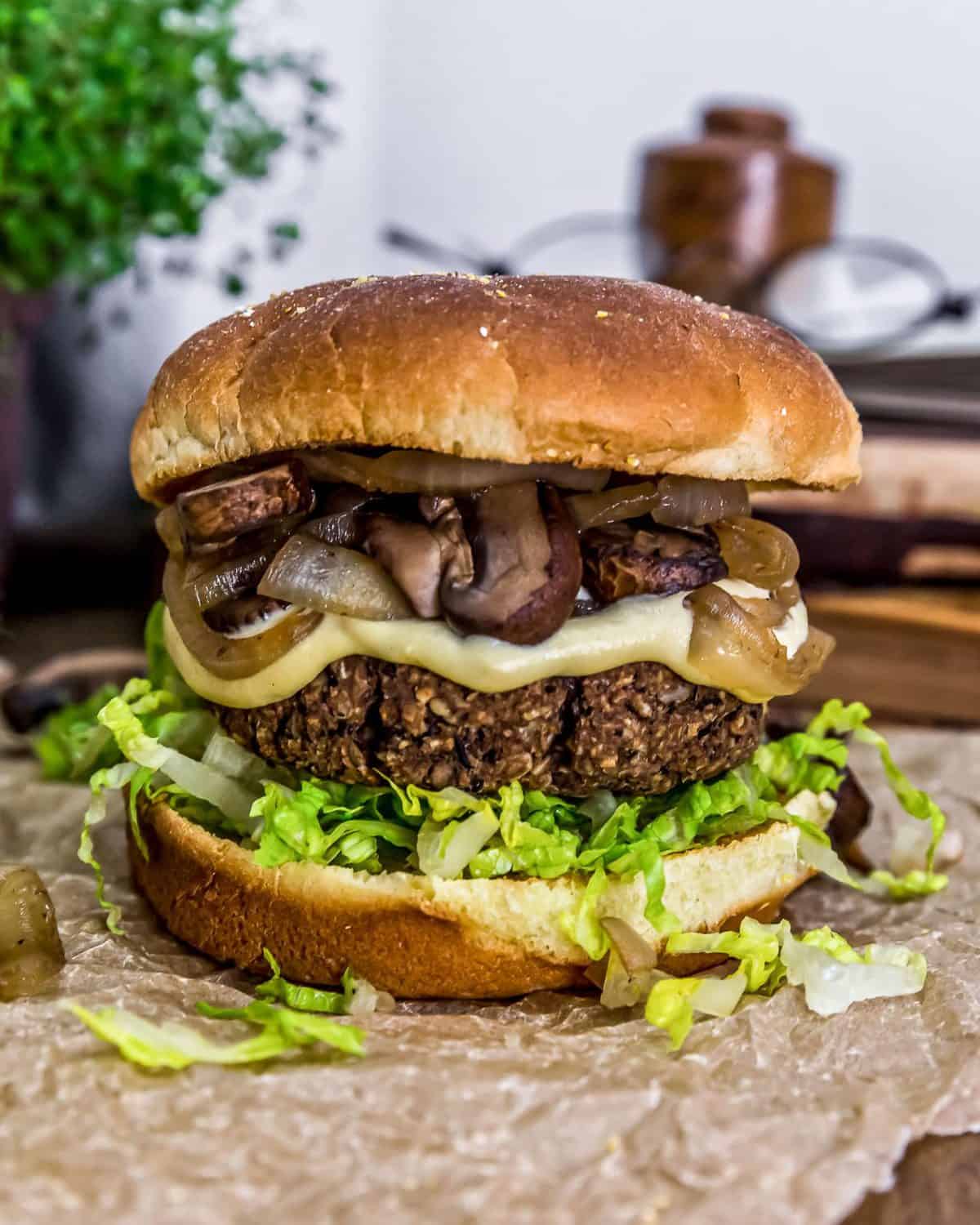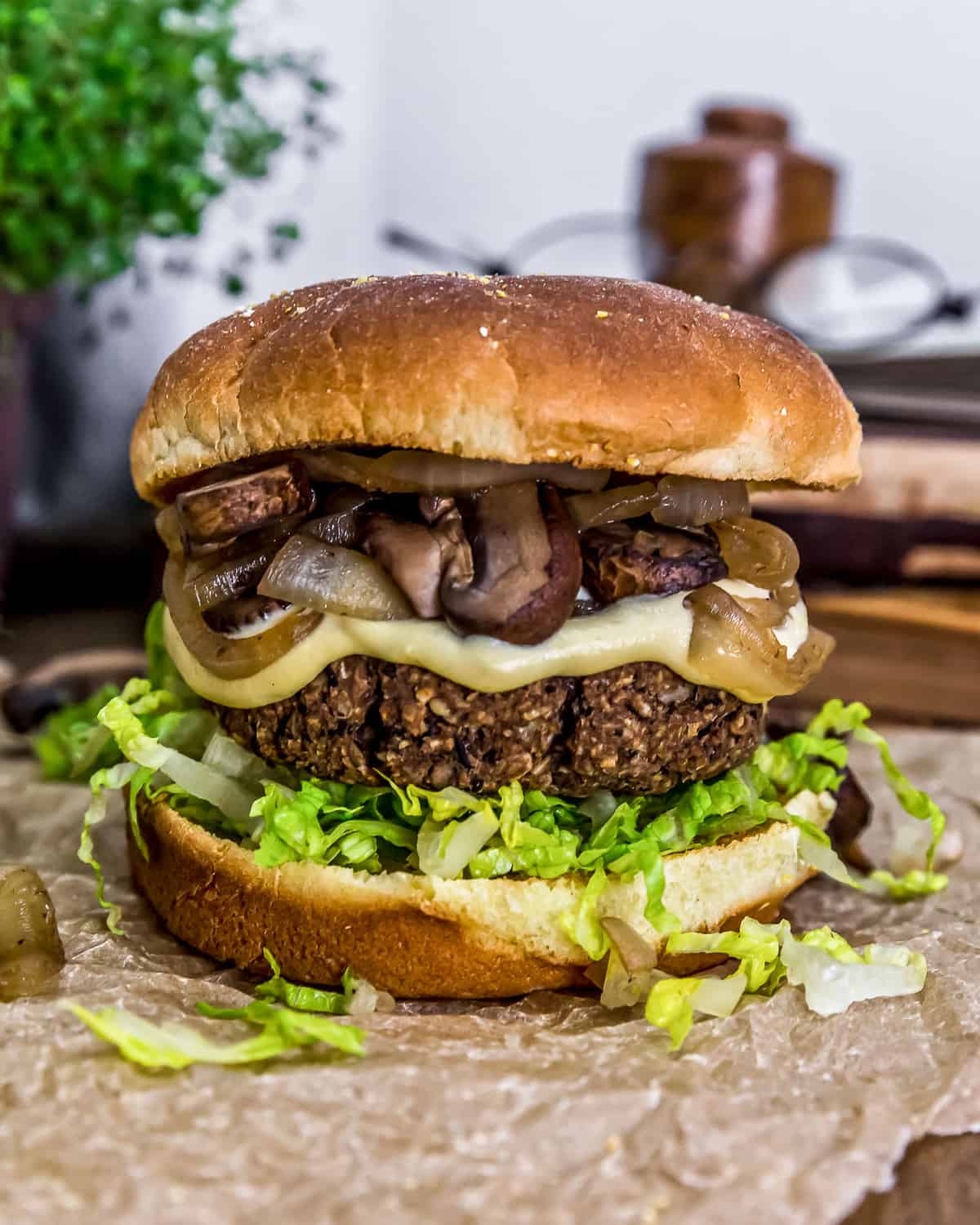 Packed with amazing flavor, this Vegan Patty Melt Burger is healthy, delicious, and has amazing texture with a perfectly crunchy exterior and a tender, but not mushy, interior.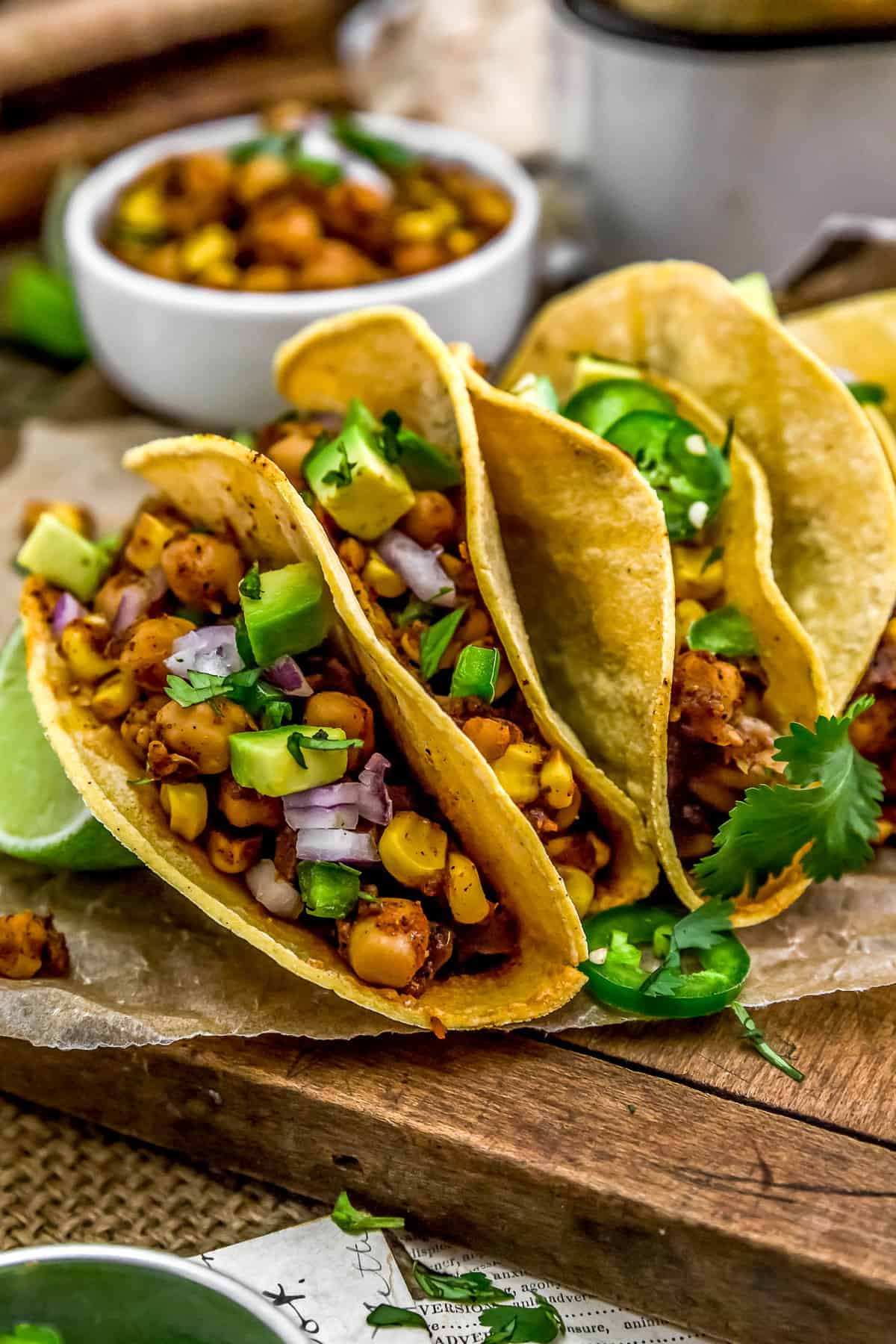 Easy to make and utterly delicious, these amazingly spicy, bold, with a hint of sweetness creates a fantastic taco filling that just can't be beat!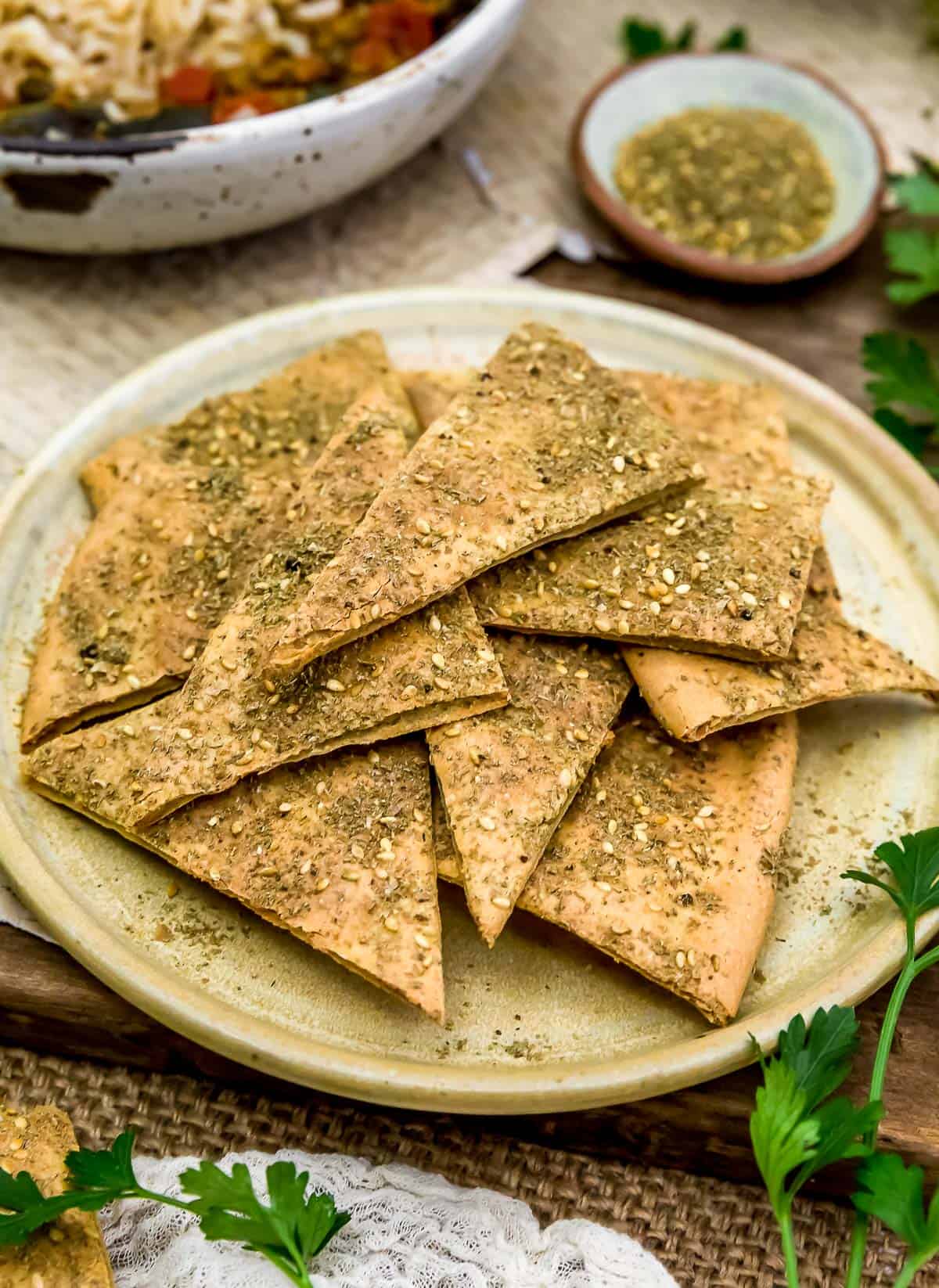 We are in love with these delicious gluten free, oil free Zaatar chips that make for a fantastic addition to your Middle Eastern meal or perfect for snacking.