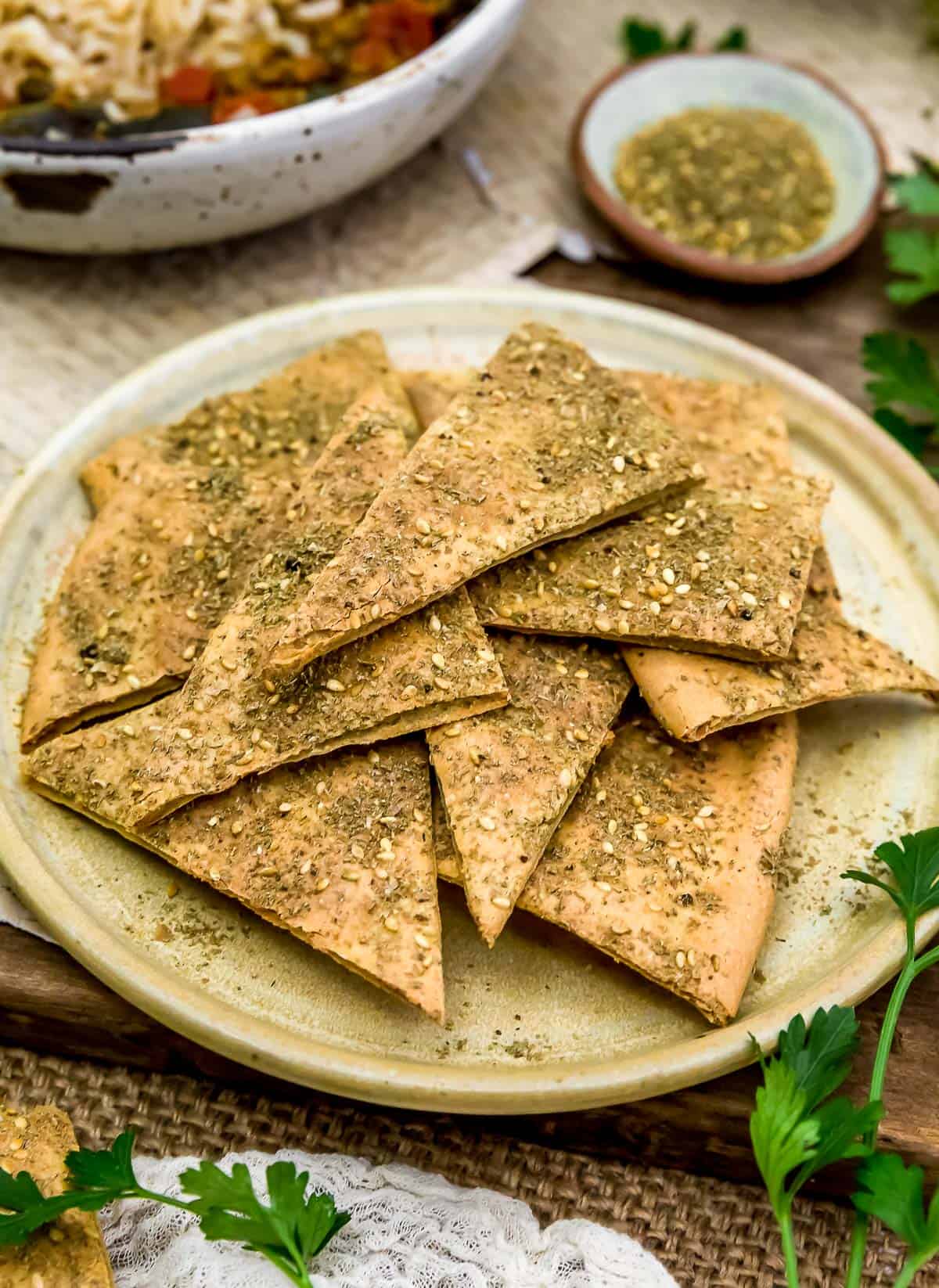 Quinoa Zaatar Chips! We are in love with these delicious gluten free, oil free Zaatar chips that make for a fantastic addition to your Middle Eastern meal or perfect for snacking.
Crispy, crunchy, and a little chewy, these wholesome Quinoa Zaatar Chips are perfectly satisfying and healthy.  If you love zaatar, then these tasty chips are for you. Bake up a batch for friends and family today!
Whole Food Plant Based, Vegan, plant based, oil free, refined sugar free, no highly processed ingredients and gluten free.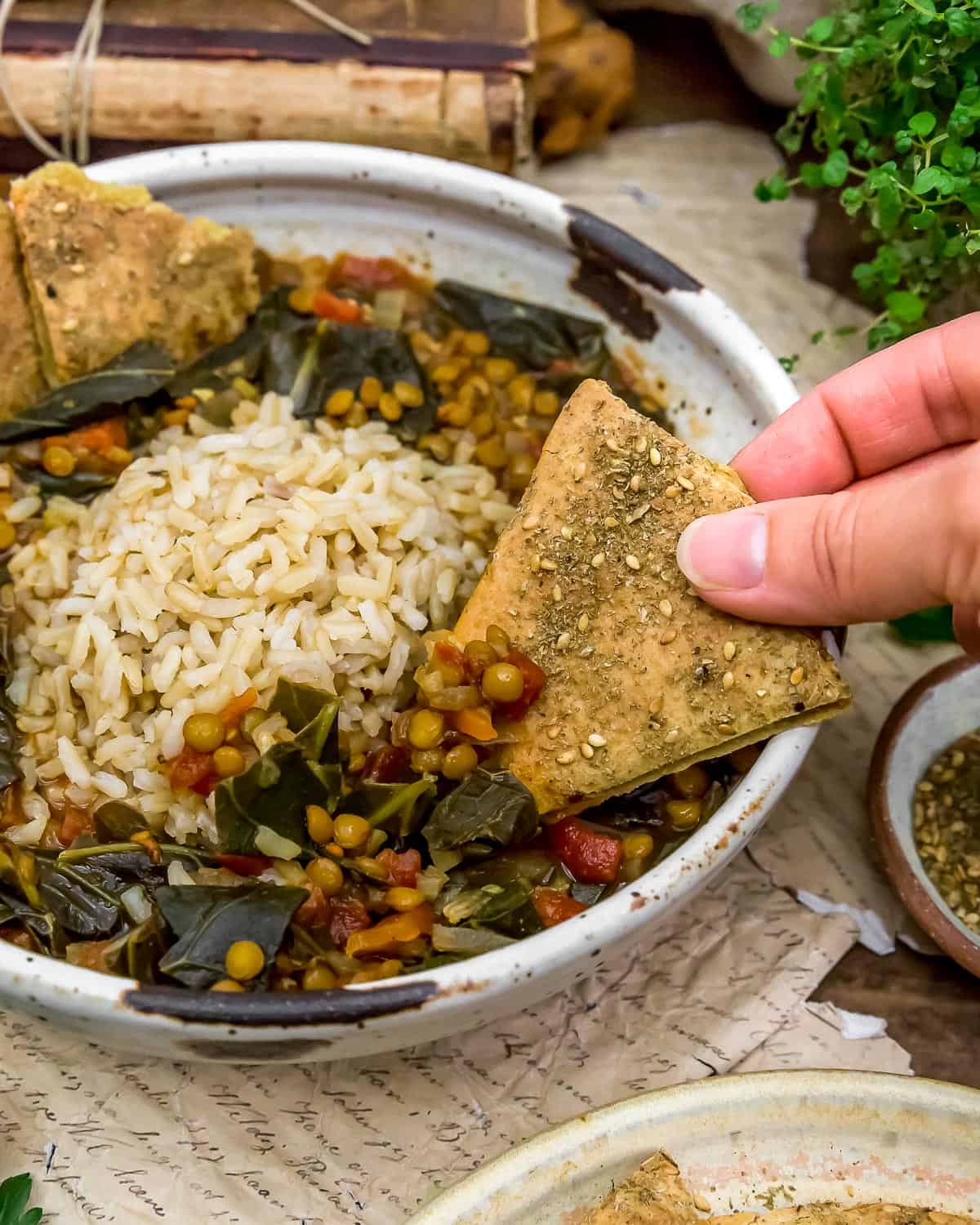 Hi there, Ameera here!
I can only make these chips when Yasmeen is napping!  She LOVES them and wants to eat them all!  She simply can't get enough of them.
If you love the Middle Eastern Zaatar spice, then you will love these healthy chips!
You gotta give this one a try!
Tips for Success:
Flavor Profile: If you do not LOVE za'atar, then this recipe may not be a good fit for you. If you have never tried za'atar before, it can be an acquired taste.  The first time that mom tried za'atar, she hated it.  Now she absolutely LOVES it.
Batter: The batter consistency should easily pour, but not be overly thin.
Baking Time: It is important to use a timer for both the 1st side and flip side of the baking.  Otherwise, you could end up with gummy Zaatar Chips or overly brown ones.
Za'atar Seasoning: Za'atar seasoning is a blend of the following spices:  thyme, cumin, oregano, coriander, sumac, sesame seeds and salt.  You will find a lot of variations as every region has their own favorite seasoning blend.  The seasonings that appear consistent across regions is thyme, sesame seeds, sumac, and salt.
Oven Preheat to 425 degrees F: It is very important that your oven is fully preheated before you begin the baking process.
11-inch circle guide: If you think you will struggle with understanding the size of the circle to spread the batter.  Draw an 11-inch circle on the back side of the parchment paper to use as a guide. The 11-inch circle guide works really well because it lets you know just how thin the batter should be when spreading it out.  It is not required, but it is helpful.
Flip side baking: After the 1st 15 minutes of baking, remove the baking sheet from the oven, use a long thin edged spatula and gently loosen the quinoa flatbread around all the edges. The baked bread will want to stick to the parchment paper but trust me it comes loose with just a few tugs, then slide your spatula underneath the center of the flatbread, once it is fully loose, very carefully flip it over.  It should flip over easily, then return the flatbread to the oven and do the flip-side baking.
Cutting the Za'atar Chips into Triangles: We did not do traditional pie cuts.  We made 3 long cuts across the pie, then did various triangular cuts to achieve smaller triangles, rather than the really long pie cuts.
Crispiness of the Za'atar Chips: If you like really crispy zaatar chips, bake them longer on the 3rd baking (when cut into actual chips/triangles).  If you find they aren't crisp enough, then simply put them back in the oven and bake them longer.
Chip Texture:  These Za'atar chips have a crispy crunchy surface area, but the inside is still a tiny bit chewy.  So if you are looking for chips as in a crispy potato chip, then this is not the recipe you are looking for.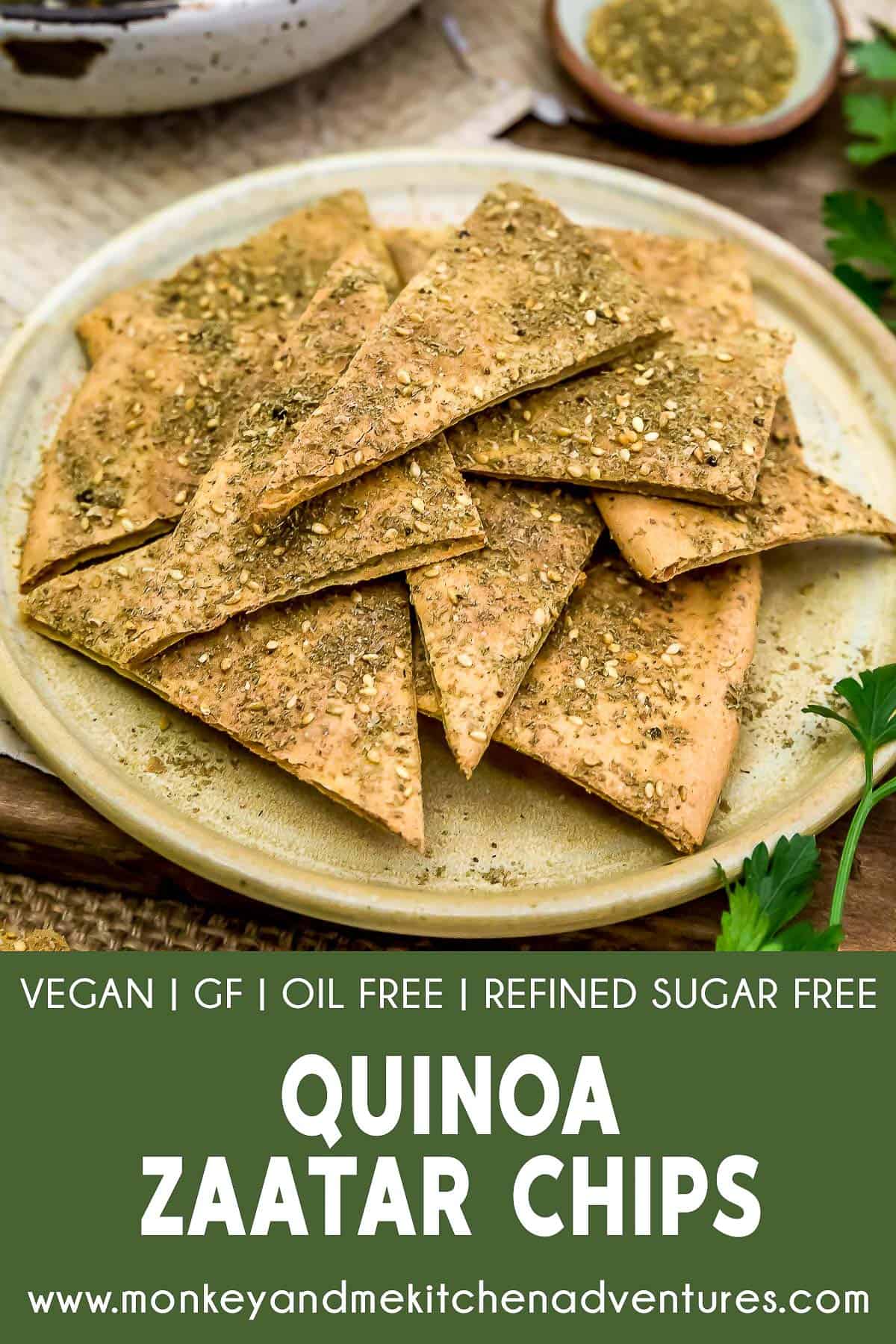 Leftovers and Freezing:
Leftovers will generally keep for several days.  Store in a covered container.  If the chips lose their crunchiness (as they will over time), then simply pop place them on a baking sheet and bake them at 425 F for a few minutes to crisp them back up.
They can be frozen.  You will have to pop them in the oven as stated above to crisp them up again. .
Pantry Products Used:
Zaatar Seasoning: We've tried Tyme Foods and Penzeys.   Please feel free to purchase your favorite brand of zaatar spice, (watch the ingredient labels for oils) or make your own.
Kitchen Products Used:
Large baking sheet
High-Speed Blender
We certainly hope you give this deliciousness a try.
If you try this deliciousness, we would love to know if you enjoy it as much as we do! Please leave us a review! Post a picture on Facebook or Instagram and tag us!  We would love to hear from you.
Print
Quinoa Zaatar Chips
Author:

Prep Time:

10 Minutes

Cook Time:

20 Minutes

Total Time:

30 Minutes

Yield:

4

Servings

1

x

Category:

Side, Snack

Method:

Oven

Cuisine:

Middle Eastern

Diet:

Vegan
---
Description
Crispy, crunchy, and a little chewy, these wholesome Quinoa Zaatar Chips are perfectly satisfying and healthy.
---
Ingredients:
1 cup

quinoa, uncooked, rinsed

½ cup

+

2 Tablespoons

unsweetened plain plant milk

1 teaspoon

baking powder

1 teaspoon

garlic powder
pinch to

¾ teaspoon

sea salt
Other Ingredients:
Generous sprinkling Zaatar Seasoning *
---
Instructions
Preheat the oven to 425 degrees F.
Line a 14 x 20 baking sheet with parchment paper.
Place the dry quinoa in a fine mesh strainer and rinse the quinoa really well with running water for two minutes. This removes the bitterness from the quinoa.  Shake to drain excess moisture.
Add the rinsed quinoa, plant milk, garlic powder, sea salt and baking powder into a high-speed blender and blend on high for one minute.
Pour the batter onto the parchment paper. Get all the batter out of the high-speed blender then take a rubber spatula and start to spread it out.  Working from the center, gently pushing the batter outwards until you reach approximately an 11-inch circle or oblong shape.  Avoid thin spots as they can overbrown.
Give a healthy generous sprinkle of za'atar on the surface, then place into the oven and bake for 15 minutes.
After 15 minutes, remove the flatbread and using a thin edged spatula, gently loosen the bread from the parchment paper, flip over, and then return to the oven for another 5 minutes.
Remove from the oven, place onto a cutting board then cut the flatbread into numerous triangles. Place the triangles back onto the parchment paper lined baking sheet and place back into the oven for 2 to 4 minutes to crisp them up.
Remove and enjoy!
---
Notes
*Please reference the blog post for Tips for Success, Pantry Items Used, Storage and Freezing, and Kitchen Products Used.
*Sea Salt:  Please adjust the sea salt based upon your family's sea salt preferences and/or based upon dietary needs.   
*Servings:  4

This post contains affiliate links, and we may receive a very small commission if you purchase through those links at no additional cost to you. Thank you for supporting Monkey and Me Kitchen Adventures! For more information, see our disclosures here.