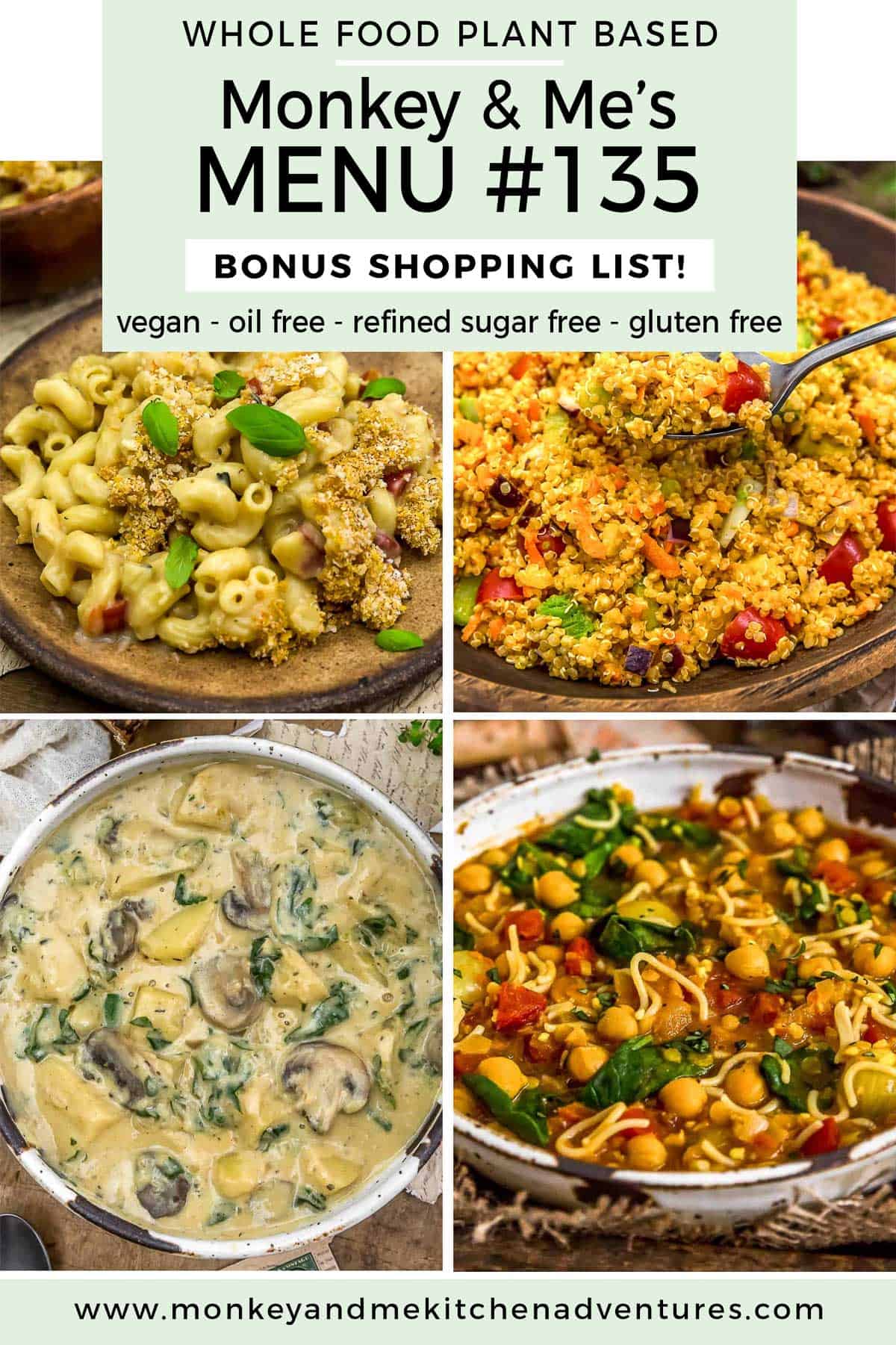 This week's Monkey and Me's Menu features some tasty recipes.  Menu #135 includes a FREE bonus shopping list.  All recipes are Whole Food Plant Based, vegan, plant based, oil free, refined sugar free, no highly processed ingredients, and gluten free.

Downloadable Menu which offers the following:

2 Breakfast ideas
2 Lunch ideas
2 Snack Ideas
5 Dinner Ideas, including a FREE downloaded shopping list (PDF – Below)

A comprehensive (downloadable) shopping list for the 5 Dinners

The shopping list is segmented into the common grocery store sections like "produce, spices, etc." making it easy to pick up these items from your local grocery store.
It also includes product suggestions that are Whole Food Plant Based compliant* for easy reference.  Note: These products are suggestions, please feel free to select your own favorite products.
Includes helpful codes so you can easily subtract items that you choose not to make.

Downloadable Instructions on how the meal plan work.
Note:  The term "Whole Food Plant Based compliant" is from a general standpoint.  There are Whole Food Plant Based diet branches that restrict certain food items.  Our recipes are all Whole Food Plant Based compliant based upon a high-level compliance standpoint. i.e. vegan, plant based, oil free, refined sugar free, minimally processed foods.
Some breakfast, lunch, and snack ideas are simple concepts that require no recipe.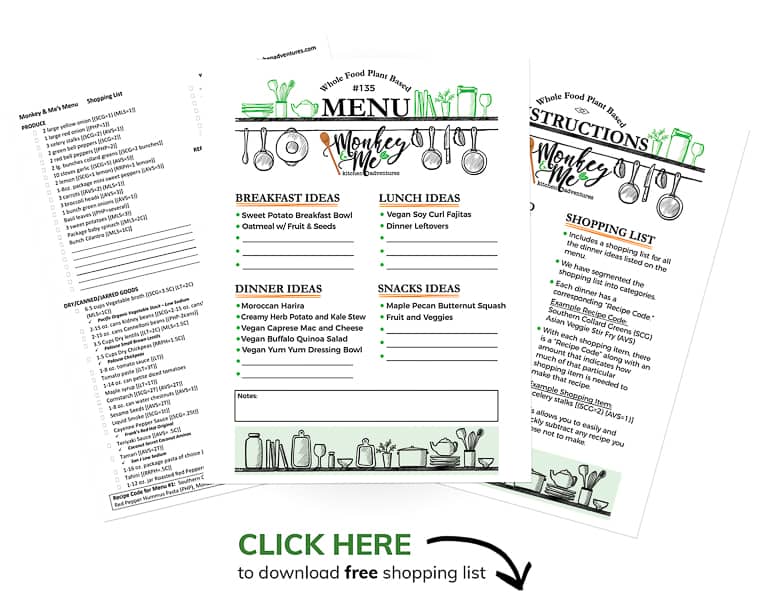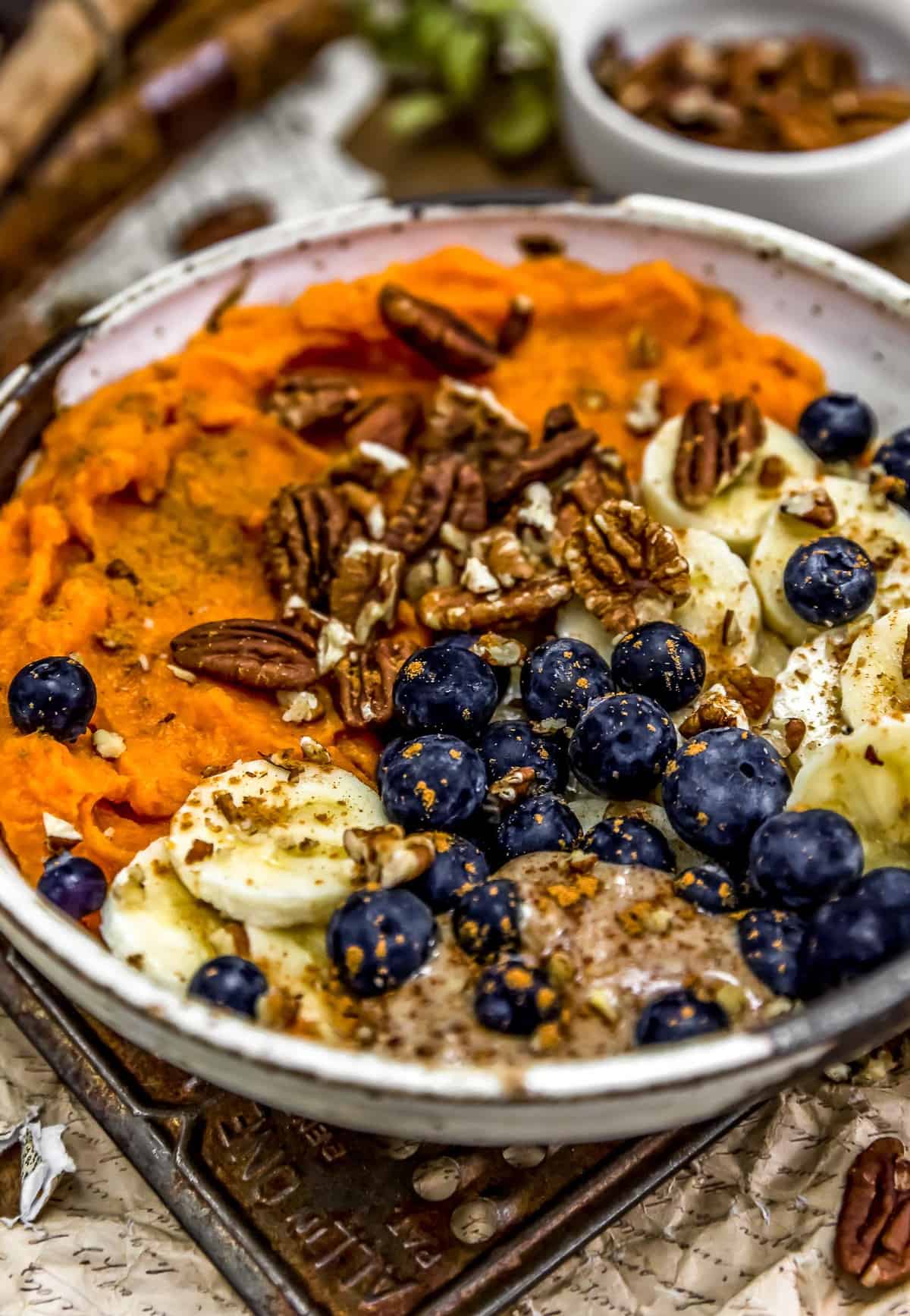 Healthy, hearty, and oh-so-delicious, these fun and versatile Sweet Potato Breakfast Bowls are a wholesome way to enjoy a quick and easy breakfast. We've provided three tasty ways to use left-over roasted sweet potatoes that are sure to put a smile on your face. Warm, caramelized sweet potatoes topped off with some of our favorite variations like Cinnamon Blueberry Pecan Bowl, Peanut Butter and Berries Bowl, and Southwestern Bowl are all a great way to start your morning.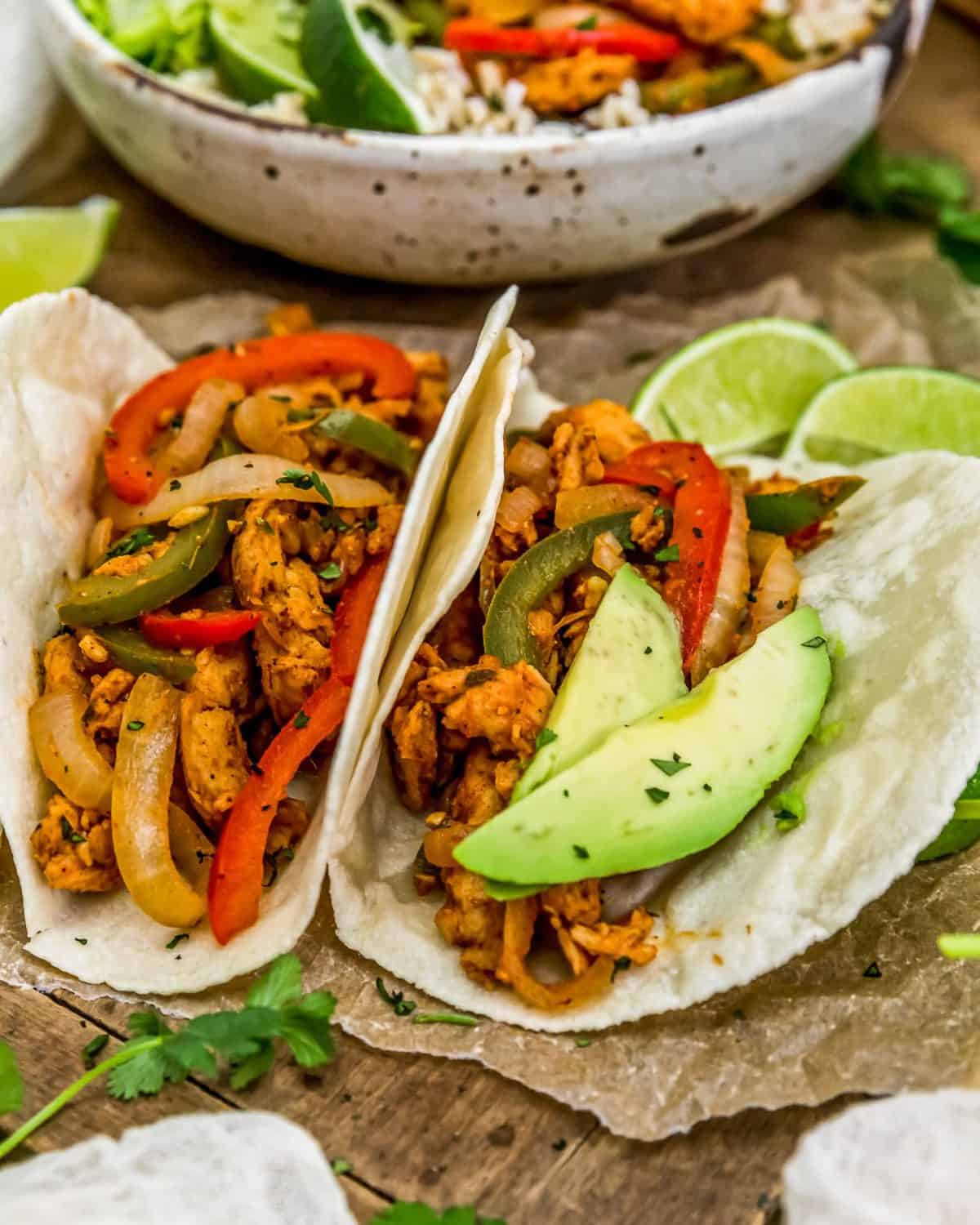 Tex-Mex comfort food at its best, our Vegan Soy Curl Fajitas are brimming with wholesome veggies like sweet bell peppers, zesty onions, earthy garlic, and protein-packed soy curls coated in a finger lickin' good spice blend. Served in your favorite tortillas or veggie bowl, your taste buds will rejoice when chowing down on this medley of Tex-Mex textures, flavors, and down-right hearty goodness!  The whole family will be seated at the dinner table in a flash.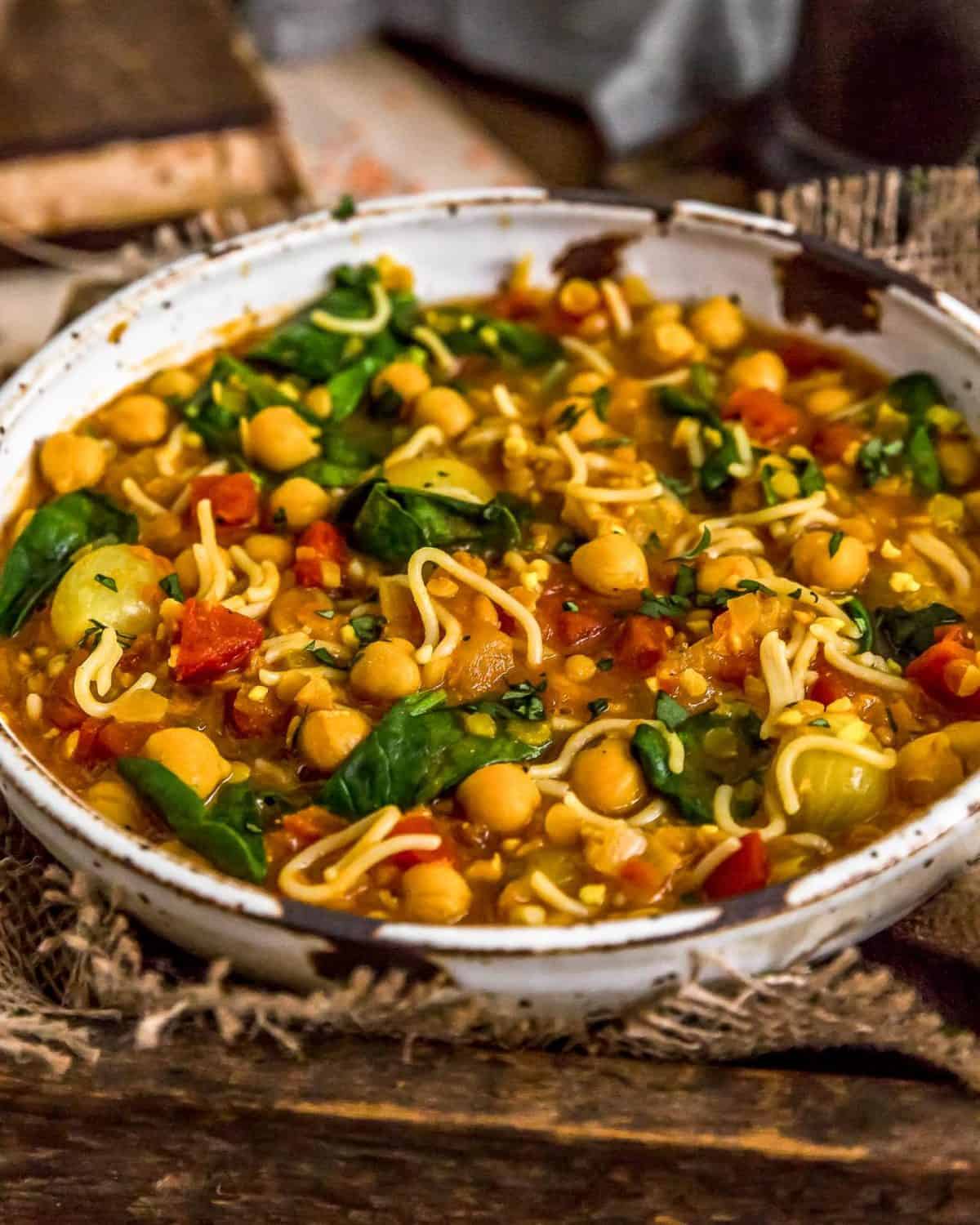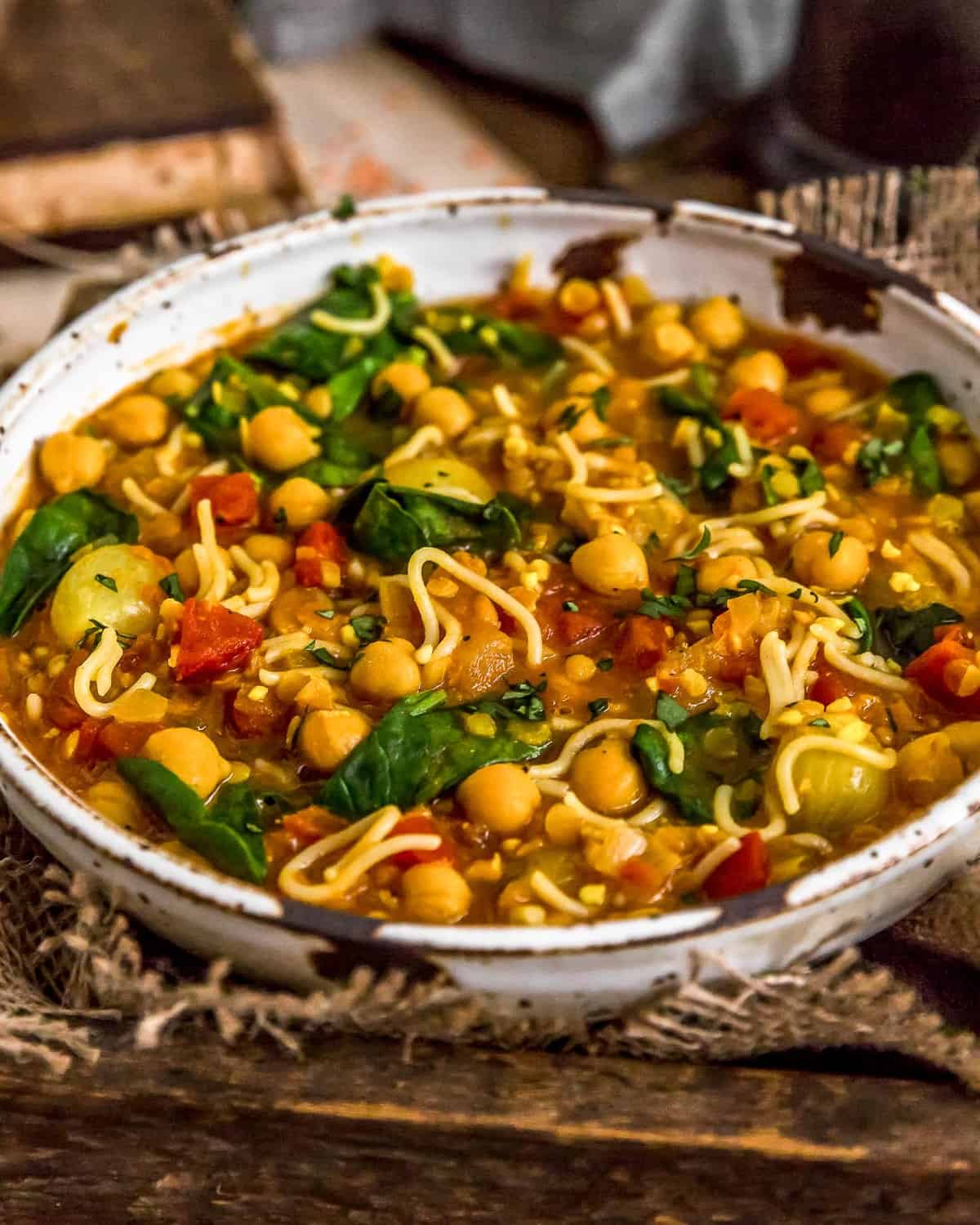 Fragrant and delicious, this soul-warming, oil-free Moroccan Harira is easy to make and a delightful nod to the Moroccan cuisine. Zesty onions, earthy garlic, rich tomatoes, hearty chickpeas and split red lentils, nourishing spinach, and tender pasta are bathed in a deliciously spiced broth that will tickle your taste buds.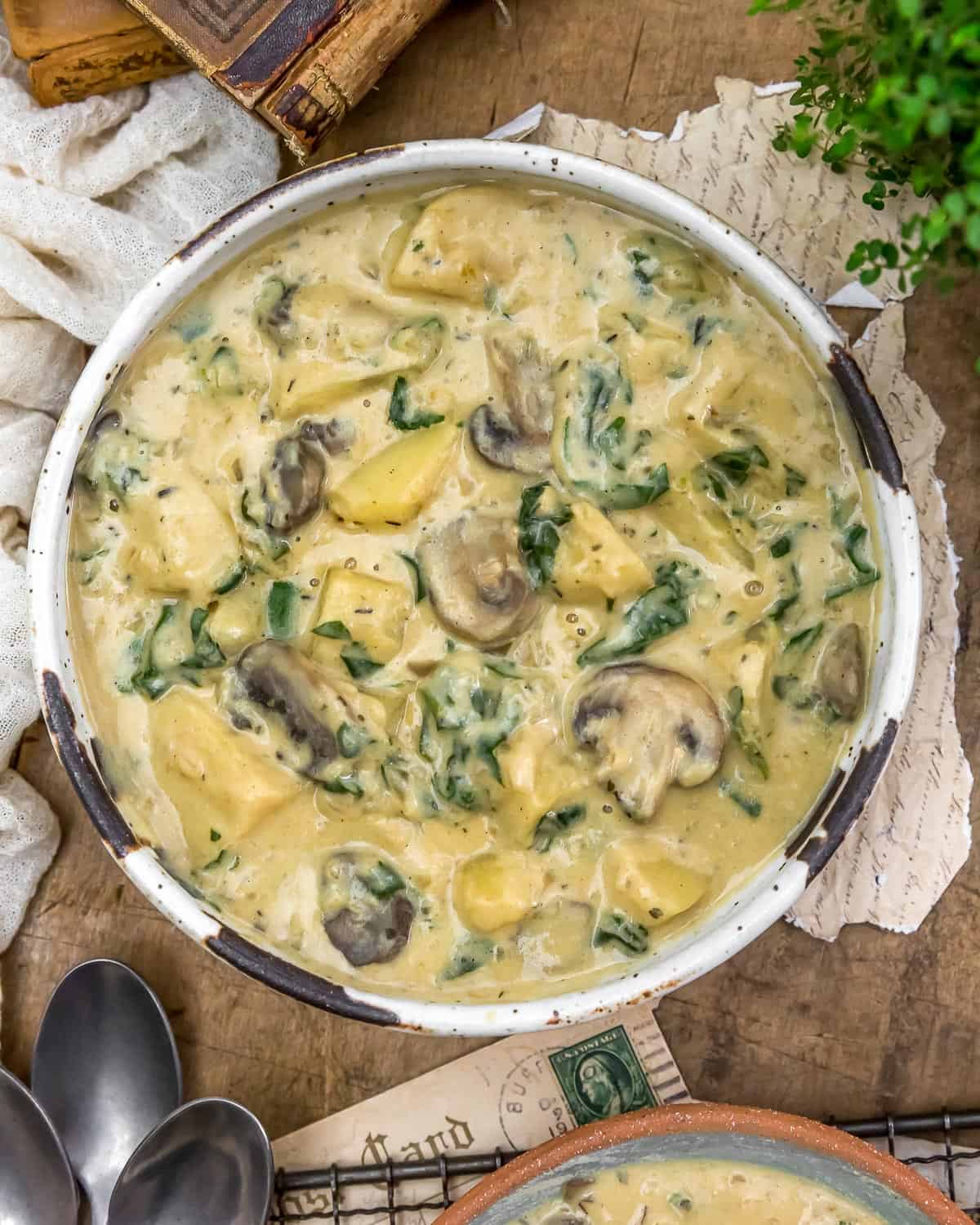 Wholesome, rich, and full of herbaceous flavor, this Creamy Herb Potato and Kale Stew is sure to please even the pickiest of eaters. Hearty potatoes and nourishing kale bath in a velvety broth that boasts all your favorite fall herbs. It's seriously one of the best potato stews you've ever spooned into your mouth.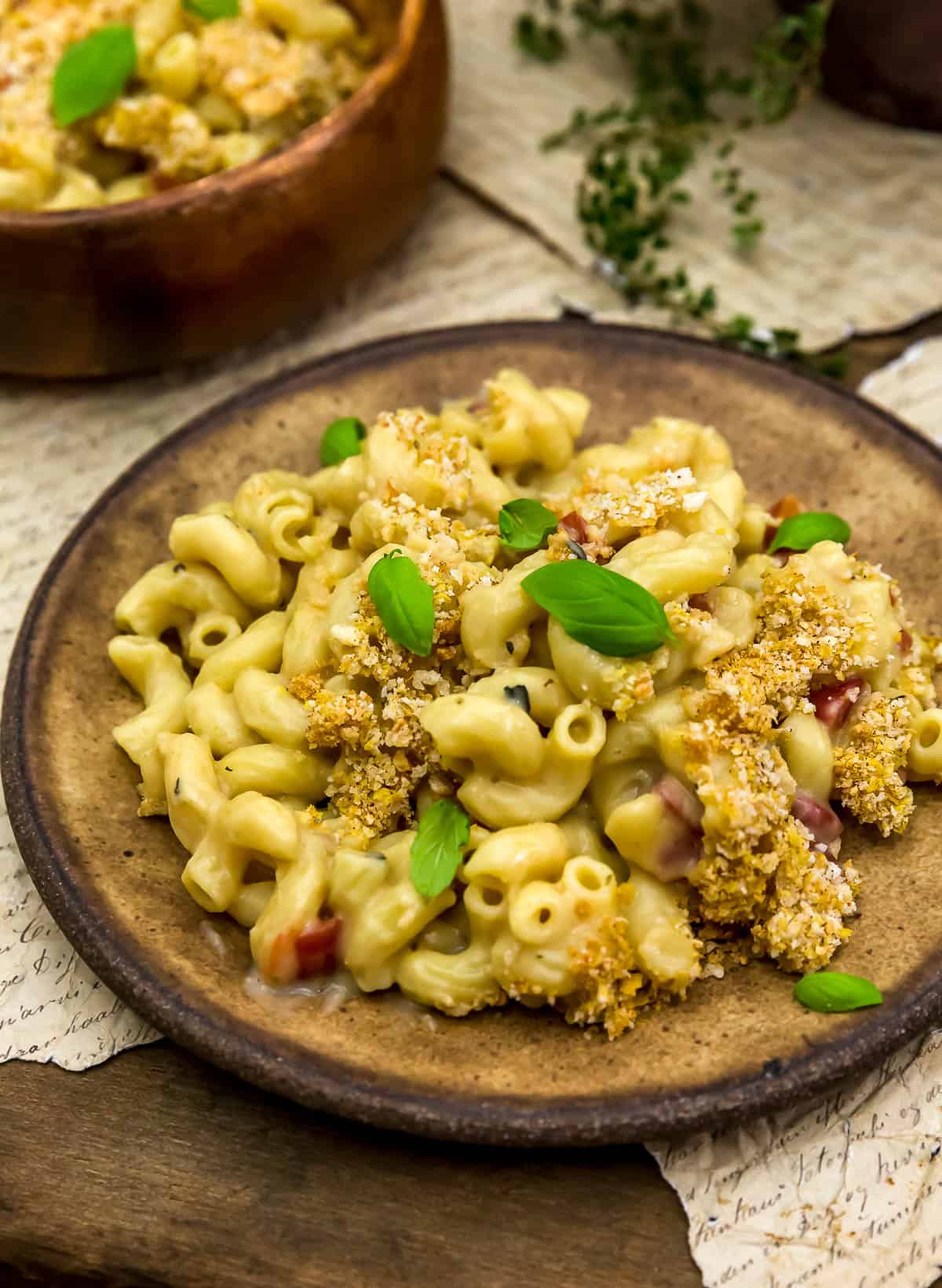 Inspired by a classic combo, this healthy, delicious, and oil-free Vegan Caprese Mac and Cheese is the perfect comfort food the whole family will love! Got to love macaroni covered in a velvety "cheese" sauce and brimming with plant-based goodness. This mac and cheese is a winning combination.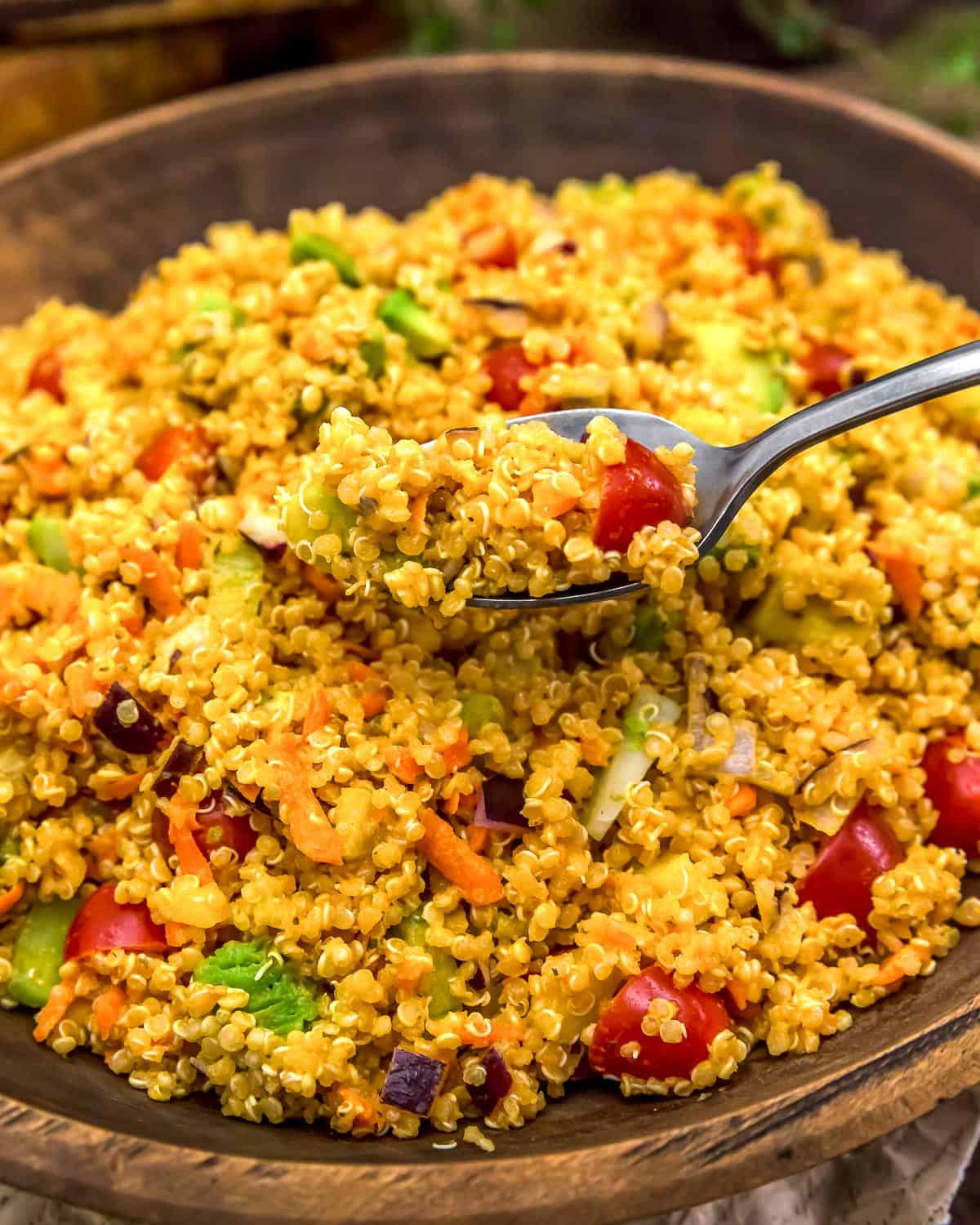 This delicious, healthy, and oil free Vegan Buffalo Quinoa Salad will rock all Buffalo-flavor lovers socks off.  If you are digging that spicy heat from Buffalo hot sauce, then this quinoa salad is just for you. Hearty quinoa, red onions, carrots, celery, and tomatoes are drenched in a full-on flavor explosion of Buffalo sauce that is sure to have you writing home to mom about.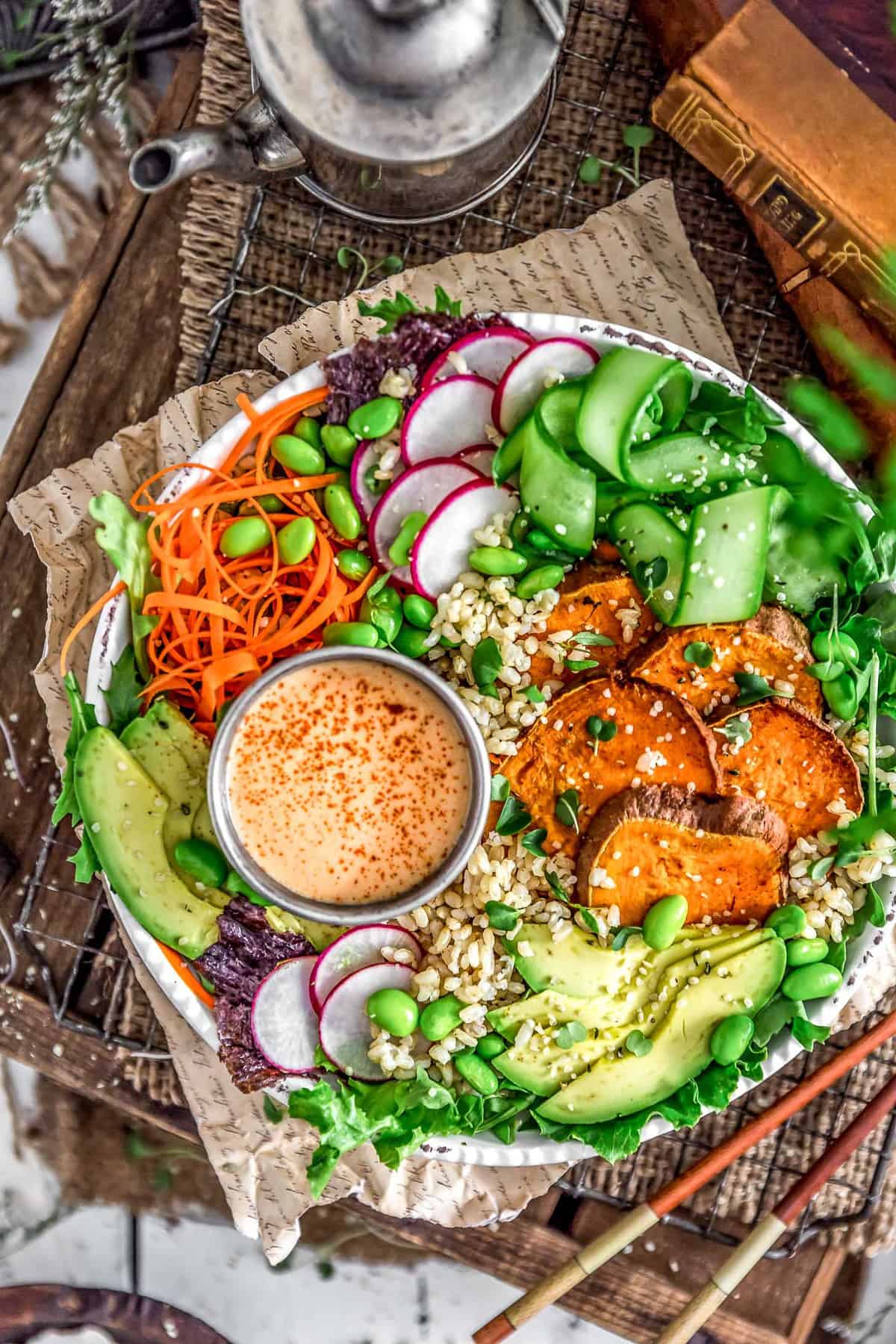 What is a salad without an irresistible, ultra-satisfying, *POW* of flavor dressing to drizzle on top? This healthy, homemade oil-free Vegan Yum Yum Dressing fits just the ticket. Deliciously tangy undertones, velvety cashew cream, umami flavors will have you saying "yum-yum" with the first bite.  It's the dressing version of Yum Yum Sauce and the perfect addition to vegan sushi bowls or salads.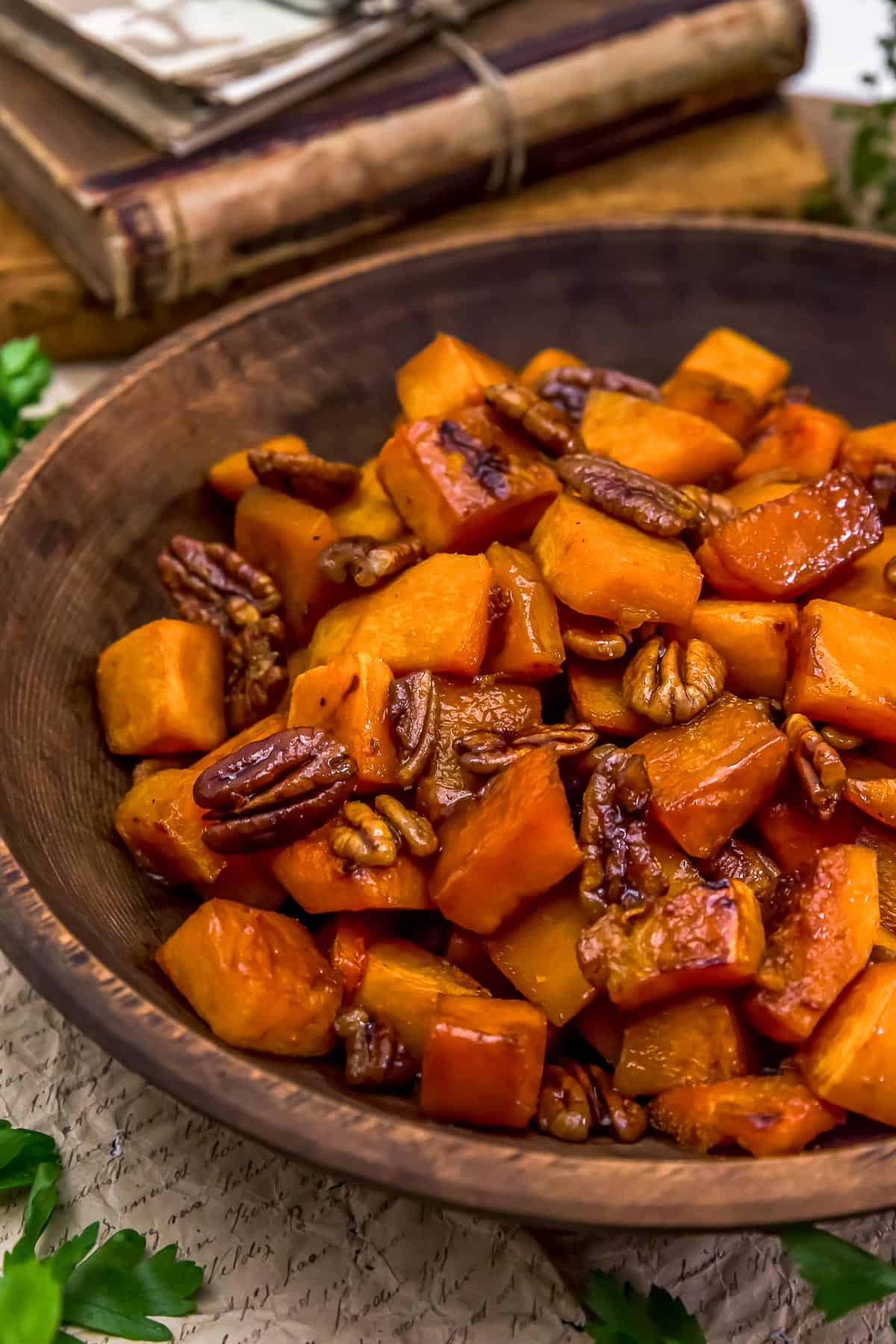 Healthy, wholesome, and brimming with sweet and savory flavors, this Maple Pecan Roasted Butternut Squash is a quintessential fall dish that is sure to put a smile on your face. Tender oven roasted butternut squash and toasty pecans are covered in a sticky maple syrup sauce and sprinkled with a hint of earthy rosemary. This flavorful dish makes for a wonderful fall dinner addition or a perfect holiday side dish.