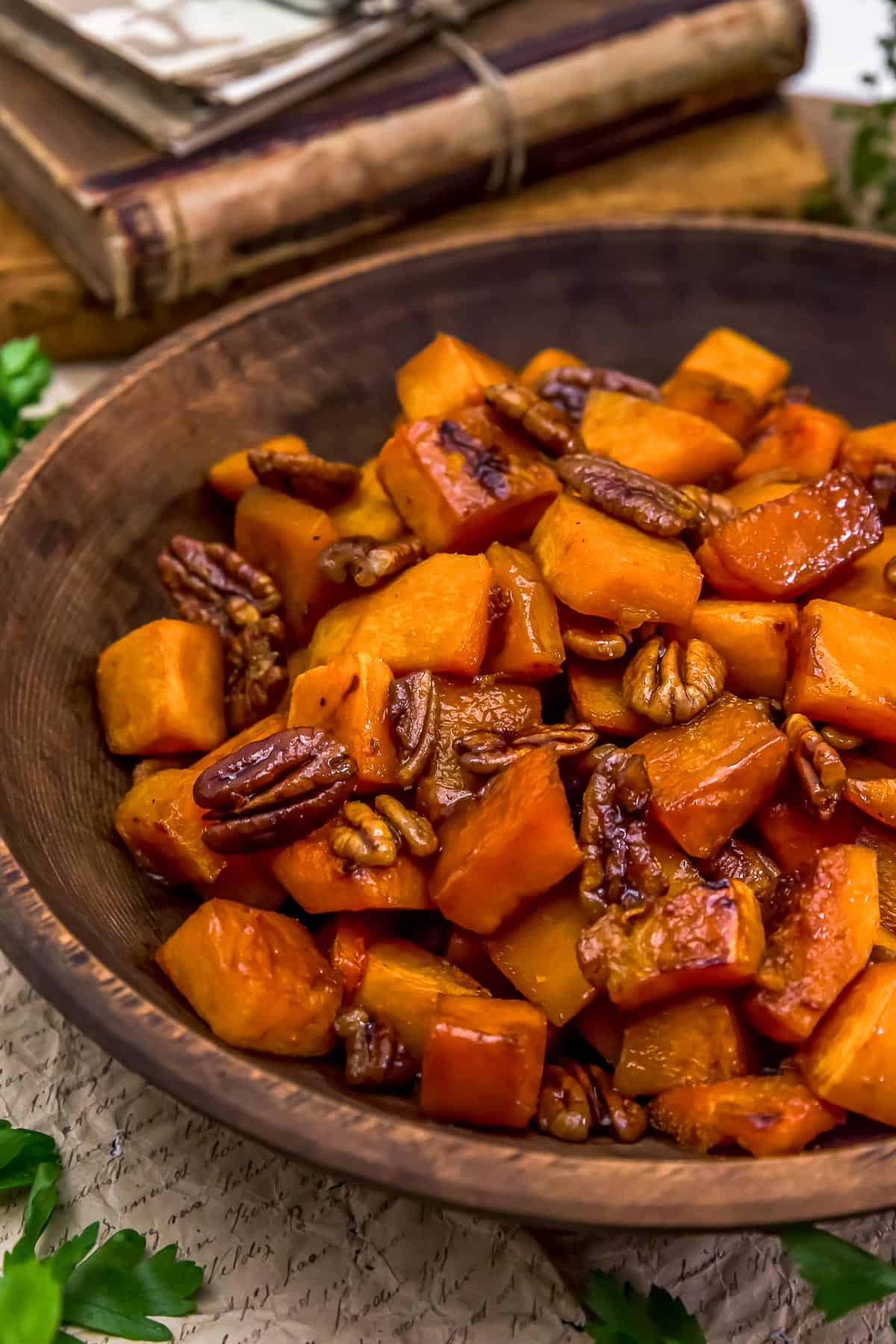 Maple Pecan Roasted Butternut Squash! Everyone's all pumpkin during fall, but watch out because butternut squash is making its fantastic fall appearance, and we are totally on board for it.
Healthy, wholesome, and brimming with sweet and savory flavors, this Maple Pecan Roasted Butternut Squash is a quintessential fall dish that is sure to put a smile on your face. Tender oven roasted butternut squash and toasty pecans are covered in a sticky maple syrup sauce and sprinkled with a hint of earthy rosemary. This flavorful dish makes for a wonderful fall dinner addition or a perfect holiday side dish.
Whole Food Plant Based, Vegan, plant based, oil free, refined sugar free, no highly processed ingredients and gluten free.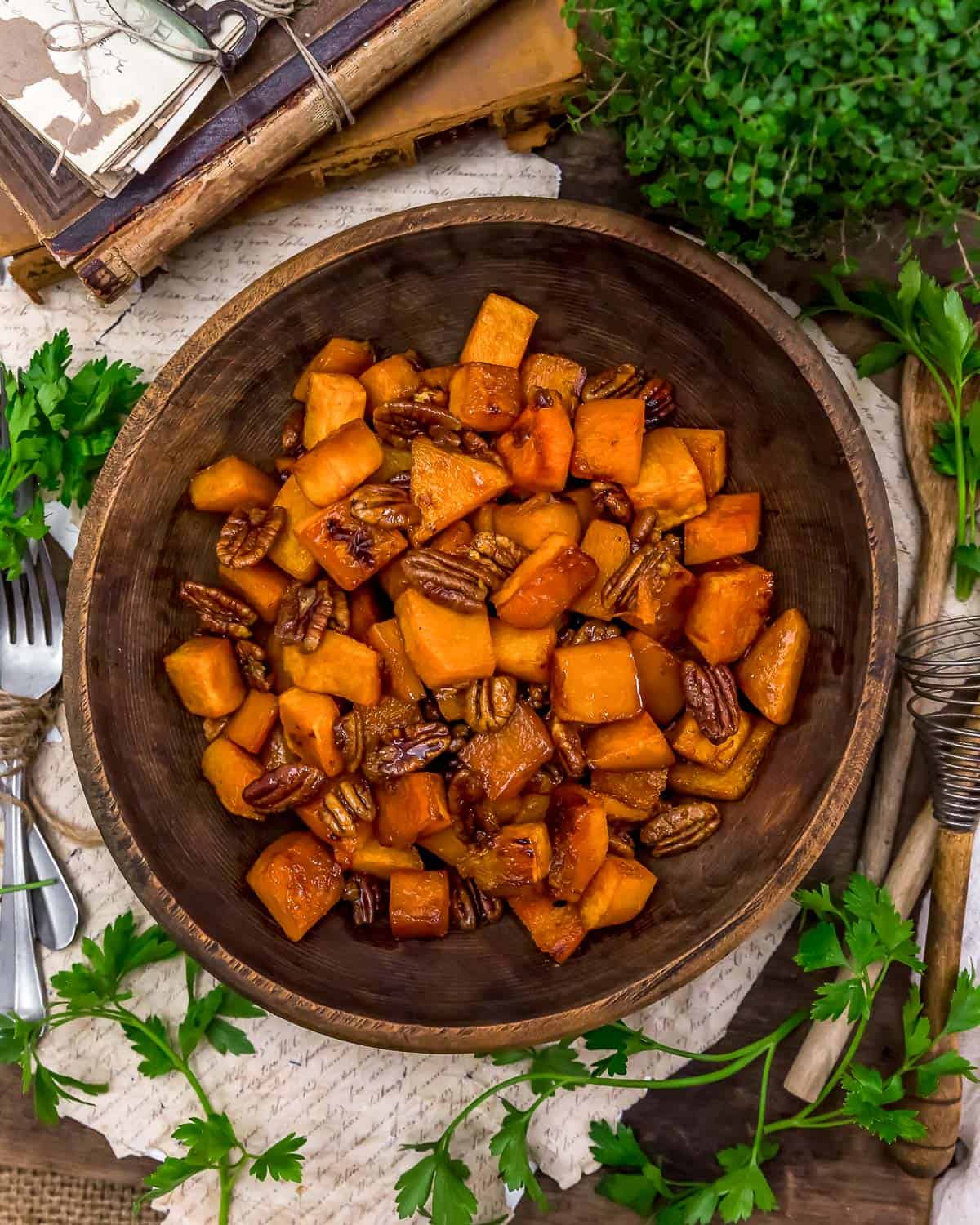 Hi there, Ameera here!
Looking for the perfect holiday side dish?  I love roasted butternut squash and this dish really delivers on all those must-haves for the holiday dinner table.  The tender oven roasted butternut squash and pecans are lightly coated in a perfectly seasoned sticky maple syrup sprinkled with cinnamon and rosemary.  It's so gosh-darned delicious!
You gotta give this one a try!  You won't be sorry you did!
Tips for Success:
Butternut Squash: We used butternut squashes ranging from 3 lb. 4 oz. to 4 lb. 2 oz. You can pretty much use just about any size.
Butternut Squash Substitutes: You can substitute the butternut squash for sweet potatoes.
Frozen Butternut Squash: You can use frozen butternut squash with the understanding that you will need to reduce the time and possibly the oven temperature based upon package directions.  The key is to get the butternut squash pretty much tender, then proceed to Step 7.  Our only concern with frozen butternut squash is they are generally smaller cubes.  The smaller cubes impact the sauce to squash ratio.  In other words, you may not get the same flavor experience.
Pecan Substitutes: You can substitute the pecans for walnuts.
Amount of Pecans: The pecans (walnuts) are optional; however, we feel the pecans create great texture.  Additionally, feel free to reduce the pecans used based upon the number of cups of squash.
Soaking the Pecans: The reason we suggest placing the pecans into the left-over sauce while the squash roasts in the oven is to allow the pecans to really get coated nicely in the sauce and it also helps ensure that the pecans do not get overly toasty in the oven while roasting in the 2nd roasting step.  Additionally, if you are worried that they will get soggy, they don't.
Loading the Baking Sheet: Be sure you move the sauce-coated butternut squash from the bowl to the baking sheet with a slotted spoon or your hands. Do not dump the bowl onto the baking sheet.  You want to reserve the left-over sauce to coat the pecans, and then ultimately to do a second coat on the roasted butternut squash.
Pecans on the Baking Sheet: Try to keep the pecans near the center of the baking sheet, avoiding the outside edges of the baking sheet as these areas tend to get more heat. This prevents over-toasting the pecans.
Out-of-the-Oven Ingredients: This final step is the Topping of Ingredients as this step really adds an extra layer of flavor to the dish while it is still warm.  If you have a very fine sieve or tea strainer to help sprinkle the cinnamon and rosemary, use it.  We used a tiny tea strainer. Otherwise, you can use your fingers, just make sure you don't dump the cinnamon or rosemary all in the same place as it sticks immediately to wherever you sprinkle it and doesn't allow it to be spread very easily if that happens.
Cinnamon: The cinnamon is optional but adds great flavor and dimension.  Use ¼ teaspoon if you have 6 cups of squash, use ¼ + 1/8 teaspoon if you have up to 8 cups.  Feel free to use more or less to suit your own personal tastes.
Pumpkin Pie Spice: Feel free to substitute the cinnamon for pumpkin pie spice if you wish.
Dried Cranberries/Dried Cherries: Feel free to add ¼ cup of dried cranberries or dried cherries in Step 10 as soon as the baking sheet comes out of the oven.
Rosemary: The rosemary is optional. If unsure, leave it out. The rosemary gives a savory aspect to the dish. A tiny bit goes a long way. Use dried ground rosemary powder and not dried rosemary sprigs or dried crushed rosemary.  The dried sprigs and crushed rosemary have too much texture.  If you only have dried rosemary sprigs or crushed rosemary, then grind them into a powder using a mortar and pestle or don't use it at all.
Layering in Flavor: The different steps of this recipe are all about layering in flavor to ensure a perfectly tasty dish.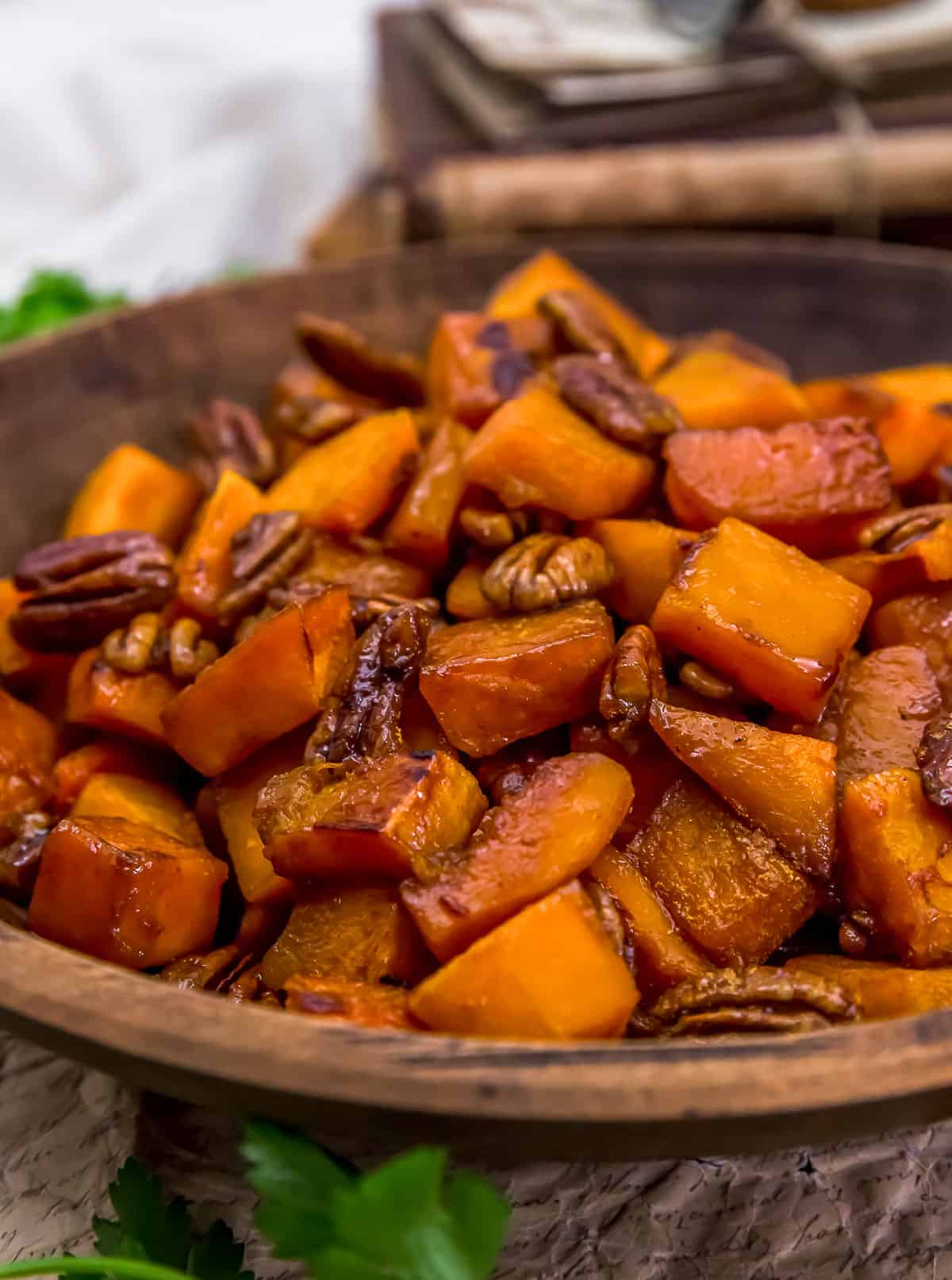 Leftovers and Freezing:
Leftovers will generally keep for 4-5 days in the refrigerator.  Store in a covered container.  Reheating can be done in the oven, or in the microwave.
This dish can be frozen; however, it is best if served immediately after making or after refrigerating leftovers.
Pantry Products Used:
Vegetable Stock: We use Pacific Organic Low Sodium Vegetable Stock. We love this brand because it is Whole Food Plant Based compliant, as it does not contain MSG, has no oil, and does not contain any highly-processed ingredients.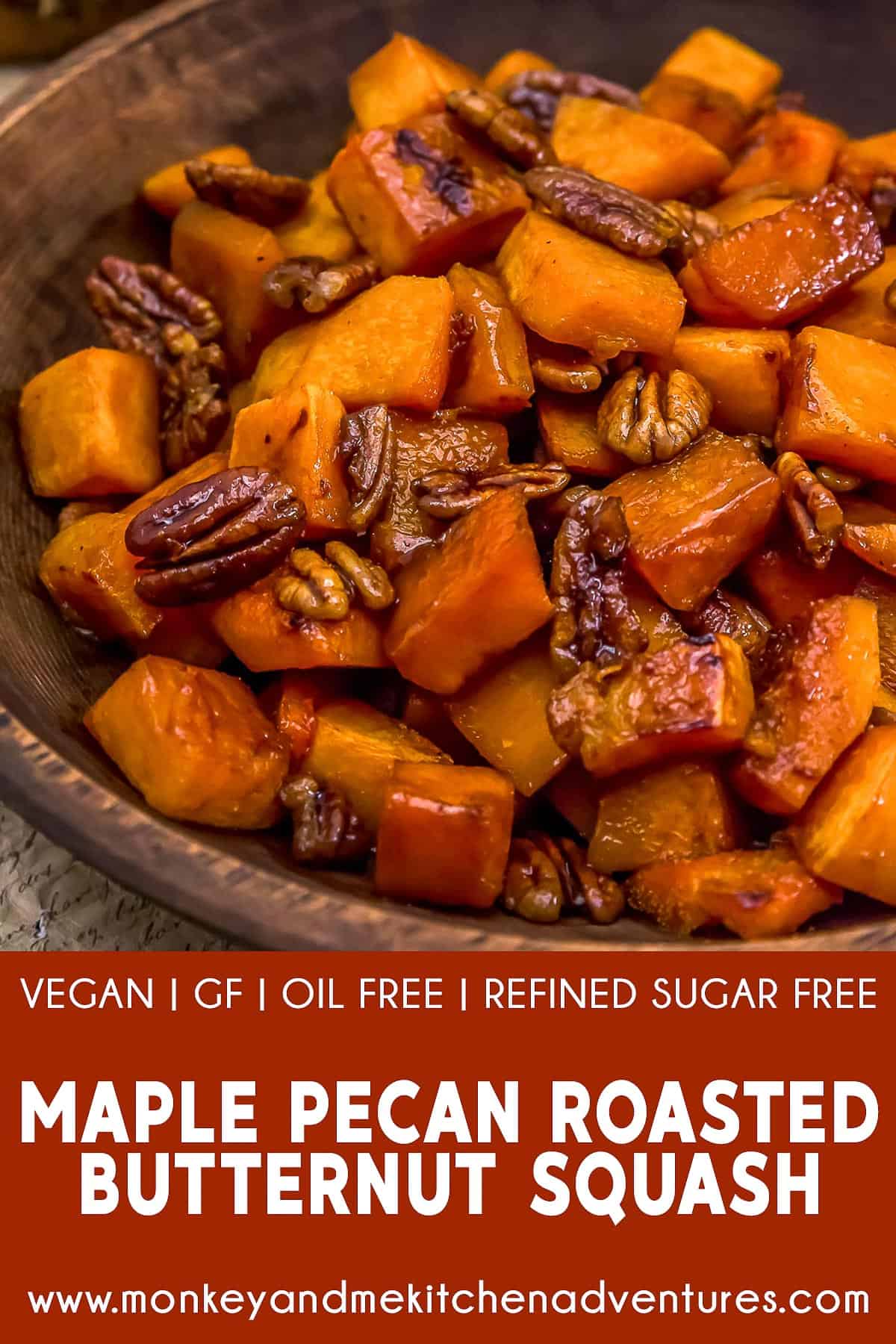 Kitchen Products Used:
14 x 20 large baking sheet
We certainly hope you give this deliciousness a try.
If you try this delicious side, we would love to know if you enjoy it as much as we do! Please leave us a review! Post a picture on Facebook or Instagram and tag us!  We would love to hear from you.
Print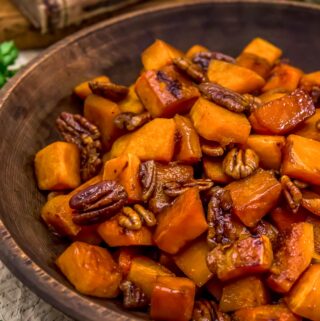 Maple Pecan Roasted Butternut Squash
Author:

Prep Time:

20 Minutes

Cook Time:

20-30 Minutes

Total Time:

40 Minutes

Yield:

4

-

6

Servings

1

x

Category:

Side

Method:

Oven

Cuisine:

American

Diet:

Vegan
---
Description
Healthy, wholesome, and brimming with sweet and savory flavors, this Maple Pecan Roasted Butternut Squash is a quintessential fall dish that is sure to put a smile on your face.
---
Ingredients:
6

to

8

cups butternut squash, seeded, peeled, 1-inch cubes *
Sauce Ingredients:
¼ cup

pure maple syrup

1 teaspoon

apple cider vinegar

2 Tablespoons

low-sodium vegetable broth *

2 Tablespoons

orange juice

½ teaspoon

sea salt (+/-) *
Other Ingredients:
½

to

¾

cup pecan halves *
Out-of-the-Oven Ingredients:
1 Tablespoon

pure maple syrup

¼

+ 1/8 teaspoon cinnamon (+/-) *

1/8 teaspoon

ground rosemary (optional) *
Sprinkle sea salt
---
Instructions
Preheat the oven to 400 F. Use the center rack placement.
Line a large baking sheet with parchment paper, set aside.
Remove seeds, peel, and cube the butternut squash, then place into a large bowl.
Add all the Sauce Ingredients to the bowl of cubed butternut squash, mix well to thorough coat.
With a slotted spoon, place the coated butternut squash cubes onto the parchment paper-lined baking sheet. Spread the cubes out evenly over the baking sheet.
Bake the cubed squash uncovered in a preheated 400 F oven for 20 minutes.
In the meantime, retain the left-over sauce, place the pecans in the bowl of left-over sauce, mix well, set aside.
After 20 minutes, remove the roasted squash from the oven.
With a thin-bladed spatula, gently lift and move all the roasted butternut squash to the center of the baking sheet, then dump the left-over sauce (with pecans) all over the pile of roasted butternut squash cubes. Use the spatula to gently flip over the butternut squash and thoroughly coat the roasted butternut squash with the sauce.  Then spread the coated butternut squash and pecans out evenly over the baking sheet.  Return to the oven to roast another 10 minutes.
After 10 minutes, remove from the oven and immediately lift the roasted squash and pecans with a thin-bladed spatula to the center of the baking sheet into a pile. Then pour 1 Tablespoon of maple syrup over top, sprinkle the roasted squash and pecans with cinnamon, ground rosemary (optional), and sea salt, then gently flip the cubes around to evenly coat them with the syrup and seasonings.  Taste test, then add more seasonings, if needed.  Serve and enjoy!
---
Notes
*Please reference the blog post for Tips for Success, Pantry Items Used, Storage and Freezing, and Kitchen Products Used.
*Sea Salt:  Please adjust the sea salt based upon your family's sea salt preferences and/or based upon dietary needs.   
*Serving:  4 to 6

This post contains affiliate links, and we may receive a very small commission if you purchase through those links at no additional cost to you. Thank you for supporting Monkey and Me Kitchen Adventures! For more information, see our disclosures here.