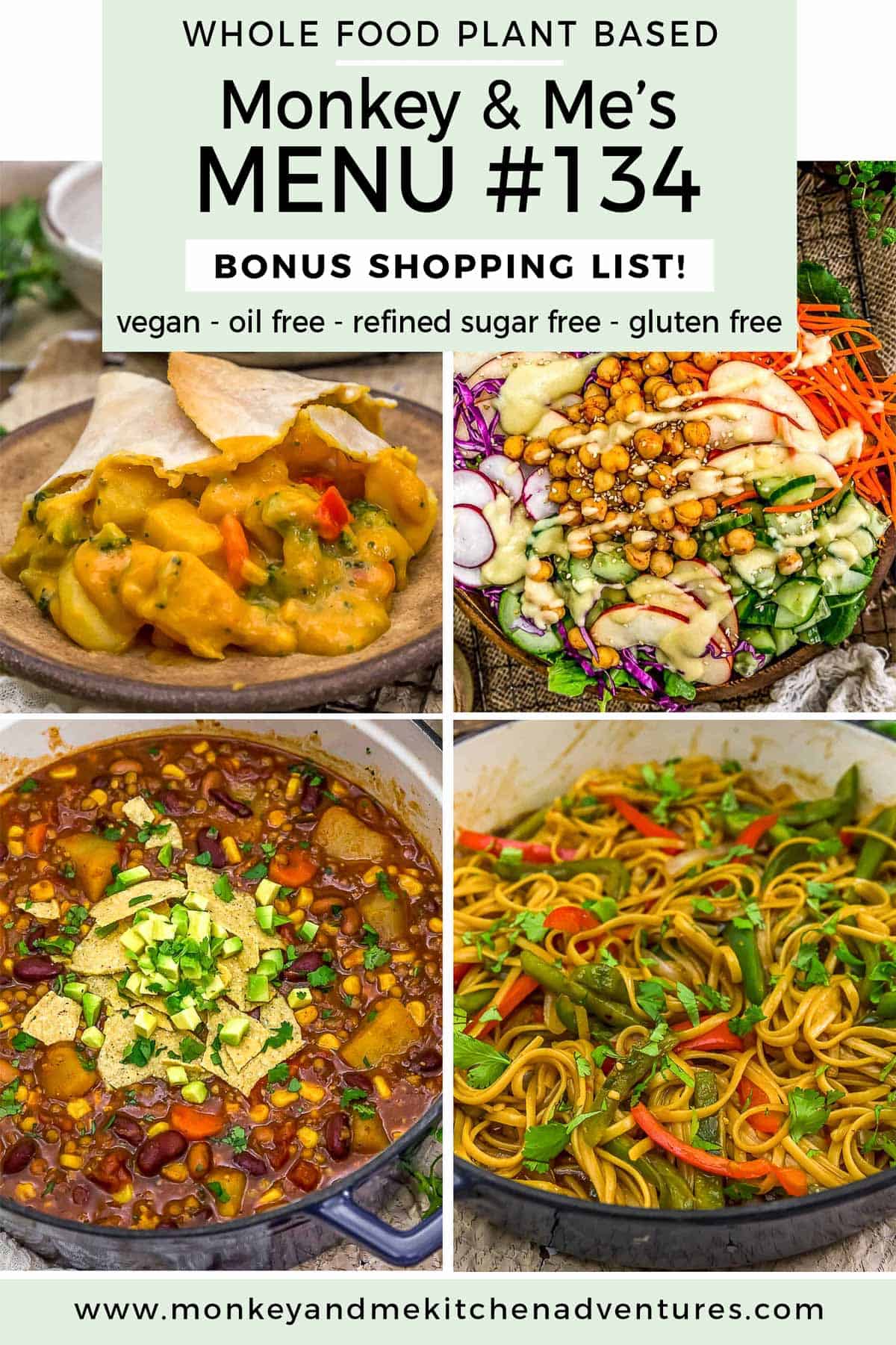 This week's Monkey and Me's Menu features some tasty recipes.  Menu #134 includes a FREE bonus shopping list.  All recipes are Whole Food Plant Based, vegan, plant based, oil free, refined sugar free, no highly processed ingredients, and gluten free.

Downloadable Menu which offers the following:

2 Breakfast ideas
2 Lunch ideas
2 Snack Ideas
5 Dinner Ideas, including a FREE downloaded shopping list (PDF – Below)

A comprehensive (downloadable) shopping list for the 5 Dinners

The shopping list is segmented into the common grocery store sections like "produce, spices, etc." making it easy to pick up these items from your local grocery store.
It also includes product suggestions that are Whole Food Plant Based compliant* for easy reference.  Note: These products are suggestions, please feel free to select your own favorite products.
Includes helpful codes so you can easily subtract items that you choose not to make.

Downloadable Instructions on how the meal plan work.
Note:  The term "Whole Food Plant Based compliant" is from a general standpoint.  There are Whole Food Plant Based diet branches that restrict certain food items.  Our recipes are all Whole Food Plant Based compliant based upon a high-level compliance standpoint. i.e. vegan, plant based, oil free, refined sugar free, minimally processed foods.
Some breakfast, lunch, and snack ideas are simple concepts that require no recipe.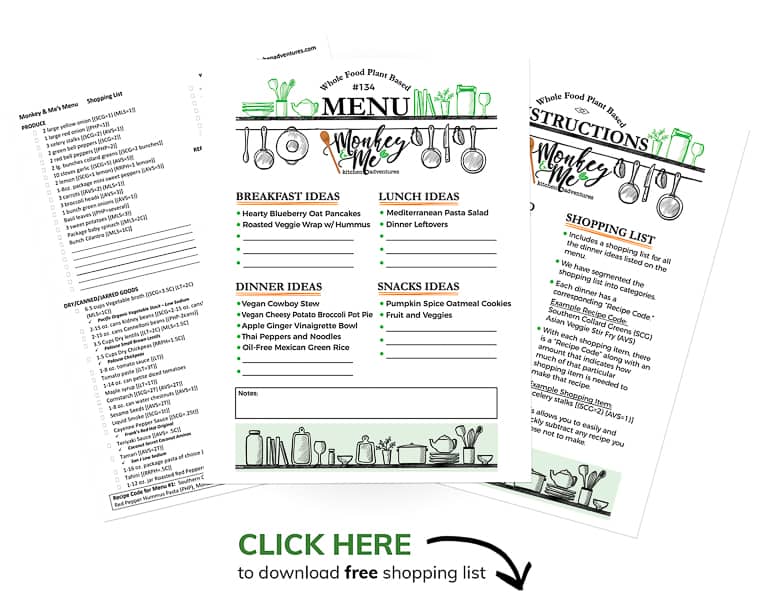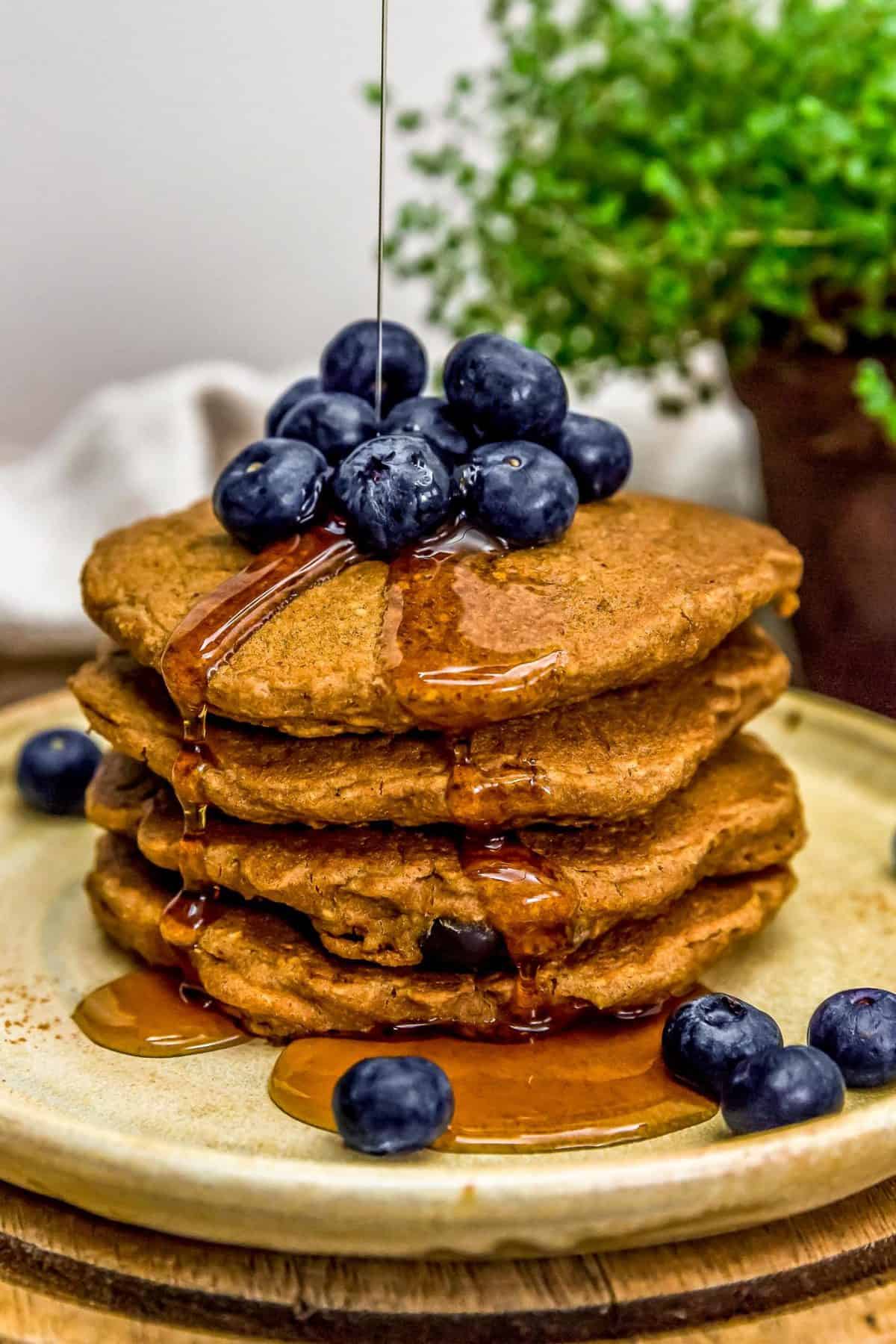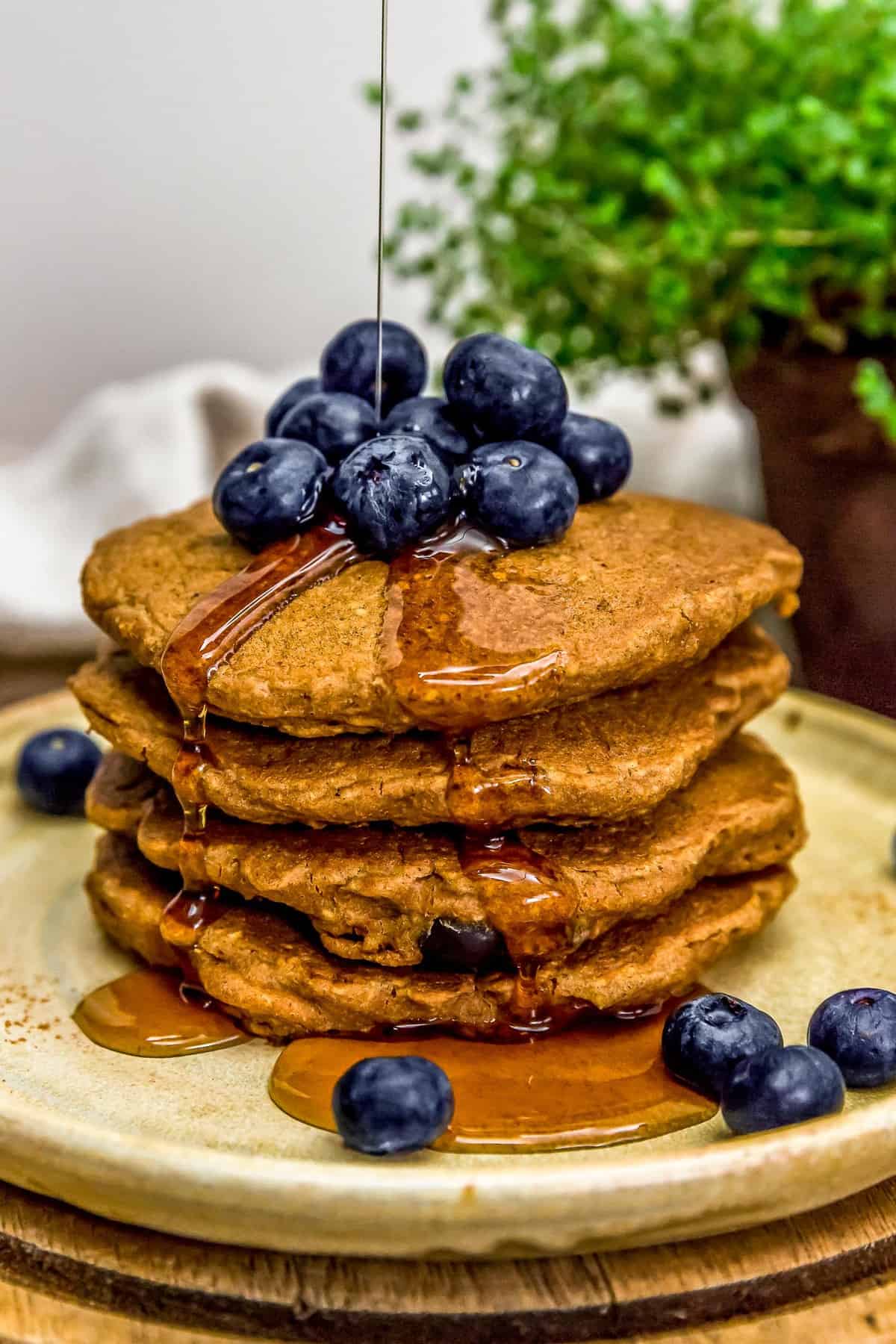 These stick-to-your-ribs Hearty Blueberry Oat Pancakes are healthy, filling, and oh-so-delicious.  Juicy, sweet blueberries are the star of this pancake show coupled with hearty and dense oats; it's a breakfast that is sure to please. These tasty treasures are made with a base of rolled oats, wholesome ingredients, and sprinkled with flavorful bursts of refreshing sweet blueberries. The whole family will be seated at the breakfast or brunch table in a flash!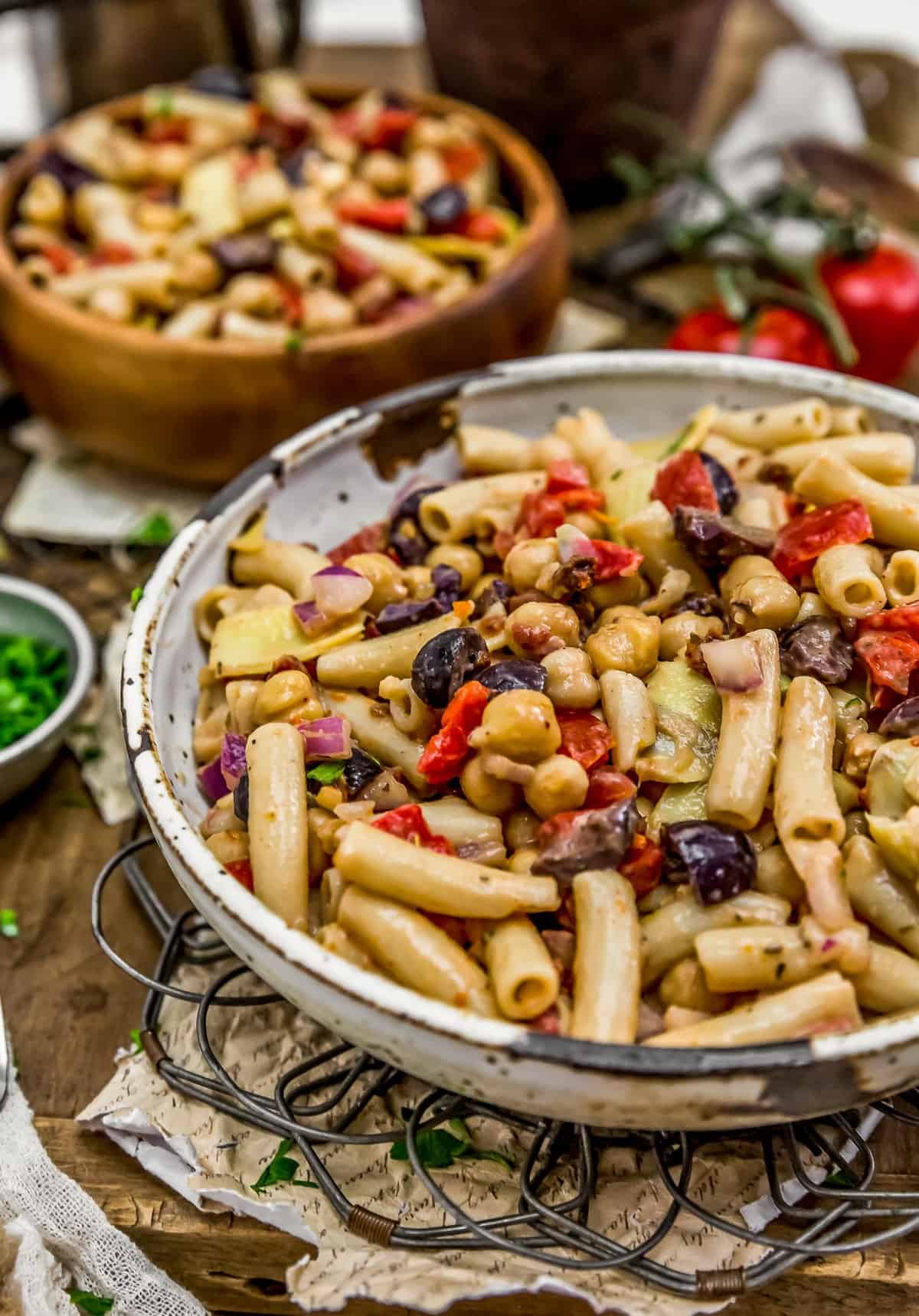 Pasta salad is music to our ears, and this delicious and healthy Mediterranean Pasta Salad is a flavor-packed twist on everything a great pasta salad should be. Tender pasta, zesty red onions, sweet tomatoes, roasted red peppers, hearty chickpeas, briny artichoke hearts, and tangy Kalamata olives all mixed with a mouth-watering Mediterranean dressing is a perfect feast for picnics, work lunches, or potlucks. This easy to make, tasty pasta salad is loaded with wholesome deliciousness.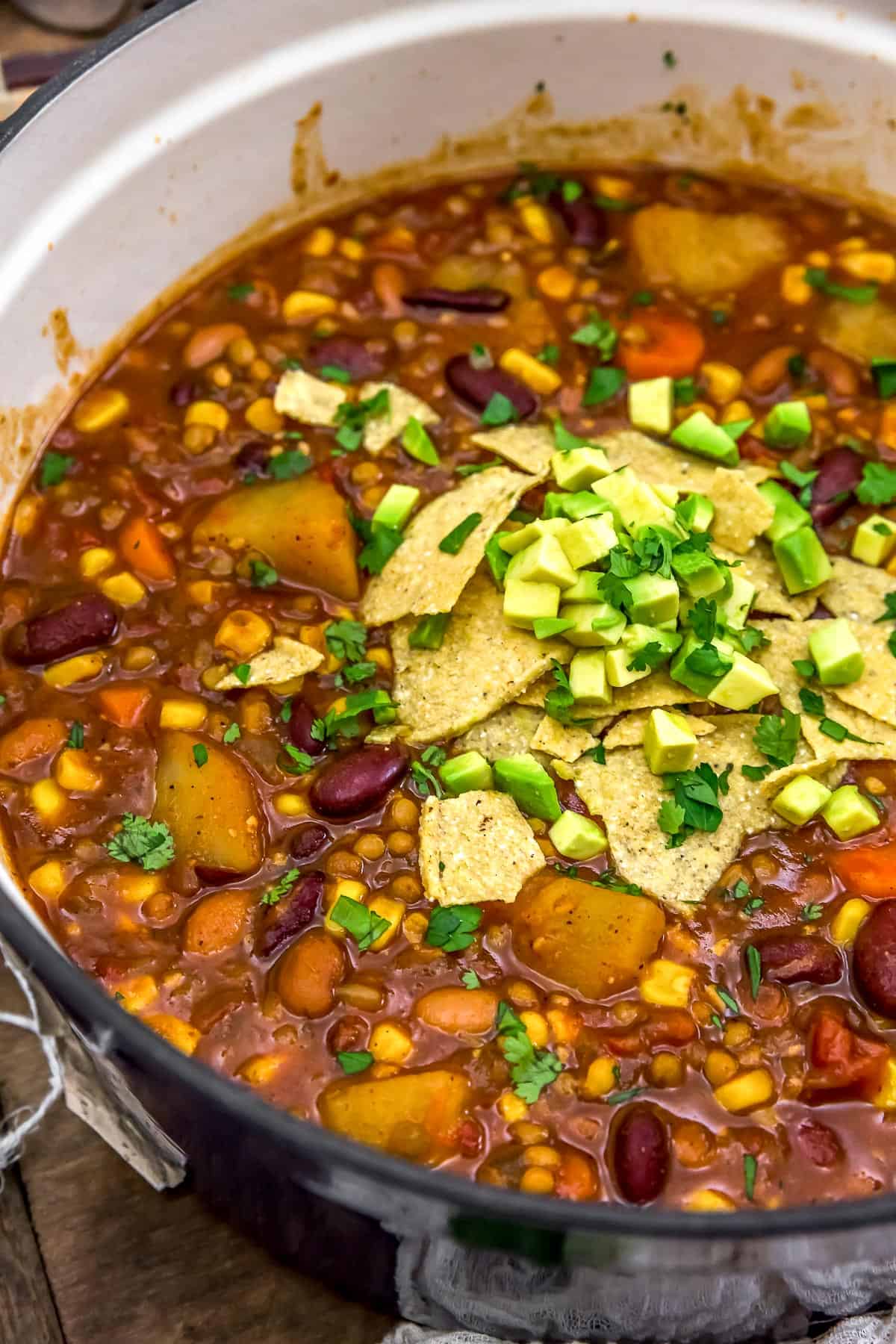 If you're a stew lover and enjoy amazing Tex-Mex flavors, then get ready for a real treat!  You'll enjoy this delicious, healthy, and oil-free recipe for Vegan Cowboy Stew.  Veggies, beans, and potatoes bath in a savory Southwestern gravy that is simmered to perfection. It's an excellent, satisfying meal that is sure to please the entire family.  Instant Pot and Stove Top instructions make it so versatile.
Who doesn't love a great pot pie? I know we are obsessed! This healthy, oil-free Vegan Cheesy Potato and Broccoli Pot Pie is a fun and flavorful twist on traditional pot pies. Tender potatoes and broccoli are bathed in a rich, velvety plant-based cheese sauce, and wrapped in a flaky gluten-free "crust" that is sure to become a family favorite.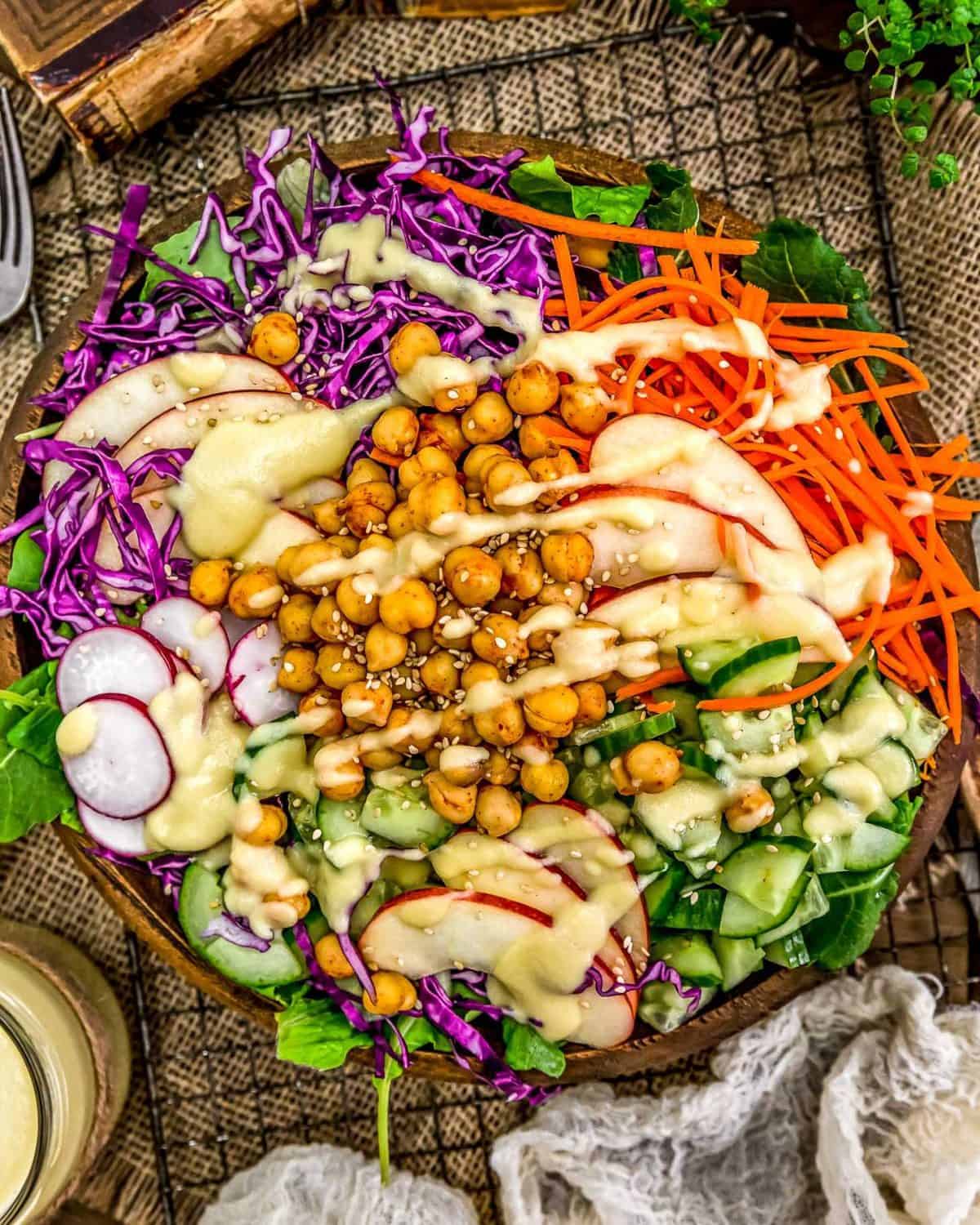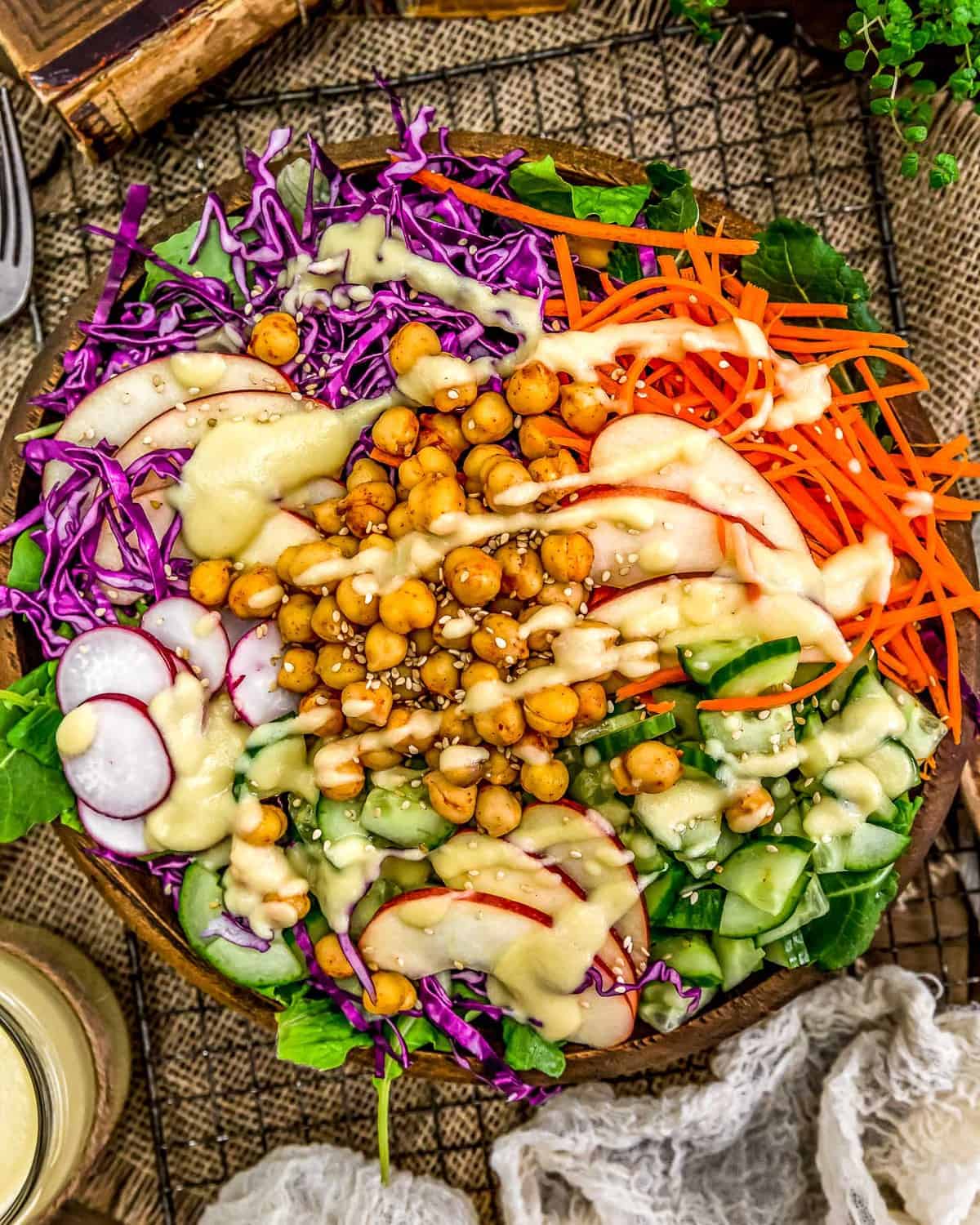 Salads are life with their refreshing flavors and nourishing ingredients, and our oil-free Apple Ginger Vinaigrette dressing is the perfect drizzly addition to your next salad. Sweet apples coupled with zingy ginger and a dash of Dijon mustard makes for a creamy, delicious, and flavor-packed dressing that has a delightful burst of sweet zingy goodness.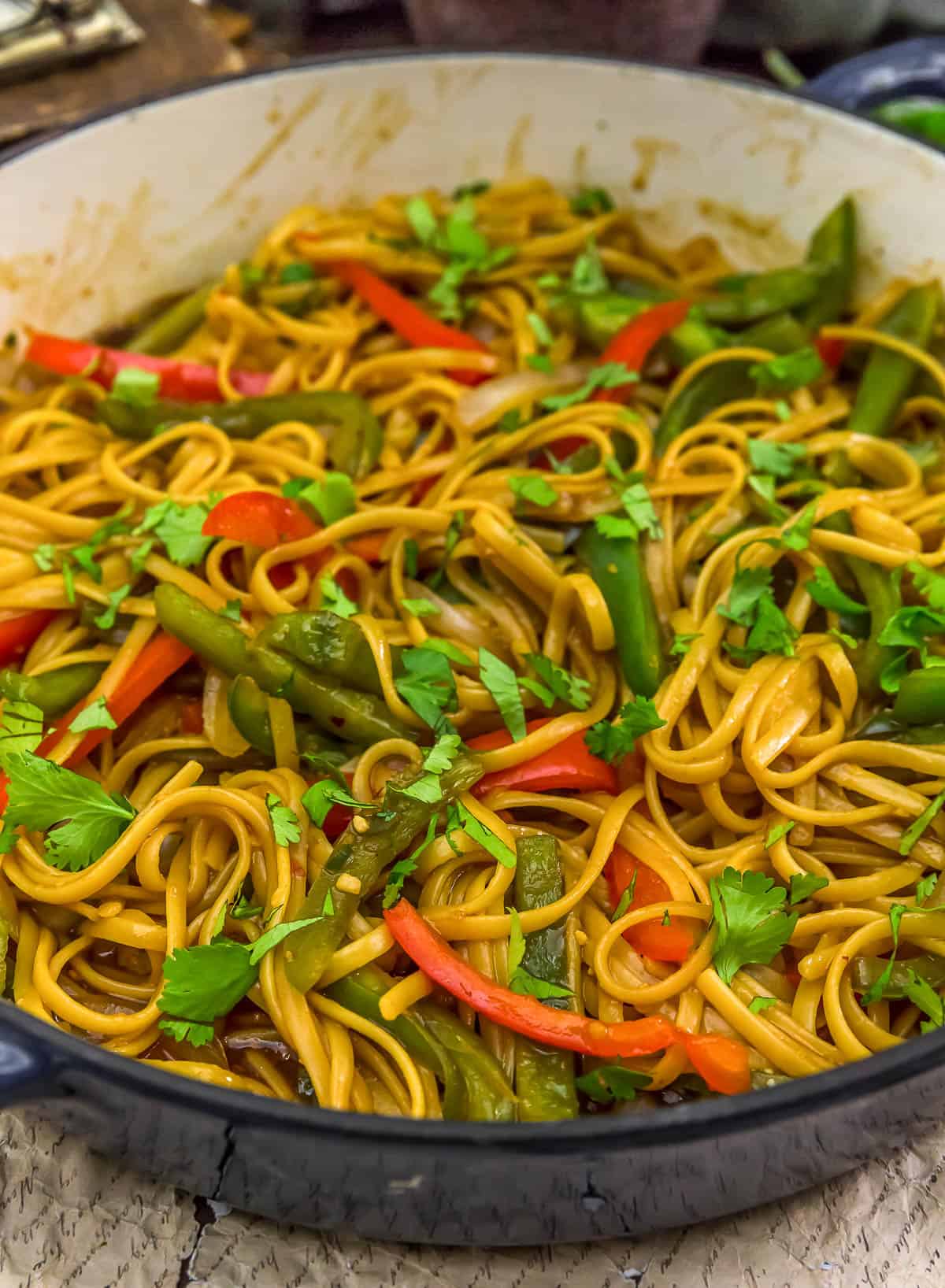 This healthy and bold recipe for Thai Peppers and Noodles is the perfect quick pasta dish for those busy weeknights. Saucey and filled with aromatic Thai flavors, you won't believe how fast and easy this dish comes together.  Oil-free and low in fat, this mildly spicy dish is perfect for little kids and big kids alike. Who doesn't love a big pile of tasty flavored noodles?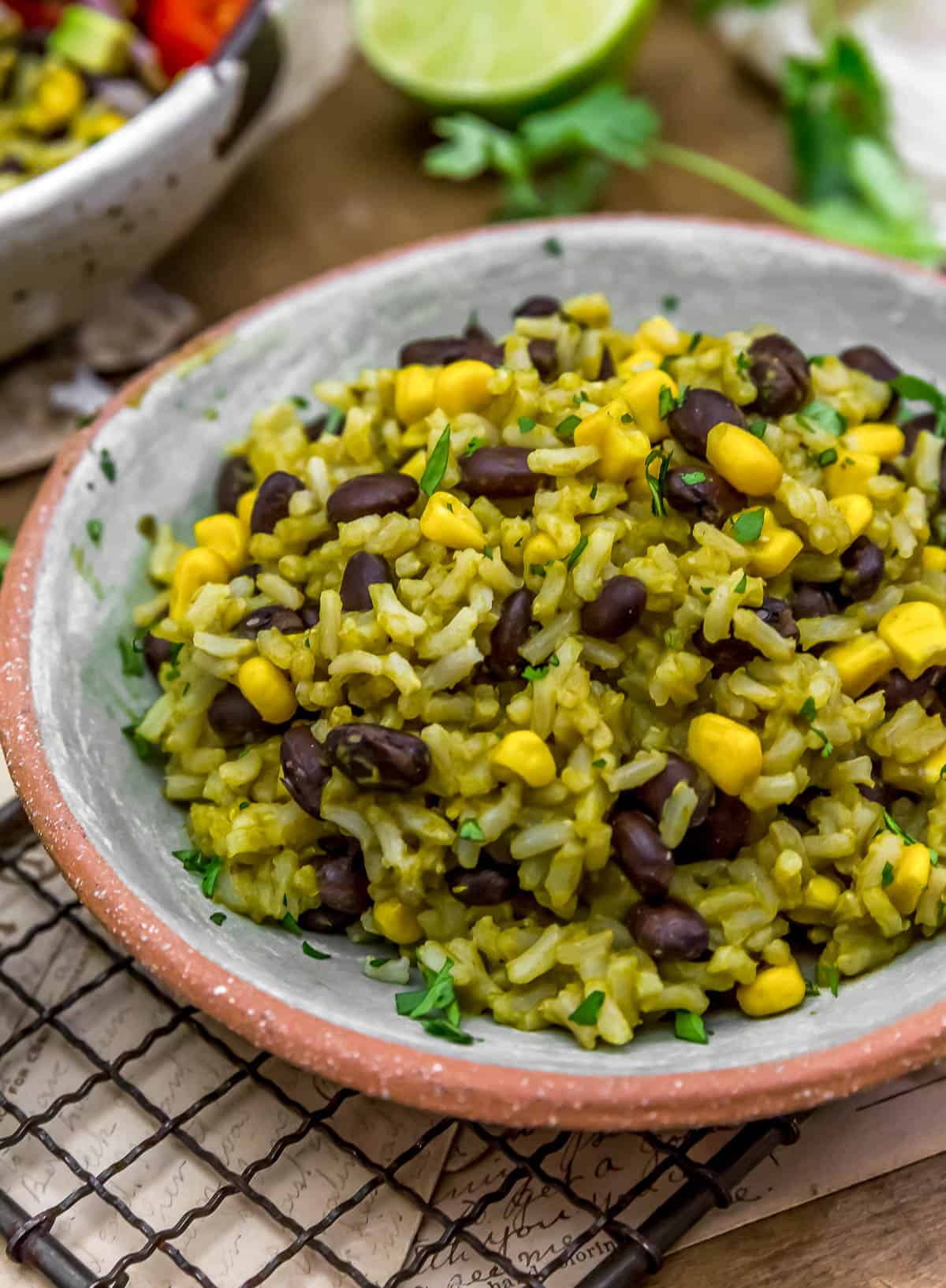 This easy Oil-Free Mexican Green Rice recipe is brimming with bold flavor and studded with delicious sweet corn and creamy black beans. Super tasty, healthy, and filled with goodness, this cilantro flavored rice pilaf is sure to please. Plus, it's incredibly easy to make.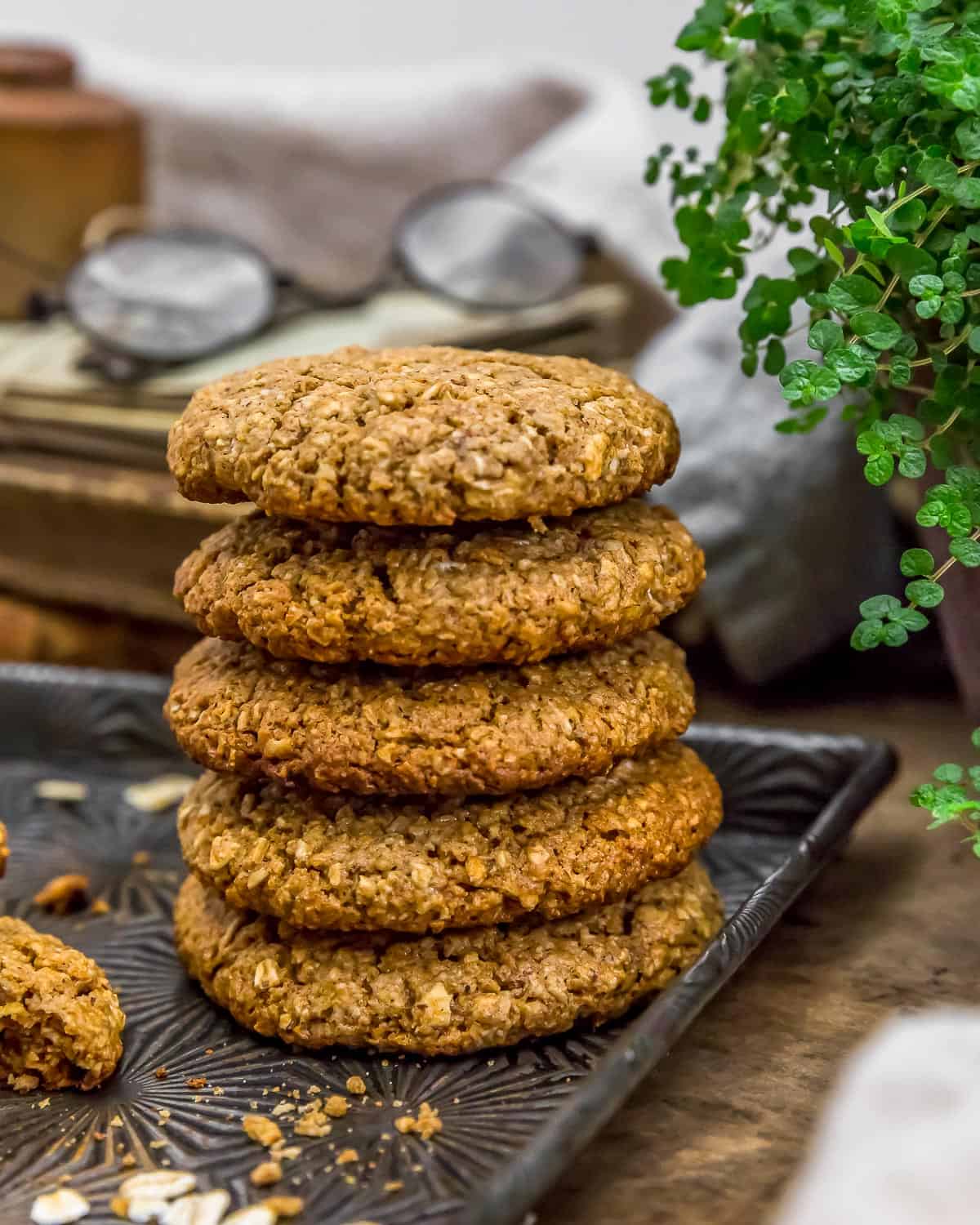 Delicious, wholesome, and healthy, this oil-free Old-Fashioned Pumpkin Spice Oatmeal Cookies recipe is made with simple plant-based ingredients. Soft, chewy, and perfectly pumpkin spiced, these oatmeal cookies are sure to sate those cookie cravings.  You'll want to make them time, and time again.