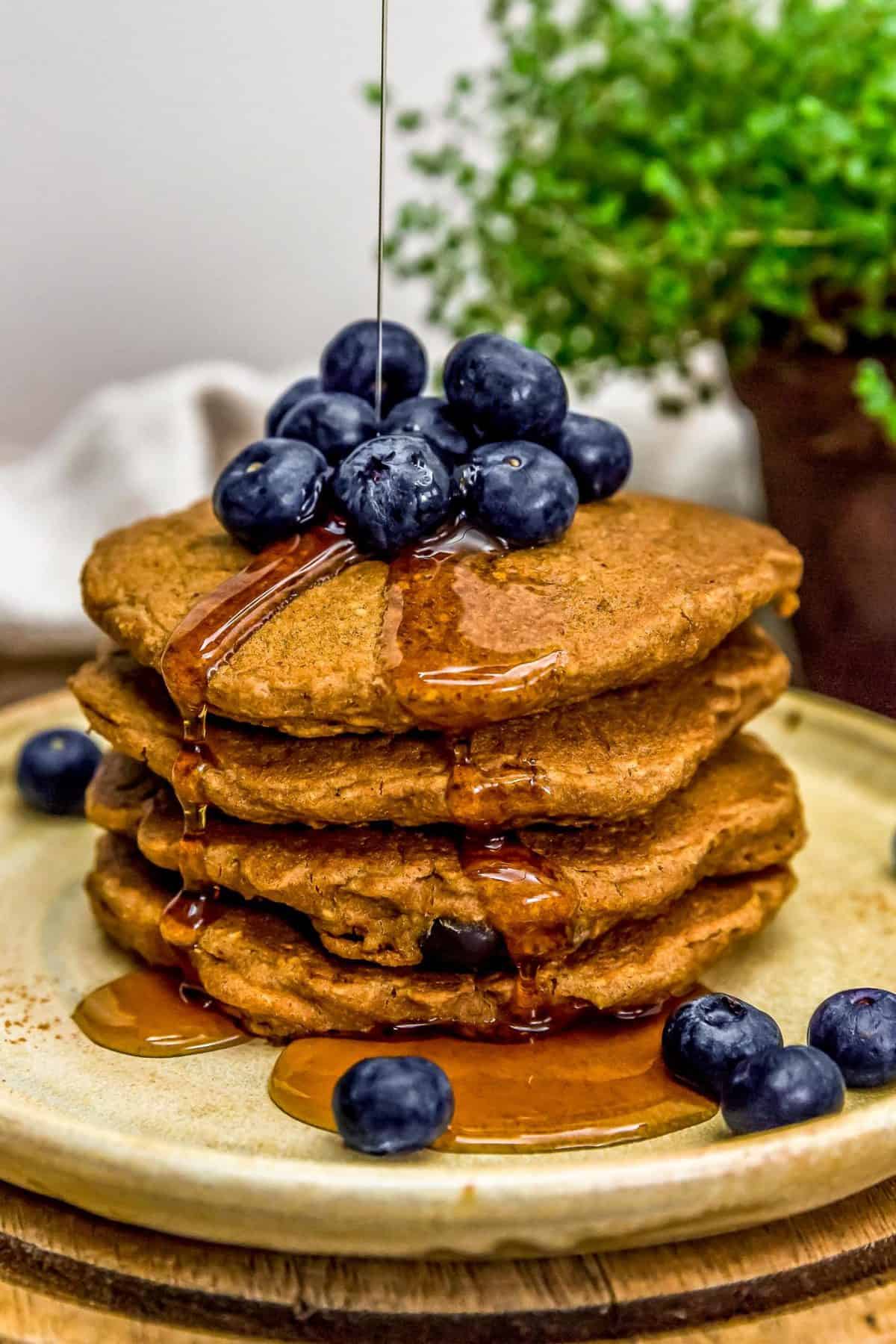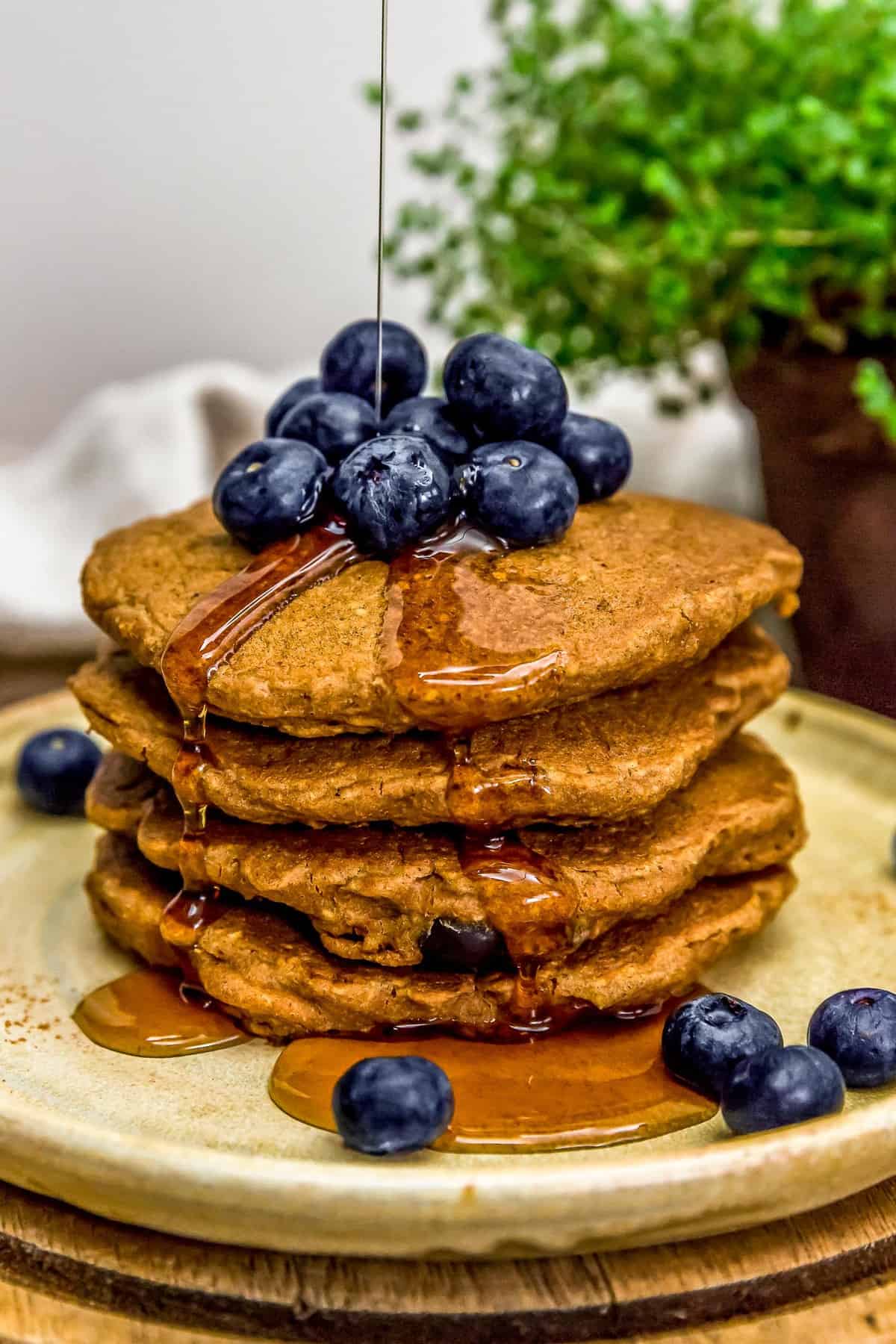 These stick-to-your-ribs Hearty Blueberry Oat Pancakes are healthy, filling, and oh-so-delicious.  Juicy, sweet blueberries are the star of this pancake show coupled with hearty and dense oats; it's a breakfast that is sure to please. These tasty treasures are made with a base of rolled oats, wholesome ingredients, and sprinkled with flavorful bursts of refreshing sweet blueberries. The whole family will be seated at the breakfast or brunch table in a flash!
Whole Food Plant Based, vegan, oil free, refined sugar free, no highly processed ingredients and gluten free.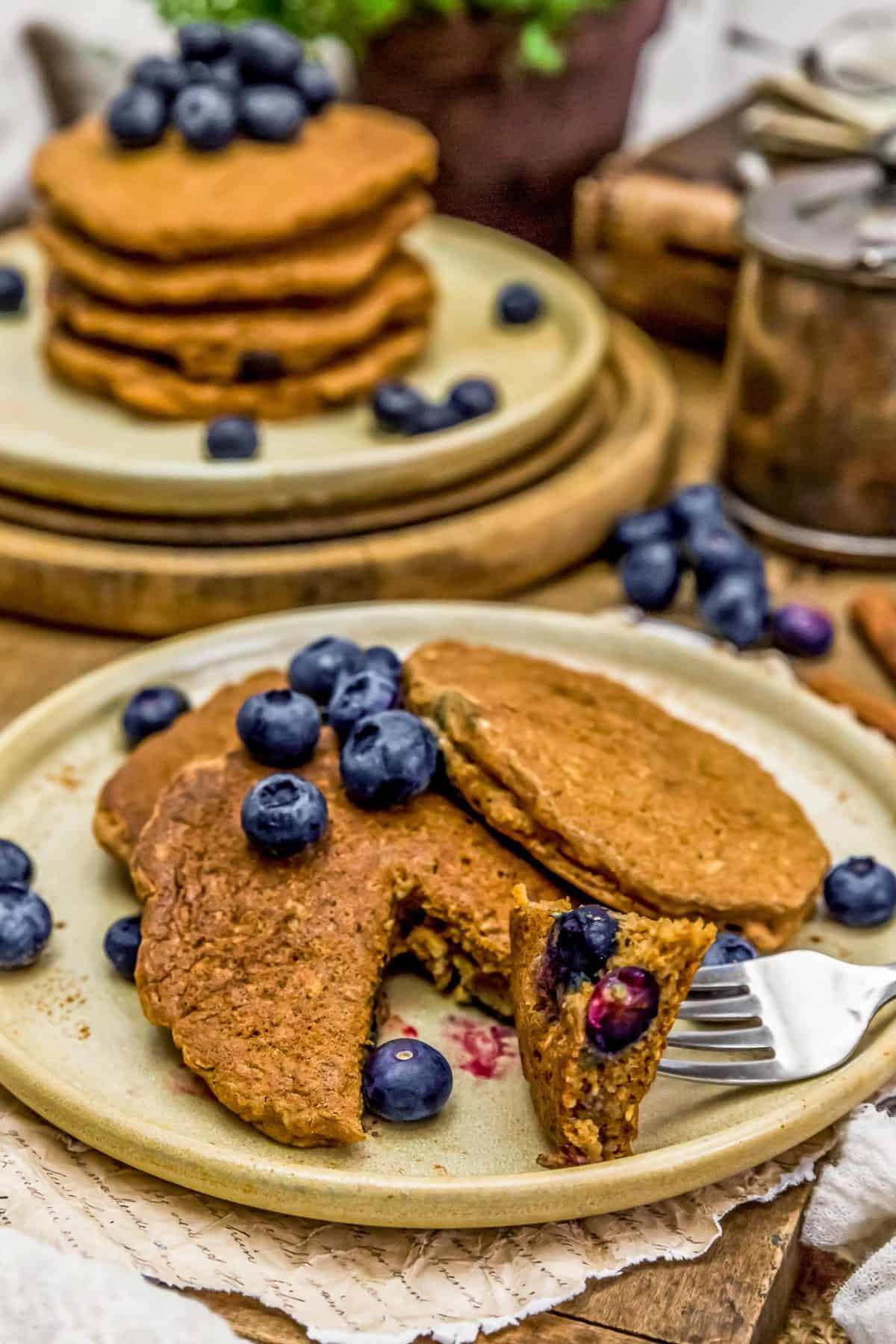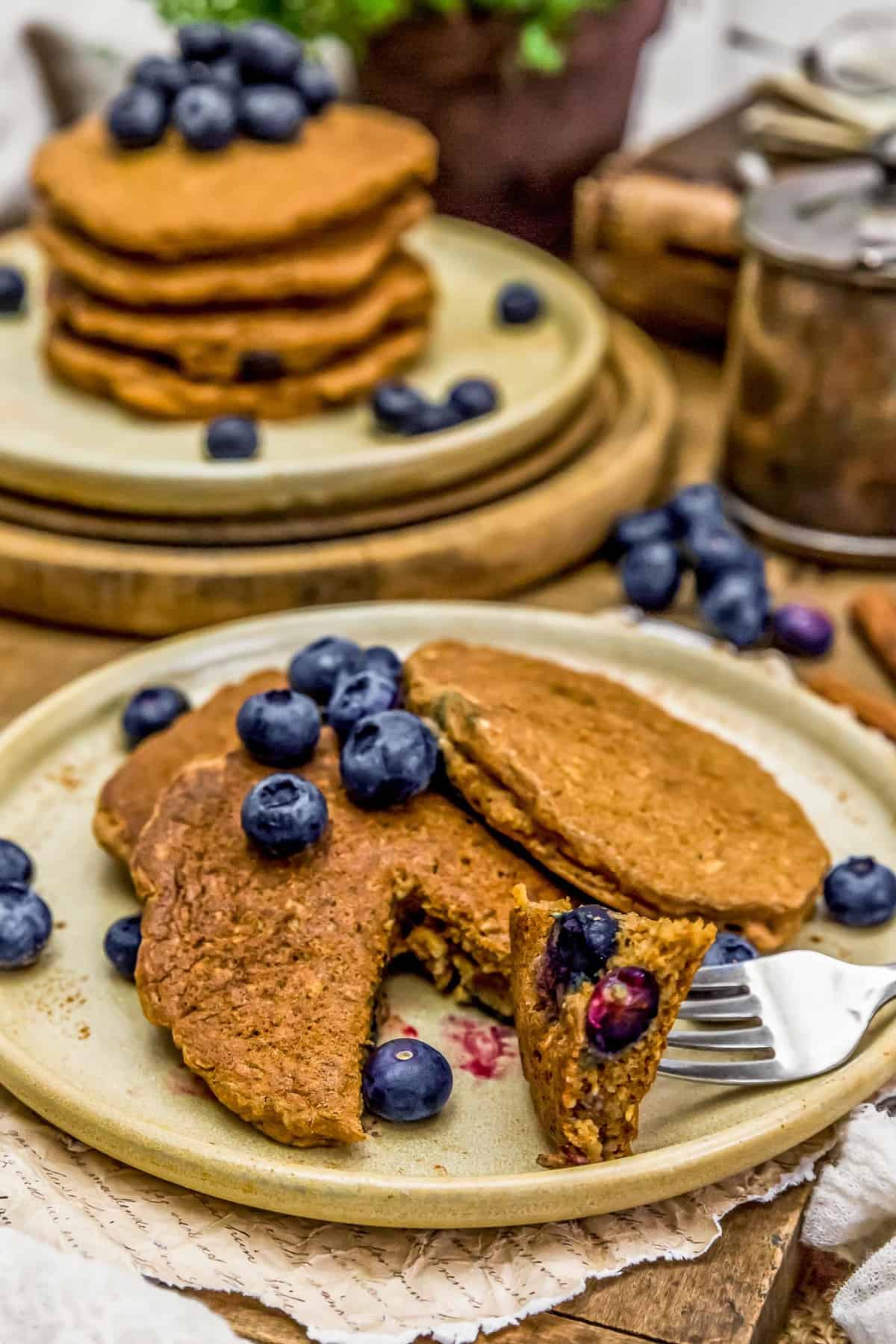 Hi there, Ameera here!
Pancakes always remind me of my childhood. Mom always made pancakes for weekend mornings so that made them special. I lived for the weekends because that meant I could sleep in and have a tasty breakfast as soon as I got up, rather than the quick "hit and run" breakfast during the school year.
I always loved pancakes and waffles, and slathering them with butter and maple syrup.  Mom mostly made buttermilk pancakes. They were a family favorite before going Whole Food Plant Based. They were always light and fluffy.
WFPB Pancakes
These blueberry pancakes are much more healthier and filling with their hearty and dense texture. A perfect addition to breakfast that will keep you feeling full longer.
I still love adding a drizzle of delicious maple syrup, but these pancakes would be perfect with a dollop of unsweetened applesauce instead for a less sweet variation.
I'll let Mom tell you more.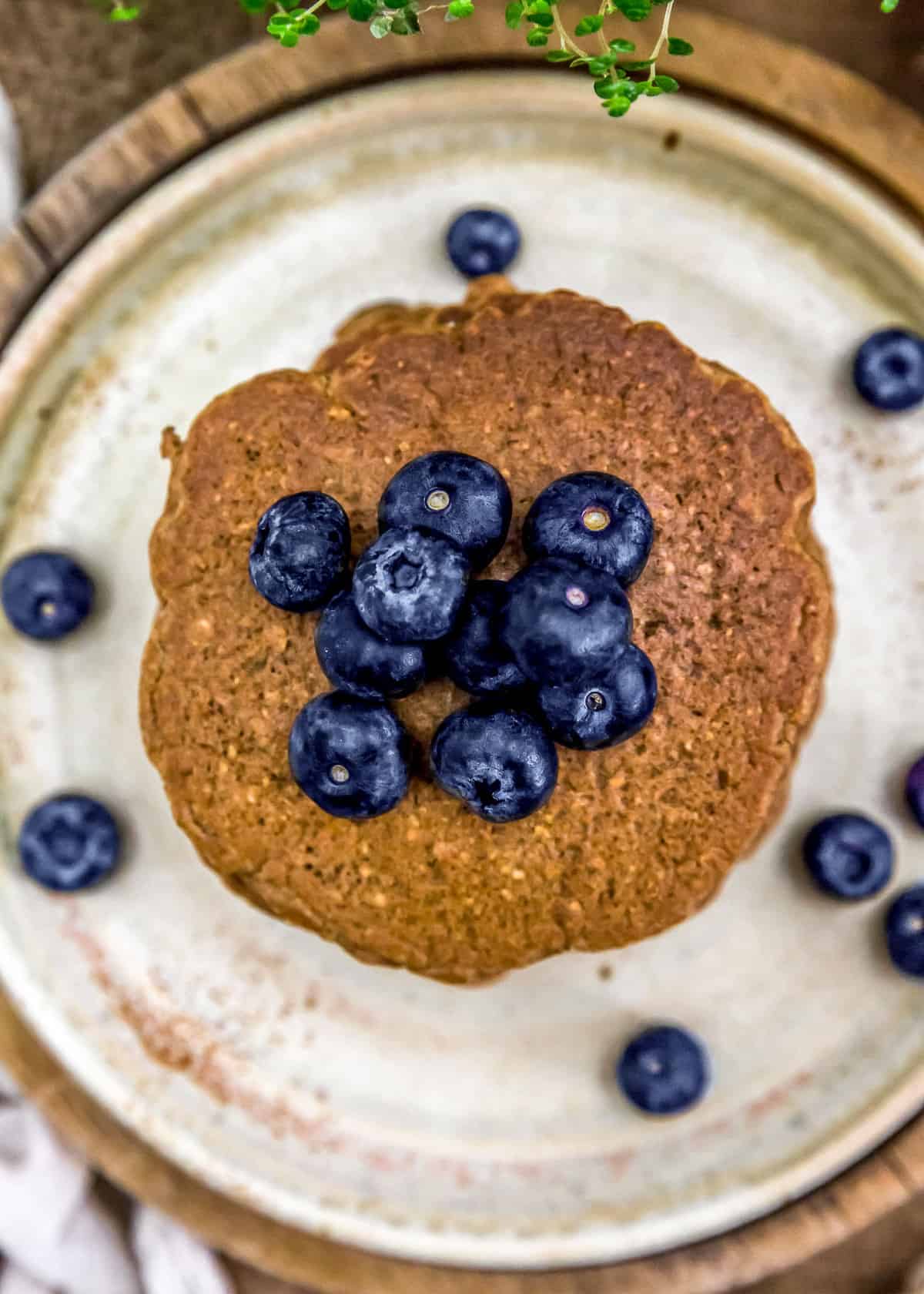 Hi!  Robin here.
Love pancakes! Love pancakes of all kinds really, they are so tasty. As Monkey said, my buttermilk pancakes were light and fluffy; however, these Blueberry Oat Pancakes are hearty, dense, and completely delicious.
These are the type of pancakes you make when you need something tasty and has that "stick-to-your-ribs" type of quality that you need when you know you need something substantial, but healthy to hold you over to your next meal.   
If you are looking for one of those light and fluffy style pancake recipes, then this recipe is not the one for you. This is a "lumber jack" type of pancake.  You'll be ready to trim some trees and split wood after eating these babies.  LOL  I can say that since my dad was a Tree Doctor/Lumber Jack.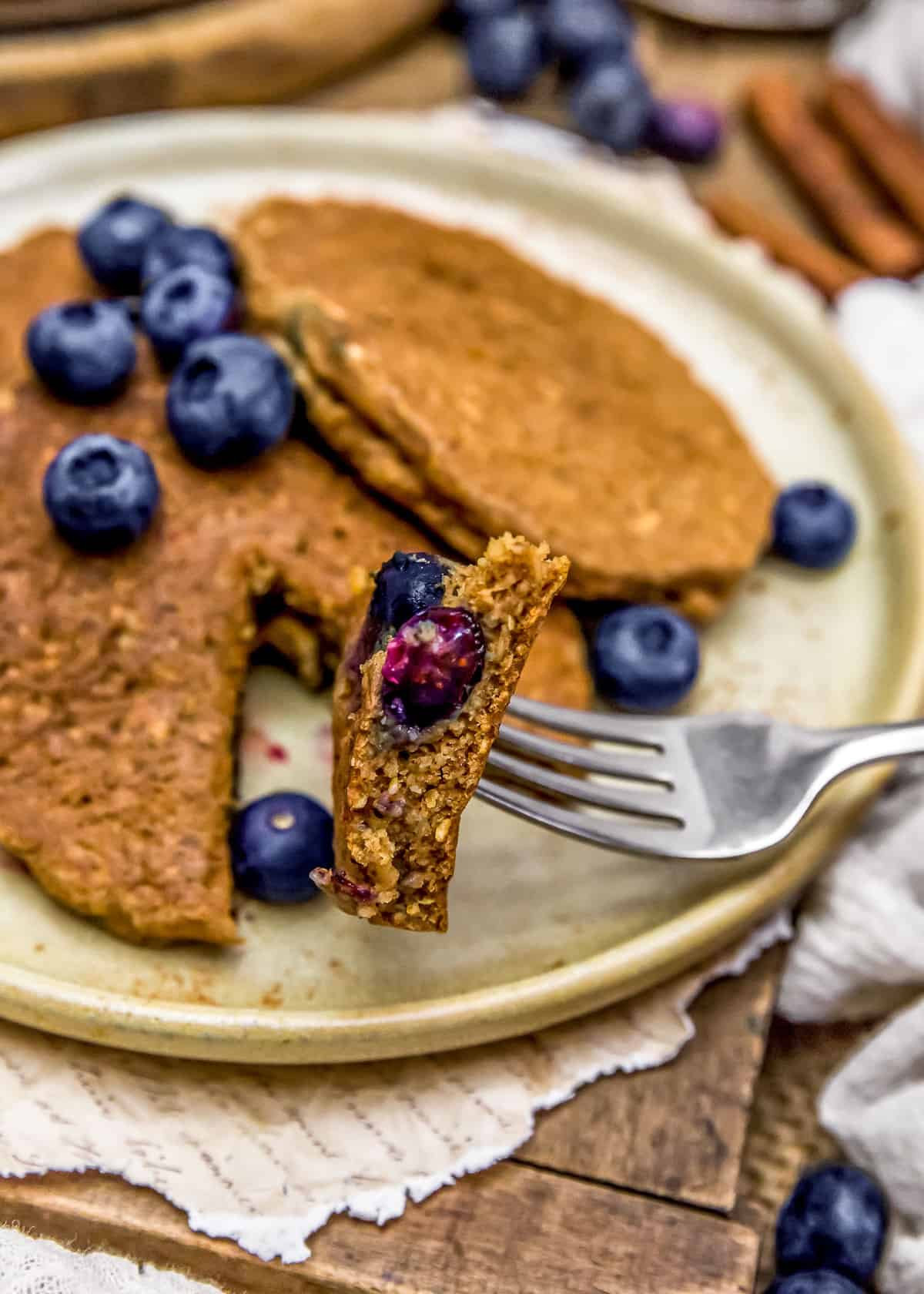 Making Pancakes without Oil
Making pancakes without oil can be challenging for sure. You need the right pancake batter and the right skillet to make it happen.
We have also included a number of tips and tricks in the recipe notes to help ensure you get perfectly flipable pancakes every time.
We would love for you to give this recipe a try!  We just know you are going to love it.
If you try this delicious pancakes, we would love to know if you enjoy it as much as we do! Please leave us a review! Post a picture on Facebook or Instagram and tag us!  We would love to hear from you.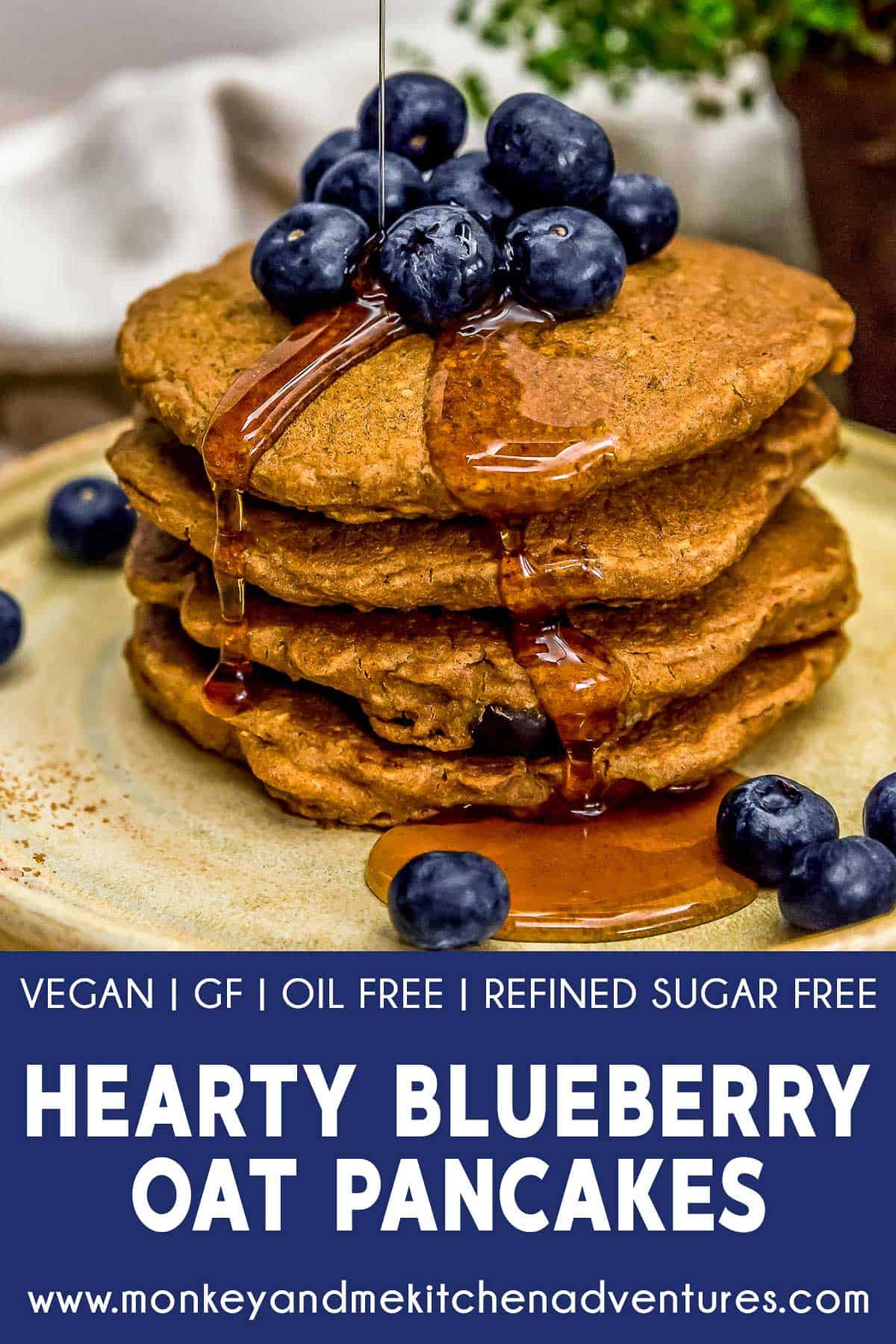 Products Used:
Print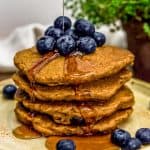 Hearty Blueberry Oat Pancakes
Author:

Prep Time:

15 Minutes

Cook Time:

10 Minutes

Total Time:

25 Minutes

Yield:

6

-

7

Pancakes

1

x

Category:

Breakfast, Brunch

Method:

Stovetop

Cuisine:

American
---
Description
These stick-to-your-ribs Hearty Blueberry Oat Pancakes are so healthy and delicious. The whole family will be seated at the breakfast table in a flash! Whole Food Plant Based, vegan, oil free, refined sugar free, no highly processed ingredients and gluten free.
---
Dry Ingredients:
1 cup

rolled oats, pulsed into flour

¼ cup

rolled oats

1 Tablespoon

cornstarch (or arrowroot powder)

1 Tablespoon

baking powder

¼ teaspoon

baking soda

2

to

2 ½

teaspoons cinnamon *

¼ teaspoon

sea salt (+/- to taste) *

1 Tablespoon

flax meal 
Wet Ingredients
¾ cup

unsweetened plain plant milk

1 teaspoon

apple cider vinegar

2 Tablespoons

organic maple syrup

1 teaspoon

molasses

1 teaspoon

vanilla
Other Ingredients:
½ cup

fresh blueberries
Water *
Optional Toppings:
Organic maple syrup
Fresh blueberries
Unsweetened applesauce
---
Instructions
Place the almond milk into a small bowl, add the apple cider vinegar, stir well to combine, then add the flax meal, stir to combine, then set aside.
Place 1 cup rolled oats in a food processor and process until the oats turn to oat flour, about 2 minutes, then add to a large bowl. Next add the ¼ cup rolled oats to the oat flour.
Then add all the remaining Dry Ingredients to the bowl, whisk to combine.
Place the remaining Wet Ingredients into the bowl with the plant milk, apple cider vinegar and flax meal. Stir well to combine, then add the Wet Ingredients to the Dry Ingredients, stir well to combine.  Set aside for 10 minutes.
In the meantime, preheat a griddle or a nonstick pan. You want the pan medium-hot at first, but not too hot. We started with a setting of 6 to heat up the pan, then quickly switched the heat level to a 4-5 out of 10 once it was hot.  Then we consistently used a setting of 4-5 out of 10 heat level for pancakes.  They are thick so you want to make sure the center of the pancake gets cooked.
After 10 minutes, stir the batter. It will be super thick so you will need to add about 1 to 2 tablespoons of water, stir well to thin it out just enough so that it is pourable. Take about ¼ cup of the batter and place onto the medium heat griddle. This makes about a 3 ½ to 4-inch sized pancake (1/4 cup of batter). The pancake batter should lightly sizzle when the batter hits the griddle/pan.  Allow the batter to naturally spread out a tiny bit, but not larger than 4 inches.
Next place between 6 to 7 blueberries on top of each pancake and gently push them down into the batter. Do not press them in too hard.  It's OK that they are gently sitting on top of the batter.
When the pancake sides are firm, and the pancake has been on the griddle for about 3 to 4 minutes (set a timer if needed) test the "flip-ability" of the pancake by sliding a thin-edged small spatula just underneath the edge of the pancake, and peek underneath. Does it look nicely golden brown?  If so, then gently side the spatula all the way underneath, and flip it over.  Generally, you should cook it about 3 to 4 minutes on the initial side, and about 2 – 3 more minutes on the flip side.  It is perfectly fine if the blueberries start to burst and sizzle after you flip them over. See Pan Tips in the notes section.
Serve topped with additional fresh blueberries and a drizzle of organic maple syrup.
---
Notes
*Pan Tips:  We keep a damp paper towel/cloth next to the skillet.  We fold it up into a log, dampen it, then wipe down the skillet to pick up any crumbs or popped blueberry juice before laying down the next batch of pancakes. This keeps the pan clean.  Be careful not to get burned.
*Spatula Tips:  Keep the edge of the spatula clean at all times.  It is much easier to slide a clean spatula underneath the pancake. If the spatula picks up crumbs it can make flipping more difficult because the crumbs stick to the spatula and are dragged underneath the pancake, ripping the it open or making it more difficult to flip.
*Pancake Size Tips: Even though it may take a few more minutes, keep the size of your pancakes small.  It helps with flipping them.  When you don't use oil, pancakes are a tad more challenging to flip over.  Keeping them small allows you more control when you flip them.
*Texture:  These pancakes are hearty, but they rise high. They hold together very nicely. They are not light and airy. They are dense, hearty, and "oaty".  If you are looking for a light and airy pancake, then this is not the recipe.
*Cinnamon:  Any store purchased cinnamon works well; however, if you are using a high-quality cinnamon, you can use more since it has less of an edge to it.
*Water:  After the pancake batter sits for 10 minutes, it will be super thick.  You will need to add about 1 Tablespoon of water to thin it out, perhaps 2 Tablespoons if it has been sitting for longer than 10 minutes.  If you accidentally add too much water, just let it sit for about 4 to 5 minutes, it will thicken up again.
*Sea Salt:  Please adjust the sea salt based upon your family's sea salt preferences and/or based upon dietary needs.
*Serving:  Makes approximately 6 to 7 – 3 ½ to 4-inch pancakes.
*Storage:  Refrigerate and use within 5 days.  Freezes well.

This post contains affiliate links, and we may receive a very small commission if you purchase through those links at no additional cost to you. Thank you for supporting Monkey and Me Kitchen Adventures! For more information, see our disclosures here.