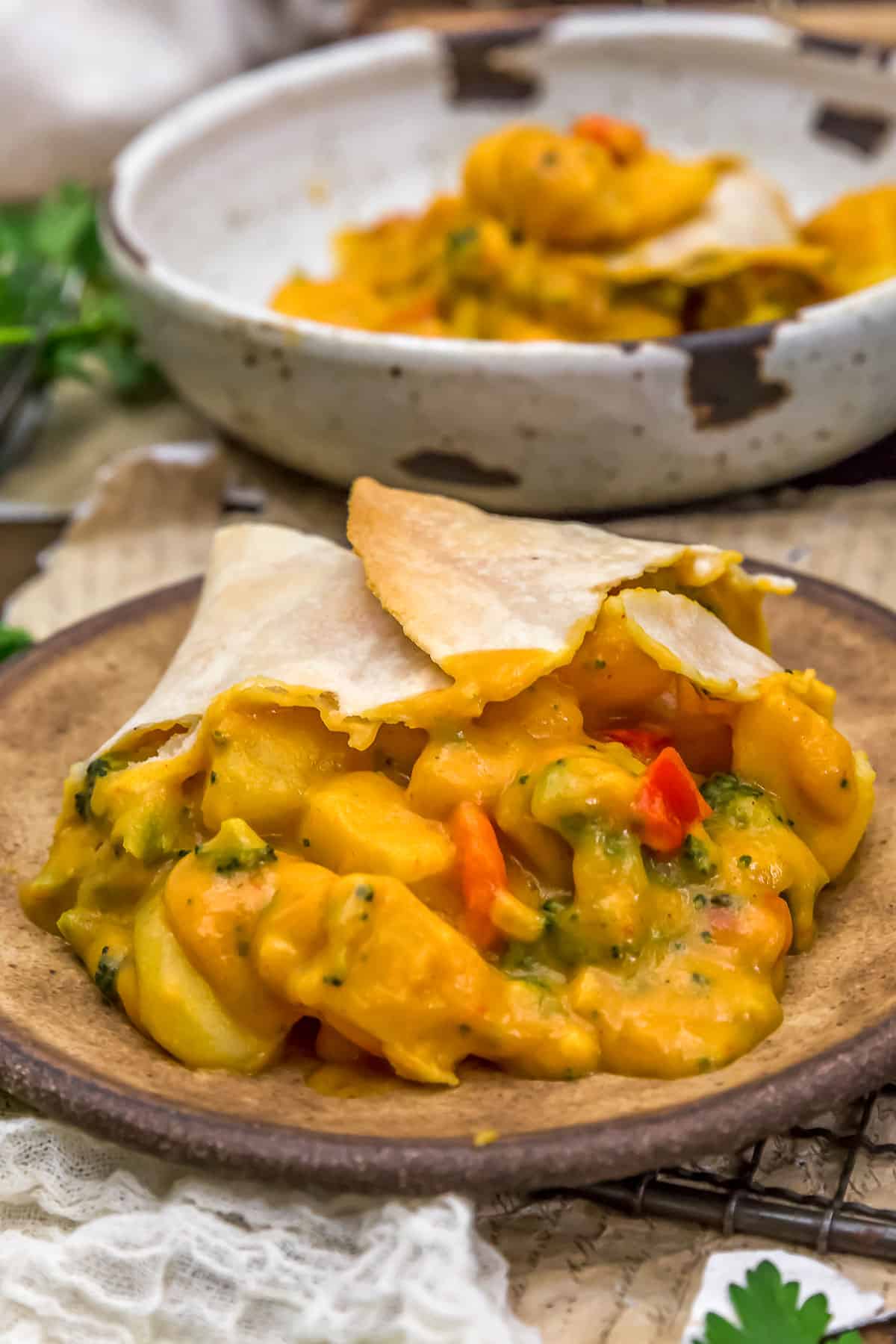 Vegan Cheesy Potato and Broccoli Pot Pie! Don't worry, this ultra-creamy casserole-style pot pie has all the must-haves: texture, flavor, and satisfaction without the guilt.
Who doesn't love a great pot pie? I know we are obsessed! This healthy, oil-free Vegan Cheesy Potato and Broccoli Pot Pie is a fun and flavorful twist on traditional pot pies. Tender potatoes and broccoli are bathed in a rich, velvety plant-based cheese sauce, and wrapped in a flaky gluten-free "crust" that is sure to become a family favorite.
Whole Food Plant Based, Vegan, plant based, oil free, refined sugar free, no highly processed ingredients and gluten free.
Hi there, Ameera here!
Me, ohhh my, I love pot pie!  What can be better than a fresh out of the oven pot pie?  This pot pie is filled with incredible deliciousness. Potatoes and broccoli, the perfect pairing, all coated in a luxurious cheesy sauce that is low in fat and high on tastiness! We totally fell in love.  It's THAT good!
And just for the record, we have a TON of pot pies coming out soon.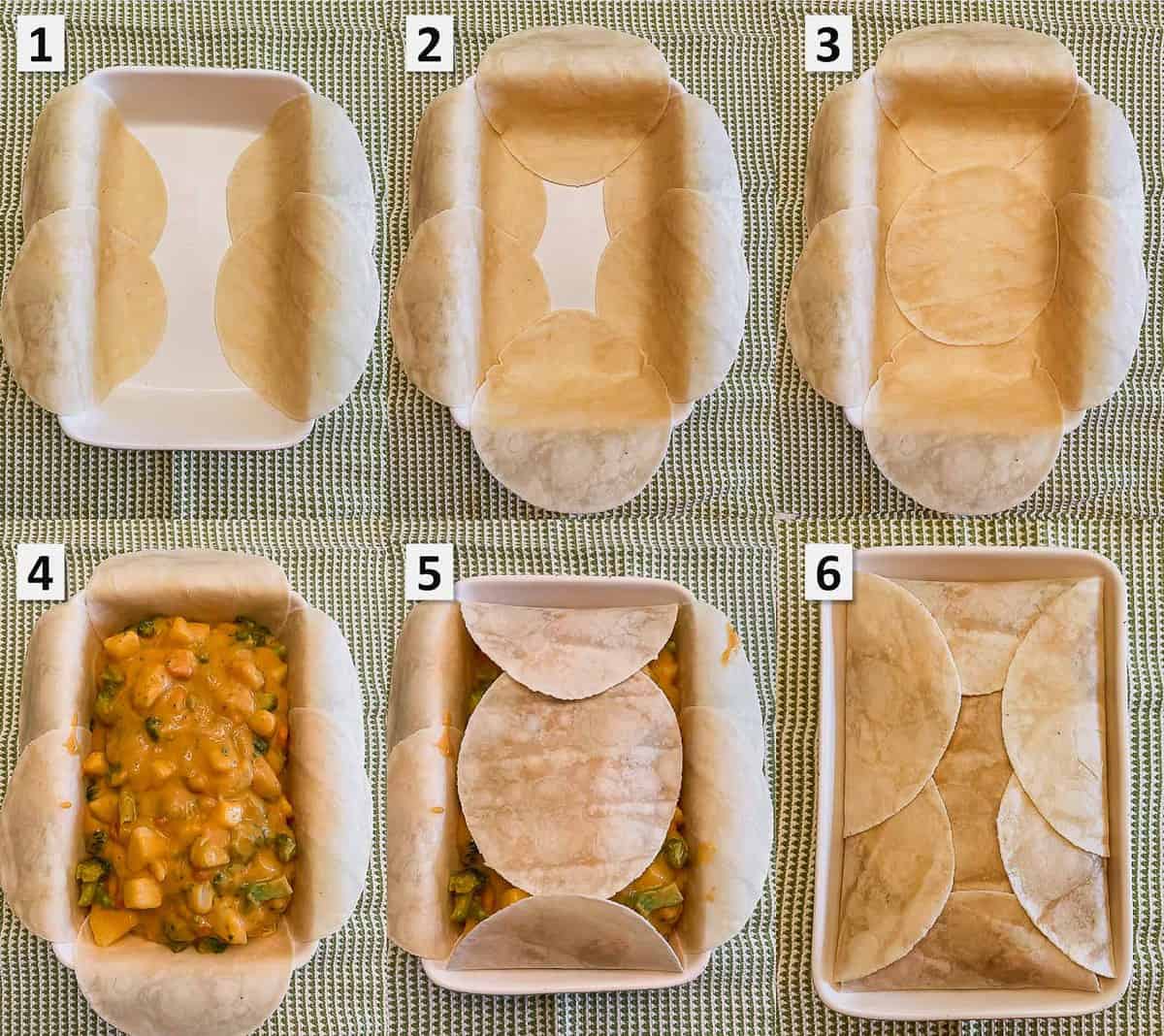 Tortillas as a Crust
As you know, Siete Almond Flour Tortillas make a great crust for sweet and savory pies.  We wanted to provide you with some photos to show you how we layered them to get the perfect coverage.
Tips for Success:
Russet Potatoes/Carrots: We recommend using Russet or general purpose, white potatoes for this recipe. We recommend cutting the potatoes into around 5/8th inch cubes. You don't want them cut too small.  The key is that you want the potatoes and carrots to become tender at the same time.   Cut the carrots into thin pennies to ensure they are tender. After peeling the potatoes and cubing them, the cubed potatoes weighed approximately 2 lbs. 9 oz.
Testing the Potatoes and Carrots for Tenderness: You want the potatoes and carrots perfectly tender, but not overly tender.  The best way to test for potato tenderness is to watch them carefully around the 9 minutes of boiling mark, then pull out one of the 'larger' potatoes (and carrot) while they are boiling when you think they are done and run it under cold water, then bite into it.  It should be perfectly tender and not mushy. If still a little crunchy, then continue boiling and monitoring closely.  If you overcook the potatoes and carrots, they become mushy and your casserole filling turns to mush.  Be sure to gently handle them.
Troubleshooting: This is highly unlikely to happen, but just suppose your potatoes are tender, but your carrots are not.  If this happens, you need to stop boiling the potatoes/carrots and drain the dish.  You have two options 1) Very gently fish out all the carrots and process all the carrots in the high-speed blender in Step 5 as the high-speed blender will process them until tender in the sauce.  OR 2) Very gently fish out all the carrots and microwave them until tender.  The key to avoid this from happening is to cut the carrots thinly (not paper thin), but thin so they can become tender as the same time as the potatoes.  AND also, you don't want to cube the potatoes too small.  We found that the 5/8ths cubed potatoes and thinly sliced carrots get them both done at the same time for perfect end results.
Frozen Broccoli vs Fresh Broccoli: You can use either fresh or frozen broccoli.  If using fresh broccoli, cut pieces into small florets. 12.6 oz. is roughly 4 cups.  We used frozen broccoli for convenience.  Make sure the broccoli is at the desired tenderness before placing in the casserole dish.
Veggie Add-Ins: You can pretty much add in any veggies you wish.  If you add in additional veggies, then expect a drier dish or substitute equal amounts.  Additionally, make sure the veggies are at the desired tenderness before adding the cheese sauce.
Cayenne Pepper: The cayenne pepper adds great depth of flavor.  We recommend that you not leave it out. It is barely discernable, so you do not need to worry about serving to small children.   We suggest not putting it in until the very end (when making the sauce) so you can taste the sauce properly before adding it in.
Flavor Builder: The flavors in this dish build on the palate.  Taste test 3 times to allow the flavors to build before adding additional seasonings.
Natural Peanut Butter: You will not be able to taste the peanut butter in this recipe, but it does add an underlying layer of flavor with a little fat to make the dish appear more indulgent on the palate. Be sure to select a peanut butter where the only ingredient is peanuts.  You can leave it out if you wish or use another comparable nut or seed butter with the understanding that the flavor and texture could be slightly impacted.
Hot Sauce and Cayenne Pepper: This dish does not have any heat.  We strongly recommend using the amounts recommended for maximum flavor.  It's surprising how much flavor come from these two small ingredients.
Sea Salt: Make sure you season the cooked potatoes and broccoli with sea salt.  Additionally, our family was completed divided over the amount of sea salt that this dish needed to be properly seasoned.  The good news is that you can start low and add more as needed when making the cheese sauce.
Reducing the Fat: This dish is on the lower side of fat for this style of casserole.  If you wish, you can reduce the fat content even further by only adding a few tortillas as a topper instead of wrapping the entire casserole in tortillas (like a pie).  Or you can leave the tortillas off completely and just serve as a casserole.  You can also crush your favorite tortillas on top like a crunchy topping if you wish.
Casserole Dish: The dimensions for this casserole dish are 11 inches (length) x 7 inches (width) x 3 inches (height).  You can use other casserole dishes with the understanding that you may need to play with the tortillas to make it work.  Additionally, if using a different size, you may have some openings at the top which is fine as well.  It will still work perfectly.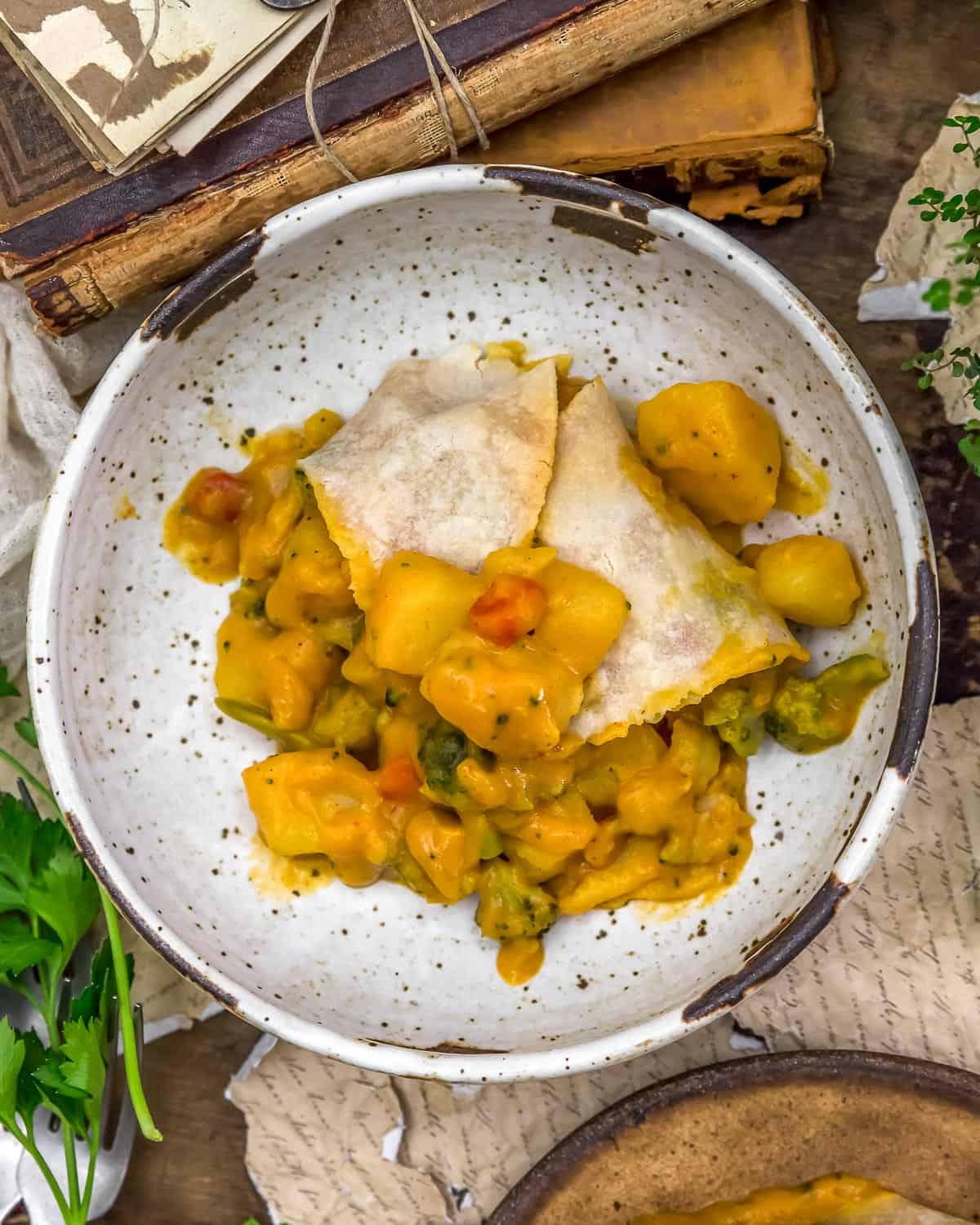 Leftovers and Freezing:
Leftovers will generally keep for 4-5 days in the refrigerator.  Store in a covered container.  Reheating can be done in the oven or in the microwave.
This dish freezes well.
Pantry Products Used:
Vegetable Stock: We use Pacific Organic Low Sodium Vegetable Stock. We love this brand because it is Whole Food Plant Based compliant, as it does not contain MSG, has no oil, and does not contain any highly-processed ingredients.
Tamari: We used San J Tamari Soy Sauce, Gluten Free, Reduced Sodium. You can substitute the tamari with reduced sodium soy sauce, Braggs Liquid Aminos, or Braggs Coconut Liquid Aminos.
Frozen Broccoli: We used a 12.6 oz bag of Birds Eye Frozen Baby Broccoli Florets.  Feel free to use your favorite frozen broccoli.  Or use fresh broccoli florets.  Be sure to cut any larger pieces into small florets.
Chili Powder: We used Penzeys Regular Chili Powder.  It has great flavor, with a tiny kick that is not overwhelming.  Feel free to use your favorite chili powder, just be sure to select a mild one and not one that has a lot of heat to it.
Ume Plum Vinegar: We used Eden Ume Plum Vinegar. We get a lot of questions on ume plum vinegar.  It is fairly inexpensive and adds amazing flavor. You can find it in most health food grocery stores. You can leave it out if you can't find it, adjust your flavors accordingly.
Hot Sauce: We used Frank's RedHot Original Hot Sauce.
Almond Flour Tortillas: We used Siete Almond Flour Tortillas as they have an almost pastry like quality which would mimic a flaky pie crust. You can typically find them in most health food and large grocery stores.  Additionally, Siete has a 'store finder' on their website.  You can find them in either the refrigerator or frozen foods section.  Feel free to use your favorite 6-inch tortillas with the understanding that the texture and flavor will be influenced accordingly.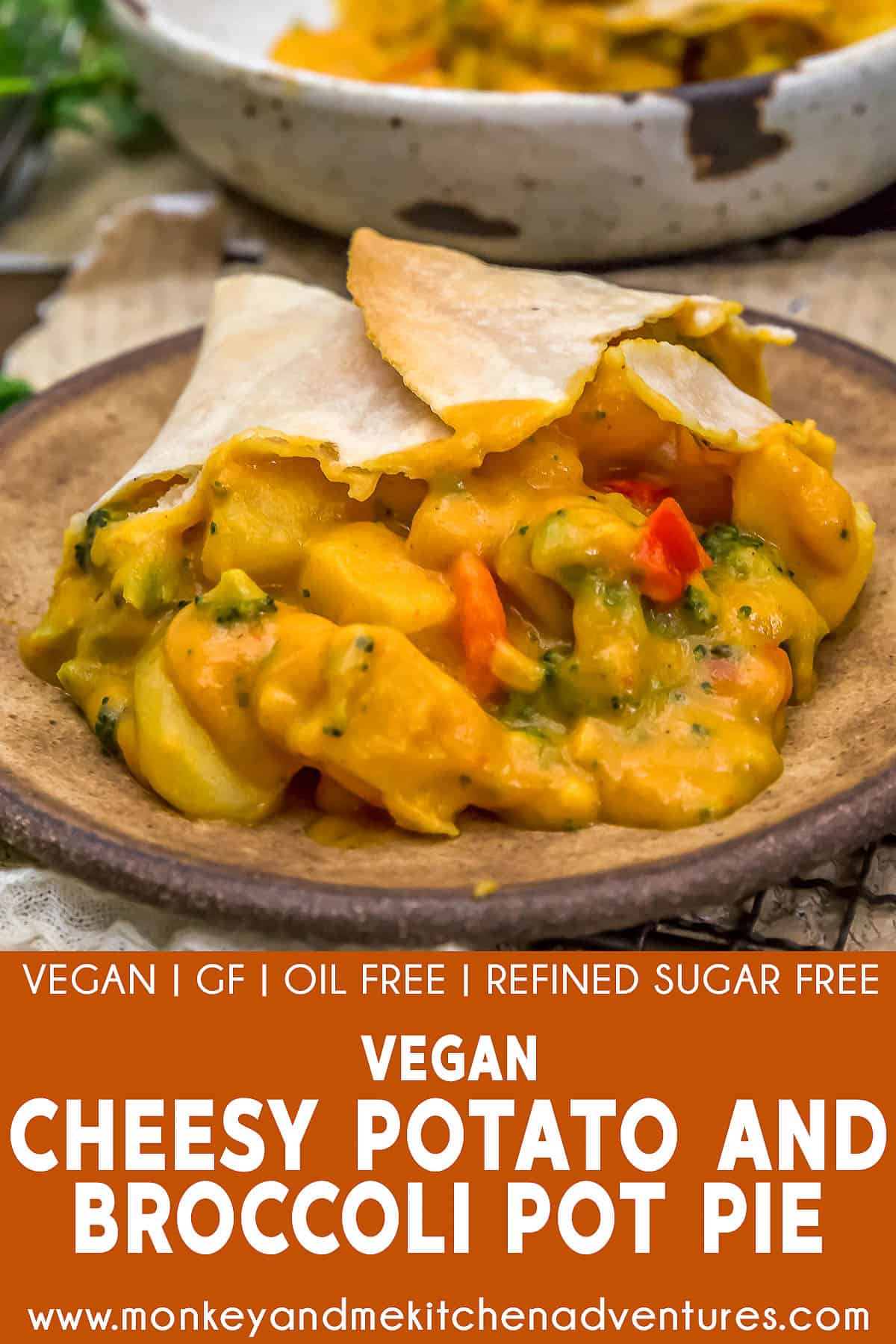 Kitchen Products Used:
Stock pot to boil the potatoes, carrots, bell pepper
High-Speed Blender
We certainly hope you give this deliciousness a try.
If you try this comforting meal, we would love to know if you enjoy it as much as we do! Please leave us a review! Post a picture on Facebook or Instagram and tag us!  We would love to hear from you.
Print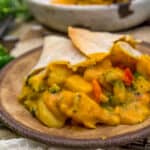 Vegan Cheesy Potato and Broccoli Pot Pie
Author:

Prep Time:

35 Minutes

Cook Time:

20 Minutes

Total Time:

55 Minutes (+Rest Time)

Yield:

6

Servings

1

x

Category:

Dinner

Method:

Stovetop, Oven

Cuisine:

American

Diet:

Vegan
---
Description
This healthy, oil-free Vegan Cheesy Potato and Broccoli Pot Pie is a fun and flavorful twist on traditional pot pies.
---
Boil Ingredients:
8 cups

Russet potatoes, peeled, 5/8th inch cubes *

1

– [ 12.6 oz. bag ] frozen baby broccoli florets *

1

medium carrot – thinly sliced rounds

½

red bell pepper, diced
Sprinkle sea salt
Sauce Ingredients:
3 cups

cooked potatoes, carrots, red bell peppers (from boiled ingredients) *

¼ cup

unsweetened plain plant milk

½ cup

low-sodium vegetable broth *

½ cup

water

1 Tablespoon

distilled white vinegar

1 teaspoon

ume plum vinegar *

¼ teaspoon

hot sauce *

1 teaspoon

pure maple syrup

1 Tablespoon

reduced-sodium tamari *

1 teaspoon

natural peanut butter *

1/3 cup

nutritional yeast (+/-)
Sauce Herb/Spice Ingredients:
2 Tablespoon

dried minced onions

1 teaspoon

onion powder

1 teaspoon

garlic powder

¾ teaspoon

smoked paprika

½ teaspoon

sweet paprika
Pinch regular chili powder *

½ teaspoon

ground mustard

½

to

1 ¼

teaspoon sea salt (+/-) *
Pinch black pepper
Pinch cayenne pepper *
Other Ingredients
8

– [ 6 inch round ] almond flour tortillas *
---
Instructions
Preheat the oven to 350 F, use center rack placement.
Defrost the baby broccoli florets then microwave and/or steam to desired tenderness, drain off any water, set aside.
Place the Sauce Herb/Spice Ingredients (except the cayenne pepper) into a small bowl, mix well, set aside.
Place the diced potatoes, carrots, and red bell peppers into a medium stockpot, cover with water, bring to a boil, gently boil just until fork tender (about 10 to 15 minutes). Drain off the water, then place 3 cups of the boiled ingredients (potatoes, carrots, red bell pepper mix) in a high-speed blender.  Place the other 5 cups into a large bowl and set aside.
Add all the Sauce Ingredients and Spice/Herb Mix into the high-speed blender with the boiled potatoes, carrots, and red bell peppers. Blend on high until smooth and emulsified.  Taste test the sauce, adjust flavors if needed, then add in the pinch of cayenne pepper, pulse until smooth.
Place the cooked/steamed broccoli into the bowl with the 5 cups of boiled potatoes, carrots, and bell peppers, season the mixture of broccoli and boiled potatoes, carrots, and bell peppers with sea salt. Very gently toss, then pour the sauce into the bowl, gently fold in.
Line a small 11x7x3 casserole dish with the tortillas (see blog post on how to do this), then pour in the broccoli, potato, cheese mixture, then finish with remaining tortillas and fold over the tortillas to cover the surface.
Place in a preheated 350 F oven for 20 minutes. Watch carefully toward the end to prevent overbrowning. If crust starts to overbrown, place a flat piece of foil over top.  Remove after 20 minutes, allow to set undisturbed for 10 minutes to allow the pot pie to set up. Slice and serve!
---
Notes
*Please reference the blog post for Tips for Success, Pantry Items Used, Storage and Freezing, and Kitchen Products Used.
*Sea Salt:  Please adjust the sea salt based upon your family's sea salt preferences and/or based upon dietary needs.
*Serving:  6
Nutritional Information does not include the Siete Almond Flour Tortillas

This post contains affiliate links, and we may receive a very small commission if you purchase through those links at no additional cost to you. Thank you for supporting Monkey and Me Kitchen Adventures! For more information, see our disclosures here.