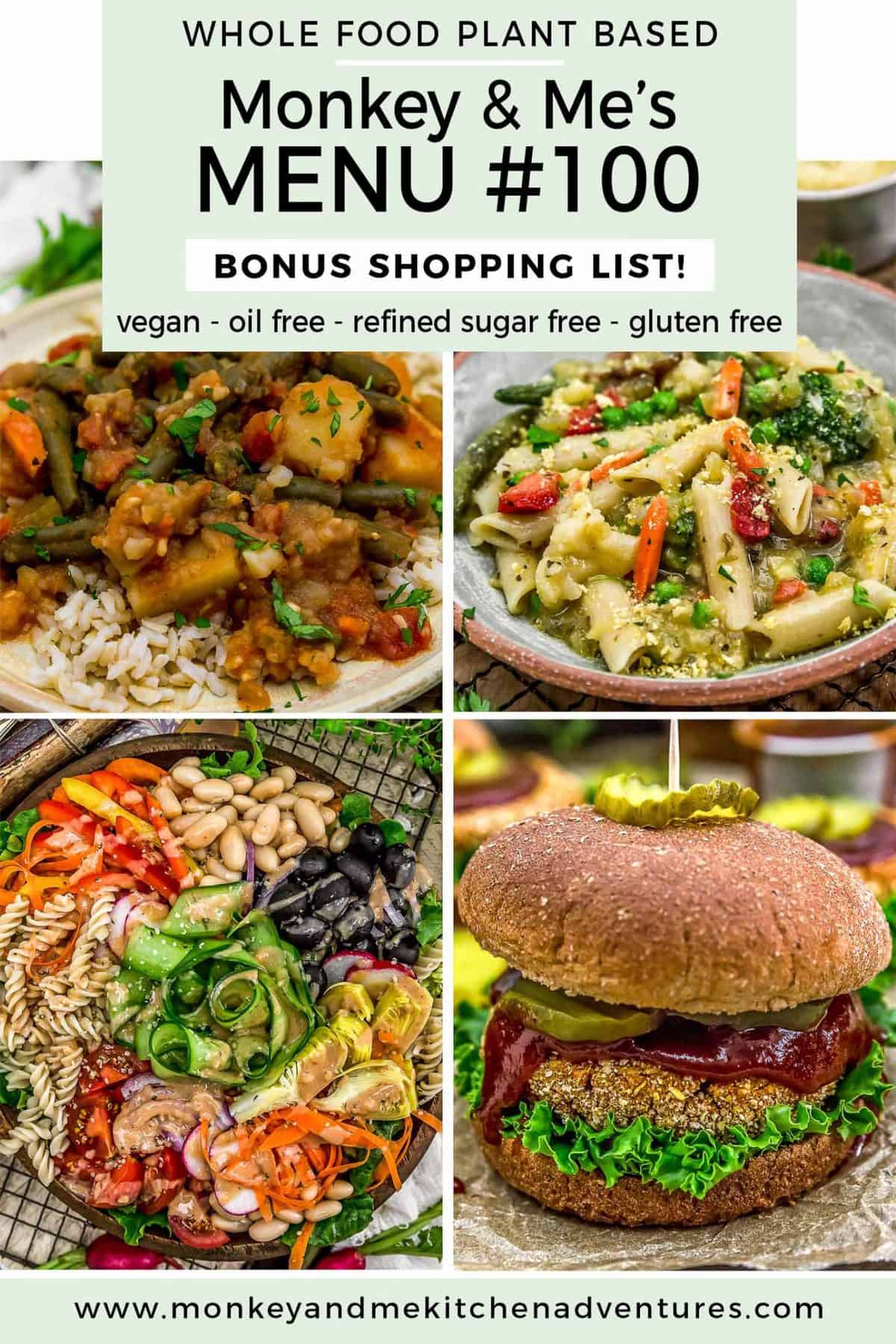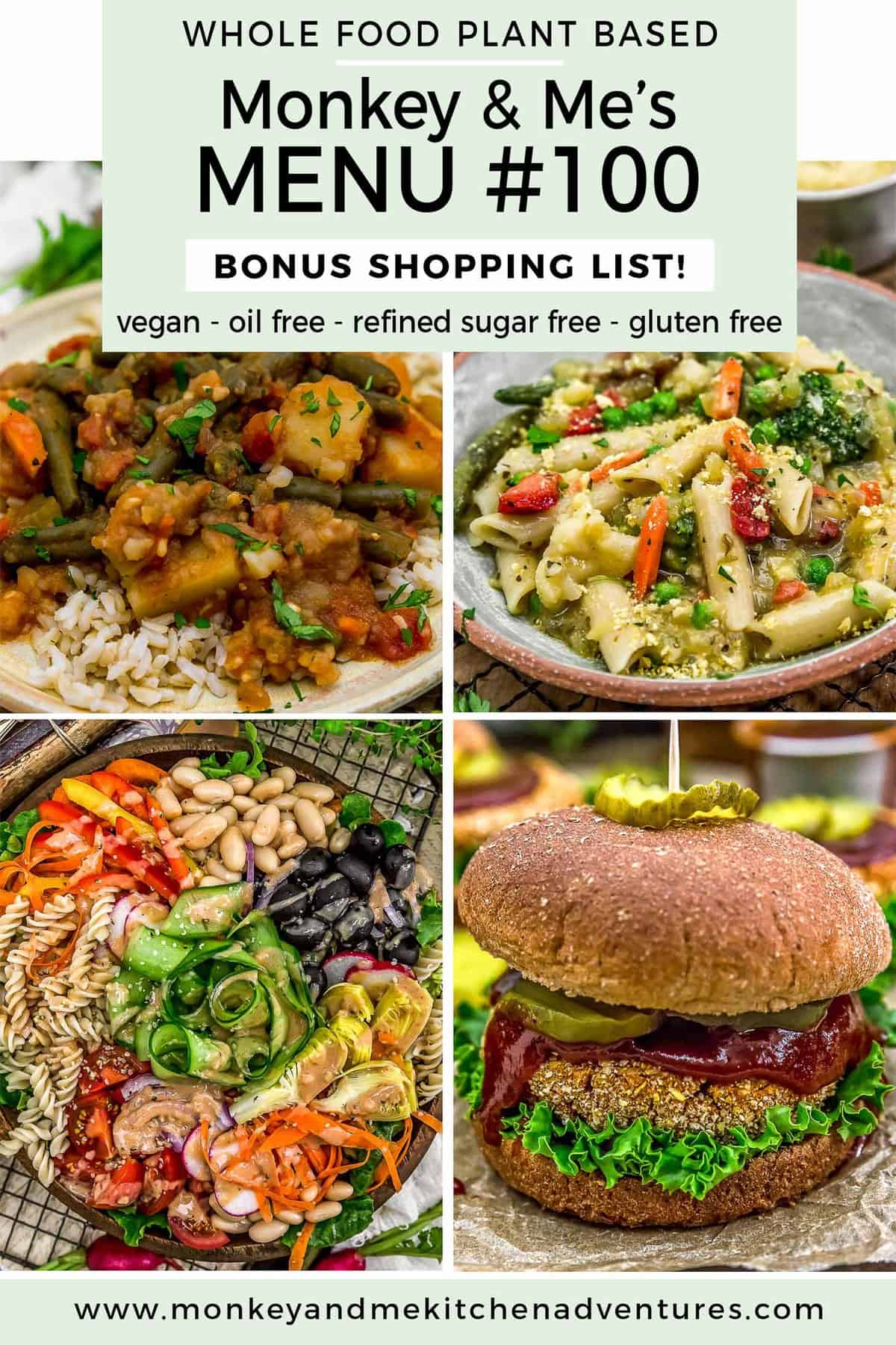 This week's Monkey and Me's Menu features some tasty recipes.  Menu #100 includes a FREE bonus shopping list.  All recipes are Whole Food Plant Based, vegan, plant based, oil free, refined sugar free, no highly processed ingredients, and gluten free.

Downloadable Menu which offers the following:

2 Breakfast ideas
2 Lunch ideas
2 Snack Ideas
5 Dinner Ideas, including a FREE downloaded shopping list (PDF – Below)

A comprehensive (downloadable) shopping list for the 5 Dinners

The shopping list is segmented into the common grocery store sections like "produce, spices, etc." making it easy to pick up these items from your local grocery store.
It also includes product suggestions that are Whole Food Plant Based compliant* for easy reference.  Note: These products are suggestions, please feel free to select your own favorite products.
Includes helpful codes so you can easily subtract items that you choose not to make.

Downloadable Instructions on how the meal plan work.
Note:  The term "Whole Food Plant Based compliant" is from a general standpoint.  There are Whole Food Plant Based diet branches that restrict certain food items.  Our recipes are all Whole Food Plant Based compliant based upon a high-level compliance standpoint. i.e. vegan, plant based, oil free, refined sugar free, minimally processed foods.
Some breakfast, lunch, and snack ideas are simple concepts that require no recipe.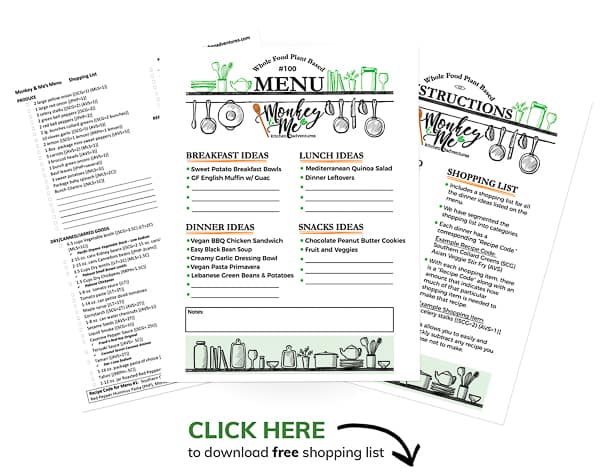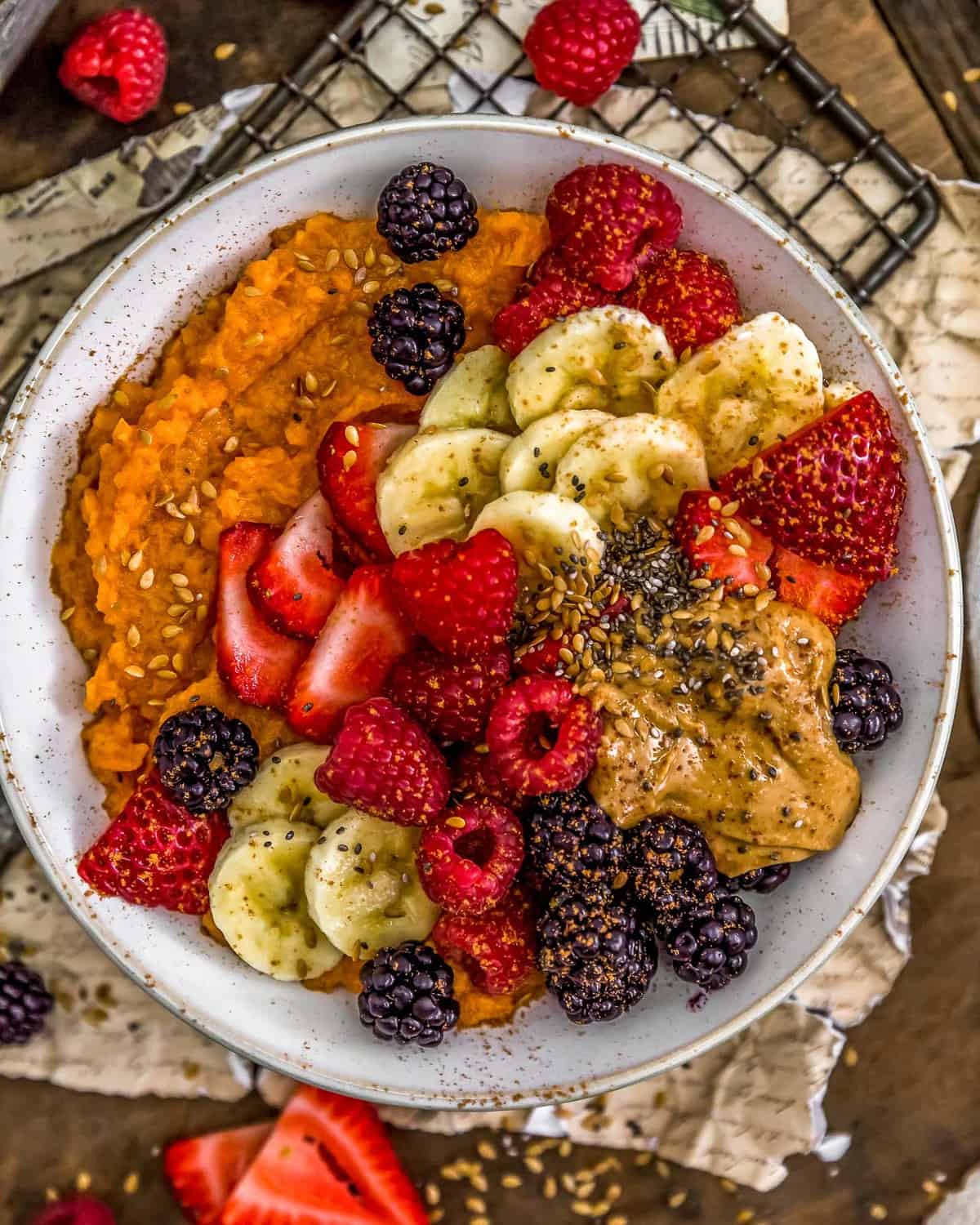 Healthy, hearty, and oh-so-delicious, these fun and versatile Sweet Potato Breakfast Bowls are a wholesome way to enjoy a quick and easy breakfast. Warm, caramelized sweet potatoes topped off with rich, creamy peanut butter and sweet berries make for a great way to start your morning. Fresh or frozen, mix up this delicious bowl with your favorite fruit combos.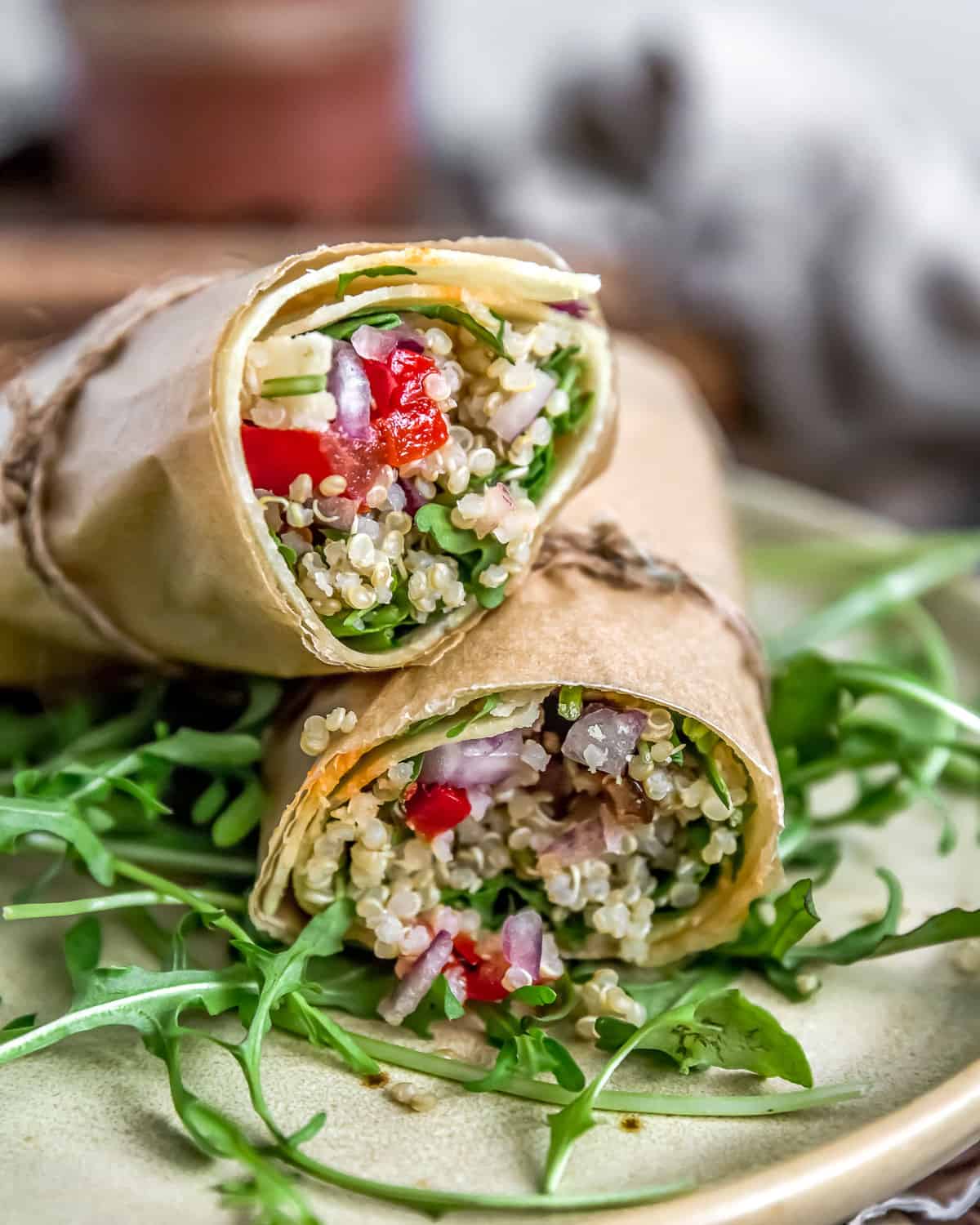 This beautiful salad is life and so much more than meets the eye; it's absolutely bursting with flavor! Healthy and utterly delicious, this easy to make Mediterranean Quinoa Salad is filled with nourishing, feel-good ingredients.  Perfectly fluffy quinoa, hearty cannellini beans, juicy grape tomatoes, peppery baby arugula, tangy Kalamata olives, sweet sundried tomatoes, and flavorful roasted red peppers covered with an irresistible dressing packed with herbs, spices and vinegary goodness. Serve as a filling salad or add as the perfect filling inside your favorite wraps; an excellent meal for lunches and dinners alike!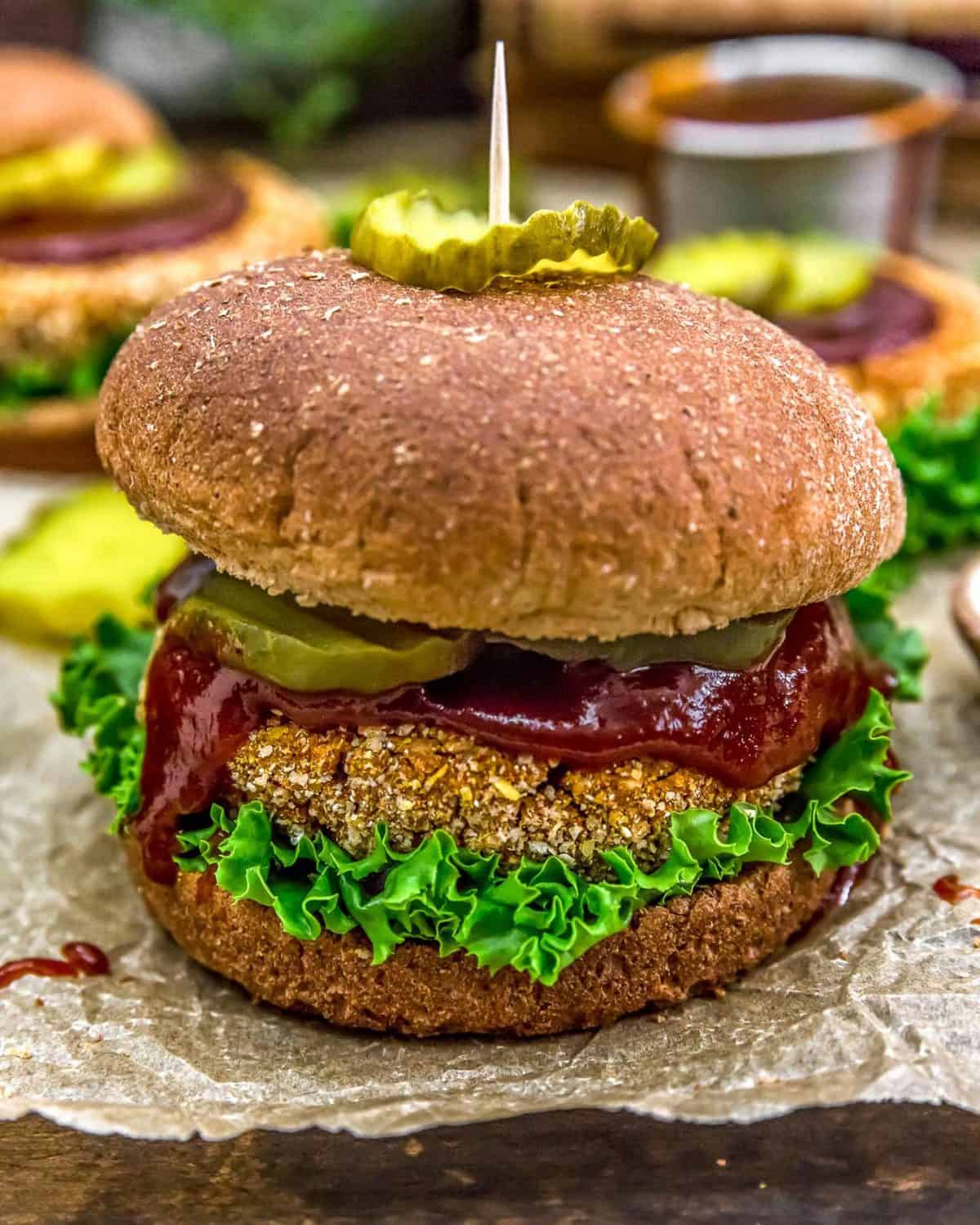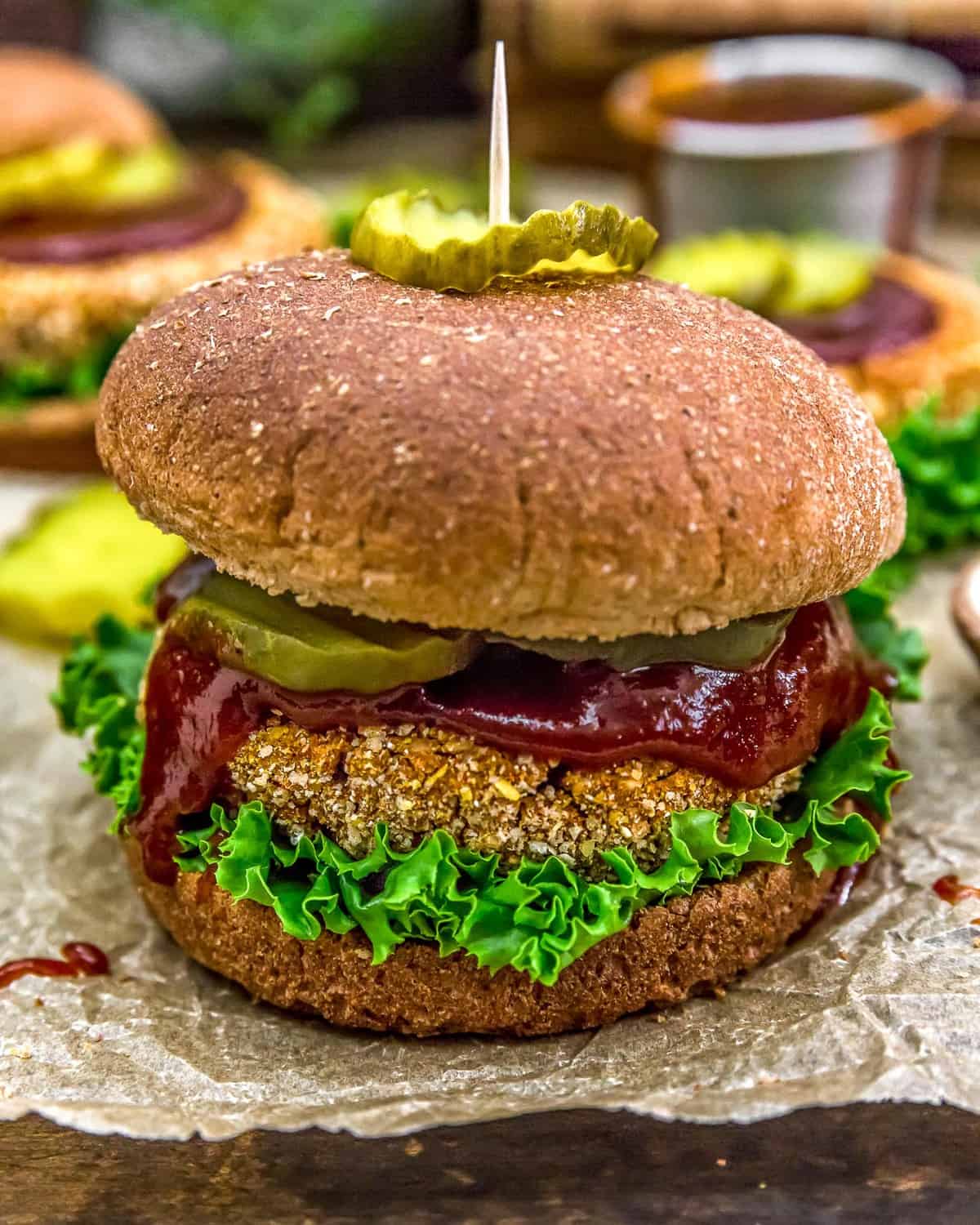 BBQ, need we say more? This vegan spin on a BBQ chicken sandwich is guaranteed to blow your mind. This healthy sandwich features a chickpea patty with a BBQ-spiced rub mixed inside, coated in a smoky crumb coating that is packed with tastiness, baked in the oven to perfection, and topped with our delectable Sweet and Smoky BBQ Sauce. The whole family will flip out over this dish.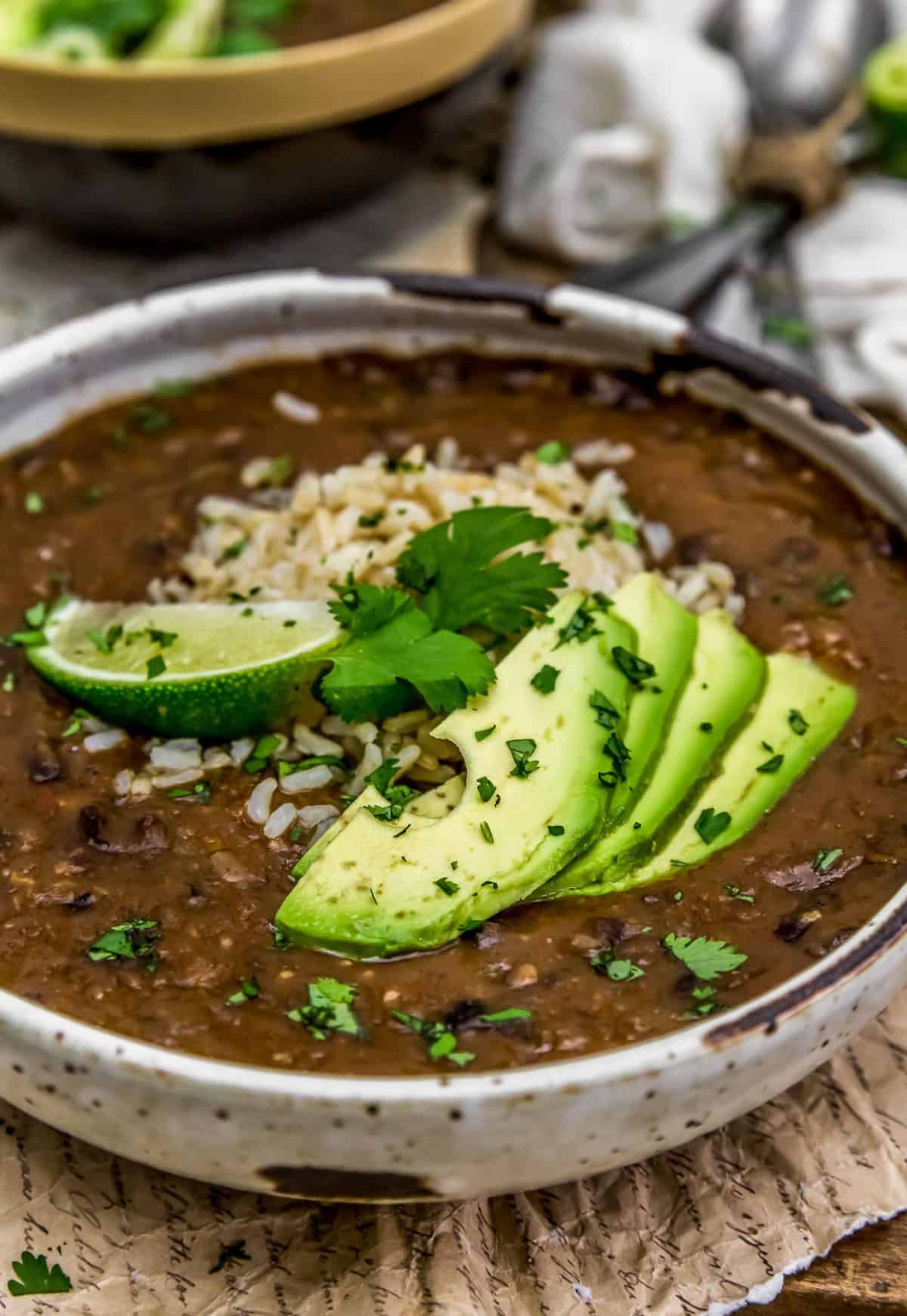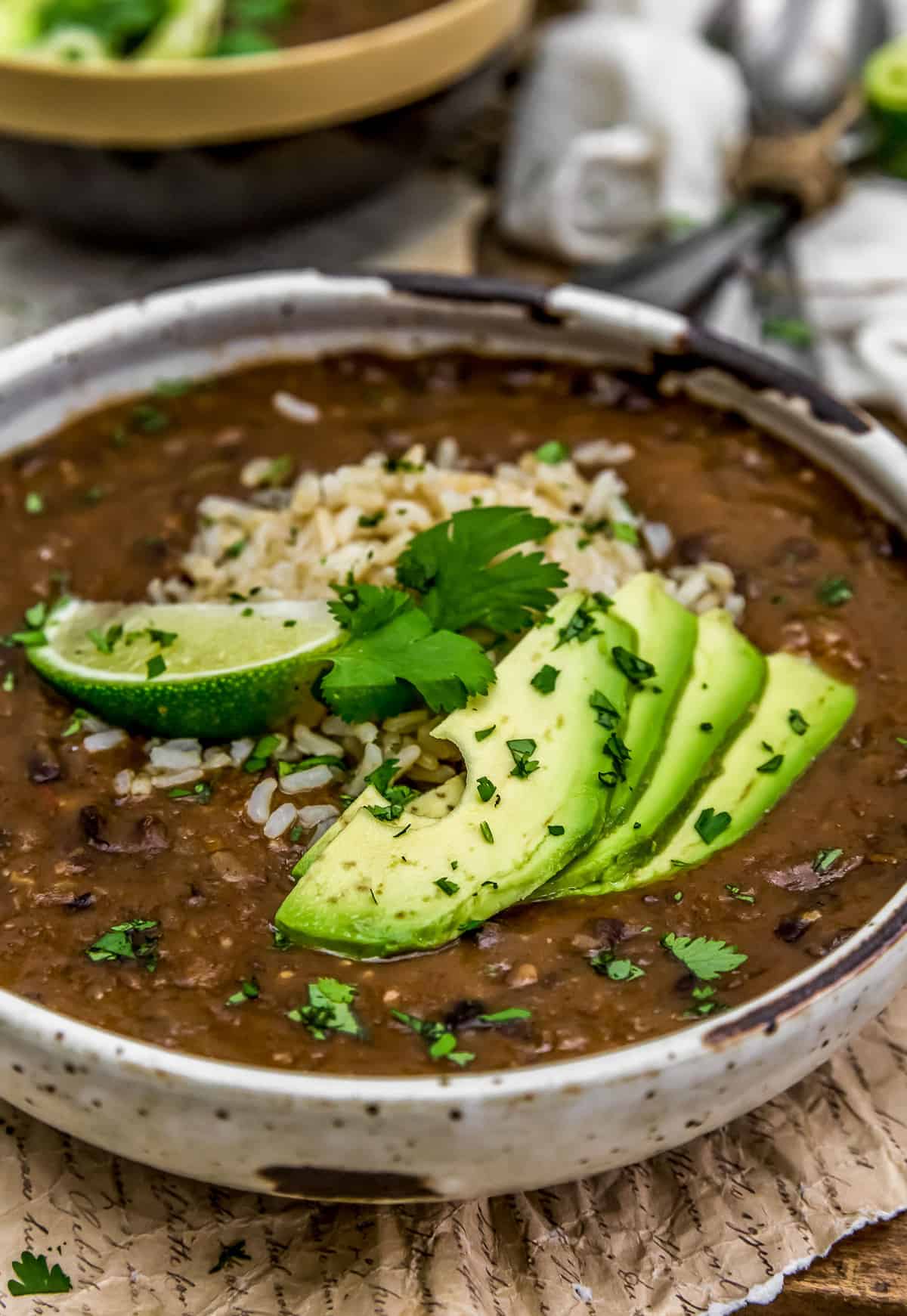 Creamy, flavorful, and easy to make, there is nothing quite as comforting as a delicious warming bowl of soup. This healthy Easy Black Bean Soup is real comfort food in a bowl. Simple, oil-free (low-fat), and filled with deliciously creamy black beans and aromatic spices, it is sure to give your taste buds a ride to flavor town. We've provided both Instant Pot and Stove Top instructions to make it convenient and easy.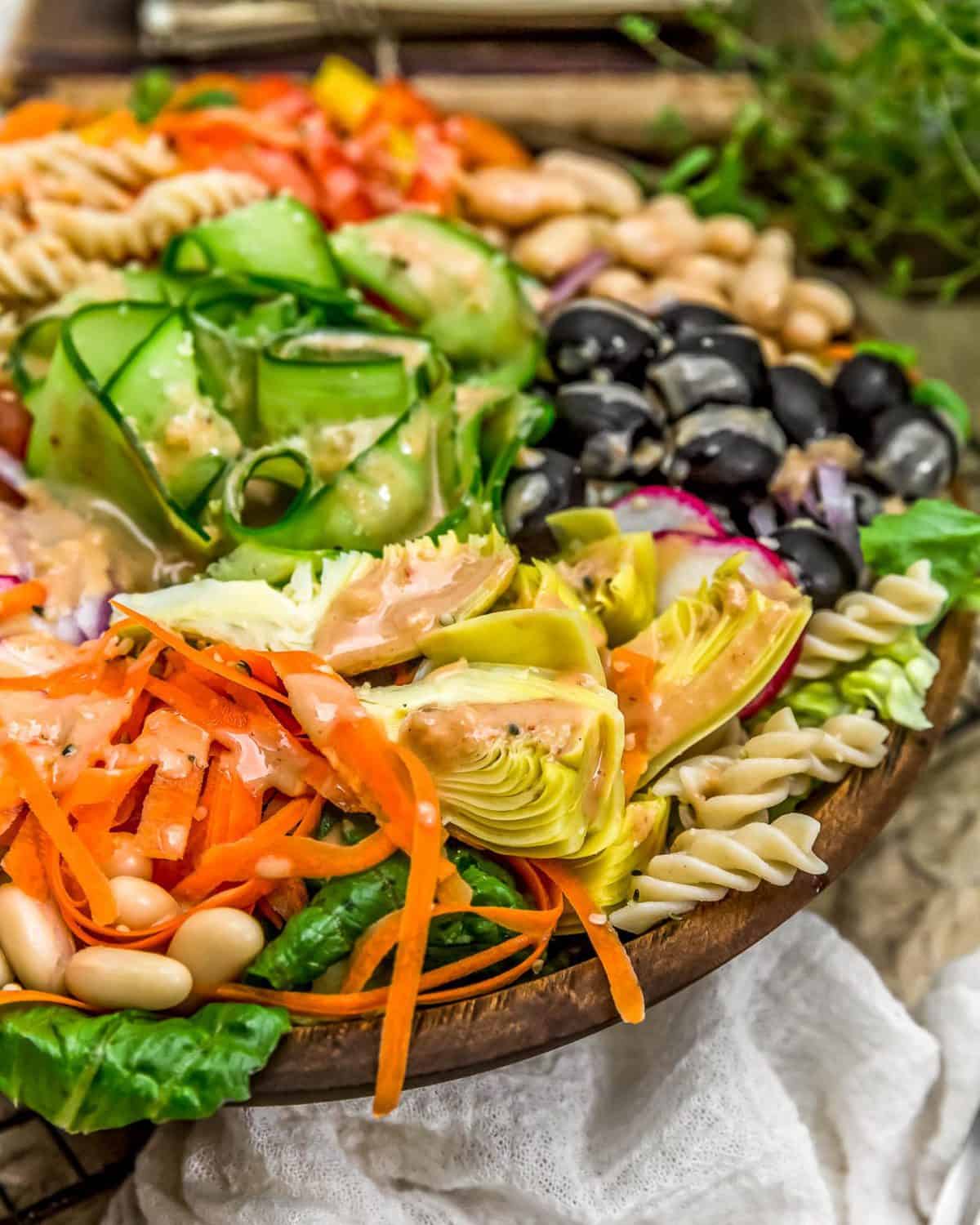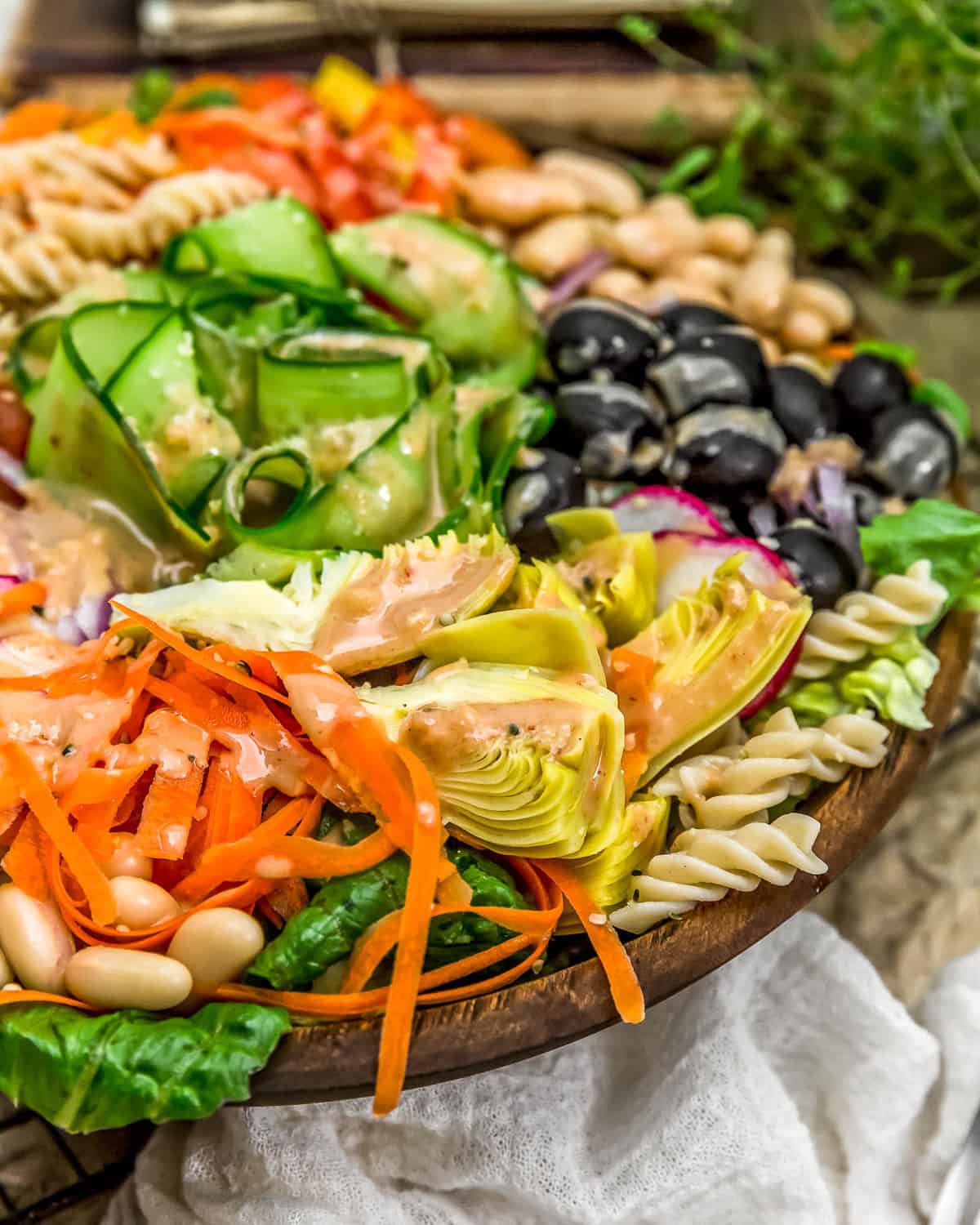 Brimming with zesty garlic deliciousness and tangy goodness, this healthy, homemade Oil Free Creamy Garlic Dressing will make garlic lovers everywhere rejoice!  It's a POW of garlic that will have you jumping for joy with the first bite. Mix and match your favorite salad fixing, drizzle on this wholesome dressing, and get ready for an awesome meal.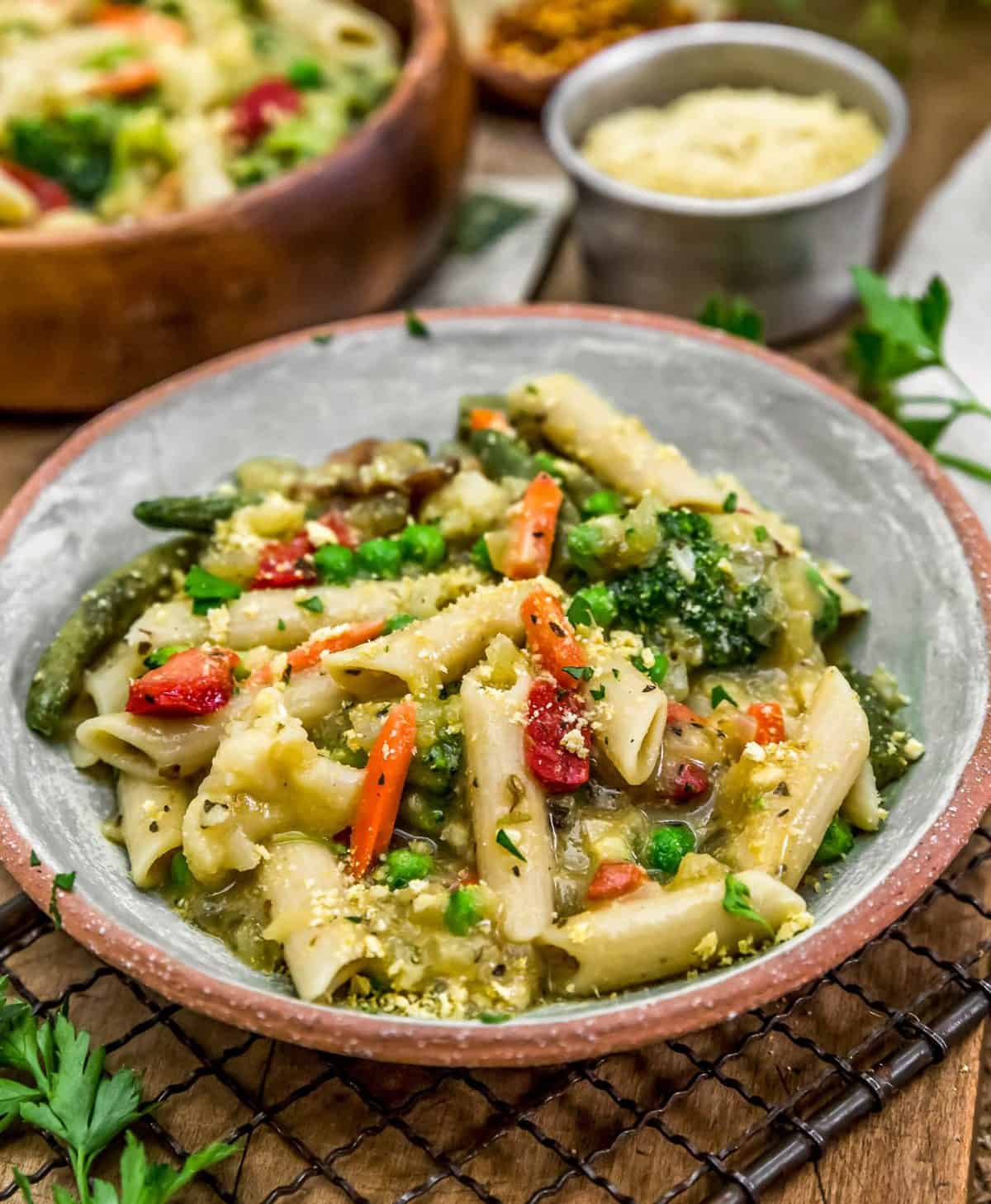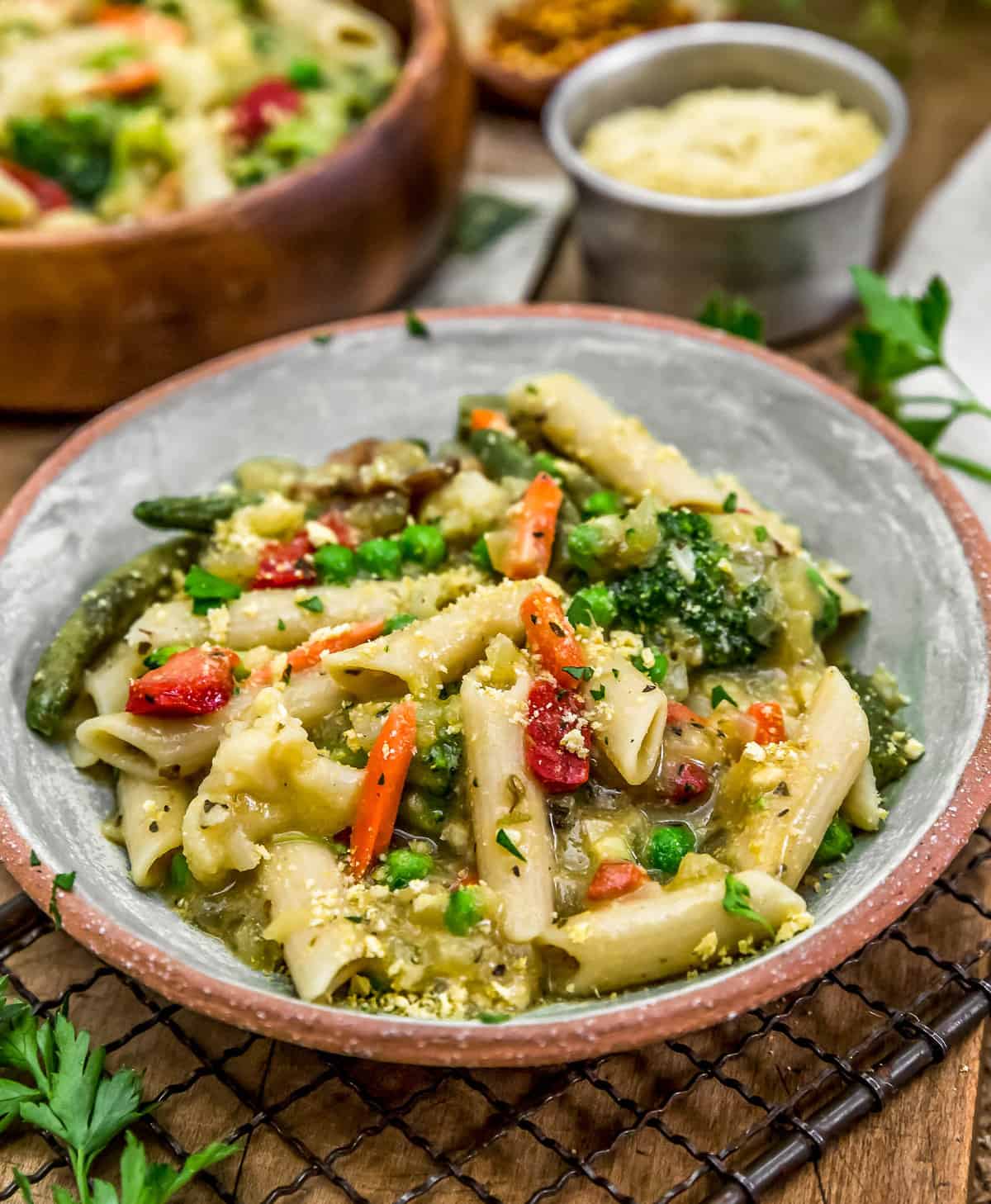 Pasta makes the world go round, and we are in pasta heaven with this wholesome, low-fat dish. Simple Italian goodness comes together with this delicious Italian classic Pasta Primavera dish. Tender pasta and rainbow veggies are coated in a delicious Italian seasoned sauce that will surely make cooking dinner a breeze.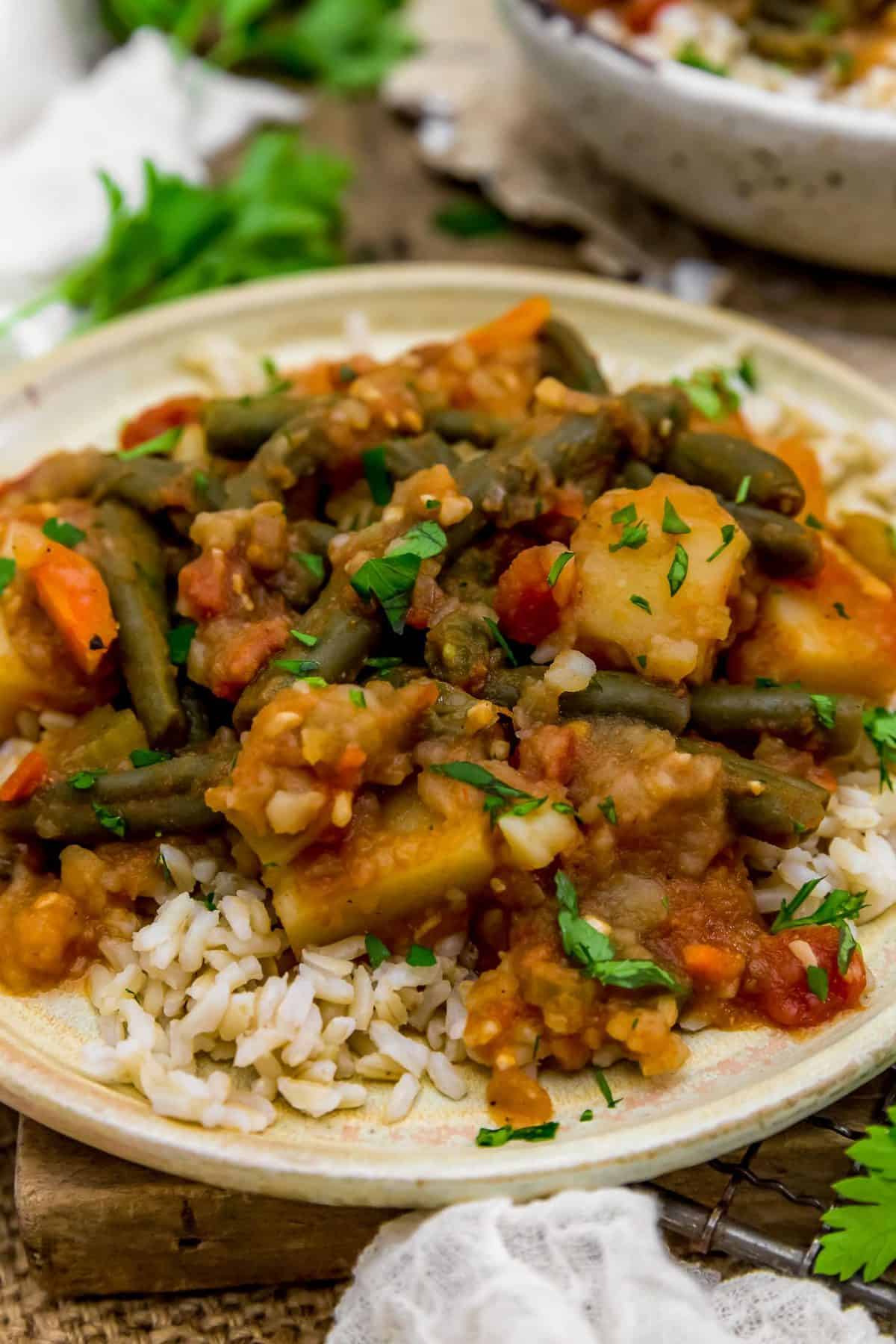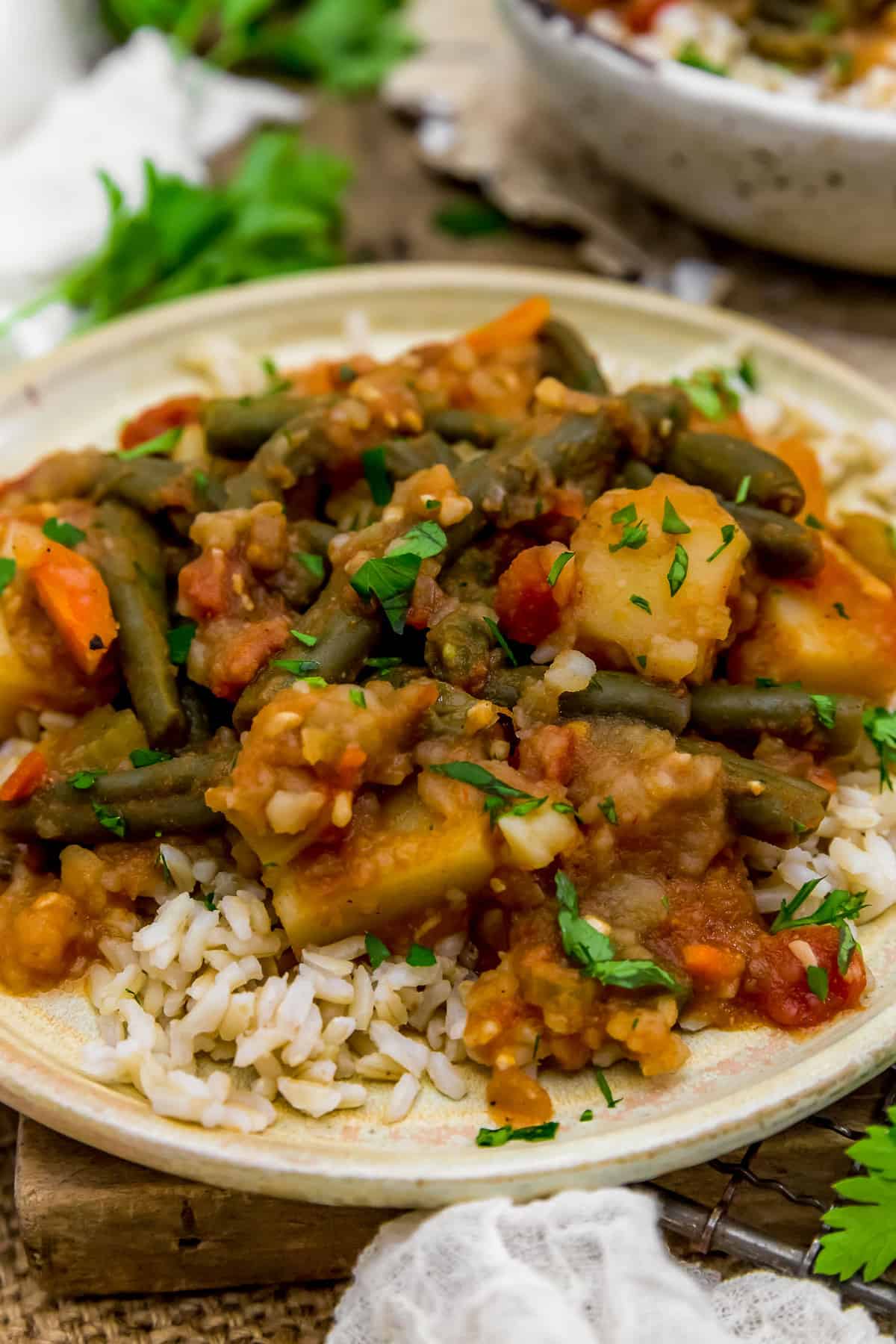 This low-fat, wholesome, and flavorful Lebanese Stewed Green Beans and Potatoes is a WFPB nod to the classic Lebanese loubieh bi zeit (green beans in oil) dish. Aromatic spices, zesty onions, earthy garlic, tasty green beans, sweet tomatoes, hearty potatoes, and so much more create the most delicious stew that fills the whole house with amazing goodness. It is traditionally served over fluffy rice and oh-so-delicious! Instant Pot and Stove Top instructions make it easy and versatile.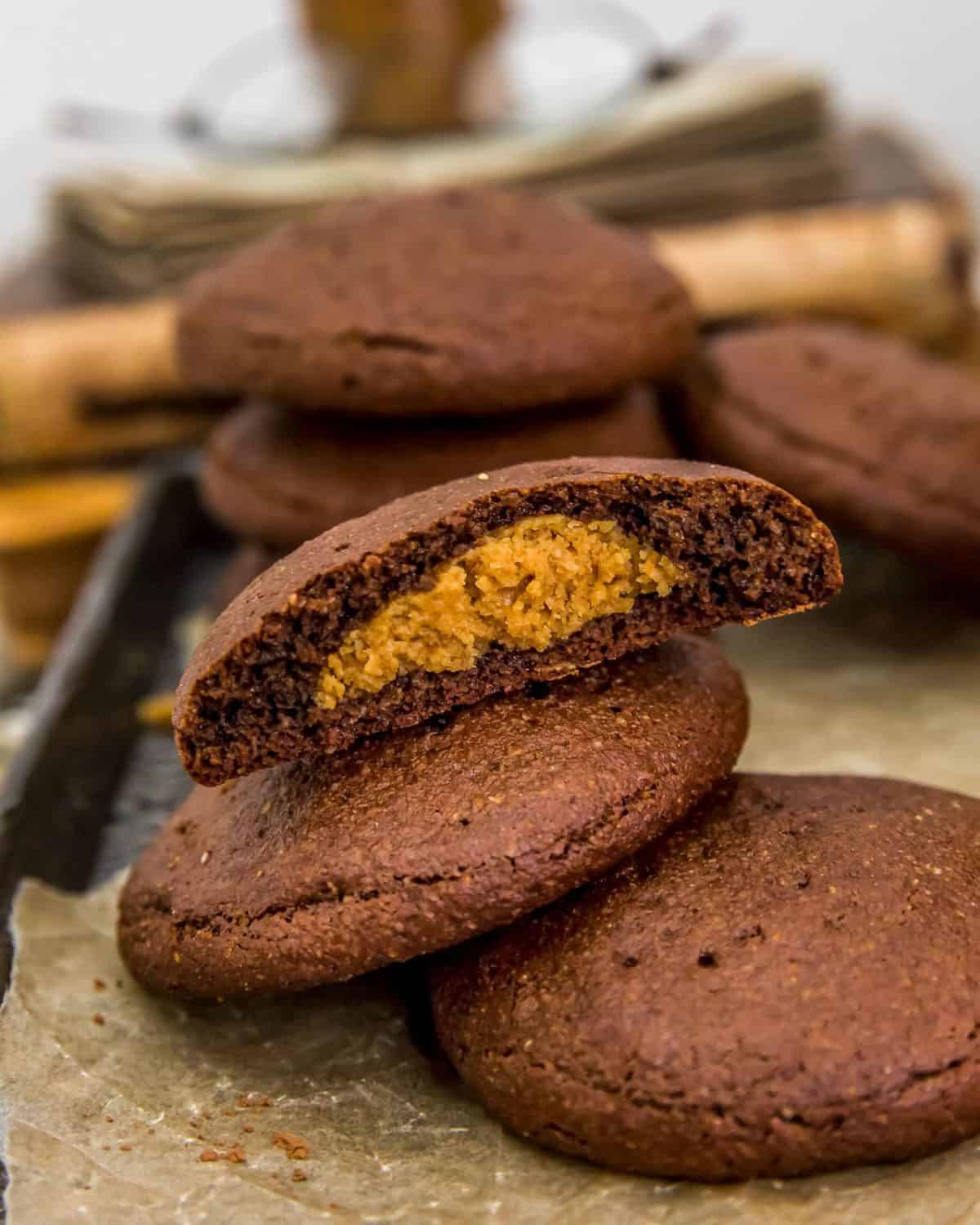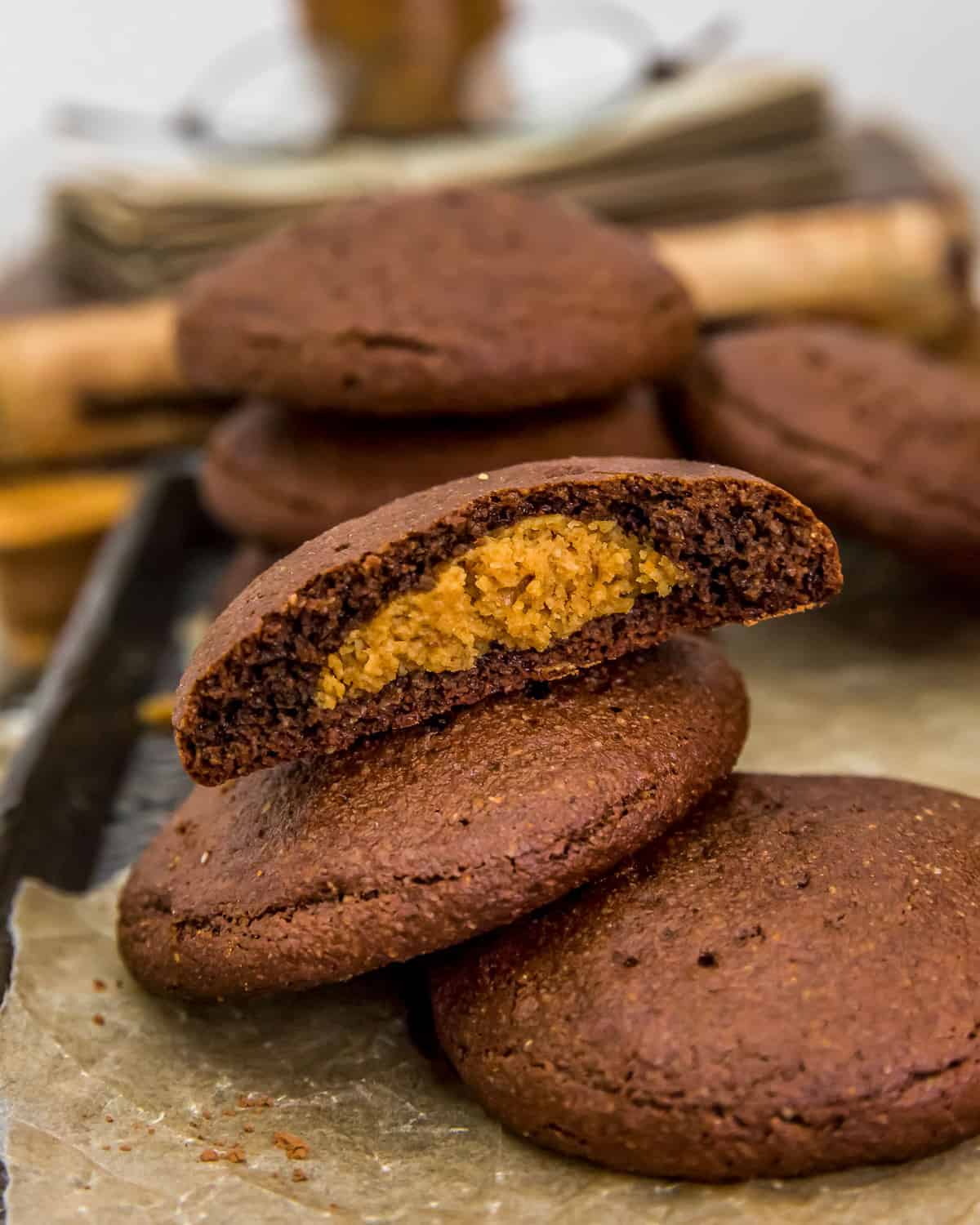 Chocolate and peanut butter, it doesn't get much better! These deliciously chewy Chocolate Peanut Butter Stuffed Cookies are pure cookie heaven!  Fudgy chocolate cookies with a delicious peanut butter cookie stuffed inside is a double cookie treat!  Soft, dense, chewy is what cookie deliciousness is all about. Grab a glass of plant milk, these incredible cookies are totally dunkable!  Perfect for any holiday, bake sales, or any day of the week.  Guaranteed to get rave reviews!