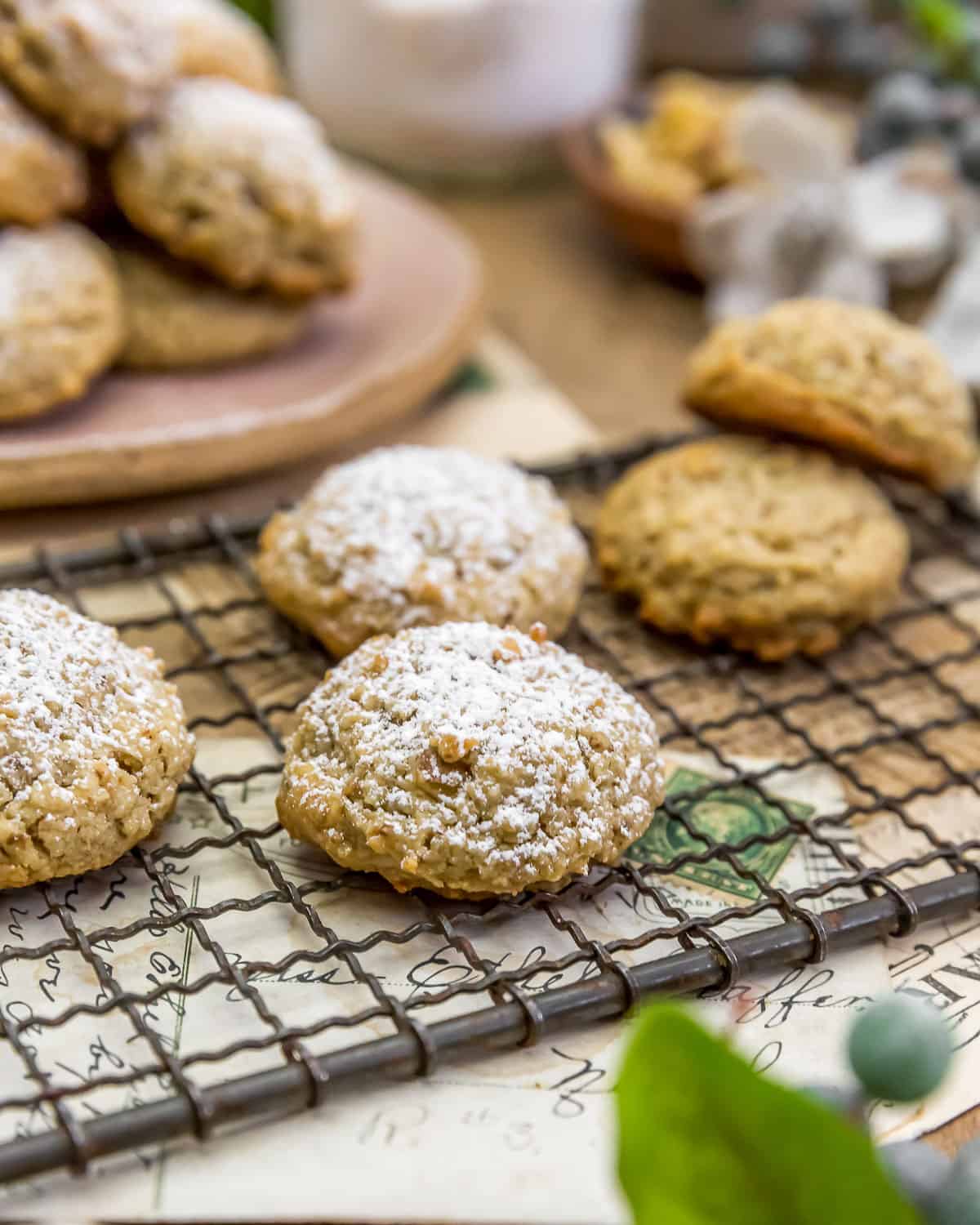 Healthy Vegan Russian Tea Cakes (Snowball Cookies)! Coffee or tea; this sweet little treat is the perfect accompaniment.
Melt-in-your-mouth deliciousness, these Healthy Vegan Russian Tea Cakes (Snowball Cookies) are a fun nod to the classic version and just as easy to make. They are filled with either walnuts or pecans.  A must-make cookie for the holidays or for an every day treat!
Whole Food Plant Based, Vegan, plant based, oil free, refined sugar free, no highly processed ingredients and gluten free.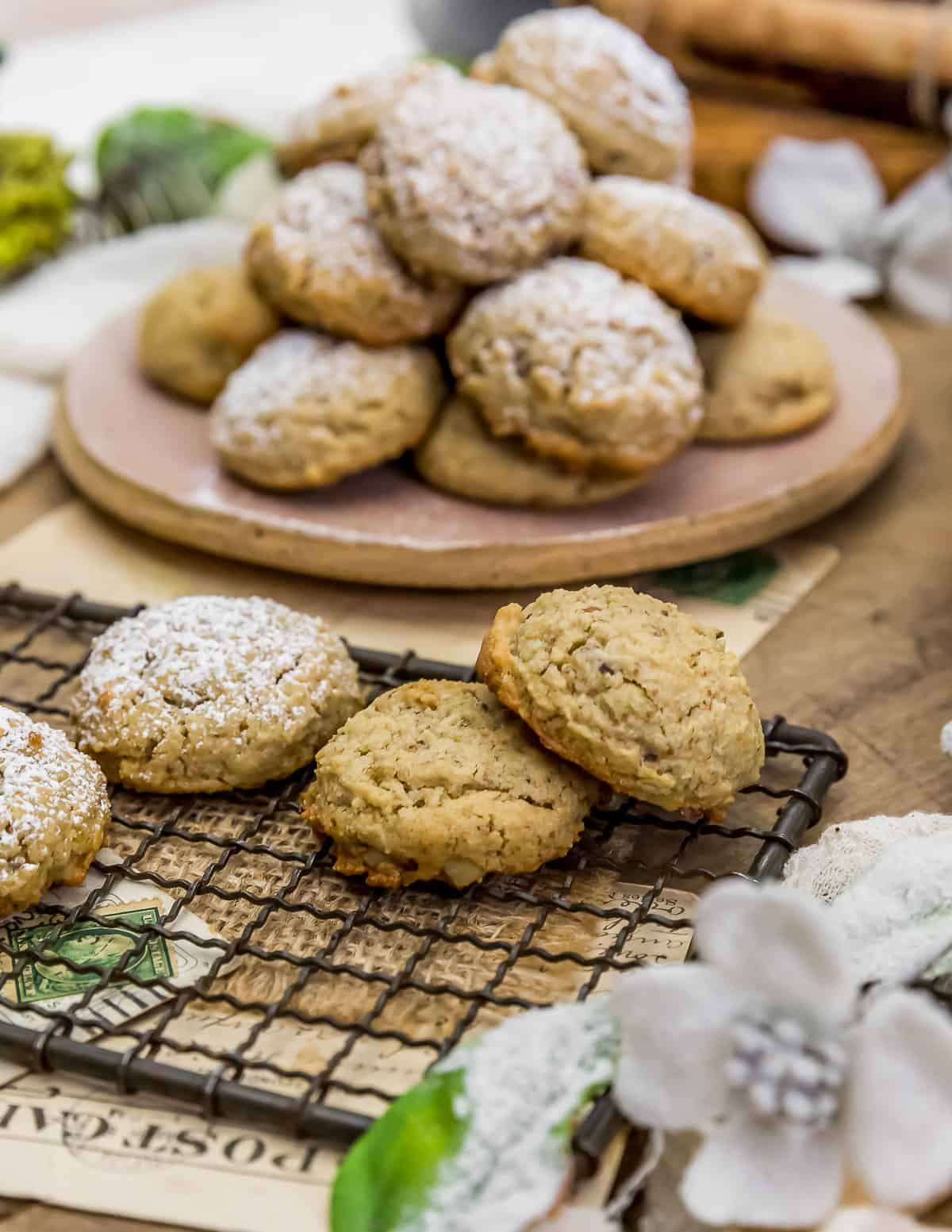 Hi there, Ameera here!
Mom and I have been playing around for years trying to figure out how to convert Russian Tea Cakes aka Snowball Cookies into a Whole Food Plant Based recipe.  This one came about by accident, but it was a happy accident.  With a sprinkle of Whole Food Plant Based Powdered Sugar and we were off to the races!
You gotta give this one a try!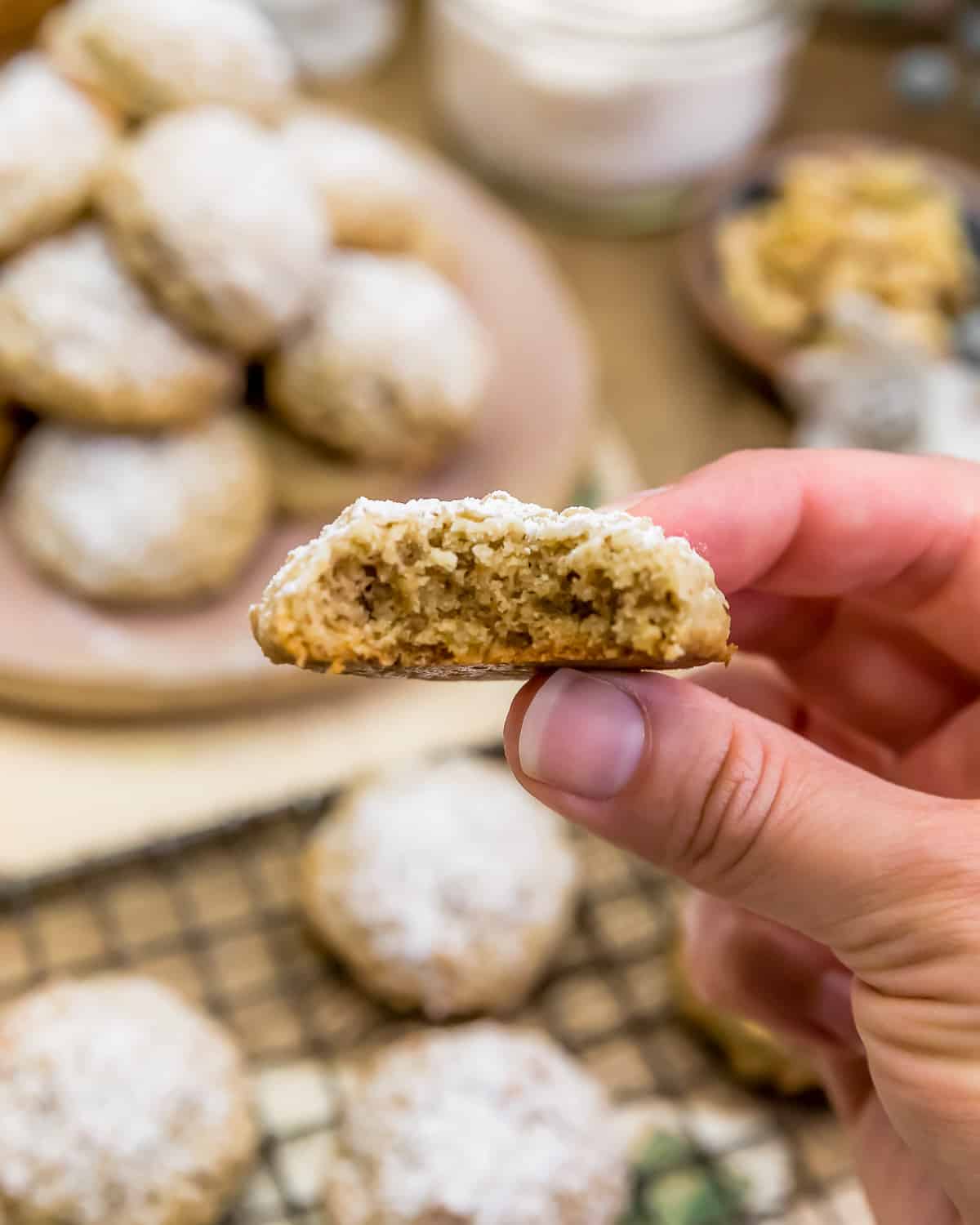 Tips for Success:
Flavor Profile: These cookies are the Whole Food Plant Based nod to Russian Teacakes.  Russian Tea Cakes (Snowball Cookies) are traditionally made with lots of butter and powdered sugar; they are a dry cookie that works perfectly with tea and coffee. These WFPB cookies are light and tasty with nut delicious flavor.
Walnuts or Pecans: Both walnuts and pecans work great with this recipe. Pick your favorite.  We loved both versions.  Dad really liked the pecan version while Mom loved the walnut version.
Shape of the Cookies: Traditional Russian Tea Cakes (Snowball Cookies) are typically round.  These cookies are gumdrop shaped.  If you hand roll them, they are more like a traditional slightly mounded cookie disk, see the blog photos for reference.
Amount of Nuts Used in this Recipe: This recipe uses 2 cups of nuts (walnuts or pecans).  One cup is very finely chopped, almost minced.  It resembles dry quinoa.  Do not overprocess the nuts to the point where you could end up with walnut butter or pecan butter.
Measurement of Nuts: The measurement of the nuts is before chopping and mincing.  We do not have the cup measurements for the processed nuts after they have been chopped/minced.
No WFPB Powdered Sugar Option: These cookies taste equally delicious without the WFPB Powdered Sugar.
Cookie Formation and Size: These cookies are intended to be drop cookies, but they can also be rolled.  If you look at the blog post photos, you will note that the rolled cookies have a smooth texture.  We actually preferred the drop cookies using a small cookie scoop since they looked prettier with the WFPB Powdered Sugar sprinkled on top.
Almond Flour: Very slightly pack the almond flour.
Almond Flour Substitutions: This recipe was specifically designed to use almond flour. We have no substitutions to offer.
Batter: The batter is sticky; however, it will easily drop off the cookie scoop.  You can check the batter after adding the nuts, then see how easily it falls off the cookie scoop in a perfect gumdrop shape.  It is sticks too much that you cannot easily form a gumdrop shape, then add a tablespoon (or more) almond flour and stir well.
Pretty Cookies: If you use a cookie scoop or drop them by the tablespoon, take a few extra moments to bring in any stray edges to create a rounded cookie before baking.  If prettiness is not an end game for you, then this extra step is not necessary.
Cashew Butter Substitutions: The cashew butter can be substituted for other nut or seed butters with the understanding that the flavor and texture will be influenced accordingly.  We have not tested any substitutions.  Almond butter would be a good substitution but it will influence the flavor.
Nut Substitutions: This recipe can use either pecans or walnuts. We often get questions about substitutions for nuts. This recipe is all about the nuts. There are no practical substitutions.
Cookie Baking Timing: In order to get that perfect Russian Tea Cake (Snowball Cookies) sort of dry texture, you want the bottoms of the cookie nicely browned and the edges golden brown.
Silicone Pads versus Parchment Paper: We used silicone pads on our baking sheets.  If using parchment paper, start to watch the cookies around the 9-minute mark.  If you need to sacrifice a cookie to see the bottom of one cookie, don't hesitate to do so. They are done when the bottoms are golden brown, the edges of the cookie are golden brown, and the cookie is set.
Whole Food Plant Based Powdered Sugar: We created a Whole Food Plant Based Powdered Sugar in January 2018.  It is attached to our Rustic Carrot Cake recipe.  We figured since we are using this recipe here and there that it finally deserved its own blog post.  We used a tea strainer to sprinkle on the powdered sugar.
Traveling and/or Holiday Tables:  If you plan to impress guests, then wait to sprinkle the powdered sugar right before serving.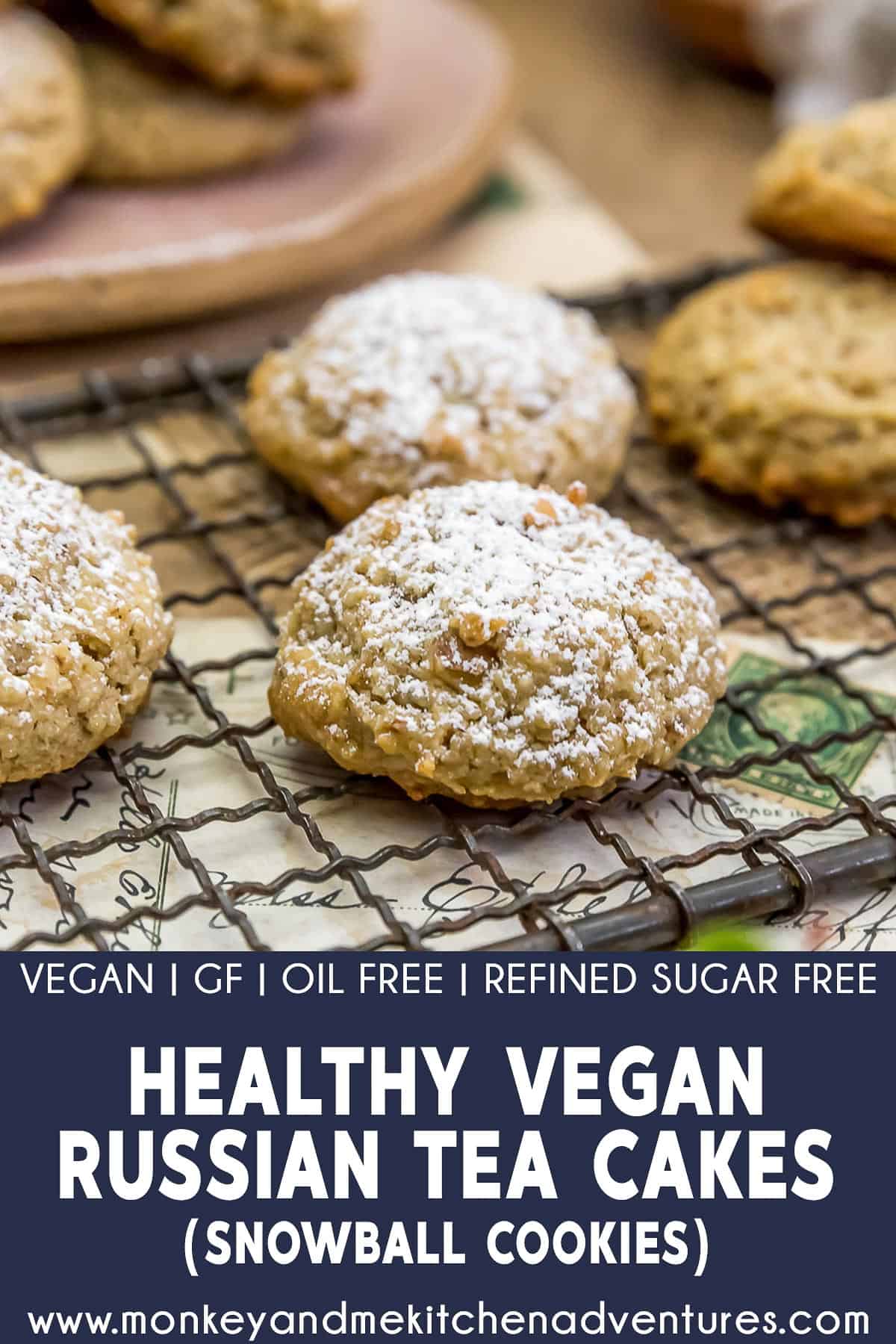 Leftovers and Freezing:
Leftovers will generally keep 4 to 5 days in a tightly covered container at room temperature.
These cookies freeze well.  Do not sprinkle the powdered sugar if freezing.  Sprinkle after they have been frozen and thawed out.
Pantry Products:
Cashew Butter: We used Artisana Organic Raw Vegan Cashew Butter.  Feel free to use your favorite raw cashew butter in this recipe.  Read the label, make sure the only ingredient is raw cashews.  Do not use a salted or sweetened cashew butter.
Sea Salt: Please adjust the sea salt based upon your family's sea salt preferences and/or based upon dietary needs.
Kitchen Equipment:
Food Processor
Large Baking Sheet
Parchment paper or Silicone Baking Sheet
Small cookie scoop (optional)
If you try this healthy sweet treat, we would love to know if you enjoy it as much as we do! Please leave us a review! Post a picture on Facebook or Instagram and tag us! We would love to hear from you.
Print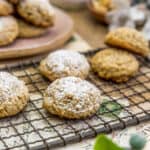 Healthy Vegan Russian Tea Cakes (Snowball Cookies)
Author:

Prep Time:

15 Minutes

Cook Time:

10-11 Minutes

Total Time:

25 Minutes (+Rest Time)

Yield:

35

to

36

cookies

1

x

Category:

Dessert

Method:

Oven

Cuisine:

Russian Inspired

Diet:

Vegan
---
Description
Melt-in-your-mouth deliciousness, these Healthy Vegan Russian Tea Cakes (Snowball Cookies) are a fun nod to the classic version and just as easy to make.
---
Dry Ingredients:
1 cup

walnuts (or pecans), chopped *

1 cup

walnuts (or pecans), minced *

1 ¼ cups

almond flour, lightly packed *

½ teaspoon

baking soda

½ teaspoon

baking powder

¼

+

1/8 teaspoon

sea salt *
Wet Ingredients:
1/3 cup

pure maple syrup

½ cup

[raw] cashew butter *

1 teaspoon

vanilla

1 teaspoon

lemon juice 
Optional Ingredients:
---
Instructions
Preheat the oven to 375 F. Place the oven rack in the upper-center
Line a large baking sheet with silicone baking pads (or parchment paper). Set aside.
Place 1 cup walnuts (or pecans) into the food processor, and pulse off and on (about 30 seconds) to finely chop/mince the walnuts (or pecans), then place the minced walnuts (or pecans) into a large bowl.
Add all the remaining Dry Ingredients into the large bowl with the finely chopped (minced) walnuts (or pecans), whisk until well combined.
Then add all the Wet Ingredients to the dry ingredients, stir until everything is mixed well. Then stir in the chopped walnuts (or pecans); mix well to evenly distribute. The batter is thick and sticky (see notes).
Scoop up the cookie dough into a small cookie scoop (or high rounded tablespoon) and drop onto the baking sheet. Continue until all the dough has been scooped and dropped onto the large baking sheet. Space about 1 ½ inches apart, they do not spread much.
Place in a preheated oven and bake at 375 F for 10 to 11 minutes or until the edges are golden brown and the cookie is set.
Remove from the oven, allow to cool for 2 minutes on the cookie sheet, then transfer to a cooling rack.
When completely cooled, sprinkle with Whole Food Plant Based Powdered Sugar.
---
Notes
*Please reference the blog post for Tips for Success, Pantry Items Used, Storage and Freezing, and Kitchen Products Used.
*Sea Salt:  Please adjust the sea salt based upon your family's sea salt preferences and/or based upon dietary needs.
*Serving: Makes 35 to 36 cookies

This post contains affiliate links, and we may receive a very small commission if you purchase through those links at no additional cost to you. Thank you for supporting Monkey and Me Kitchen Adventures! For more information, see our disclosures here.