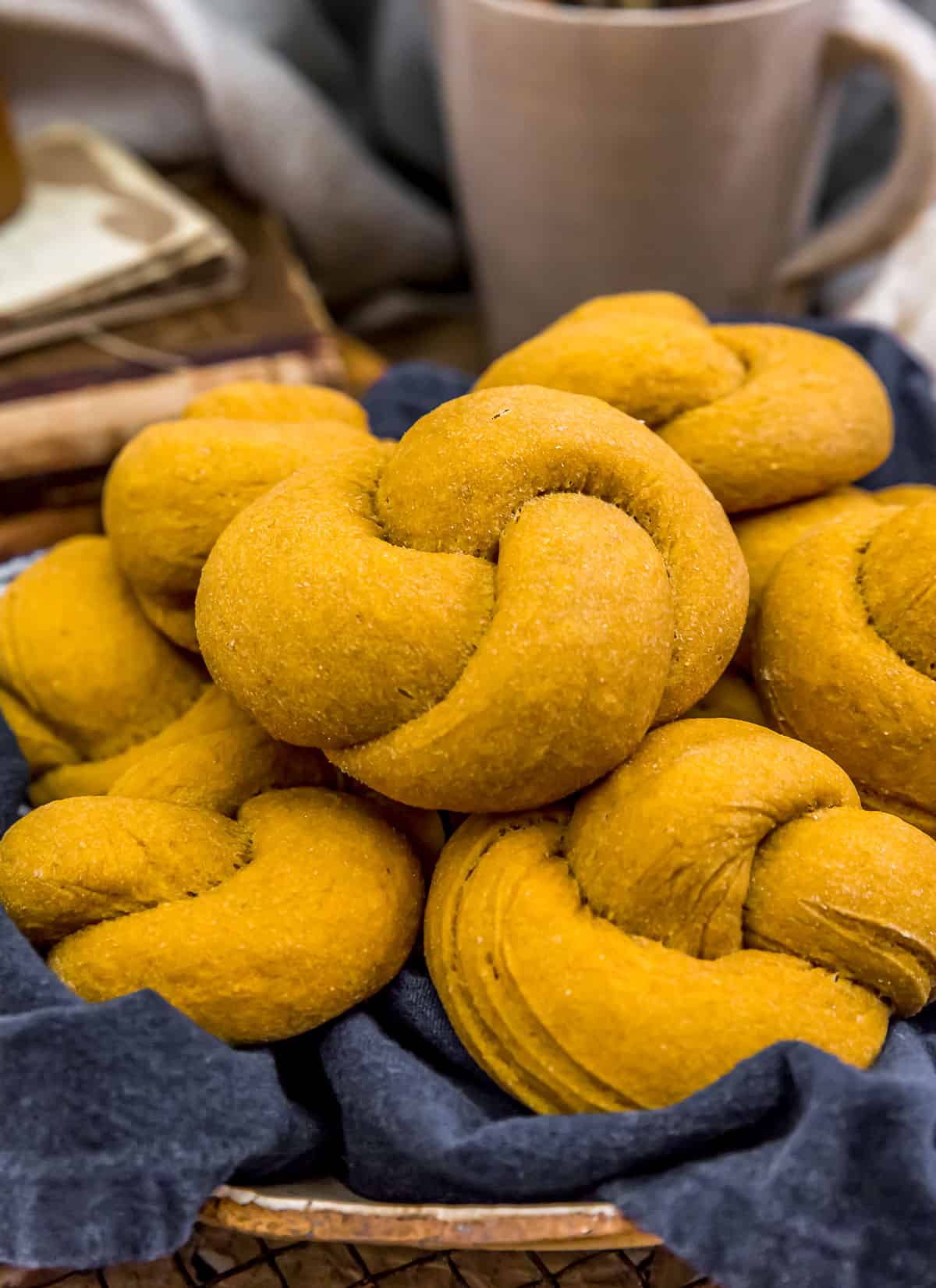 Whole Grain Pumpkin Knot Rolls! Pumpkin season is here, and we are celebrating with these tender and festive rolls.
Golden, mild-flavored, and fall inspired, these homemade Whole Grain Pumpkin Knot Rolls are the perfect addition to your holiday feast. Full of healthy and wholesome ingredients, they are guaranteed to wow your family and dinner guests.
Whole Food Plant Based, Vegan, plant based, oil free, refined sugar free, and no highly processed ingredients.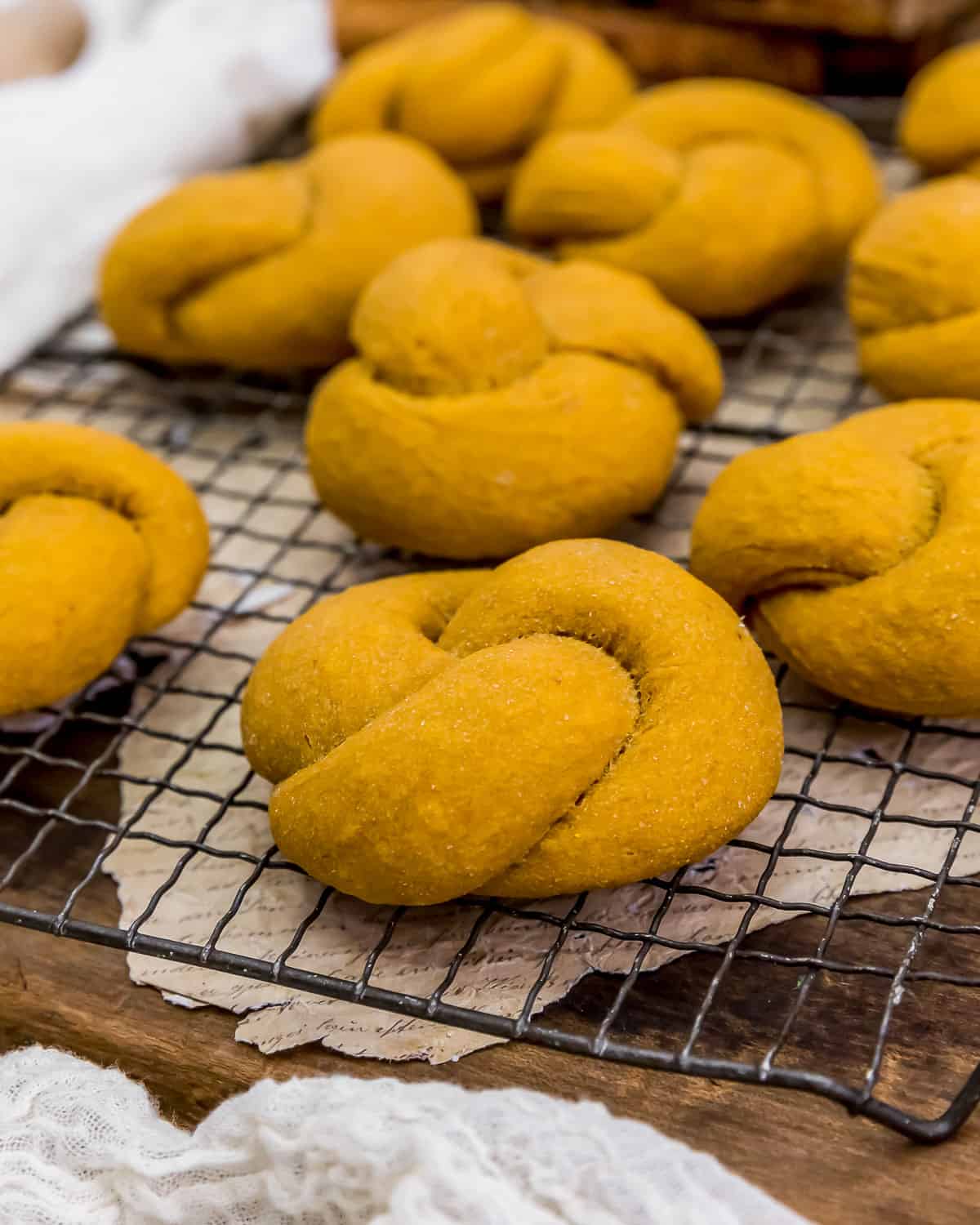 Hi there, Ameera here!
As you know I am an avid baker, I love experimenting will all kinds of baked goods. These pumpkin knot rolls are yeasty, flavorful, and perfect for special occasions or every day dinners.
You gotta give this one a try!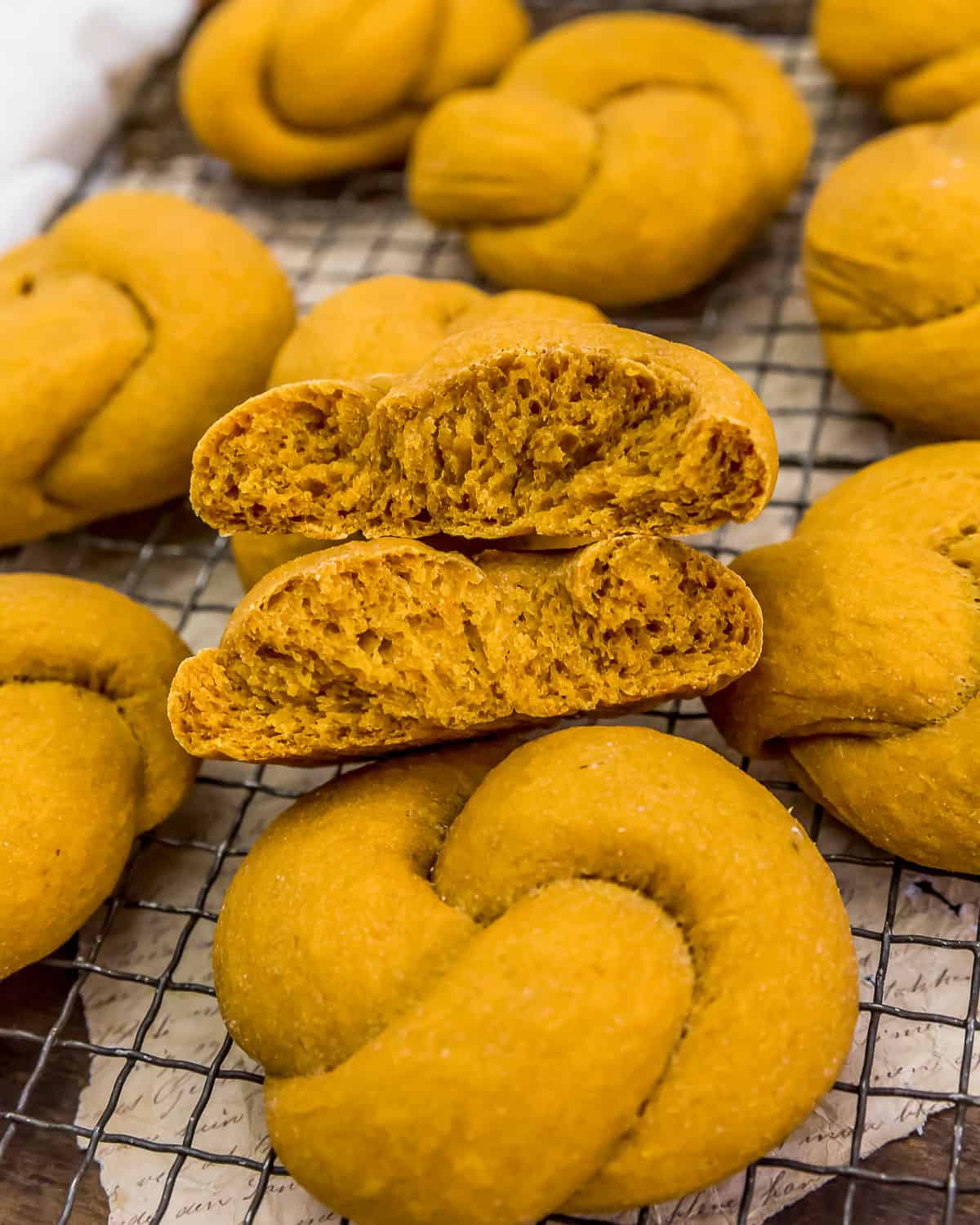 Tips for Success:
Flavor Profile: These whole grain knot rolls are on the lighter side (for a whole wheat bread item) and delicious. The pumpkin is very mild to barely there. While 1/3 cup of dry sugar (maple sugar or dry sugar of choice) may give the impression of sweetness, the whole wheat flour is flavor forward and the sweetness is barely there.  These knot rolls make excellent dinner rolls and are impressive for guests.
Patience: Making homemade bread, rolls, etc. takes patience simply because there are waiting periods for the bread to rise, then proof. These dinner rolls have a minimum 60-minute rise, then a 60-minute proof, then bake in the oven for approximately 17 minutes.  From start to finish, this recipe is approximately 3 hours in time, 120 minutes are inactive (rising/proofing).
Making Homemade Bread: Don't be intimidated by the thought of making your own bread or bakery items. It can be very rewarding and a lot of fun.
Whole Wheat Pastry Flour: Whole Wheat Pastry Flour is a whole grain flour. It is made from 100% stone ground soft spring wheat It is Whole Food Plant Based as it is made from 100% soft spring wheat berries. It has a lighter texture. We used Bob's Red Mill Whole Wheat Pastry Flour.
Whole Wheat Flour: You can also use whole wheat flour in this recipe. The end product is a slightly denser texture and has a more pronounced wheat flavor.
Measuring Flour: Spoon the flour into the measuring cup and level off. Do not pack it in and do not scoop it in. You will end up with a much denser and dry knot roll.  If you have a food scale, use the food scale for precise amounts, but don't sweat it if you don't.
Warm Water: Don't worry if you do not have a thermometer to measure the water temperature. We don't use one. Just ensure the water is warm and not hot. It doesn't matter too much because we don't bloom the yeast. Blooming the yeast is adding the yeast, sugar, and water in a small bowl and allowing it "wake up".
Dough: This dough is soft and moister than a typical bread dough. Initially, it will stick to your hands quite a bit when you initially start to knead it. Keep at it, whole wheat flour is very thirsty, and it will start to absorb the moisture from the water and pumpkin. You may need to wash your hands several times before you get it really going to knead. If you find that it simply will not come together then add a Tablespoon of whole wheat pastry flour at a time until the dough can be kneaded without sticking to your hands. Try not to use too much extra flour than the recipe amount as the end result will become denser and heavier.
Kneading Dough: You can use a stand mixer or mix the dough by hand. We have a stand mixer, but really enjoy kneading the dough by hand. While it is tempting to keep adding flour until it is no longer sticky, resist the temptation. The amount of flour to dough ratio can vary by seasons. In the summer, when the humidity is high, you may need slightly more flour or less water.
Dough Knots: If you need some additional information about how to make a dough knot. There are several YouTube tutorials. Trying Bread Knots (starting at 4:29 time mark) and King Arthur Baking.  We used the first method, just be careful not to use too much flour. He uses a lot of flour in his video. We picked up a little flour in our hands and very lightly stroked the dough rope so it wouldn't stick when trying to tie the knot. Feel free to do knots, twists, fun shapes or simply leave it as a round roll.
Yeast: Use Active Dry Yeast.  We have not tested this recipe using Quick-Rise Instant Yeast.
Sea Salt: Our family was divided over the amount of sea salt. We ultimately landed on 1 ½ teaspoons of sea salt for this recipe. Feel free to use more or less if you wish. If you use regular table salt, then use less as sea salt is not as fine as table salt.
Maple Sugar: The maple sugar is not the same as maple syrup. Maple sugar is simply dehydrated maple syrup. It is a dry sugar. You cannot replace the maple sugar with maple syrup. One is wet and the other is dry. You can, however, replace the maple sugar with your preferred dry sugar with the understanding that whatever you select will influence the flavor and texture accordingly. For example, you can swap out the maple sugar with date sugar or coconut sugar and have a similar culinary experience. But you cannot swap out the maple sugar with xylitol in equal amounts.
Canned Pumpkin: Use canned pumpkin (100% pumpkin), not canned pumpkin pie filling. Be sure to read the label.  Check out our website in the 'Search' feature to locate other pumpkin recipes to use up any extra pumpkin.
Parchment Paper: Lightly flouring the parchment paper prevents the dough from sticking. Simply place a 1/8 teaspoon of whole wheat pastry flour onto the parchment paper, then run the palm of your hand or fingers all over the parchment paper to ensure that the entire paper is very lightly coated.
Spray of Water: Using a spray bottle with a "mister" setting allows a fine mist on the surface of the dough during resting to prevent a "crust" from forming on the dough since we do not use oil. It is also used right before baking to introduce some steam. If you don't have a spray bottle, you can wet your fingers and lightly stroke the surface of the dough.  We bought this spray bottle from Amazon. It works perfectly. Feel free to use your favorite spray bottle or use your fingers.
Leftovers: Because these rolls have no additives or preservatives, if you want them to last longer place it in the refrigerator or freeze.  They freeze really well.
Bread Machine: This recipe has not been tested in a bread machine.
Not Gluten Free: This recipe is not gluten free.  We do not have a gluten free alternative for this recipe.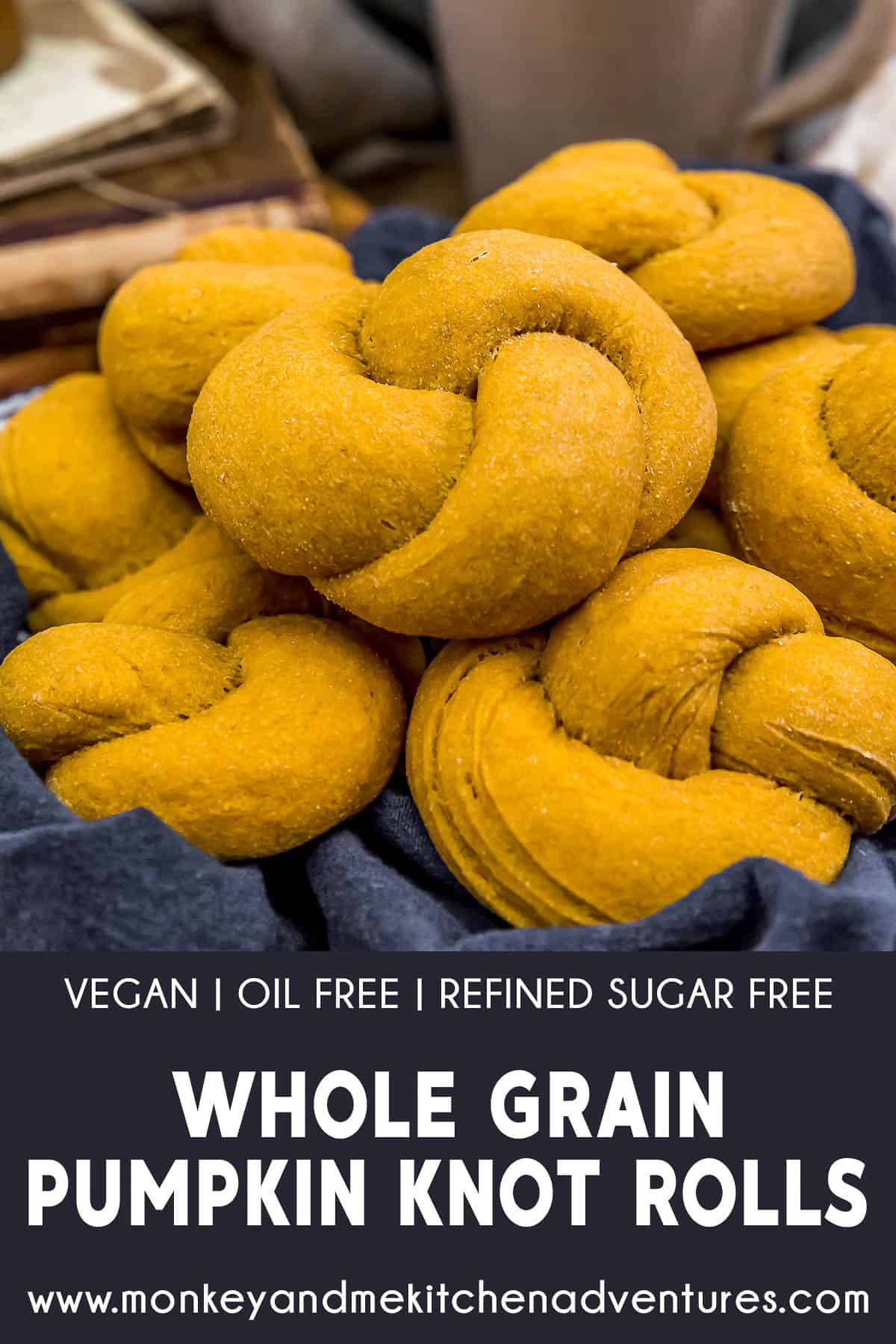 Leftovers and Freezing:
Leftovers will generally keep 5 days in the refrigerator.  Store in a covered container.
These pumpkin knot rolls freeze well.
Pantry Products:
Whole Wheat Pasty Flour: We used Bob's Red Mill Whole Wheat Pastry Flour.
Yeast: We used Red Star Active Dry Yeast.  Feel free to use your favorite active dry yeast.
Pumpkin: We used Libby's 100% Pure Pumpkin (canned). Please feel free to use your favorite canned pumpkin.
Kitchen Products:
Large baking sheet
Parchment paper
Water spray bottle (optional)
If you try these tender rolls, we would love to know if you enjoy them as much as we do! Please leave us a review! Post a picture on Facebook or Instagram and tag us! We would love to hear from you.
Print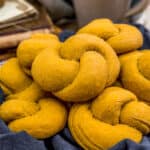 Whole Grain Pumpkin Knot Rolls
Author:

Prep Time:

15 Minutes (+2hr Rest Time)

Cook Time:

16-17 Minutes

Total Time:

31 Minutes (+2hr Rest Time)

Yield:

12

Knot Rolls

1

x

Category:

Side

Method:

Oven

Diet:

Vegan
---
Description
Golden, mild-flavored, and fall inspired, these homemade Whole Grain Pumpkin Knot Rolls are the perfect addition to your holiday feast.
---
4 ¼ cups

+ 1 Tablespoon whole wheat pastry flour (

17.2 oz

.) *

1 Tablespoon

active dry yeast *

1/3 cup

maple sugar (or preferred dry sugar) *

½

to

1 ½

teaspoons sea salt (+/-) *

1 cup

canned pumpkin *

1 ¼ cups

warm water (

120

to 130F degrees) *
---
Instructions
Place the flours, dry yeast, maple sugar, and sea salt into a large mixing bowl. Whisk to combine.
Add the pumpkin and 1 ¼ cups warm water, mix well with your hands until the dough starts to come together. While the dough is still in the bowl, start kneading the dough inside the mixing bowl to form a ball. At first the dough will seem too wet and sticky, but keep kneading, the flour will start to absorb the water, the stickiness will start lessening, and the dough will become easier to knead. This dough is slightly wetter than a typical dough. Knead the dough inside the bowl for 3 to 4 minutes, then transfer the dough to a lightly floured surface and continue to knead the dough for another 6 to 7 minutes. The dough should be smooth and elastic. This dough is soft, but easy to knead. Form a dough ball.
Wash the bowl where the dough was kneaded. Place the dough ball inside, spray the top with a tiny mist of water. Cover with a tea towel (or plastic wrap) and let rest in a warm place for 60 minutes or until doubled in size.
Prepare a large baking sheet by lining it with parchment paper. Place about 1/8 teaspoon of whole wheat pastry flour in the center of the parchment paper and rub the surface of the parchment paper with the flour. Set aside.
After 60 minutes or doubled in size, punch the dough down and place the dough onto a lightly floured surface, form into a thick rectangle with your hands, and divide the dough half, then each half into sixths, totaling 12 pieces. Shape the 12 pieces into individual dough balls, cover with a tea towel while working, and work with one dough ball at a time while the rest are covered.
Take a dough ball and start to shape it into a log in your hands, then place the log onto a very lightly floured surface and roll into a 12-inch rope. The dough rope should be barely covered with a minimal amount of flour. This will help with tying the rope. Tie the dough rope into a knot and then tuck the ends underneath. Place the knots on the lightly floured parchment paper covered baking sheet. Allow at least 2 inches apart for rising. Continue until all the dough has been formed into knots.
Spray mist the tops of the knots with a tiny bit of water, then cover with a tea towel and let rise for 60 minutes or doubled in size in a warm place.
Once doubled in size, spray mist the tops of the knots again with a tiny bit of water, then place into a 350 F preheated oven for 16 to 17 minutes, the oven rack should be on the lower bottom 3rd position in the oven.
Remove, allow to set for 5 minutes, then enjoy!
---
Notes
*Please reference the blog post for Tips for Success, Pantry Items Used, Storage and Freezing, and Kitchen Products Used.
*Sea Salt:  Please adjust the sea salt based upon your family's sea salt preferences and/or based upon dietary needs.
*Servings:  Makes 12 knot rolls

This post contains affiliate links, and we may receive a very small commission if you purchase through those links at no additional cost to you. Thank you for supporting Monkey and Me Kitchen Adventures! For more information, see our disclosures here.