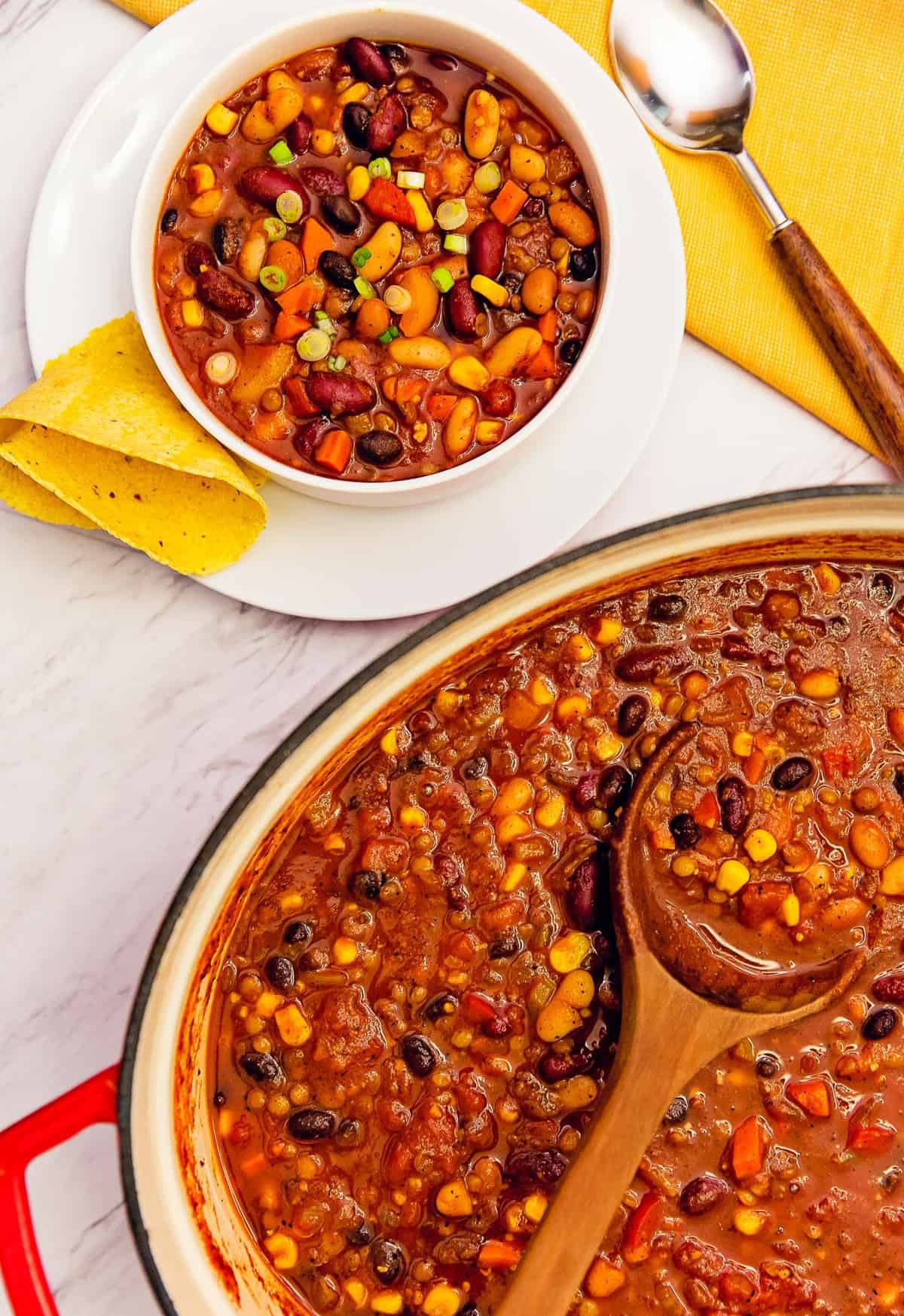 Our Five Bean Chili makes a delicious meal and is the perfect comfort food. It's warm and satisfying, spicy and hearty, made from scratch, and bursting with flavor.  A fabulous Whole Food Plant Based recipe: oil free, sugar free, and no highly processed ingredients.
Hi Everyone,  Robin here!
Monkey and I LOVE chili. I mean, who doesn't love a nice wholesome bowl of chili?  Believe it or not, TP109 was never a chili fan.  He would eat it (he eats everything), but he would always say, "I am not all that crazy about chili;" that is until now.  He has totally changed his tune; he loves our Five Bean Chili!
When it comes to chili, Monkey and I are super picky.  It is not hard to make a good bowl of chili, and it really wasn't difficult to "WFPB it." We just needed to come up with a good spice combination to compliment all the yummy beans and veggies.  And we have done exactly that!
Chili has really morphed over the years, or maybe it hasn't, and I just think it has – lol.  Maybe I think it has changed a lot simply because the internet has shown me a whole new world of different ways to prepare it and eat it.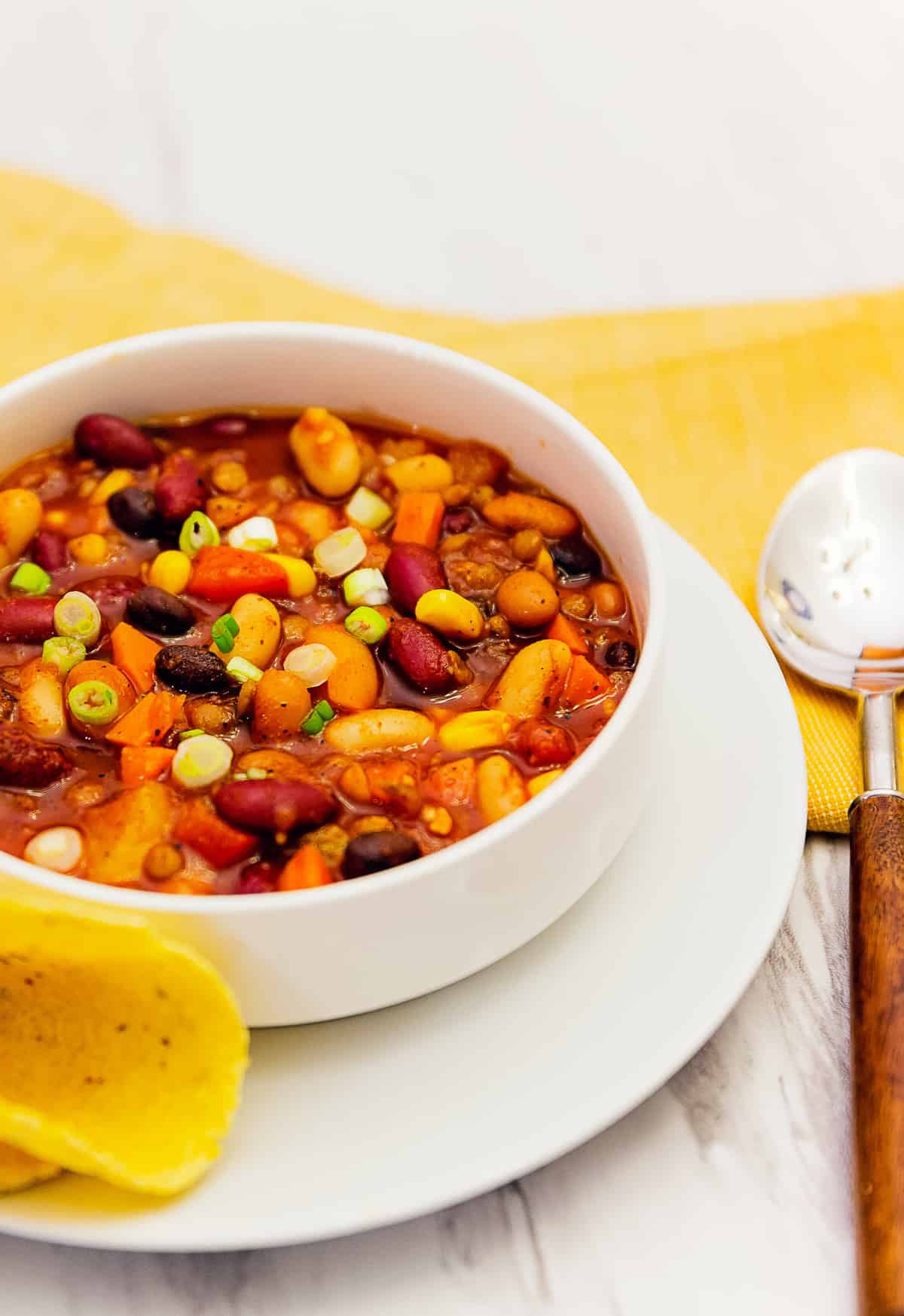 When I grew up, chili was chili.
There really wasn't anything spectacular about chili when I was growing up.  Don't get me wrong, it was great. But as a child of the 1960's and 1970's, in my family, we wouldn't have thought to add cheddar cheese, sour cream, avocadoes, etc. to our chili.  You just stuffed it with 50 million saltine crackers and you were good to go.
I remember as a kid taking a whole "rack" of saltine crackers crushing them up and constantly pushing them into my chili as I ate it.  LOL  Things have really changed in my life since that time.  I realize now how unhealthy that "chili ritual" was for me.
What makes this chili so special?
It's all the yummy hearty beans that give this chili a lot of texture.  If you have meat eaters in your family, they won't miss it at all as the beans really do a great job of replacing the meat in this recipe.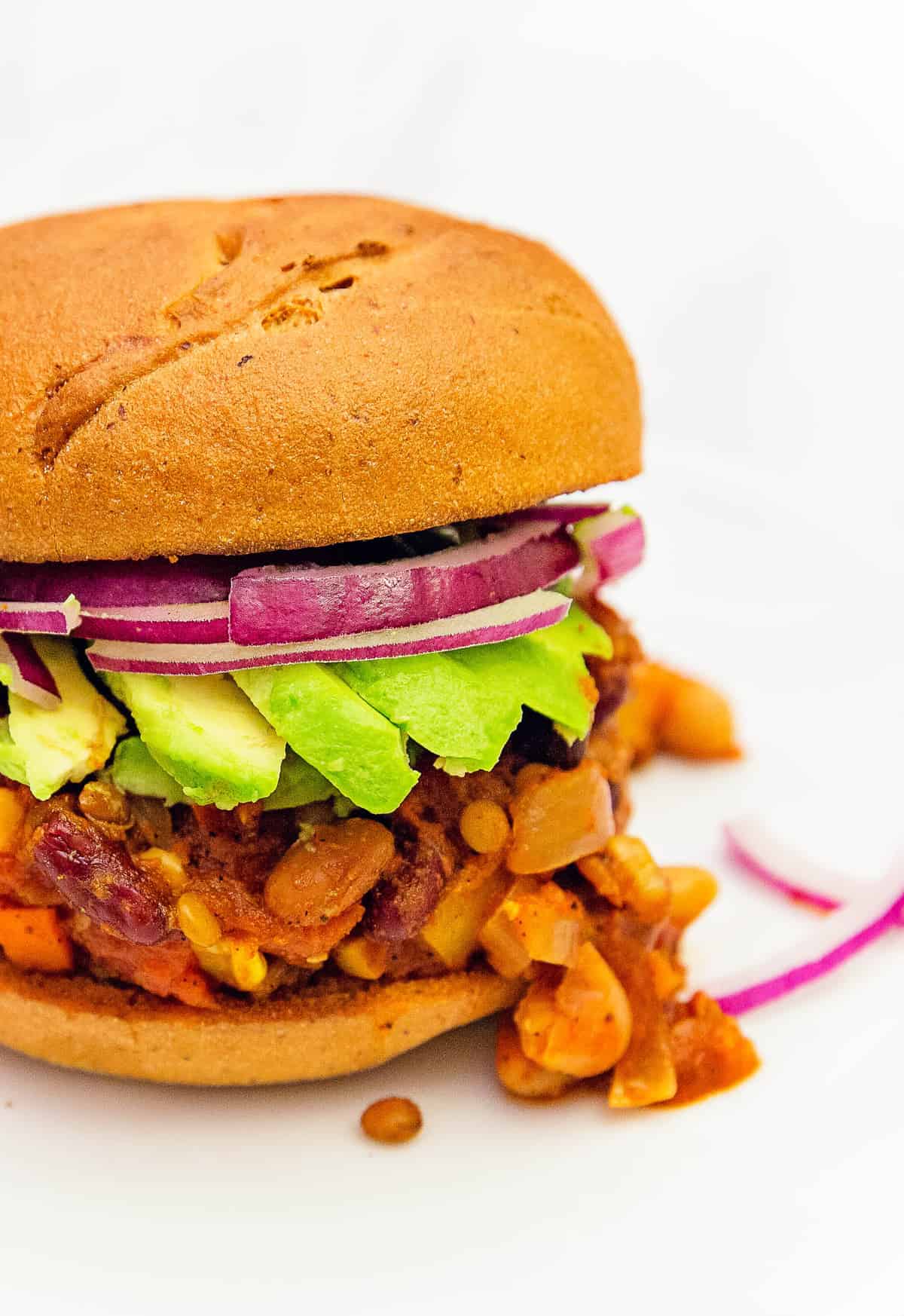 Chili is Versatile!
I think another thing about why we love chili so much is because you can transform it into a variety of other meals, and make it feel like a brand-new meal.  It is really all the "other meals" that makes TP so happy.  He loves our Chili Sloppy Joes and Chili Taco Salad.  He especially loves putting chili over a baked potato.
Let's face it, chili is super versatile if you are willing to be creative.  It is a great meal to make when you know you are going to have a busy week and need something that can line up a number of meals for the week with little to no extra effort.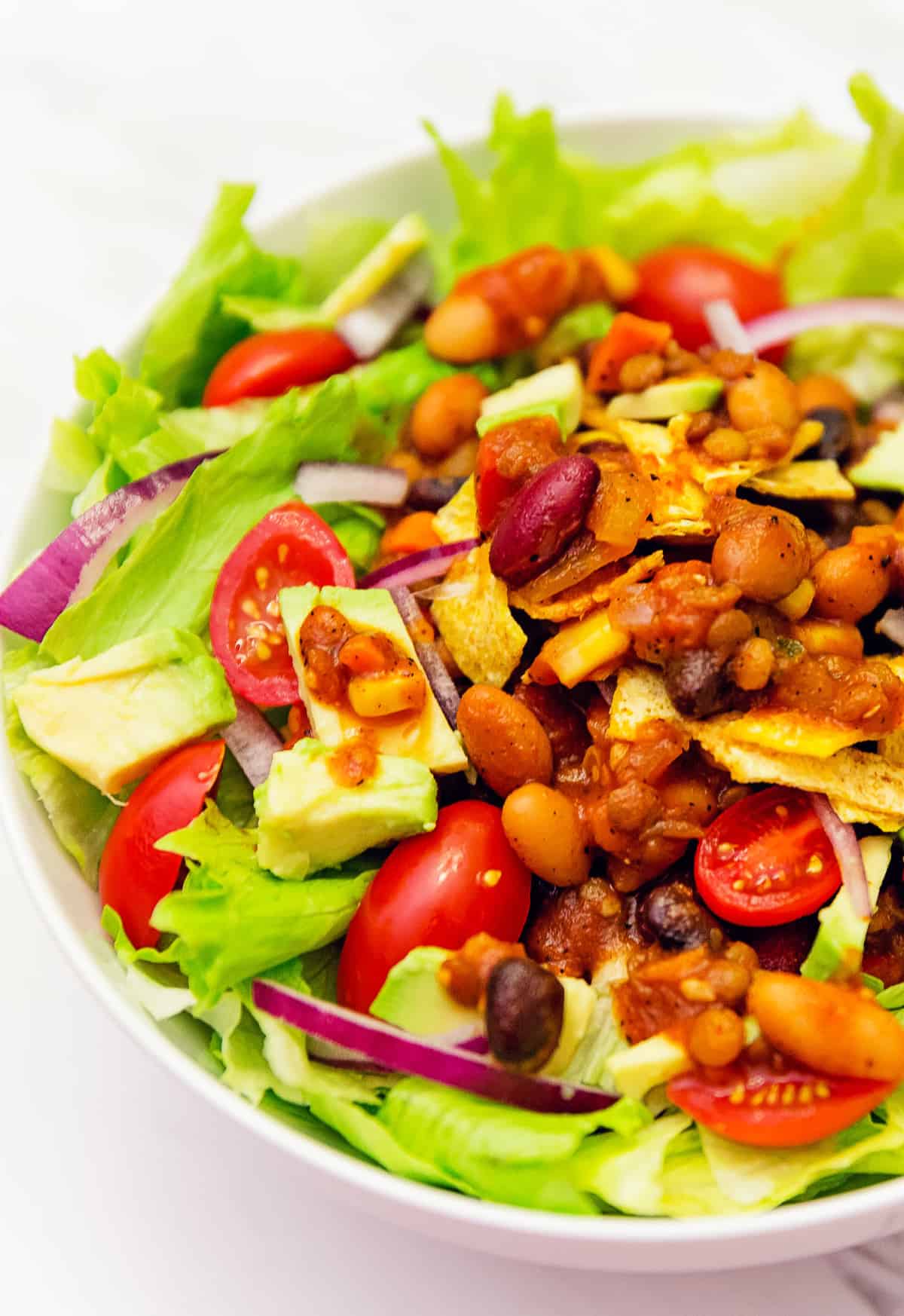 Our Favorite Versions:
TP gives rave reviews on the Chili Sloppy Joes. The key is to drain some of the Chili juice off and serve it on a toasted bun; this way they don't get soggy. Don't forget to top it with an avocado! 😉
My favorite way is making a Chili Taco Salad.  I just cut up some lettuce, tomatoes, red or green onions, put down a cup or two of hot chili, followed by some sliced avocado and I am good to go.  Add some gluten free organic baked corn tortilla strips for some extra crunch and flavor. Mmmmm, sooooo good.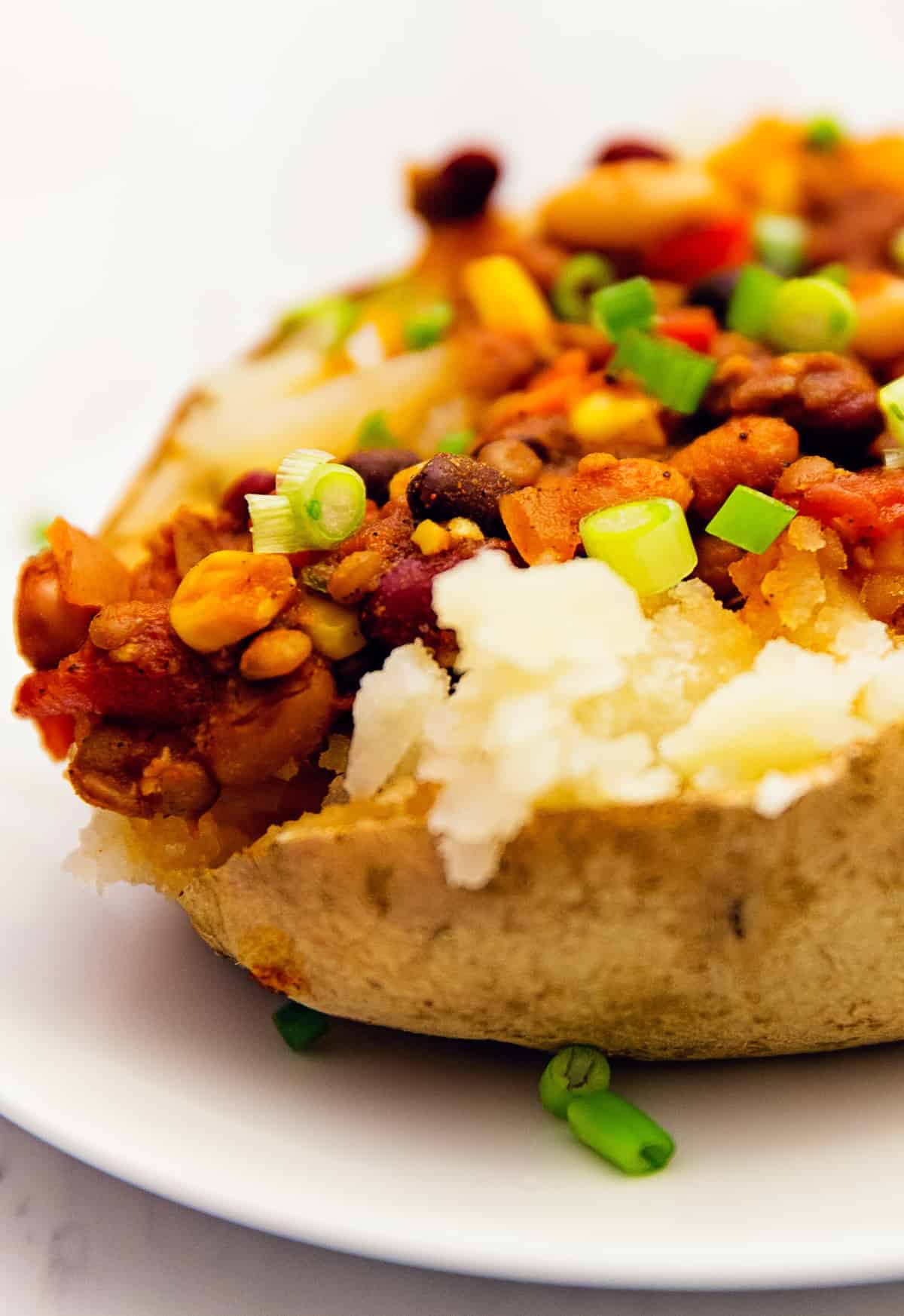 Ameera here!
I absolutely love this recipe!  It is the ultimate chili recipe, and we keep it in constant rotation in our home because of its ability to be adapted to so many other dishes.
My favorite is using it as a baked potato topper.  I love me some baked potatoes. Take a nice sized baked potato, split it open, and fill it with chili.  Sprinkle a few other healthy ingredients on top like avocado, green onions, etc. and you have a nice meal that will leave you happy and satisfied.
Entertaining with Chili
Don't forget, you can easily create a "Chili bar" by lining up an assortment of toppers.  Keep chili warm in a crock pot with an assortment of chili bases: baked potato, salad fixings, and buns.
Customize your chili dish with fun toppers: sliced avocadoes, baked tortilla chips, green onions, red onions, jalapeno peppers, tomatoes, shredded lettuce, salsa, black olives, spiced cashew cream, WFPB cornbread chunks, steamed spinach/greens, limes, etc. Plus, you can easily add non-WFPB ingredient toppers like: cheddar cheese, sour cream, saltine crackers etc. for guest who aren't WFPB.
This Five Bean Chili, along with a chili topper bar, makes for great Whole Food Plant Based entertaining.  Get creative by using a variety of whimsical bowls along with fun and festive dishes. What's not to love! 🙂

Products Used:
Ceramic/enamel lined Dutch oven or other large kitchen stock pot.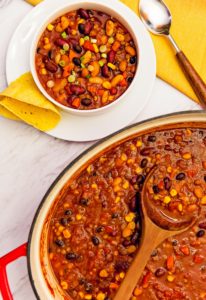 Print
Five Bean Chili
Yield 1.5 Gallons
Our Five Bean Chili makes a delicious meal and is the perfect comfort food. It's warm and satisfying, spicy and hearty, made from scratch, and bursting with flavor.  A fabulous Whole Food Plant Based recipe: oil free, sugar free, and no highly processed ingredients.
Ingredients
Ingredients:
1 large onion, finely chopped
1 ½ cups bell peppers, finely chopped (assorted yellow, green, red, orange)
1 large carrot, finely chopped
1 large celery stalk, finely chopped
2 heaping Tablespoons minced garlic
1 – 46 oz. can tomato juice
1 cup brown lentils (dry) – cooked in a pressure cooker, drained. OR 2 cups canned lentils
1 – 15.5 oz. can cannellini beans (white kidney beans) drained and rinsed
2 – 15.5 oz. cans kidney beans (drained and rinsed
1 – 15.5 oz. can black beans (drained and rinses)
1 – 15.5 oz. can pinto beans (drained and rinses)
1 – 28 oz. can whole peeled tomatoes – chopped before adding
1 cup corn (frozen or canned)
2 teaspoons sea salt (+ more to taste)
¼ teaspoon freshly cracked pepper (+ more to taste)
2 Tablespoons chili powder
2 Tablespoons smoked paprika
1 teaspoon Chipotle powder
1 teaspoon dried jalapeño peppers - crushed
½ teaspoon gluten free liquid smoke
2 Tablespoons dried minced onion
1 teaspoon onion powder
1 teaspoon garlic powder
Optional Topping/Bedding Ingredients:
Sliced Avocado
Vegan cheese
Chopped green onions
Chopped red onions
Baked potato (bedding with chili topping)
Gluten Free bun (open faced sandwich with chili topping)
Gluten Free hot sauce
Salad topper
Instructions
Pick over, rinse and drain dried brown lentils. Cook in a pressure cooker. (If not using canned lentils).  When done, quick release and drain, set aside.
Finely chop all the veggies, set aside.
In a ceramic lined Dutch oven or large pot, add the chopped onion, bell peppers, carrot and celery. Sauté until softened, approx. 7-10 minutes.  Dry sauté, no oil is necessary. If the veggies start to stick, add a little water and water sauté.  Sprinkle with a little sea salt.   This will hasten the softening process.
Add all the remaining ingredients except the toppings, turn the heat to medium high to bring to a boil, then lower to a simmer and simmer for 30 minutes.
After 30 minutes, test the flavors. Add more spices to taste.   (See notes on Spices)
Notes
*This recipe makes large pot of chili. It freezes well. 
*Soften veggies: Make sure the veggies are softened before adding all the remaining ingredients.  Sea salt will make the veggies sweat and hasten the softening process.
*Sea Salt: This makes a large pot of chili; more sea salt may be required to adequately season the chili.
*Gluten Free Beans: Please check the labels and/or check online to see if the manufacturer processes the beans in a gluten free certified facility.
*Spices: When taste testing for spices, please note that the flavors mellow after a few hours, so what initially seems very spicy will become spicy.  Spicy, but not hot. 
*Chili Powder: All chili powders are made of different blends of spices.  Some may have more cumin than others.  Find a chili powder that has the perfect blend for your family.  We love Penzeys chili powder (regular).  They have tons of varieties of chili powder. 
*Baked Potato: This chili is very yummy on top of a baked potato.
*Open Faced Chili Sandwich: Toast a gluten free sandwich bun (dark toast) and scoop heated chili over top the buns.  Top with chopped green onions (or chopped red onions) and sliced avocadoes.
*Chili Salad: Prepare a salad; add a cup of heated chili and gluten free salsa.
*Chili Nachos: Add a cup of heated chili over top of a bed of gluten free corn nachos, wfpb vegan cheese, and chopped red or green onions.
*Chili Zucchini Boats: Cut a zucchini lengthwise, scoop out the center, and microwave until tender (or bake in the oven at 350 until tender), then place heated chili over top.
*Carrot "hot dog" with chili topper: Prepare a veggie carrot "hot dog" and place in a gluten free bun, top with a scoop of heated chili and chopped onions.
*Vegan Southwestern Stuffed Peppers: Prepare vegan stuff peppers, filled with Mexican seasoned rice.  When stuffed peppers are done, serve each pepper with a scoop of heated chili on top.
Courses Soup
Cuisine American, Tex-Mex
Storage:  Cool to warm, place in glass/plastic storage and refrigerate.  Freezes well.