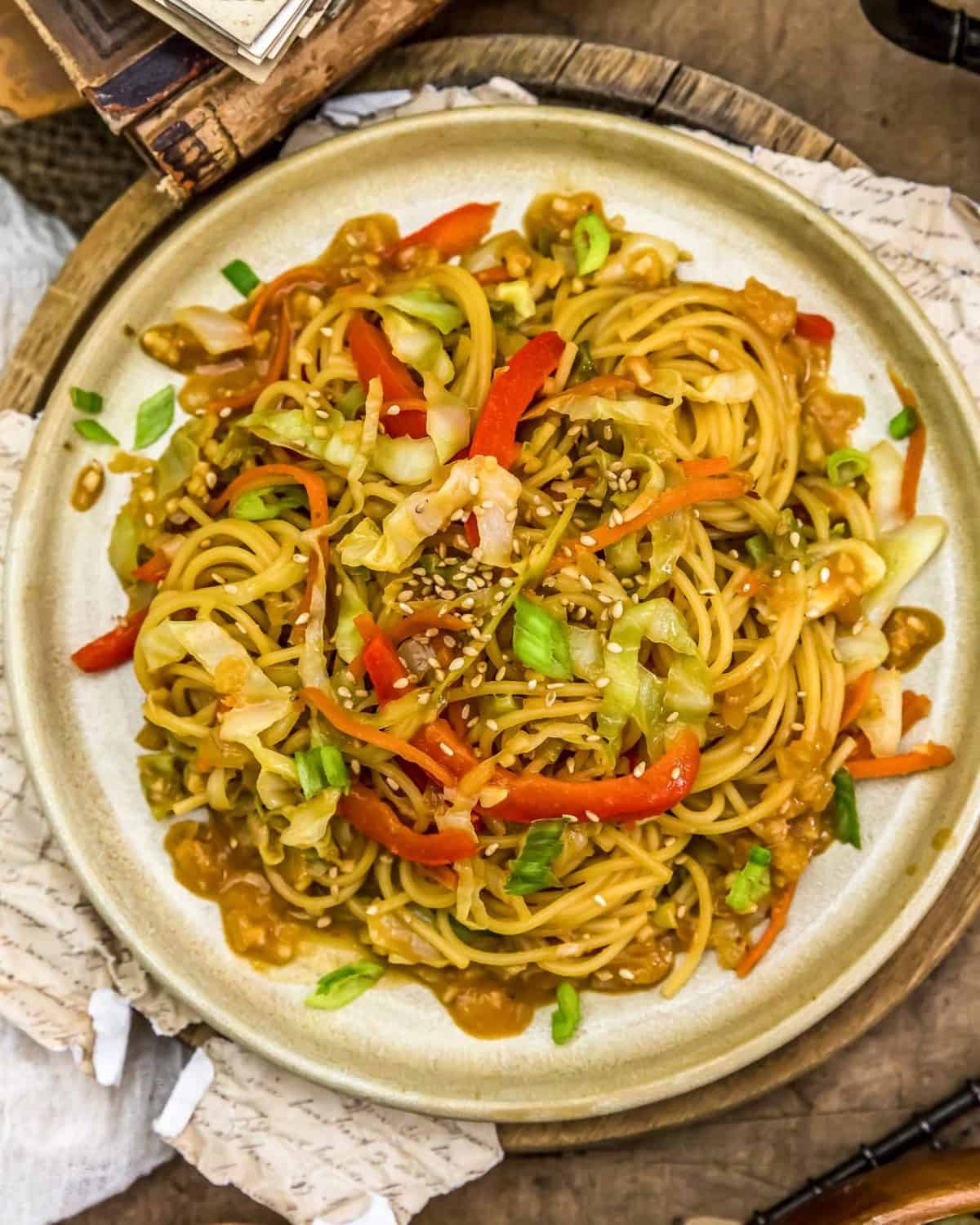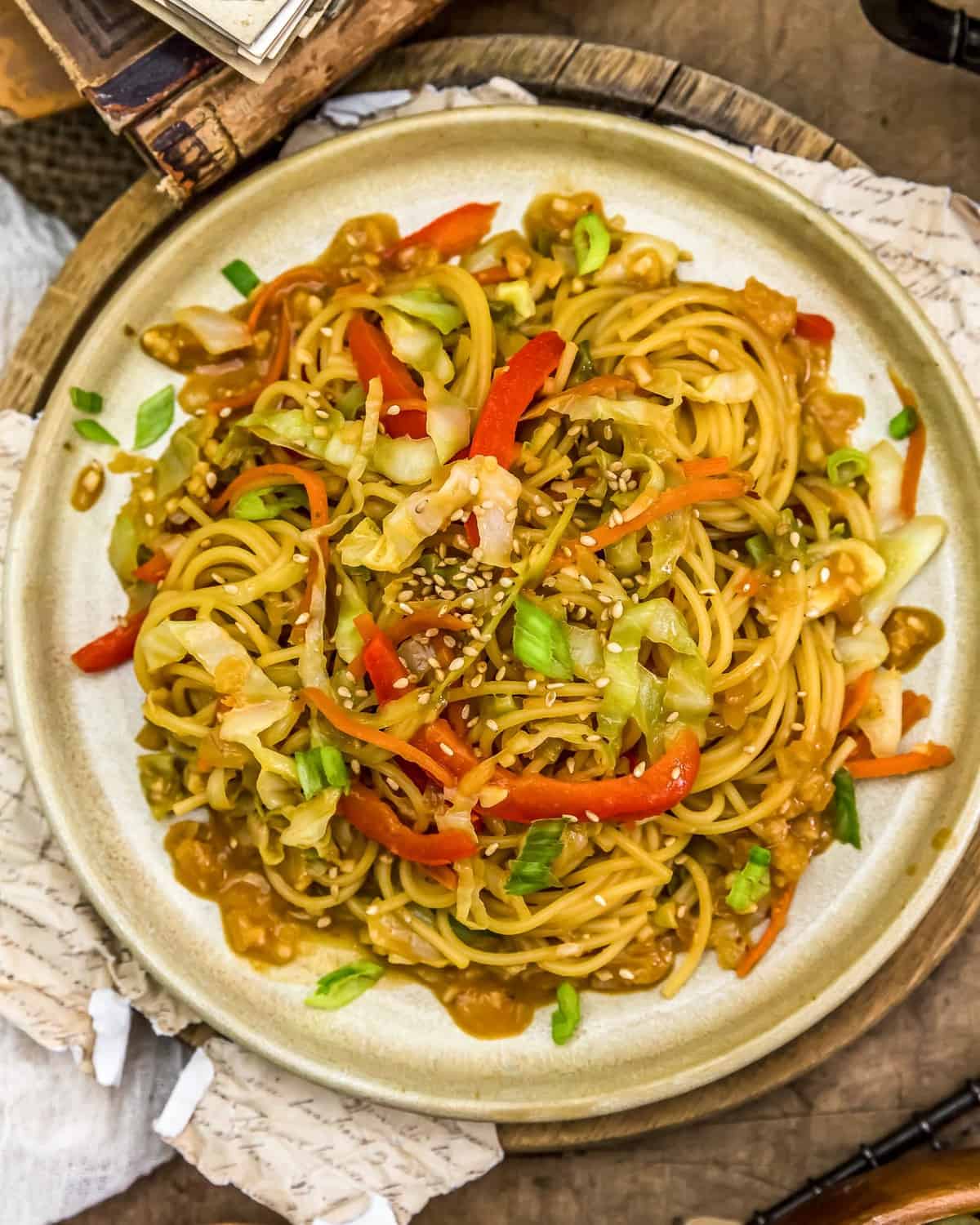 Noodles make everything better, and if you're not a cabbage fan let this delicious dish take you over to the cruciferous side of wholesome goodness. Easy, cozy, and oil-free, this healthy Asian Cabbage Noodle Stir Fry is bursting with flavor and feel-good ingredients. You won't believe how completely and utterly delectable and full of sweet and sour punches that carry this dream dish all the way to the finish line. Ready in under 30 minutes, this busy week night meal will have your family requesting this dish on repeat!
Whole Food Plant Based, vegan, plant based, oil free, refined sugar free, gluten free, and no highly processed ingredients.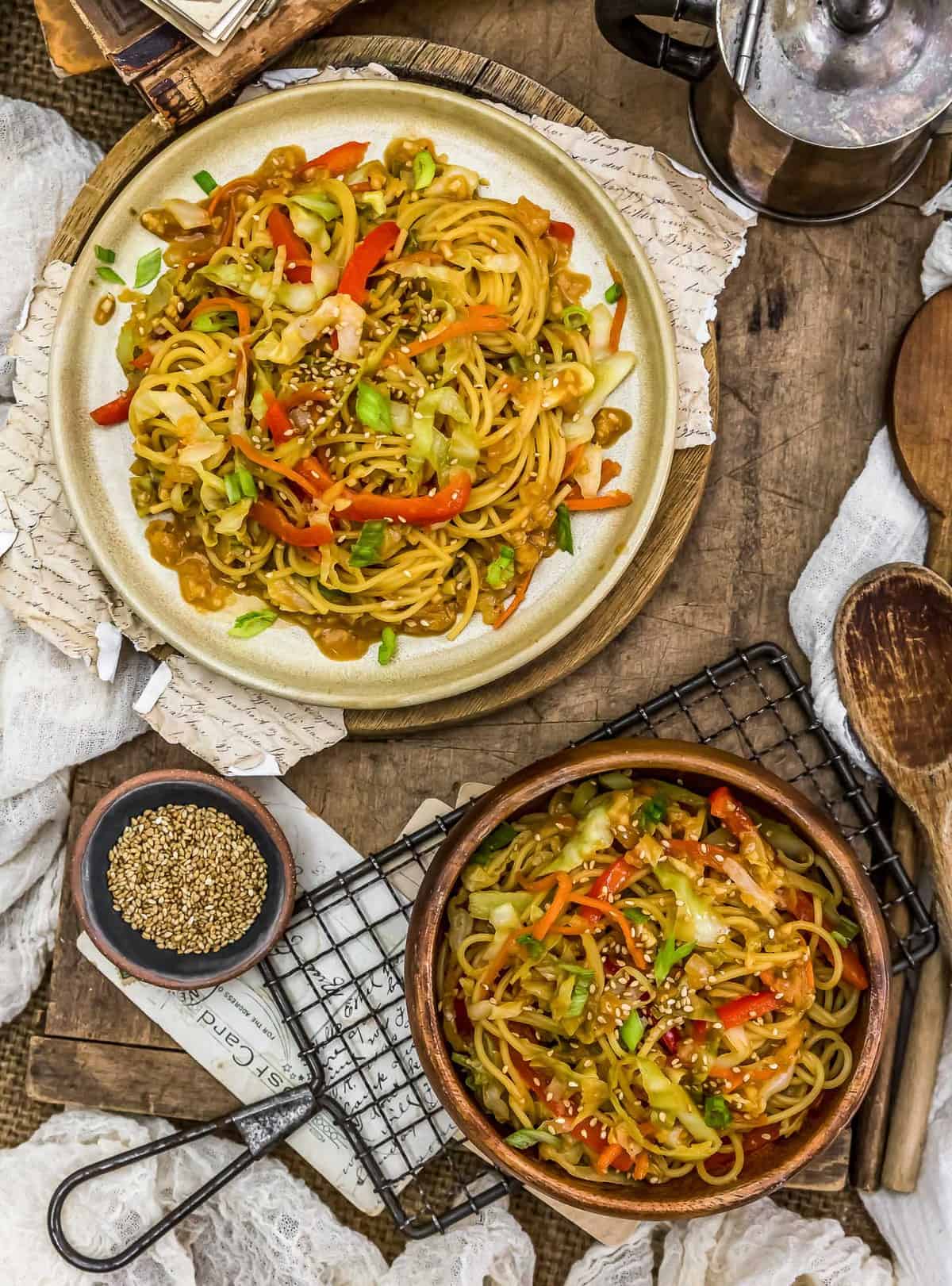 Hi there, Ameera here!
Looking for a dream dish to get the kids onboard with healthy eating?  This recipe is a winning dish of texture and flavor! We gobbled this up like we were in an eating contest! HAHA
It's easy to make and has outstanding depth!  Annnnnd, the best part is that it is so good for you! The kids don't need to know that (Shhhhh), they just want something that tastes great!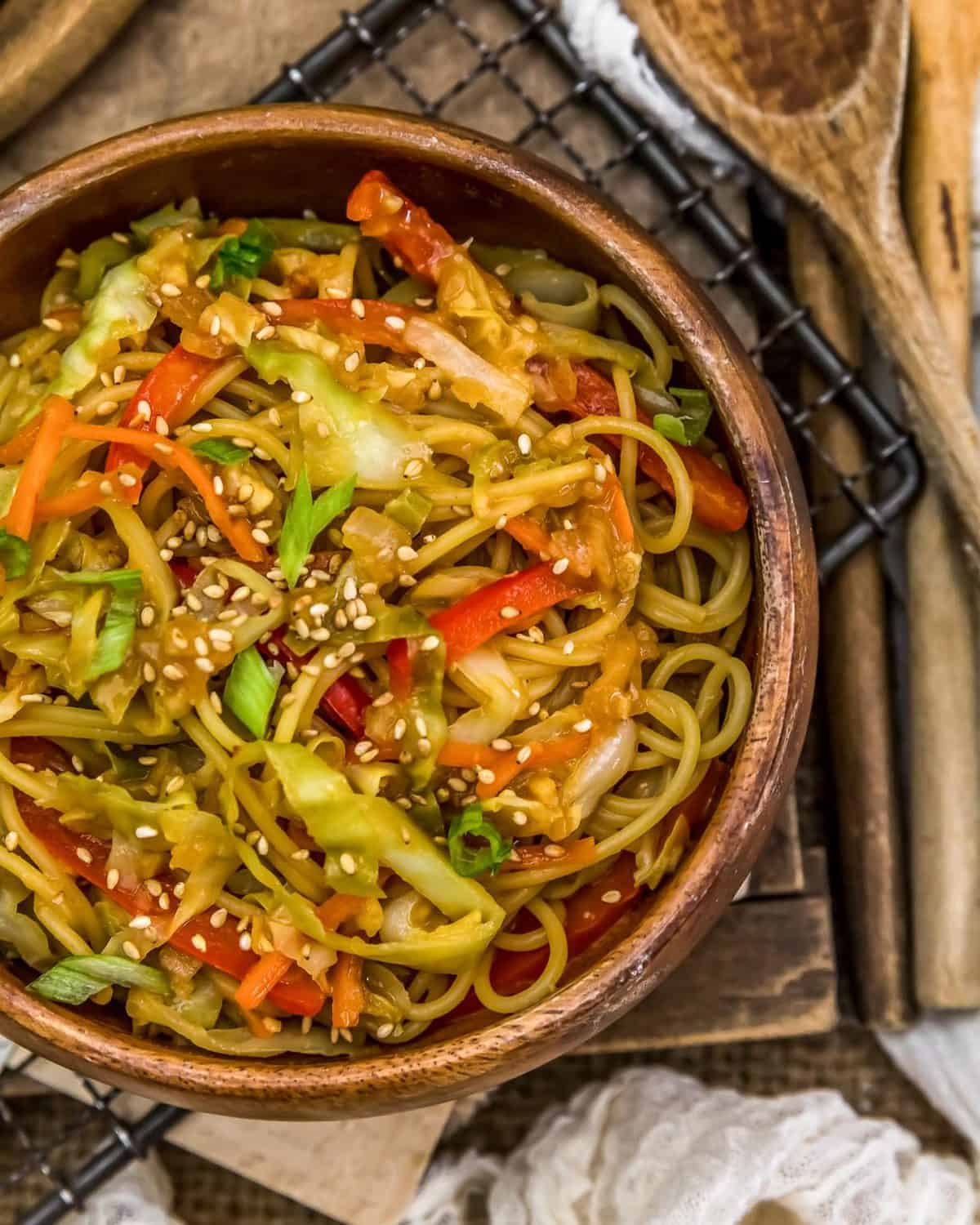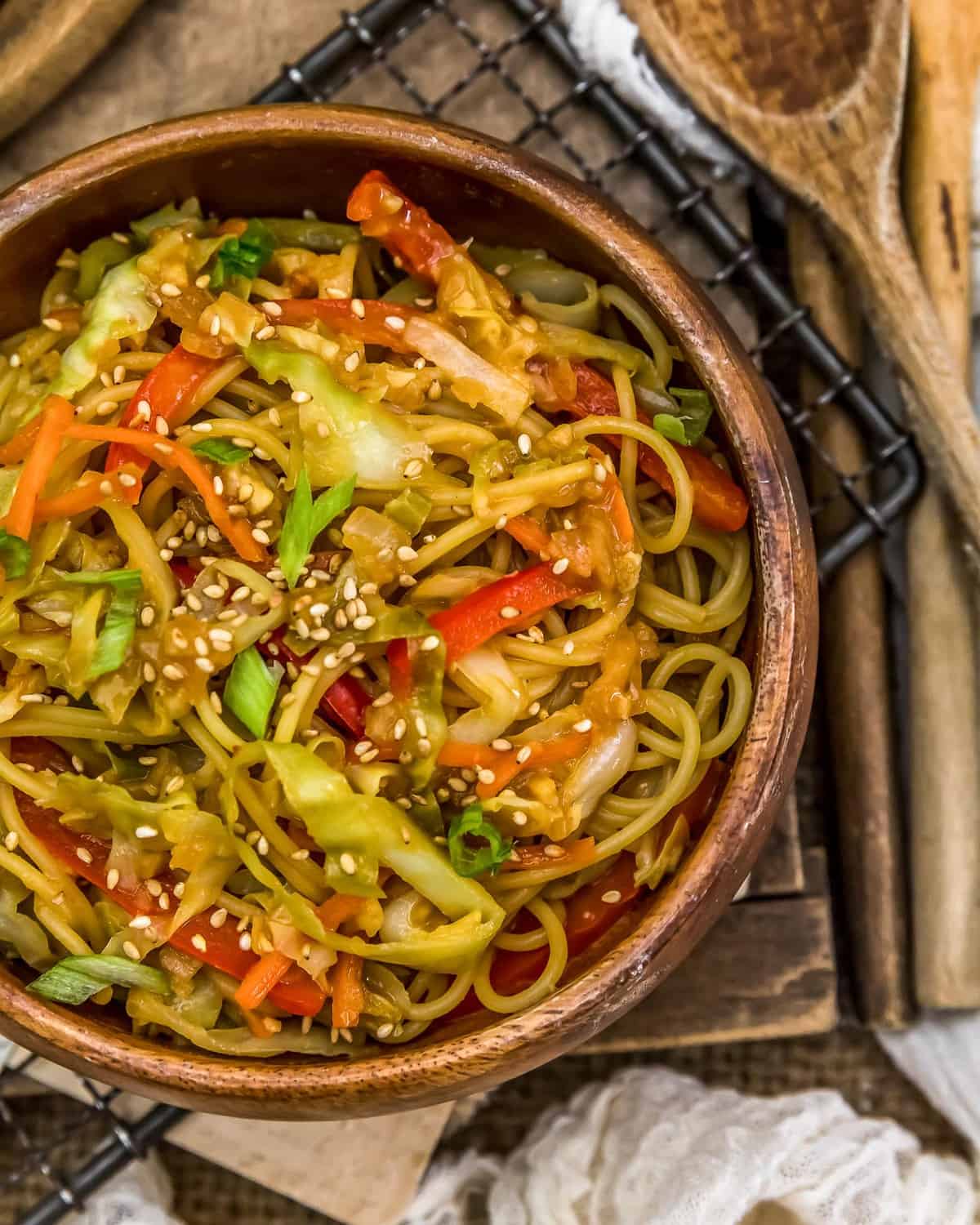 Processed Foods
Let's get those chemical laden processed foods out of our system and onto a better, healthier lifestyle.  Our kids are victims of the processed foods "revolution" that started in the 50s and 60s and is still going strong today.
As a new parent, I want to ensure healthy choices for my little Yasmeen. I want her to fall in love with all kinds veggies, and I'm looking forward to seeing her try so many yummy vegetables and fruits.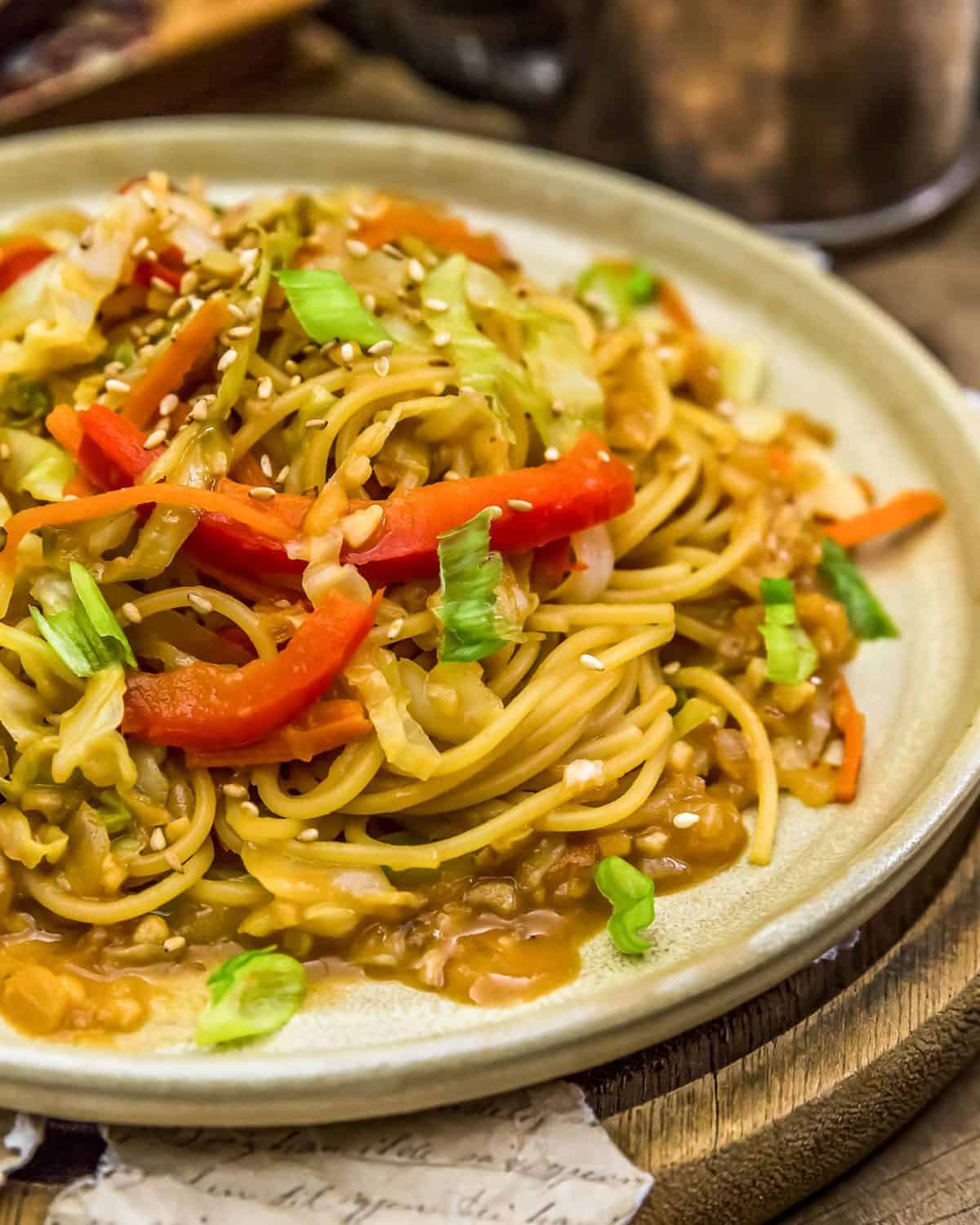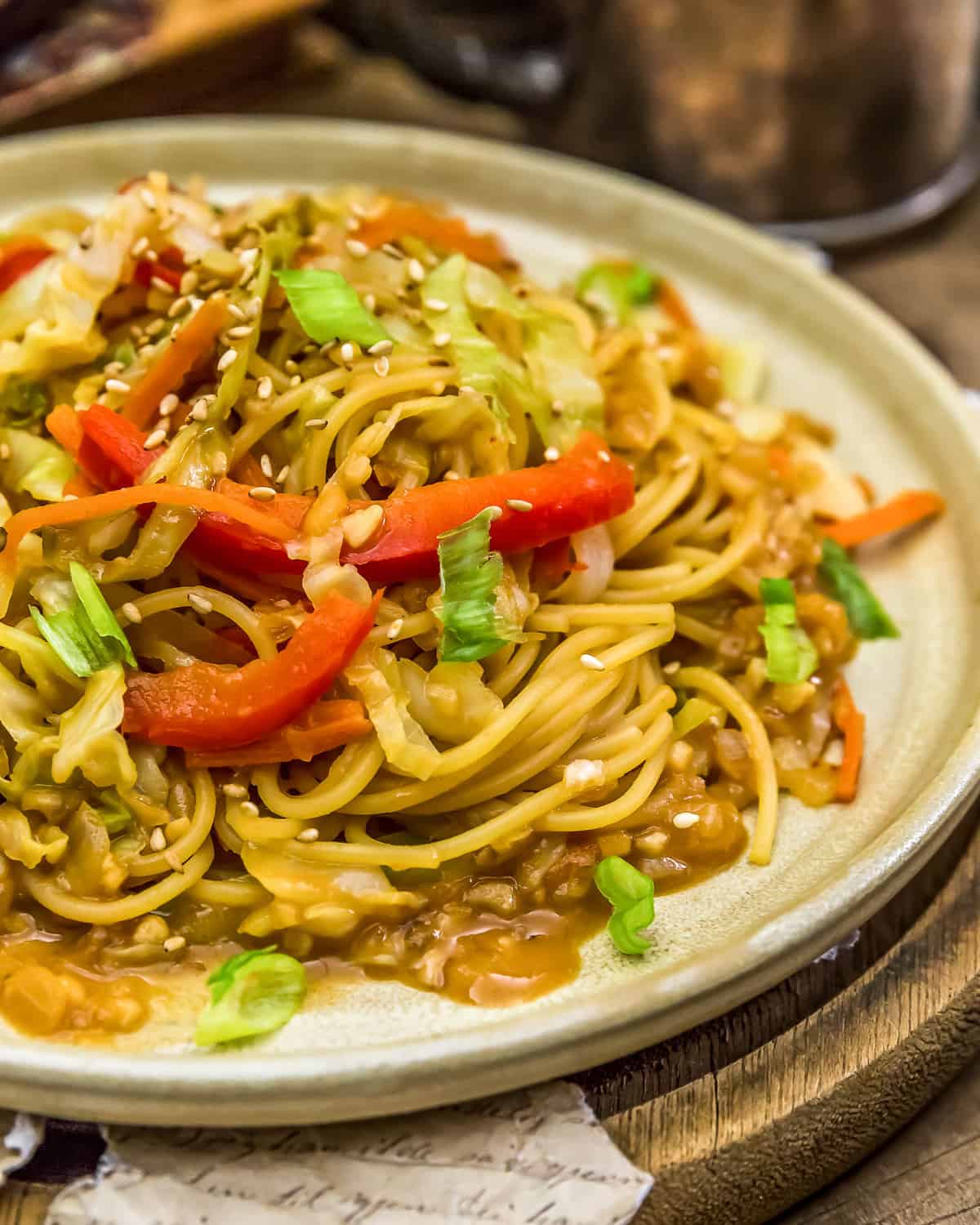 WFPB Movement
The Whole Food Plant Based lifestyle is gaining momentum – Yay! More and more people are determined to gain control over their health by eating a diet rich in veggies, fruits, nuts, grains and seeds through a whole food view point.
Say goodbye to unhealthy food choices and start a journey devoted to foods that will nurture your body and make it stronger and healthier.
I'll let Mom tell you more!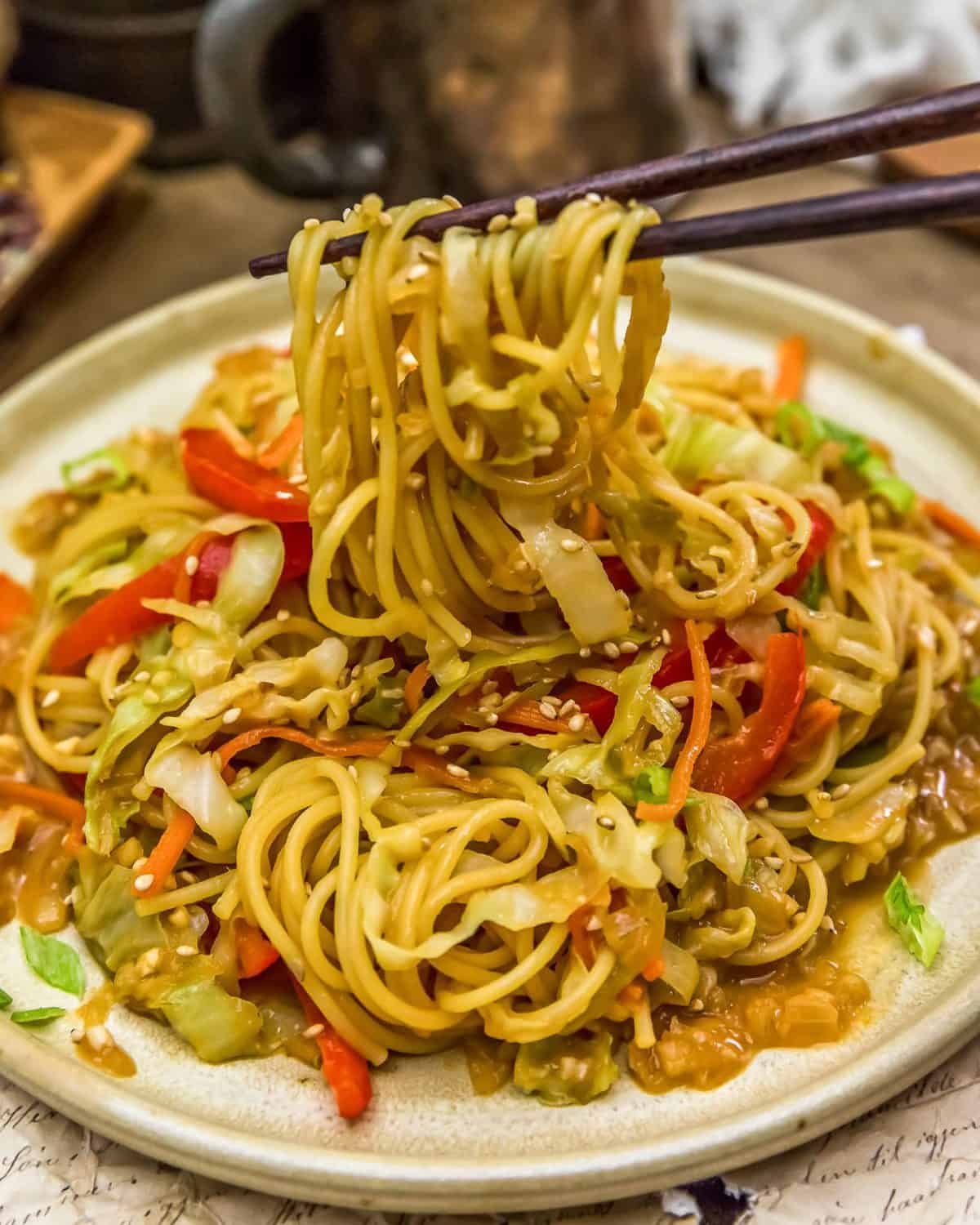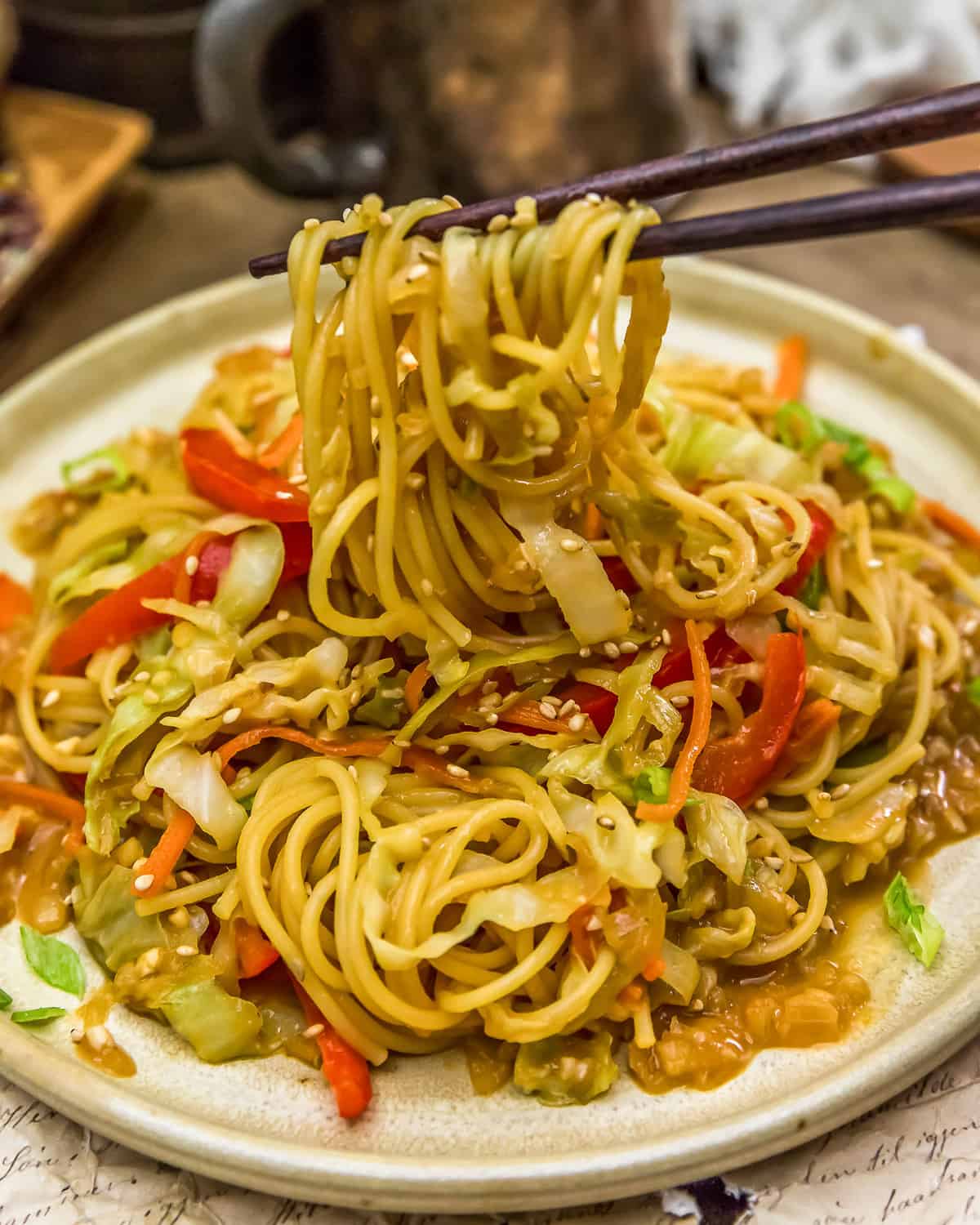 Hi!  Robin here.
I totally devoured this dish! It is so flipping tasty! I would rate it up there in my favorite Top 10 dishes for 2020!  It is just so gosh-darned delicious!
Plus, it's healthy and good for you; I literally could eat it every day! We absolutely love it.
Every week we get dozens of emails from folks just starting their Whole Food Plant Based journey and have recently found us! It's very rewarding to know that our humble little food blog is helping people make delicious, healthy choices in the food they prepare and feed their families.
A very heart felt THANK YOU to all our Readers! We sincerely appreciate you and your support. We are so grateful to have such an awesome Whole Food Plant Based community passionate about this way of living.
If you try this delicious dish, we would love to know if you enjoy it as much as we do! Please leave us a review! Post a picture on Facebook or Instagram and tag us!  We would love to hear from you.
Products Used:
Large ceramic/enamel lined Dutch oven, skillet, or similar large stock pot (tight fitting lid is optional)
Stock pot to boil the pasta
Print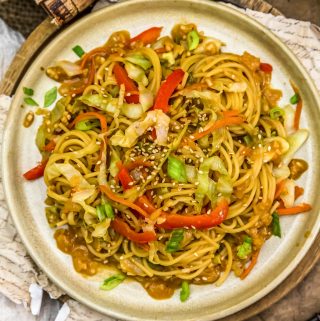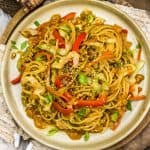 Asian Cabbage Noodle Stir Fry
Author:

Prep Time:

15 Minutes

Cook Time:

25 Minutes

Total Time:

40 Minutes

Yield:

4

Servings

1

x

Category:

Dinner

Method:

Stovetop

Cuisine:

Asian

Diet:

Vegan
---
Description
Easy, flavorful, and oil-free, this Asian Cabbage Noodle Stir Fry is packed with feel-good ingredients and ready in 30 minutes or less.
---
Base Ingredients:
1 cup

yellow onions, fine dice

1

medium carrot, julienne sliced *

1

red bell pepper, julienne sliced

2 Tablespoons

minced garlic

1 Tablespoon

minced ginger

5 cups

shredded green cabbage *
 Sauce Ingredients:
¼ cup

reduced-sodium tamari *

¼ cup

organic maple syrup

1 Tablespoon

rice vinegar

1 Tablespoon

tahini

1 Tablespoon

tomato paste

½ teaspoon

chili garlic sauce *

1 teaspoon

garlic powder

1 teaspoon

onion powder

2 Tablespoons

dried minced onions

1 teaspoon

cornstarch (or arrowroot powder)
Other Ingredients:
6

to

8

oz. GF thin spaghetti (or pasta/noodles of choice)
Optional Toppings:
Sliced green onions
Red pepper flakes
Toasted sesame seeds
---
Instructions
Fill a large stock pot full of water. Add some sea salt to the water. Bring the water to a boil then add the pasta. Stir occasionally to prevent sticking. Boil the pasta until el dente, drain, rinse with cold water to remove any excess starch, shake well, set aside.
Place the Sauce Ingredients in a bowl, mix well, set aside.
In a large ceramic/enamel lined skillet, Dutch oven, or non-stick skillet, add the finely diced onions, grated carrot, and julienned red bell peppers, sauté over medium-high heat for 7 to 9 minutes to soften, then lower the heat to medium, add the minced garlic and ginger, sauté, stir constantly over for one minute.
Then add the shredded cabbage and ¼ cup water, then water sauté/steam until the cabbage wilts and reaches the desired tenderness.
Add the Sauce Mixture to the skillet, stir to incorporate and thicken the sauce, bring the mixture to a boil, then immediately lower to a simmer. Simmer for 2 minutes.
Add in the cooked noodles, stir well to coat the noodles, heat through – about 3 minutes, then remove from the stove and allow the flavors to marry for a few minutes. Top with sliced green onions, red pepper flakes, and toasted sesame seeds.
---
Notes
*TIPS for Success:
Pasta Amount: The key here is what type of noodles you use.  If you use very thin Asian brown rice noodles, then do not go over 6 ounces.  If you use thin spaghetti, then don't go over 8 ounces.  The noodles really drink up the sauce.  If you use more than the recommended amount, you could end up with a dry dish.
Shredded Cabbage: We used about ½ head of a medium cabbage.  We shredded the cabbage by cutting it into very thin long strips.  You can use a slaw mix, but the experience is a little different.  There is just something about those thin long strips of cabbage mixed in with the thin spaghetti that really works.  Make sure you pick out any tough pieces and thicker veins.
Cabbage tenderness: Cutting the cabbage into thin strips allows the cabbage to cook faster. We enjoyed a tender crisp cabbage. Once cabbage is cooked to your tender preference, the dish comes together pretty quickly so make sure that you have the cabbage cooked enough to your liking. Additionally, placing the lid on the pan when you add the shredded cabbage and water enhances the cooking process.
Julienne Carrots: We used a vegetable julienne peeler to cut the carrots into long thin strips, then cut those into small pieces.  We used grated carrots in previous kitchen tests, and while grated carrots work perfectly in this recipe, we really enjoyed the texture of the julienne peeled carrots. We suggest grated or julienned carrots.  For those interested, we used a Kuhn Rikon Julienne Peeler.
Optional Add-In Veggies: You can totally add peas, edamame, mushrooms, chickpeas, etc.  Just don't add too much or the sauce will not be able to effectively cover all the ingredients.
 *Notes Continued:
*Tamari: We used San J Tamari Soy Sauce, Gluten Free, Reduced Sodium.  You can substitute the tamari with reduced sodium soy sauce, Braggs Liquid Aminos, or Braggs Coconut Liquid Aminos.
*Chili Garlic Sauce:  We used Huy Fong Foods Chili Garlic Sauce. This brand does have a small amount of sugar.  However, this brand is generally accepted by the WFPB community.
*Serving:  4
*Storage:  Refrigerate and use within 5 days.

This post contains affiliate links, and we may receive a very small commission if you purchase through those links at no additional cost to you. Thank you for supporting Monkey and Me Kitchen Adventures! For more information, see our disclosures here.