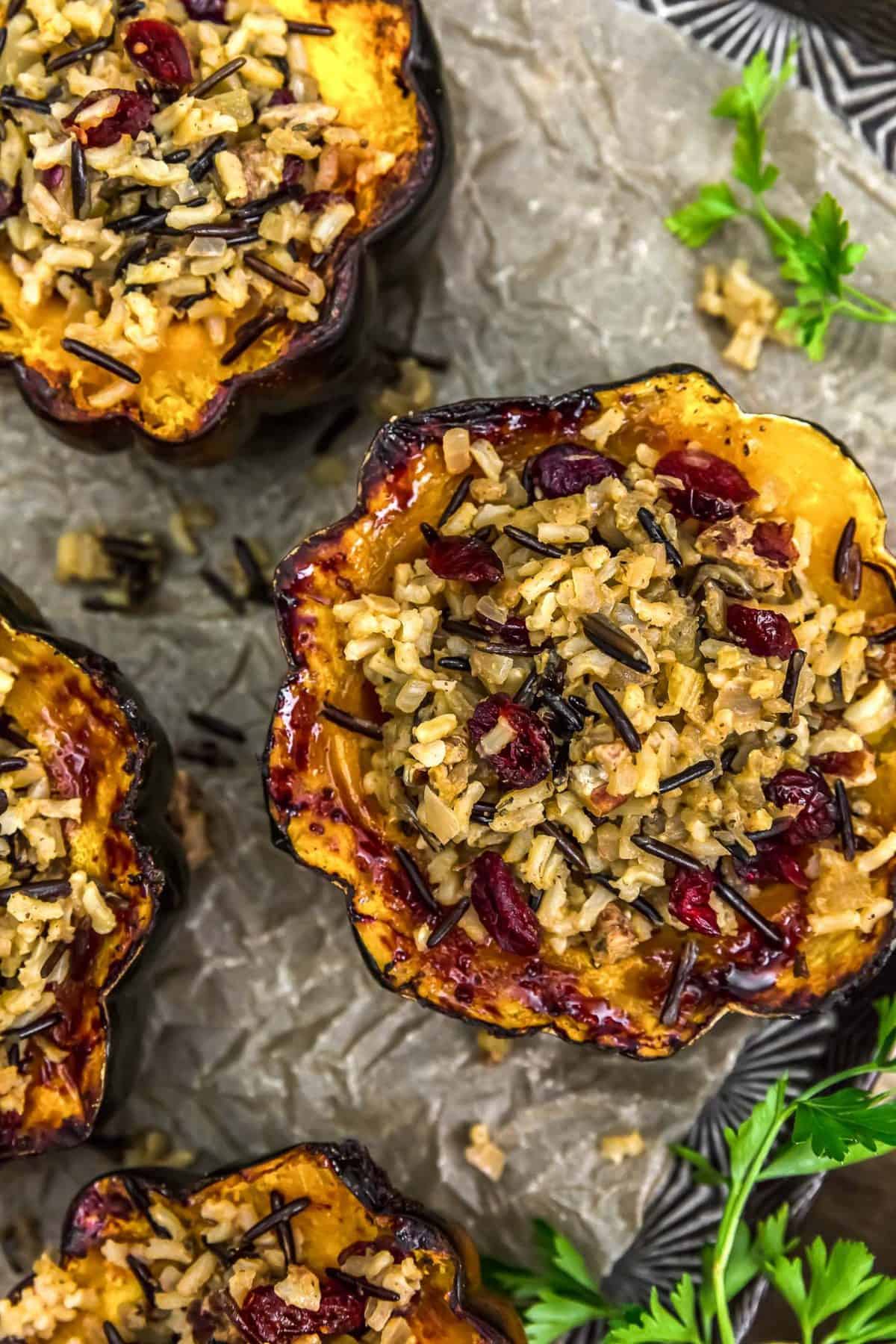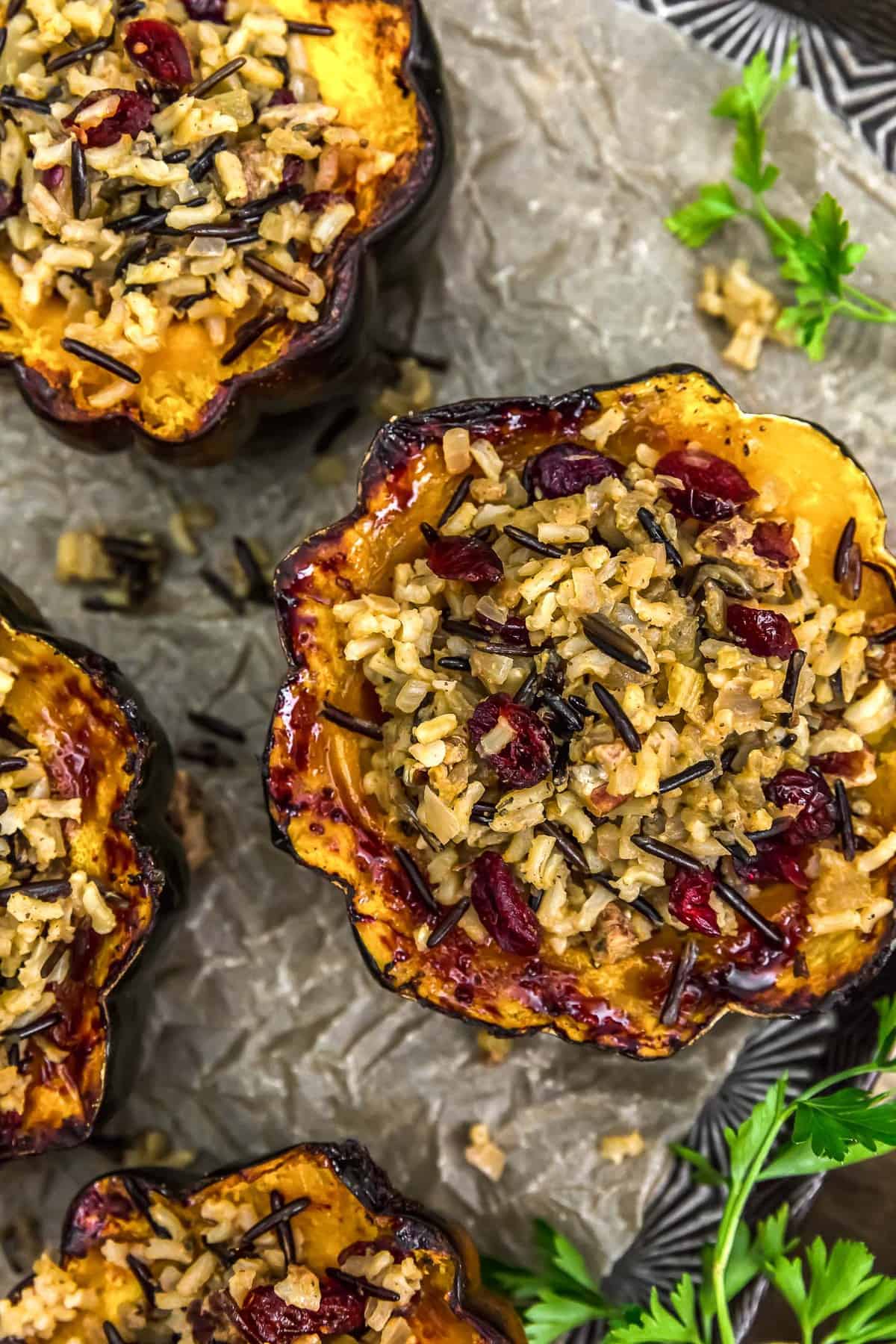 Taking Thanksgiving flavors to the next level with this ultra-comforting, wholesome, and belly-pleasing dish. This oil-free Vegan Wild Rice Stuffing is brimming with plant-powered ingredients and incredible flavor that will make your Thanksgiving holiday dinner table complete.  Harvest herbs and spices infuse zesty onions, earthy celery, tart dried cranberries, toasty pecans, and hearty rice creating a flavor explosion in this breadless stuffing with classic Thanksgiving flair. Serve as a main dish stuffed in a delicious roasted squash or as a side dish for visually stunning, healthy, and delicious dish!  Every bite is a trip to Flavortown.
Whole Food Plant Based, vegan, plant based, oil free, refined sugar free, no highly processed ingredients and gluten free.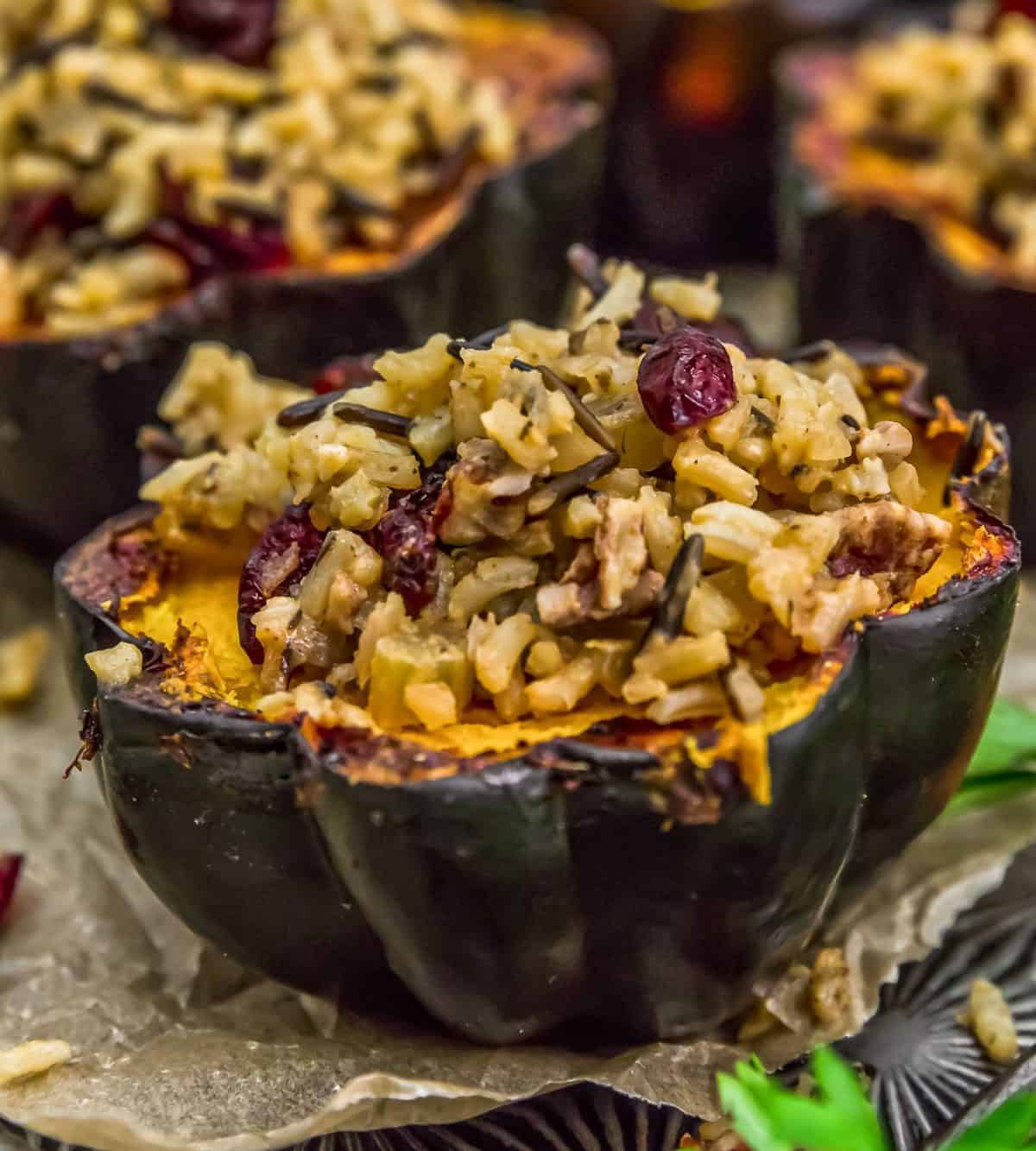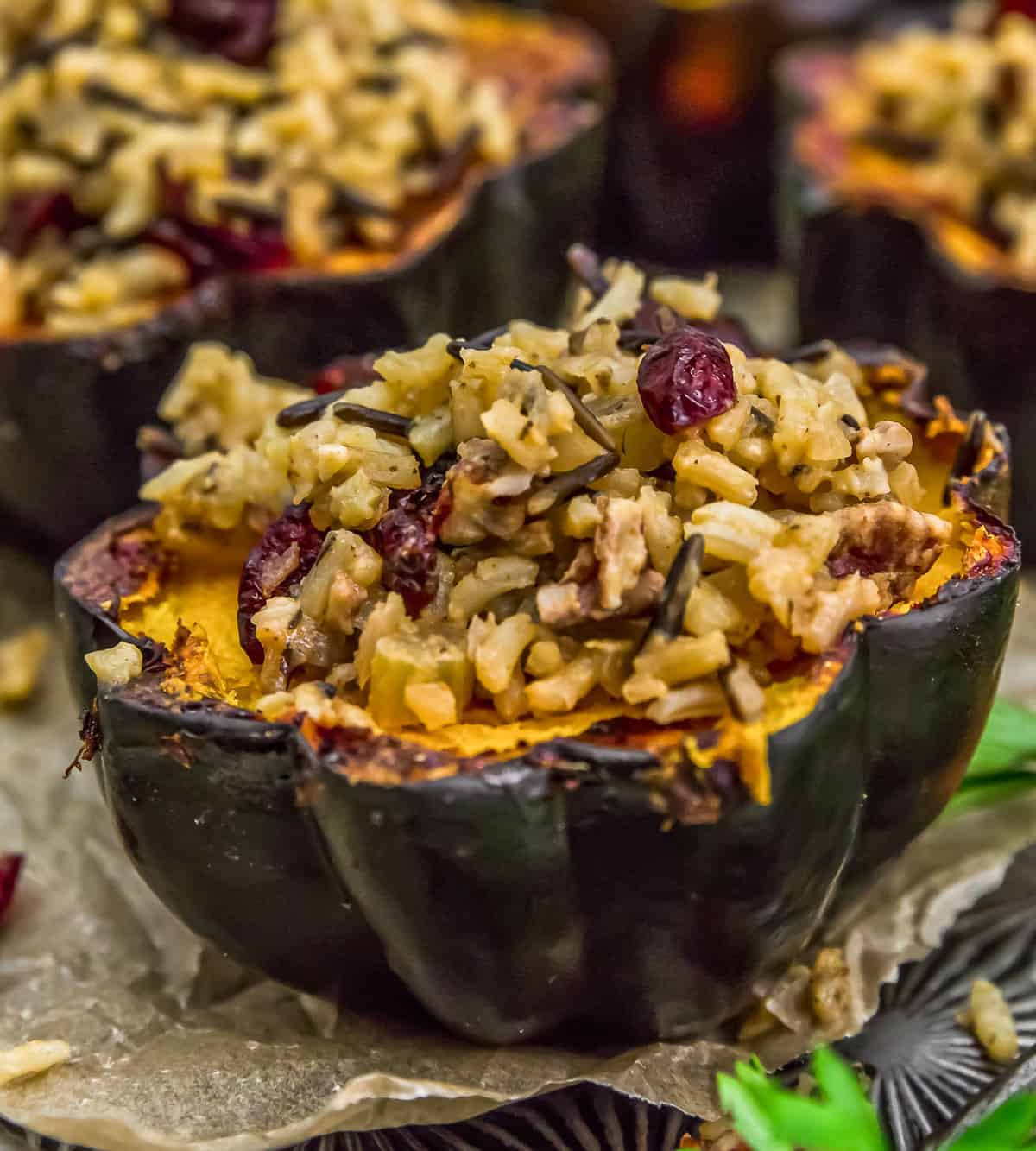 Hi there, Ameera here!
We totally fell in love with this Vegan Wild Rice Stuffing. The flavors and textures really deliver and those aromatic herbs shout Thanksgiving!  The cranberries and pecans add beautiful texture and flavor that is a perfect accompaniment to the herbed wild rice.
Harvest Flavors
Mom and I had this recipe on the back burner since last Christmas where we test drove it several times before setting it aside to perfect it for Thanksgiving 2020, and I am so glad we did.  A few tweaks and we finally found our groove on this one.
The first couple of tests we found the herbs were too powerful. We wanted the herbs to compliment the other ingredients not overwhelm them. The chewy dried cranberries add a sweet, tart bite and toasty pecans just send this one over the top with a nice buttery, crunch.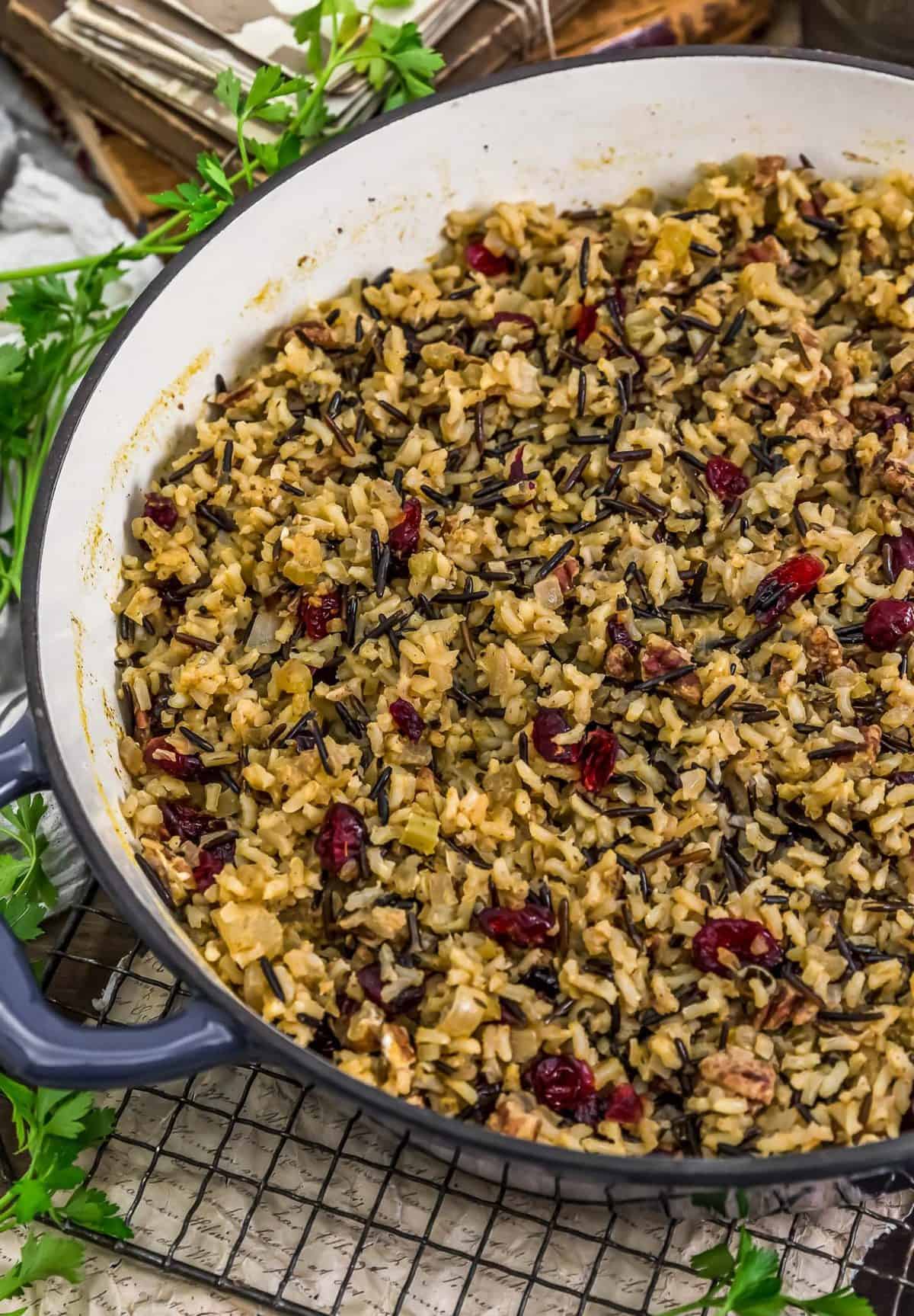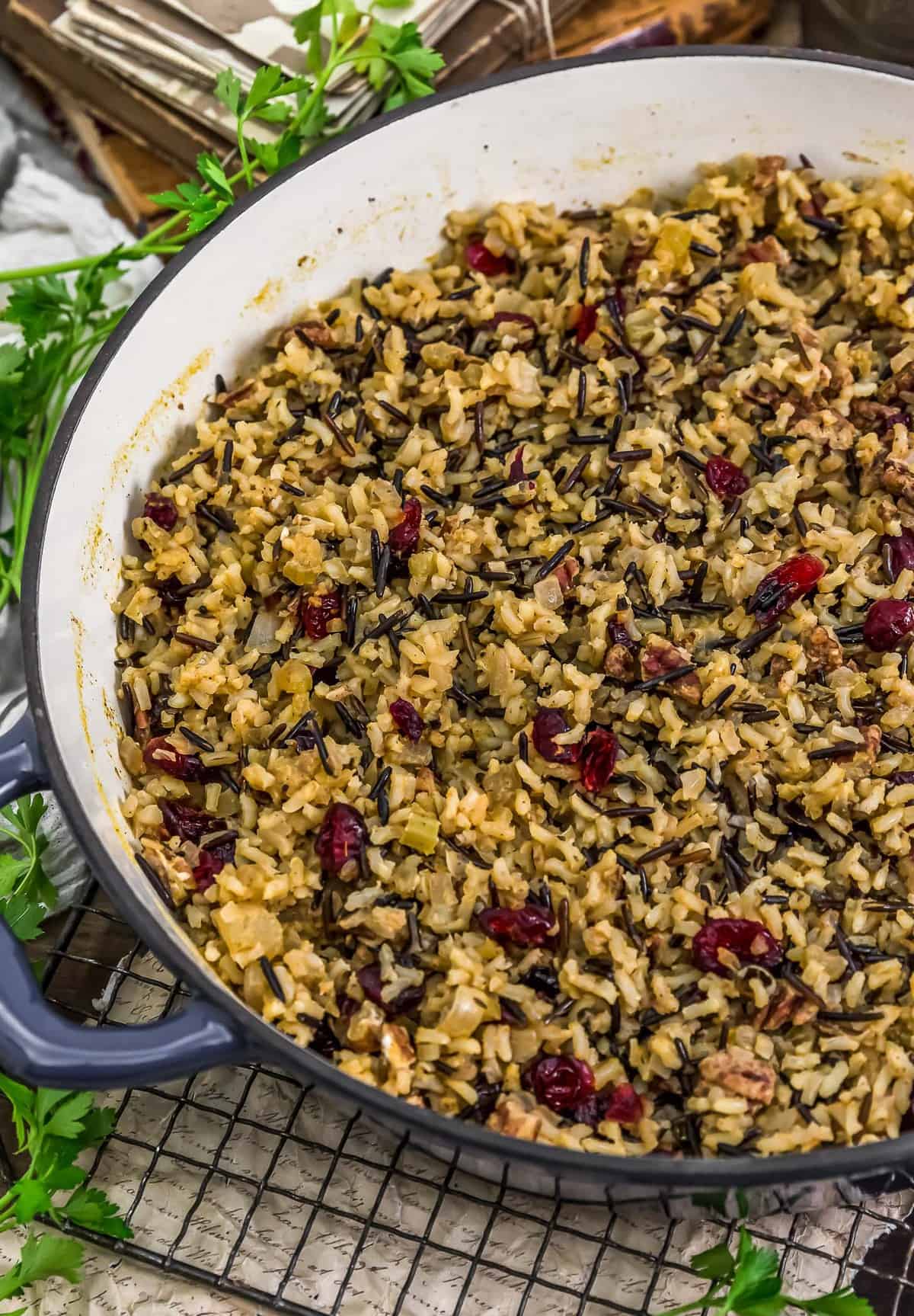 Alone or Stuffing Vegetables
You can totally serve this deliciousness all by itself or as a side dish. We wanted to showcase it by stuffing baked acorn squash. The flavor of this stuffing perfectly compliments the baked acorns. We ate it all up.
It's a perfect stuffing for acorn squash, butternut squash, delicata squash and more! We just couldn't get enough of this deliciously stuffed squash dish.
I'll let Mom tell you more!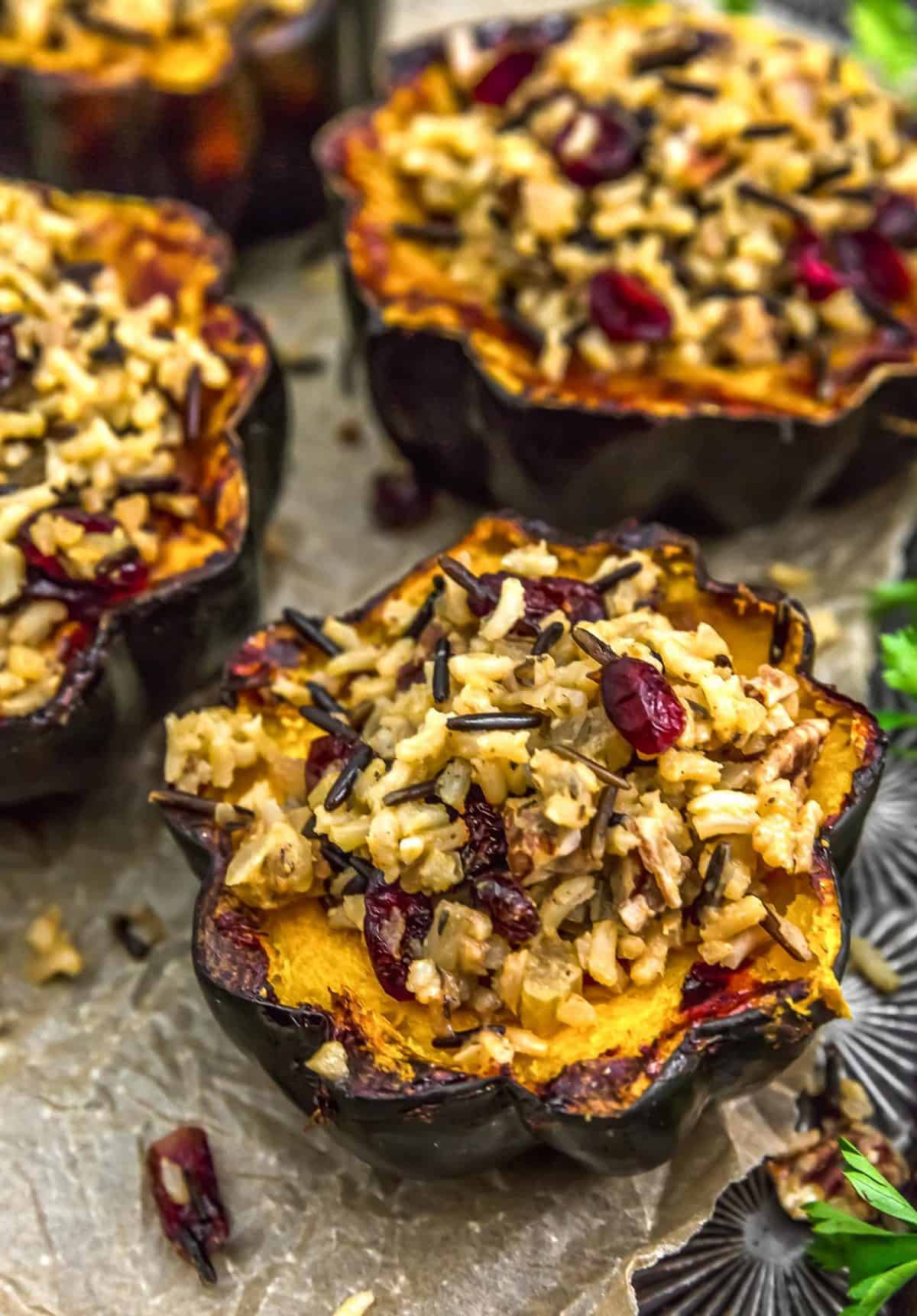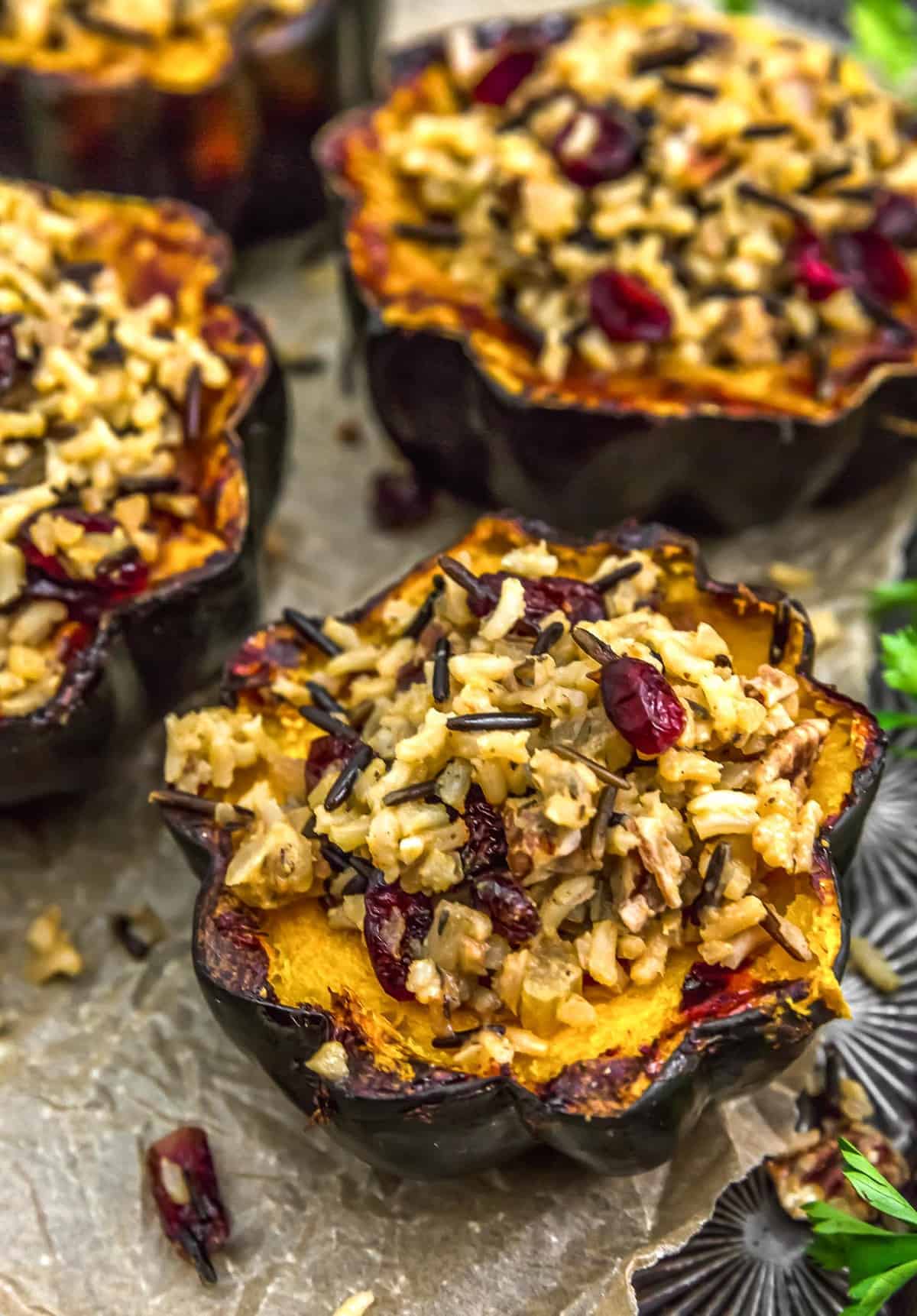 Hi!  Robin here.
I totally agree with Monkey.  Our initial test runs were just a tad overwhelming on the herb spectrum.  We decided to dial it back and found a great mix of herbs and spices that totally work with this dish.
We cannot wait to make this for Thanksgiving. If you are looking for more tasty Thanksgiving dishes, check out our awesome WFPB Thanksgiving Round Up.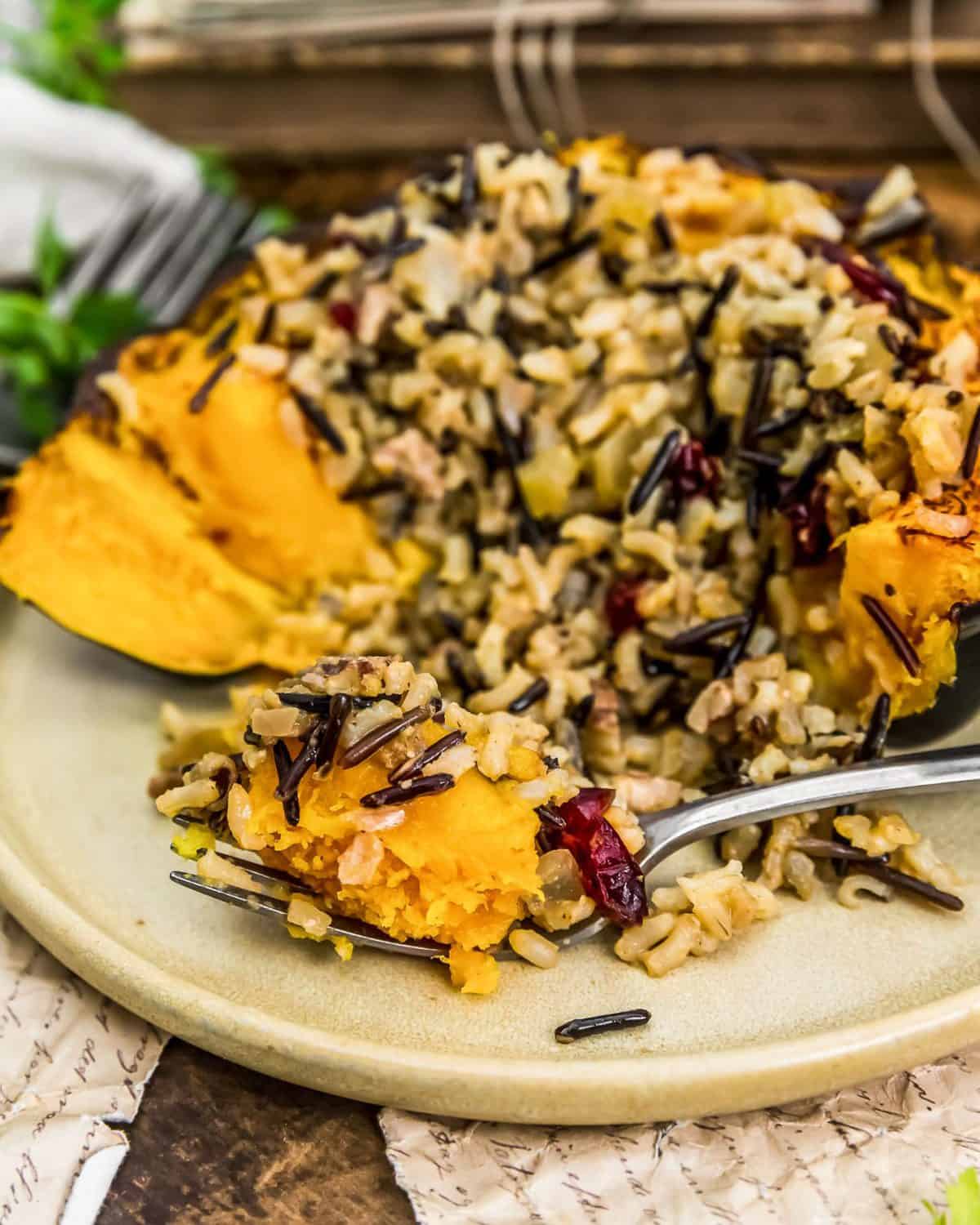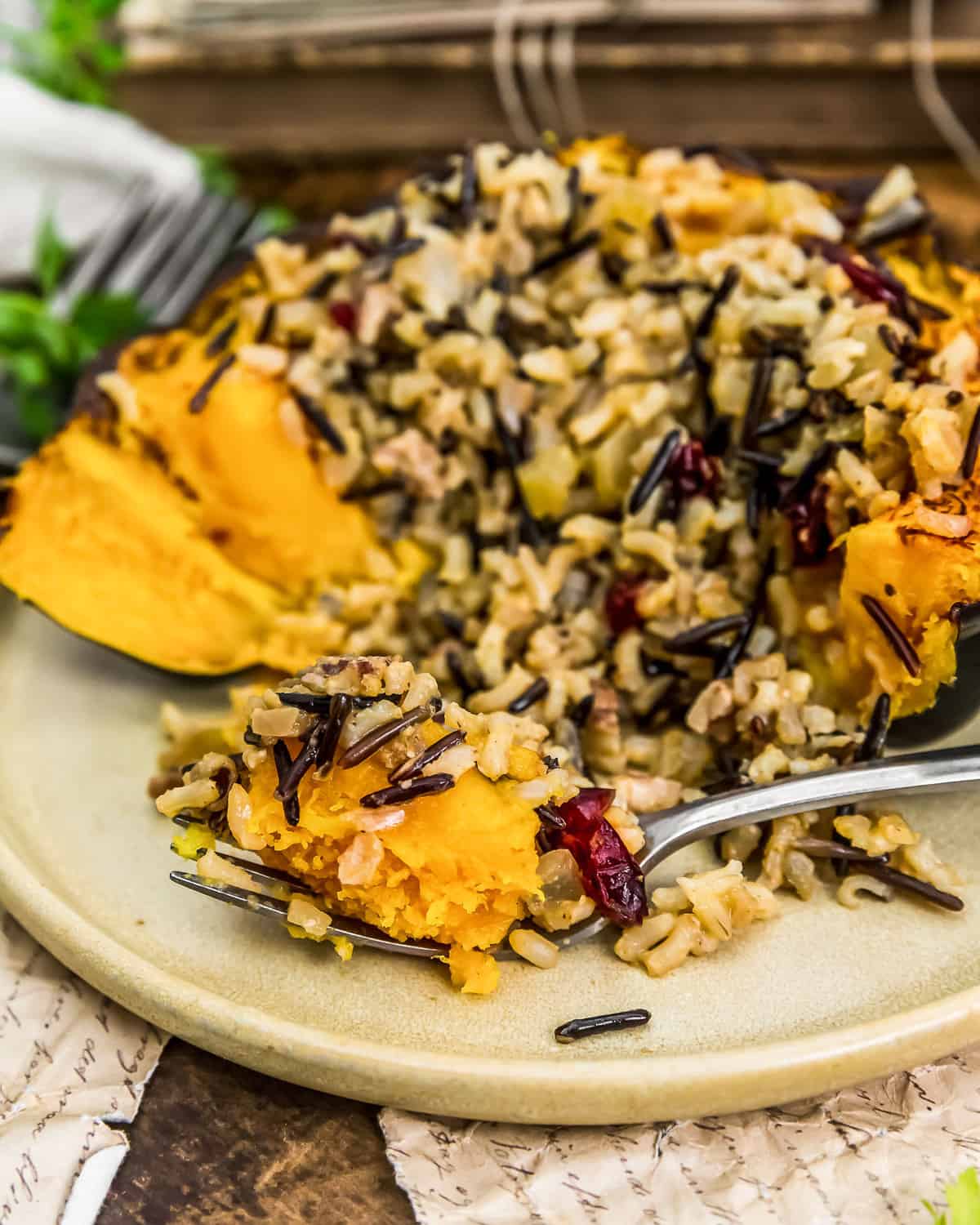 Humble Dish
As you know, we do rave about our food as we think our food is mighty tasty. But please bear in mind that we are very harsh critic of our own creations. We have had our share of kitchen failures that never make it to our blog (as they shouldn't).
If you've noticed, we rarely call something "The Best," because to us that means one would have had to make and taste just about every similar dish out there on the innerwebs to claim a recipe "The Best."
However, we would like to humbly express that this Wild Rice Stuffing is incredible, and we are very proud of it! TP109 declared it a masterpiece. He loved it!  He was already calling dibs on leftovers.  LOL
If you try this comforting dish, we would love to know if you enjoy it as much as we do! Please leave us a review! Post a picture on Facebook or Instagram and tag us!  We would love to hear from you.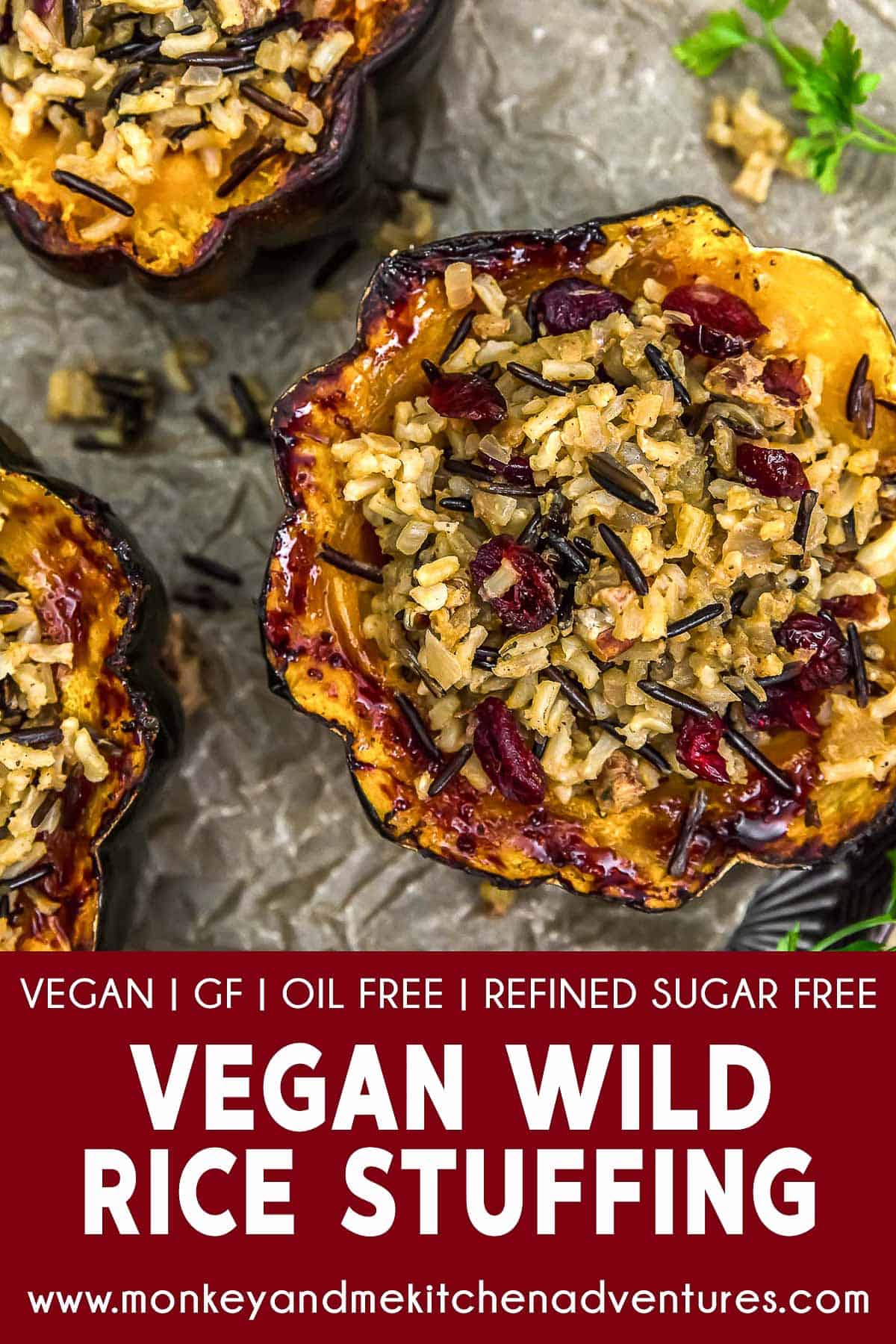 Products Used:
Baking sheet(s) if stuffing acorn squash
Parchment paper if stuffing acorn squash
Enamel/ceramic lined skillet (or similar large non-stick skillet) with a tight-fitting lid
Print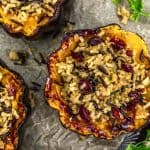 Vegan Wild Rice Stuffing
Author:

Prep Time:

15 Minutes

Cook Time:

45 Minutes

Total Time:

60 Minutes

Yield:

4

-

6

Servings

1

x

Category:

Dinner, Side

Method:

Stovetop, Oven

Cuisine:

American

Diet:

Vegan
---
Description
This oil-free Vegan Wild Rice Stuffing is brimming with wholesome ingredients and incredible flavor that's perfect for Thanksgiving dinner.
---
Stuffing Ingredients:
1 cup

yellow onions, fine dice

2

celery ribs, fine dice

1 Tablespoons

unsalted, unsweetened almond butter

1 Tablespoon

reduced-sodium tamari *

1 ½ cups

low-sodium vegetable broth *

1 cup

water (or vegetable broth)

1 cup

brown rice, uncooked

½ cup

wild rice, uncooked
Spice/Herb Ingredients:
1 teaspoon

onion powder

1 teaspoon

garlic powder

2 Tablespoons

dried minced onions

½ teaspoon

dried rubbed sage (+/-)

½ teaspoon

dried crushed thyme leaves (+/-) *

¼ teaspoon

dried rosemary powder (+/-)

1 teaspoon

sea salt (+/-) *

1/8 teaspoon

black pepper
Other Ingredients:
½ cup

dried cranberries

1/3 cup

pecan halves, (or walnuts) toasted and chopped (optional)
Optional Baked Acorn Squash Ingredients:
2

to

3

medium-sized acorn squash, unpeeled, halved, seeds removed *
Sprinkle sea salt (+/- to taste) *
Sprinkle black pepper
---
Instructions
Baked Acorn Squash Instructions:
Preheat the oven to 425 F.
Line a baking sheet with parchment paper, set aside.
Cut a small piece off the ends of the acorn squash before slicing in half. This is to create a flat surface, so the acorn squash halves do not teeter around on the plate. Then spoon out the seeds, clean up the interior, sprinkle the insides with sea salt and pepper; then place each of the halves cut side (the side that will be stuffed) down  onto the parchment paper lined baking sheet.  Bake for 30 to 45 minutes (largely dependent upon the size of the acorn squash) or until fork tender.
Wild Rice Instructions:
Rinse the brown rice and wild rice with hot tap water, then place the brown rice and wild rice in a bowl and cover with hot tap water and allow to soak until ready to use in Step 6.
Place the Spice/Herb Ingredients into a small bowl, mix well, set aside.
In the meantime, in an enamel/ceramic lined skillet or similar non-stick skillet, add the diced onions and celery. Sauté over medium-high heat for 7 to 9 minutes until the onions and celery are tender. If needed to prevent sticking, add a splash of vegetable broth or water.
Add the almond butter to the skillet of sautéed onions/celery and stir for one minute.
Add the vegetable broth, water, and tamari. Stir. Heat to boiling, then immediately lower to a simmer (low boil). Scrape the bottom of the skillet with a wooden spoon or stiff plastic spatula to pull up anything that stuck to the bottom of the pan. Then add the Spice/Herb Mix, stir to combine.
Drain the rice, shake to remove any extra water, add the rice to the skillet.  Stir to incorporate.  Cover with a tight-fitting lid and simmer (with a low boil) for 30 minutes undisturbed.
After 30 minutes, check the tenderness of the rice by lifting a few pieces from the edge. If not tender, cover and cook longer (see notes).
If tender, remove the lid, stir in the dried cranberries and toasted chopped pecans. Remove from the stove and allow to sit covered for 5 minutes to allow the cranberries to plump up. Serve.
Baked Acorn Squash Serving: Serve by spooning the wild rice mixture into the roasted acorn squash halves.
---
Notes
Tips for Success:
Cutting the acorn squash: You can cut the acorn squash horizontally or through the center (showcasing the flower ribs).  Cutting an acorn squash takes some muscle and effort.  Use a sharp knife and be very careful.  We cut ours through the center showcasing the flower ribs.  Additionally, before we cut the acorn squash through the center, we cut off a tiny piece off each end to create a flat surface so when serving the squash does not teeter around the plate.
Rice: The cooking time is largely dependent on the rice and brand  Some rice types, as well as some brands, take longer to cook. Soaking the rice in hot tap water speeds up the cooking time; however, some brands of rice take quite a bit of time.  Read rice package directions for estimated cooking times keeping in mind that the hot soaking time hastened the cooking time.  Resist the urge to stir rice while it is cooking as it causes the rice to release too much starch into the dish and the dish become murky and creamy.
Wild Rice: Wild rice is naturally "toothy" or slightly chewy.  It does not get as tender as regular rice does as the hull of the rice is still intact.  If you are not familiar with wild rice and think that this could bother you (or your family members), then just use all brown rice.  We LOVE wild rice, it has great texture, flavor, and visual appeal.
Viewing the Skillet while Cooking: You do not want to create a hot rolling boil when cooking the rice, you want to simmer (low boil) the rice. After you cover the skillet, wait 10 minutes, then just gently lift the lid to take a quick peak.  Evaluate and increase or decrease the heat accordingly.
Toasting Pecans: If you want a really rich nutty flavor, simply place the pecans in a dry skillet over medium heat.  Swirl them around the pan until they start to release their fragrance.  Or you can do simply place them in a small bowl and microwave them for 60 seconds to heat them up.
Spices/Herbs for the Rice: You can make the rice all by itself to serve without the acorn squash as it is delicious.  If you plan to serve with the acorn squash, taste test the rice to determine if you need more herbs.  We found the listed herbs were perfect.  However, if you choose to add more herbs, just be careful when adding additional herbs at the end, not to stir the rice too much to avoid getting a risotto affect with the rice.
Optional Mushrooms: You can easily stir in some sautéed mushrooms along with the dried cranberries and pecans.  Simply place 8 oz. of your favorite mushroom into a skillet with 1 Tablespoon of reduced-sodium tamari and a tiny sprinkle of each the following: sea salt, black pepper, onion powder, garlic powder.  Sauté for 5 to 8 minutes until the mushrooms release their water, set aside until ready to add into the rice skillet (when the pecans and cranberries are added).
Thanksgiving/Christmas Menu: This recipe is often made for holiday dinners.  We strongly suggest that you do a trial run before making this dish on an important event to become familiar with the directions, cooking times, etc.
Baking Acorn Squash: Baked acorns sometimes emit what appears to be black clouds onto a baking sheet.  This is just the sugars in the vegetable caramelizing and forming these black crunchy looking puffy clouds.  Simply push them away.  If the cut ends of the acorns appear burnt and black, they typically are not.  It is just the sugars releasing and caramelizing on the cut end.  We just gently scrape them off.  This recipe can fill approximately 6 to 8 acorn halves.
Scraping the Skillet: When you add the almond butter and stir it around the pan for one minute, it tends to stick to the bottom of the pan.  That is fine, but remember to scrape it up off the bottom of the pan and back into dish when you place the liquid (water and vegetable broth) into the skillet.
*Notes Continued:
*Vegetable Stock:   We use Pacific Organic Low Sodium Vegetable Stock. We love this brand because it is Whole Food Plant Based compliant, as it does not contain MSG, has no oil, and does not contain any highly-processed ingredients.
*Tamari: We used San J Tamari Soy Sauce, Gluten Free, Reduced Sodium.  You can substitute the tamari with reduced sodium soy sauce, Braggs Liquid Aminos, or Braggs Coconut Liquid Aminos.
*Dried Crushed Thyme Leaves: We use Penzeys French Thyme. Dried and crushed thyme leaves are not the same as ground thyme.  Ground thyme has a powdery consistency. Whereas dried and crushed thyme leaves have texture.  You can use either in this recipe.  We used dried and crushed thyme leaves, so if you are using ground thyme, scale back to half of the amount indicated in the recipe and check for flavor consistency.
*Brown Rice:  We used Uncle Ben's Whole Grain Brown Rice.  Feel free to use your favorite rice.
*Wild Rice:  We used a generic brand from the bulk food section of our local grocery store.
*Sea Salt:  Please adjust the sea salt based upon your family's sea salt preferences and/or based upon dietary needs.
*Serving:  4-6 Servings
*Storage:  Refrigerate and use within 4 days.
*Nutrition Information INCLUDING pecans and cranberries: Serving Size = 1 half stuffed acorn squash: 337 Calories, 7.2g Total Fat, 0mg Cholesterol, 65.3g Total Carbohydrates, 6.6g Dietary Fiber, 7.3g Protein.

This post contains affiliate links, and we may receive a very small commission if you purchase through those links at no additional cost to you. Thank you for supporting Monkey and Me Kitchen Adventures! For more information, see our disclosures here.