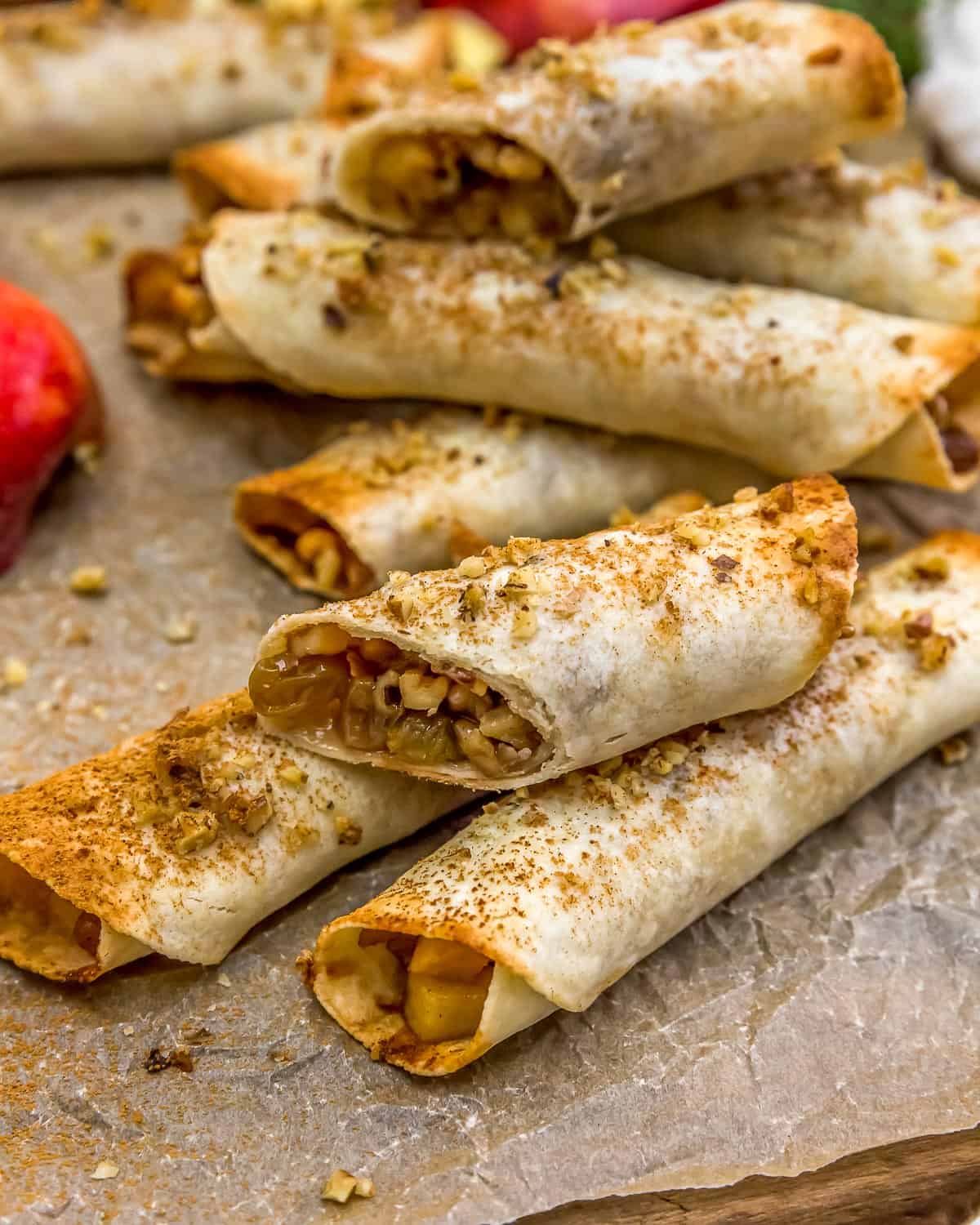 Apple Walnut Strudel Roll-Ups! Anyone else get all giddy when apple season comes around? We've got an awesome apple treat that is brimming all those delicious fall flavors.
This easy, wholesome, and oil-free Apple Walnut Strudel Roll-Ups recipe is packed with tender apples, crunchy walnuts, sweet cinnamon spices, and chewy raisins all baked in flaky almond flour tortilla. This healthy spin on an apple treat is hard to beat when it comes to warm comfort desserts. The whole family will fall in love with them. And if you're not feeling the roll-up part, skip it; pile that delicious filling on pancakes, nice cream, or oatmeal for an amazing fall twist.
Whole Food Plant Based, Vegan, plant based, oil free, refined sugar free, no highly processed ingredients and gluten free.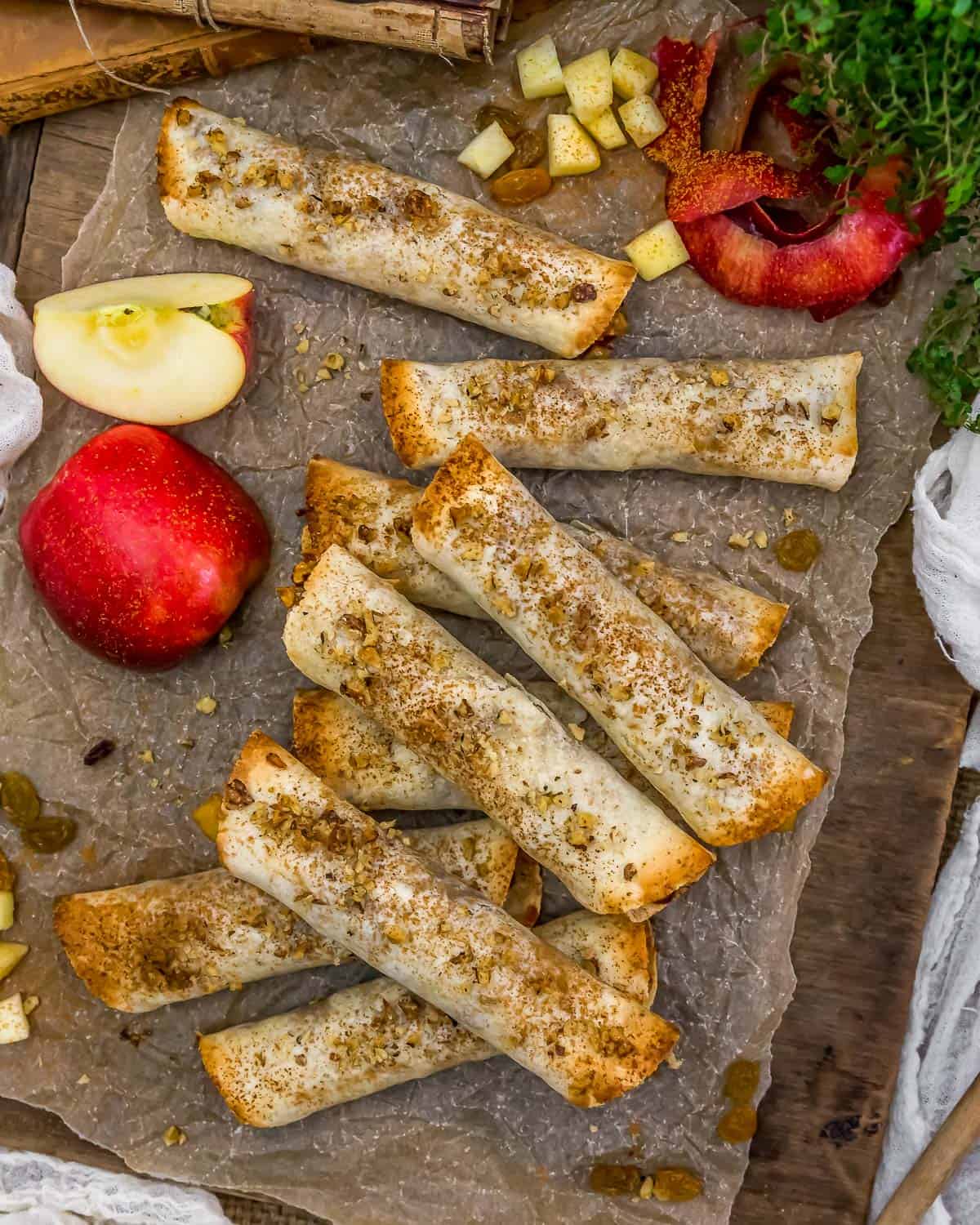 Hi there, Ameera here!
Mom and I LOVE apple desserts.  My brother especially loves a great apple pie or apple dessert.  We can't wait to make these for him the next time we visit him and his family in Connecticut.
These healthy apple walnut strudel rollups are heavenly.  If you love apple pie and apple strudel, then this tasty treat is right up your alley.  Dad literally devoured them and proclaimed them a perfect 10.
You gotta give this recipe it a try!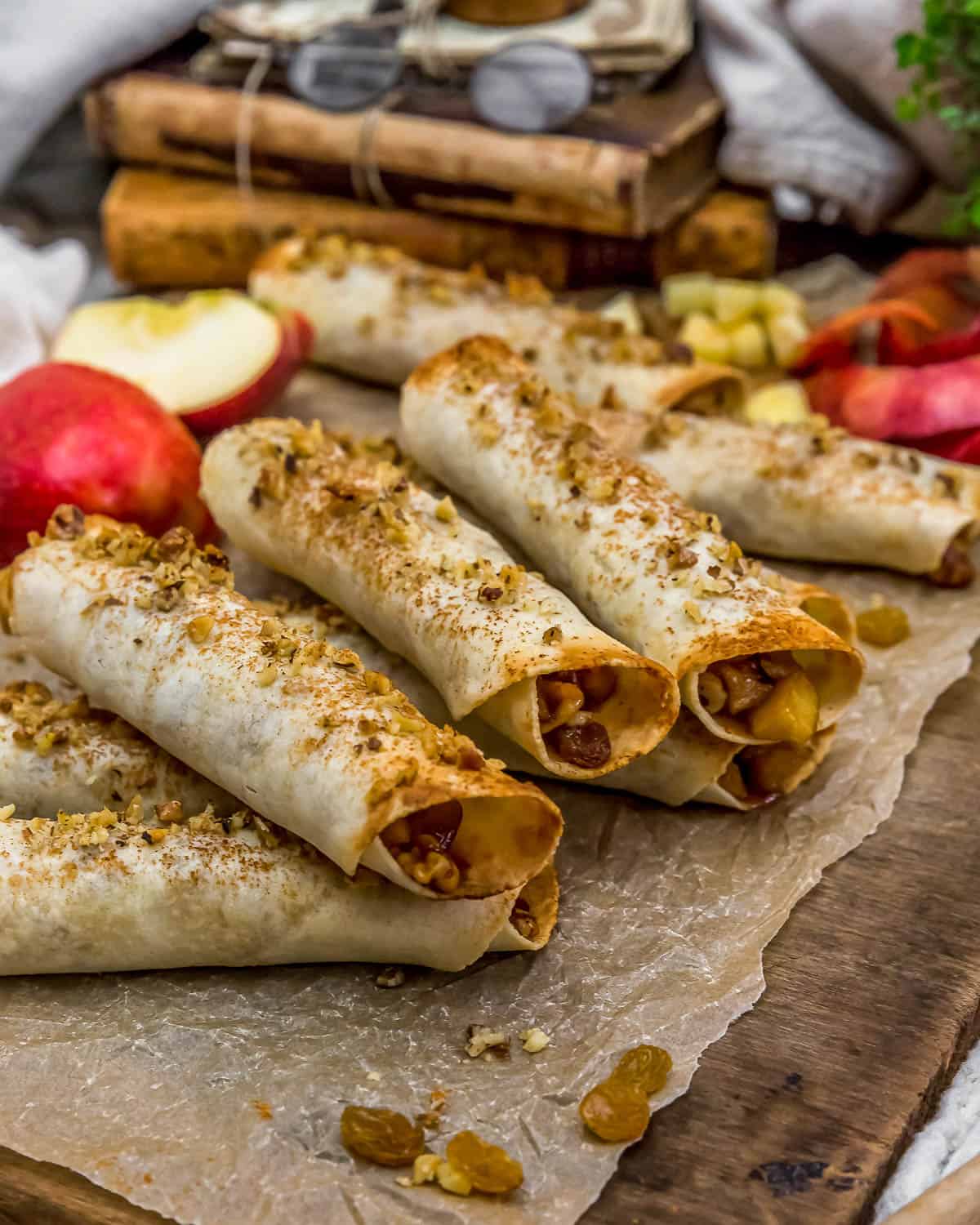 Tips for Success:
Apples: We used 3 Gala apples; however, this is largely dependent upon the size of the apple.  Feel free to use your favorite "pie" apple (Honey Crisp, Granny Smith, Gala, Pink Lady, Golden Delicious, Northern Spy, Jonagold, Braeburn, McIntosh, Cortland, etc.)
Cinnamon: There are tons of different types of cinnamon.  There is also an equal amount of controversy over cinnamon as well.  We used Penzeys China Cinnamon Tung Hing.  It is a light, yet super flavorful cinnamon.  Some cinnamon brands are very sharp and almost astringent.  We suggest starting with ½ teaspoon of cinnamon, then tasting and adding more as you feel necessary.  The beauty of the recipe is that you can literally taste it before it goes in the oven so you can adjust as needed. Please feel free to use your favorite brand of cinnamon.
Apple Pie Spice or Pumpkin Pie Spice: You can easily use an apple pie spice or pumpkin pie spice to replace the cinnamon, nutmeg, can clove spices.
Sticky Syrup: This recipe makes for a syrup that coats the apples nicely; it does not have a lot of syrup. It was perfect for us, yet we want our Readers to know that if they are looking for more sticky pie filling mixture, you can easily add more maple syrup and then increase the slurry by adding another teaspoon of cornstarch or arrowroot power.  The reason we did not make tons of syrup is because we didn't want the syrup dripping out the ends of the rollups.  We felt that there was just enough syrup (pie filling syrup) to coat the apples, walnuts, and raisins nicely without it dripping out.
Cornstarch (Arrowroot) Slurry: When you stir in the cornstarch slurry and increase the heat, the mixture should thicken up nicely into a light sticky syrup.  If you feel like it is not thick enough, you can create another slurry (1 teaspoon of cornstarch/1 Tablespoon of water) and stir it in.  Conversely if your filling it too thick, you can add 1 Tablespoon (or more) of water to thin it out as well.
Golden Raisins: We used golden raisins, but feel free to use regular raisins as well in this recipe.  You can also leave the raisins out if you are not a fan.
Two Baking Sheets, etc.: It is important to note that there is a reason why we rolled up the strudel rollups, glazed them with the maple syrup, then topped them with chopped walnuts and a sprinkle of cinnamon on a DIFFERENT baking sheet than the one we used for baking them in the oven.  The reason we did this was some of the chopped walnuts and cinnamon that is sprinkled on the tops naturally falls off onto the baking sheet. Those little walnut pieces that fall onto the baking sheet can start to burn before the rollups are done.  This tiny extra step helps ensure a beautiful rollup.
Walnuts: You can replace the chopped walnuts with pecans or leave them out completely. Measure the walnuts after you have chopped them. Do not over chop the walnuts.  You want to bite into walnut pieces.
Walnuts Topping: The walnuts that are sprinkled on top should be very finely chopped so they look like a tiny sand sprinkling. Additionally, this step can be left out as well.
Maple Glaze Topping: This step is optional, but we highly recommend it for the experience.  It adds some extra dimension to the rollups.  If you do not have a pastry brush, you can brush the maple glaze on with your fingers. We actually found it easier to just use our fingers. Sprinkle with a little cinnamon for extra flavor.
Roll-up vs Hand Pie: We tried both rolling methods (roll-up versus hand pie [folded in half]). We preferred the rolls over the hand pie method simply because they were easier. The hand pies tended to crack open. Please feel free to use either method.
Apple Strudel Filling: The apple strudel filling can also be used as a great pancake topper, used on top of "nice-cream," piled high on oatmeal, or filling for you favorite crisp/cobbler.
Siete Almond Flour Tortillas: We LOVE Siete Almond Flour Tortillas, they work perfectly with this recipe.  The key is just get them to just about room temperature.  Siete tortillas must be refrigerated.  Do not use a cold Siete, they will crack.  Nor should you allow them to get too warm. We have found that they work best just after they have come out of the fridge for about 10 to 15 minutes where they are no longer cold, but aren't warm either.  We buy them in bulk and freeze them.  They freeze really well.
Refrigerate Leftovers & Reheat: We recommend refrigerating leftovers and simple reheat in the microwave for a few seconds on less power or allow them to come to room temperature.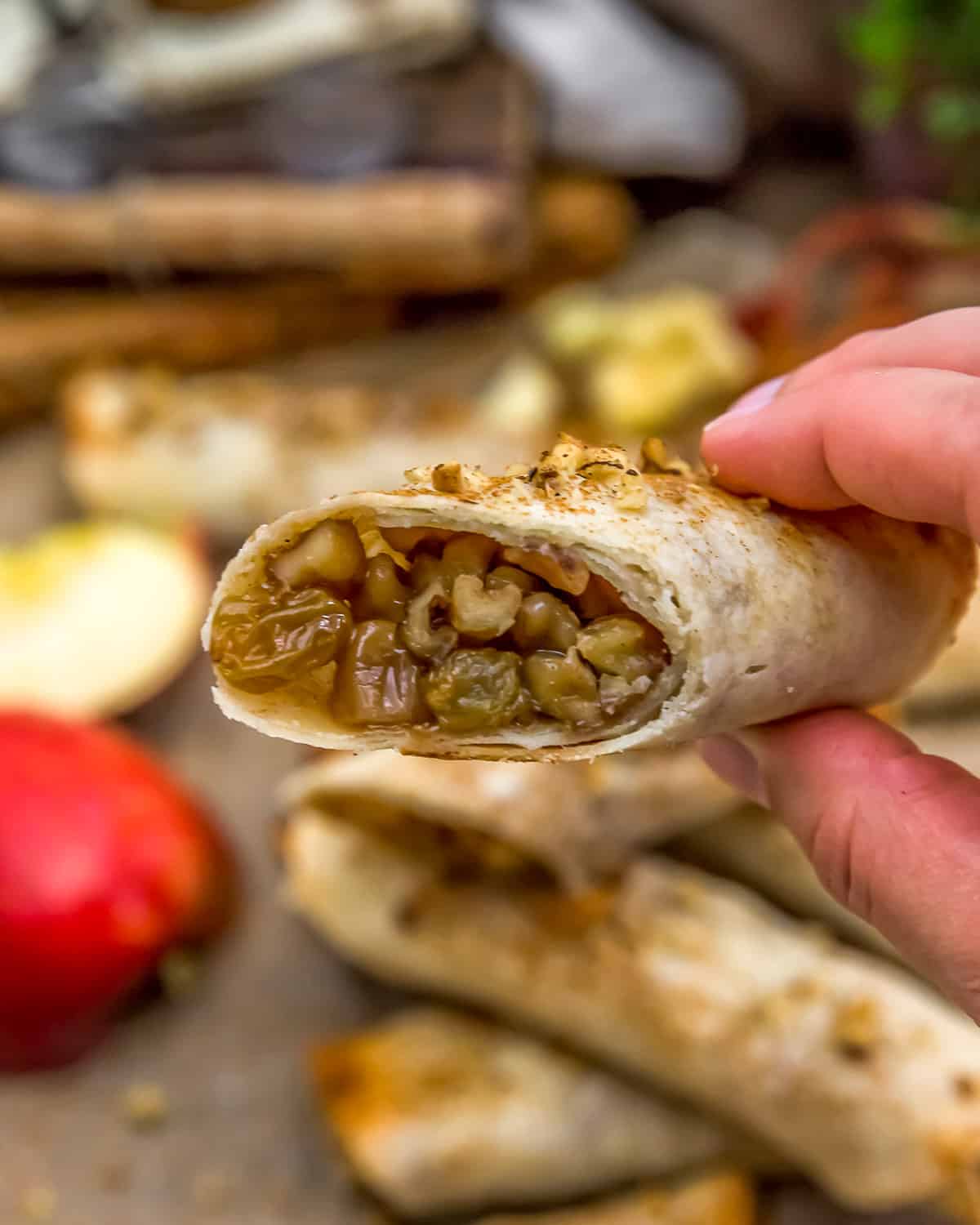 Leftovers and Freezing:
Leftovers will generally keep for 4-5 days in the refrigerator.  Store in a covered container.  Reheating can be done in the oven or in the microwave if you want them warm. They are also great at room temperature.
These roll-ups can be frozen.  For best results, completely thaw in the refrigerator.
Pantry Products Used:
Almond Flour Tortillas:  We used Siete Almond Flour Tortillas as they are almost pastry like quality which would mimic a strudel. You can typically find them in most health food stores.  Additionally, Siete has a 'store finder' on their website.  You can find them in either the refrigerator or frozen foods section.  Feel free to use your favorite 6-inch tortilla shells or similar wrapper-style bread.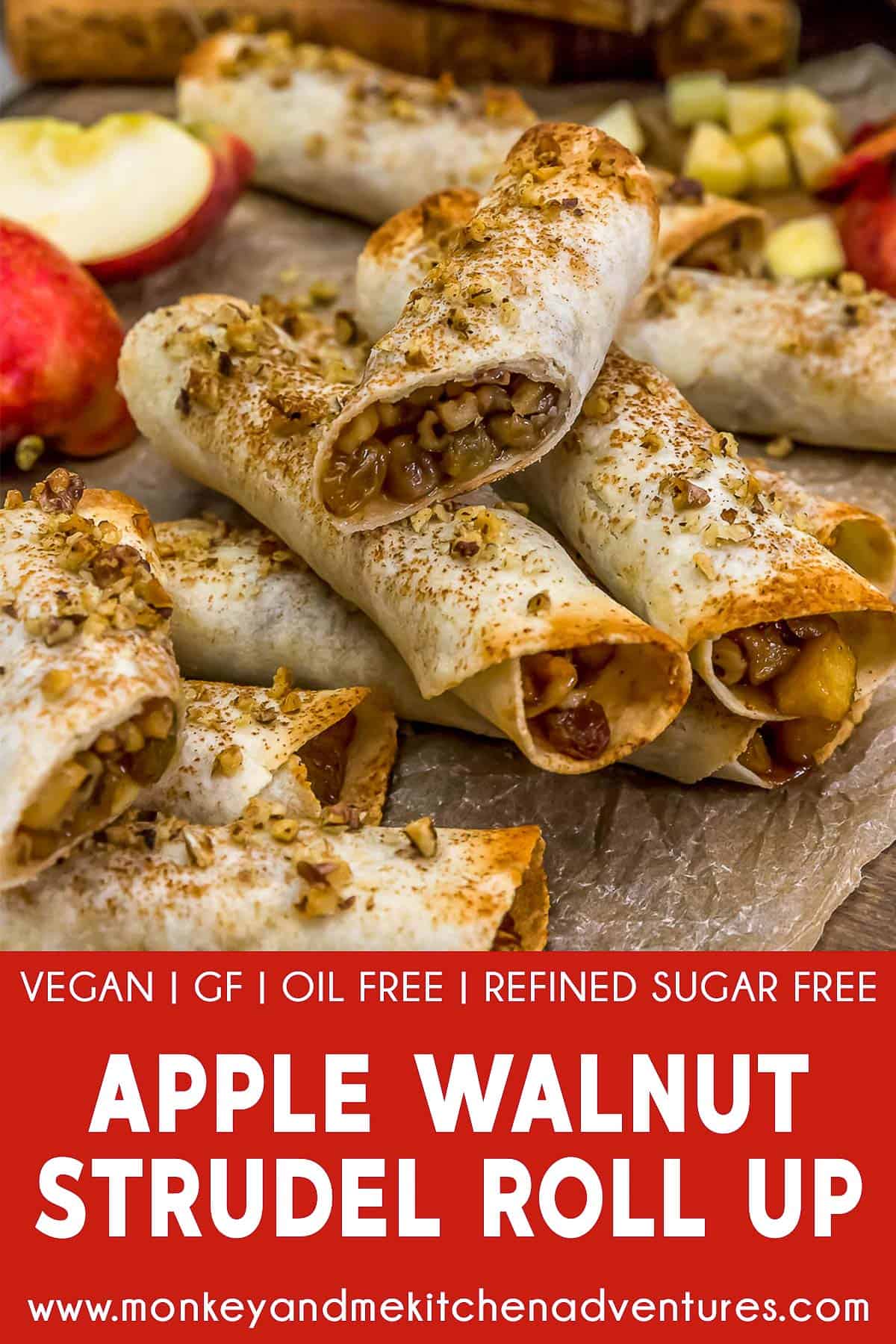 Kitchen Products Used:
Large enamel/ceramic lined skillet or similar non-stick skillet
Baking Sheet (possibly two used)
Parchment paper
We certainly hope you give this deliciousness a try.
If you try this delicious dessert, we would love to know if you enjoy it as much as we do! Please leave us a review! Post a picture on Facebook or Instagram and tag us!  We would love to hear from you.
Print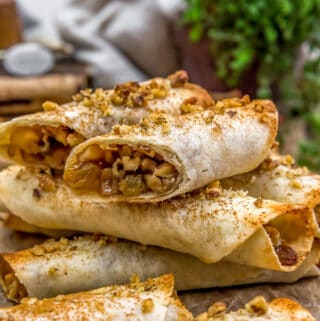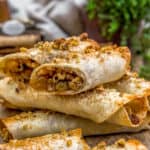 Apple Walnut Strudel Roll-Ups
Author:

Prep Time:

30 Minutes

Cook Time:

10-12 Minutes

Total Time:

40 Minutes

Yield:

8

Rolls

1

x

Category:

Dessert

Method:

Stovetop, Oven

Cuisine:

American

Diet:

Vegan
---
Description
This easy, oil-free Apple Walnut Strudel Roll-Ups recipe is packed with healthy goodness and makes for a perfect fall dessert.
---
Ingredients:
4 cups

apples, peeled, small 3/8-inch dice *

1 Tablespoon

lemon juice

½ cup

pure maple syrup

1 teaspoon

cinnamon (+/-) *
Large pinch nutmeg (optional) *
Pinch clove (optional) *

2 Tablespoons

water
Pinch sea salt *

2/3 cup

chopped walnuts (+/-) *

1/3 cup

golden raisins (+/-) *
Slurry Ingredients:
2 teaspoons

cornstarch (or arrowroot powder) *

1 Tablespoon

water
Other Ingredients:
8

almond flour tortilla shells *
Optional Toppings Ingredients:
1 Tablespoon

pure maple syrup

1 teaspoon

hot tap water
Finely chopped walnuts
Sprinkle cinnamon
---
Instructions
Preheat the oven to 375 F. Use center rack placement.
Line a baking sheet with parchment paper, set aside.
Core, peel and dice the apples into 3/8-inch cubes, place in a bowl as you are cubing them and splash with 1 Tablespoon of lemon juice to keep them from browning.
In a large ceramic/enamel lined skillet (or similarly large nonstick skillet) add the small diced apples, maple syrup, cinnamon, nutmeg, clove, sea salt and water. Stir well to evenly distribute the ingredients. Sauté over medium-high heat for 10 to 15 minutes or until the apples are perfectly tender.
Stir in the walnuts and raisins, stir for several minutes to heat the walnuts and raisins through.
Make the cornstarch slurry by placing the cornstarch in a small bowl, then adding the water and stirring until perfectly smooth.
Increase the heat slightly and add the cornstarch slurry, stirring constantly until the mixture is thickened into a sticky syrup-like consistency. Cook for several minutes, stirring constantly, then remove from the stove to slightly cool.
Assemble the rolls: Lay the tortilla out flat, then place 1/8th (approximately ¼ to 1/3 cup) of the mixture in the middle of the tortilla, creating a log of the mixture, then roll it up.  Place onto a flat surface, seam side down.  Continue until the remaining tortillas are made.
Place 1 Tablespoon of pure maple syrup into a small bowl, add 1 teaspoon of hot tap water, mix well, then brush the tops of each of the strudel rollups with the maple syrup mixture, then sprinkle with the finely chopped walnuts and a sprinkle of cinnamon, then carefully move to a parchment paper lined baking sheet. (see notes)
Place into a preheated 375 F oven bake for 10 to 12 minutes until the tortillas are crisp. Allow to sit for 15 minutes before serving warm.
---
Notes
*Please reference the blog post for Tips for Success, Pantry Items Used, Storage and Freezing, and Kitchen Products Used. 
*Sea Salt:  Please adjust the sea salt based upon your family's sea salt preferences and/or based upon dietary needs.
*Serving:  8 rolls

This post contains affiliate links, and we may receive a very small commission if you purchase through those links at no additional cost to you. Thank you for supporting Monkey and Me Kitchen Adventures! For more information, see our disclosures here.