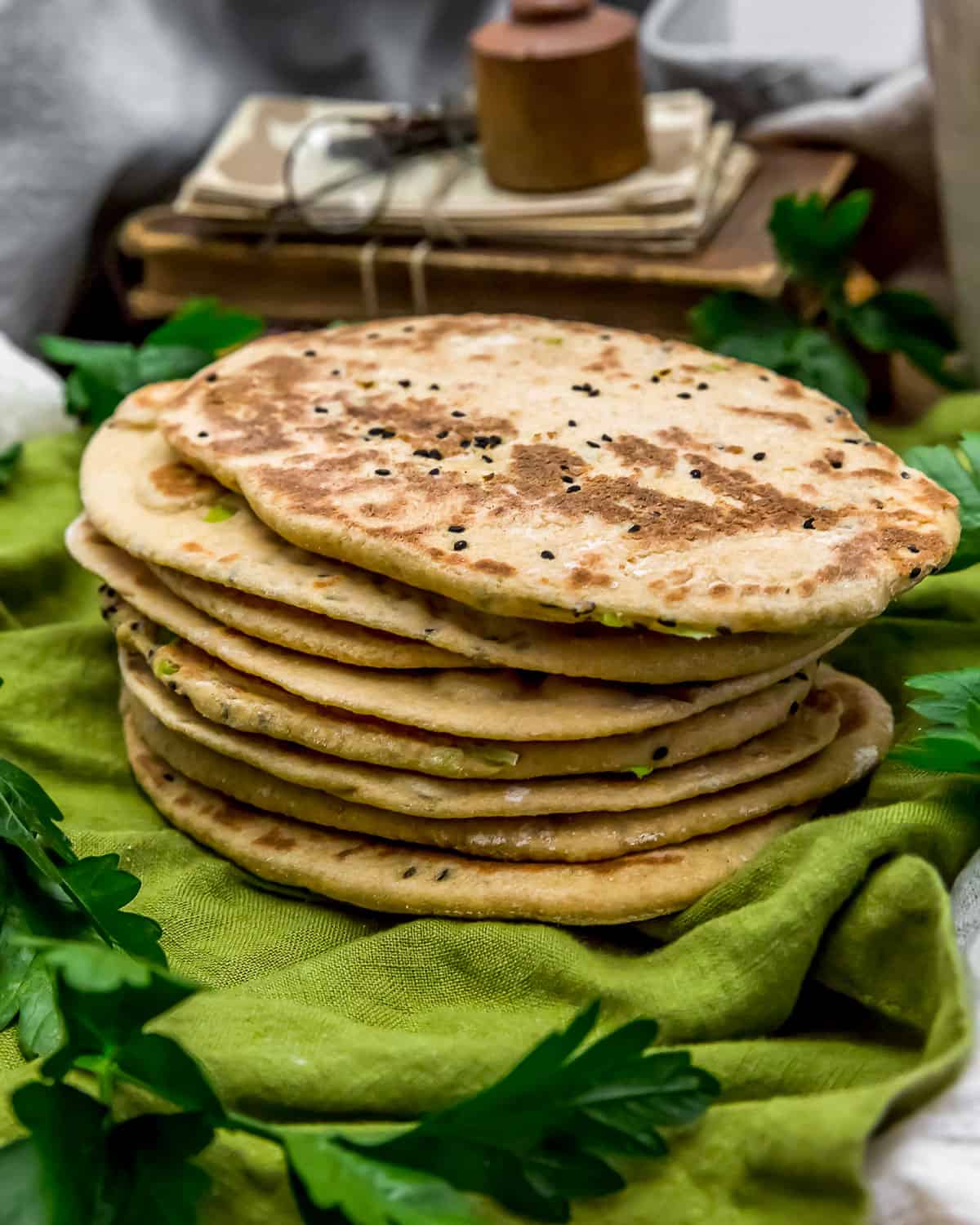 Whole Grain Naan! One of our favorite ways to a (relatively) quick and easy flatbread.
Pillowy and irresistible, this Whole Grain Naan is a healthy twist to traditional naan that is sure to satisfy those naan cravings. Made with whole wheat pastry flour (or atta,) it is soft, pliable and the perfect wholesome flatbread to serve with your favorite dishes: curries, soups, wraps, appetizers, and so much more.
Whole Food Plant Based, Vegan, plant based, oil free, refined sugar free, no highly processed ingredients.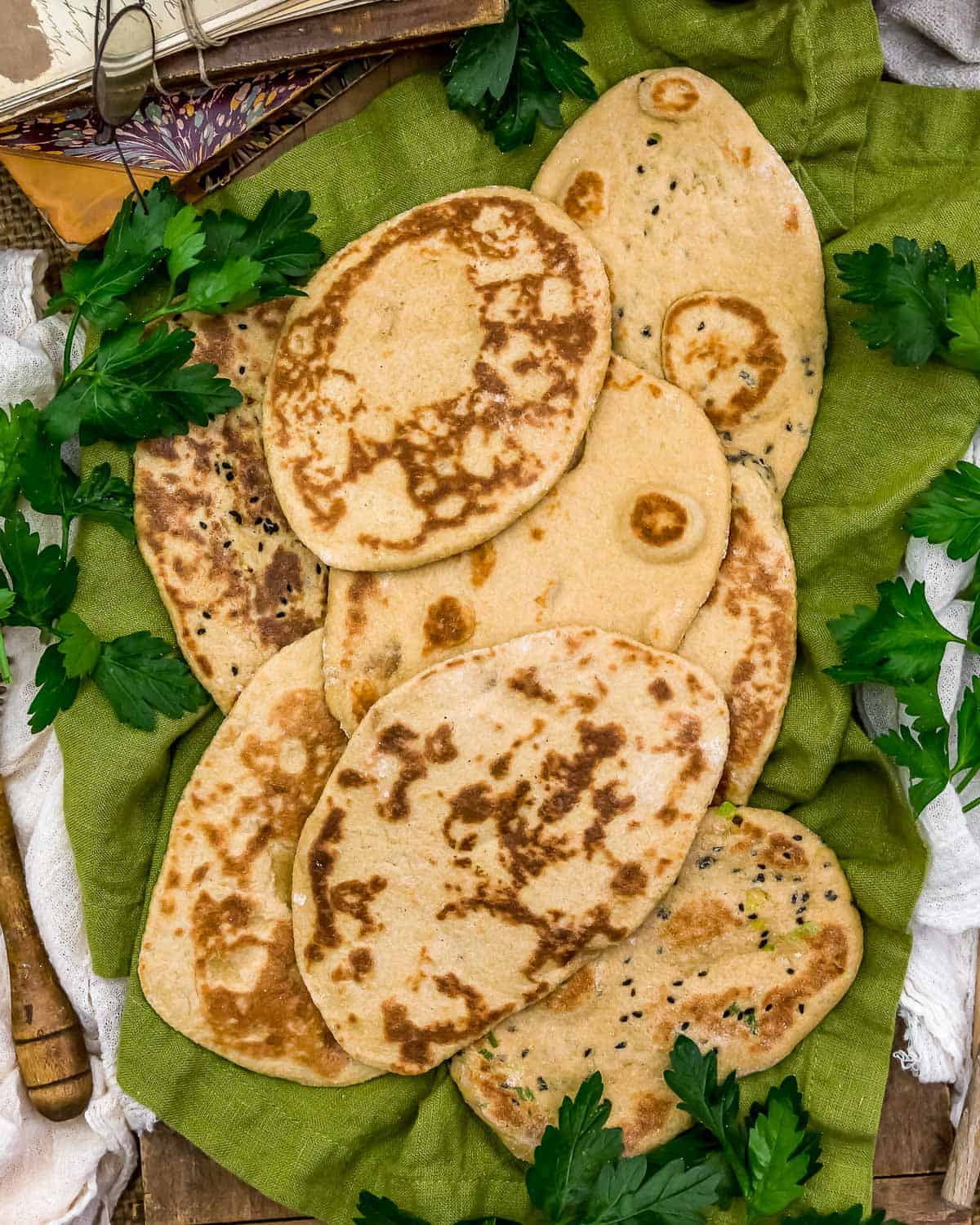 Hi there, Ameera here!
Soft, pliable and oh-so-delicious, we fell in love with this Whole Grain Naan, and we hope you do too!
You gotta give this one a try!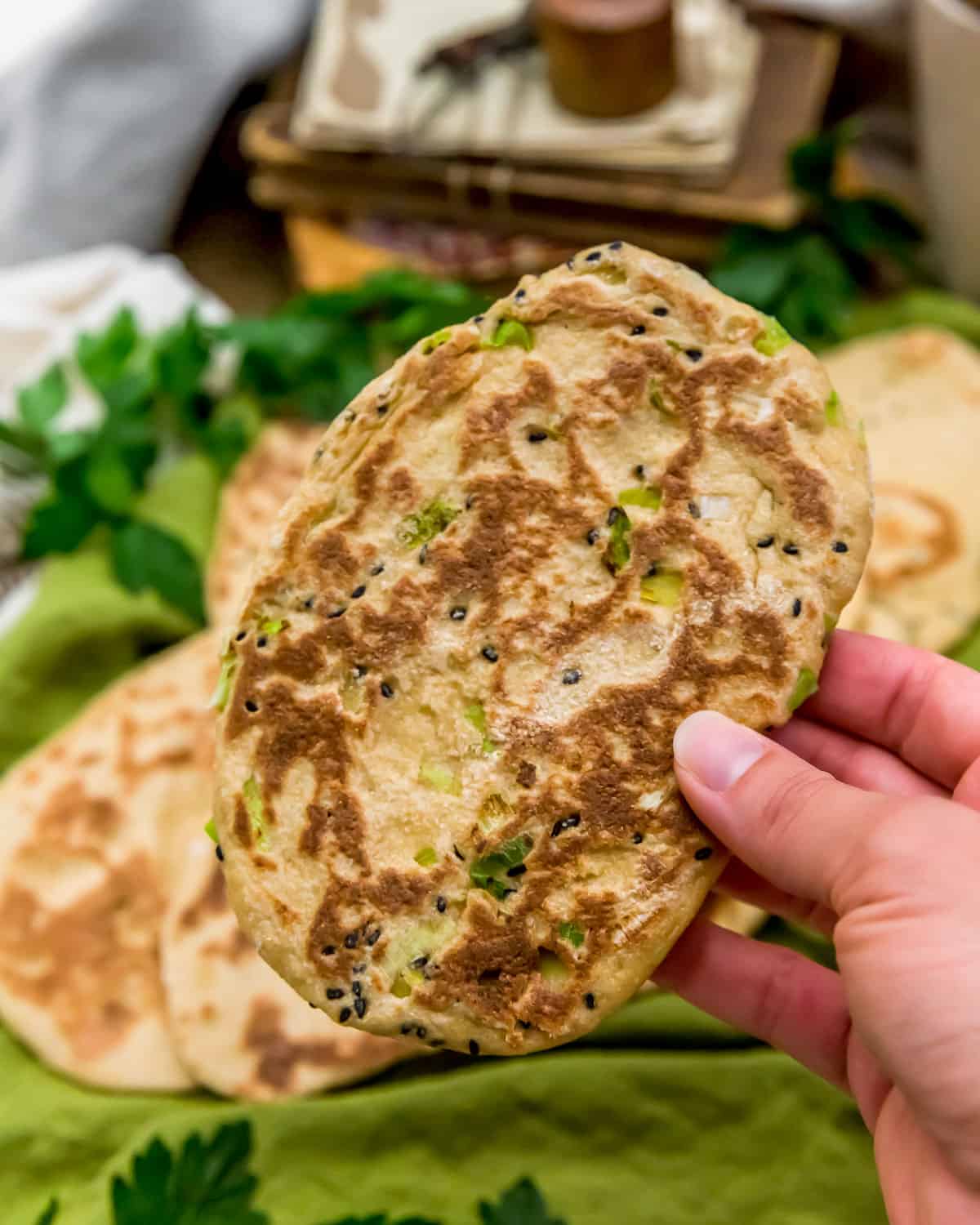 Tips for Success:
Flavor Profile: These delicious whole grain naan breads are beautifully soft and delicious. Perfect for curries, soups, and stews.
Making Homemade Bread: Don't be intimidated by the thought of making your own bread or bakery items. It can be very rewarding and a lot of fun.
Whole Wheat Pastry Flour: Whole Wheat Pastry Flour is a whole grain flour. It is made from 100% stone ground soft spring wheat It is Whole Food Plant Based as it is made from 100% soft spring wheat berries. It has a lighter texture. We used Bob's Red Mill 100% Stone Ground Whole Wheat Pastry Flour.
Indian Whole Wheat Flour: Indian Whole Wheat Flour is called Atta. It is a 100% whole wheat flour that is made from durum wheat. It is perfect for making roti, Indian tortillas as well as chapati, paratha, and puri. It is lighter and milder in flavor because it is stone ground releasing more sweetness and making breads softer.  When we measured out 2 cups of atta flour it came out to 10 oz.
Whole Wheat Pastry Flour versus Atta Flour: We made this recipe multiple times using both whole wheat pastry flour and atta flour. From a flavor aspect they appeared almost identical in flavor. The atta flour was slightly denser from a weight standpoint (8.7 oz. versus 10 oz) and requires about 2 extra tablespoons of warm milk to make a soft, pliable dough. The whole wheat pastry flour made a slightly softer dough, but the end-product was virtually the same. From an expense standpoint, it is less expensive to purchase the whole wheat pastry flour unless you are buying the atta directly from an Indian market store.
Whole Wheat Flour: You can also use whole wheat flour in this recipe. The end product has a denser texture and a more pronounced wheat flavor.
Measuring Flour: Spoon the flour into the measuring cup and level off. Do not pack it in and do not scoop it in. You will end up with a much denser and heavier texture.  If you have a food scale, use the food scale for precise amounts, but don't sweat it if you don't.
Warm Plant Milk: Don't worry if you do not have a thermometer to measure the milk temperature. We don't use one. Just ensure the milk is warm and not hot. It doesn't matter too much because we don't bloom the yeast. Blooming the yeast is adding the yeast, sugar, and water (or milk) in a small bowl, stirring well which allows the yeast to "wake up".
Plant Yogurt: The plant yogurt makes the dough fluffier and lighter.
Kneading Dough: You can use a stand mixer or knead the dough by hand. We have a stand mixer, but really enjoy kneading the dough by hand. While it is tempting to keep adding flour until it is no longer sticky, resist the temptation. The amount of flour to dough ratio can vary by seasons. In the summer, when the humidity is high, you may need slightly more flour or less water.
Quick-Rise/Instant Yeast: Use Quick-Rise/Instant Yeast.  We have not tested this recipe using Dry Active Yeast.
Sea Salt: Our family was divided over the amount of sea salt. We ultimately landed on ¾ teaspoon of sea salt for this recipe. Feel free to use more or less if you wish. If you use regular table salt, then use less as sea salt is not as fine as table salt.
Parchment Paper: Lightly flouring the parchment paper prevents the dough from sticking. Simply place a 1/8 teaspoon of whole wheat pastry flour onto the parchment paper, then run the palm of your hand or fingers all over the parchment paper to ensure that the entire paper is very lightly coated.
Spray of Water: Using a spray bottle with a "mister" setting allows a fine mist on the surface of the dough during resting to prevent a "crust" from forming on the dough since we do not use oil. It is also used right before "frying" on the stovetop to introduce some steam. If you don't have a spray bottle, you can wet your fingers and lightly stroke the surface of the dough. We bought this spray bottle from Amazon. It works perfectly and is inexpensive. Feel free to use your favorite spray bottle or use your fingers. Ultimately, using a spray bottle with the fine mister works the best.
Optional Add-Ins: The add-ins are added when forming the dough balls after they have risen. Simply press your thumbs into the center of the ball to create a pocket and then place the add-ins into the pocket. Continue to push your thumbs into the dough over and over again, moving it around and around, until the dough becomes elastic and then shape and form a ball. You would typically add the add-ins when getting ready to roll out the dough, but we found that doing it this way causes the add-ins to lay on the surface and fall off when cooking on the skillet.
Nigella Seeds: We added about ¼ to ½ teaspoon to each naan ball. Take the dough ball and press your thumb in the middle to create a pocket, place the nigella seeds inside the pocket and then continue to slightly knead the dough to disperse the nigella seeds. Then form a ball and set onto the parchment lined baking sheet to rest. This is Step 5 of the recipe.  We like to do half with nigella seeds and green onions and the other half plain.
Finely Chopped Green Onions: We absolutely loved the finely chopped green onions add-in.  To add them follow the directions for the Nigella Seeds.
Number of Naan flatbreads: This recipe makes 8 small naan flatbreads.  You can easily adjust to 4 or 6 naan flatbreads for thicker naan. Adjust the cooking time accordingly.
Leftovers: Because this recipe for naan has no additives or preservatives, if you want them to last longer place them in the refrigerator or freezer.  They freeze really well. We make double batches and freeze them.
Bread Machine: This recipe has not been tested in a bread machine.
Not Gluten Free: This recipe is not gluten free.  We do not have a gluten free alternative for this recipe.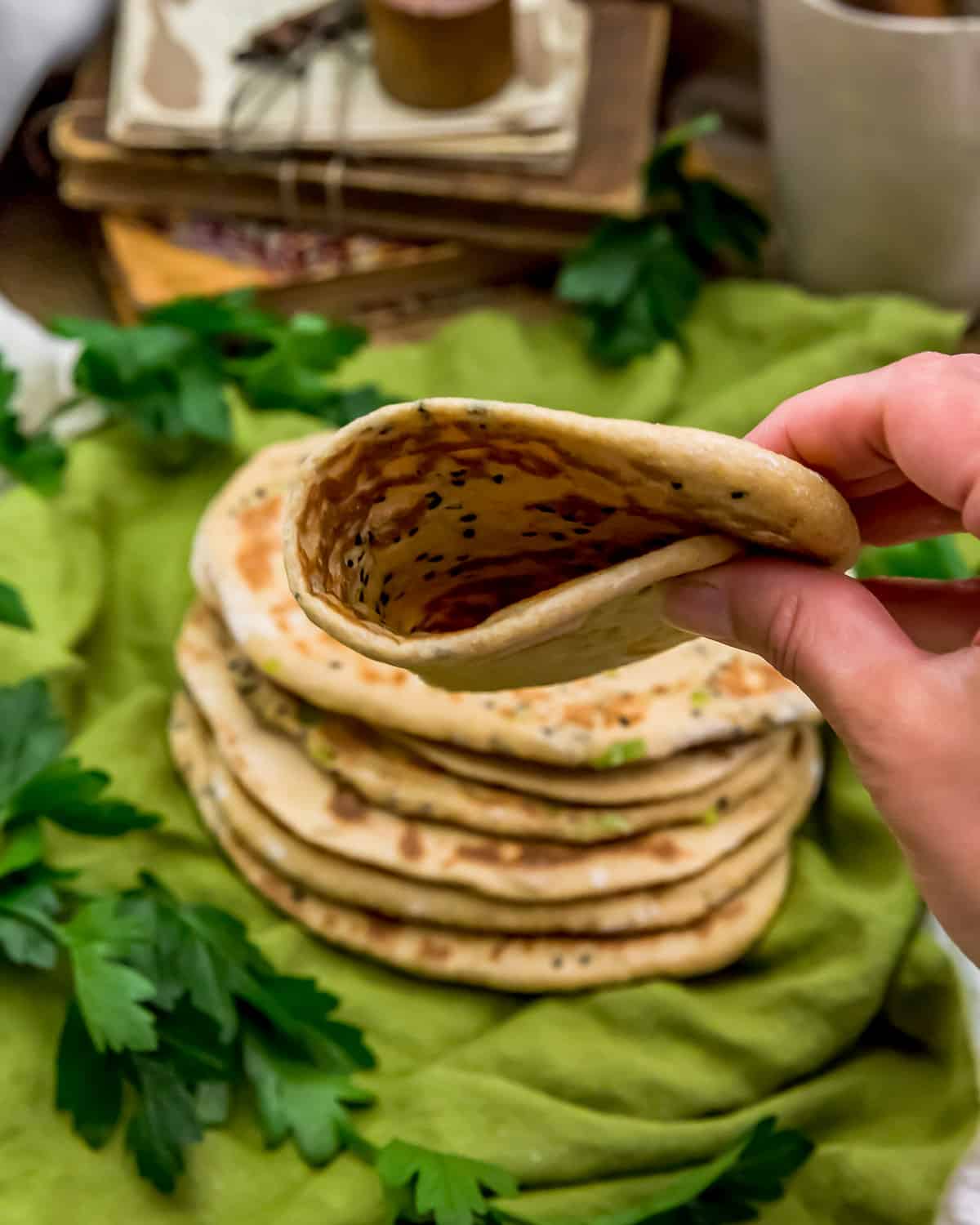 Leftovers and Freezing:
Leftovers will generally keep 3 days at room temperature.  Store in a covered container.
This naan freezes well.
Pantry Products: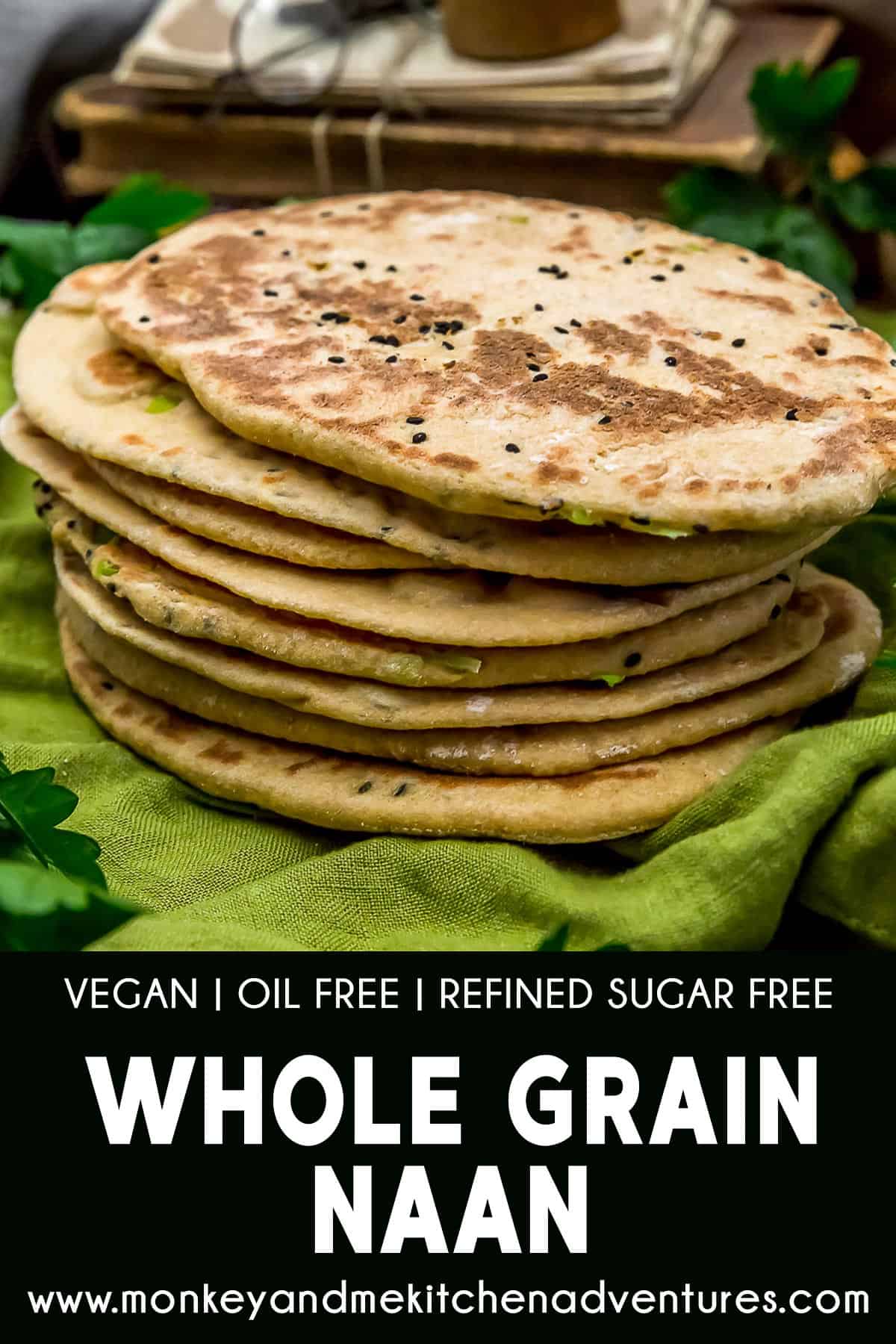 Kitchen Products:
Large baking sheet
Parchment paper
Rolling pin
Large flat skillet
Water spray bottle (optional)
If you try this delicious naan recipe, we would love to know if you enjoy it as much as we do! Please leave us a review! Post a picture on Facebook or Instagram and tag us! We would love to hear from you.
Print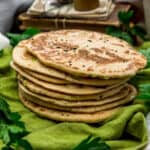 Whole Grain Naan
Author:

Prep Time:

85 Minutes

Cook Time:

16 Minutes

Total Time:

101 Minutes

Yield:

8

Naan

1

x

Category:

Side

Method:

Stovetop

Cuisine:

Indian

Diet:

Vegan
---
Description
Pillowy and irresistible, this Whole Grain Naan is a healthy twist to traditional naan that is sure to satisfy those naan cravings.
---
2 cups

whole wheat pastry flour (

8.7 oz

.) *

1 teaspoon

quick rise/instant dry yeast *

½ teaspoon

baking powder

¼

to

¾

teaspoon sea salt (+/-) *

1 teaspoon

pure maple syrup

2 Tablespoons

unsweetened plain plant yogurt

¾ cup

warm unsweetened plain plant milk (

120

to 130F degrees) *
Optional Add-Ins:
Finely chopped garlic
Nigella seeds
Finely chopped green onions
Finely chopped cilantro leaves
---
Instructions
Place the flour, dry yeast, baking powder, and sea salt into a large mixing bowl. Whisk to combine.
Add the maple syrup, plant yogurt, and warm plant milk, mix well with your hands until the dough starts to come together. While the dough is still in the bowl, start kneading the dough inside the mixing bowl to form a ball. At first the dough will seem wet and sticky, but keep kneading, the flour will start to absorb the wet ingredients, the stickiness will start lessening, and the dough will become easier to knead. Knead the dough inside the bowl for several minutes, then transfer the dough to a lightly floured surface and continue to knead the dough for another 6 to 8 minutes. The dough should be smooth and elastic. This dough is soft, but easy to knead. Form a dough ball.
Wash the bowl where the dough was kneaded. Place the dough ball inside, spray the top with a tiny mist of water. Cover with a tea towel (or plastic wrap) and let rest in a warm place for 60 minutes or until doubled in size.
Prepare a large baking sheet by lining it with parchment paper. Place about 1/8 teaspoon of whole wheat pastry flour in the center of the parchment paper and rub the surface of the parchment paper with the flour. Set aside.
After 60 minutes or doubled in size, punch the dough down and place the dough onto a lightly floured surface. Cut the dough into 8 pieces. Shape the 8 pieces into individual dough balls, place the dough balls onto the parchment paper covered baking sheet, cover with a tea towel, allow to rest for 15 minutes.
After 15 minutes, place a large flat non-stick skillet on the stovetop and bring the heat to a moderate heat. Then take one dough ball (work with one dough ball at a time while the rest are covered) and start to shape it into a flat disk in your hands, then place the disk onto a lightly floured surface and roll it out into a thin circle or oblong shape. You should need a minimal amount of flour as the dough should be very pliable and easy to roll out.
When the pan is brought up to moderate heat, pick up the flattened dough in the palm of your hand, and spray (or brush) the dough with water. Press the flattened dough onto the hot pan with the water-coated side down onto the pan. The water will introduce steam and create bubbles in the dough as it cooks. Cook the dough for 1 minute, then flip and cook on the other side for approximately 1 minute or longer until lightly golden brown. Place the cooked naan covered into a tea towel to keep warm. Repeat this process with all the other dough pieces. Enjoy!
---
Notes
*Please reference the blog post for Tips for Success, Pantry Items Used, Storage and Freezing, and Kitchen Products Used.
*Sea Salt:  Please adjust the sea salt based upon your family's sea salt preferences and/or based upon dietary needs.
*Servings:  Makes 8 naan

This post contains affiliate links, and we may receive a very small commission if you purchase through those links at no additional cost to you. Thank you for supporting Monkey and Me Kitchen Adventures! For more information, see our disclosures here.