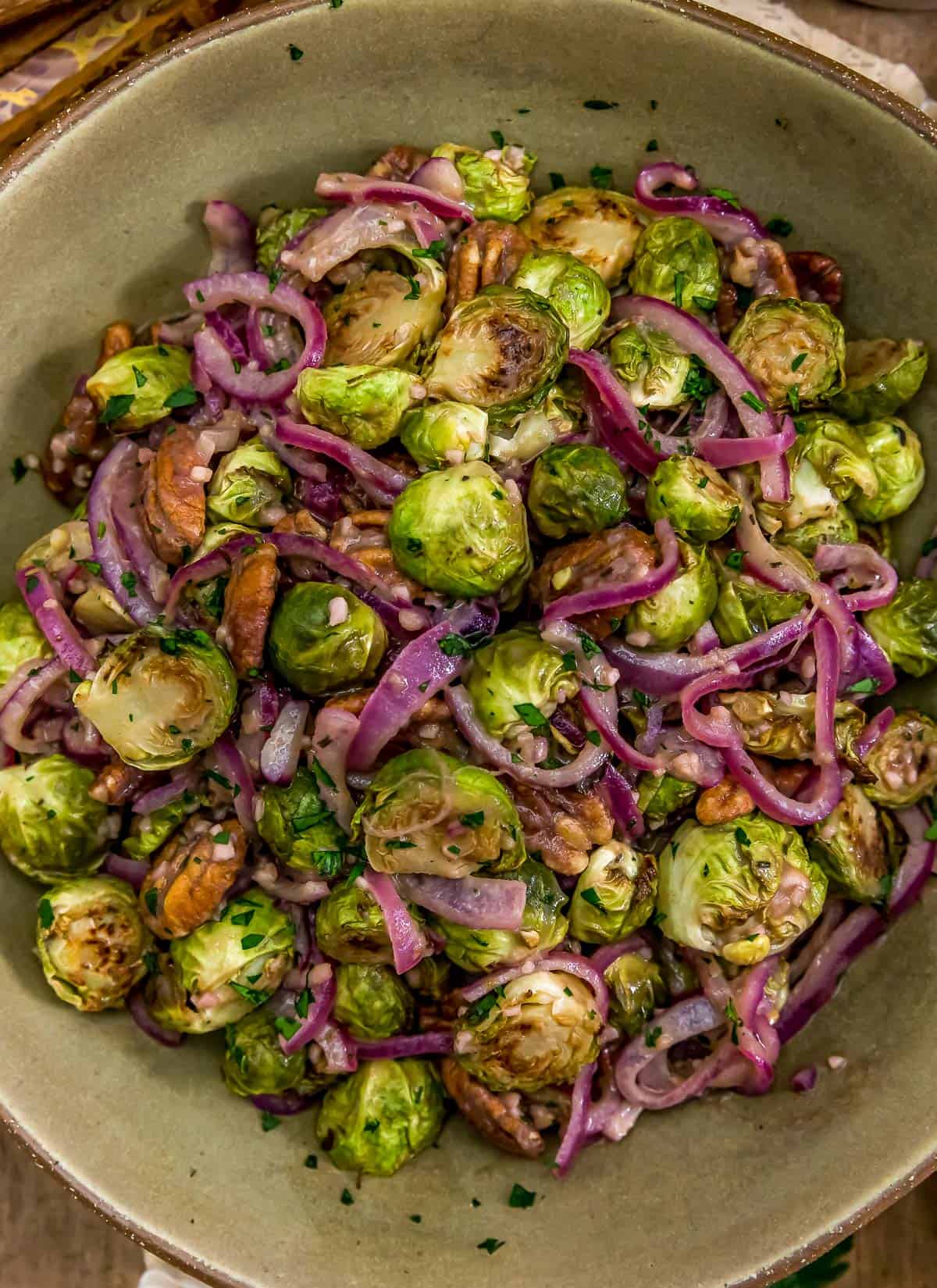 Warm Caraway Brussels Sprouts Onion Salad! Looking for more tasty ways to enjoy roasted Brussels Sprouts? Look no further than this tasty and simple salad.
Nourishing, cozy, and flavorful, this Warm Caraway Brussels Sprouts Onion Salad makes for the perfect warm Autumn salad. Roasted Brussels sprouts and red onions shine in this hearty salad tossed with a tangy, slightly sweet dressing that features caraway seeds.
Whole Food Plant Based, Vegan, plant based, oil free, refined sugar free, no highly processed ingredients and gluten free.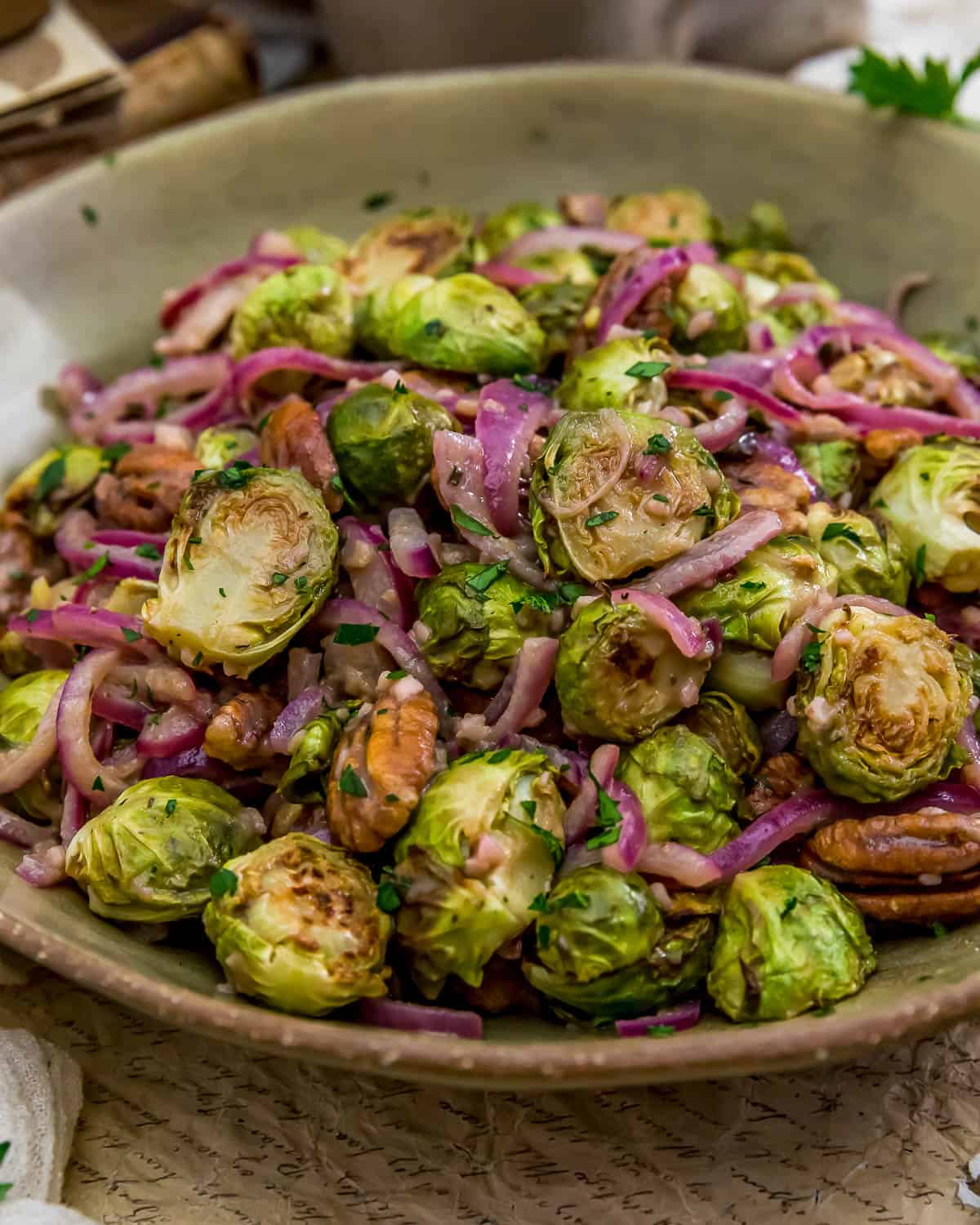 Hi there, Ameera here!
I totally fell in love with this warm Fall salad. It is so yummy.  It was definitely a salad with a wide range of family opinions.  Be sure to read the full blog post to ensure that you understand how to make it to suit your personal preferences.
You gotta give this one a try!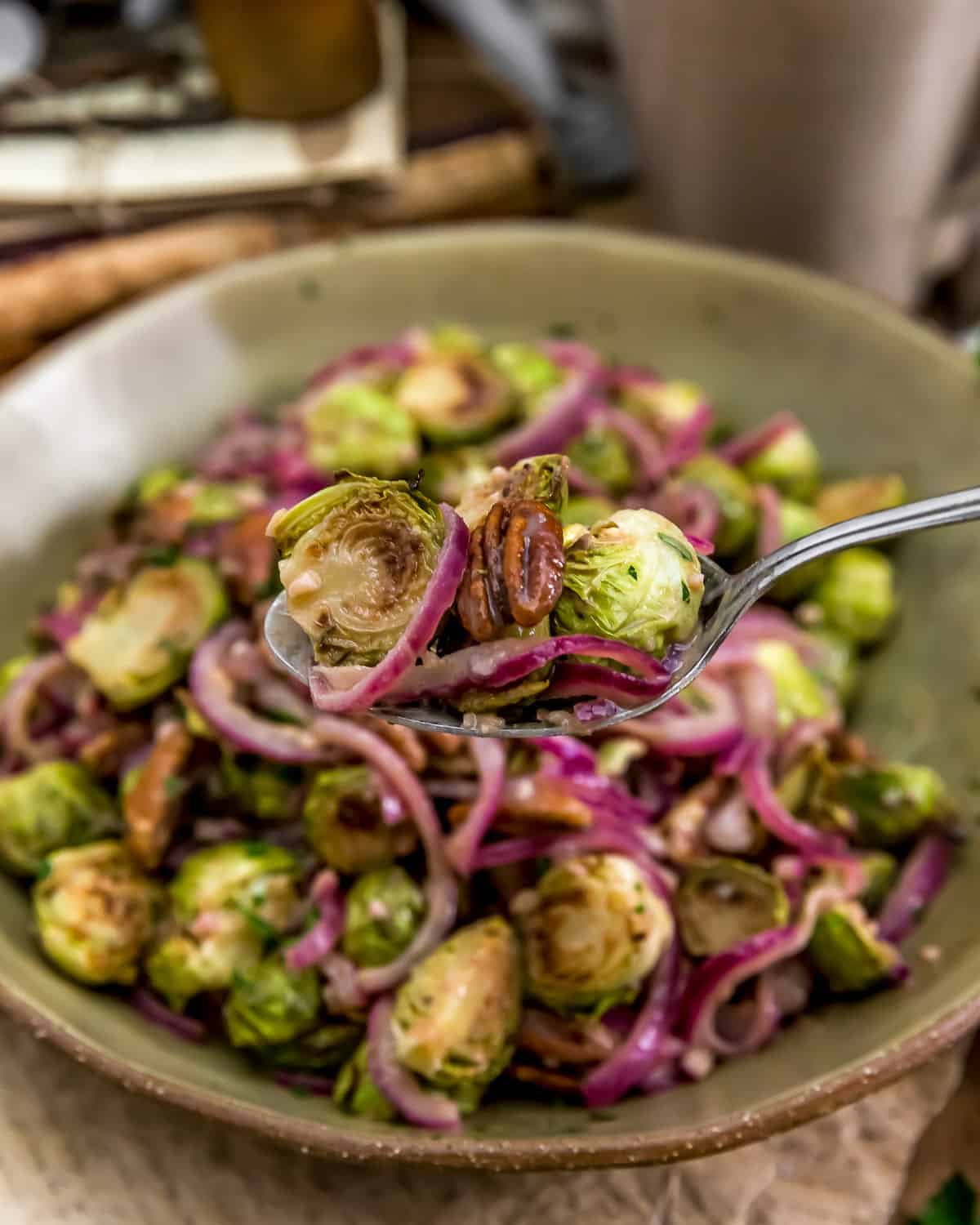 Tips for Success:
Flavor Profile: This lovely warm Brussels Sprouts salad is delicious with a caraway flavor-forward sweet and tangy sauce.
Brussels Sprouts: We used a 2-pound bag of fresh Brussels Sprouts. Trim off the hard steam and slice in half. Large sprouts can be quartered. Really small ones can be left whole.
Tenderness of the Brussels Sprouts: The tenderness of the Brussels Sprouts is relative.  We enjoyed them roasted for 20 minutes. This resulted in tender, but not mushy sprouts.
Red Onions: The red onions were the most controversy part of this recipe as some family members enjoyed very soft, steam-sautéed red onions. This results in very tender, flimsy red onions. Others wanted them roasted in the oven to a tender-crisp stage. If you roast them in the oven, you will need to place them on a separate baking sheet and the timing is largely dependent upon how tender your family enjoys them. Roasting results in a sweeter and roasted flavor.  Other family members wanted them very crisp as they enjoyed the crispness contrasting with the tender Brussels Sprouts.
Size and Amount of the Red Onions: This was another area where family members had strong opinions.  Some family members enjoyed one large red onion, while others thought that this was too much red onion.  Another area was the cut size of the red onions themselves.  All agreed that thinly sliced was the way to go; however, some wanted them cut into half moon slices, while others thought the pieces were too big and wanted them cut into pieces no longer than one-inch. Ultimately you can decide what works best for your family.
Sherry Vinegar Substitutions: You can substitute the sherry vinegar with your favorite vinegar with the understanding that that flavor palate will change accordingly, and you may need to compensate by adding other ingredients.  We have not tested any substitutions.  Rice vinegar is the closest in flavor to sherry vinegar. Champagne vinegar could potentially work as well. Red wine vinegar is a much stronger flavor and more acidic and will require the most work regarding adjusting ingredients.
Sauce Thickness/Cornstarch/Arrowroot Powder: The end result of the sauce should be a slightly thickened sauce. You may not need the cornstarch at all. If you do decide to not use the cornstarch, then later find that you need it, then make sure you create a cornstarch slurry, by adding a little bit of cornstarch to a bowl and add a tablespoon of cold water, then whisking until all the cornstarch is melted into water, then add to the skillet.  Adding cornstarch directly to the sauce (without making a slurry) will result in lumps that cannot be whisked out.  If you do decide to add the cornstarch initially, then later find the sauce is too thick, then add a tablespoon of water at a time until the sauce is thinned out.  The key is a slightly thickened stream of sauce that pours easily but nicely coats the salad ingredients.
Ground Caraway Seed: We used ground caraway seeds which is a powder.  Please feel free to adjust the amount as you feel appropriate. If you are not a fan of caraway seeds, then change the flavor profile or skip this recipe.
Leftovers and Freezing:
Leftovers will generally keep 5 days in the refrigerator.  Store in a covered container.
This dish can be frozen.
Pantry Products:
Dijon Mustard: We used Koops Dijon Mustard.  Feel free to use your favorite Dijon mustard.
Dried Crushed Thyme Leaves: If you can't find dried crushed thyme leaves, you can use ground thyme, but use half the amount.
Sea Salt: Please adjust the sea salt based upon your family's sea salt preferences and/or based upon dietary needs.
Kitchen Products:
Large skillet
Large baking sheet (14 x 20)
Parchment paper
If you try this flavorful warm salad, we would love to know if you enjoy it as much as we do! Please leave us a review! Post a picture on Facebook or Instagram and tag us! We would love to hear from you.
Print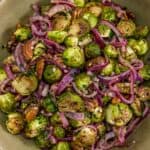 Warm Caraway Brussels Sprouts Onion Salad
Author:

Prep Time:

25 Minutes

Cook Time:

15-20 Minutes

Total Time:

40 Minutes

Yield:

4

-

6

Servings

1

x

Category:

Salad, Side

Method:

Stovetop, Oven

Diet:

Vegan
---
Description
Nourishing, cozy, and flavorful, this Warm Caraway Brussels Sprouts Onion Salad makes for the perfect warm Autumn salad.
---
Base Ingredients:
2

lb. Brussels Sprouts, trimmed, halved

½

to

1

large red onion, quartered, thinly sliced *

2 Tablespoons

minced garlic
Sauce Ingredients:
1 teaspoon

garlic powder

1 teaspoon

onion powder

¼ cup

pure maple syrup

3 Tablespoon

sherry vinegar *

1 teaspoon

Dijon mustard *

2 Tablespoons

tahini

1 teaspoon

ground caraway seeds

¾ teaspoon

dried crushed thyme leaves *

¼

to

1

teaspoon sea salt (+/-) *

1/8

to

¼

teaspoon cornstarch (or arrowroot powder) (optional)*

2 Tablespoons

water (for thinning, if needed) * 
Optional Ingredients:
---
Instructions
Preheat the oven to 400 F, center rack.
Line a large baking sheet with parchment paper, set aside.
Trim and halve the Brussels Sprouts, place the halved Brussels Sprouts, cut-side-down on the baking sheet, single layer.
Place in a 400 F preheated oven for 15 to 20 minutes, largely dependent upon the size of the Brussels Sprouts and how tender you enjoy them. Remove from oven and gently place the roasted Brussels Sprouts into a large bowl, set aside.
In the meantime, make the Sauce, place all the Sauce Ingredients into a small bowl, whisking well until smooth and emulsified, set aside.
If adding toasted pecans, place the pecans into a large dry skillet and stirring occasionally and toast over medium-high heat for 3 to 6 minutes until fragrant and lightly toasted. Be careful, they burn easily. Immediately remove from the skillet and place in the large bowl with the roasted Brussels Sprouts.
After removing the toasted pecans from the skillet, give the skillet a quick rinse to remove any tiny pecan pieces.
Then place the sliced red onions into the skillet with the minced garlic and a couple of splashes of water, lightly steam sauté for a few minutes OR instead of steamed red onions, dry sauté the red onions until they reach the desired tenderness, then add the minced garlic and sauté for 30 seconds, then remove onions and garlic from the skillet and add to the large bowl with the roasted Brussels Sprouts.
Next, add the Sauce to the large skillet, heat the sauce over medium-high heat until it starts to bubble, stirring constantly for several minutes. If needed, add a couple tablespoons of water to thin it out. The sauce should be very slightly thickened but easily poured.
Pour the warm sauce over top of the roasted Brussels Sprouts, onions, and toasted pecans, then very gently mix until everything is thoroughly coated, then serve warm.
---
Notes
*Please reference the blog post for Tips for Success, Pantry Items Used, Storage and Freezing, and Kitchen Products Used.
*Sea Salt:  Please adjust the sea salt based upon your family's sea salt preferences and/or based upon dietary needs.
*Serving:  4 to 6

This post contains affiliate links, and we may receive a very small commission if you purchase through those links at no additional cost to you. Thank you for supporting Monkey and Me Kitchen Adventures! For more information, see our disclosures here.