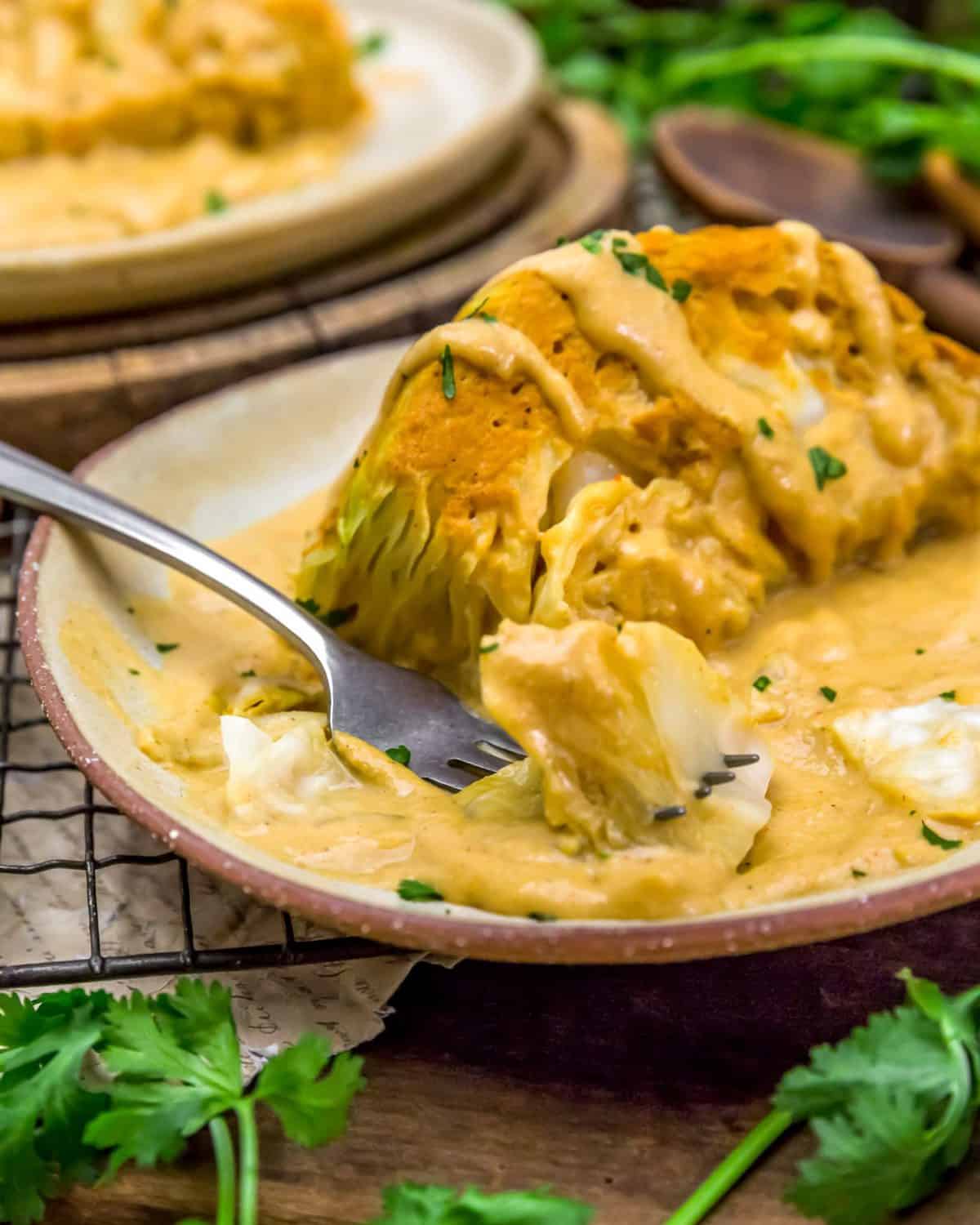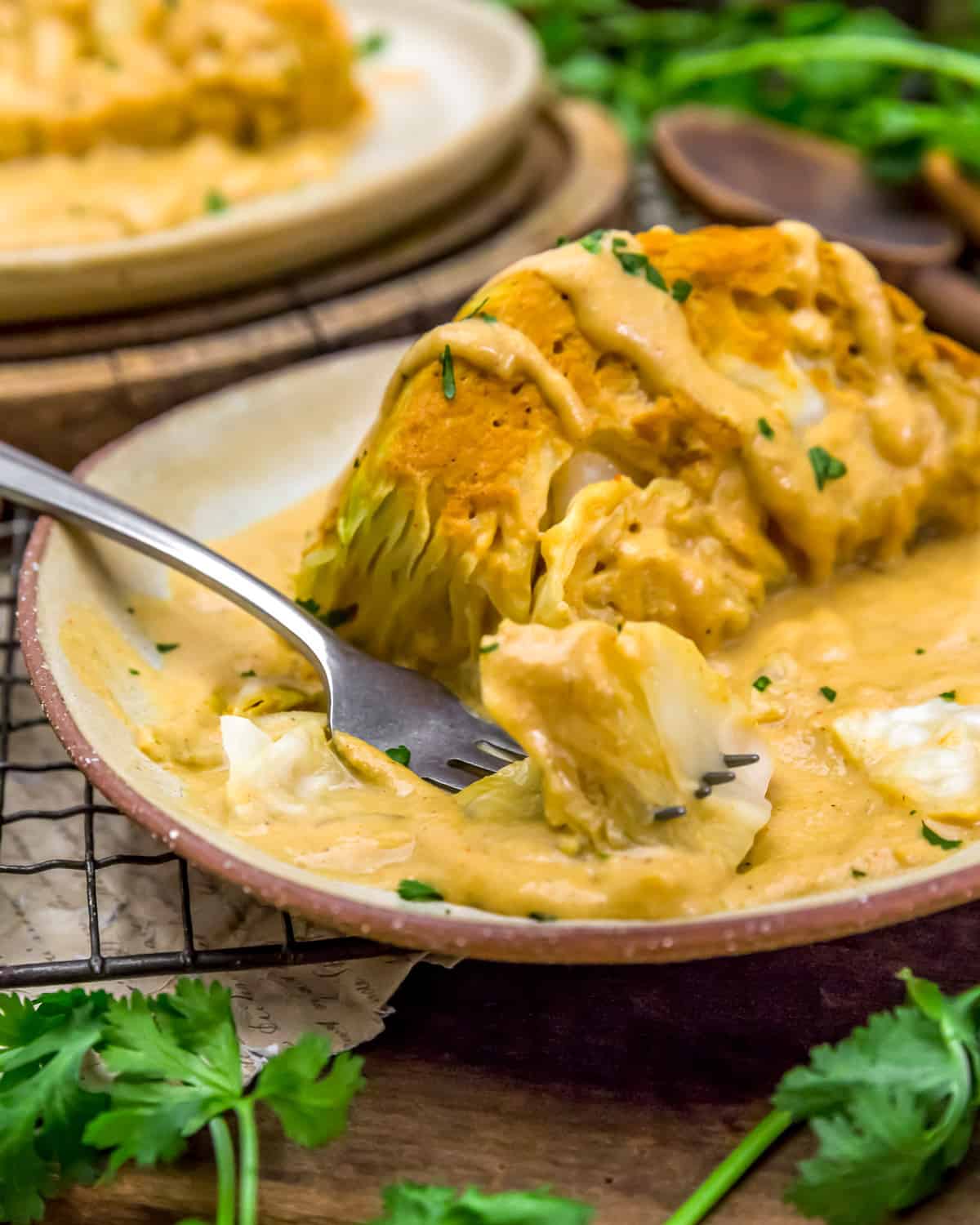 Bringing all those amazing Southwestern flavors together with this delicious, oil-free Vegan Southwestern Scalloped Cabbage. Tender cabbage wedges are drenched in a creamy, dreamy Southwestern sauce that comes together perfectly in this delicious casserole. The whole family will be seated at the table in a flash for this delicious dish.
Whole Food Plant Based, Vegan, plant based, oil free, refined sugar free, no highly processed ingredients and gluten free.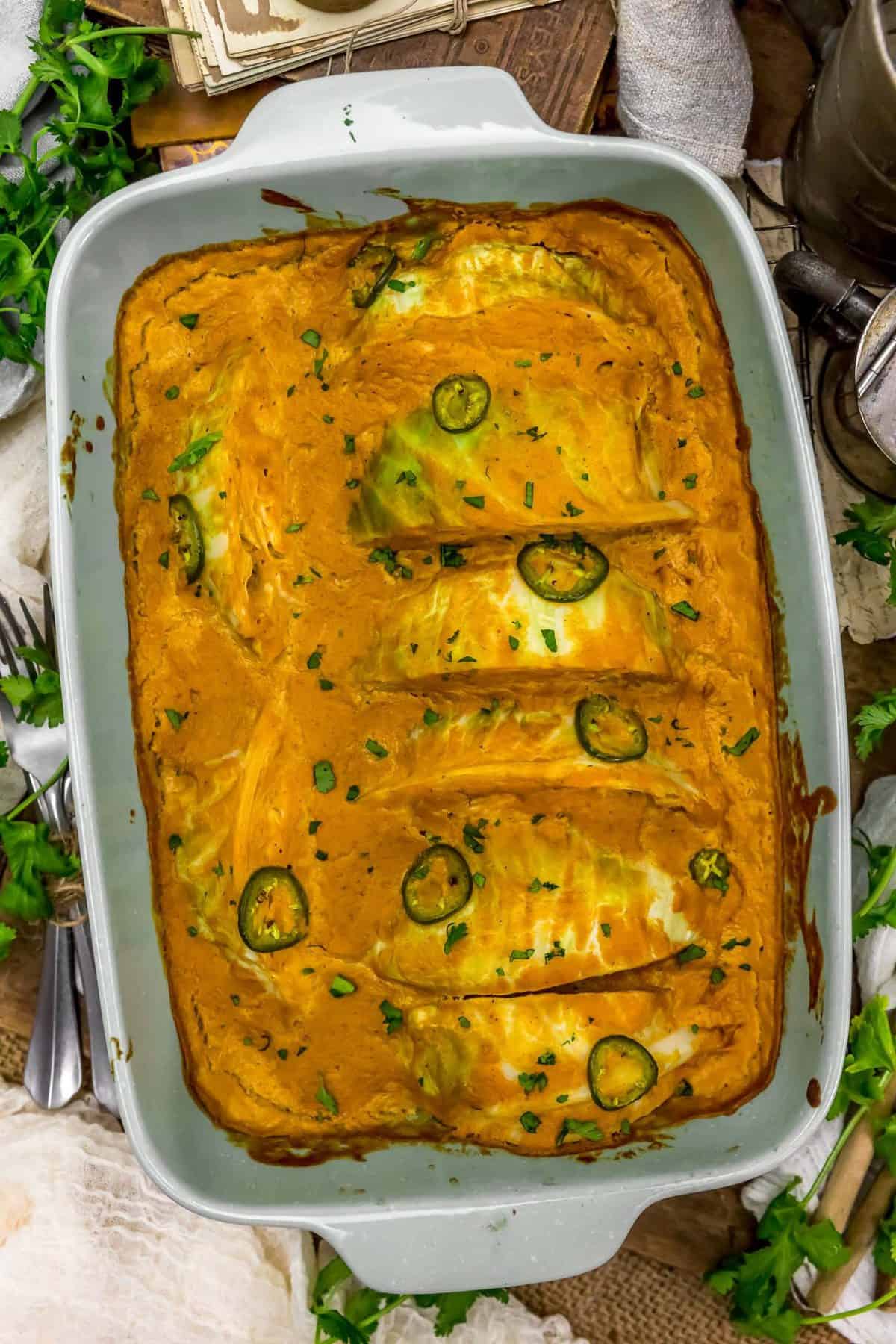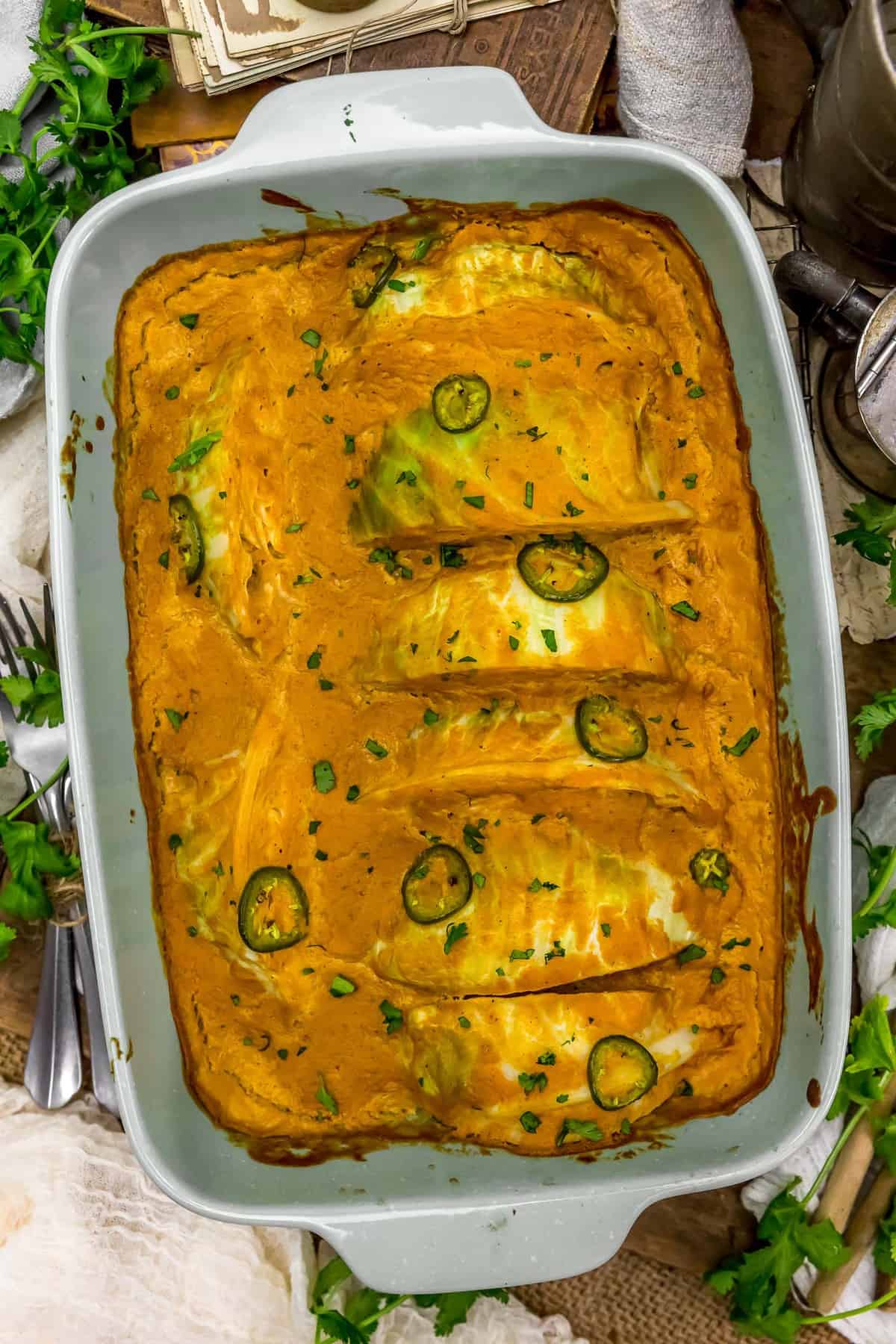 Hi there, Ameera here!
As all our Readers know by now, Mom and I are obsessed with converting traditional dishes into a delicious Whole Food Plant Based version. We don't watch a ton of TV, but I like to have the Food Network on in the background when I am working on blog stuff.
Ree Drummond caught my attention when she made an Escalloped Cabbage Casserole.  I thought maybe, just maybe I could convert this one.
Of course, we all know Ree, she isn't shy about using generous amounts of cheese, dairy, butter, etc. in her dishes.  Her dish used Cheese Whiz and Pepper Jack Cheese.  Oh boy!  Challenged accepted.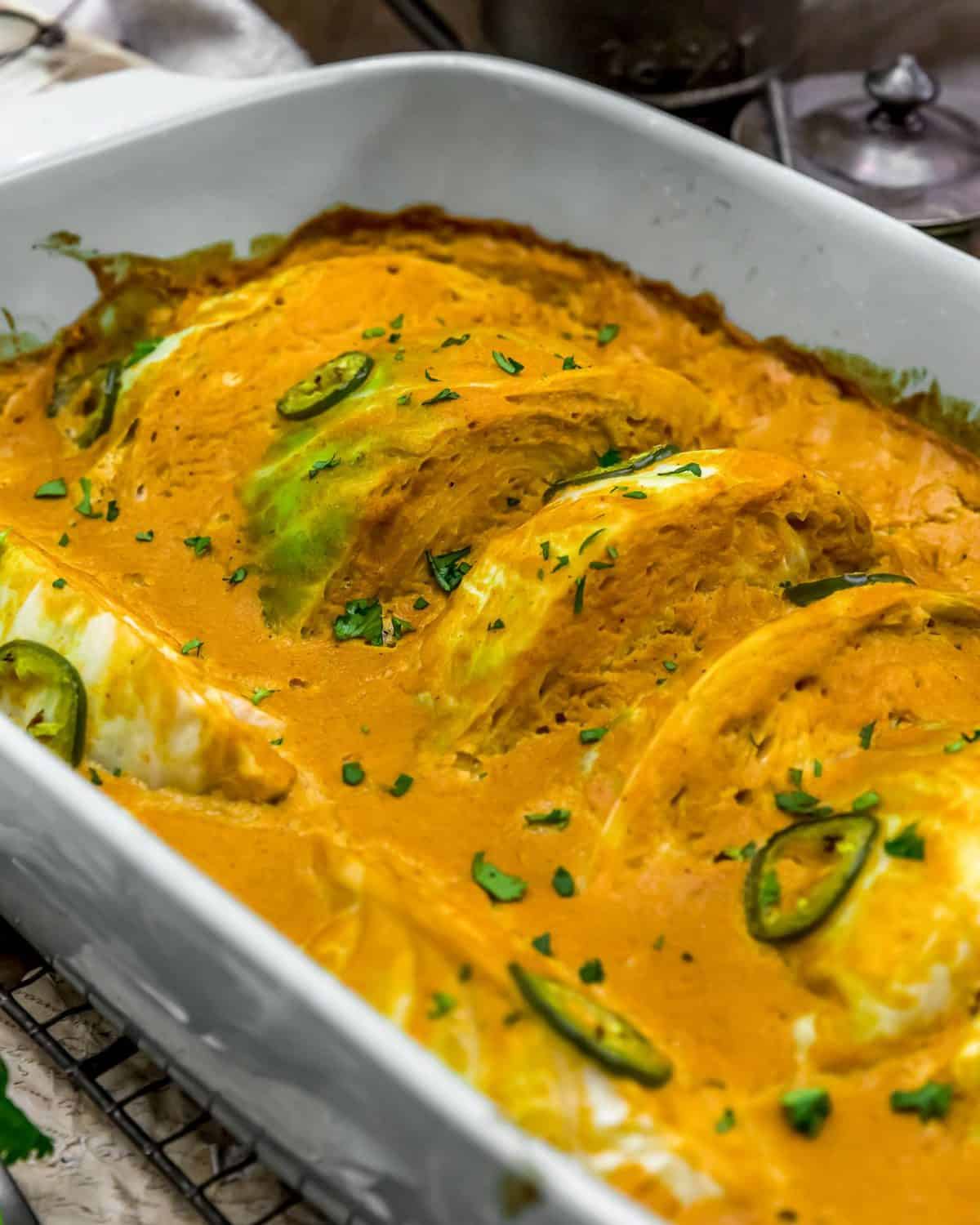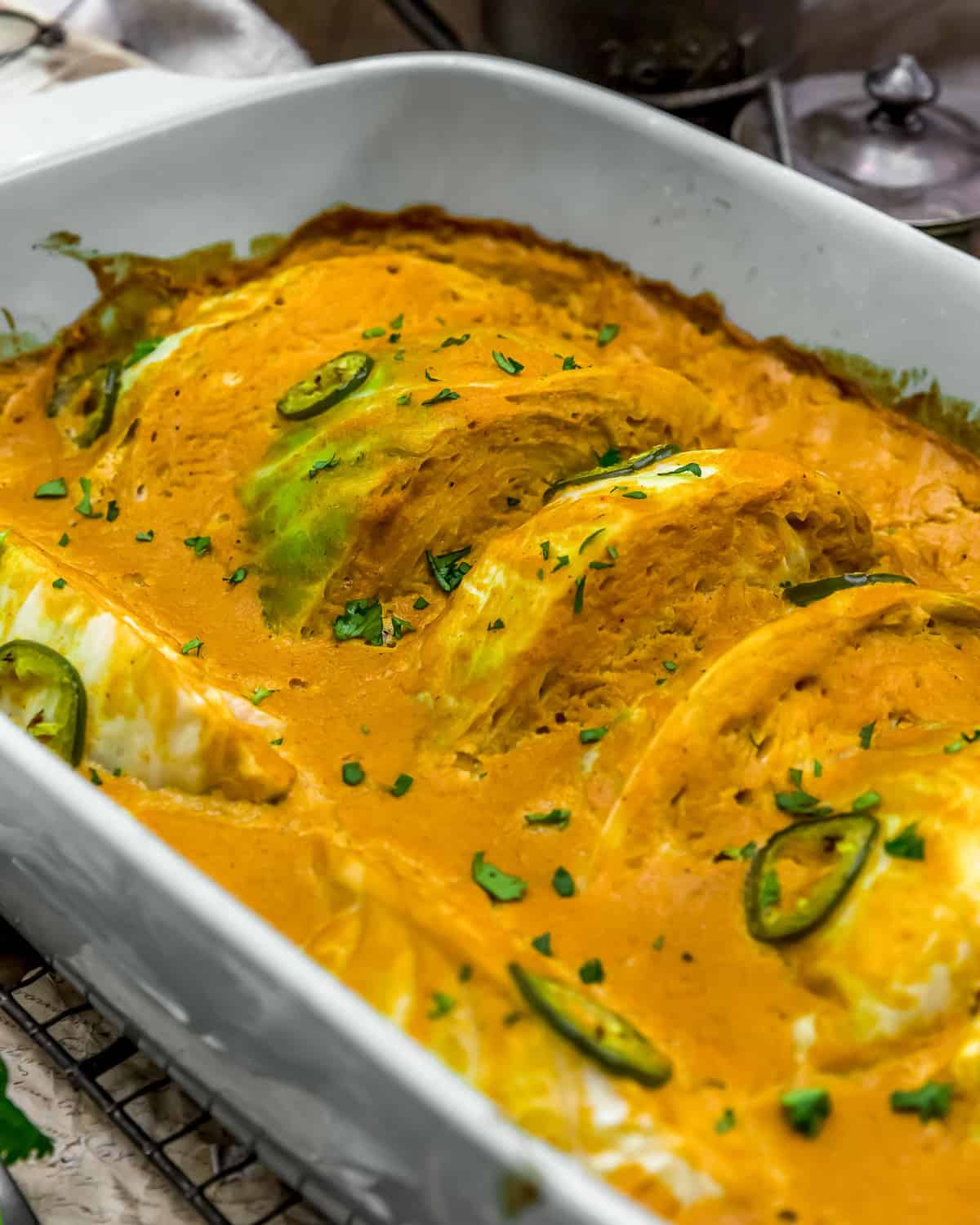 Scalloped What?
I told Mom about this dish. She was like "Scalloped what?"  LOL
I know, right?  Scalloped cabbage, I wasn't even sure myself, but Ree was going on and on about how this dish is always the first to go. I guess it probably would as it is cabbage covered in Cheese Whiz and pepper jack cheese.
Mom was ready to pass on this one, but then she warmed up to it since she loves cabbage. So we got to work. A few kitchen tests later, and I am happy to share that this dish is freakin' delicious!
Who would have thought, right? It is so gosh-darned good, we even surprised ourselves!  LOL
I'll let Mom tell you more!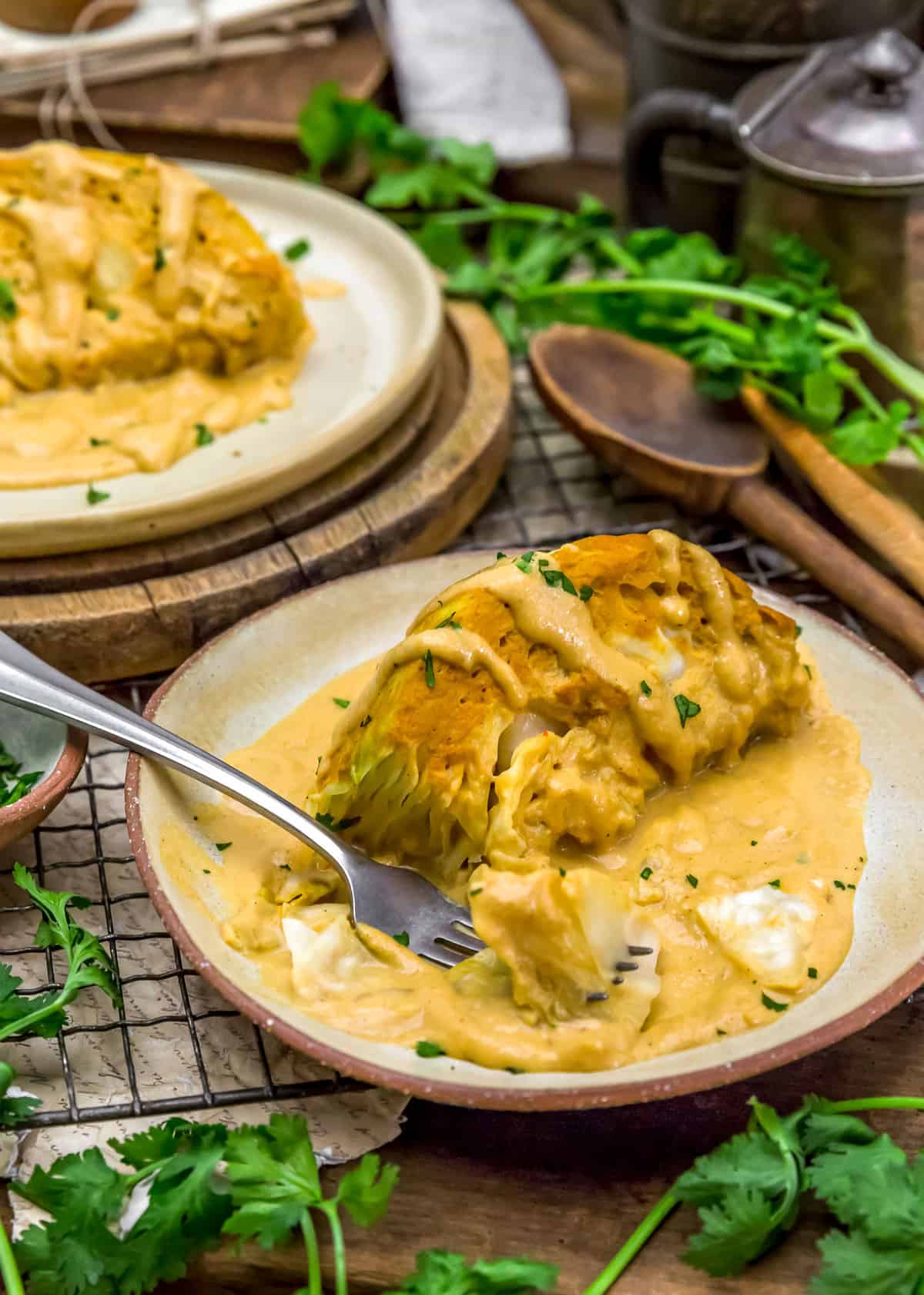 Tenderness
We did have mixed reviews on the tenderness of the cabbage. Mom and I enjoyed the cabbage with a little "crunch" or texture to the cabbage, while dad enjoyed this dish with more tender-cooked cabbage.
The good news is you can determine how tender you want your cabbage based on how long you cook it in the oven. We don't recommend blanching for too much longer than suggested as the cabbage wedges will fall apart before getting them lined up in the dish. Instead, increase oven cooking time to create a more tender cabbage wedge.
No matter how tender you enjoy your cabbage, this dish delivers on flavor – YUM!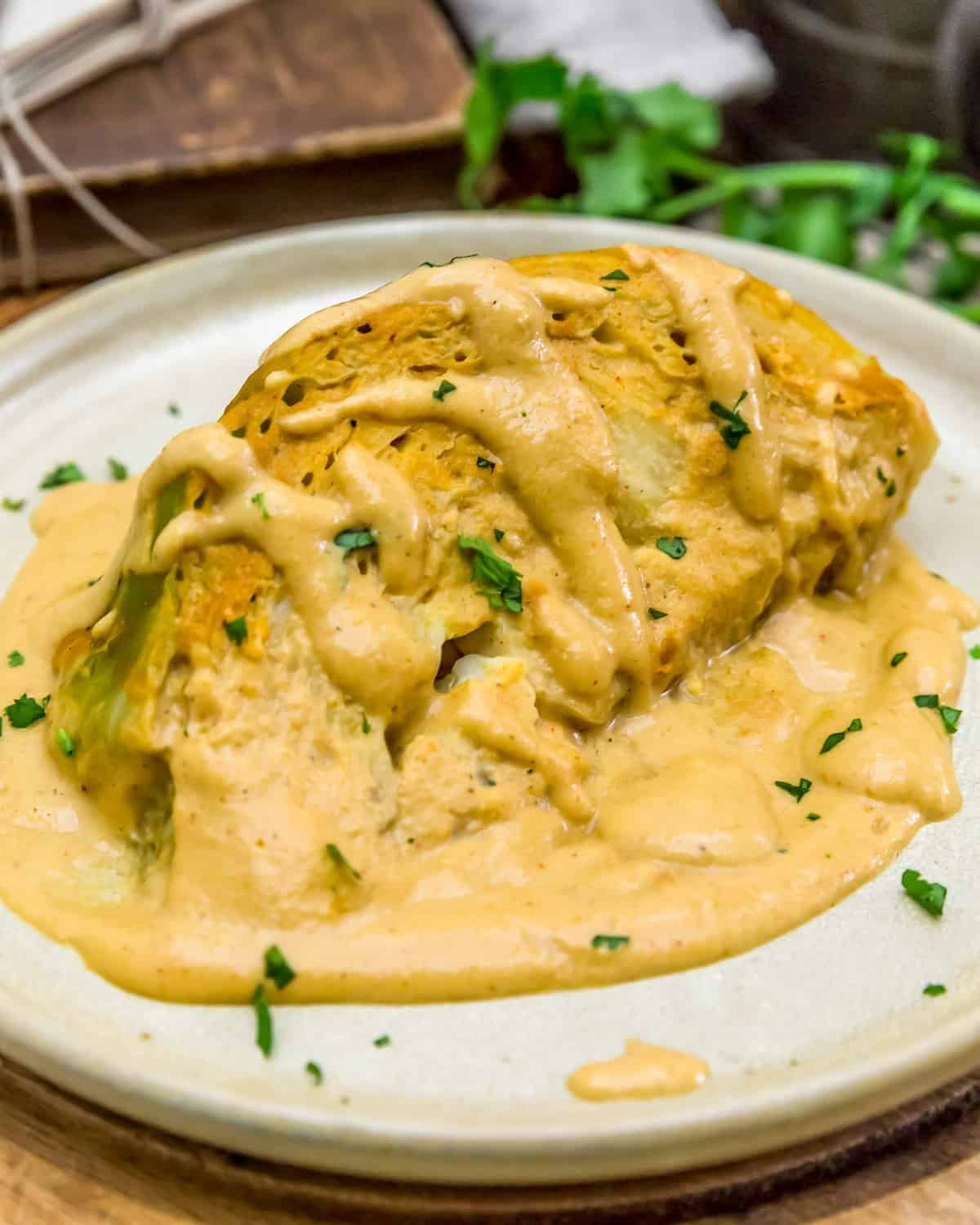 Hi!  Robin here.
Scalloped cabbage, who would have thought, right? Evidently Edna Mae (Ree Drummond's husband's grandmother) did back in the day. She was definitely onto something. Monkey test drove this baby home, and we were in WFPB Southwestern Scalloped Cabbage heaven!
Honestly, this is seriously good eats!  We ate it up in a flash, wondering where this dish had been all our lives!
If you try this comforting dish, we would love to know if you enjoy it as much as we do! Please leave us a review! Post a picture on Facebook or Instagram and tag us!  We would love to hear from you.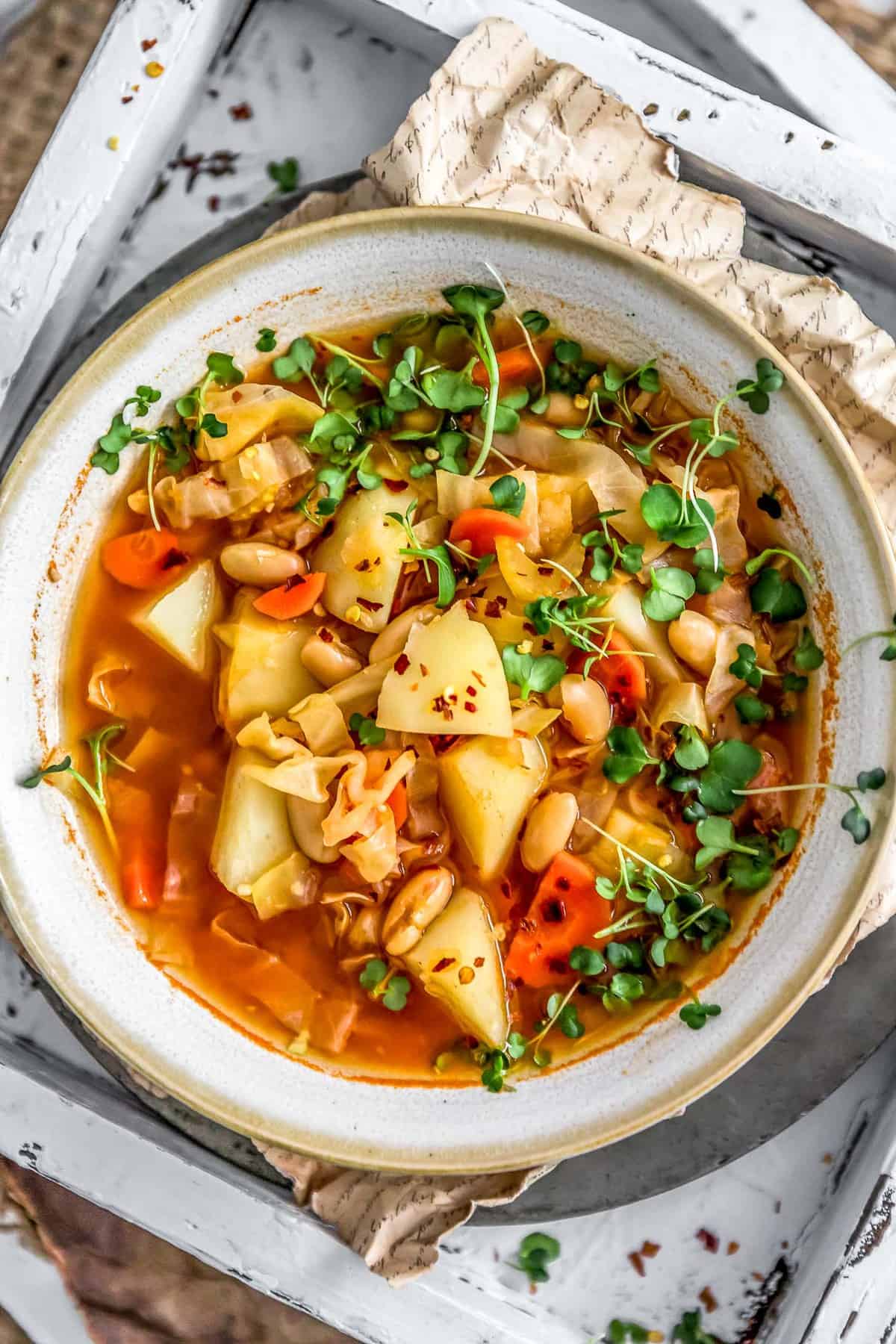 Delicious Cabbage Recipes:
Products Used:
High-Speed blender
Deep 9 x 13 baking dish
Large ceramic/enamel-lined skillet or similarly large non-stick skillet
Baking sheet (optional) or use foil
Print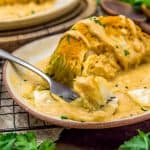 Vegan Southwestern Scalloped Cabbage
Author:

Prep Time:

30 Minutes

Cook Time:

25 Minutes

Total Time:

55 Minutes

Yield:

8

Servings (1 wedge per serving)

1

x

Category:

Sides, Dinner

Method:

Stovetop, Oven

Cuisine:

Southwestern

Diet:

Vegan
---
Description
Creamy, dreamy, and healthy, this delicious, oil-free Vegan Southwestern Scalloped Cabbage is a perfect side for the holidays or any night of the week.
Inspired by Ree Drummond's Escalloped Cabbage Casserole
---
1/2 cup

raw cashews

1

head green cabbage *

1 cup

yellow onions, fine dice

2 Tablespoon

minced garlic

2 Tablespoons

GF flour *

1 ¼ cup

low-sodium vegetable broth *

1 ½ cups

water (or broth)

1 Tablespoon

tahini

1 teaspoon

ume plum vinegar *

½ teaspoon

Dijon mustard *

¼ cup

+

1 Tablespoon

nutritional yeast

2 Tablespoons

distilled white vinegar

1

– [ 4 oz. can ] mild green chilies *
Spice/Herb Ingredients:
1 teaspoon

onion powder

1 teaspoon

garlic powder

2 Tablespoons

dried minced onions

½ teaspoon

dried ground mustard powder

1 teaspoon

smoked paprika

¼ teaspoon

sweet paprika

½ teaspoon

regular chili powder *

1/8 teaspoon

chipotle powder

1 teaspoon

sea salt (+/-) *
Pinch black pepper
Optional Toppings:
Sliced jalapeno peppers
Sprinkle sweet paprika
Sprinkle of freshly chopped cilantro (or parsley)
---
Instructions
In a small bowl, cover the raw cashews in boiling water, set aside to soak for 15 minutes.
Bring a large stock pot of salted water to a rolling boil.
Preheat the oven to 350 F.
Measure and place all the Spice/Herb Ingredients into a small bowl, mix well and set aside.
In a large ceramic/enamel-lined Dutch oven, skillet or similar stock pot, add the diced onions, sauté over medium heat until they begin to soften, approximately 5 to 7 minutes.  Add a tablespoon or so of water if they start to stick and/or to prevent burning.
Add the minced garlic and sauté for one minute, then sprinkle the flour over the sautéed onions and garlic, add the tahini, stirring constantly for one minute to cook the flour. Then add Spice/Herb Mix vegetable broth, water, distilled white vinegar, ume plum vinegar, nutritional yeast, Dijon mustard, and the can of mild green chilies.  Scrape the bottom of the skillet to pull up any flour or tahini that stuck to the bottom of the pan. Cook over medium heat until the mixture thickens, about 2 to 3 minutes.  Remove from the stove.
After 15 minutes, drain the cashews and discard the water, then add the cashews and sauce mixture into a high-speed blender and emulsify until smooth and creamy. Taste test the dressing and add more seasonings, if needed.  Set aside.
Slice the green cabbage in half, then take each half and slice it in half.  Continue until you have 8 cabbage wedges.  Do not remove the hard-inner core of the cabbage.
Place the cabbage wedges into the salted boiling water and parboil for 3 minutes.  Carefully remove each wedge from the boiling water and lay them onto a baking sheet to drain off the water.  Make sure to drain off all or most of the water.
Take each parboiled cabbage wedge and lay it onto a cutting board and slice off the hard-inner core, try to keep the wedge together.  Then arrange the 8 parboiled (and drained) cabbage wedges into a deep 9 x 13 baking dish.
Pour the sauce mixture over top of the cabbage wedges making sure that each wedge is thoroughly coated with sauce.  Top with sliced jalapenos and a sprinkle of sweet paprika.
Place the casserole in the oven, put a baking sheet on top (to lock in the heat or use foil) of the casserole dish. Bake for 15 minutes, then remove the baking sheet (or foil) and bake for an additional 10 to 15 minutes until bubbly.  Remove from the oven, and allow to set for 7 minutes before serving.  Serve with generous spoonfuls of the sauce over top of the cabbage wedges.
---
Notes
Tips for Success:
Deglaze the pan: After you sprinkle the flour and tahini over the onions and garlic, stir constantly to cook the flour.  It will look like flour covered lumps, that is fine.  Just make sure you cook it even if it means just stirring it around the pan.  Then when you add the vegetable broth and water, make sure you scrape the bottom of the pan to pull up any seasonings or flour that sticks to the bottom of the pan and mix it into the sauce.
Do NOT cut the hard-core out before boiling the cabbage wedges. You are keeping the hard-core intact so the wedges do not fall apart while boiling.  When you cut the cabbage into 8 wedges, make sure you start the cut at the bottom hard core so you are ensured that the hard core is there for each wedge to hold the wedges together while boiling.
Salt the water (for boiling the cabbage) with about a tablespoon of sea salt.
Bring the water to a rolling boil as when the cabbage hits the water, it will start to bring down the temperature. Start the 3-minute parboil when you place the cabbage in the water.
Removing the cabbage from the boiling water: Use a large slotted spoon (or tongs) and carefully remove the cabbage wedges as you don't want them to fall apart. Tilted the wedges to get any extra water out of them.
If unsure how to cut the core out of the parboiled cabbage wedges, you can watch Ree Drummond's video "Escalloped Cabbage Casserole" on the Food Network channel. (Note: The video is correct; however, Ree's recipe instructions are not, which numerous readers pointed out to her in the reviews).  Basically, you are simply cutting out the hard part which is a semi-long triangular section that is easily seen when you lay the wedge on the cutting board.  Keep the wedge segment together when arranging into the casserole dish.
Lifting the parboiled cabbages off the baking sheet and into the casserole dish, we used a large spatula to lift them to keep them in tact since the core has now been cut out.
Make sure the sauce completely covers each cabbage wedge and seeps into the wedges. Take a few extra moments to makes sure each wedge is completely coated even if you have to gently lift them up and move them around a bit.
Bake the casserole longer if you want a completely tender cabbage. Most of the cabbage is tender at 25-30 minutes, but you will occasionally crunch on a thicker cabbage vein here and there. This did not bother us at all, although we could see some folks not enjoying this.
Sea salt amount: We had family members who felt strongly that the dish needed a little more sea salt than indicated on the recipe ingredient amount.  Others thought it was perfect. Feel free to sprinkle additional sea salt onto individual servings.
Notes Continued 
*Vegetable Stock:   We use Pacific Organic Low Sodium Vegetable Stock. We love this brand because it is Whole Food Plant Based compliant, as it does not contain MSG, has no oil, and does not contain any highly-processed ingredients.
*Green Cabbage:  We used a medium-sized green cabbage. In our kitchen tests, the green cabbages ranged from approx. 2 lbs. 14 oz. to 3 lbs. 8 oz. Pretty much any size will work except a really small one or a really large one, then you wouldn't have enough sauce.  We recommend not going over 3 lbs. 8 ounces.
*Flour:  We use Bob's Red Mill Gluten Free 1:1 flour.  You can use your favorite Whole Food Plant Based thickener of choice.
*Ume Plum Vinegar:  We used Eden Ume Plum Vinegar. Ume Plum Vinegar is perfect for this recipe as it has that deliciously tangy flavor which slightly pops the flavor. It is relatively inexpensive.  We use it quite frequently and it worth requesting it from your local grocery or ordering off of Amazon in our humble opinion. There really isn't a great substitute for it.  You can leave it out if you wish with understanding that the flavor will be a little different.
*Mild Green Chilies:  Make sure you read the label as green chilies come in both mild and hot.  Do not drain the can.
*Regular Chili Powder:  Chili powders come in varying levels of heat.  We used Penzeys Regular Chili Powder as it doesn't pack a ton of heat.  Feel free to use your favorite chili powder.
*Dijon Mustard:  We used Koops Dijon Mustard.  Feel free to use your favorite Dijon mustard.
*Cashew Substitutions:  You can try substituting the cashews with silken tofu, white beans, or sunflower seeds with the understanding that these substitutions can and will change the texture and flavor of this dish.  You may need to adjust seasonings accordingly.
*Sea Salt:  Please adjust the sea salt based upon your family's sea salt preferences and/or based upon dietary needs.
*Serving:  4 to 8 (2 wedges vs 1 wedge per serving)
*Storage:  Refrigerate and use within 5 days.

This post contains affiliate links, and we may receive a very small commission if you purchase through those links at no additional cost to you. Thank you for supporting Monkey and Me Kitchen Adventures! For more information, see our disclosures here.