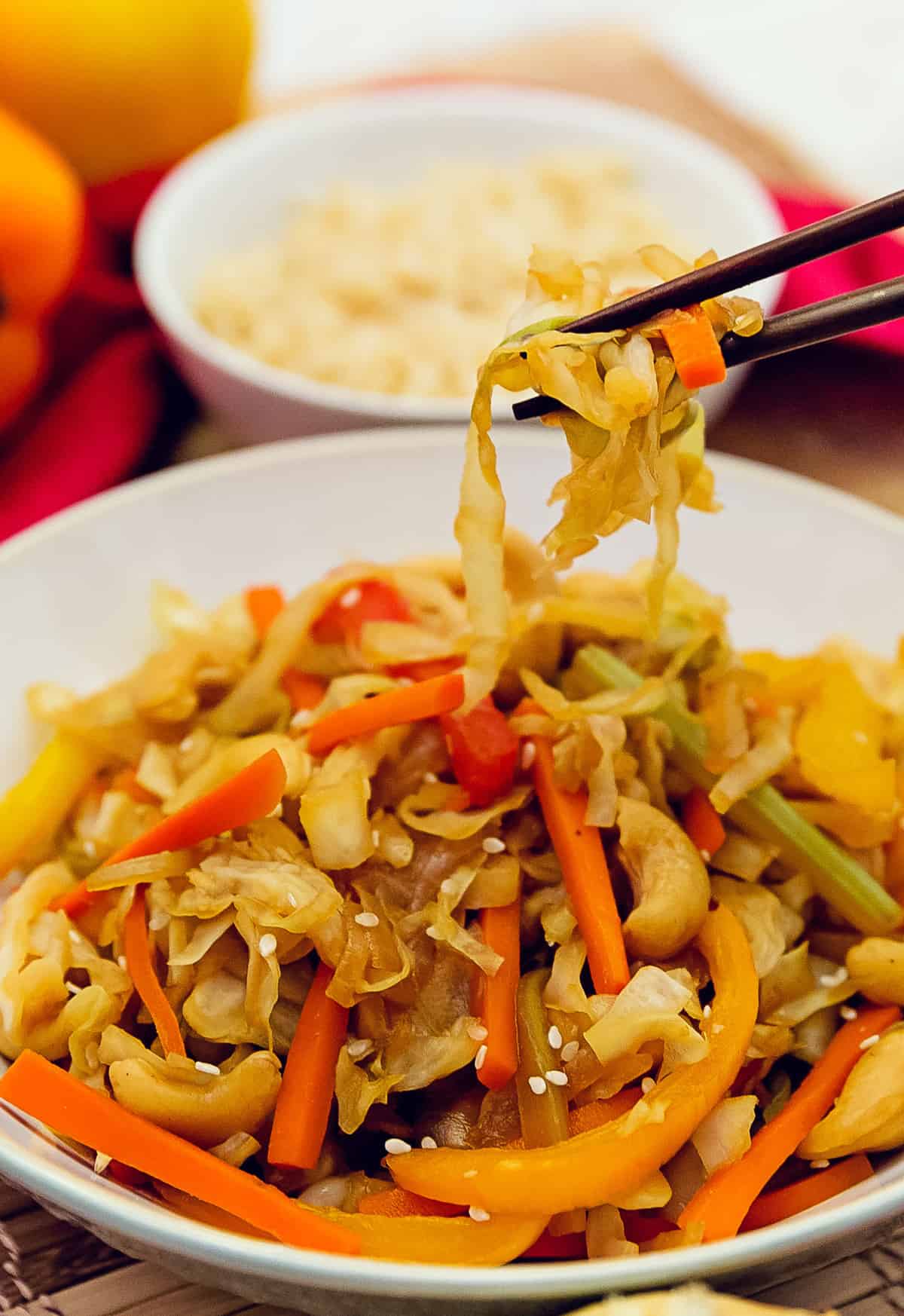 This Asian inspired whole food plant based cashew cabbage stir fry recipe is healthy and delicious, loaded with crunchy cashews and lots of yummy cabbage.  It is reminiscent of the inside of an egg roll, only better, making it the perfect Whole Food Plant Based dinner.
Hi! Ameera here!
This recipe is one of our favorite go-to dishes.  We have made this yummy cashew cabbage stir fry too many times to count.  It is so tasty and delicious, and best of all it's fast to put together.  Mom and I love Asian dishes and the Whole Food Plant Based diet really lends itself to healthy, flavorful stir fries.  It is loaded with tons of healthy veggies: cabbage, carrots, peppers and onions – Mmmm.
* This Cashew Cabbage Stir Fry was adapted from Just A Pinch by Susan Feliciano.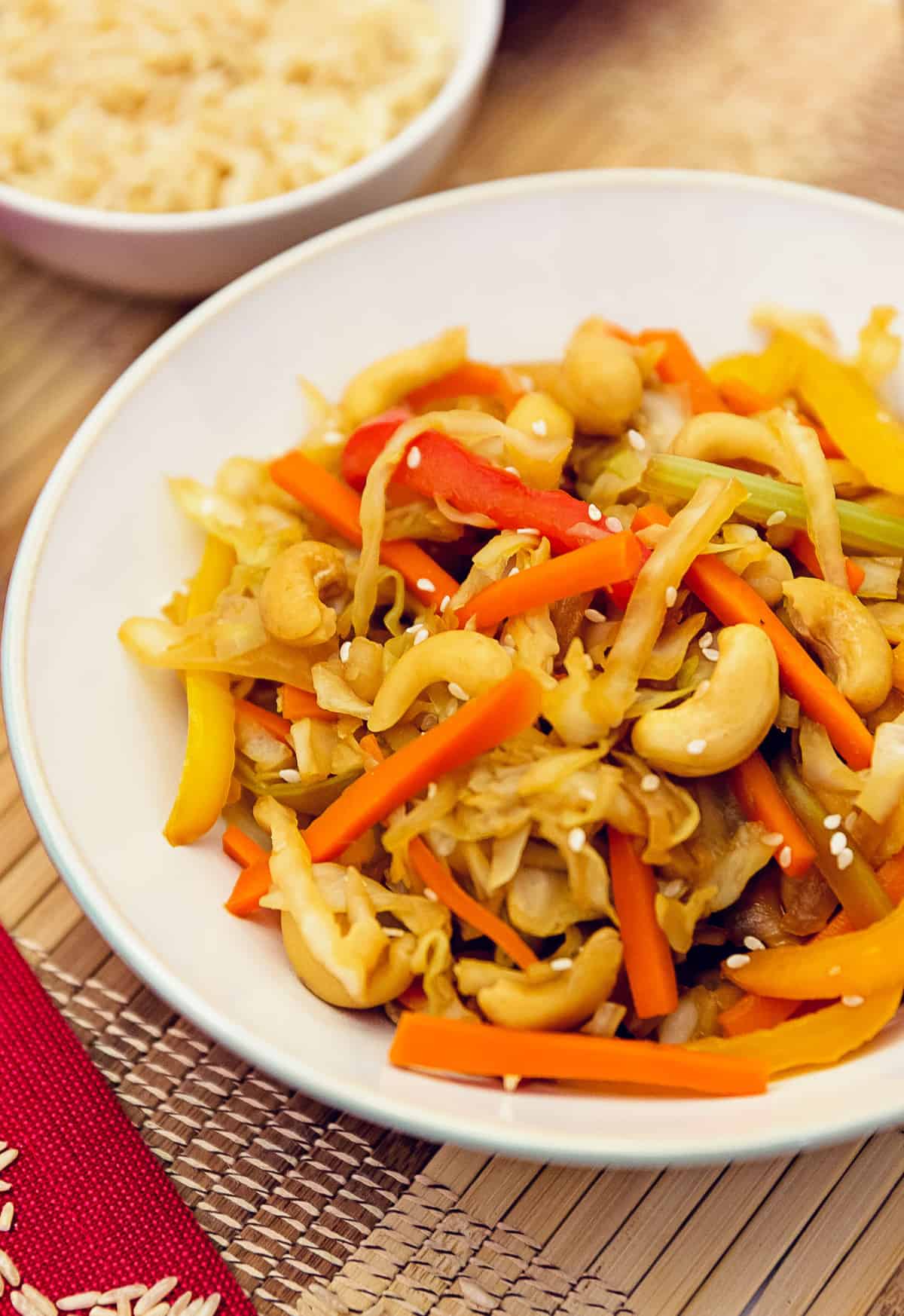 Is there enough seasoning?
I remember the first time (and even the second time) we made it, we were questioning ourselves about the intensity of the flavor. We'd ask each other, "Do you think there enough seasoning?" and "Should we add more?" The deceiving thing about this dish is while you are making it, should you happen to taste test it along the way, you may find yourself thinking "Hmmmm, there doesn't seem to be much flavor happening here!"  Don't worry, trust me, once you are done preparing this dish, the flavors seem to come together perfectly at the end like magic.
Preparation is key!
The stir fry cooking part comes together very quickly, so we have found it super helpful to prep all the veggies in advance. You also might want to make sure you have all the ingredients measured out and ready to go before you begin stir frying (which is really "dry stir frying").   We strongly suggest it as you could end up with soggy cabbage and trust me no one wants soggy cabbage.  LOL
Dutch Oven Awesomeness
We have found that a ceramic/enamel lined Dutch oven/pot works best for our stir fry dishes.  Since we are cooking without any oil, food can stick to the bottom of the pan, but we have had great results using a ceramic/enamel lined Dutch Oven.  Ours is an 8-quart Dutch oven that we use ALL the time.  It's AWESOME!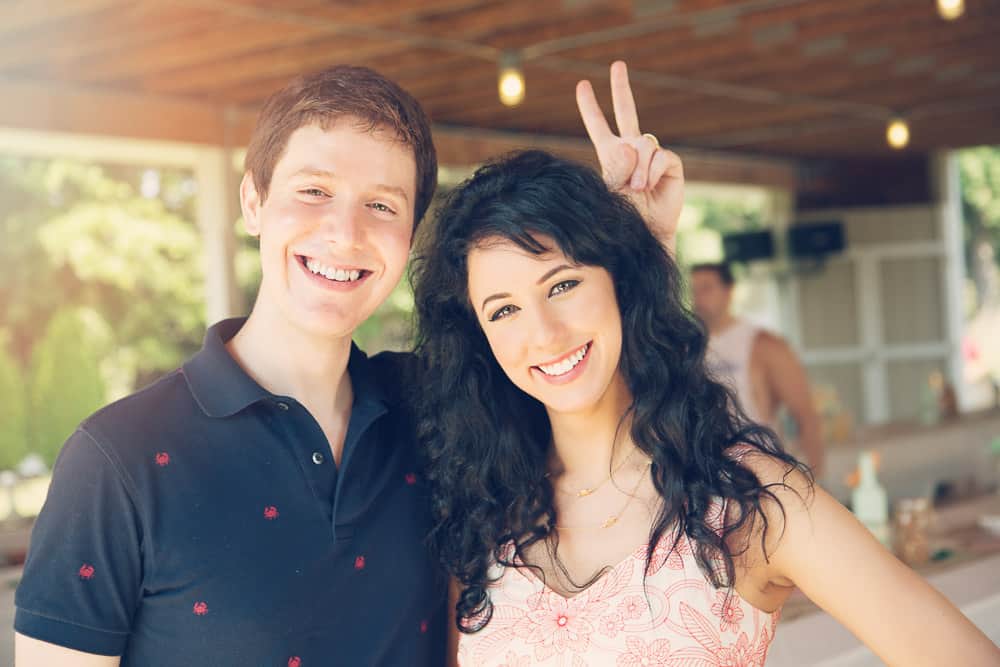 (My brother, Chris, and I)
Chris-Approved!
When Chris, Katie, and Charlotte were visiting over the summer, we made this dish for them, and they loved it too! We were so happy as Chris is not easy to impress, being that he is an amazing cook in his own right.  Mom and I were practically hovering over him waiting for his thumbs up or his much dreaded verbalized "It's OK," which really means that he is being nice and he really doesn't like it.  When he started scarfing it down with gusto, and then told us it was really good, and then got seconds, we knew he approved.  Phew!!!  Chris is a tough critic, and we love getting his approval on our food.   We call this dished "Chris-Approved!"  Too bad he lives so far away, we love running recipes past him.
Serve this beautiful cashew cabbage stir fry over your favorite steamed brown rice!  Ohhh, and the leftovers are even better on the second day!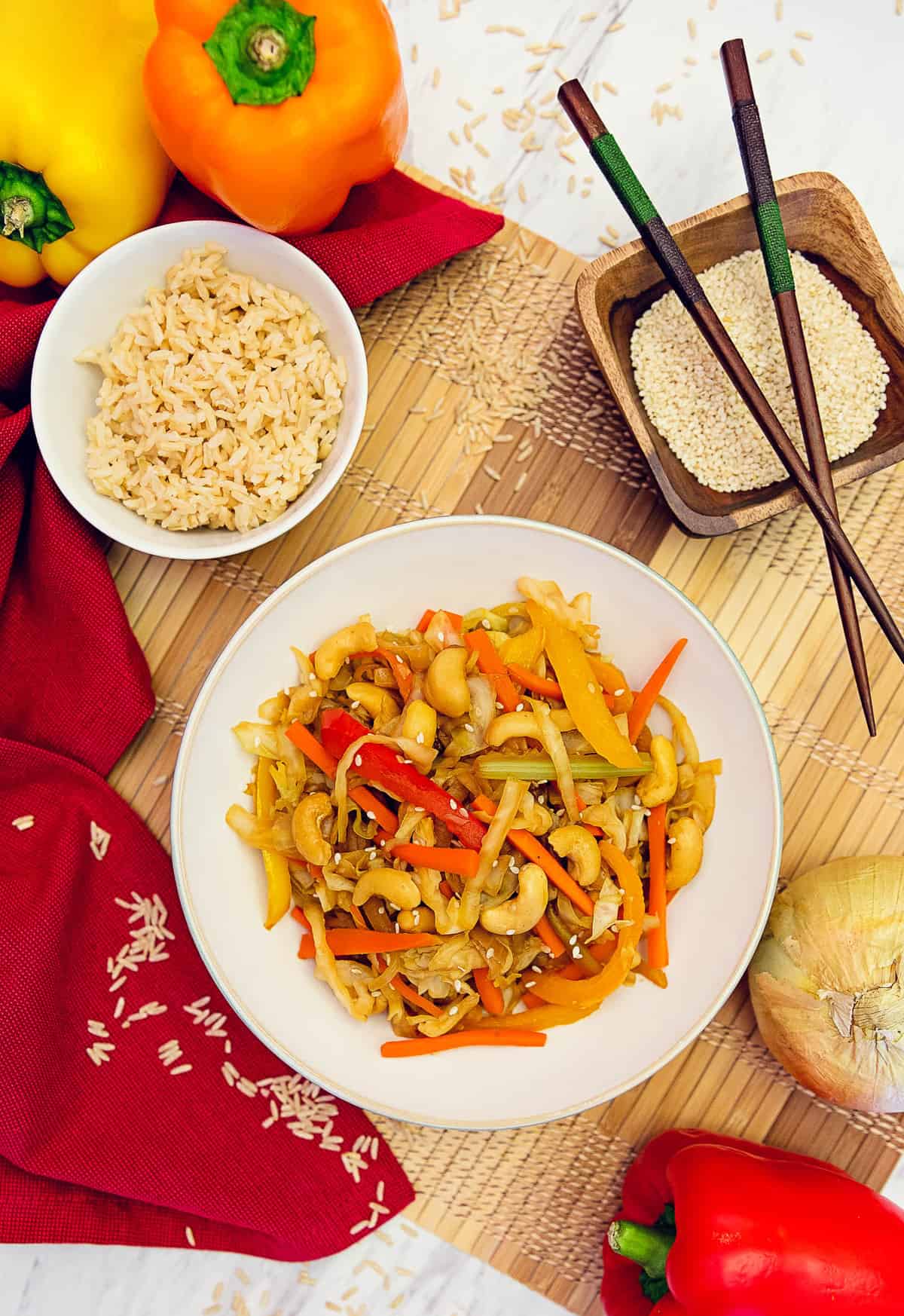 Robin here! 
I love this cashew cabbage stir fry!  It is super-duper tasty.  As Monkey mentioned, I think it tastes just like the insides of an egg roll from one of our favorite local Chinese restaurants, which we previously used to enjoy prior to becoming Whole Food Plant Based.
This recipe was one of our first vegan "conversion" dishes that we "WFPB'ed" it.  I was initially really concerned because, well, it is a stir fry after all, and leaving out the oil made me very nervous.  I was worried that we would somehow lose some flavor by removing the oil.  We were delighted that this dish retained all its deliciousness with no loss of flavor.
Another awesome thing about this recipe is the price of cabbage is almost always very reasonable.  If you are looking to stretch your dollar, then this recipe is a great choice!  TP also known as "Mr. Frugal" is always looking for great deals at the grocery store.  I can typically count on him to bring home a cabbage (or two) because it was an "amazing deal!"

Print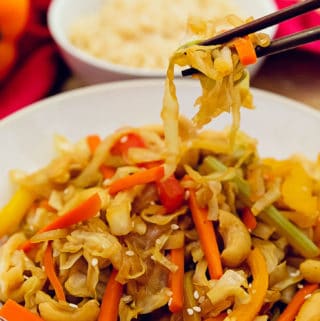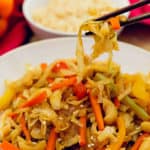 The Best Cashew Cabbage Stir Fry
Author:

Prep Time:

10 minutes

Cook Time:

20 minutes

Total Time:

30 minutes

Yield:

4

servings

1

x

Category:

Dinner

Cuisine:

Asian
---
Description
This Asian inspired cashew cabbage stir fry recipe is healthy and delicious, loaded with crunchy cashews and lots of yummy cabbage.  It is reminiscent of the inside of an egg roll, only better, making it the perfect whole food plant based dinner.
* This Cashew Cabbage Stir Fry was adapted from Just A Pinch by Susan Feliciano.
---
1

medium yellow onion, thinly sliced, julienne

2

celery ribs, thinly sliced, julienne

1

carrot, peeled and cut julienne

1

bell pepper, cut julienne (red, orange, or yellow)

1

medium green cabbage, finely sliced

1 ½ cups

raw cashews

6 Tablespoons

tamari *

2 Tablespoons

teriyaki sauce *

1 Tablespoon

toasted sesame seeds

2 ½ teaspoons

garlic powder

1 Tablespoon

organic maple syrup

½

to

1

teaspoon sea salt (+/-) *
Pinch black pepper (+/-)
---
Instructions
Prepare all your veggies. Cut the onion, celery, carrot, and bell pepper into thin julienne slices. Set aside.
Cut the green cabbage into very thin slices. Set aside.
Heat a large enamel/ceramic-lined skillet/Dutch oven (or similarly large pot) on the stovetop and then add onion, celery, carrot, and bell pepper. Sauté for 5 minutes, stir frequently.  (If the vegetables start to stick, add 1 Tablespoon of water).
Add the cabbage, cashews, and sesame seeds and sauté for 7-10 minutes, stirring frequently.
Add all the remaining ingredients and sauté until the cabbage is tender to your liking.
Test the flavors, add more salt and other seasoning as desired. Serve with rice of choice.
---
Notes
*Tenderness of Cabbage: Frequently test the tenderness of the cabbage.  We like our cabbage with just the tiniest bit of crunch.  Done, but not soggy.
*Tamari: We used San J Tamari Soy Sauce, Gluten Free, Reduced Sodium.  You can substitute the tamari with reduced sodium soy sauce, Braggs Liquid Aminos, or Braggs Coconut Liquid Aminos. 
*Teriyaki Sauce:  We used Coconut Secret Teriyaki Sauce Coconut Aminos.  It is WFPB.
*Sea Salt:  Please adjust the sea salt based upon your family's sea salt preferences and/or based upon dietary needs.
Storage Tips:  Store any left overs in the refrigerator.
We hope you enjoy this recipe as much as we did. We love loading up on the veggies; what is your favorite veggies to put in a stir fry? Let us know in the comments!