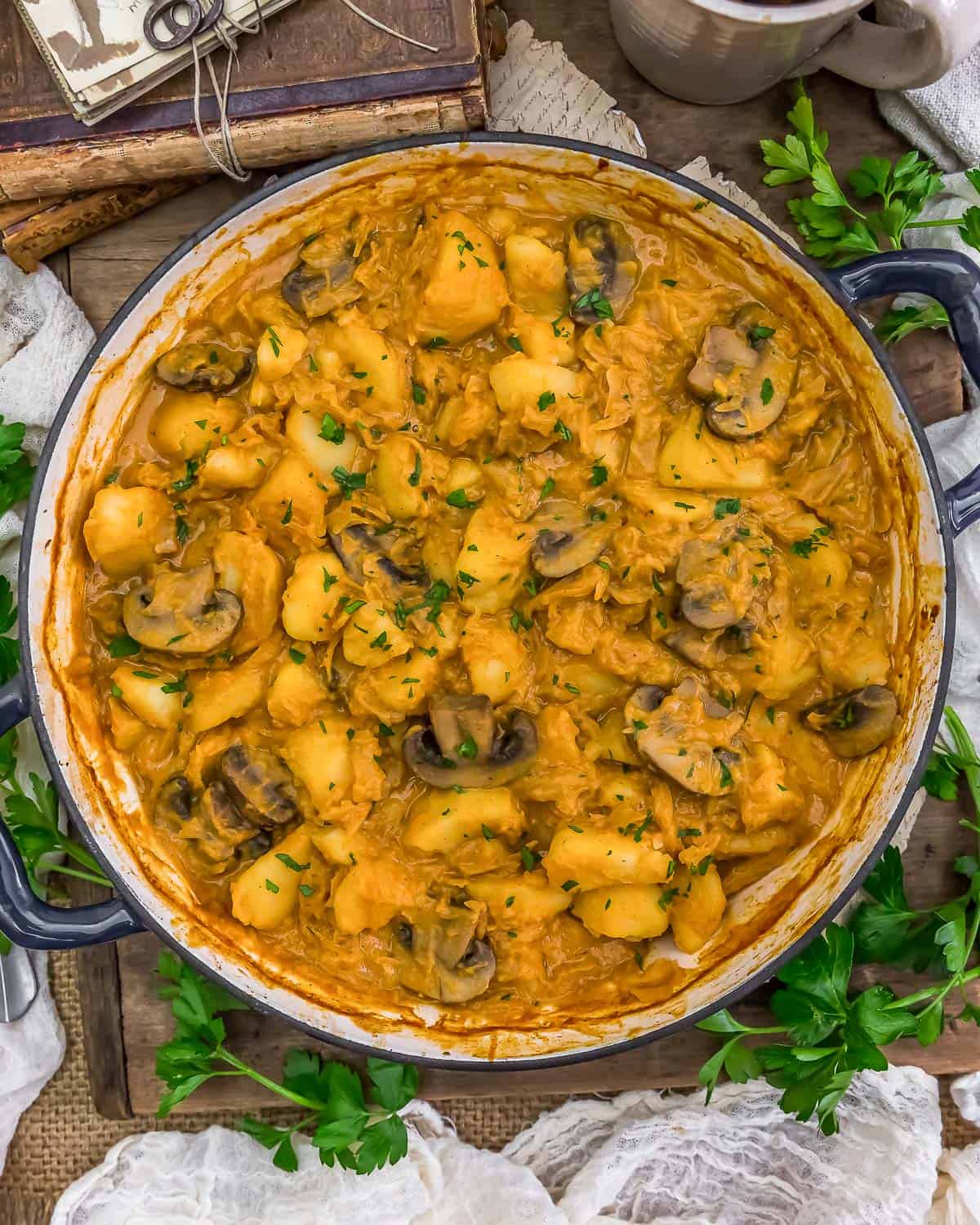 Vegan Sauerkraut Potato Casserole! We are ringing in the New Year with this delicious vegan twist on the classic kielbasa sauerkraut potato casserole.
Healthy, cozy, and delightfully tangy, this Vegan Sauerkraut Potato Casserole is boasting all the must-haves for New Years Day: kraut, potato, and YUM! "Meaty" mushrooms, hearty potatoes, and tangy sauerkraut bathe in a delicious cream sauce that is sure to make your belly happy.  If you love sauerkraut, then you'll love this tasty dish!
Whole Food Plant Based, Vegan, plant based, oil free, refined sugar free, no highly processed ingredients and gluten free.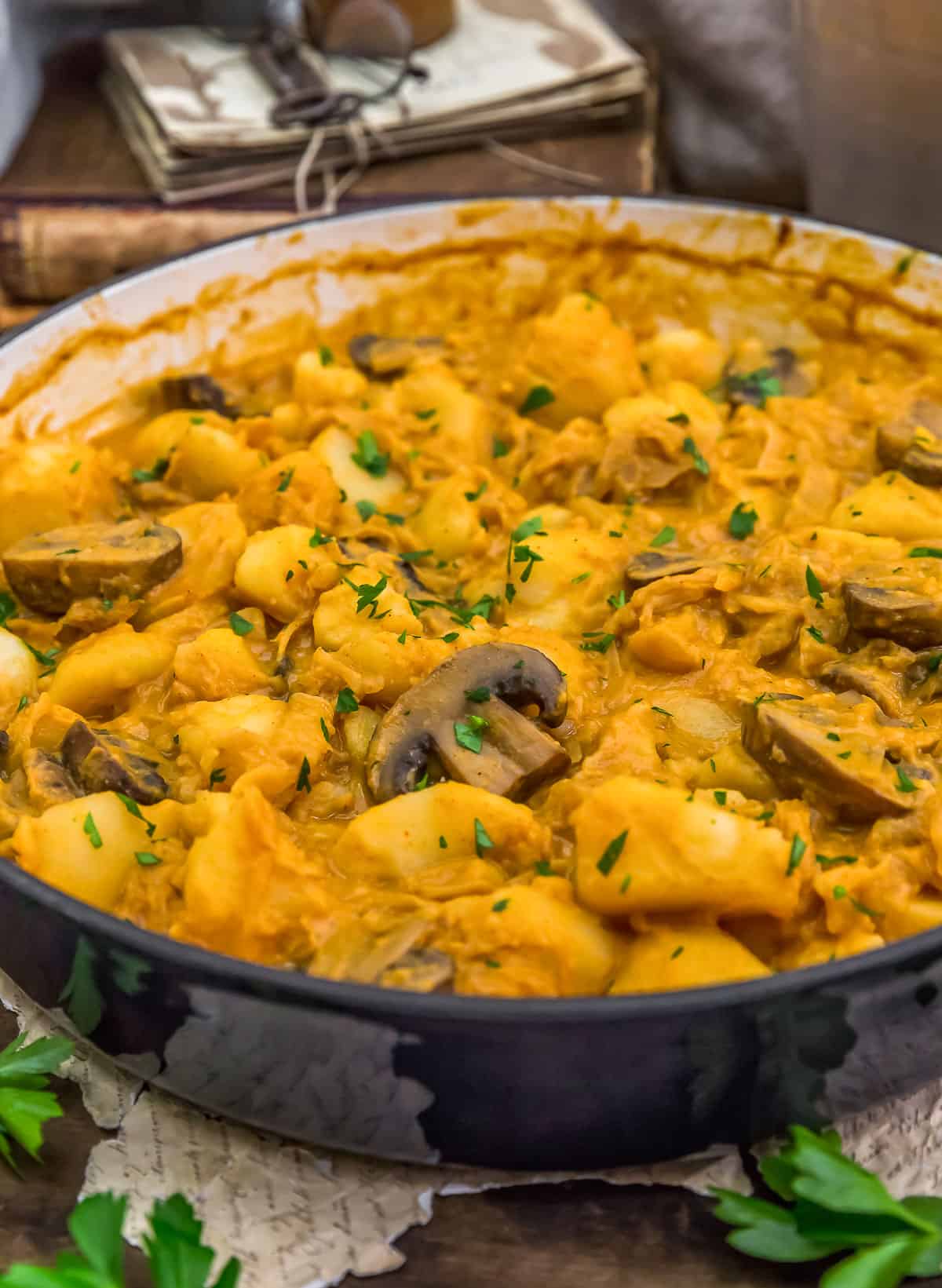 Hi there, Ameera here!
We are a sauerkraut loving family. This dish was a home-run for us, and we absolutely loved it. I must state for the record that if you do not LOVE sauerkraut, then you probably won't enjoy this dish as that is a prominent flavor in this casserole.
We are looking forward to making this dish to celebrate New Year's Day. In Ohio, we typically make a pork/kielbasa sauerkraut dish with (mashed) potatoes for New Year's Day. So we decided to flip the script and create something with a similar essence but using a Whole Food Plant Based twist.
This recipe is not a replica of the traditional pork/kielbasa sauerkraut dish, but a whole new dish that is sure to make you forget about the original. We loved this recipe so much; it's perfect not just for the holiday, but any day of the year.
We hope you give this tasty dish a try!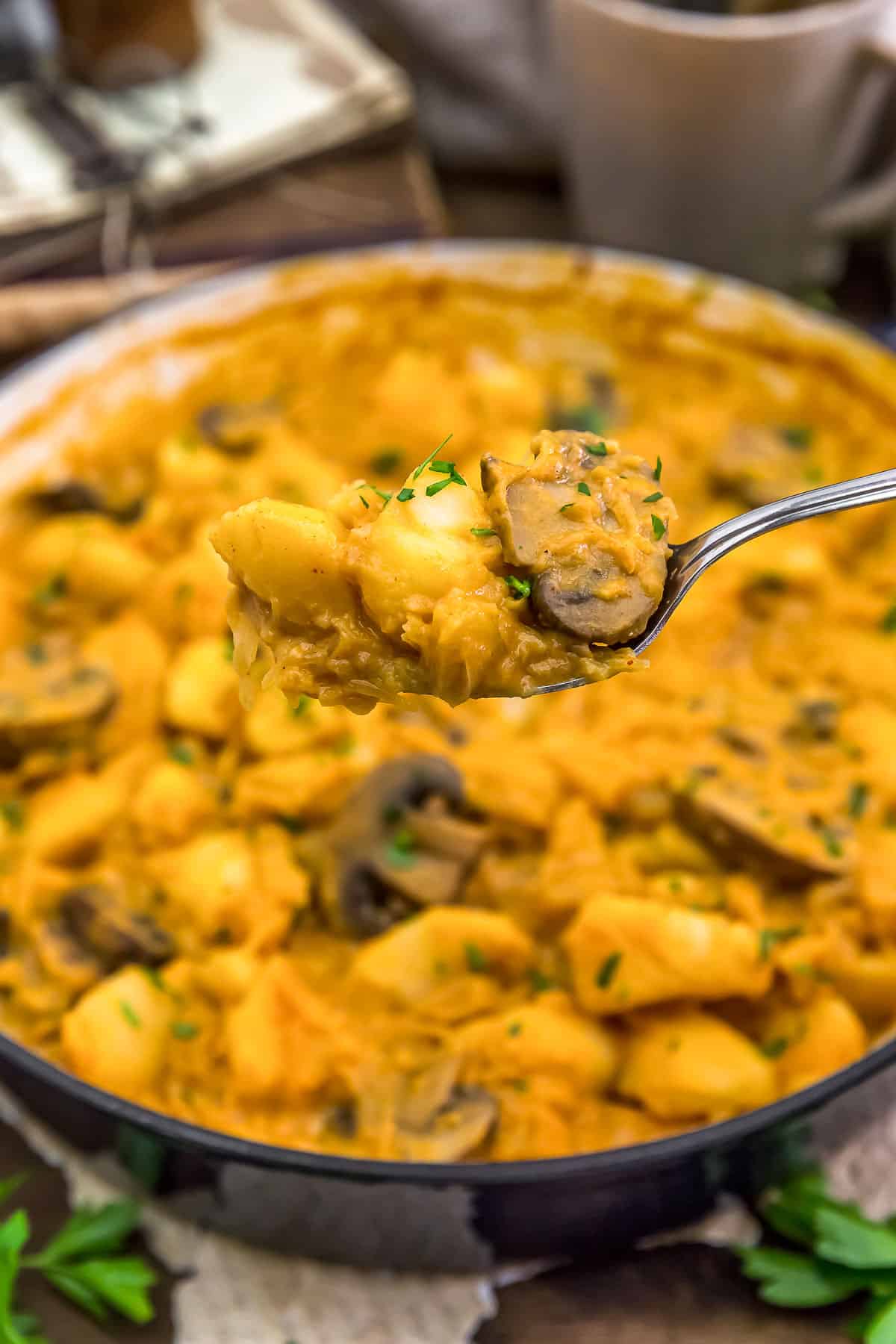 Tips for Success:
Flavor Profile: If you do not love sauerkraut, then this recipe may not be for you. The flavor profile highlights the tang of sauerkraut. It basically features a creamy, tangy, slightly smoky sauerkraut flavored sauce mixed with chunky potatoes and mushrooms.  The apple pretty much melts into the sauce, and you don't even taste it, but it very slightly tones down the sauerkraut with a very hint of tiny sweetness.
Potatoes: We used a 3 lb. bag of B-Size Graded (small-sized) red skinned potatoes, peeled and quartered.  You can use your favorite potato in this recipe.
Oven-Safe Skillet with a Tight-Fitting Lid or Casserole Dish: We used a deep, large, ceramic-lined Dutch Oven style skillet (featured in the photos).  If you have a Dutch Oven with a tight-fitting lid, that will work equally well.  Dutch ovens are heavy and conduct heat really well by trapping the heat inside.  If you need to use a casserole dish, we strongly suggest parboiling the potatoes and covering tightly with heavy duty foil to trap the heat.  See notes on Parboiling the potatoes.  Make sure the foil does not touch the food.
Parboiling Potatoes: If you do not have a Dutch Oven or simply want to cut back on oven time, we suggest parboiling the potatoes for 10 to 12 minutes, timing is largely dependent upon the size of the diced potatoes, then adding to the sauce in Step 7.  If you use a Dutch Oven, you do not need to parboil the potatoes, they can go directly into the sauce (raw).  They will need to be in the oven 60 to 70 minutes due to the thickness of the sauce.  If you parboil, then you can reduce the oven time to 30 minutes.

Additionally, if you plan to parboil the potatoes, do not cook them until tender. You want them cooked about ½ towards being tender.  If you accidentally cook to tender, they will fall apart in the sauce.
If you do accidentally boil the potatoes to tender, do not add them to the Sauerkraut Sauce Mixture. Bake the sauerkraut mixture in the oven without the potatoes for 25 minutes, then gently stir in the tender potatoes to thoroughly coat, then return to the oven for another 7 minutes.

Sauerkraut: We used a canned sauerkraut, SnowFloss Kraut (plain).  It had very little liquid, so we did not drain it.  If you are purchasing (or using homemade) sauerkraut that appears to have a lot of liquid, then drain off the water.
Cashews: The cashews go directly into the liquid mixture to simmer on the stove top as this entire mixture (minus the mushrooms/tamari) will become blended in a high-speed blender.
Cashew Substitutions: You can try the traditional substitutions: silken tofu, white beans, other nuts or seeds with the understanding that the flavor and texture will change accordingly, and you may need to add ingredients, etc.  We have not tested any substitutions.
Apple: Use a sweet apple like a gala or fuji.  You will not taste the apple.  It helps temper the sauerkraut just a tiny bit and slightly thicken the sauce.
Mushrooms: Feel free to use your favorite mushroom in this dish.
Caraway Seeds: We used ground caraway seeds.  This adds great flavor.  You can leave it out, but you may need to add some additional spices/herbs to compensate.
Ume Plum Vinegar: The ume plum vinegar adds depth of flavor.  We do not recommend leaving it out.  We have no substitutions to offer.  If you do decide to leave it out, you may find you need to add ingredients to compensate.
Sea Salt: Our family was totally divided over the salt.  Some members wanted more salt while others felt the sauerkraut was salty enough to season this dish. Please adjust the sea salt based upon your family's sea salt preferences and/or based upon dietary needs.
Instant Pot: This dish will not work in an Instant Pot.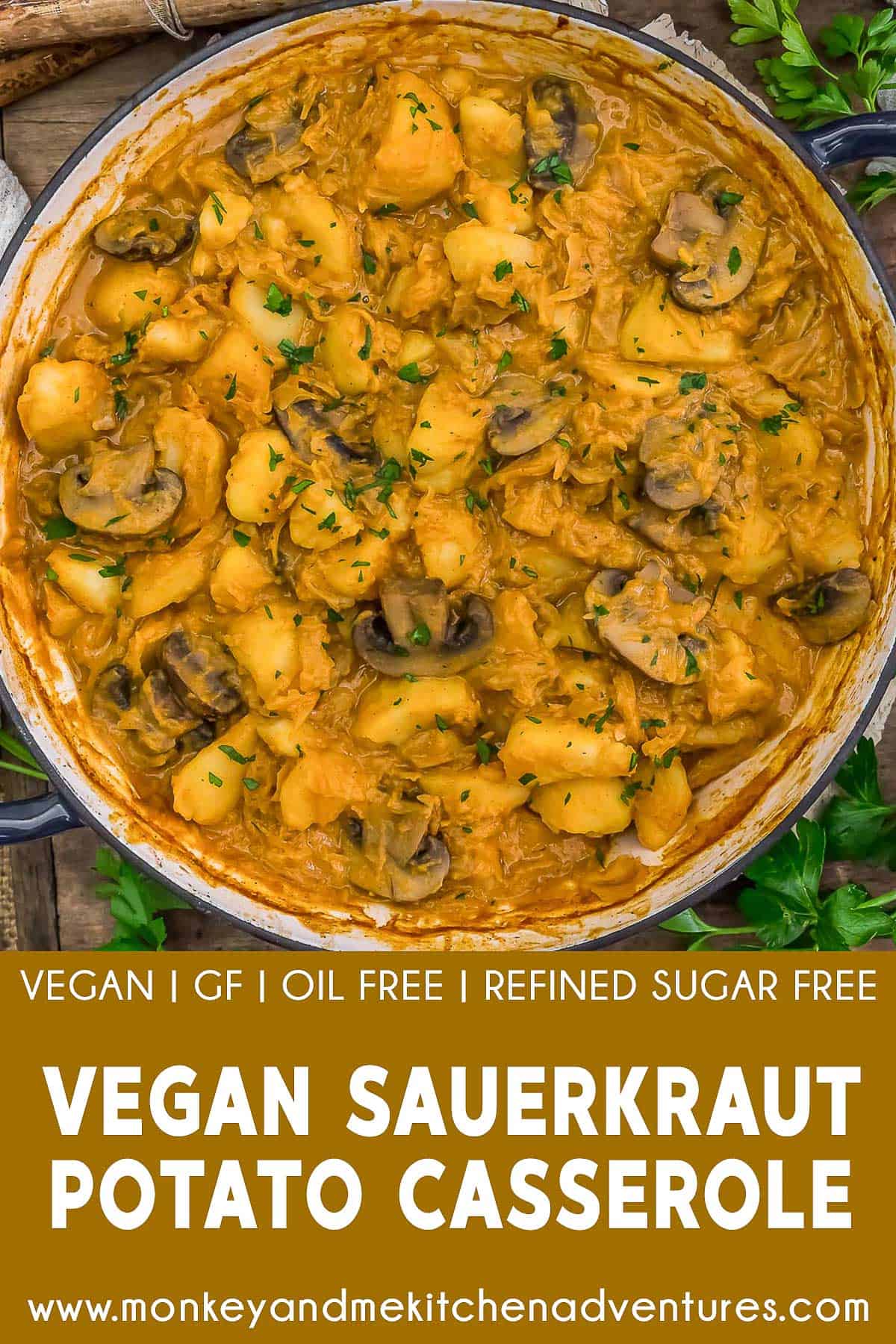 Leftovers and Freezing:
Leftovers will generally keep for 4-5 days in the refrigerator.  Store in a covered container.
This dish can be frozen.
Pantry Products Used:
Vegetable Stock: We use Pacific Organic Low Sodium Vegetable Stock. We love this brand because it is Whole Food Plant Based compliant, as it does not contain MSG, has no oil, and does not contain any highly-processed ingredients.  Feel free to use your favorite vegetable broth.
Sauerkraut: We used a 14 oz. can of SnowFloss Kraut (sauerkraut). Feel free to use your favorite brand of sauerkraut or homemade.  Watch the ingredients list on store purchased sauerkraut.  SnowFloss Kraut (plain) is WFPB, its ingredients list is cabbage, water, salt.
Ume Plum Vinegar: We used Eden Ume Plum Vinegar. We get a lot of questions on ume plum vinegar.  It is fairly inexpensive and adds amazing flavor. You can find it in most health food grocery stores.
Tamari: We used San J Tamari Soy Sauce, Gluten Free, Reduced Sodium. You can substitute the tamari with reduced sodium soy sauce, Braggs Liquid Aminos, or Braggs Coconut Liquid Aminos.
Sea Salt: Please adjust the sea salt based upon your family's sea salt preferences and/or based upon dietary needs.
Kitchen Products Used:
We certainly hope you give this comforting casserole a try! If you try it, please leave us a review! Post a picture on Facebook or Instagram and tag us! We would love to hear from you.
Print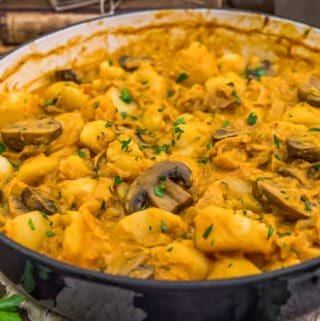 Vegan Sauerkraut Potato Casserole
Author:

Prep Time:

30 Minutes

Cook Time:

30-60 Minutes

Total Time:

60 Minutes (+Rest Time)

Yield:

4

-

5

Servings

1

x

Category:

Dinner

Method:

Stovetop, Oven

Cuisine:

German Inspired

Diet:

Vegan
---
Description
Healthy, cozy, and delightfully tangy, this Vegan Sauerkraut Potato Casserole is a perfect way to ring in the New Year or any day of the week.
---
Skillet Ingredients:
8

to

10

oz. Baby Bella mushrooms, sliced *

2 Tablespoons

reduced-sodium tamari *

1

medium yellow onion, diced

2 Tablespoons

minced garlic

1 Tablespoon

tomato paste

1 cup

low-sodium vegetable broth

2 cups

water

2 teaspoons

ume plum vinegar *

¼ cup

[raw] cashews * 
Herb/Spice Ingredients:
1 teaspoon

onion powder

1 teaspoon

garlic powder

1 teaspoon

smoked paprika

¼ teaspoon

sweet paprika

½ teaspoon

ground caraway seeds (+/-) *

¼

to

1

teaspoon sea salt (+/-) *

¼ teaspoon

black pepper (+/-)
Other Ingredients:
1

– [ 14 oz. can ] sauerkraut *

1

gala apple, peeled, small dice *

5

to

5 ½

cups potatoes, peeled, 1-inch dice * 
Optional Topping Ingredients:
---
Instructions
Preheat the oven to 350 F.
Place the Herb/Spice Ingredients into a small bowl, whisk, set aside.
In a large, deep skillet, over medium heat, add the sliced mushrooms and tamari, sauté for 5 to 6 minutes to reduce the mushrooms, once reduced, remove the mushrooms and any remaining liquid onto a plate/bowl. Set aside.
In the same large skillet, add the diced onions, sauté over medium-high heat for 7 to 9 minutes to soften, then add the finely minced garlic and tomato paste. Sauté, stirring constantly over medium heat for one minute.
Then add all the remaining Skillet Ingredients (including the cashews), stir to thoroughly mix. Simmer for 8 minutes.  (Do not add the mushrooms back to the skillet).  Remove from the stove, allow to slightly cool, then add the mixture to a high-speed blender.  Blend on high until smooth and emulsified, then add this sauce mixture back into the skillet.
Next add the Herb/Spice Mix, stir well, then add the sauerkraut, diced fuji apple, and sauteed mushrooms (including remaining mushroom liquid), stir to incorporate. Simmer for several minutes.
Add the potatoes (see Recipe Notes), stir to thoroughly coat, then push the diced potatoes down into the sauce to submerge. Cover with a tight-fitting lid and place into a 350 F oven for 30 to 60 minutes* (see Recipe Notes on timings).
When the potatoes are perfectly tender, remove from the oven, remove the cover, and allow to rest for 10 minutes.
Serve with freshly chopped parsley.
---
Notes
*Please reference the blog post for Tips for Success, Pantry Items Used, Storage and Freezing, and Kitchen Products Used.
*Sea Salt:  Please adjust the sea salt based upon your family's sea salt preferences and/or based upon dietary needs.
*Servings: 4 to 5

This post contains affiliate links, and we may receive a very small commission if you purchase through those links at no additional cost to you. Thank you for supporting Monkey and Me Kitchen Adventures! For more information, see our disclosures here.