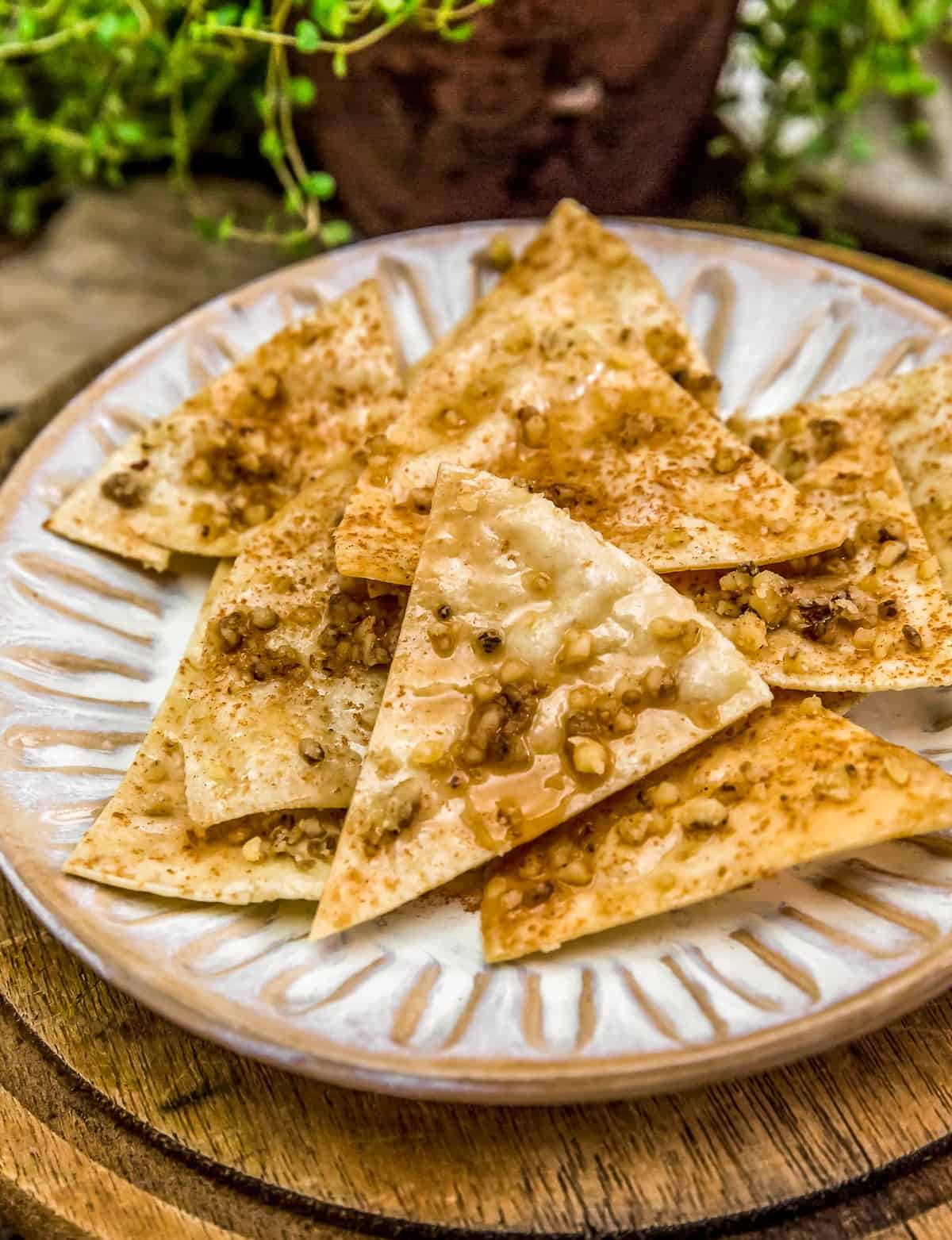 This healthy nod to Italian Bow Tie Cookies (Crostoli, Frappe, or Cioffe) are addictive, you can't eat just one. Crispy with a hint of sweet, these cookies are as light as angel wings. More pastry-like than cookie, they have a multitude of names; everything from bow ties, angel wings, ribbons, rags, cenci, crostoli, frappe, and cioffe.  The whole family will delight in these super easy and tasty treats. They are the perfect with a cup of coffee or tea or anytime you need to curb that sweet tooth.
Whole Food Plant Based, vegan, plant based, oil free, refined sugar free, gluten free, no highly processed ingredients.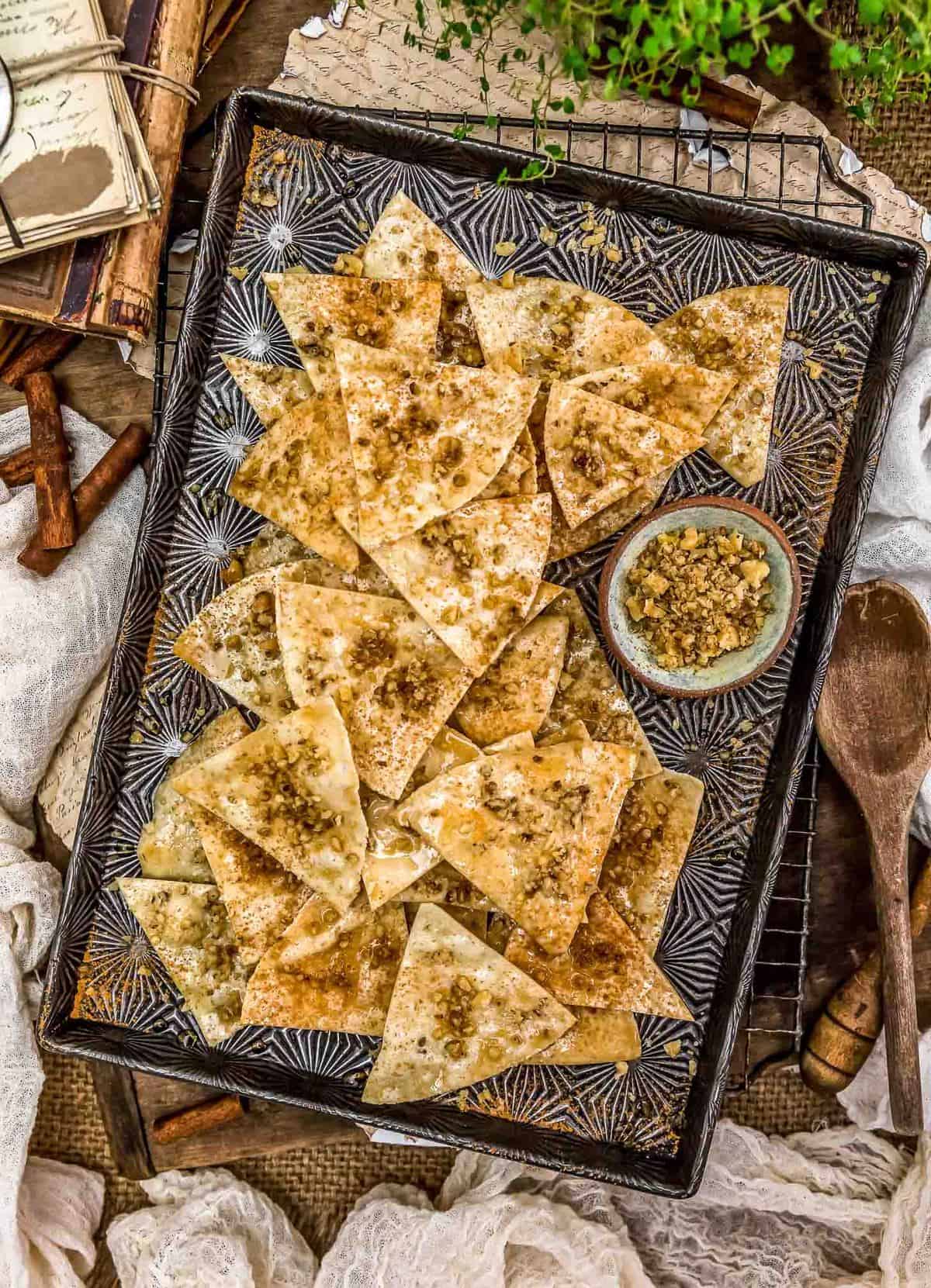 Hi there, Ameera here!
Italian Bow Ties are my dad's ultimate favorite cookie. He absolutely LOVES them. His family only made them at Christmas time. They were a lot of work and everyone devoured them in an instant.
Traditional Italian Bow Tie Cookies
Largely dependent upon which part of Italy your family originates from will dictate what these tasty treats are called. They have so many names; my dad's family called them cioffe, or bow ties.
Traditional bow tie cookies are made by deep frying a very thin pastry dough, then either sprinkling them with powdered sugar or dipping them lightly into a watered-down honey with some sort of liquor or vanilla extract. Some areas of Italy sprinkle chopped walnuts or pecans on them.   Mom and I have made many, many bow tie cookies prior to becoming Whole Food Plant Based.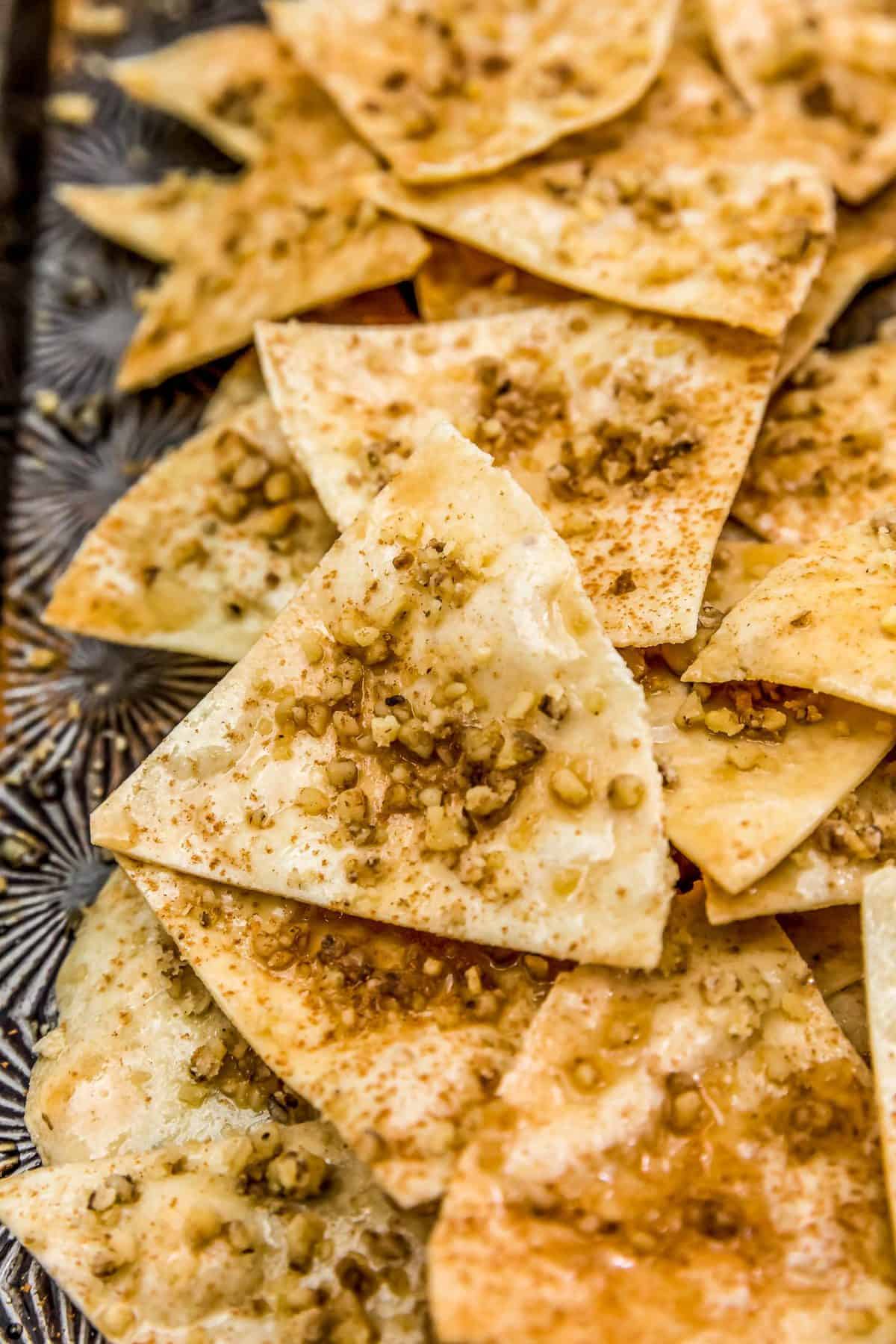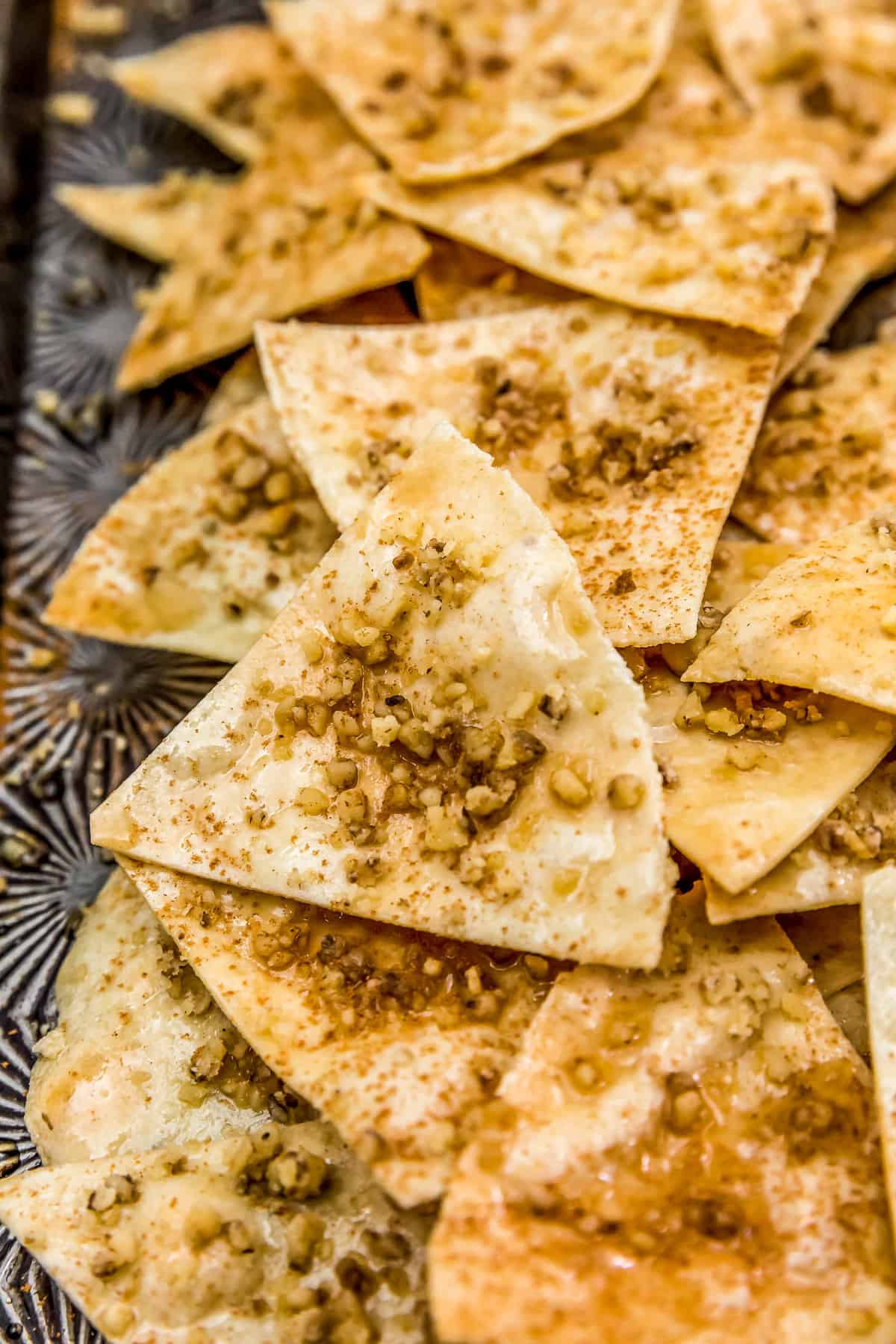 Siete Tortillas
We absolutely love Siete Almond Flour Tortillas,  (this is not a sponsored ad by the way, we just love them that much). Whether you need to be gluten free or not, there is something special about Siete Almond Flour Tortillas and how well they work for WFPB sweet treats. When they are baked, they create an almost pastry like flavor and texture.
Siete Almond Flour Tortillas are perfect for this recipe and the key ingredient. We have not tried this recipe with any other type of tortilla (corn or flour.)  You can find Siete Almond Flour Tortillas in most health food stores, or you can buy them online from Siete.  They can be pretty pricey if you buy them online since you have to buy a package of 6.  They need to be refrigerated so hence with shipping it adds up.
We have bought them in quantity from Siete because their almond flour tortillas are DEVINE and we use them in a lot of our recipes.  They freeze really well, so it's totally worth it for us.  Whole Foods sells them as does Thrive Market, Walmart, Fresh Thyme, and you can also get them off of Amazon.  In the US, they are pretty easy to find or order online.  They are oil free, no highly processed ingredients, gluten free, Whole Food Plant Based and utterly delicious!  LOOK for them in the refrigerated or freezer sections of the store!
They have a "Find a Store" locator on their website, make sure you also use the "Filter by Product" as well when searching.  If you can't locate any near you or have them shipped, we have seen several almond flour tortillas on Pinterest that are WFPB and have had great reviews.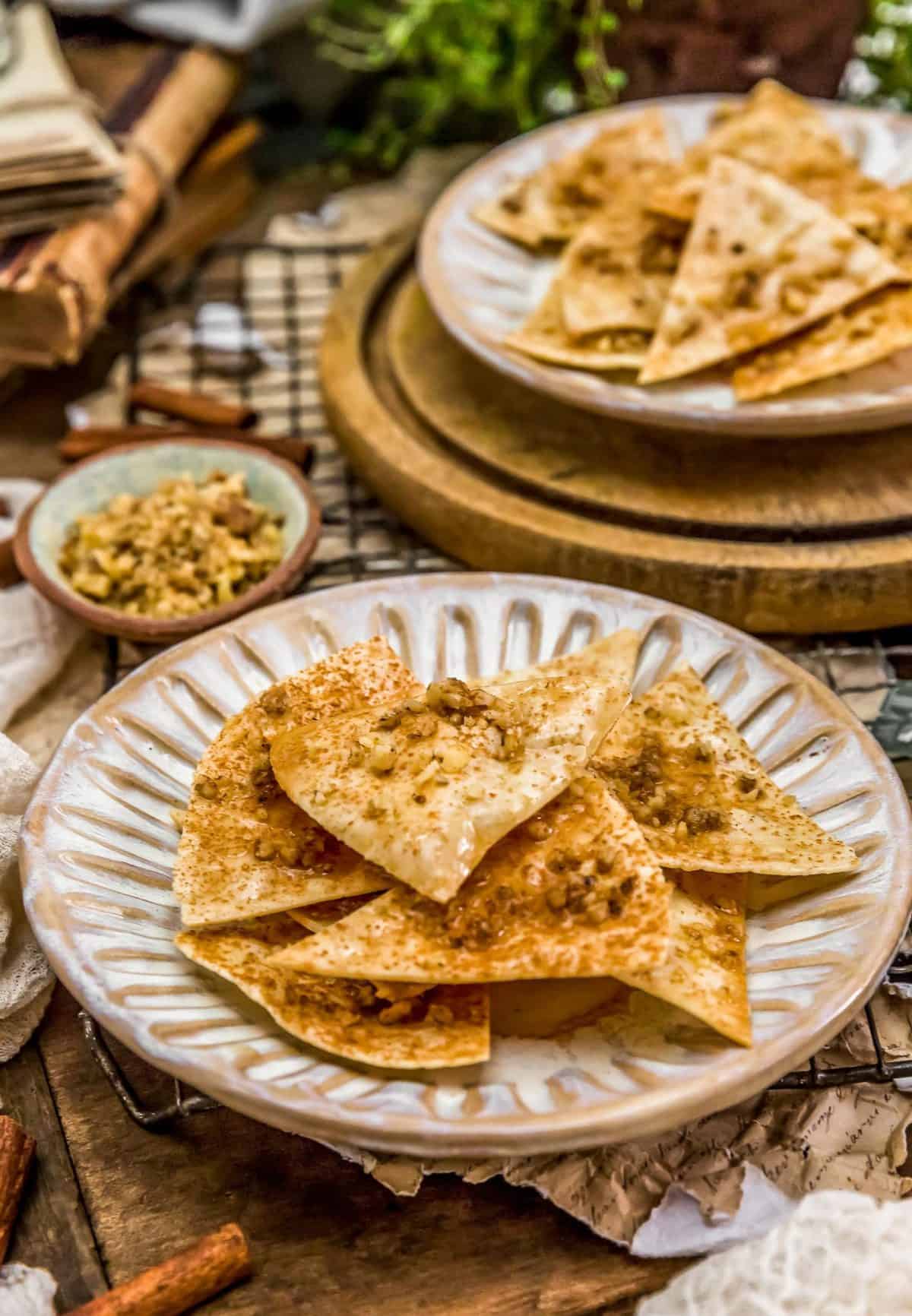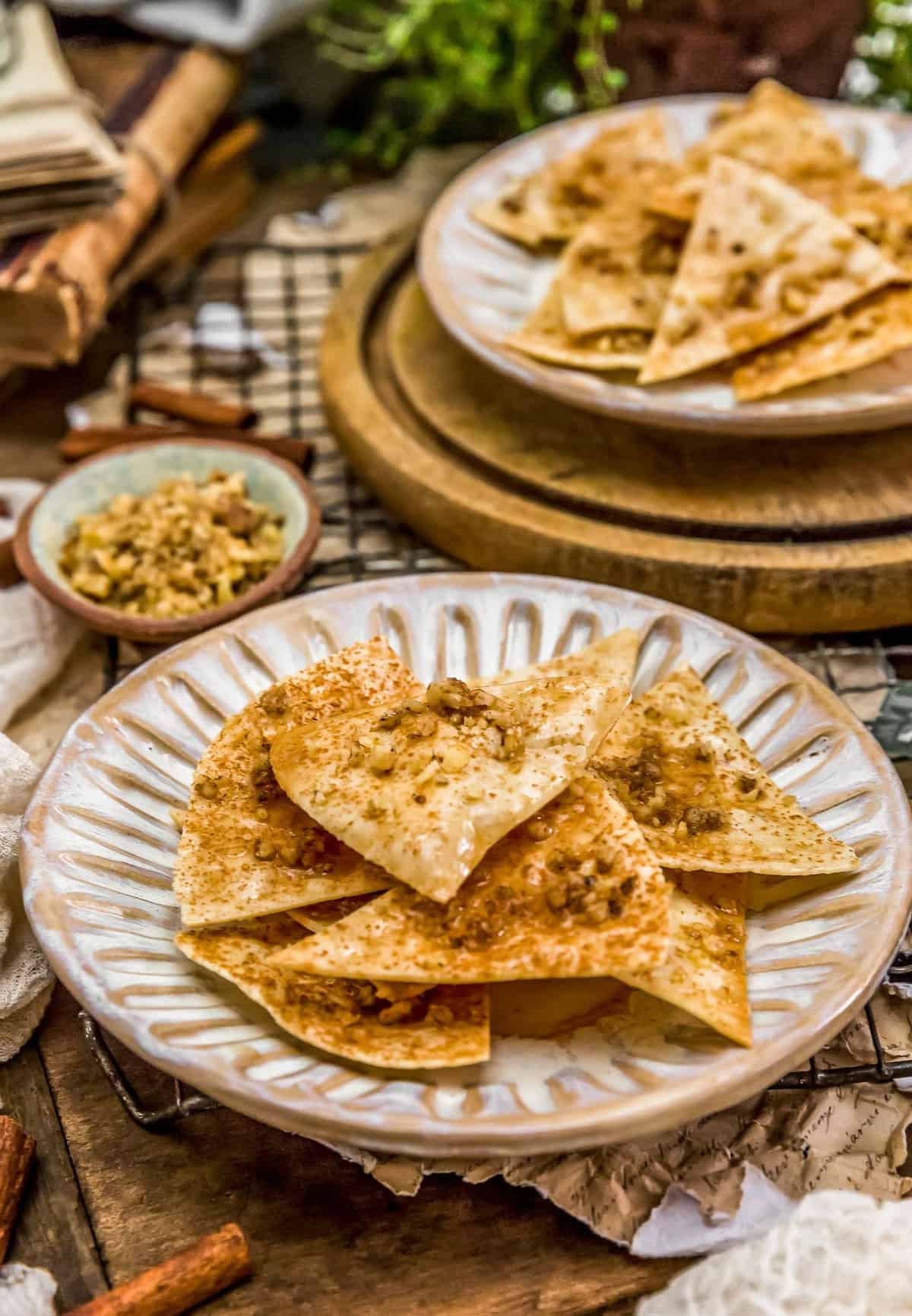 WFPB Twist
If you have never had bow tie cookies, then the closest I can relate this to is like fried pie dough. We are aware that our recipe is just a very loose nod to the classic Bow Tie, but to us, this recipe does the trick.
We stray from the traditional Italian Bow Tie Cookies, by adding a hint of cinnamon and chopped walnuts. We also use maple syrup instead of honey to make them Vegan and WFPB.
All I know is that they are CRAZY delicious!!!!
I'll let Mom tell you more!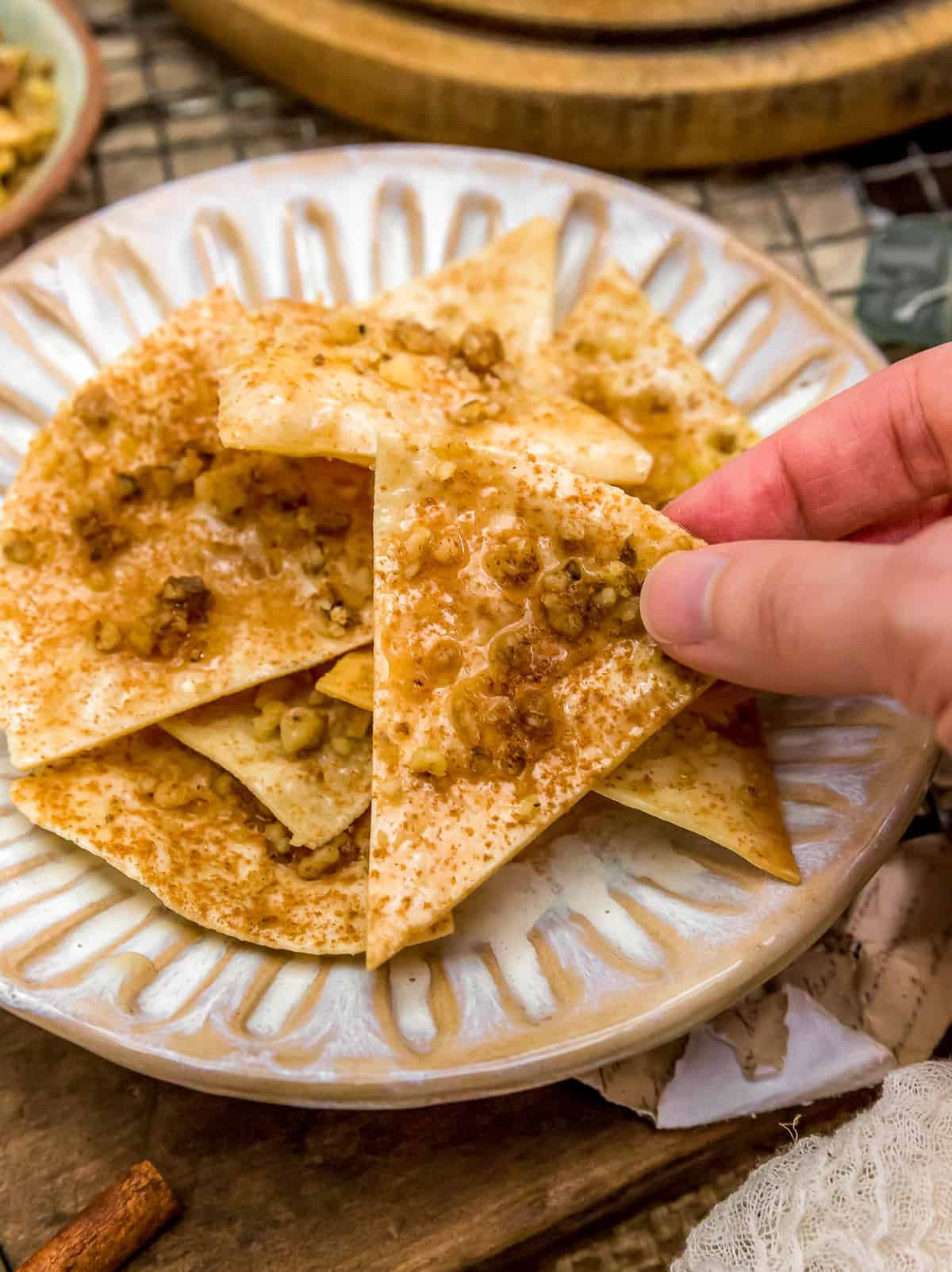 Hi!  Robin here.
This WFPB twist on a traditional Italian cookie is pure deliciousness. We tested them out on TP109 and he wanted to eat the whole entire tray of cookies. He LOVED them and devoured a large portion of them and only saved us a few lol. He wanted us to make another batch so he could have some more the next morning with his coffee.  TP gave them a 10 out of 10.
The best part is not only are these cookies super delicious, but they are also super easy to make and take a fraction of the time and effort.
We hope you give this deliciousness a try!  We just know you are going to love it!
If you try this tasty pasta dish, we would love to know if you enjoy it as much as we do! Please leave us a review! Post a picture on Facebook or Instagram and tag us!  We would love to hear from you.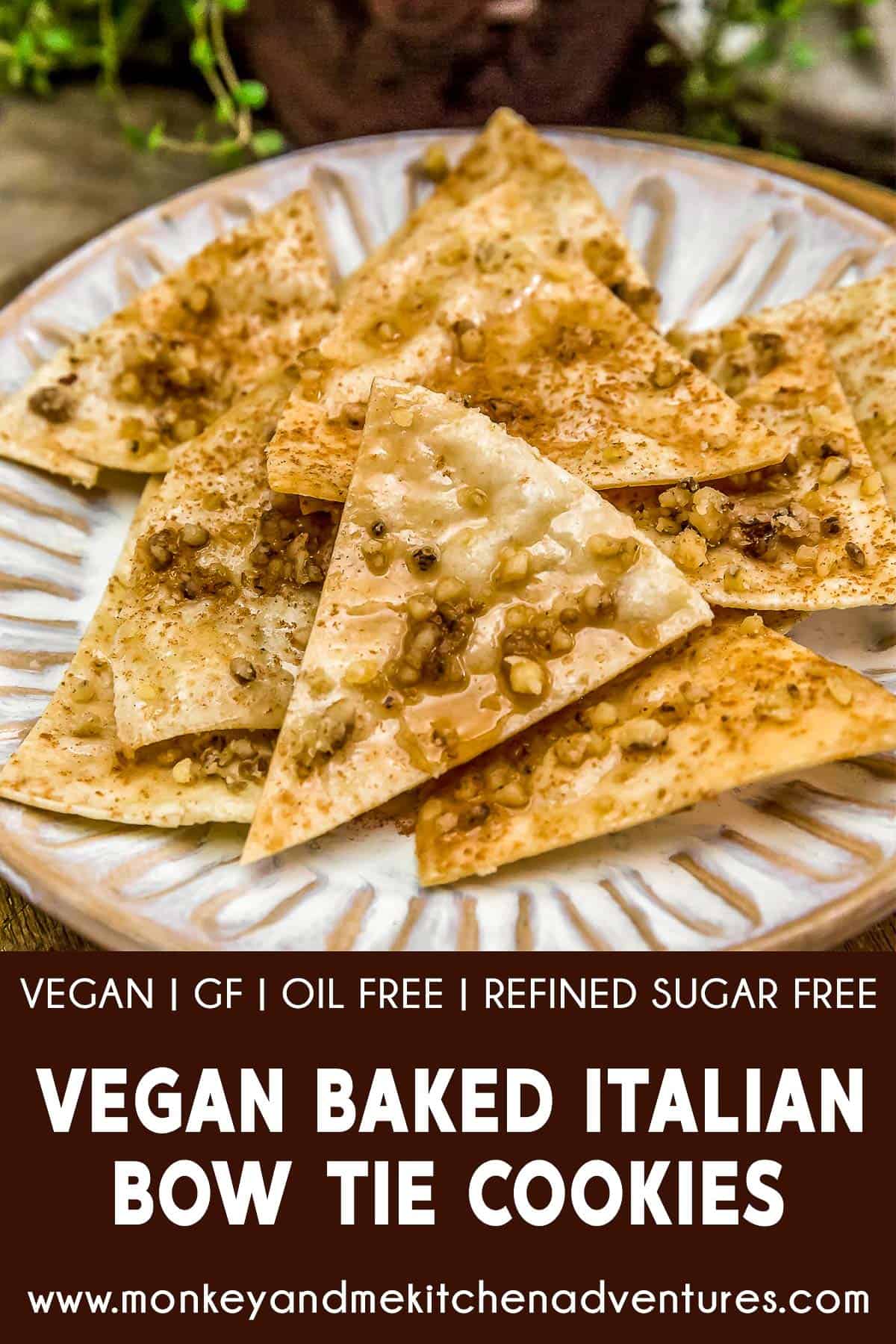 Products Used:
Large baking sheet (tortillas)
Small sauce pan
Print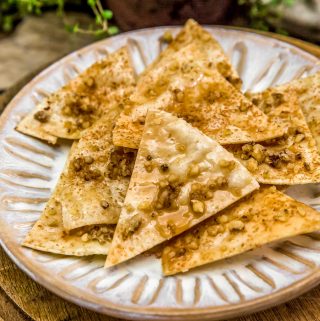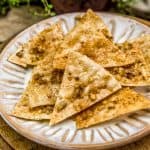 Vegan Baked Italian Bow Tie Cookies (Crostoli, Frappe, or Cioffe)
Author:

Prep Time:

10 Minutes

Cook Time:

7 Minutes

Total Time:

17 Minutes

Yield:

48

Small Triangle Cookies

1

x

Category:

Dessert

Method:

Stovetop, Oven

Cuisine:

Italian

Diet:

Vegan
---
Description
This healthy vegan nod to Italian Bow Tie Cookies are addictive. Baked to perfection with hint of sweet, walnuts and cinnamon, you can't eat just one.
---
8

almond flour tortillas *
Syrup Ingredients:
1/3 cup

+

2 Tablespoon

organic maple syrup

1 teaspoon

vanilla

2 Tablespoons

water
Sprinkle Ingredients:
Sprinkle cinnamon (optional)

1/3 cup

walnuts (optional) *

1 Tablespoon

organic maple syrup (optional)
---
Instructions
Preheat the oven to 350 F. Place the oven rack in the center position.
Optional Walnut Sprinkle: Chop the walnuts into small pieces, then place them in a dry nonstick pan and heat until they are lightly toasted, then add 1 Tablespoon of maple syrup and stir the chopped walnuts until they are all nicely coated with maple syrup.  Continue stirring until the maple syrup sticks to the walnuts.  Remove the walnuts from the skillet and set aside.  Once the walnuts are no longer hot, finely chop them.  Set aside until Step 6.
Place several flour tortillas down onto a cutting board and cut them into 6ths (pie cut), then place the cut tortillas onto a large baking sheet. Continue until all 8 almond flour tortillas are cut and scatter across a large baking sheet.  It's OK if they overlap.
Place cut tortillas into a preheated 350 F oven and bake for 7 to 9 minutes or until just golden brown. Watch them carefully as they burn easily. When they are lightly golden brown and crispy, remove from the oven, set aside.
Next place all the Syrup Ingredients into a small saucepan and bring to a boil, then immediately lower to a simmer.Simmer for several minutes, then remove from the stove to slightly cool.
Pick 3 of the baked tortilla slices and place them into the warm syrup, allow to soak for 3 seconds. Make sure you flip them around in the syrup to completely coat them, then remove and place them back onto the baking sheet (or a new baking sheet if needed). Repeat until about ¼ of the tortillas are lightly soaked and set out.  Then sprinkle with some chopped walnuts and a light dusting of cinnamon over top.
Repeat Step 6 until all the tortillas are coated with syrup and sprinkled with cinnamon and walnuts.
Enjoy!
---
Notes
*Tips for Success:
Large Baking Sheet: Use a large baking sheet to ensure that the tortillas bake up crispy.  If you don't have a large baking sheet, use two small ones and rotate half-way through. Make sure the tortillas are crisp and golden brown.
Baking Tortillas: Almond flour tortillas burn very easily if you are not monitoring them.  Watch them carefully as they go from lightly golden to burnt in a blink of an eye. You want them crisp and firm, but not burnt.  If some get done faster than others, simply pull the cookie sheet out of the oven, pull off the golden brown, crisp ones and return the baking sheet back to the oven.  Repeat until all the tortillas are lightly golden brown and crisp.  They key is getting them nice and crisp without burning them.  Please reference the blog photos so you can gauge the golden brown color.
Soaking of the Tortillas:  "Soaking" is not correct term, more like a brief dip in the syrup, just to ensure they are completely coated, then lay them out on the cooled cookie sheet.  The syrup is a lightly sweet syrup.  These cookies are lightly sweet.  It's an almost "barely there" sweetness.
Walnuts: The 1/3 cup measurement is before they have been finely chopped. In other words, give the walnut halves a rough chop, then measure out 1/3 cup of walnut pieces.  The glazed walnuts are optional, but add a lot of flavor and dimension. You can also use pecans as well.
Cinnamon:  Cinnamon is not traditional to Italian Bow Tie Cookies, but we felt it added a nice touch.
*Notes Continued
*Almond Flour Tortillas:  We used Siete Almond Flour Tortillas.  Almond flour tortillas work best for this recipe as they have an almost pastry-like consistency.  We have not tried any other tortilla flour substitutions. You could possibly try a small white corn flour tortilla with the understanding that the flavor will be impacted and they will be more crunchy.  Read the blog post details for locating Siete Almond Flour Tortillas.
*Serving:  Make 48 small triangle cookies
*Storage:  Use within 3 days.

This post contains affiliate links, and we may receive a very small commission if you purchase through those links at no additional cost to you. Thank you for supporting Monkey and Me Kitchen Adventures! For more information, see our disclosures here.